How to paint a brick fireplace and instantly update your home
Are you wondering how to paint a brick fireplace and make it look more updated? I'm sharing how I painted our 1960's brick fireplace and hearth and gave it a rustic French look.
This post contains affiliate links for your convenience. I may make a small commission on products purchased with my link, but your price does not change. For full disclosure go here: Disclosure and Policies. Thank you for supporting my site.
How to Paint a Brick Fireplace
Our house has a monster size, freestanding brick fireplace with an attached planter that's the first thing you see when you enter. Actually, there's another one just like it in the basement, but I haven't tackled it yet. Stay tuned for that.
Here's how the brick fireplace looked before I painted it.
Anyway, I've lived with it and tried to embrace it since we moved into the house in 2006. That's a long time to stare at something you're not crazy about.
Painted brick fireplace
I'm a purist at heart and really wanted to maintain the original feeling of the home and tried to love it. But recently I took the plunge, held my breath, and painted over it. Now I wish I had done it years ago.
Update: it's been more than five years since I painted it and I still love it!
The back side of the fireplace is in our kitchen and I liked the unpainted look in there. It added a warmth and texture that made the space feel cozy.
So I'm not lying when I say this was a tough call for me.
But it really lightened the kitchen as well and my accessories look great against the lighter color bricks.
For our bricks, I wanted an old world, French country look with some of the texture of the brick accentuated. See the details of this fall decorated version of the painted brick fireplace here: Painted brick fireplace with fall decor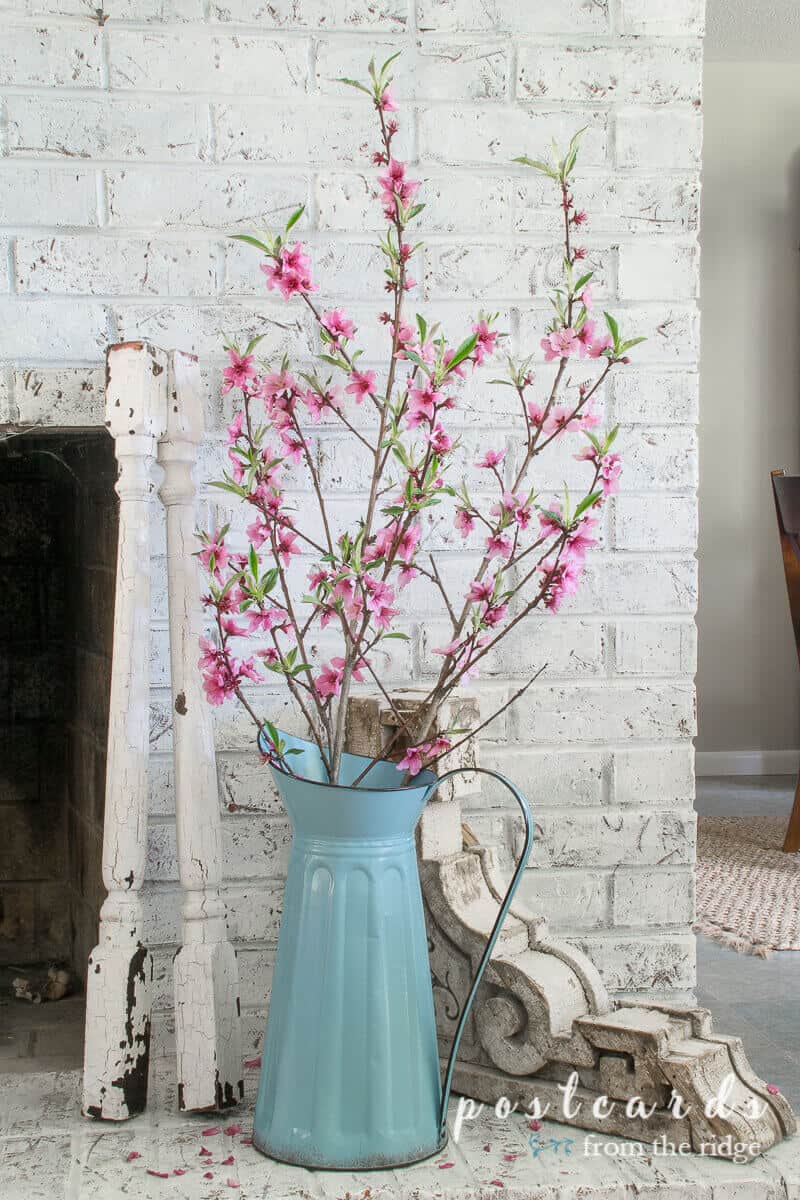 More painting tutorials and inspiration
Don't you love how easy and affordable it is to do a makeover with paint? Here are some other posts you might enjoy:
Our painted brick fireplace – before and after
This is another comparison of the before and after.
Here you can see how the imprints show up against the white paint.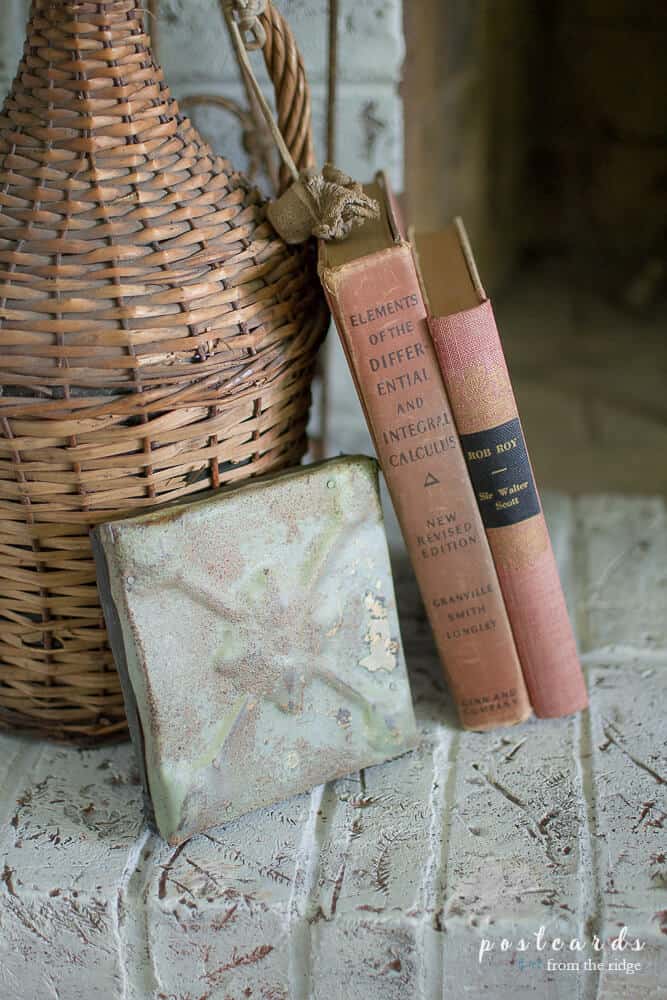 Before, the fireplace absorbed all the light from the room, making it feel dark and depressing.
Nothing really looked good against the brick. I tried so many different colors and accents. It was always a real challenge to make it work for seasonal decorations, especially spring.
My spring decor looks great in here now. Any color looks pretty against the lighter brick. You can see more of this spring look and get the details here: Spring Mantel with Flowers and Vintage Finds.
Now it's light and bright and the room even feels larger. Here's our fall decor. I'm already looking forward to decorating it for the holidays. (To see more of our fall fireplace decor and grab these free vintage oak prints, go here: Fall Mantel with Free Printable Vintage Oak Prints .)
How to paint a brick fireplace
What kind of paint do I use on a red brick fireplace?
To ensure durability and ease of cleaning, you'll want to paint your brick fireplace with something other than flat paint.
An eggshell, satin, or semi-gloss finish will allow you to wipe down the surface when it gets dirty. A quality interior acrylic paint will work just fine for this.
I love the look of white or off white paint on a brick fireplace. For my project, I used some paint I had in the garage. It was Benjamin Moore eggshell finish in White Dove.
The eggshell finish is great because it's washable without being glossy. Flat paint or chalk paint is not washable, and I personally don't care for semi-gloss paint.
Do I need to prime my brick fireplace before I paint it?
Priming your brick fireplace before you paint it isn't necessary for the technique I used which allows the brick to "breathe". As long as the brick is clean and completely dry you should be fine using a good quality acrylic paint.
If you wash the brick first, it's critical that you allow it to dry completely. I'd recommend waiting at least 24 to 48 hours after washing before you apply your paint.
NOTE: If you aren't using this technique and are completely covering your brick fireplace with paint, I would recommend priming it first. You'll need to use high quality 100% acrylic primer.
This is how I got the rustic French country look.
Supplies needed
How much paint do I need to paint a fireplace?
A quart of paint should be enough for most projects and you could probably get away with a pint if all you have is a small fireplace surround.
Paint/Water Ratio
For this rustic French technique, I added a small amount of the paint, probably a cup and a half, to my handheld paint cup and thinned it down with water at a ratio of roughly 1 part water to 4 parts paint.
NOTE: If you're not sure how opaque you want the paint, start out with more water than what I used. You can always make it more opaque by adding more paint if you decide that's what you want.
Once you get the paint mixed, you're ready to apply it to the brick. Here's the technique I used to paint our red brick fireplace.
1. Clean the brick
First, clean the brick if it has soot or dirt on it. Use a vacuum to remove any ash or dust. And if there's any blackened areas, you'll want to remove as much as you can with a wire brush and a heavy duty cleaner. Our fireplace hasn't been used very much so it had minimal soot on it.
2. Paint the mortar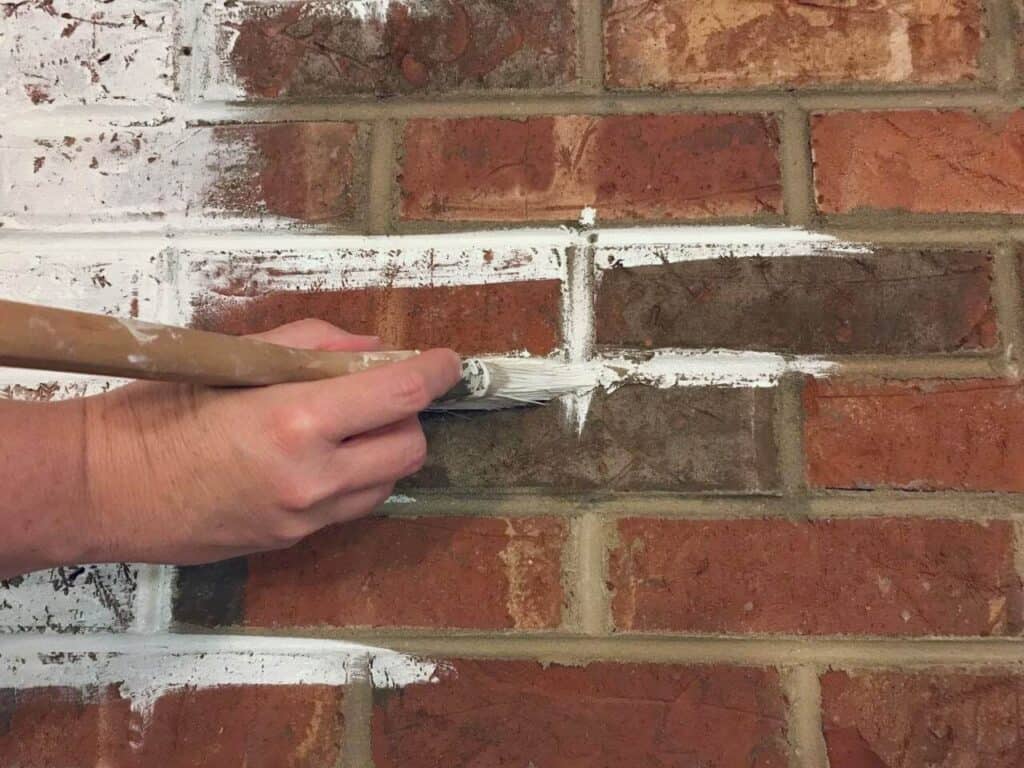 As I worked my way across and around the fireplace, I painted the mortar around the bricks first. I used a professional brush and dragged it across holding the brush longways as shown above. You don't want too much paint on your brush or it will run down onto the bricks below it.
3. Lightly brush the paint over the brick surface
NOTE: After I painted the mortar, I dipped the brush back into the paint/water mixture, offloaded most of it back into my handheld paint cup, and lightly dragged the paint brush across the brick at an angle. Our bricks have imprints of twigs and leaves and I really wanted to accentuate them.
I was basically skimming the paint over the surface, deliberately keeping it from seeping into the imprints so they would be darker and contrast somewhat against the light paint.
That's all there was to it. I thought it would take a long time but it wasn't too bad.
For my particular fireplace it took probably 4 – 5 hours. But if all you have is a brick facade and not 4 sides plus a planter, you can probably do the project in an hour or two. Ours is about 80 – 100 square feet of bricks.
Here are some more photos of the progress.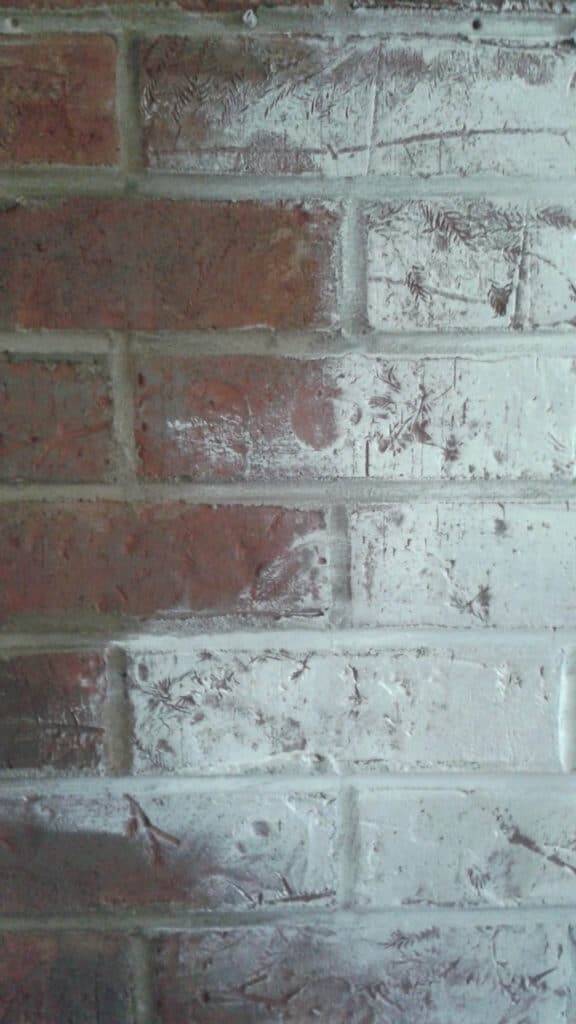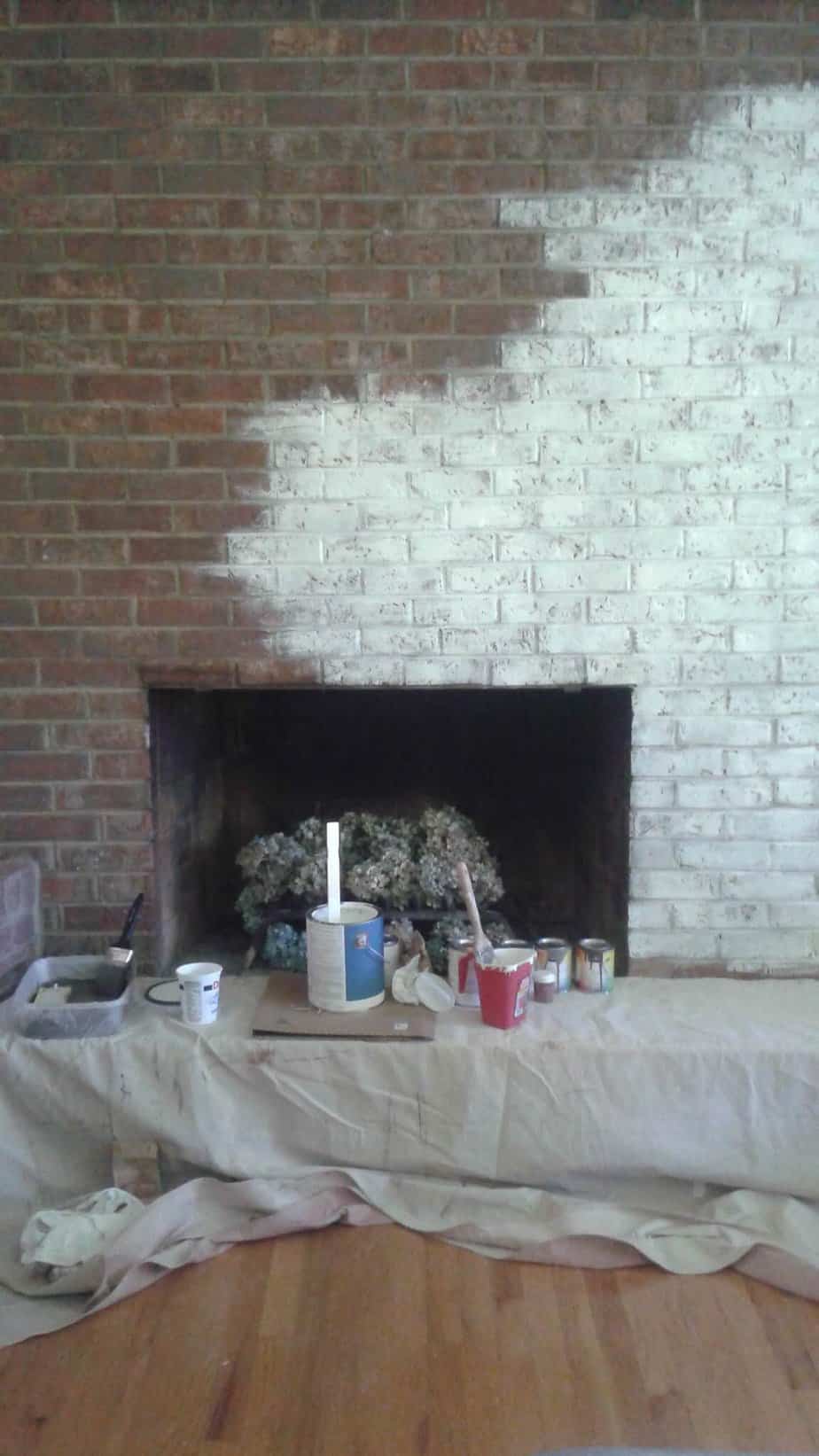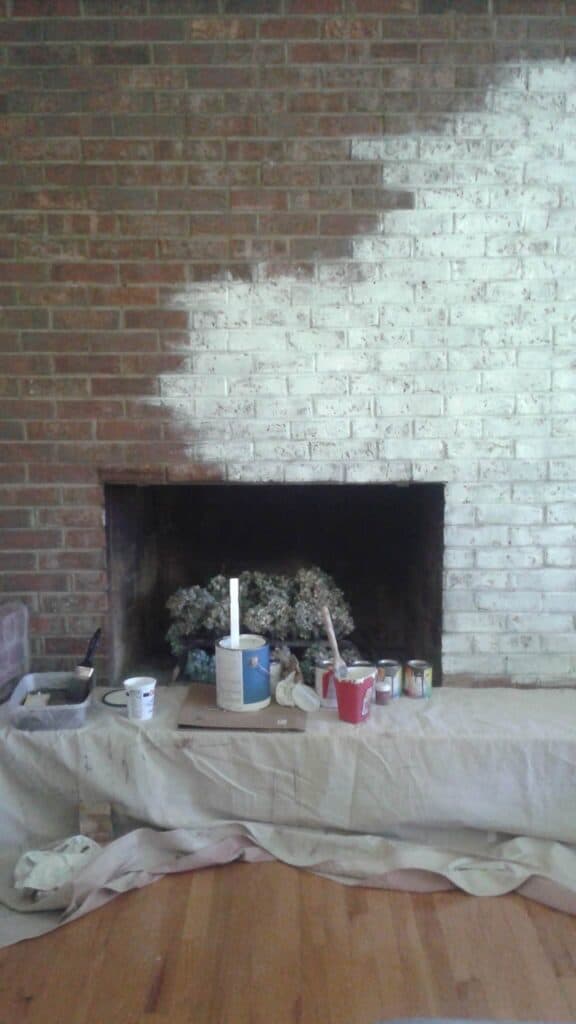 The main thing to remember about this technique is offloading most of the paint and applying it while holding your brush at an angle.
Painted Brick Fireplace Ideas
Here are some more painted brick fireplaces to inspire you to start your painting project.
Painted Brick Fireplace Ideas
Painting your brick fireplace is one of the easiest home improvement projects ever. It can be done in an afternoon and only takes a small amount of paint. And the impact it makes can be dramatic.
Here are some great examples of painted brick fireplaces to inspire you. Visit each post for more information.
So if you're on the fence about painting your brick like I was for so long, I totally understand. If you have a family member that doesn't really want you to paint the brick, I understand. Maybe you think it might affect your resale value down the road, I get that too. It won't.
You're the one who lives there now so make it look the way you want it. No regrets!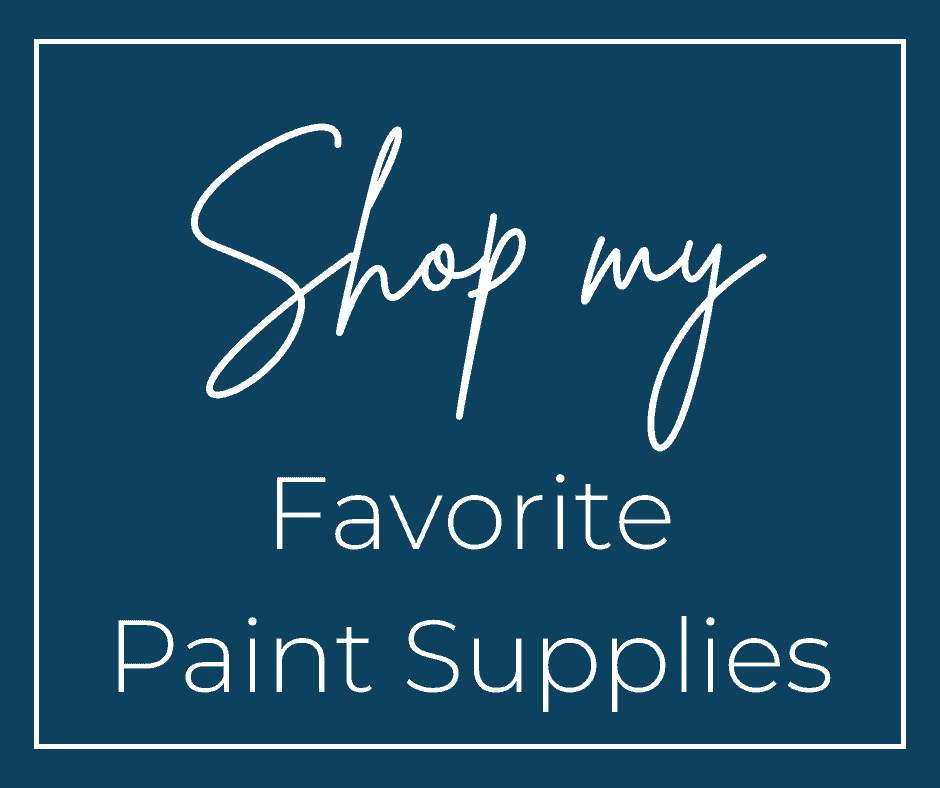 How To Paint a Brick Fireplace
Learn how to give your dated brick fireplace a beautiful update. This project is easy and can be completed in an afternoon.
Materials
Paint
Dropcloth
Paint brush
Painter's Tape
Instructions
Clean the brick. First, clean the brick if it has soot or dirt on it. Use a vacuum to remove any ash or dust. And if there's any blackened areas, you'll want to remove as much as you can with a wire brush and a heavy duty cleaner.
Tape off areas not getting painted. Use painter's tape to mask off any areas that aren't going to be painted.
Paint the mortar. Dip your brush into your paint and offload any extra. Drag the brush across the mortar until it's covered.
Paint the bricks. For this look, I offloaded most of the paint from my brush and lightly dragged it across the bricks. This left the impressions unpainted and more visible. You can completely cover the bricks with paint if you prefer.
I hope this helps you in your fireplace makeover project. Leave a comment below and let me know what you think!
Click for sources of decor items:
Cotton Stems – HERE
Metal Tool Caddies – HERE
Metal Sap Buckets – HERE (similar)
Vintage Metal Egg Crate – HERE (similar)
Wicker Demijohn – HERE (similar)
Throw Blanket on Mantel Shelf – HERE
Plaid Blanket in Egg Crate (top) – HERE
Plaid Blanket in metal crate and on chair above – HERE
Fall Colored Plaid blanket in metal crate #3 – HERE