Spring Mantel With Flowers and Vintage Finds
Spring mantel decor ideas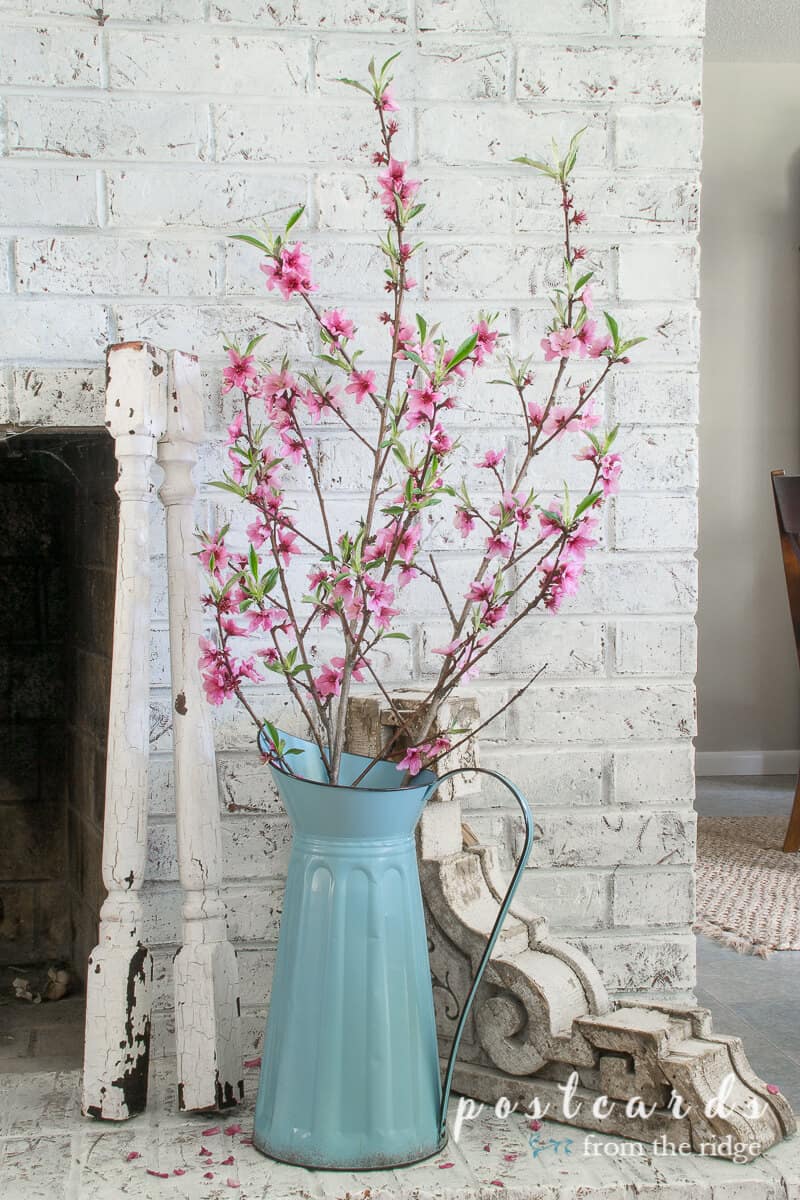 This post contains affiliate links for your convenience. For full disclosure go here.
Hello, friends and hello, spring! Are you ready for some spring mantel decorating ideas? It's been a long dreary winter and I'm so happy it's pretty much over with. To celebrate, I'm sharing some ideas for creating a natural, rustic spring mantel today and joining lots of my talented blogging friends as we kick off the Spring Ideas Tour. You can find inspiration for many areas of your home, indoors and outdoors, so be sure to check all of the links below. We'll be sharing all week!
Here's our rustic, natural, vintage-themed spring mantel.
Spring Mantel Decor
Flowers
We're fortunate to have a yard with lots of flowers and blooming trees and bushes and I love to clip them and bring them inside.
One of my favorites is our peach tree with its vibrant pink branches that are placed in my new vintage-inspired blue pitcher.
The yellow daffodils are blooming and look so pretty with the little grape hyacinths and the little purple and white flowers. I don't know what they're called. If you know, leave me a comment and let me know too!
More of the peach blossoms, daffodils, grape hyacinths along with a few Lenten roses are added to some little mason jars and placed in a vintage-inspired chicken feeder planter.
White milk glass vases are a great way to display stems and small branches and are very affordable. If you're lucky you can find them at thrift stores or yard sales. I used to see them all the time but they're not easy to find any more. There are always a ton of them for sale HERE.
A flower mister is a must for plant lovers, right? And even though this vintage one doesn't actually work, I love using it as decor. I found it at an estate sale a couple of weeks ago and couldn't resist it.
Where to buy flowers
If you don't have flowers in your yard or a nice neighbor or friend who will share with you, here are a few other places you can find them: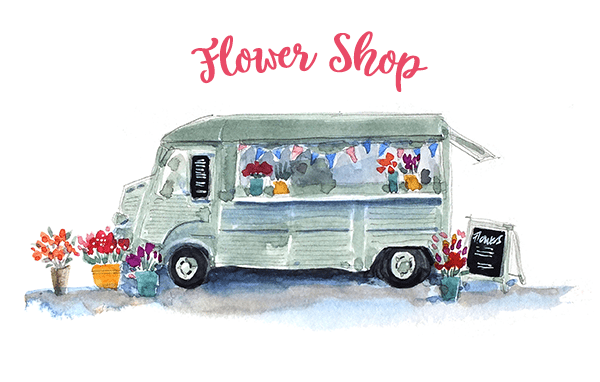 Vintage and Reproduction Decor
Another favorite thing of mine is vintage or reproduction decor. It always adds charm and patina to any area.
The vintage inspired metal candle lantern looks like it's really old but is actually new. It mixes nicely with my authentic antiques.
I found these old chippy spindles in an antique shop in Charleston last month. They help fill in the empty vertical space next to the fire box.
I had no idea where I was going to use them and I wasn't actually looking for spindles. Not that I ever find what I'm actually looking for, lol. But they were a good price and fit in the back of my car so I HAD to get them, right? I love it when I find unique items when we travel and can remember our trip every time I see them.
For a bit of warm texture, I added some of my vintage wicker demijohns. I have several of these that I've found on visits to Asheville and love the patina they add to any vignette.
Old books are a great way to add color and patina to any shelf, table, or mantel. I have them in almost every color and switch them out each season. They're the perfect spot for my little cast iron bunnies.
Off to the side of the fireplace is my vintage bar cart, dressed for spring. A couple of vintage seltzer bottles, old wine bottles, and another vintage wicker demijohn add more of the vintage vibe in this spot. I added the the little olive tree for some height. And I hung the wall art with the vintage bucket and olive tree for fun. It fits the space perfectly.
It really does look like we're booze hounds, doesn't it? To be honest, we don't drink much at all. I think I've had all of these bottles of booze for at least a year, and some of them for several years! It's a good thing they don't expire. Anyone want to come over for cocktails and help me empty them?
Where to find vintage & reproduction home decor items
There are lots of places to find authentic vintage items of all kinds. Here are some of my favorite places to find them:
And these are good sources for reproduction items:
Sources for this post:
On Mantel & Hearth
Bar Cart Area
For all of my spring decorating ideas since 2011, go HERE.
To see all of my ideas for using vintage items in your home, go HERE.
And now here are all of our great spring ideas! Visit all of my blogging pals to see their creative decorating ideas and check back all week for each day's new posts.
Monday ~ Mantels

Postcards from the Ridge // Anderson + Grant // Virginia Sweet Pea // Daily Dose of Style
Tuesday ~ Tablescapes
DIY Beautify // Hearth & Vine // Two Bees in a Pod
Wednesday ~ Spring DIY
Lora Bloomquist // Sadie Seasongoods // Chatfield Court
Thursday ~ Spring Recipes
Dukes & Duchesses // Domestically Speaking // Nourish & Nestle // Lindsay Aratari at Home
Friday ~ Porches & Decks
Sand Dollar Lane // Petticoat Junktion // Worthing Court
Have you decorated for spring yet? What's your favorite area to decorate? Let me know in the comments below.
Thanks for dropping by!