Best Benjamin Moore White Paints for Every Home
the best Benjamin Moore white paints in real rooms
White painted rooms are all the rage these days and you've probably seen them in various magazines, show houses, and on the internet. And while it might seem easy to just paint your walls in plain old white, there are many almost white shades of paint that are even more popular than basic white.
So if you want to see 20 different whites and off-white from Benjamin Moore in real rooms, get comfortable and keep scrolling.
This post contains affiliate links for your convenience. I may make a small commission on products purchased with my link, but your price does not change. For full disclosure go here: Disclosure and Policies. Thank you for supporting my site.
Best Benjamin Moore White and Off-White paint colors
Are you surprised at how many white paint colors are available? There are hundreds, and while most of them will appear white on the walls, subtle undertones can show up on large surfaces so it's important to do a little research and sampling before painting a room.
Which Benjamin Moore white paint is the whitest?
The whitest paints from Benjamin Moore are Chantilly Lace and Super White. They have the fewest undertones and therefore appear whiter than others.
What's the difference between a warm white and a cool white?
Most every white has some type of undertone to it. Warmer whites have red, yellow, and orange tints undertones. Cooler whites have green, blue, and violet undertones to them.
What's an undertone?
I'm glad you asked! Did you know that unless a color is premixed at the paint factory, it has at least a few drops of colorant added to it at the paint store? I worked at our family paint shop for 30+ years and can attest to this.
You'd be surprised at the colors the make up your white and neutral paints. But don't worry, these formulas have been used for decades and are always spot on.
There are 16 different colors in the Benjamin Moore paint tinting machines. Variations of tints are unlimited and will determine the undertones of your paint.
For example, a drop of yellow oxide or red oxide will give your white paint a warm undertone. A drop of black, blue, or green will produce a cool undertones. More drops and more tints will affect the depth of color and the undertones.
What does LRV mean?
LRV, or light reflective value, is a number that's assigned to paint colors to indicate the percentage of light that reflects off of them, or basically how light they appear on a wall. The scale ranges from 0 (absorbs all light) to 100 (absorbs no light or reflects 100%).
Whiter, lighter colors have high LRV's since they reflect more light, and darker colors have low LRV's reflect less light and absorb more of it.
Cool and Warm White Paints
Below is are examples of cool and warm white paints. Keep in mind that these will still look almost white on the walls. They appear darker here because they're against a white backdrop.
This is one of the reasons it's important to look at larger samples and test them whenever possible.
Find peel and stick samples for all Benjamin Moore colors here →Samplize Peel and Stick Paint Samples
Cool White Paints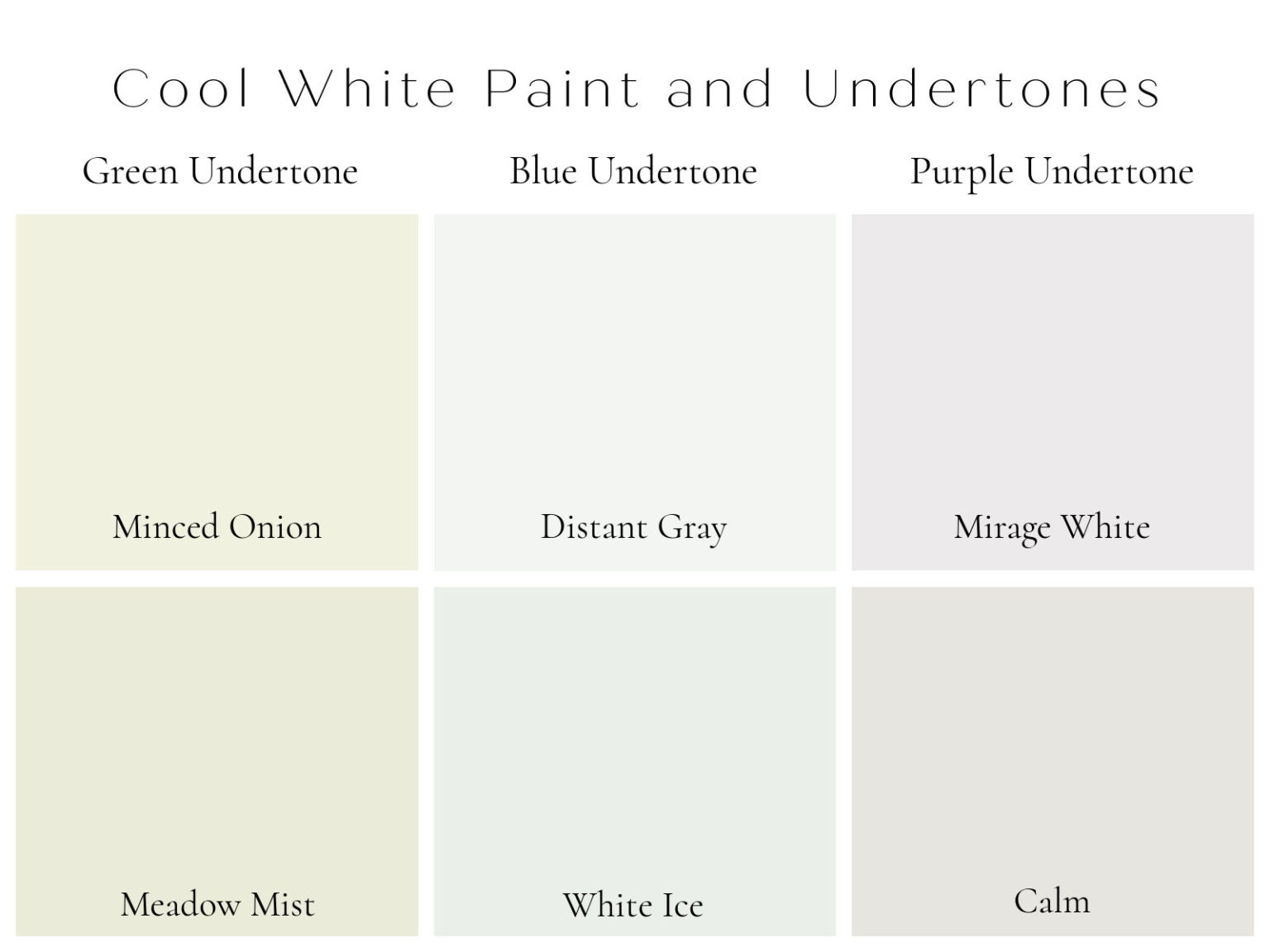 Where should I use cool whites?
Cool white paint colors are ideal for south-facing rooms. Why? These rooms get a lot of direct natural light and warm tones from the sun. Whites with cool undertones will counterbalance the natural warm tones from the southern exposure.
Warm White Paints

Where should I use warm white paints?

Rooms that face east and north don't get as much warm natural light as rooms that are south and west-facing. To counterbalance the cooler, shady rooms, try a warm white.
Keep in mind that every color will appear different depending on factors like the time of day, the amount of cloud cover, and whether or not there are large shade trees near the home. These are more reasons to sample your paint choices before making a final decision.
Again, I recommend using peel and stick samples for all Benjamin Moore colors. Found here → Samplize Peel and Stick Paint Samples
What are the most popular whites from Benjamin Moore?
There are dozens of beautiful shades of white, but these are currently the most popular white from Benjamin Moore:
More trending colors
Visit these posts to see dozens of Benjamin Moore paint color ideas for your home:
Now let's take a look at the most popular almost white paint colors from Benjamin Moore, not in any particular order.
Best white and off-white paint colors from Benjamin Moore
1. Decorators' White OC-149
Decorator's White is a classic white paint color that's been around for decades and never goes out of style. It's been the standard white for Benjamin Moore for many years. It has a slightly cooler, gray tint to it and looks beautiful in this bathroom. It perfectly complements the blue ceiling and the dark floors.
LRV: 84.61, Cool Undertones
2. China White OC-14 (aka PM-20)
Another Benjamin Moore classic color for decades, China White also is extremely neutral and goes wonderfully with the black door and brick floor in this entry. It's considered to be a very slightly cool white.
LRV: 77.95, Neutral to Cool Undertones
Traditional Home – Benjamin Moore China White
My favorite paint brush for the past 20 years is also a favorite of nearly 11,000 amazon reviewers. Grab this affordable and comfortable-to-hold brush here -> MY FAVORITE PAINT BRUSH
3. Simply White OC-117
Benjamin Moore's color of the year for 2016, Simply White has just a few drops of color in it that give it a warmer hue. You can see several more spaces painted in this popular shade here:
Benjamin Moore Simply White. And you can get a sample here: Simply White Paint Sample
LRV: 91.7, Warm Undertones
4. Atrium White OC-145 (aka PM-13)
Atrium White has a slightly warmer undertone but still appears white on the walls. It's a great color for north and east facing rooms because of the warm tints that go into it.
LRV: 87.04, Warm Undertones
5. Cloud White OC-130
For a slightly warmer hue, consider Cloud White. It has very faint cream undertones and is a cozy, warm white that looks beautiful with the rich reds and golds in this living room.
LRV: 87.35, Warm Undertones
6. Icicle OC-60
For a slightly cool white, try Icicle OC-60 (aka 2142-40). It's a great color to use in a room that faces west or south and works with virtually any color decor.
LRV: 84.16, Cool Undertones
7. Mountain Peak White OC-121
Mountain Peak White has subtle warm undertones and would be a nice color for rooms that face east or north. It looks beautiful in this living room with the gray sofa and light neutral floors.
LRV: 90.58, Warm Undertones
8. Ice Mist OC-67
As the name implies, Ice Mist is a cool white that works well in rooms that get a lot of sun in the afternoon but not the soft morning sun. It has the tiniest hint of blue. The blue door and gray trim continue the cool color scheme in this minimalist entry.
LRV: 90.94, Cool Undertones
9. Paper White OC-55
If you want to cool down a room that gets late afternoon sun, try using Paper White on the walls. It has slight gray undertones and perfectly complements the dark wood floors and black furniture and windows in this dining room.
LRV: 75.89, Cool Undertones
10. Pure White OC-64
Another white with gray undertones, Pure White looks perfect with black, charcoal, blue, and contrasting colors like red or orange.
LRV: 80.88, Cool Undertones
11. Super White OC-152
Super White is the purest white available from Benjamin Moore. It's not really cool or warm, but is almost devoid of any undertones. If you want a color that goes with everything and won't clash with anything, Super White is the one.
LRV: 89.09, Neutral to Cool Undertones
Nathan Turner – Benjamin Moore Super White
12. Timid White 2148-60
Timid White has a very light, warm gray hue. It's more of a slight off white than a white, but still isn't really a beige or tan. It has just enough color to contrast with white trim and would go with any color accents.
LRV: 84.43, Warm Undertones
13. Mascarpone AF-20 Living Room
Mmmm, Mascarpone! This color is a very light creamy white. It has a few drops of color but still has a white appearance. It looks ideal with the soft blues, greens, and silver accents in this dining room.
LRV: 90.83; Warm Undertones
14. Swiss Coffee OC-45
Swiss Coffee OC-45 is another warm gray white. It looks white unless you hold something white next to it. The Carrera marble counters look great with it in this kitchen.
LRV: 83.93; Warm Undertones
Benjamin Moore Swiss Coffee OC-45, Walls – Yarmouth Blue
15. Chantilly Lace OC-65
Chantilly Lace is a crisp, fresh white. It's a white that goes with pretty much anything. It looks perfect on the walls in this modern farmhouse dining room.
LRV: 92.2; Neutral Undertones
16. Benjamin Moore White Dove OC 17
I painted our living room walls and trim in White Dove and absolutely love it. The walls are eggshell finish and the trim is a satin finish. It's a warm white and goes with anything I put with it. Our curtains are white and the floors are 1960's oak and look great with the White Dove.
LRV: 85.38, Warm Undertones
17. Wedding Veil 2125-70
Don't you love the name of this white paint? Wedding Veil has the slightest gray undertone to it and looks amazing in the bathroom above, paired with the deep blue lower walls and accents.
LRV: 85.95, Cool Undertones
Top – Wedding Veil, Bottom – Blue Danube
18. Benjamin Moore White Opulence 879
This space looks fresh and inviting. The red, black, and blue accents work beautifully with the slightly warm undertones found in White Opulence color.
LRV: 89.49, Warm Undertones
Walls – White Opulence, Door – Caliente
Just the sound of this color makes me think of a cool breeze. White Wisp has subtle gray undertones and would look lovely in a bedroom or any west or south facing room. The warm natural textures of the rug, basket, and bench along with the throw blanket make this bedroom such a dreamy space.
LRV: 80.06; Cool Undertones
20. Benjamin Moore Winter Snow OC-63
Winter Snow has a clean, cool, refreshing look with its slightly gray undertones. The woven leather chairs in this living room warm up the space beautifully. As does the fire in the fireplace, of course.
LRV: 83.97; Cool Undertones
Try a sample
Are you ready to try one of these beautiful colors in your home? Brush on samples are available from Benjamin Moore here: Color Samples.
And you can find peel and stick samples here: Peel and Stick Paint Samples.
You might also like these posts:
If you want some tips for narrowing down your paint choices, you'll want to read
this post.

Do you have a favorite white paint color? Leave a comment below and let me know what it
is.
Thanks for dropping by!