Tutorial: How to Paint Paneling Like a Pro
Our house is blessed with 3, count them with me, 3 different types of paneling. We feel so fortunate (sarcasm). Most of it has been painted over and looks 100% better, but there are still a couple of areas that I haven't gotten to with my roller and brushes yet.
I've painted paneling several times in our current house and also in our last house, and it's really not that complicated. Other than using the right primer and roller cover, it's no different than regular painting. So if you live in a house from the 60's, 70's or earlier, there's hope for your dated paneling without the expense and mess of replacing it all with drywall.
I'm sharing a few before-and-after pictures of our family room to give an idea of how big the impact of painting paneling can be. The before pics were taken when the previous owners lived here and show their furnishings and decor. The after pics were taken after I painted the paneling and added our decor and furniture to the room. Priming, caulking, painting the paneling and the trim made a huge difference in this room.
This project was a 3 day process for me, but I'm slow and a bit of a perfectionist, and usually work alone. You could definitely complete the whole project in a weekend.
First of all let me say that if we had nice paneling with wainscoting and elegant details, I wouldn't paint it. But since we live in a 60's ranch style house and not a stately manor, I have no problem with painting it. Our paneling is the type that was mass produced in 4′ x 8′ sheets, very affordable, and was nailed to the studs in the wall. It's your standard paneling from the 60's.
The top portion of the above picture was taken when we visited the house before buying it. The carpet hasn't changed, but the fireplace mantel got repainted and glazed. It was a pretty simple project.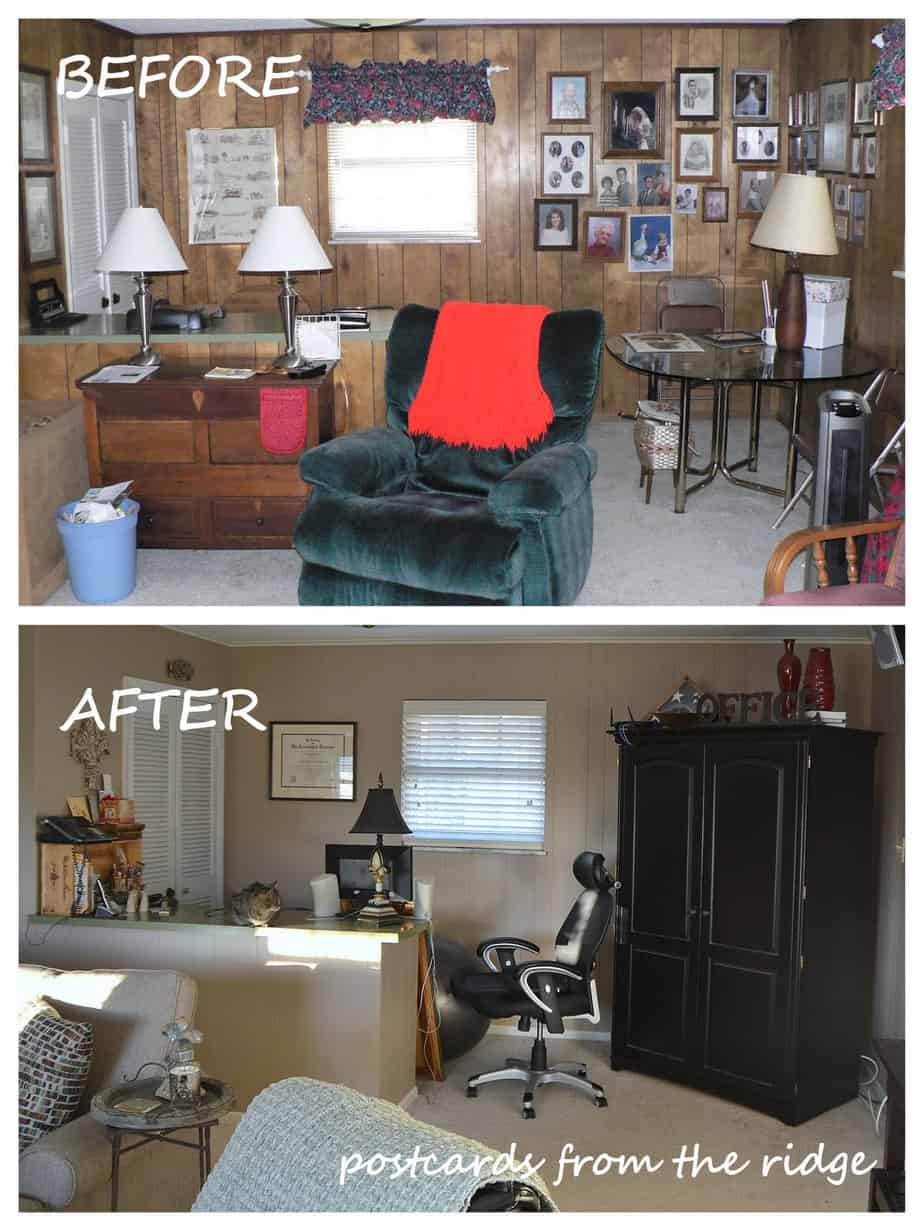 Our office area before and after is in the picture above. We have a built-in bar, standard for most 60's homes, that I use as my desk. I will eventually get the green counter top painted to something more attractive, but haven't gotten to that project just yet.
Close-up details of the painted paneling and mantel in the pictures above and below.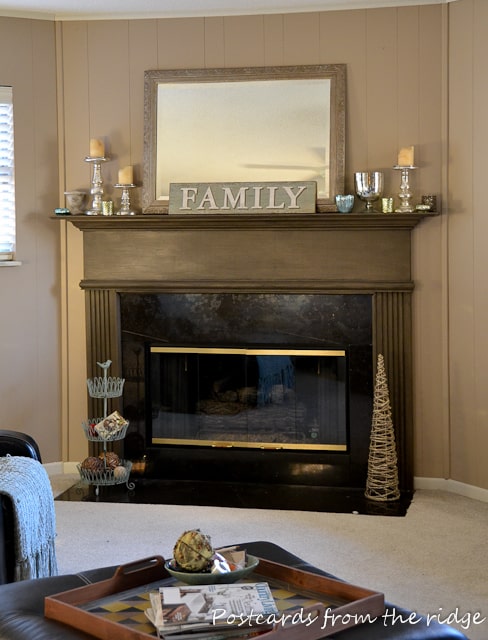 Some people don't like the look of painted paneling because, let's face it, it's still paneling. But I don't mind it and actually kind of like the cottage-y look and feel that it gives. With these instructions you'll still have the grooves showing since there's no spackling involved. Read on for the complete how-to for the process.
*******HOW TO PAINT PANELING*******
This post contains affiliate links for your convenience. For full disclosure go here.
1. ASSESS THE SITUATION
The first thing to do is evaluate the type of paneling that you have. Is it textured or smooth? Glossy or flat/matte? This will be important in determining the right primer to purchase.
If it's textured/rough or flat/matte (no gloss) then you must use an oil-based or stain-killing primer to keep any stain from bleeding through on your finish coat. There are odorless and low odor oil-based primers available, so don't worry too much about the odor. Or you can do the project on a nice day and open up the windows for air circulation. I recommend the Odor Less primer below, made by Rustoleum.
If the paneling has a gloss or satin finish, you should be able to use an 100% acrylic primer. I've used INSL-X Aqua Lock primer on ours and had great success with it. You should clean it first (see #2).
2. CLEAN
Before you prime it, clean it. I recommend something like Gloss-Off to remove any wax or polish residue. It cleans and de-glosses at the same time. You can prime over this after 10 minutes.
3. CAULK
If you're using a light to medium paint color, I would strongly recommend caulking next to the baseboards and trim and in the corners because there's usually a slight gap there. If you're not painting the trim, or if you're using a dark color on the paneling, it won't be as critical because the gap won't be noticeable. I use Big Stretch caulk because it's easy to work with and doesn't shrink and crack over time like others do.
4. PRIME
Once you've cleaned, caulked, and allowed the caulk to dry, then you're ready to prime. Start by "cutting in", or brushing the outer edges where the roller won't reach. It's a bit more time consuming to cut in paneling than regular walls because you have to get the brush down into the grooves. And that's not difficult, just tedious. I always us an angle tipped brush when I'm cutting in. The better the quality of your brush, the easier it is to use and the better your results will be. Trust me on this one.
After you've cut in around the edges, use a roller to paint the rest of the paneling. I always attach an extension pole to my roller frame when I'm rolling walls because it really makes the job easier and also reduces the strain on my back and arms. My personal choice is a Wooster Sherlock pole. It adjusts in 6″ increments and locks into place. It's fairly lightweight and very durable.
If your paneling has small grooves and little to no texture, I recommend a 5/16″, 3/8″ or 1/2″ roller cover. My favorite cover is a 5/16″ microfiber roller cover. It gives a velvety smooth finish and doesn't spatter. I don't even have to use a drop cloth, but I usually do anyway. And the best part? It doesn't shed at all.
The 5/16″ nap works on our paneling because the grooves are small and shallow and the surface of the paneling is smooth, but if the grooves in your paneling are wide and deep, or your paneling is rough, you will need to use something thicker. If it's textured or rough, I would use a 3/4″ cover.
If your paneling has wide or deep grooves, you can either paint the grooves with a brush or use a corner roller. The corner roller is quicker and easier. Just don't load too much paint on it or it could leave a paint build-up on the flatter areas of the paneling.
Shurline makes an inexpensive corner roller that works well. I haven't had to use this on our paneling since our grooves are the smaller type, but I've gotten good feedback about it from our customers.
5. PAINT
After the primer dries, you're ready to paint the paneling. Use the same technique as you used with the primer: Cut in and then roll.
You can use any finish you like, but my preference is Benjamin Moore Regal Select eggshell finish. (Another good finish that's more economical is the Benjamin Moore Concepts Eggshell paint, around $25.99 per gallon.) I've used matte and flat finishes before and there's nothing wrong with them, but I prefer the velvety look of the eggshell finish. I don't use satin or semi gloss on walls because it's too glossy for me personally, and it also magnifies any defects in the surface. That's just my preference, though.
You may need 2 coats, depending on how the first one looks after it has dried. I usually apply 2 coats in all of my painted rooms. It just looks better and the finish is more even.
Once the paint dries, you're done with painting your paneling! If you're painting the trim, do that at this point. If it's unpainted, it needs to be primed first. You should be able to use the same primer for the trim and paneling, and you can prime it all at the same time.
If you're not painting the trim, the only thing left to do is clean up and then relax and enjoy the new look of your space. And if you're like me, you'll be asking yourself, "Why didn't I do this sooner?"
I hope this post helps you in your paneling painting project. It's a project that's definitely worth the effort.
Let me know if you have questions, and if you paint your paneling I'd love to hear how it turns out!
Thanks for stopping by, and have a great day!

Unsure what color to use on your painting project? Visit this post for some tips on what not to do when deciding.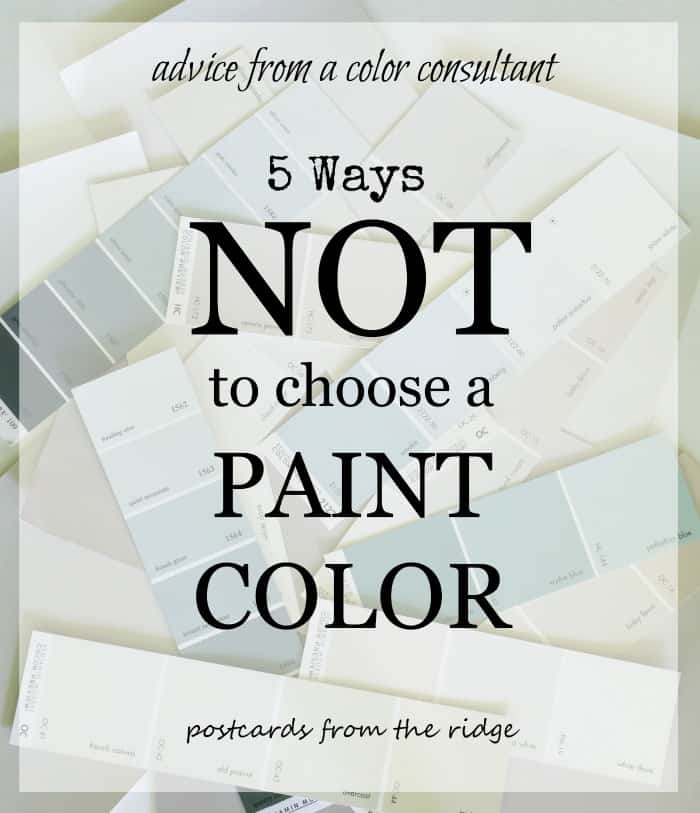 If you found this helpful, you might want to visit other tutorials that I've written:
Get all the latest tips and trends in painting, along with ideas for your whole home when you join our subscriber list. Click below to be added to our list.
Thanks for dropping by!

For handy tips and tutorials, go here.


To see my painted projects, go here.

For tasty recipes from my kitchen, go HERE.
For some simple tips for capturing a great photo, go HERE.
Go here to learn about having an online design or color consultation.
And go here for dozens of photos, ideas and favorite paint colors.