Paint Color Advice: How to choose a paint color
Do you need to paint a room and don't know where to start? There are some simple ways to get started and narrow down your color choices. Today I'm sharing a few tips on how to choose a paint color that I've learned over the past 30+ years of helping clients.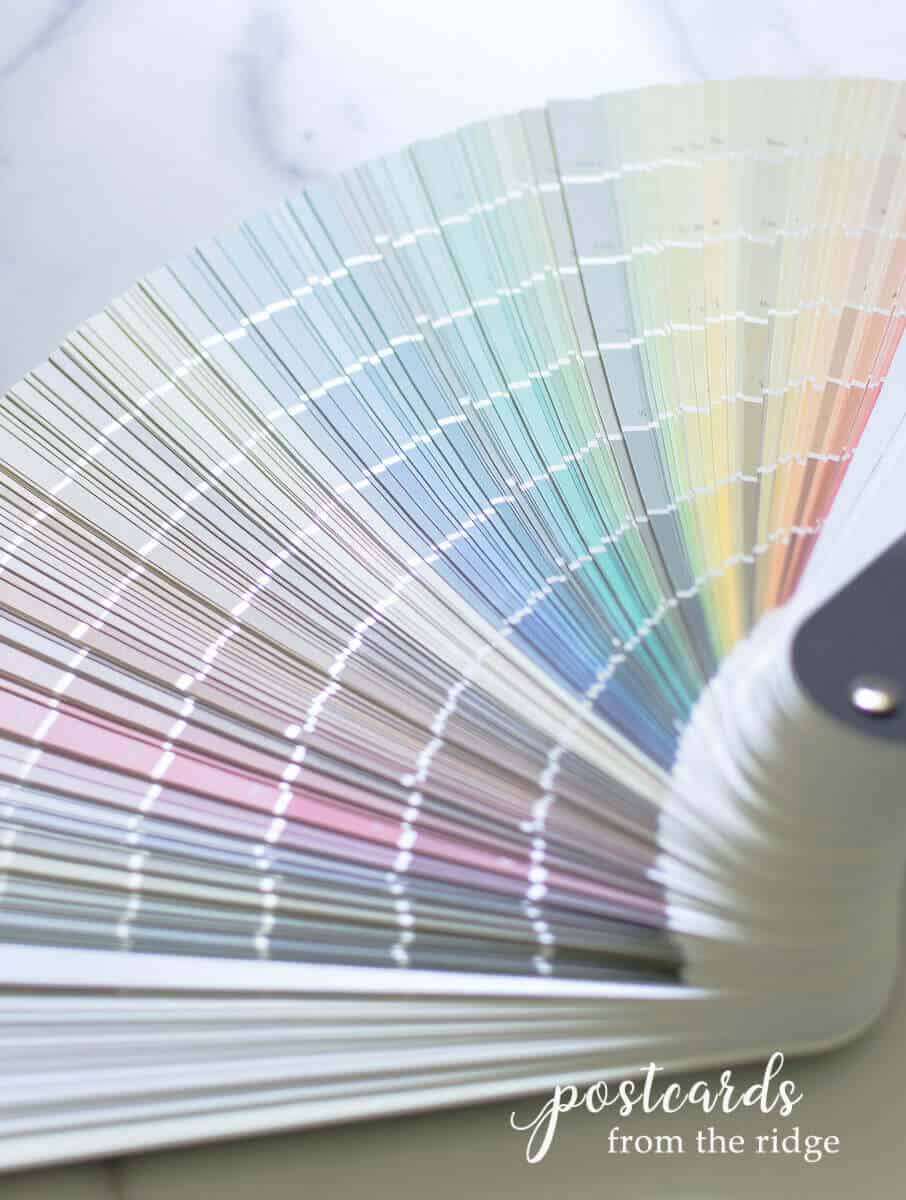 This post contains affiliate links for your convenience. I may make a small commission on products purchased with my link, but your price does not change. For full disclosure go here: Disclosure and Policies. Thank you for supporting my site.
We've all been there… staring at 20 paint samples and not knowing which one is the "perfect" one. Trying to find the right paint color can be very frustrating but there are ways to make it less difficult.
There are some simple things you can do to make the process less stressful and hopefully guide you to the right choice for your paint colors.
How to choose a paint color
There are typically a couple of scenarios when you're in need of a new paint color. You've either 1) decided it's time to update the look of a room because you've just moved in to a home or bought new furnishings for your existing home, or 2) you're building a new home and are starting with a blank slate.
Well, most people aren't completely starting from scratch even in a new home unless they're also replacing all of the furniture, but you get the general idea.
But where do you begin?
1. Find a starting point or inspiration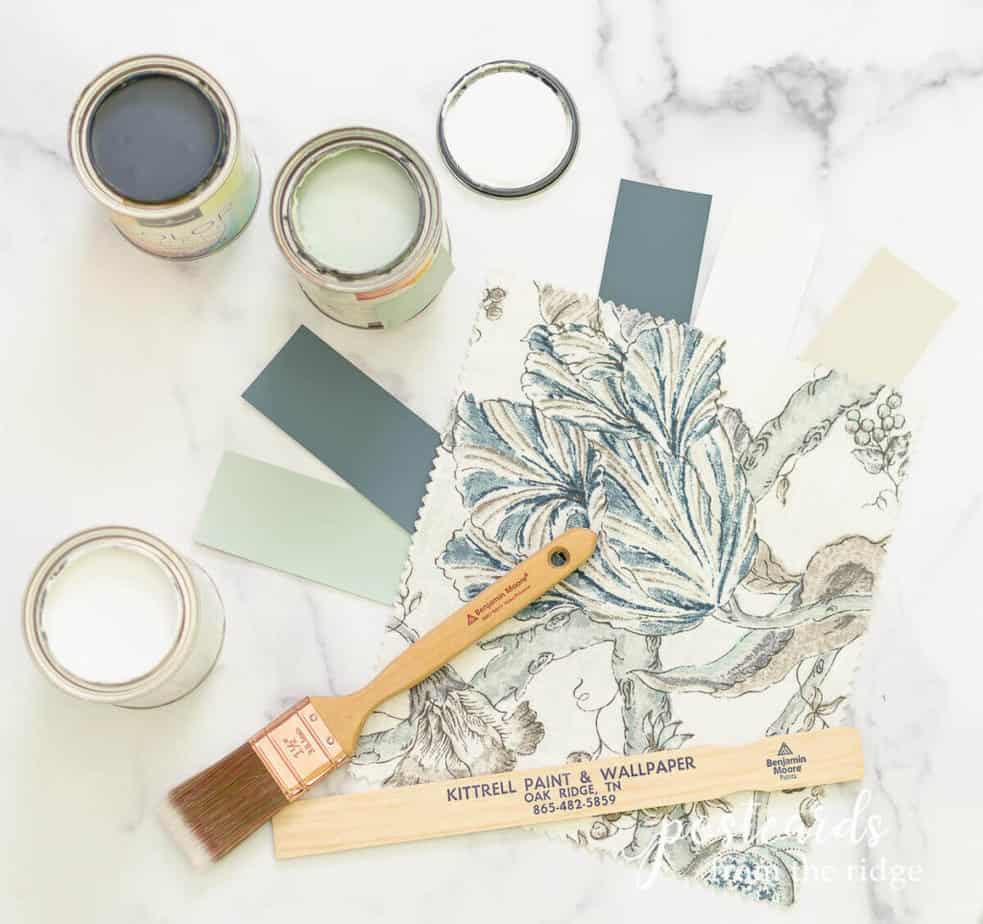 Matching paint to existing items
Most of the time when you're looking for a paint color you're trying to match or coordinate with an item or surface. It might be a sofa, area rug, backsplash, or a cherished piece of art.
Or maybe you've just purchased new bedding or curtains and you need a color for the walls. This is your starting point. Bring your fabric samples, tiles, counter samples, pictures, etc. with you when you go to the paint store and choose your colors from these.
It's impossible to remember the exact shade of your favorite pillow or your backsplash tile. So to be safe, bring what you can when looking for paint color options.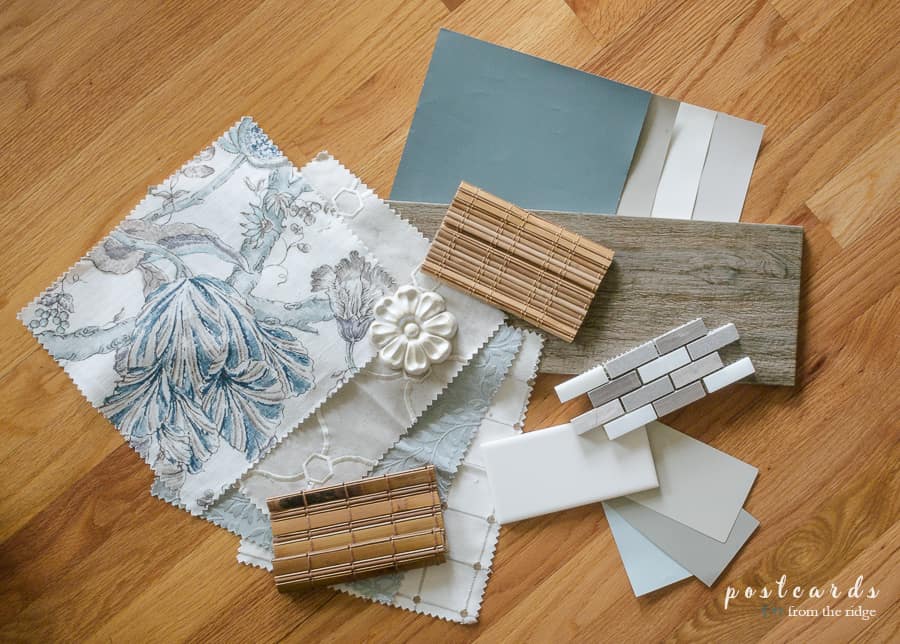 Starting from scratch with a paint color
If you're building a home, moving into your first home, or painting a vacation home then you might be starting with a blank slate. This can be overwhelming and tough to figure out where to start. But here are some great places to look for inspiration:
Pinterest or instagram – Do a search for a particular style or for home decor in general. You'll probably find a style that appeals to you pretty quickly.
Home magazines and blogs – There are always beautiful and inspiring homes in magazines and on home decor blogs.
Your wardrobe – This actually works. Look in your closet and drawers and see if you notice more of a particular color or palette. Do you wear lots of neutrals? Are there lots of blue clothes in your closet? If you love to wear a color then you'll likely be happy with it on your walls too!
There are a gazillion paint colors to choose from, but you don't usually have as many choices for other design elements. You should first decide on the things that won't be changed for a long time like floors, furniture, counters, etc., and then choose your paint color last.
Now that you have something specific that you need to match or coordinate with, then you're ready to start the process of choosing a color. Don't cringe. It's not that bad!
Visit these posts for paint color inspiration:
2. Determine what undertones to use
Ultimately you can use whatever color you want, but choosing the right undertones will enhance your space and make it look more appealing.
What's an undertone?
Did you know that unless a color is premixed at the paint factory, it has at least a few drops of colorant added to it at the paint store? These little drops of color will give your paint an undertone. I worked at our family paint shop for 30+ years and can attest to this.
There are 16 different colors in the Benjamin Moore paint tinting machines. Variations of tints are unlimited and will determine the undertones of your paint.
For example, a drop of yellow oxide or red oxide will give your white paint a warm undertone. A drop of black, blue, or green will produce a cool undertones. More drops and more tints will affect the depth of color and the undertones.
Best undertones for rooms that face west or south
Cool paint colors are ideal for west and south-facing rooms. Why? These rooms get a lot of direct natural light and warm tones from the sun. Colors with cool undertones will counterbalance the natural warm tones from the southern exposure.
Consider using colors from these families to cool down a space:
Blue
Aqua
Teal
Lavender
Purple
Sage
Green
Gray
Greige
Taupe
Best undertones for rooms that face east or north
Rooms that face east and north don't get as much warm natural light as rooms that are south and west-facing. To counterbalance the cooler, shady rooms, try a color with warm undertones.
These colors will help add warmth to a cool room:
Creamy whites
Yellow tones
Coral
Mauve
Peach
Pink
Red
Orange
Warm beiges
Keep in mind that every color will appear different depending on factors like the time of day, the amount of cloud cover, and whether or not there are large shade trees near the home. This is why it's crucial to sample your paint choices before making a final decision.
If you're looking for a white paint color you'll want to read my full, extensive post on white and off-white colors with photos of them in real rooms here: Best White and Off-Whites from Benjamin Moore
3. Narrow your choices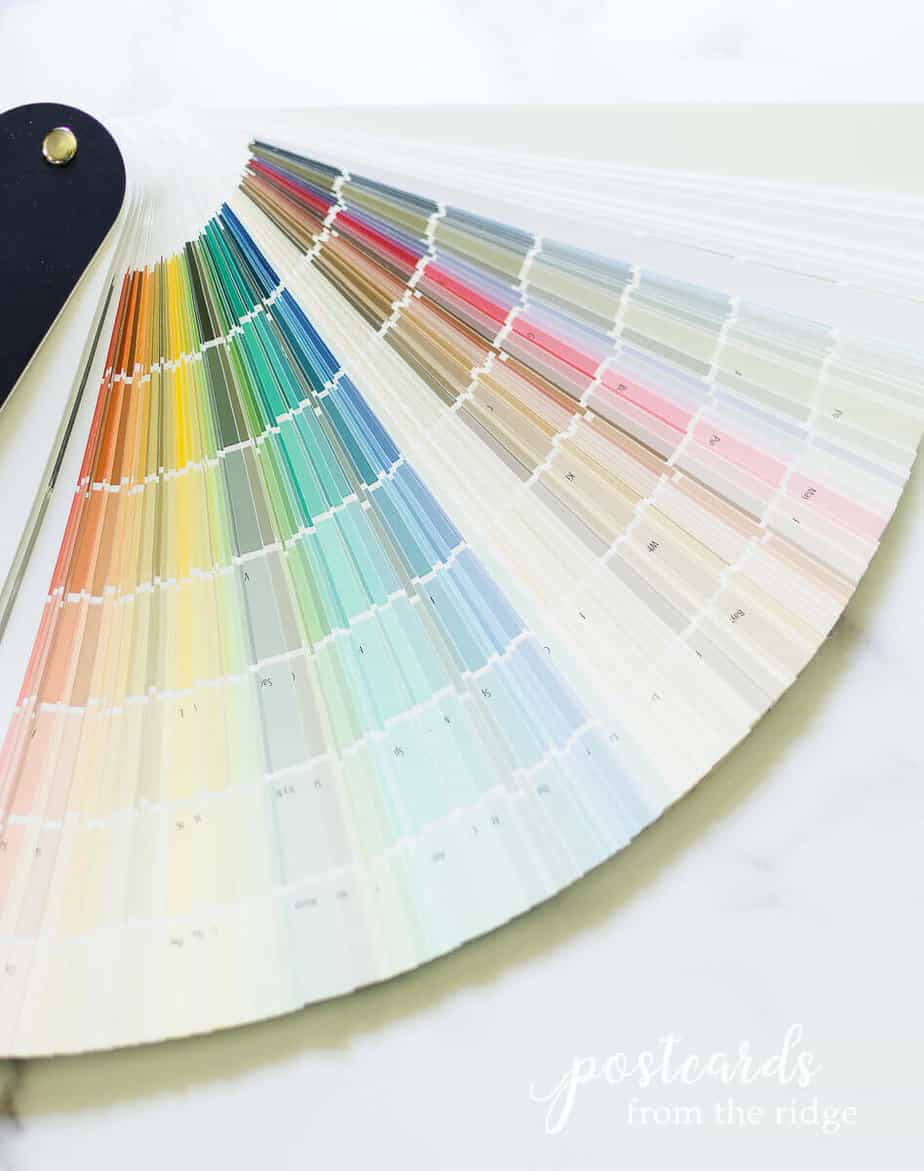 Once you've decided on the direction you want to go, narrow your choices down to 5 or less paint colors, ideally. The best way to eliminate colors is by looking at them on a larger sample. There are a few ways to do that.
Keep in mind that paint colors will look more intense on your walls than they do on paint color strips with multiple shades. This means light colors will look lighter and dark colors will look darker. Just one more reason to test the color!
Use a paint color visualizer
Most paint brands have a visualizer to help you imagine how a color will look on the walls, cabinets, or various surfaces. It's a good way to help narrow down your color direction.
Typically there are several images to choose from that you can apply paint colors to. Or most of the time you can upload your own images. Keep in mind that this isn't a great way to choose a specific color, just a great tool to get you started.
Here are the best paint color visualizing tools:
Testing the paint color
Once you narrow down your choices, you'll want to test the colors before making your final selection. There are several ways to sample your colors so you can make that big decision.
Use a paint color tester
Most brands offer small containers that you can purchase to test out the color in your home. You can get them from Benjamin Moore, Sherwin-Williams, Lowe's (Valspar, HGTV Home Sherwin-Williams), and Home Depot (Behr, Glidden, PPG). These are the various to use them:
Peel and Stick Paint Samples
My favorite way to test paint color is with the super-convenient, pre-painted, peel and stick paint samples. You can get those here for Benjamin Moore, Sherwin-Williams, PPG, and Farrow & Ball colors: Samplize Peel and Stick Paint Samples. They're reusable, affordable, and you don't even have to wash out a brush.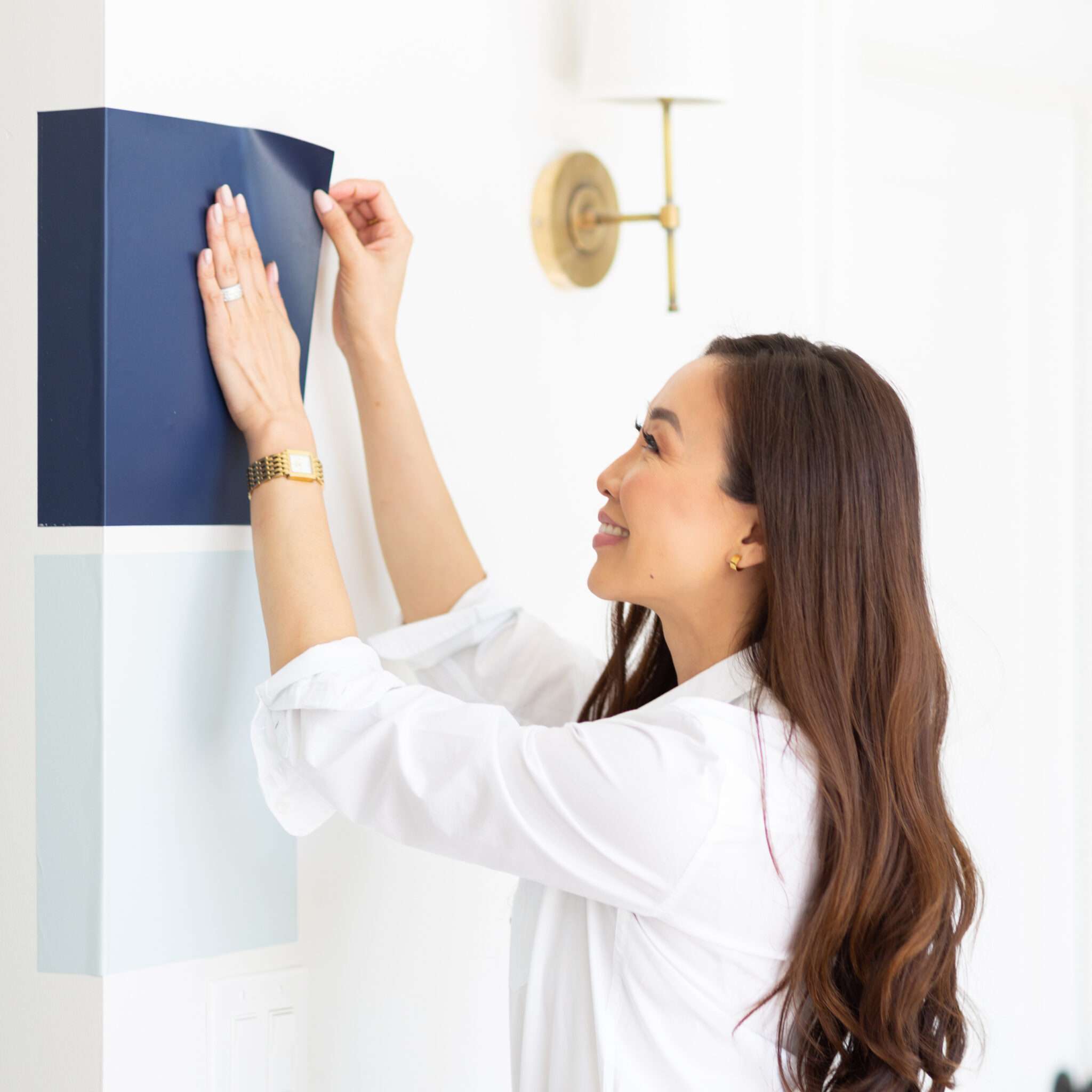 If nothing else, take home multiple paint strips and cut off all the colors except the one you are considering and tape them together for a larger piece to look at. If it's not the right one, there are LOTS of other choices.
The right place
ALWAYS Look at the color you're considering in the room that you will be painting, not outside in the bright sun. Colors look washed out in the sunlight and appear much different than they do inside.
INSIDER TIP: Find out which paint finishes are best for the different rooms of your home here: The Ultimate Paint Sheen Guide
Timing is everything
See how the paint color looks in the room you're painting during different lighting situations…on a sunny day, on a cloudy day, with and without the lights on, and at night. Colors look different throughout the day.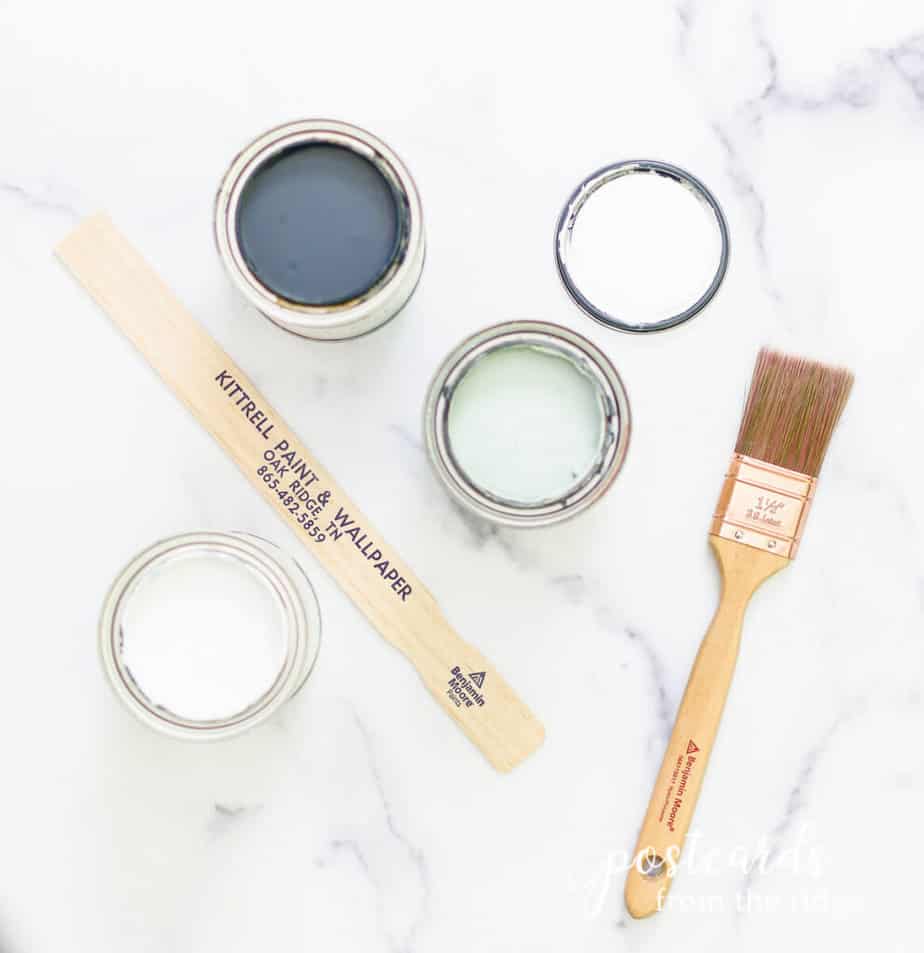 Don't stress out. Remember that there's not a "perfect" color. There are likely a few good choices that will look beautiful in your room.
Tip: Buy quality paint
As far as brands go, I have always sold and mostly worked with Benjamin Moore colors and highly recommend their colors and products. (They don't pay me to say this). But all brands have "premium" paints and mid-priced paints that should be fine.
Just please don't buy cheap paint. You'll actually save money because you don't have to buy as much paint as you would if you bought "cheaper" paint. You get what you pay for.
REMEMBER: It's only paint. I don't want to trivialize the whole process, but what's the worst that could happen? You choose the wrong color. You have to repaint, or live with a color that's not "perfect".
If you end up hating the color, it's usually the least expensive and easiest part of the project to change. Unlike cabinets, flooring, curtains, etc, it's an easy fix if you don't like it.
what the pros don't want you to know
How to paint your room
I've spent the past 30+ years in the paint and decorating industry and have learned from the pros and done dozens of painting projects. See how to paint your room and get a professional finish here:
DIY Painting Supplies Needed for a High Quality Finish
These are a few of my favorite painting tools that I've used for 25+ years:
I'm Angie!
Are you wondering how I know so much about paint? (I'm sure it's keeping you awake at night😄) Here's the scoop. Paint is in my DNA. My parents owned a paint and decorating shop in east Tennessee for 40+ years, and my husband and I also owned an independent paint and decorating store in Nashville for 13 years. I've spent 30+ years answering every imaginable question related to painting, wallpapering, and choosing colors. Thousands, literally.
They say to write about what you know, so you'll find my best tips here on my blog. If you have a question, send me an email at angie@postcardsfromtheridge.com and I'll either answer you directly or possibly write a new post!
See all of my paint related posts here: Favorite Paint Colors & More
Paint Color Inspiration
Browse through my paint color archives for dozens of posts filled with inspiration.