Pottery Barn-Inspired Mercury Glass Holiday Wall Art
I love all things Pottery Barn and have bought several things from them. But my budget doesn't always allow me to get everything that's on my wish list. Their mirrored holiday wall art was one of those things. Not only was this more than I wanted to pay for it, I really just wanted to make it myself. Have you ever felt that way?
If you love knockoffs then you'll be excited because this project is part of a special holiday edition week long knock off tour! My blog friends and I have gotten together to bring you some of the best knock offs on the web. At the bottom of the post you'll see the lineup of bloggers showcasing their talents. Be sure to drop by and see what everyone has done!
This post contains affiliate links for your convenience. If a purchase is made after clicking one of the links I might make a small commission. Your price does not change. For full disclosure, go here.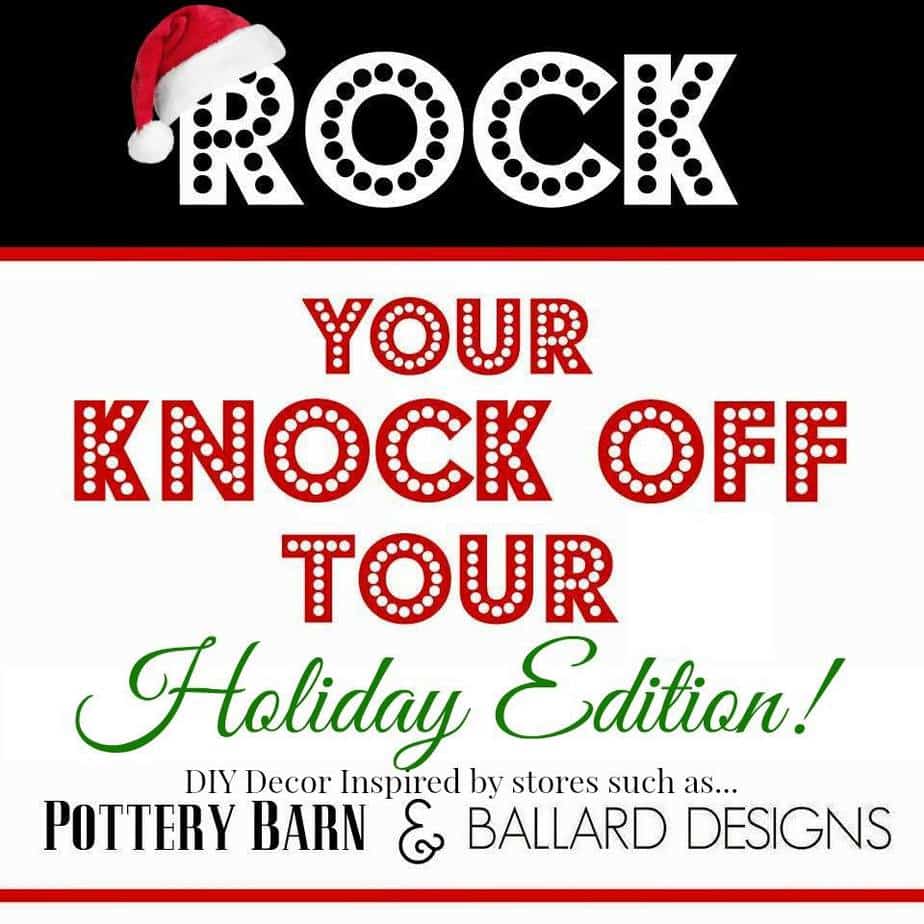 For my knock off, it's an easy and inexpensive project. You've gotten a sneak peek of my mercury glass projects if you follow me on Facebook or Instagram.
If you can use spray paint then you can do this one. Here's how I did it.
SUPPLIES NEEDED
Spray can handle (optional but recommended for any spray paint job. I couldn't live without mine!)
Thrifted frame with glass (mine was less than $3)
Dry erase marker
Spray bottle with a 1:1 ratio of vinegar and water
Paper towels
*I was supplied with the spray paint and handle for this project by Rustoleum but the opinions are completely mine and I'm sharing my personal experience with the product.*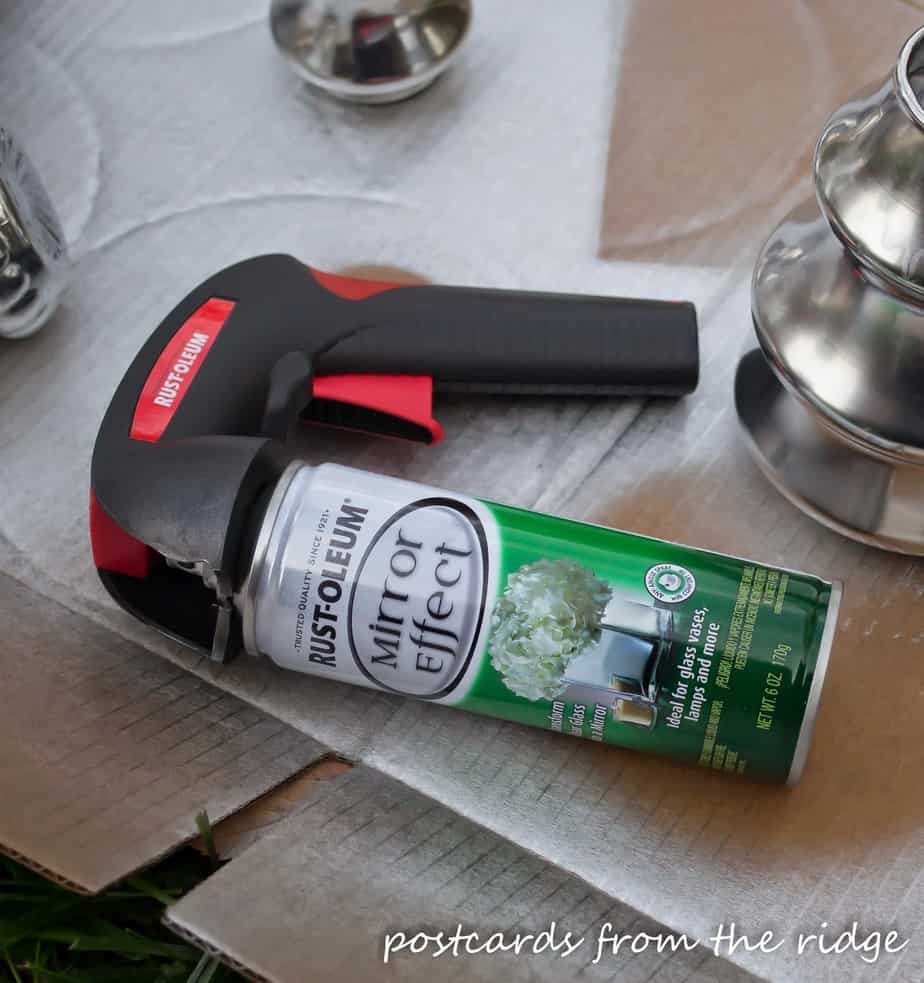 HOW TO MAKE MERCURY GLASS OR ANTIQUE MIRROR
After removing and cleaning the glass from your frame and allowing it to dry completely, spray the glass with two light coats of the Rustoleum Mirror Effect spray paint (I'M IN LOVE WITH THIS STUFF!), letting it dry between coats. This will take less than 10 minutes.
After the paint has dried, spritz it with the water and vinegar solution. Let it sit for a minute or two and you'll see the paint to begin to bubble as the solution lifts the paint from the glass.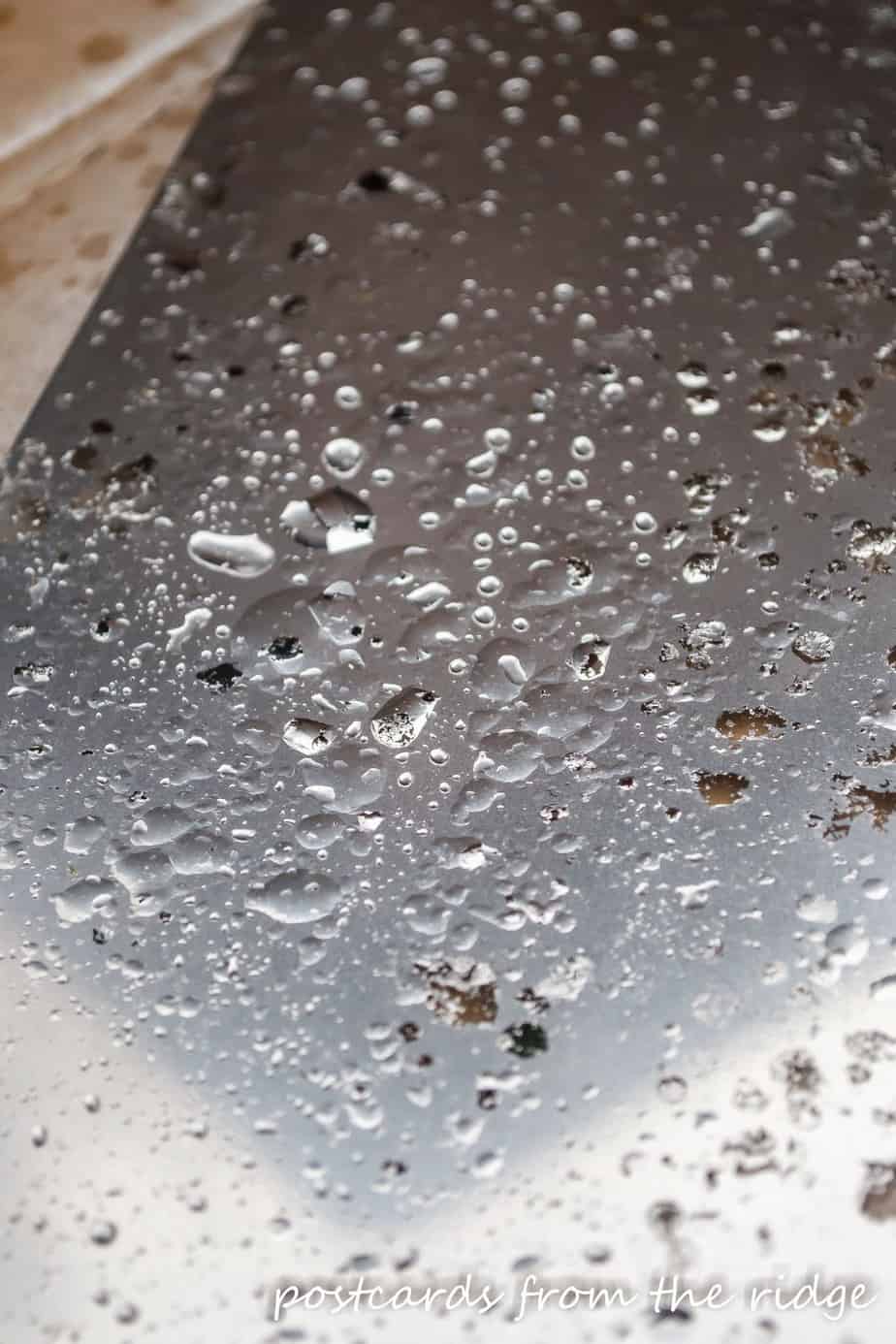 It should look like the photo above. Next, take a paper towel and gently blot the loosened paint off of the glass. If you're happy with the way it looks at this point you can call it done. If not you can apply a couple more coats and repeat the spray and blot process.
For my project I repeated it a couple of times.
Once I was satisfied with the way the mirrored part looked, I secured the glass back into the frame.
Then I simply took a dry erase marker and wrote on the glass, copying the Pottery Barn text as closely as possible. I had to redo it a couple of times but it didn't take more than 10 minutes at most.
The beauty of this project is that you can change the text to anything you want! I'm sure I'll be changing it out several times during the holidays and probably writing messages on it for Valentine's Day as well!
And if you're curious, the color I used on the frame is Benjamin Moore Caliente in the eggshell finish pint size samples.
Here's a closeup of the mercury glass mirror. I got a little carried away with the spray and also painted a few other items. You'll probably be seeing them in upcoming holiday posts. 🙂
Want to see lots more holiday knockoffs? My talented blog friends have got some amazing ones to inspire you. Be sure to visit everyone and see what they've done. And prepare to be impressed!
Monday, November 10th
ConfessionsofaSerialDo-it-Yourselfer
Tuesday, November 11th
Wednesday, November 12th
Thursday, November 13th
Friday, November 14th
For handy tips and tutorials, go here.
To see my painted projects, go here.
And go here for dozens of photos, ideas and favorite paint colors.