How to paint a laminate counter top
How to paint a laminate counter top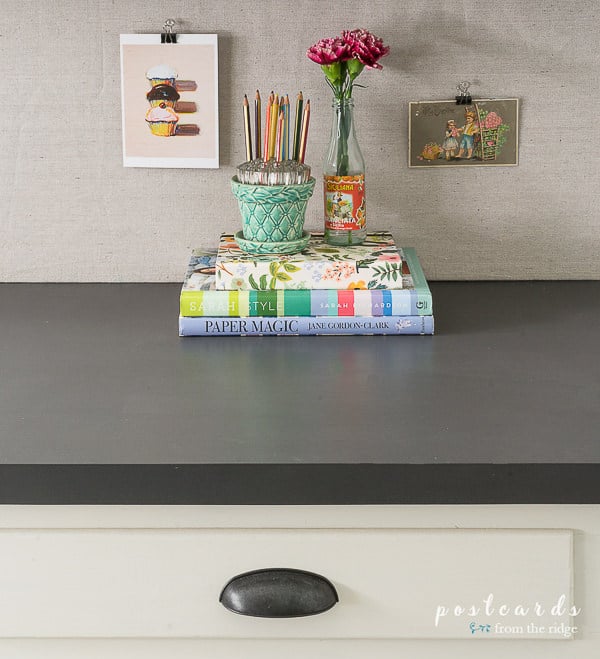 This post contains affiliate links for your convenience at no extra cost to you. If a purchase is made after clicking one of the links I might make a small commission. For full disclosure, go here.
Do have an ugly laminate counter that you want to update? Are you needing a low cost way to do it? I'm sharing how I gave our basement office counter a simple makeover with paint and you can do it too.
Update: this room got a fresh makeover in January of 2018, but the counters have held up well and didn't need to be changed. You can see all the details here → craft room makeover. And here's a peek at the new look of the space:
Below is how the counter looked when I first painted it over 7 years ago. It's still holding up well but I don't use the room all that much. I've since painted the walls and added a bulletin board that you can get the tutorial for here → budget friendly linen-look bulletin board
The room has good bones and I'm happy that we have the space, but the blue counters needed a facelift with paint and I'm sharing how I did it in this post.
How to paint a laminate counter top
**Note: This procedure works great for counter tops that don't get heavy use or scrubbed with harsh cleaners. I wouldn't necessarily recommend it for a kitchen counter top unless you needed something very short term. I can't promise it will hold up or be resistant to bacteria, but it's fine for this particular application or other areas that don't get daily use. This method could also be used on other laminate surfaces**
Supplies needed:
1. Clean and prep
Clean the dirt and grime off the surface. I used Tide Oxi for this job. It cleans upholstery, tile, grout, non-porous surfaces, and so much more. It worked wonders on the dirty sky blue counter top. You can also use this cleaner that I've used on many other projects → prepaint cleaner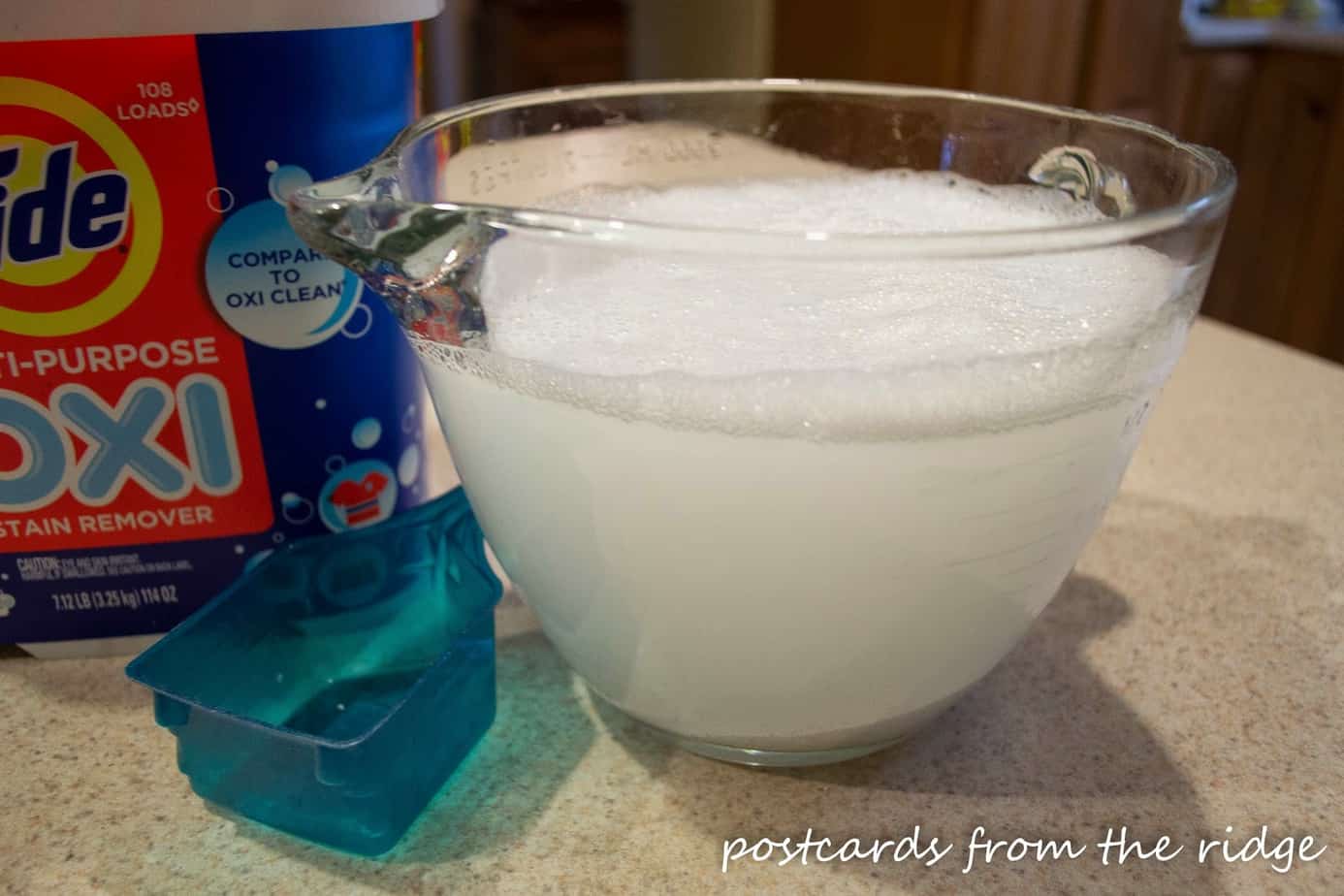 I mixed the powder with the water according to the directions and then took it down to the craft room to clean the grimy counter. As a bonus, this stuff smells so good. Much better than other cleaners I've used.
You can see how dirty it was. Since I knew I was going to prime and paint it anyway, I didn't mind that some of the paint and primer from the upper shelf brackets got on the counter. You can see that part of the project later. Now it's time to scrub, scrub, scrub the counter!
Before priming or painting, tape the edges to prevent the primer and paint from getting on your walls. I recommend this painters' tape.
2. Prime
After the surface dried, I primed it with a 100% acrylic primer. I used a brush to cut in around the edges and a small foam roller cover for the rest of the surface. Be sure to use a very short nap roller so you don't get a texture on the surface.
3. Allow primer to dry
Let the primer dry completely.
4. Apply Paint
After the primer dries, you're ready to paint the counter top with your chosen color. My first attempt was a color called Stampede.
It looked pretty good. But I couldn't leave well enough alone. I wanted to do something fancy. (Big mistake)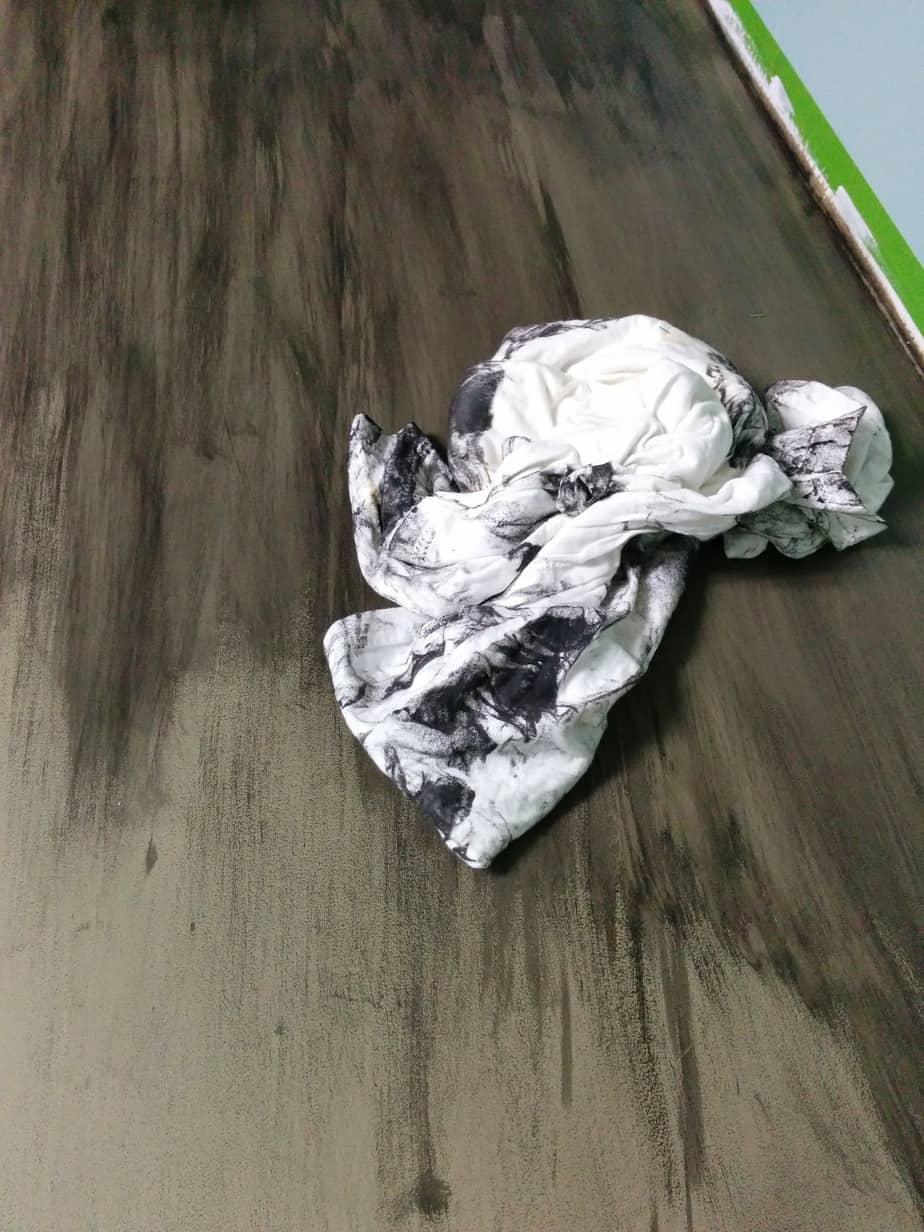 I attempted to make the counter look like weathered wood.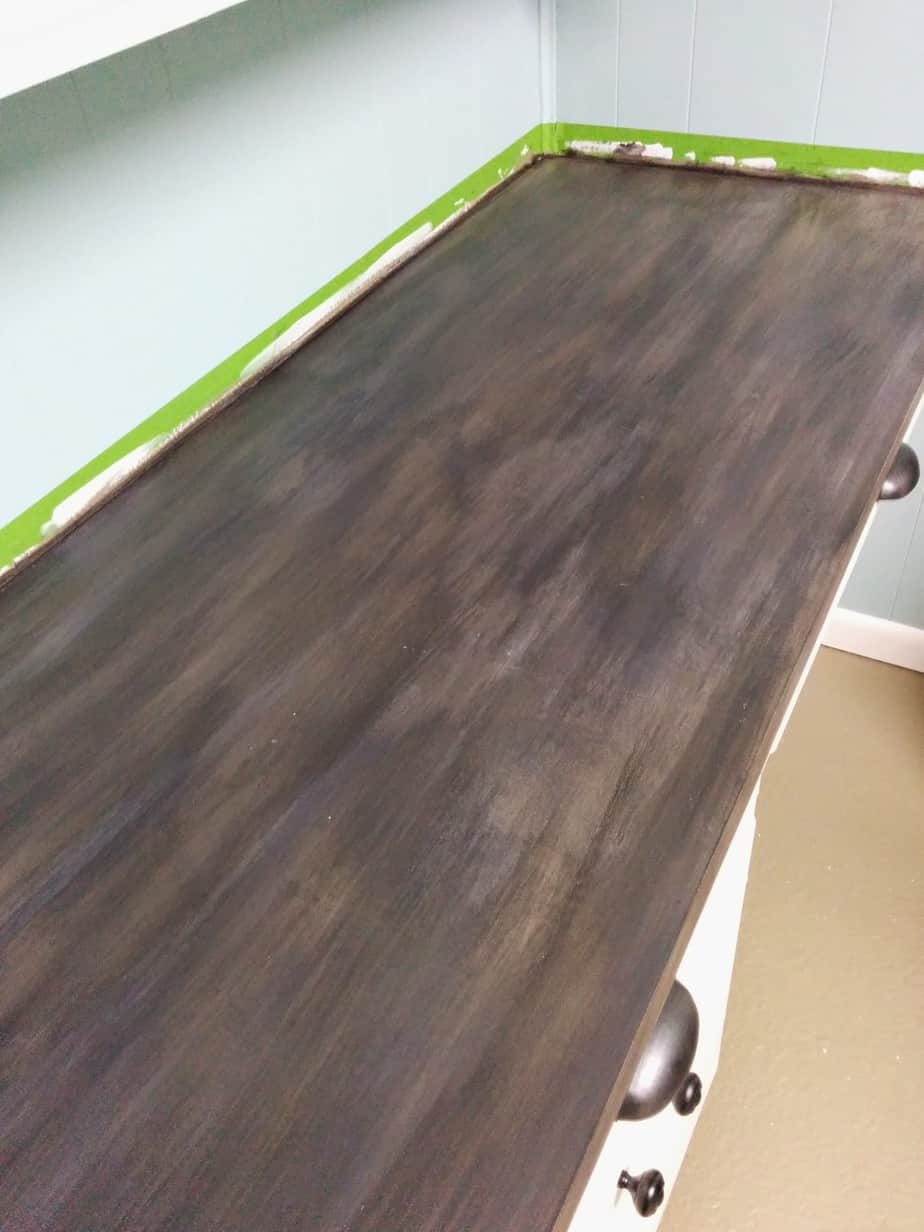 And this is how it turned out. Not pretty at all. Time for plan B. I didn't have a plan B but I quickly came up with one.
Aaaah, yes. This is much better, don't you think? I mixed together several shades of paint that I had on hand including Onyx, Stampede, and Stone Hearth to come up with this pretty charcoal color. I love the way it complements the wall colors and everything else you see here.
(Cabinet pulls are found here → bronze cup pulls drawer handles.)
5. Apply clear sealer
After the paint dried completely, I applied a couple of coats of clear acrylic for protection, then removed the tape.
Note: the floor has one coat of primer and one coat of paint. I'll be adding another coat of paint and a stenciled faux rug in the next few weeks. You don't want to miss that!
Update: go here → stenciled floor tutorial ← for the reveal.
I can't believe what a difference it made changing the color of the counter. I love the way it looks. It reminds me of soapstone counters that I've seen for much more than my paint cost!
Here's a closeup.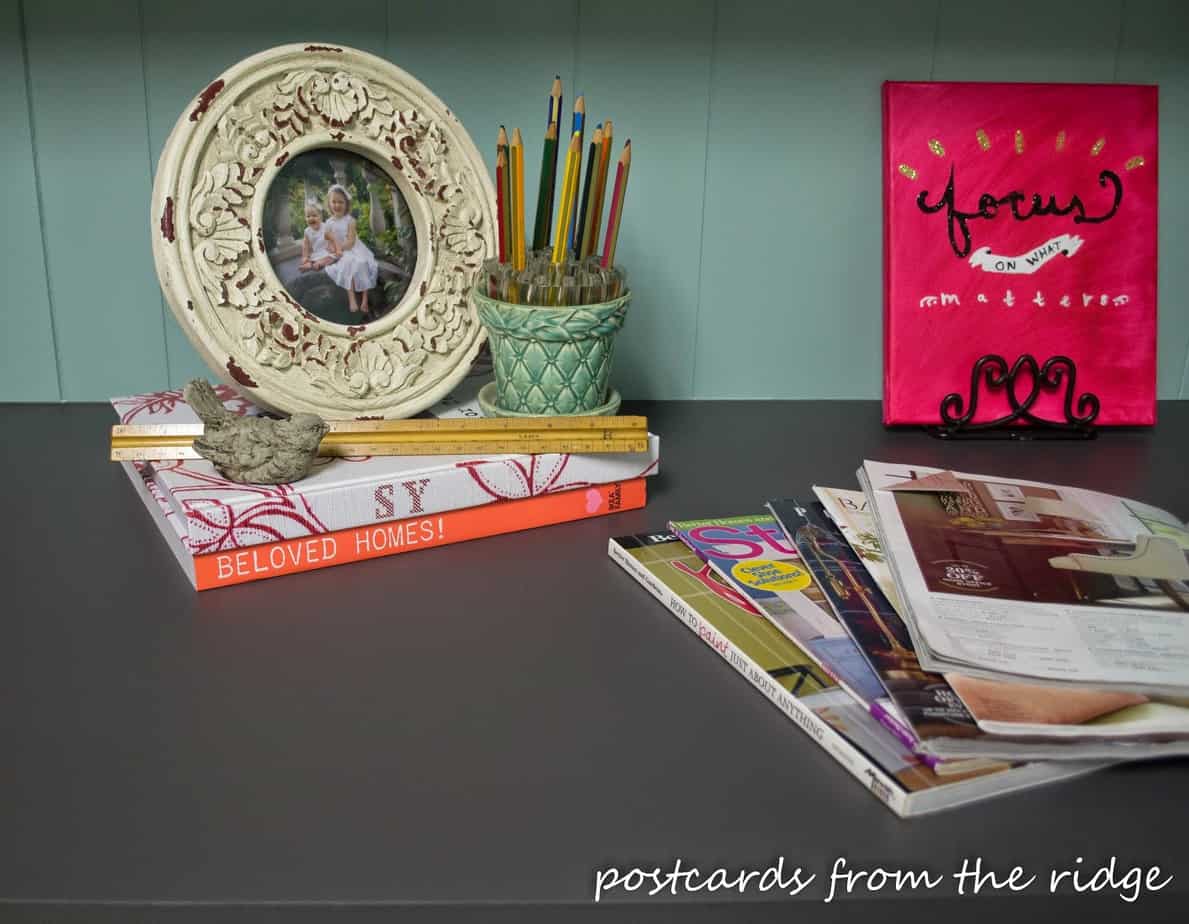 FYI, I also updated the ugly 1960's green counter top of the bar in our family room. For this makeover I used a wood look contact paper and you can see it here → how to update a counter top with contact paper.
Here's how it looks now:
Here are a few more ways to give dated items and rooms a fresh new look with paint.
Don't be afraid to paint your dated brick. It's so easy and makes such a huge difference. See how I updated our living room fireplace here → How to paint your brick fireplace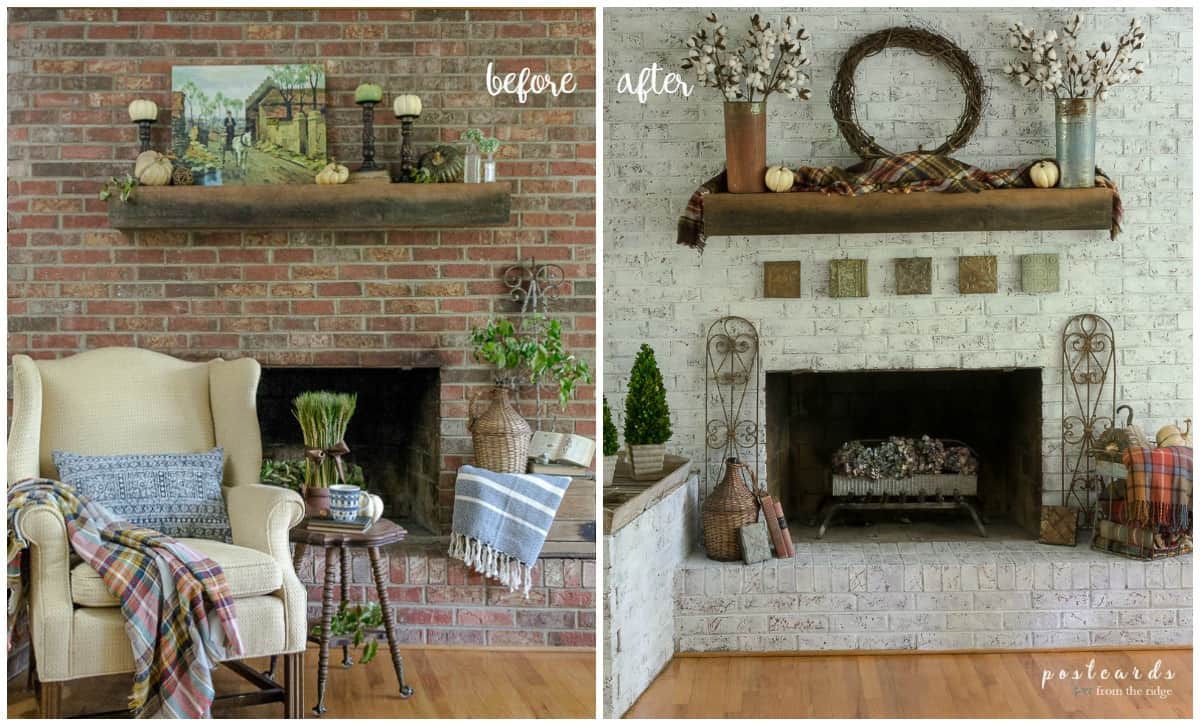 Do you have paneling in your home and want to give it a brand new look? Painting it is a budget-friendly way to update it and you can see how to make it look like a professional painter did it here → How to paint paneling like a pro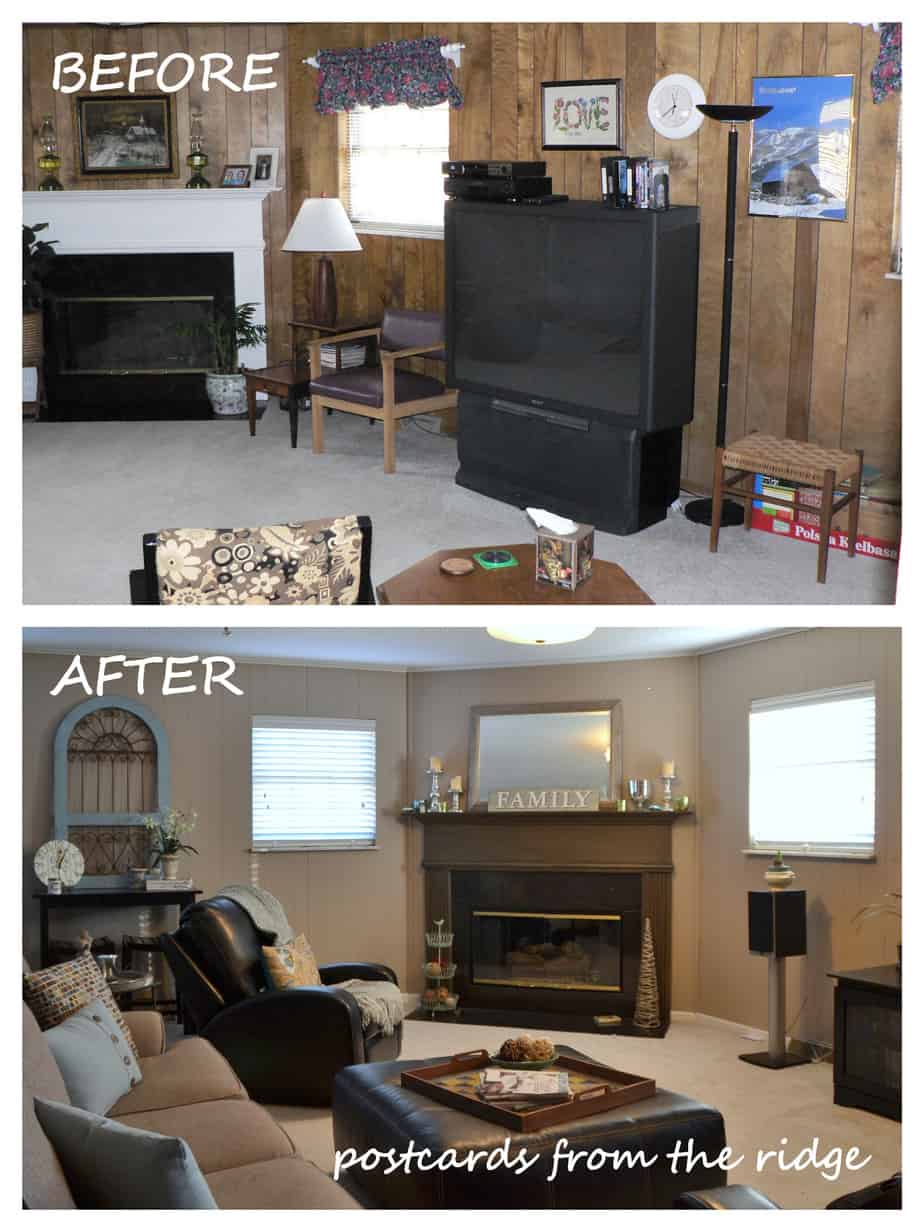 See how to give a dated oak table a makeover with paint and stain here → How to update an oak dining table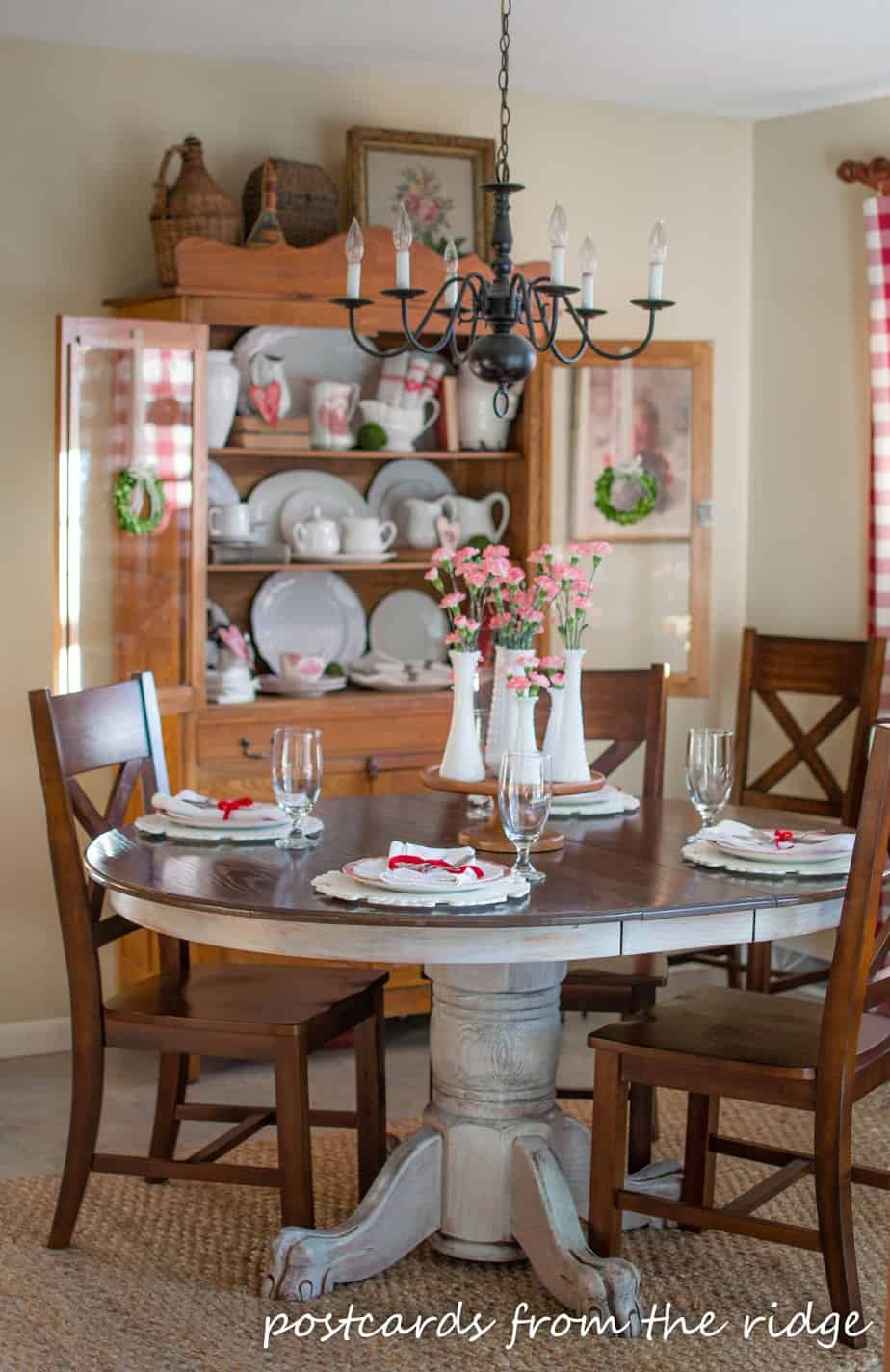 Do you enjoy budget-friendly diy and decor? Sign up below for our newsletter and get all of my projects, decorating ideas, recipes and more sent directly to your inbox.
Thanks so much for dropping by!