Hello friends, and welcome to our humble home. If this is your first time
visiting, here's a little about me. I live in a 1964 ranch style house with my
husband of 30 years, our 2 daughters, and our two kitties. We've repainted
nearly every wall in the house (at least once) and had 3 bathrooms renovated
since we moved in over 15 years ago.
My style could be described as eclectic, casual, collected, and comfortable.
I like various decorating themes like cottage, vintage, mid-century
modern, and some traditional. And I love to use items for something
other than their intended use.
**Disclosure – this post contains affiliate links to some of my favorite
products in case you're interested in finding them for your own home.**
Entry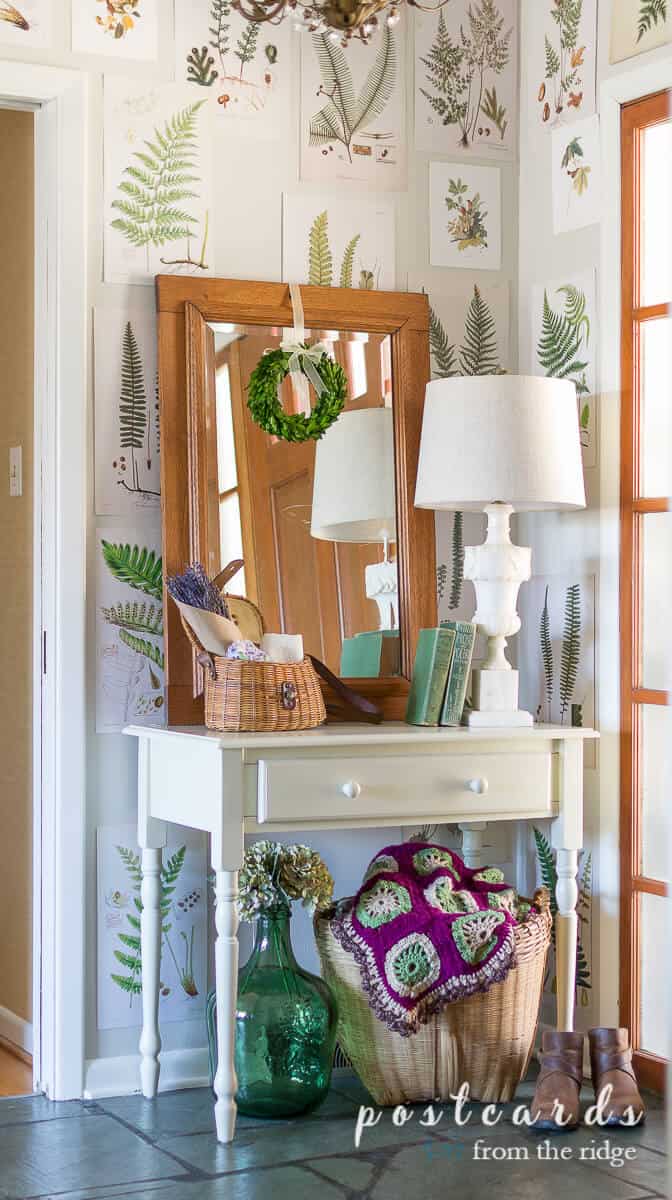 Our entry just got a little low budget makeover with some fresh fern
botanicals and lighter paint. You can see all of the details
HERE.
shop this look
Here's a previous years' spring decor in the entry. The vintage alabaster lamp
doesn't usually get changed out, but sometimes I swap the mirror for a
different one or some artwork. The details of this space can be found
here.
shop this look
And a peek at how it looks during the holidays. To see our Christmas home
tour from 2016, go
here.
Living Room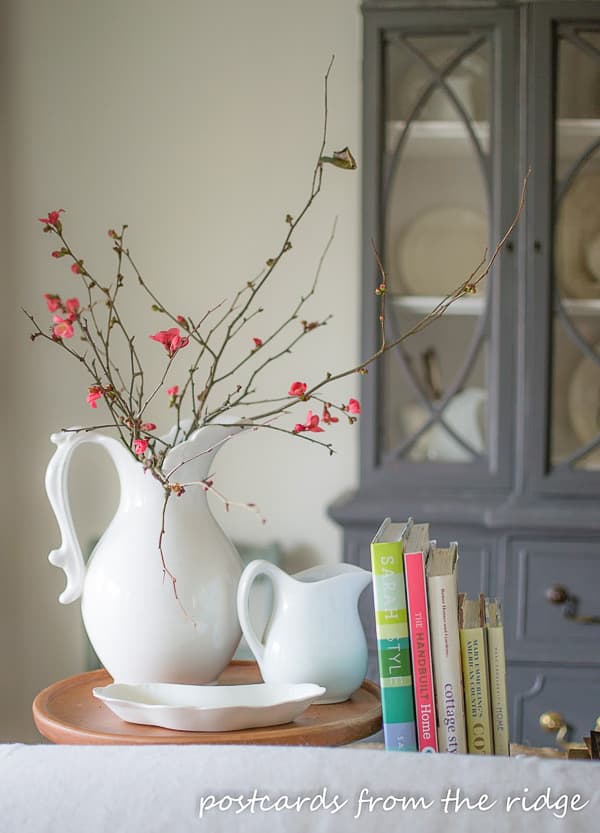 The furniture gets moved around in here for the holidays or whenever we
need to use the space as a dining room. This is the most recent
arrangement that has been here since spring of 2016. And it's my favorite
so far. Go
here
to see more of this look.
SHOP THIS LOOK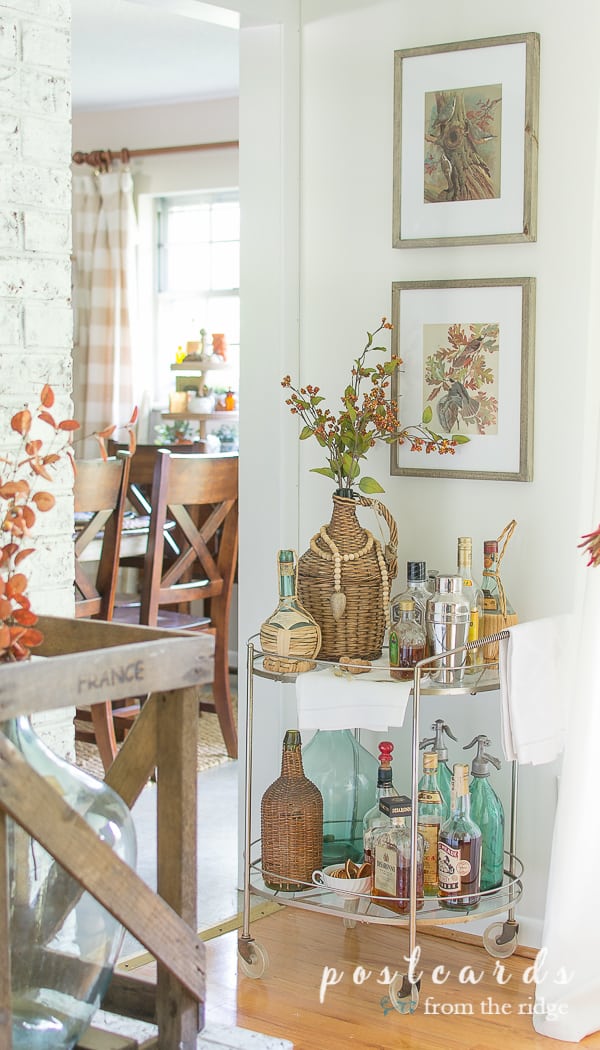 The mantel and hearth decor gets changed out seasonally. You can see the
most recent fall version
here.
And the most recent spring version is
HERE.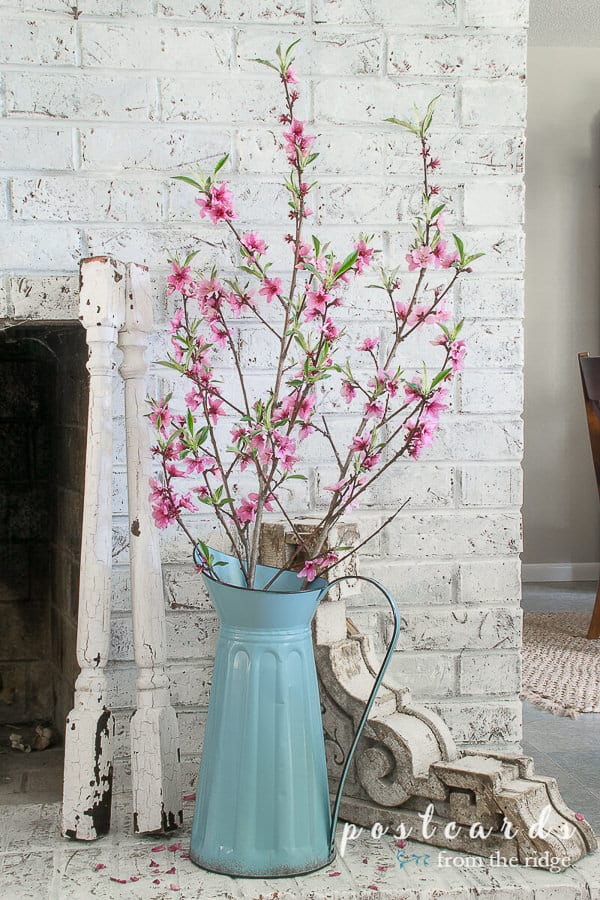 Breakfast Nook
From the living room you can see directly into the breakfast room. This
space used to be a dining room and was completely open to the living room,
but the previous homeowners knocked out most of the wall between the
kitchen and dining/breakfast room. For more pictures of the breakfast room, go here.
And to see my table settings, go
HERE.
The antique hutch in the photo above gets changed out seasonally. It
belonged to my husband's grandfather and we're so glad to be able to use
it in our home. For a glimpse of how it gets decorated for each
season, go here, here, here, and here.
I have an addiction to
white pitchers. Can you tell?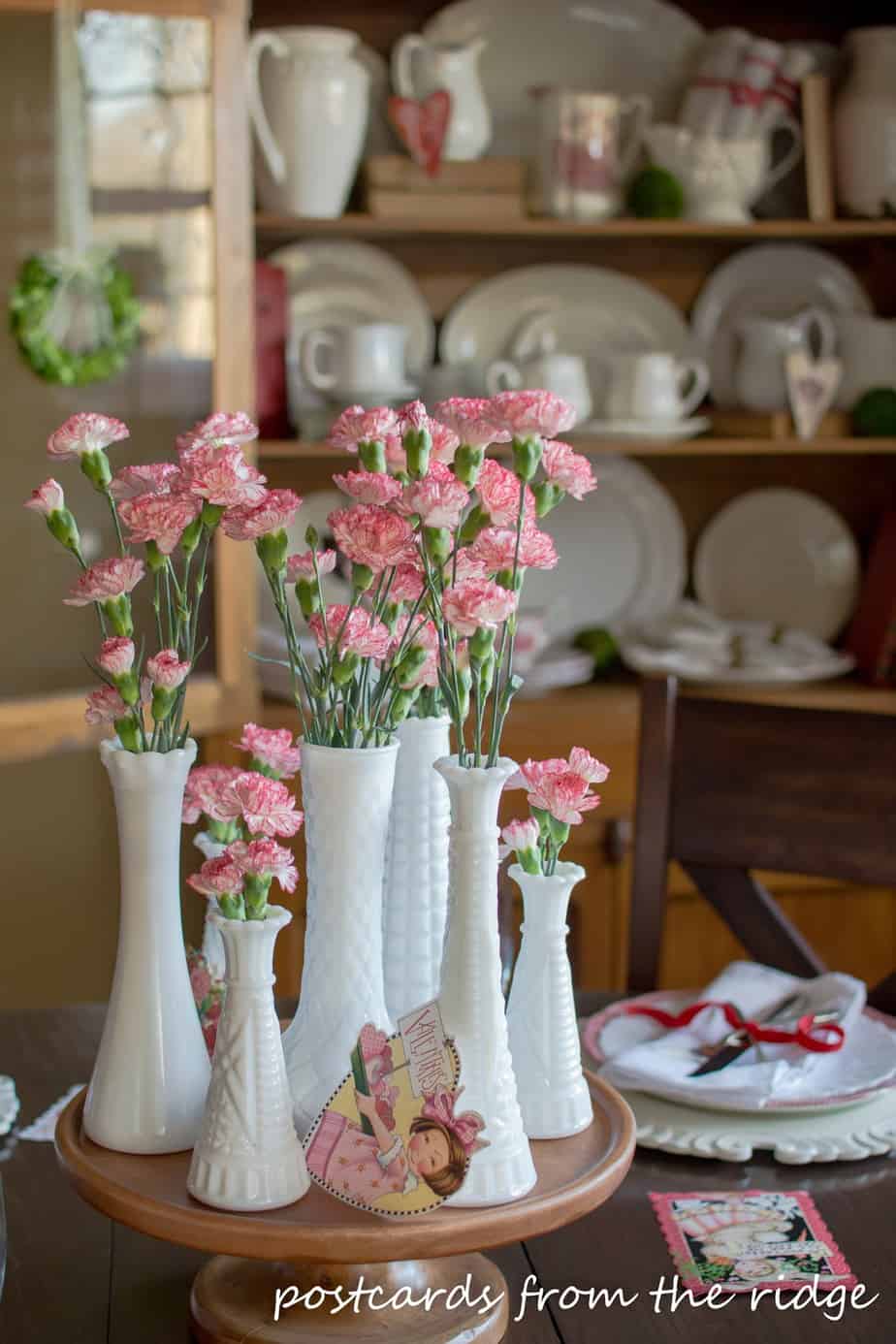 Touches of red and pink are added near Valentine's day. I also collect
milk glass and love to use the vases in a grouping like this. To see more of
this look go
here.
A recent Christmas table setting was also a bit rustic and
natural with boxwood and holly clippings, burlap, and some favorite
vintage dishes and silverware. You can see the rest of this table
here.
Family Room
The family room is where we spend the most time in on weekends and
weeknights. It's the only room in the house with carpet, so it's nice
and cozy and quiet in here. We watch college football on Saturdays (GO VOLS)
and have Friday night family movie nights and occasional game nights in this
room. It has recently gotten a fresh new look with a new sofa, and I also painted the mantel. You can see the plans for the room
HERE.
When we moved in, the room was covered in vintage 1964 paneling. As
you can see, it's still covered in paneling, but we gave it
a facelift by painting it a few years ago. It looks 100x better.
Painting paneling is such an easy and inexpensive way to update a
dated space. If you want to see some photos of the room before we
painted it, and learn how to paint paneling, you can go here.
Powder Room
There's a half bath right off of the family room. We had it completely
renovated recently and it looks like an entirely different room. A softer
color palette and new fixtures make it a space we love and are proud for our
visitors to use.
To see all the details of this room, go here.
Master Bedroom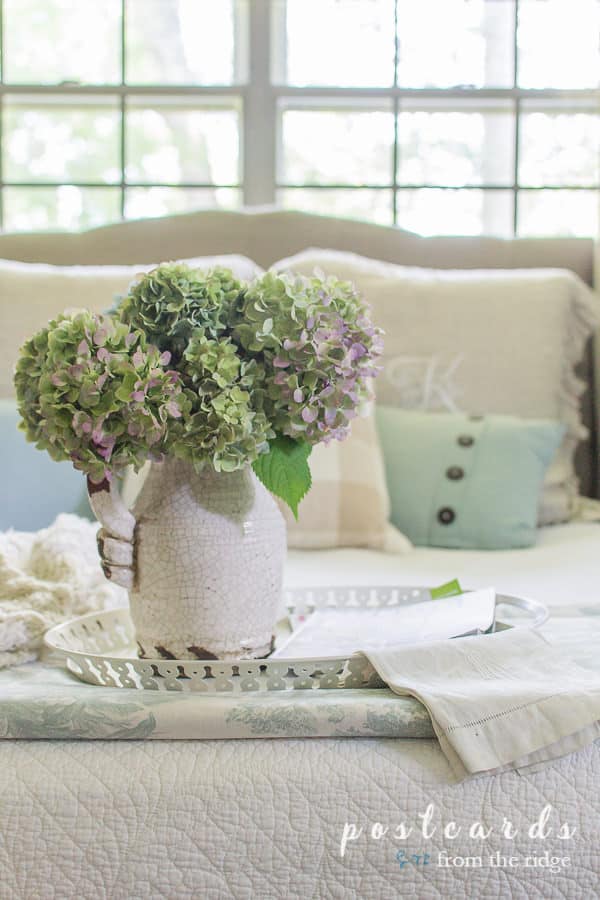 The master bedroom has a mix of old and new items. New rug, old dressers,
new bedding, old lamps, you get the idea! The pillows and bedding get
changed out seasonally. For the details of this room go
here.
shop this look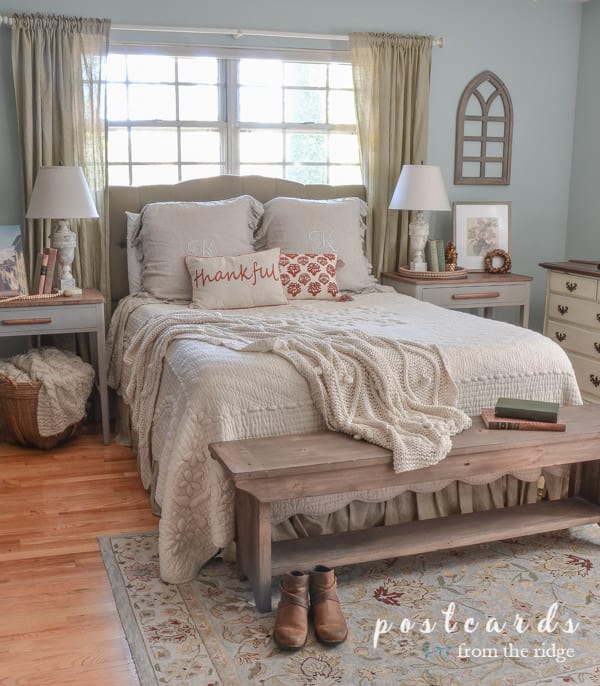 In 2020 I made a few changes in here with a new bedspread, some cathedral window
wall hangings, and a fresh coat of paint on the night stands. You can see more
of this look in this post:
A Touch of Fall in the Master Bedroom
Master Bathroom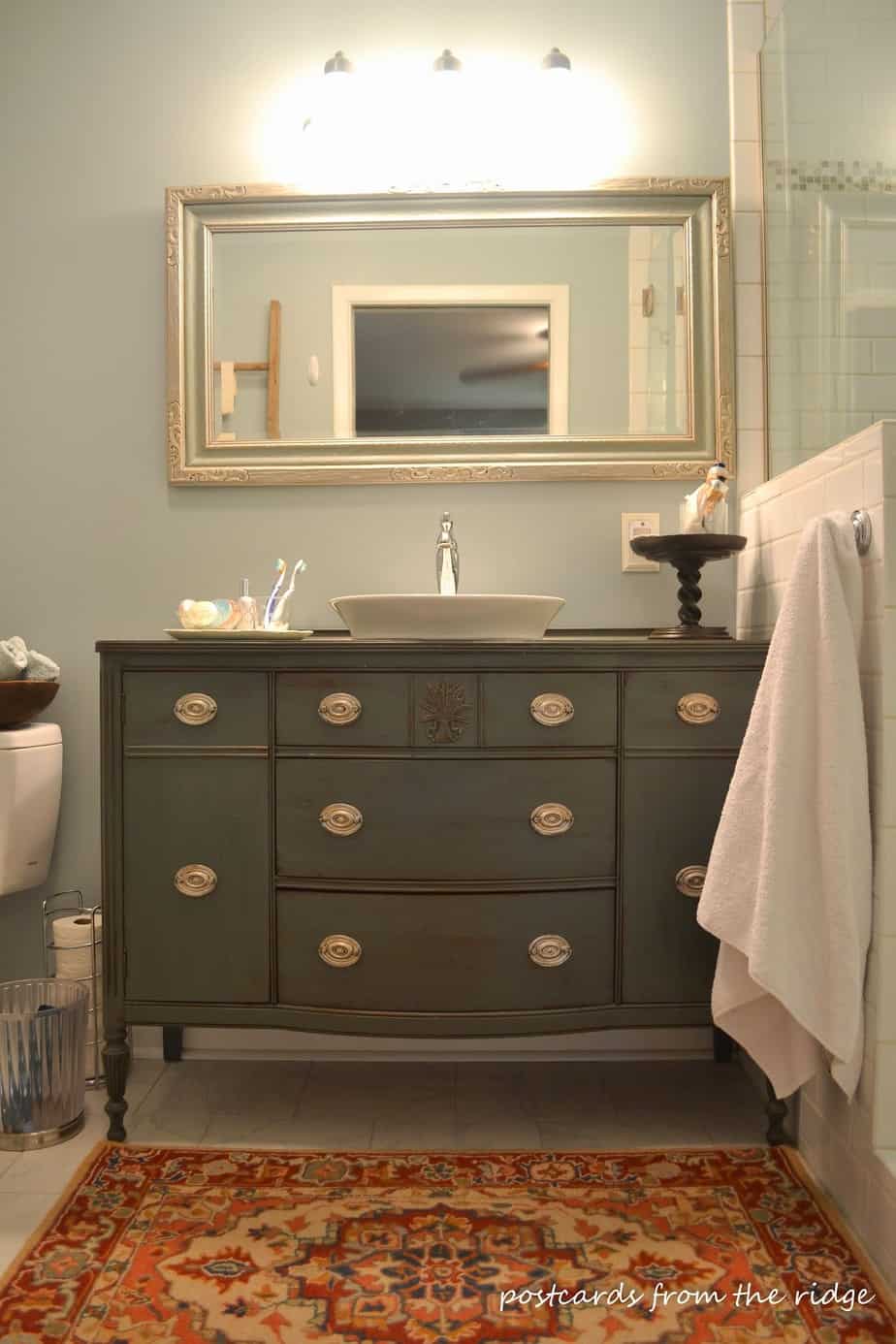 A few years ago our master bath shower had a leak and had to be majorly
repaired. We used the leak as an excuse to gut the bathroom and start
all over in there. It was vintage 1964 with a fully enclosed shower that
you could hardly see out of. A claustrophobic person would not have been
able to shower in there. To see some of the before and after photos, you can
go here.
For the vanity, we used our old dining room buffet. I painted and glazed
it and had our contractor retrofit the drawers so they would fit around the
plumbing. We still have usuable space in all three drawers. To see
how it was done, go here.
shop this look
Hall/Guest Bathroom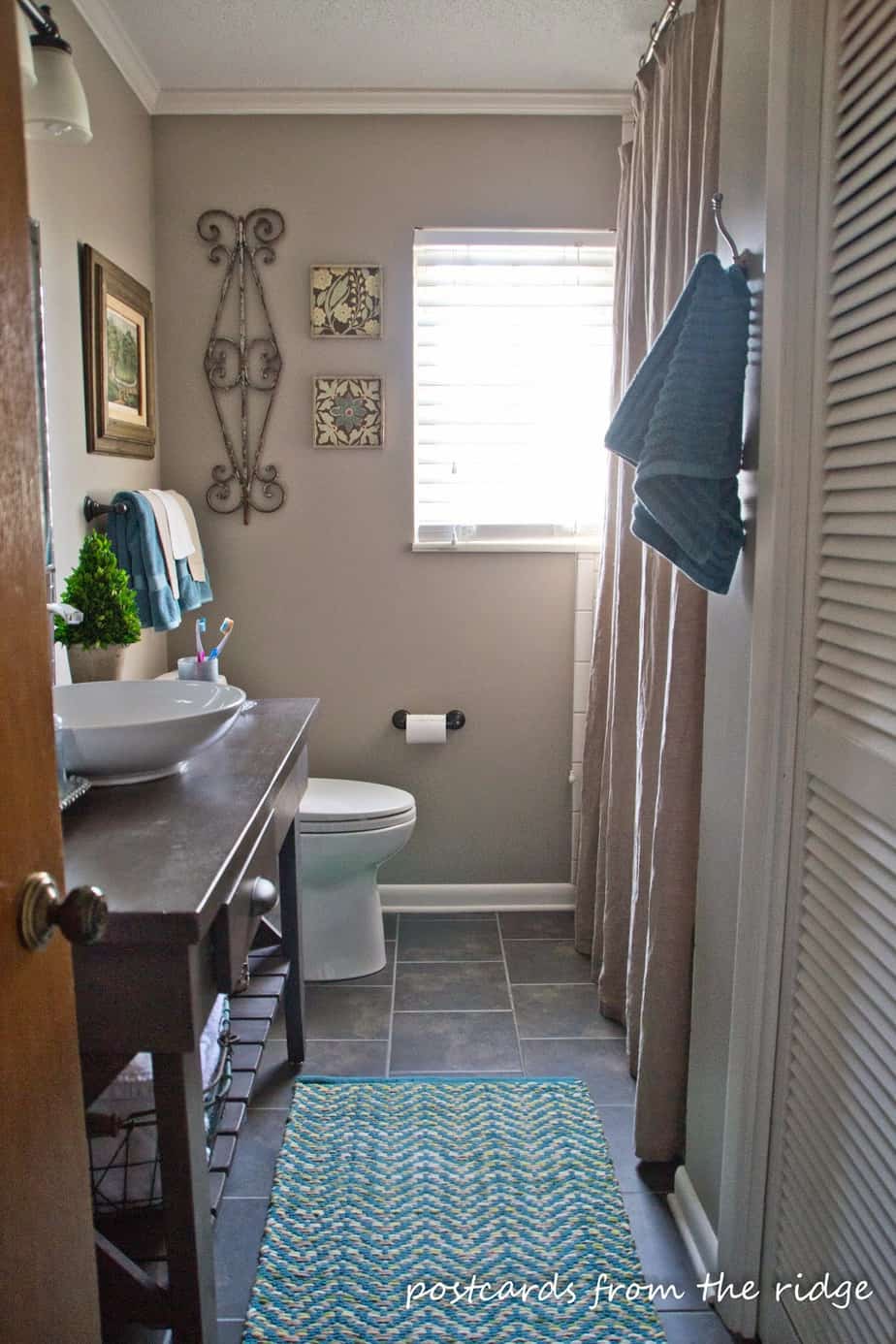 In November of 2013, we had to have our guest bathroom remodeled. We
went with a more neutral palette and darker floors.
I couldn't find a vanity that I liked that was in my price range, so I
designed one and had it built from pine by a local carpenter. I did a painted
finish on it to dress up the pine. For more photos and details of this
space, go here.
Guest Bedroom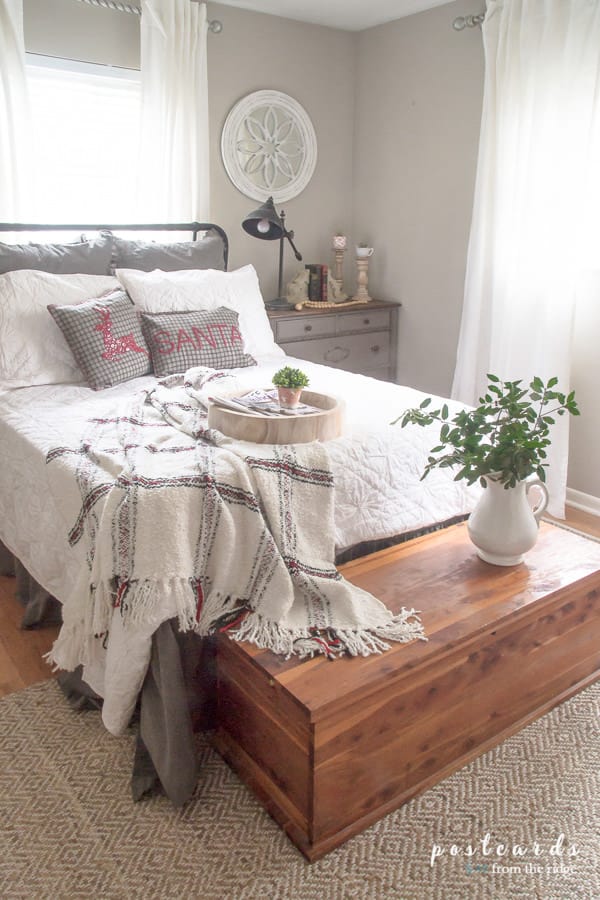 The guest bedroom recently got a facelift with new bedding, curtains, and a
rug. You can get the details and see more of it
HERE.
SHOP THIS LOOK
Craft room/Studio/Office
The basement office has been a work in progress and it's finally to a point
that I'm happy to show it off. You wouldn't believe what this room used to
look like. It's gotten a total makeover with paint on the walls, woodwork,
cabinets, countertop and floor! Oh, the power of paint! To see more of this
space, go here: $100 Studio/Craft Room Makeover
Laundry Room
Our most recent room refresh was our tiny laundry room. It's barely big
enough to open door washer and dryer doors, but it's clean and crisp after
its little makeover. I spent less than $100 to give it this look. You can
see all the details here: Laundry Room Refresh
shop this look
Covered Deck
Our home has a covered deck area that we use as additional living space for
most of the year. I added a vintage mantel a couple of years ago and enjoy
decorating it throughout the year.
Spring Outdoor Mantel Decor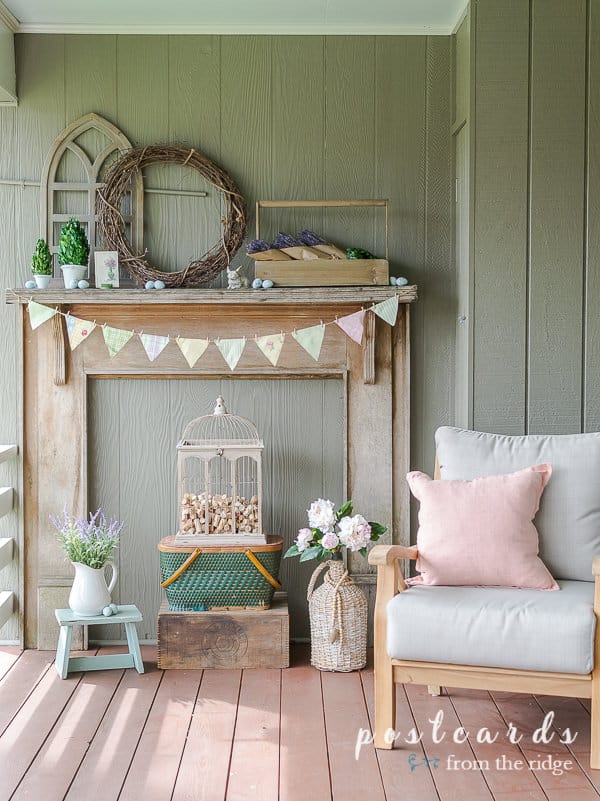 It's very cozy in the fall too. You can see the details of this version
here: Rustic Fall Mantel Decor
Garage
We did a major organizing project in our garage a couple of years ago and added
hooks and shelves. It needs a refresh now, but here is how it's supposed to
look, lol. To get the details, go
here.
I'll be adding photos of additional rooms as they are photographed, so be sure
to follow along to see the progress we make on our old house. There are
several options at the bottom of the post.
Like our style? You can recreate the look for your own home. Many
of our resources are found here:
Be sure to join our subscriber list so you don't miss any upcoming projects or
posts. Sign up below.
Thanks so much for dropping by!