Red transferware, white ironstone, and green glasses
For someone who hates doing the dishes, I sure do have a lot of them. At last count, I think we (I) have 6 sets, plus various pieces of that are mixed in on occasion. The dreaded "collectors" gene is pretty strong in my family. My mom and sister have it, and apparently so do I. It's not a completely bad thing though. We've "collected" quite a few nice things over the years.
This year, as part of our Christmas decorations, I have some of my favorite red and white dishes on display in our breakfast nook. These are special to me because most of them belonged to a dear family friend who passed away several years back and I was fortunate enough to acquire her collection. The green glasses were my mother-in-law's. She would set them out each year at this time. It's always nice to see those items that remind you of someone who's no longer with you, especially at Christmas.
I wanted to "bling" it up a bit and added the ornaments for a little sparkle. I added a few pine cones and other things for filler, and will probably be adding some holly and other fresh greenery from our own yard as we get closer to Christmas day.
Everything you see in these pictures is something we already had, with the exception of one white dish that I picked up at the Goodwill store for 75 cents a couple of weeks ago (it's the one in the first picture).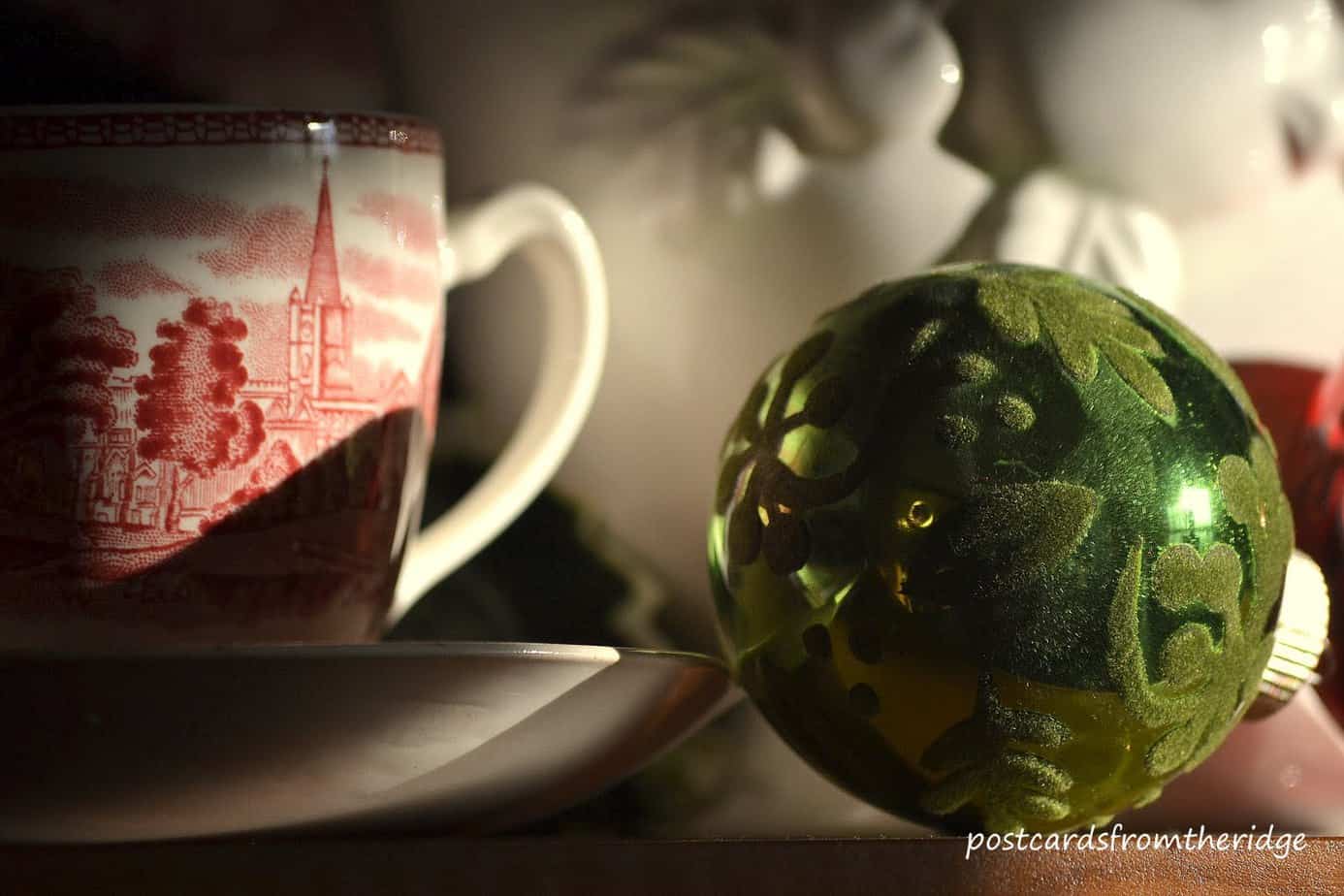 I always advise my clients to use what they have whenever possible. Sometimes a few new items might need to be added, but you would be surprised what you can do with the things you already have in your house. No purchase necessary.
Have a great day! And thanks for visiting.
XOXOX,
Angie
If you like my posts, I'd love it if you'd become a follower. You can keep up with my latest recipes, projects, tutorials, photos and tips many ways, including:
Email * Facebook * Hometalk * Pinterest * Twitter * Instagram