How to Make a Bathroom Vanity from a Piece of Furniture
How to create a one-of-a-kind vanity from a piece of furniture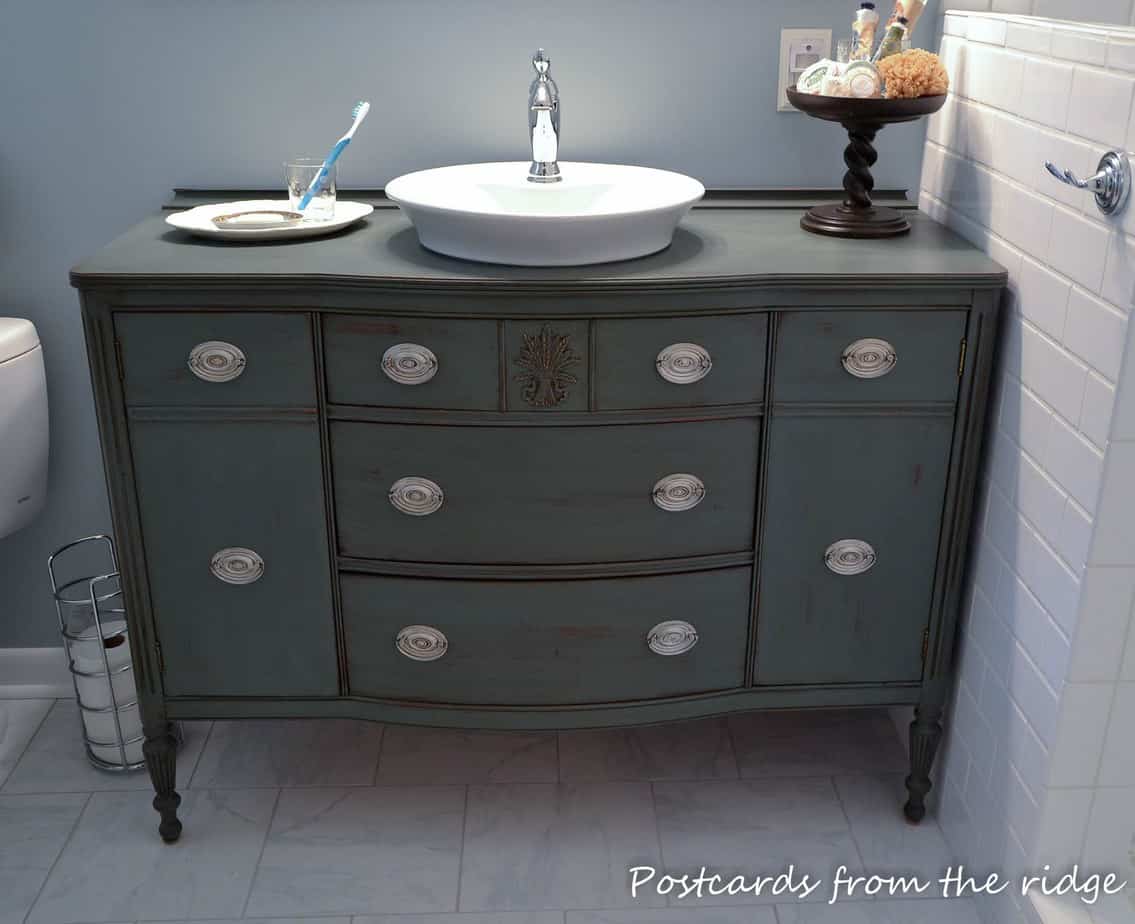 Apparently I'm cursed with not liking ordinary (translation – easy to find) items. I like to be different. Not in a weird kind of way, but more like a unique, one-of-a-kind, "I've never seen it done quite like that" way. Well, hopefully I'm not too weird. But I do get some strange responses sometimes.
Like the time when I told our remodeling contractor that I wanted to turn our dining room buffet into a vanity for our master bathroom. He didn't exactly say anything, but he looked like he was a little perplexed. "You wanna do what?", was probably what he was thinking, but I'll never know.
Fortunately, he was a good sport about it and worked some magic and transformed it for us. We even have drawers that still work and have space left inside of them for our stuff.
Here's how it turned out.
The before pic, when it was still being used as a buffet. We don't have an official dining room in this house, so we really didn't need this piece of furniture. We've had it for probably 15 years, and I had thought about selling it. But I liked the lines of it and decided (hoped) it would make a nice vanity for our master bath.
*disclosure – this post contains affiliate links for your convenience.
And here's what I did:
How to make a bathroom vanity from a dresser or buffet
1. Paint it
The first thing I did was paint it with a coat of Benjamin Moore Regal Eggshell finish in Quarry Rock, #1568. I didn't prime it, but did clean it well first with my favorite pre paint cleaner, found here.
2. Distress the finish
After the paint dried completely, I sanded it lightly to expose some of the
wood color and give it a nice distressed look. I used a tack cloth to
remove all of the dust that was created from the sanding.
Then I coated sections of it with this stain and wiped it off immediately. This gave it a nice aged look.
3. Apply a water resistant finish
After the stain dried, I could have left it as it was, but since it was going into a bathroom I coated it with this varnish. 4 coats on the top, 3 on the rest of the piece.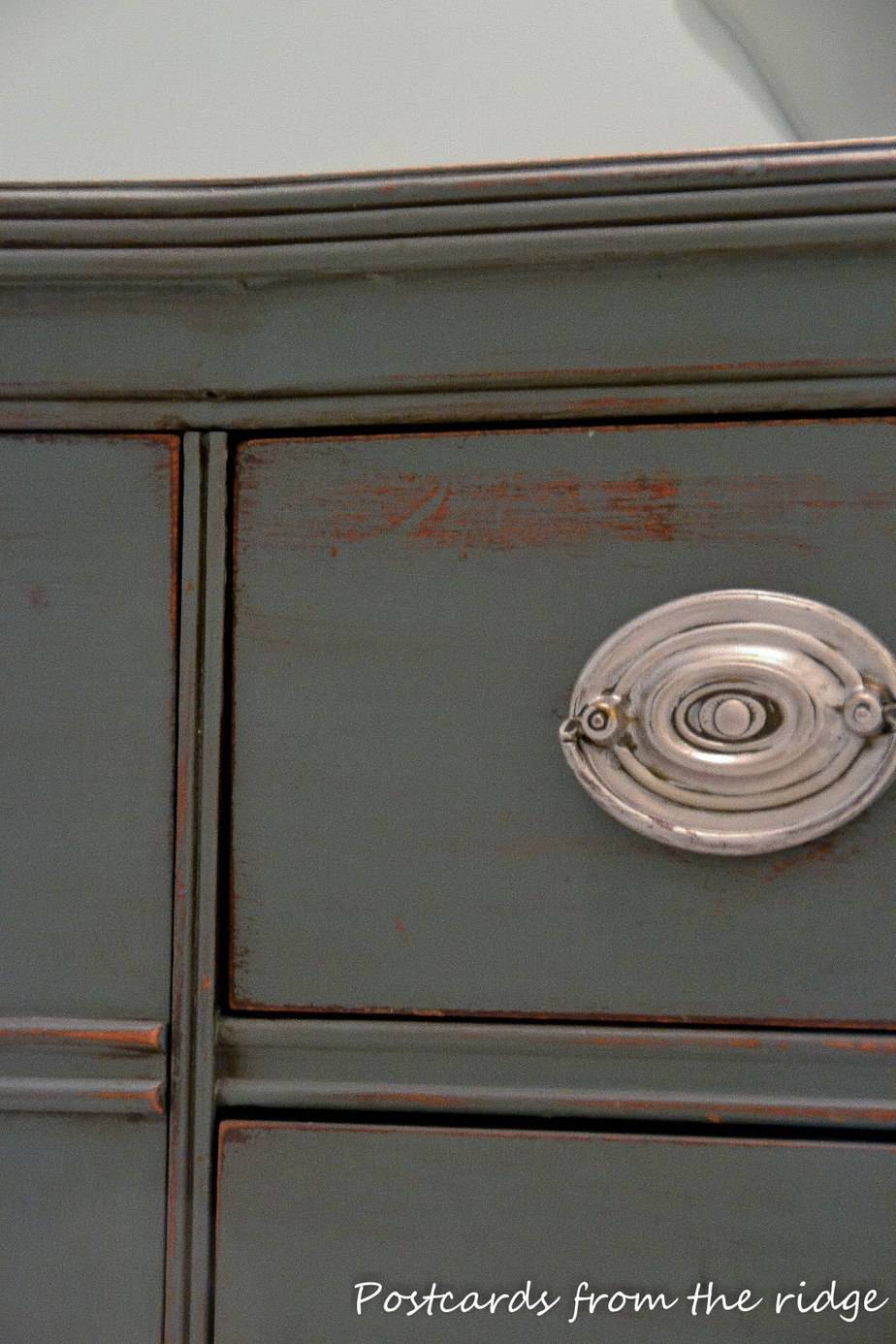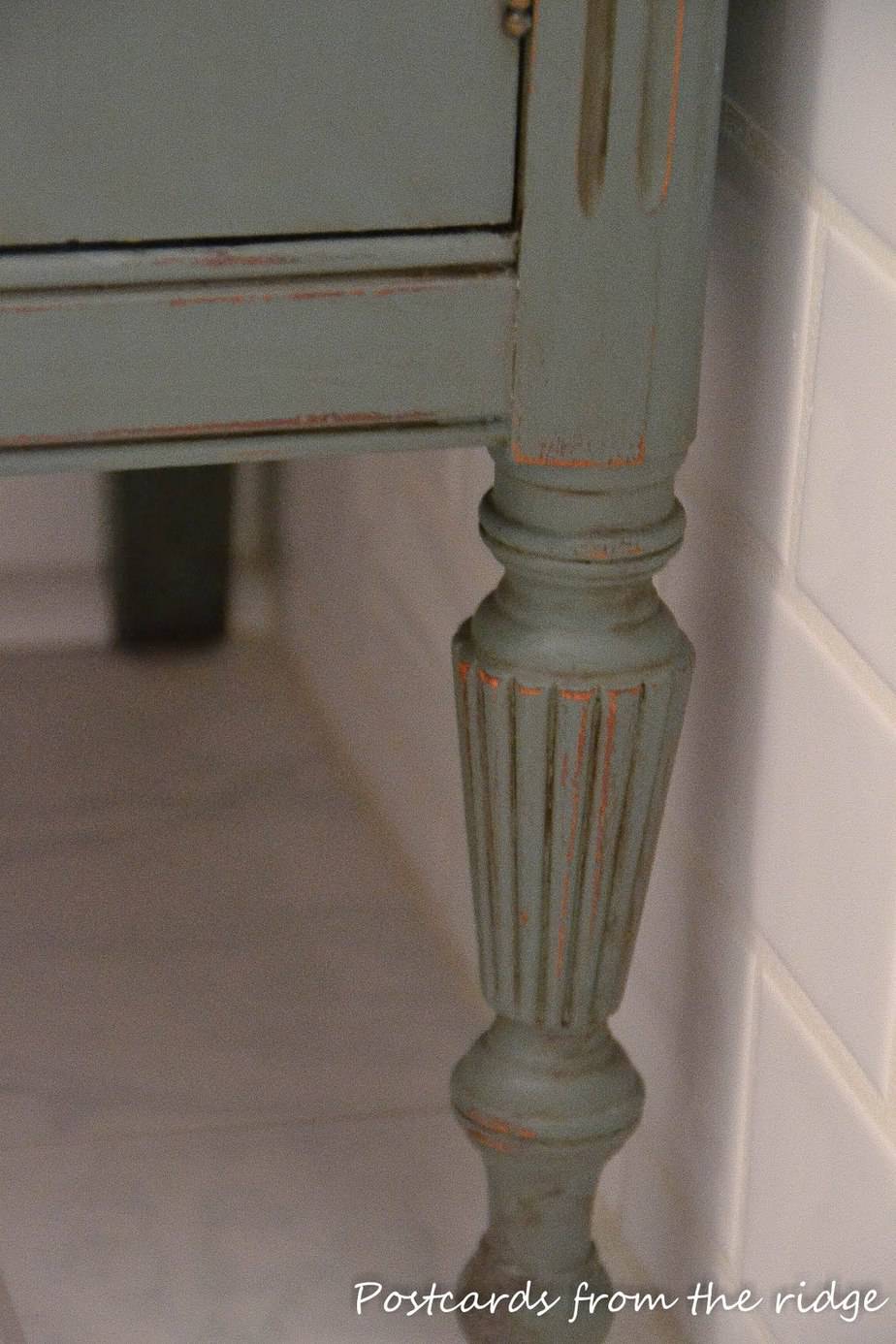 4. Reconfigure the drawers to fit around the plumbing
Since the Mr. and I have zero carpentry skills, the contractor did the
carpentry work which included cutting a hole in the top for the sink,
and reconfiguring the drawers so they would fit around the plumbing. He
also had to cut some of the back out. He was able to cut out a channel to fit around the plumbing so we still had usable drawer space in all 3 drawers.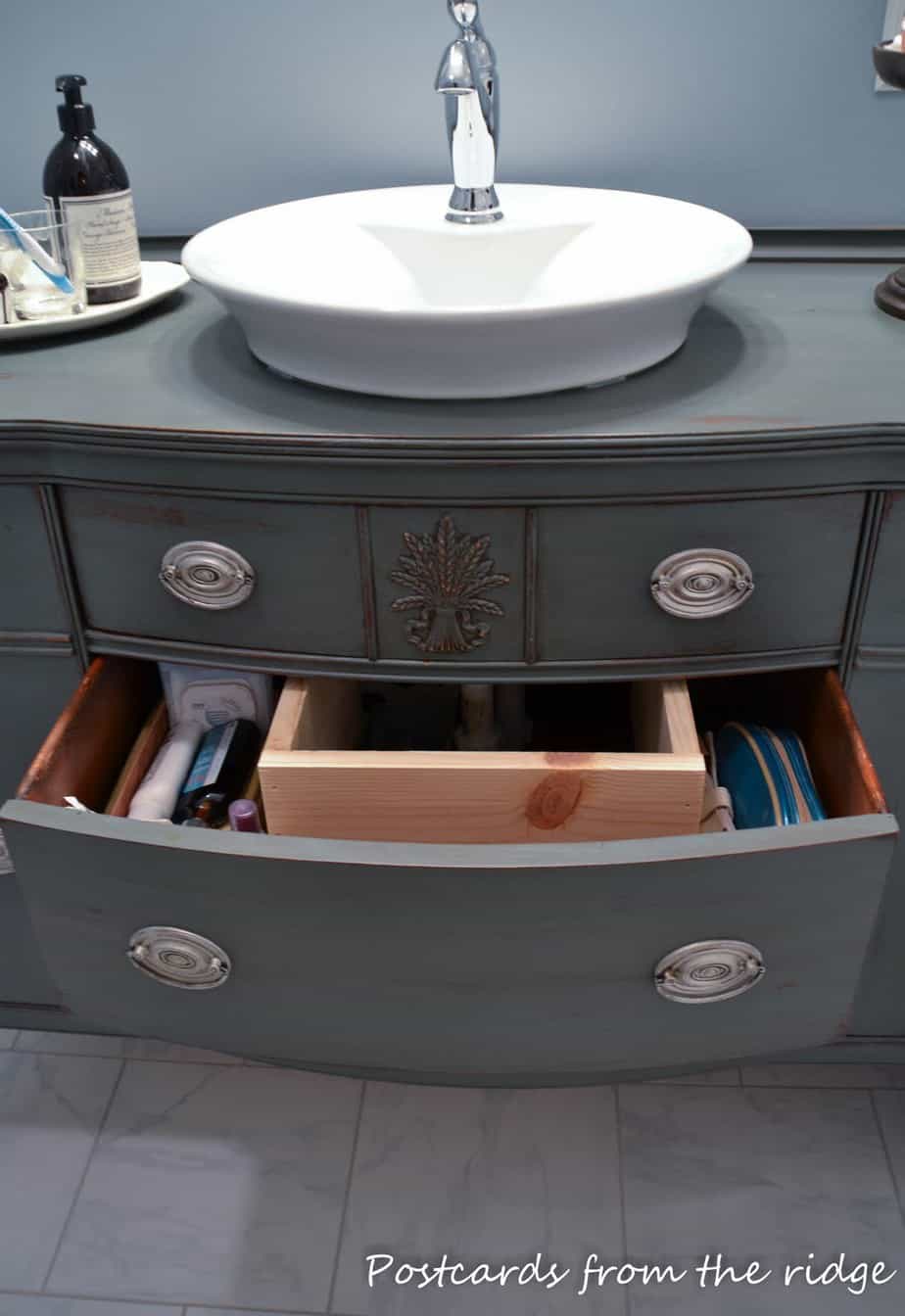 The bottom drawer had to have a piece cut from the back so it would fit around the trap, but we can use most of this drawer.
5. Install the sink and faucet
The plumber installed the sink and faucet and we then had a new vanity.
A one-of-a-kind, not ordinary, haven't-seen-that-before kind of vanity. And we love it.
Not only is it unique, it is solid wood. And did I already say that we love it?
For a peek at the mirror above the vanity and the paint that was used on it, click here.
To learn about the transformation of the pulls from brass to pewter, go here.
To see the complete bath redo so far, click right here.
Sources:
XOXOX,
Angie
Linking this project up to Inspiration Friday at At the Picket Fence
Power of Paint party over at Domestically Speaking
Friday Feature at ReDoux
Furniture Feature Friday at Miss Mustard Seed
Feathered Nest Friday over at French Country Cottage
Open House Party at No Minimalist Here
It's a Party over at DIYbyDesign
Furniture Feature Friday Best of 2012