Understated Easter and Spring decor
Happy Easter! Almost anyway.
I don't do a ton of Easter decorating around our house. Not that it isn't an important holiday. On the contrary, it's THE most important religious holiday to me. Without it, we wouldn't have Christianity. Think about it…
I like to keep it understated. It makes it easier to keep things out for a longer period of time.
Today I'm giving a little tour of what we have in the entry, on the living room mantel, and in the breakfast room hutch.
Welcome to our home!
This little guy greets us when we walk in the door. I seem to have a thing for crackled bunnies and birds.
Spring-y dried flowers keep the white crackled bunny company. I change out the decor on this wooden tray seasonally.
Speckled faux eggs in a vintage egg basket. It's a match made in heaven. 🙂
The other crackled bunny. I bought this one first and maybe I thought she needed a companion. I've had her for probably 10 years and she's one of my favorite Easter decorations. The vintage floral cake plate came from a yard sale several years ago. The lamp, mirror, frame, and dresser are all vintage.
Folks just don't send out pretty cards like they used to, do they? I got this vintage Easter postcard from ebay a few years ago. I just love the colors in it.
Moving over to the living room mantel, I borrowed a couple of white mirrors from the guest bedroom, added some faux eggs, lavender, and a few other things to make it look more like Spring in here.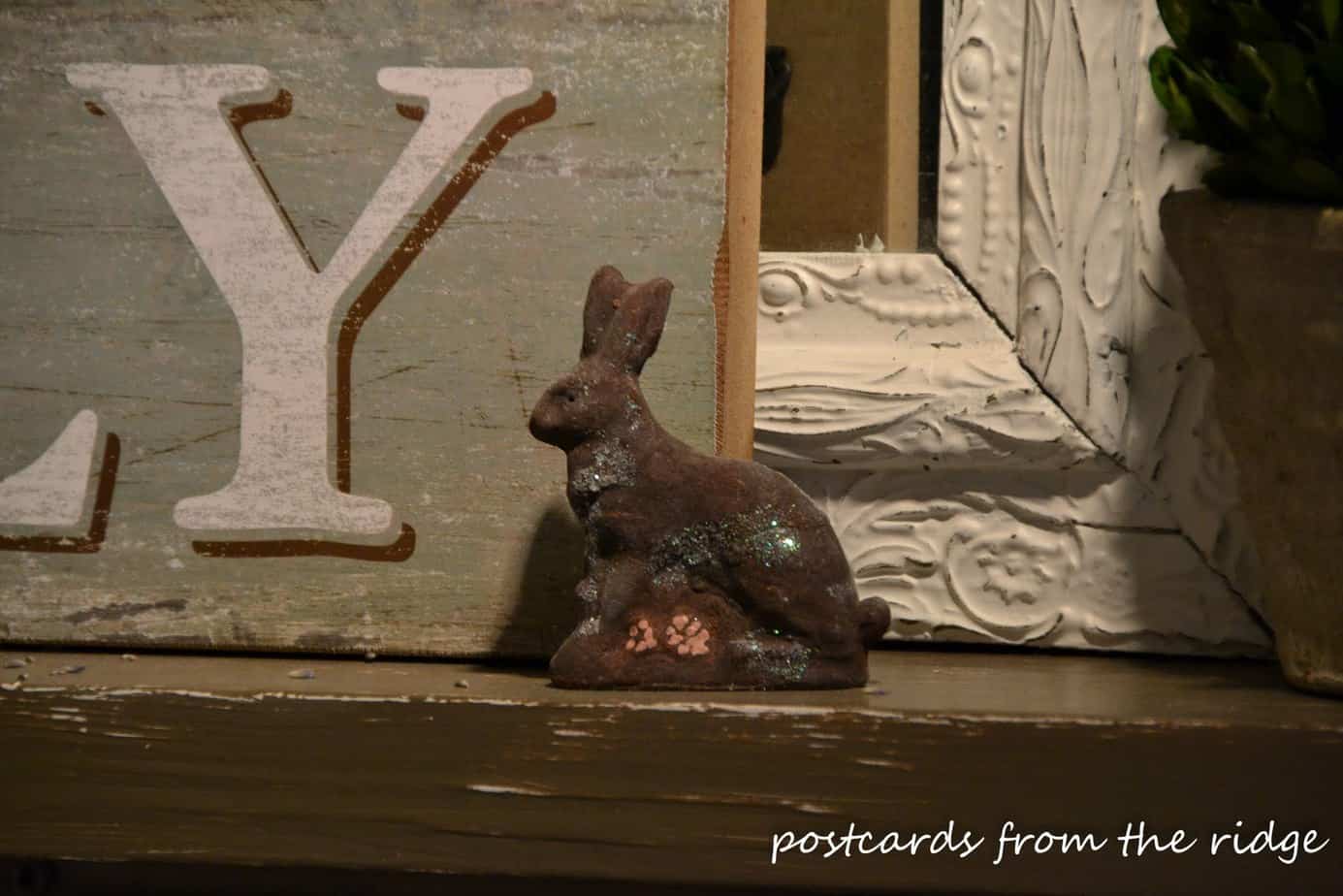 Well, this bunny isn't crackled but it is glittered. And it looks like chocolate. And now I'm hungry.
A preserved boxwood topiary, polka dot plate and some faux eggs sit on the right side of the mantel.
The whole mantel. I borrowed the sign from the family room. Now that I'm looking at this, I think I need to move out the copper basin and replace it with some flowers. Especially since it still has leftover newspapers in it that were used to start fires in the fireplace. Just keepin' in real, people. 🙂
The breakfast room hutch. It gets changed out with each season. This is the first time I've put this combination of dishes in here and I think I'll have to do it again next spring. I'm loving green and turquoise these days. I have different dishes and decor I put in the hutch for fall and Christmas and even July 4th.
One of my favorite little pitchers. It has a story, of course, but it's too long to for this post.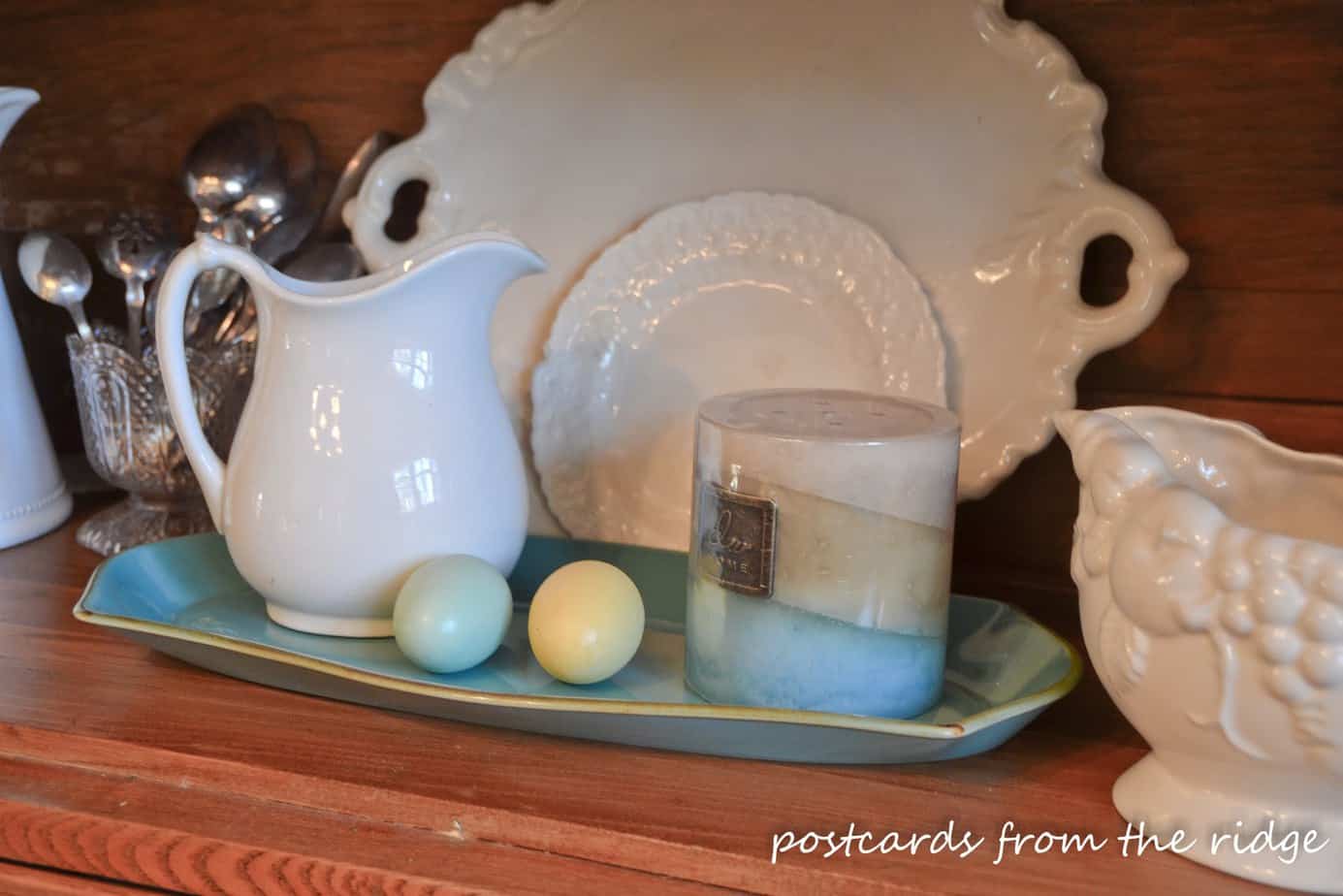 Mostly thrift store and yard sale finds here. The white platter with handles came from the same sweet elderly lady who sold me the floral cake plate that's in the entry (5th picture from the top). She said they both belonged to her mother and were probably from the 30's or 40's. I love it when a piece has a story behind it.
More yard sale and junk store items. I love the turquoise planters and wish I had more of them. And no, those silver spoons weren't in my mouth when I was born. 😉
Vintage scales are one of my favorite things. And look…crackled birds on the green planter! I just noticed this crazy trend I've got going on here.
Final shot of some of the ironstone and turquoise items. Looks like spring to me!
I hope you have a fabulous weekend and a very blessed Easter.
Thanks for stopping by.
XOXOX,
Angie
If you like my posts, I'd love it if you'd become a follower. You can
keep up with my latest recipes, projects, tutorials, photos and tips many ways,
including:
Linking up our Easter and Spring decor here: