Family Room Makeover Plans for the One Room Challenge
This post contains affiliate links for your convenience. For full disclosure go here.


Hello, friends! I'm excited to announce that I've decided to join the spring One Room Challenge as a guest participant! I'll be spending the next 6 weeks giving our family room a fresh new look and I can't wait! It won't be a total gut job, but there will be new furniture pieces and several small projects that will make a huge difference in here.
The goal is to lighten and freshen the space. We spend a ton of time in here and it's time for the darkness to be driven out, lol. Here's how the room has looked for the past several years. All of these photos are from 2012 and 2013, so it's definitely time for something fresh in here. Plus some of the furniture is just worn out.
I know I just shared plans for the living room, but this room has gotten bumped ahead of that one. I'll get to that one eventually!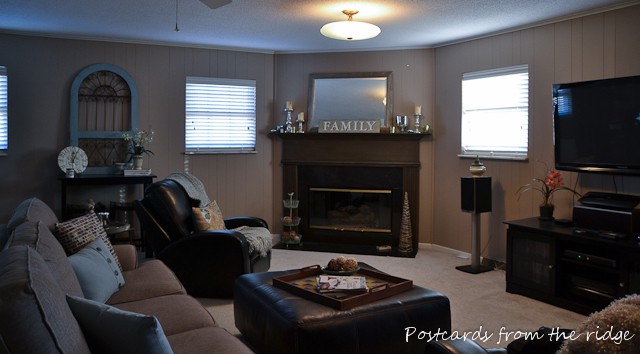 I don't know what I was thinking when I painted these bookcases dark. I saw something like it in a magazine and knew as soon as I finished the project that it was too dark. That was 7 years ago!
I've wanted to repaint it for a couple of years and shared some of my favorite styling ideas here → bookcase styling ideas
Another eyesore that will be updated is the 1960's green counter top on the bar area. It's currently being used as a makeshift desk. I'll be giving it a simple makeover and will share the tutorial next week. You can see it in the photo below, along with how the room looked when we visited the house before buying it in 2006. The paneling is still here but has been painted (see my tutorial here → How to paint paneling like a pro.)
I've done the best I can in here with just changing out the decor. This is how it looked last fall.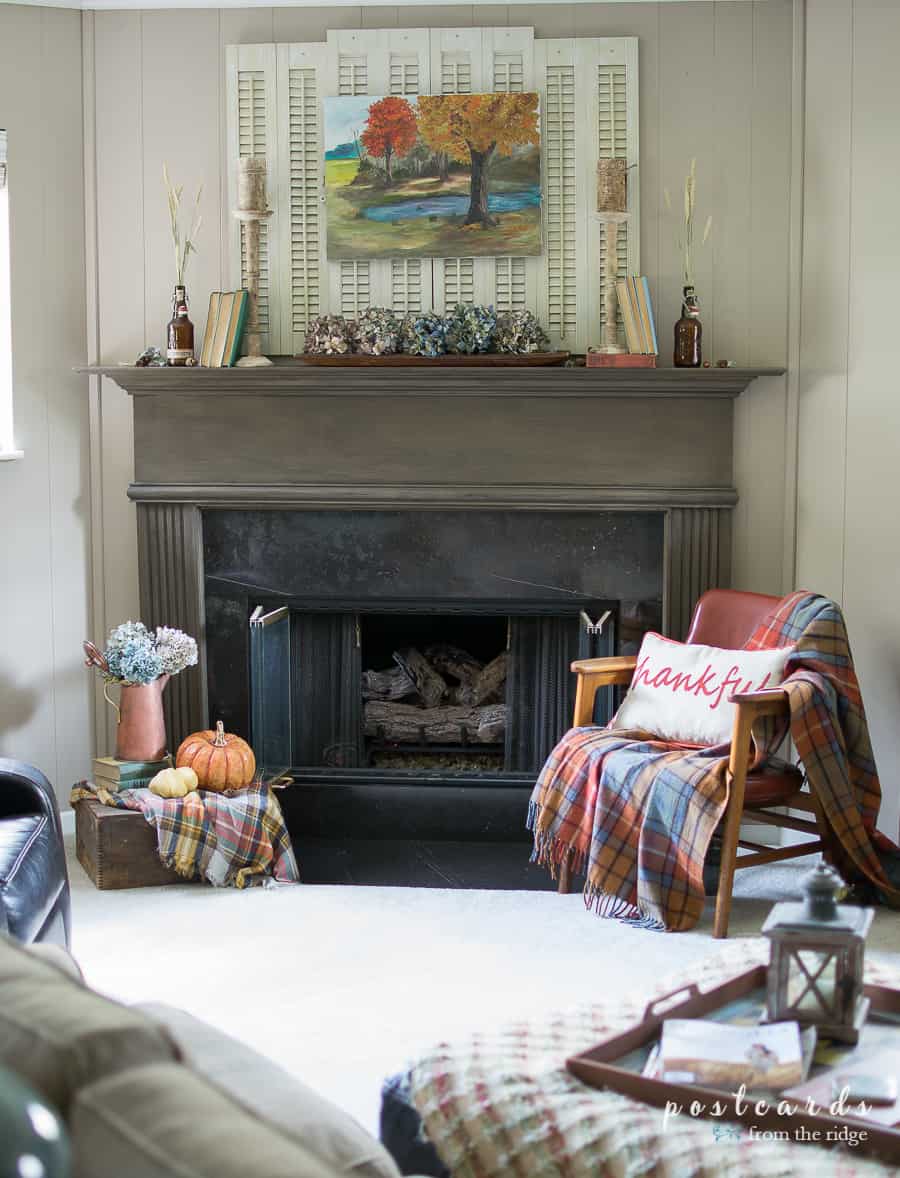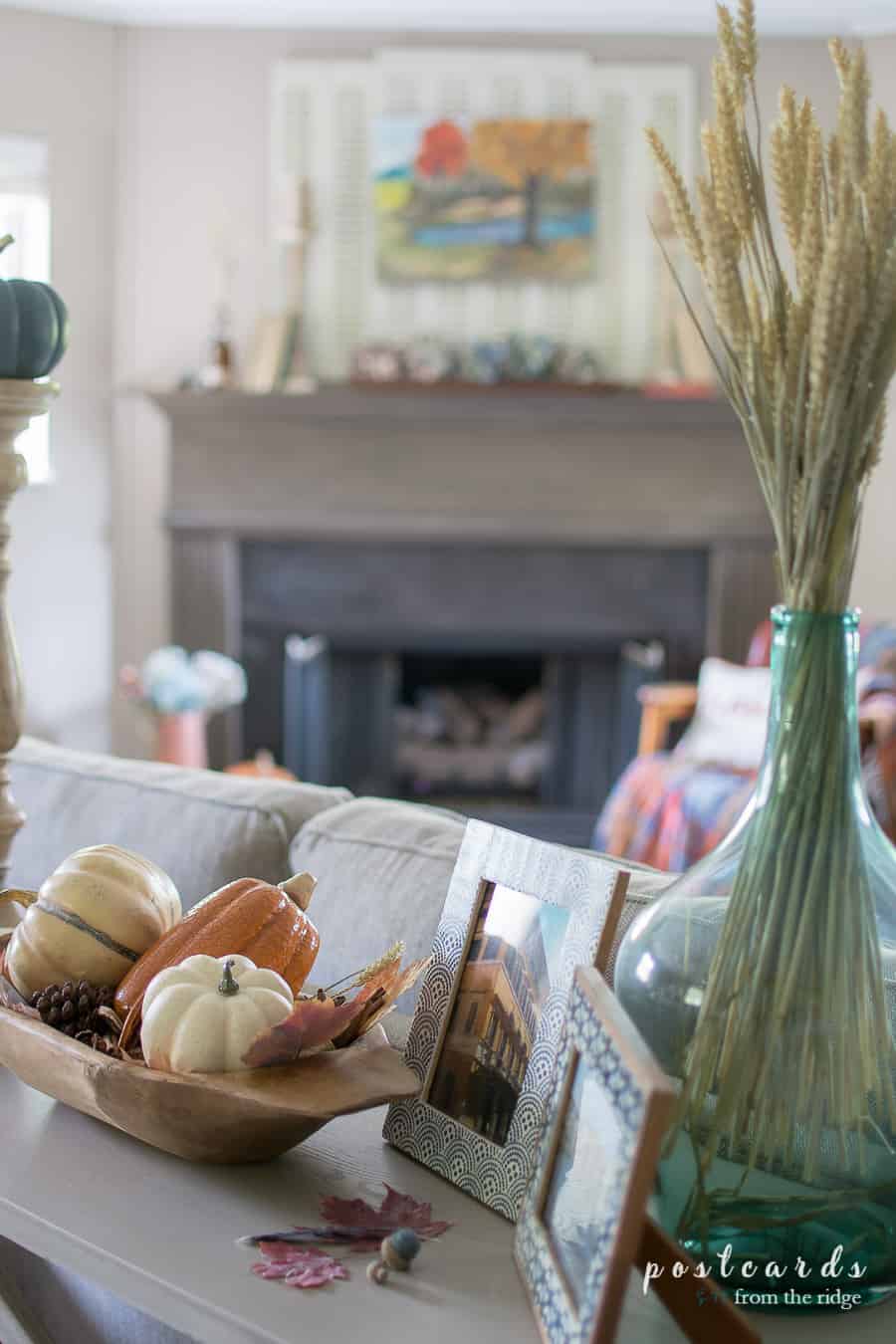 Here's what I have planned for this room. With a few changes it will look very different in here.
New Furniture
We'll be adding some new furniture. The black recliners and ottoman will be going away and the sofa that's currently in here will be moved into the living room.
New Accessories
New pillows and a new throw blanket are planned for the sofa. And I'll be changing the decor in the bookcases and mantel. I have a new "vintage" sign ordered for the room also. You can see it in the mood board at the bottom of the post.
Paint Projects
The bookcases will probably be the biggest paint project because I'm not totally certain that I'm going to change the wall color in here.
It's a huge project and I'll just have to see how my back is doing (and my motiviation, lol). Plus it's already a nice neutral and is in great shape.
I also plan to paint these areas:
The media console underneath the television
The hutch in the home office corner.
Probably the mantel and black marble fireplace surround.
I'm so tired of all of the dark elements in here.
Inspiration
Here are some of my inspiration photos.
This built-in is almost identical in style to ours. I love the way it's styled with a mix of artwork, accessories, and books. I'm hoping ours will resemble this when I finished the makeover. See more of this bookcase HERE.
I love the cottage-y styling of this built-in bookcase. I'll probably have some similar accessories.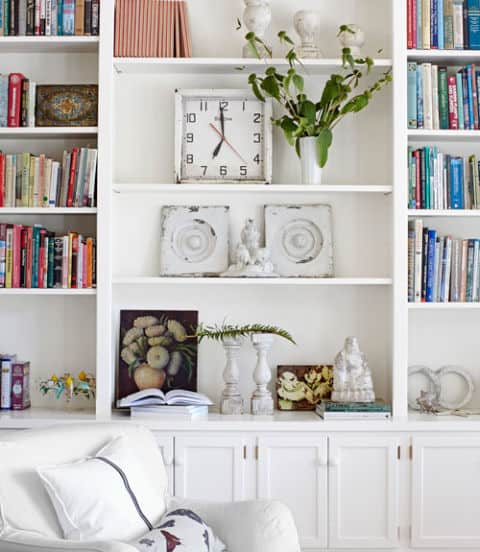 The fireplace are will be getting some type of update. I love the look of this and might try to recreate something like it for the mantel.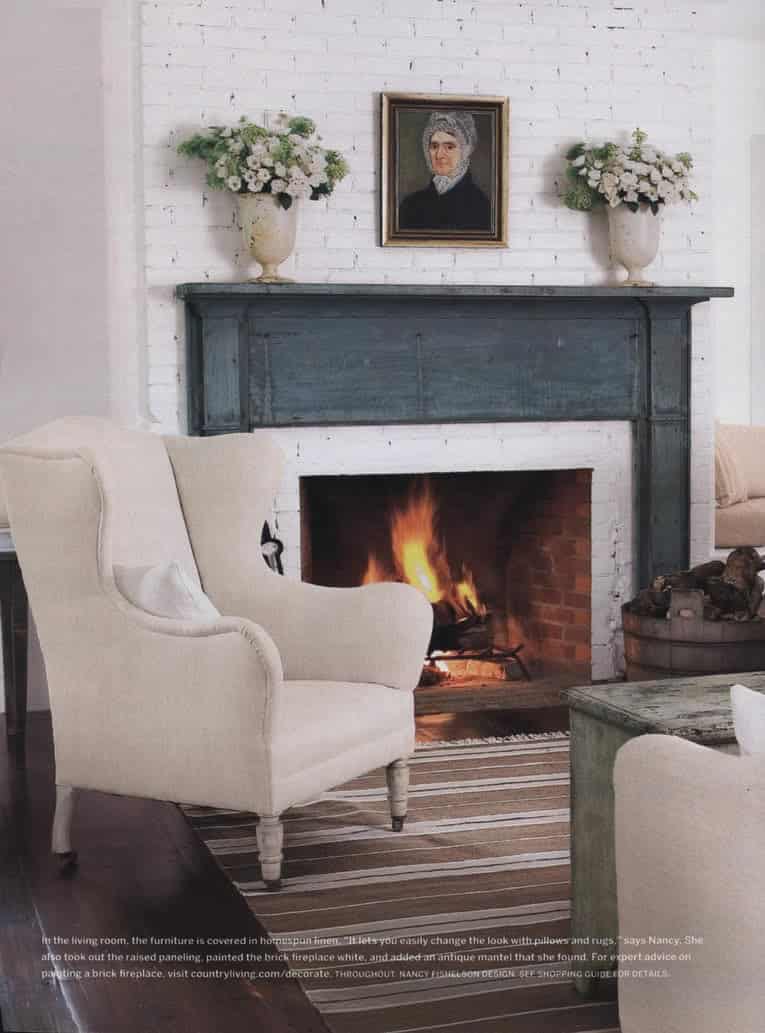 The sofa will be a light neutral that I can use any color pillows with.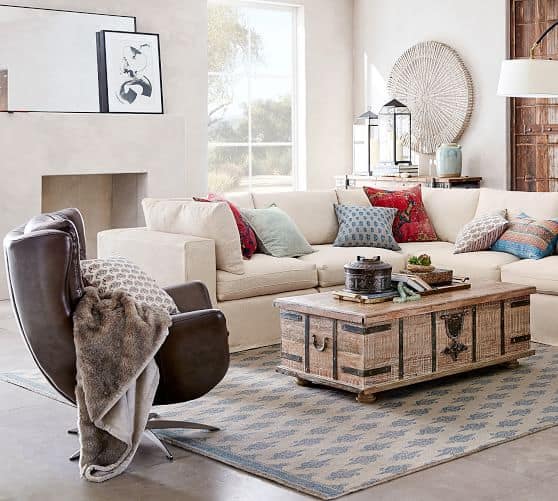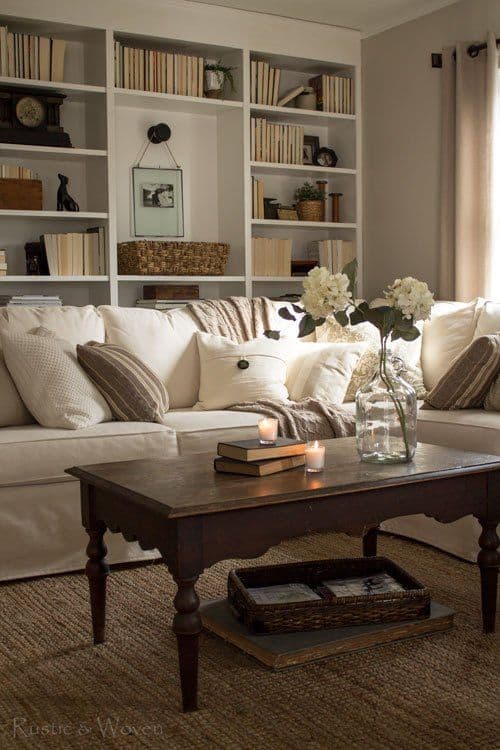 And here's the plan for the room. I'm sure it will be tweaked a little from what you see here. I haven't finalized all of the accessories so watch to see how it ends up.
Click for sources
Paisley Pillow Cover // Blue Pillow Cover // Stonewashed throw blanket //
Macrame pillow cover // Ikat blue pillow cover // Sectional // wallpaper sign //
foyer table // media console // lamps
Paint colors:
Benjamim Moore Pismo Dunes, Soft Chamois, Winter Lake, & Philipsburg Blue.
Stay tuned for tutorials and updates over the next few weeks. And be sure to check out all of the other projects that are part of the One Room Challenge HERE.One Room Challenge
Update!
Related:
Our guest bedroom was given a makeover as part of the One Room Challenge here → Modern Farmhouse Bedroom Makeover.
See my recent, very low budget entry makeover with here → Entry Makeover with Botanical Fern Prints. You can get your own set of printables for free too!
And you can see how I used mostly things from my stash and gave my studio/craft room a makeover for less than $100 here → Craft Room Makeover
Love seeing before & afters and room makeovers? See all of mine since 2011 here → Before and After Home Projects.
Thanks for dropping by!