A touch of fall decor in the master bedroom
Easy fall decor for bedrooms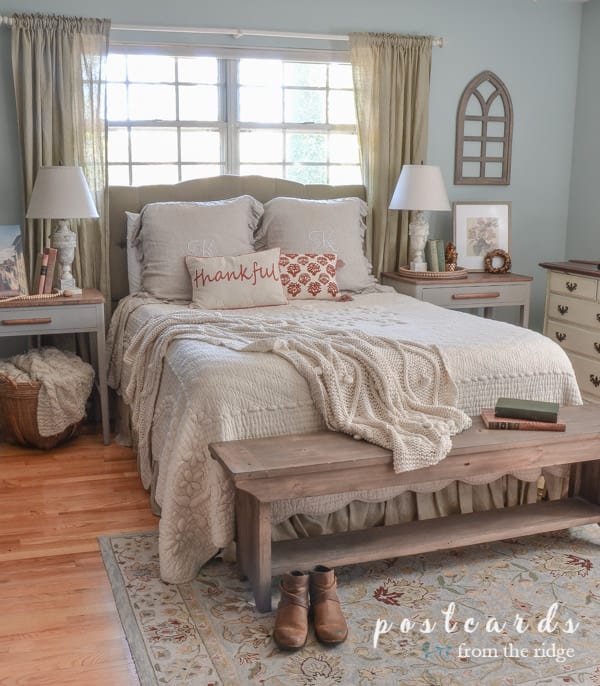 This post contains affiliate links for your convenience. For full
disclosure go
here.
Are you looking for a few simple ideas for adding fall decor to your bedroom? Today I'm sharing some tips along with several of my talented home blogging friends. It's all part of a Fall Bedroom Tour hosted by Cindy at DIY Beautify and there are some great ideas! You can visit all of them by clicking the links at the bottom of this post.
To be honest, I haven't done a lot of fall decorating this year and don't usually do any in the master bedroom. But I've been wanting to repaint our night stands so this was a great motivation to get it done!
The night stands are actually old desks that were originally designed for the government housing that my town started out with. They're perfect as night stands because they have a drawer, open space underneath, and aren't too big or too small on top. Plus they were a steal at the estate sale I bought them from. Read my tips for shopping estate sales here → How to Shop Estate Sales Like a Pro
I love to place a large woven basket with cozy throw blankets in the open space below the desks. Using blanket scarves is something I do throughout the house to add color and texture. See different ideas for using them here → 6 Easy Ways to Use Blanket Scarves as Fall Decor
A little fall boxwood topiary inside of a copper metallic tea light holder is a fun accent for the top of the night stand. I added the topiary, some old books, and a lamp to a round wooden tray for some interest and texture.
On the other nightstand I added more old books with fall colors, a canvas with fall colors, another copper tea light holder, and a wood bead garland. Would you believe that I took that photo with my phone several years ago when we took a bucket list trip to Italy? I had it made into a canvas for some inexpensive art and love the way it turned out. See more ideas for thrifty art here → 13 Ideas for Thrifty Wall Art and Decor
Adding pretty embroidered pillows to the bed is such an easy way to add fall color. I always like to layer pillows on our bed and use the monogrammed linen Euro shams all year. They go with everything.
In July we got 2 kittens who love to be in the middle of whatever I'm doing. They thought they needed to be in the photos of the bedroom. They actually do make pretty cute decorations, lol.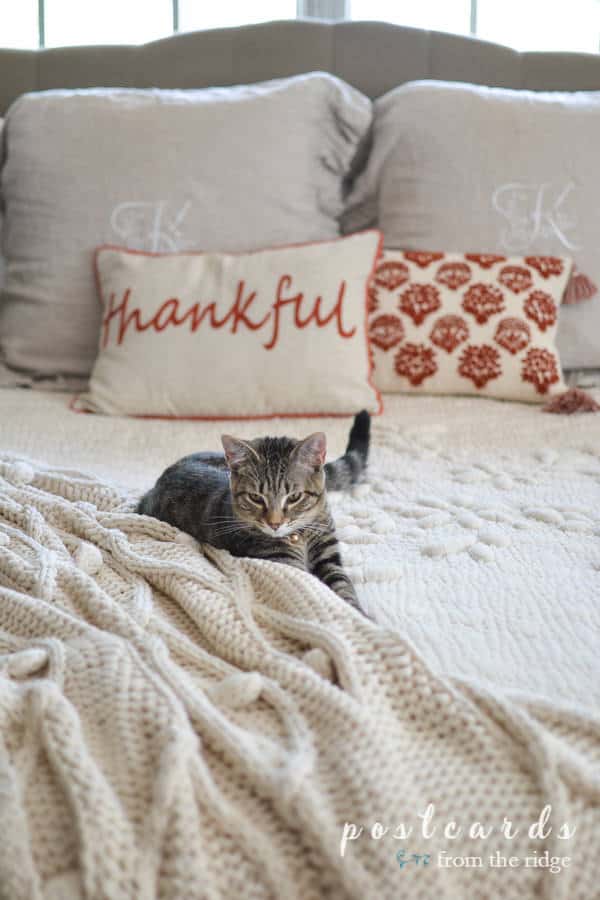 I'm sure you'll be seeing more of them in future posts. It's like we have little kids in the house because they eat anything they find, wrestle with each other, run through the house like small horses, and snuggle together at night. They're perfect for us since we became empty nesters in August.
Be sure to continue scrolling to see all of the fall bedroom decorating ideas!
Shopping resources: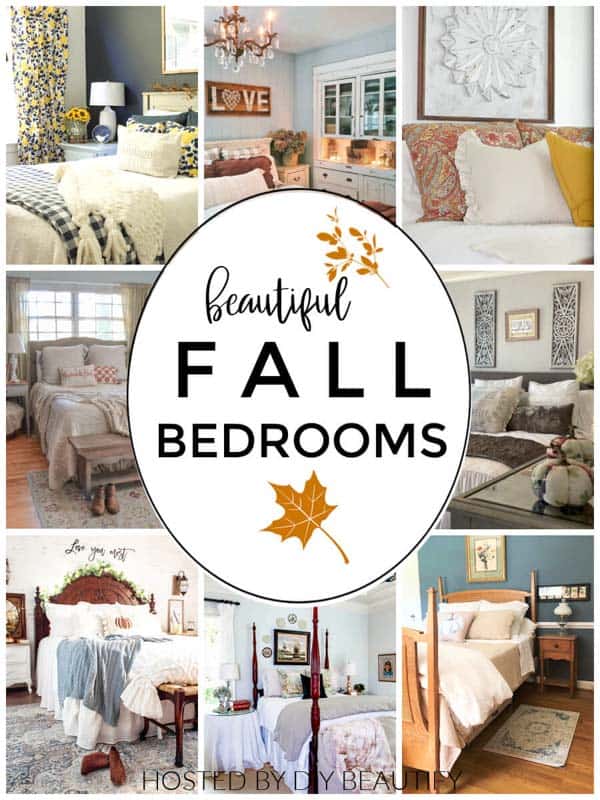 More Fall Bedroom Decor Ideas
Copper and Blue Cozy Fall Bedroom – DIY Beautify
Bringing Fall Touches to a Guest Bedroom – Vintage Joyce Marie
Warm & Cozy Vintage Inspired Autumn Bedroom Tour – Shiplap and Shells
A Touch of Fall in the Master Bedroom – Postcards From the Ridge
Guest Bedroom Makeover Ready for Fall – 2 Bees in a Pod
How to Add a Little Fall Cozy to Your Master Bedroom – Sonya Burgess
Fall Master Bedroom – Our Southern Home
Master Bedroom Decorated for Fall – Sweet Pea