Hall bath renovation reveal and details
Hello, friends! Today I'm sharing a complete reveal of our hall bathroom that was remodeled a few weeks ago. I finally got the Christmas decor out of this space and added some wall hangings and took some photos on a recent sunny day.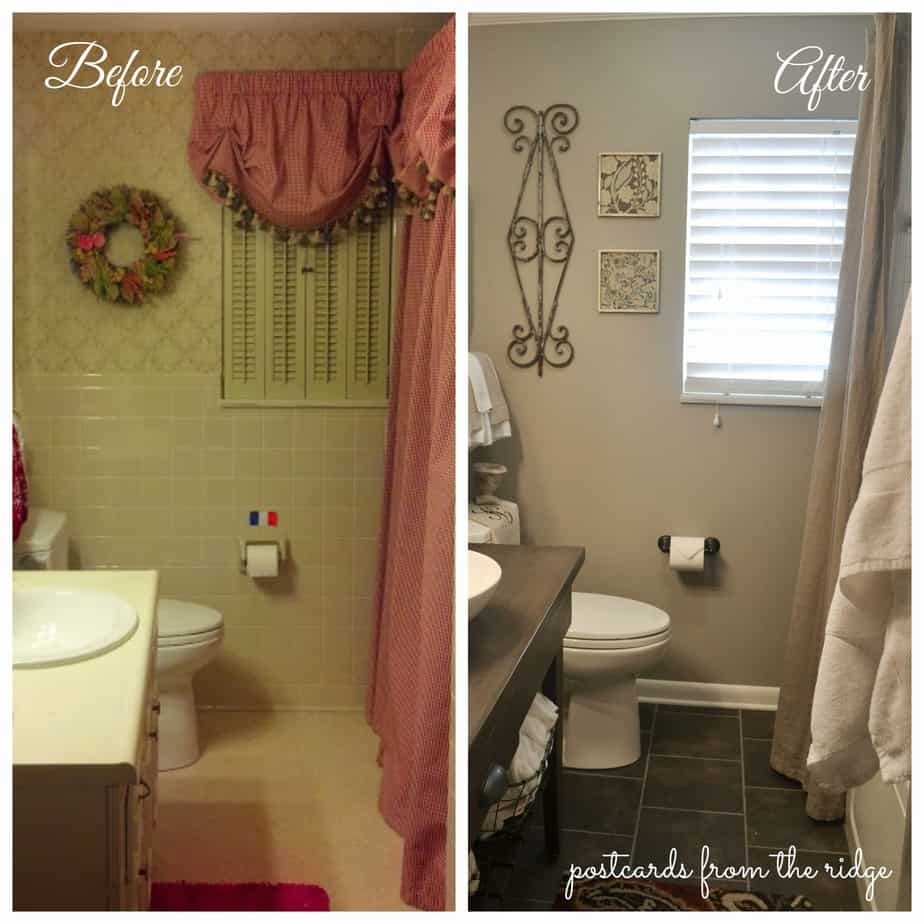 This post contains affiliate links for your convenience. If a purchase is made after clicking one of the links I might make a small commission. Your price does not change. For full disclosure, go here.

Above is a comparison of the bathroom before and after the remodel. Before the remodel it wasn't too hideous. Well, except for the 60's green bathtub that's hidden behind the shower curtain. The wall tile, floor, and vanity were all neutral, even if they were a bit dated.
This remodel was done because there was a leak in the wall behind the shower and the tiles were beginning to come loose from the wall. That's never a good thing.
I shared the daily progression of the renovation here. You can see the before and during pictures and see what it was like to have the old bathroom completely removed and the new one installed one day at a time.
And here's my inspiration board for the space.
I don't have the white subway tile on the board or the toilet and shower faucet. But pretty much all of the major design elements are shown. Scroll to the bottom of the post for more sources and shopping info.
**And FYI, if you're interested in having a design board created with all the elements for your next project, or just need a little help with your paint colors, go here to find out more.**
Welcome to our new bathroom!
This bathroom is used by our 14-year-old daughter daily and also by any guests that come to the house. We wanted something neutral and non-gender, but not too stuffy or grown up. We'll probably change the rug and towels seasonally. My daughter wants some brighter colors in here as accents.
I was only a little afraid that the floor tile might be too dark, but I really love it. Our master bath has white tile and I don't love it. It looks really pretty for a little while, but it shows everything. So I went with warm and dark in this bathroom. Live and learn.
Some white towels, monogrammed linens and artwork surround the toilet. Scroll down to learn my secret about the framed print hanging on the wall.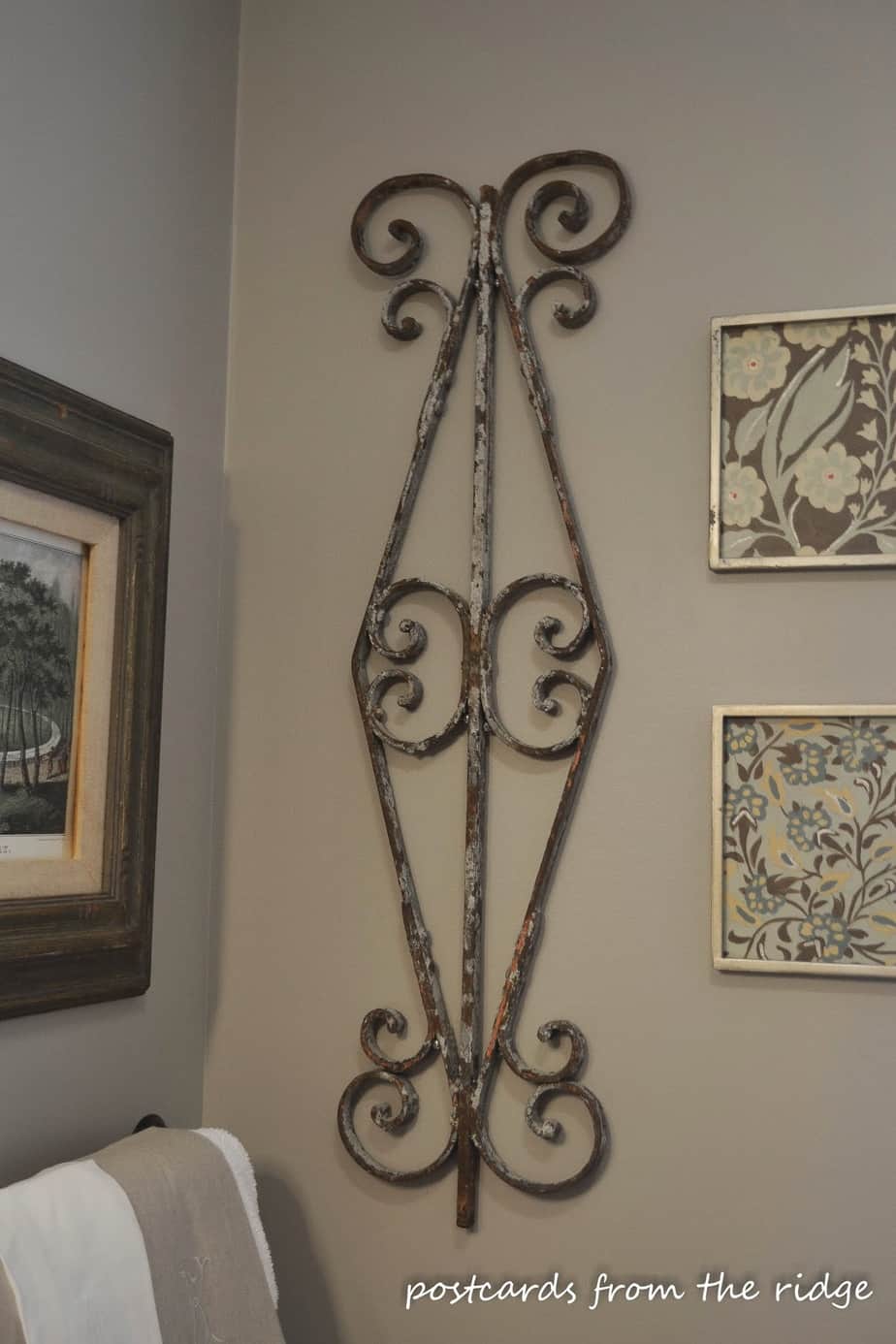 One of my favorite finds ever is this old rusty section of an iron gate. It's been several places around the house, including our living room hearth and our deck. But it's going to be staying here for a while.
Look at all that chippy, rusty goodness.
A dough bowl and a wire basket hold towels and vintage linens and some lavender on the shelf of the vanity.
I couldn't find a vanity I liked that was in my price range so I had this one built by a local carpenter. I got to design it and finish it exactly the way I wanted. I've seen similar ones, and have links to those if you like this look. See the inspiration board above, or the sources listed at the bottom of the post.
These are some of the vanities that I used for ideas in designing this one. To learn more about the ones in this photo, go here.
The right side will possibly have a small towel bar added. That was the original plan, but I might just leave it as is. I really like the openness of it all.
I used an extra long shower curtain on a curved rod to make the room seem a little taller. And I used these rings that hold both the liner and curtain. I'm planning on making a roman shade type of valance to hang over the window as well. I'll share that project when I get it finished. I'm still on the hunt for just the right fabric.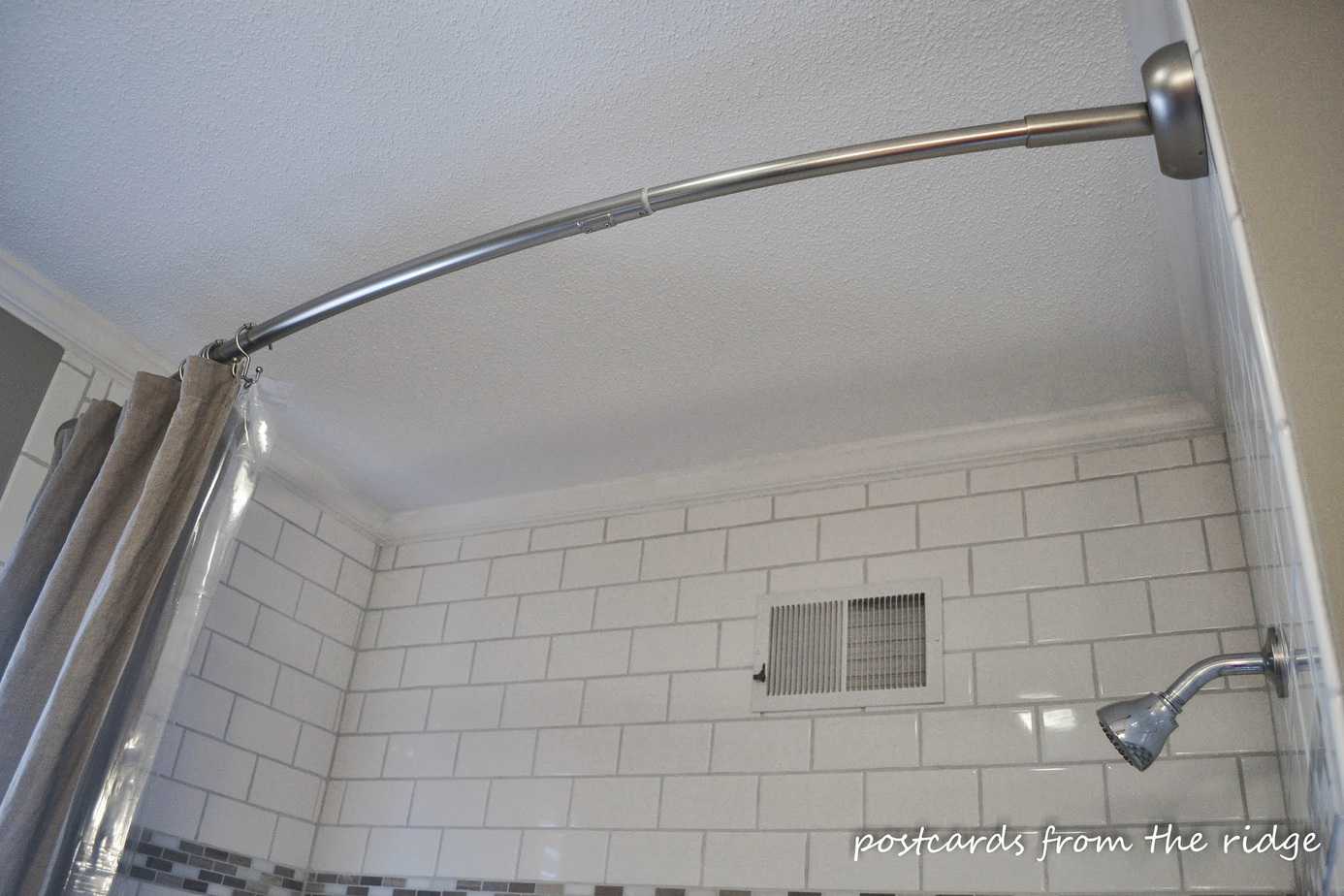 The curved rod gives more elbow room when you're showering.
We went with a basic Moen shower faucet. Even though it's basic, it's so much better than the old one.
We had marble corner shelves installed so we won't need to use a metal shower organizer. Every one of those that I've ever had rusted over time. We also did these in our master bath and I love them.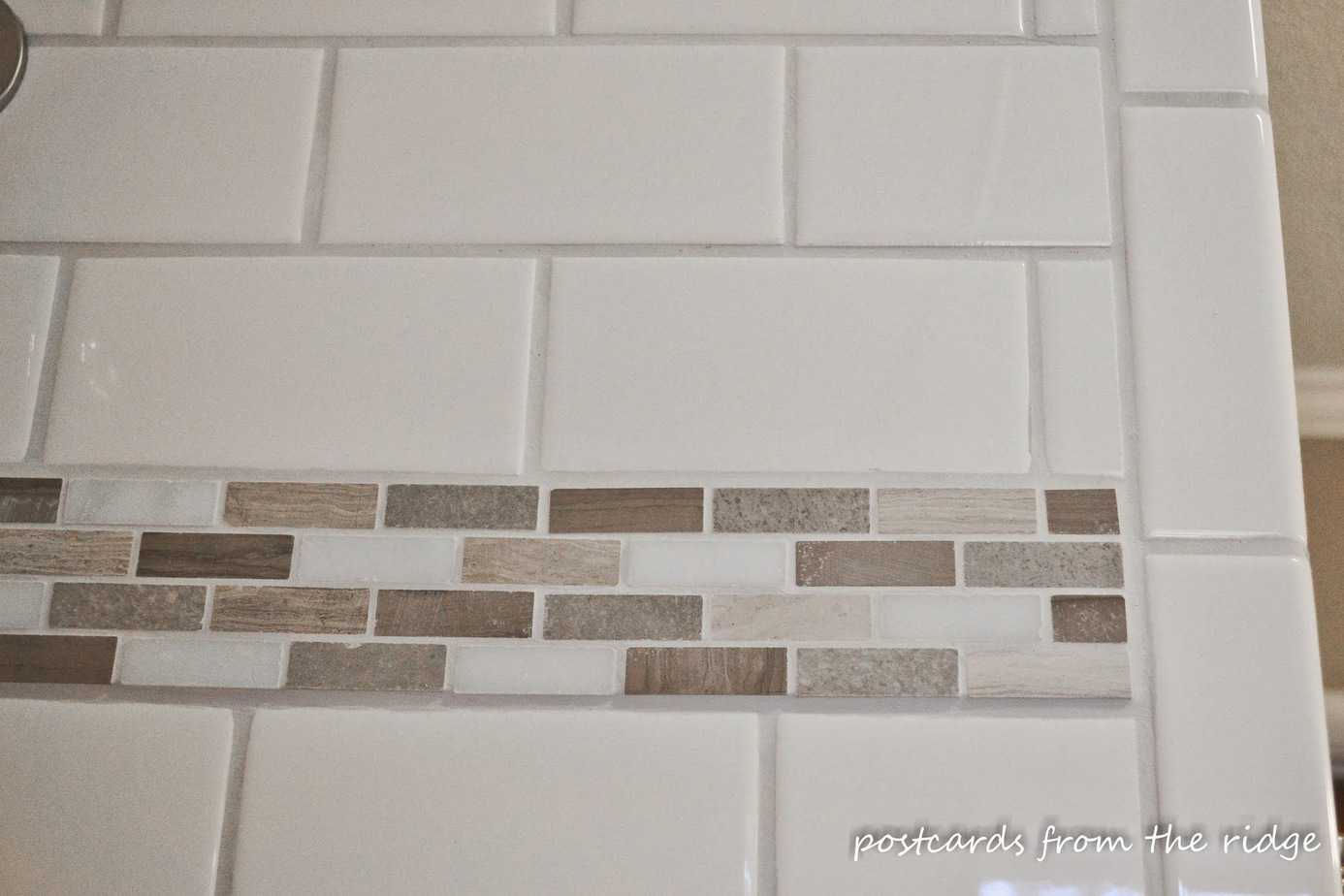 For the accent strip, we had 12″ x 12″ sheets of mosaic tile
cut into smaller sections and installed around the entire enclosure.
Back to the artwork. I wasn't sure what to use in here and I just couldn't come up with anything. I tried several items but they just weren't right for this space. Wrong size, wrong colors, wrong type of print, just wrong.
I went around the house looking for something…anything, and literally put this together one afternoon in about 5 minutes from an old, empty, estate sale frame and…
a page from an old Currier & Ives calender, also from an estate sale. I attached it with thumbtacks and scotch tape. Classy, no? Whatever works out best is always what I do. 🙂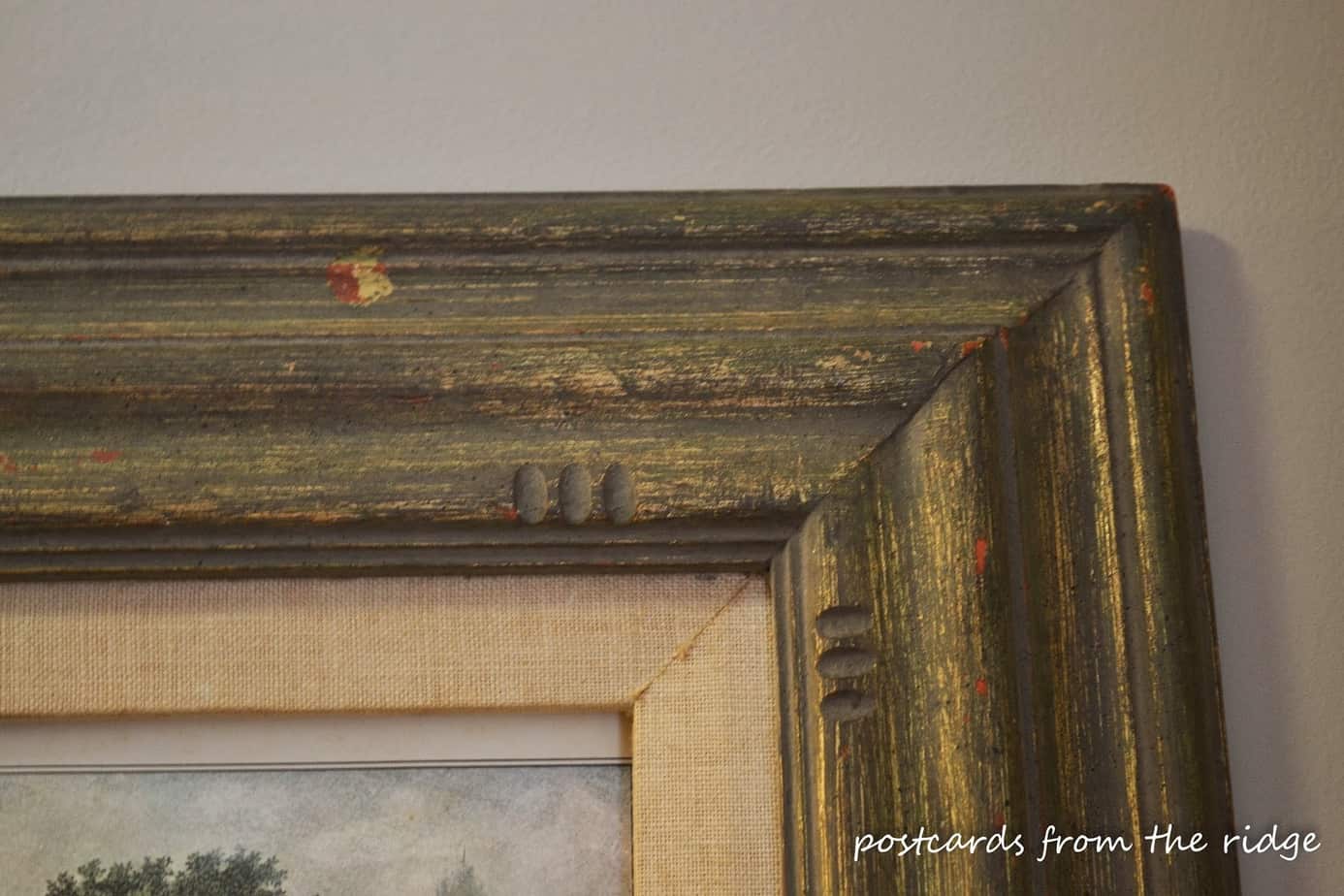 I'm sure I don't have any more than $6 in the whole thing. Probably less than $5, truth be told. Looks pretty good for the price!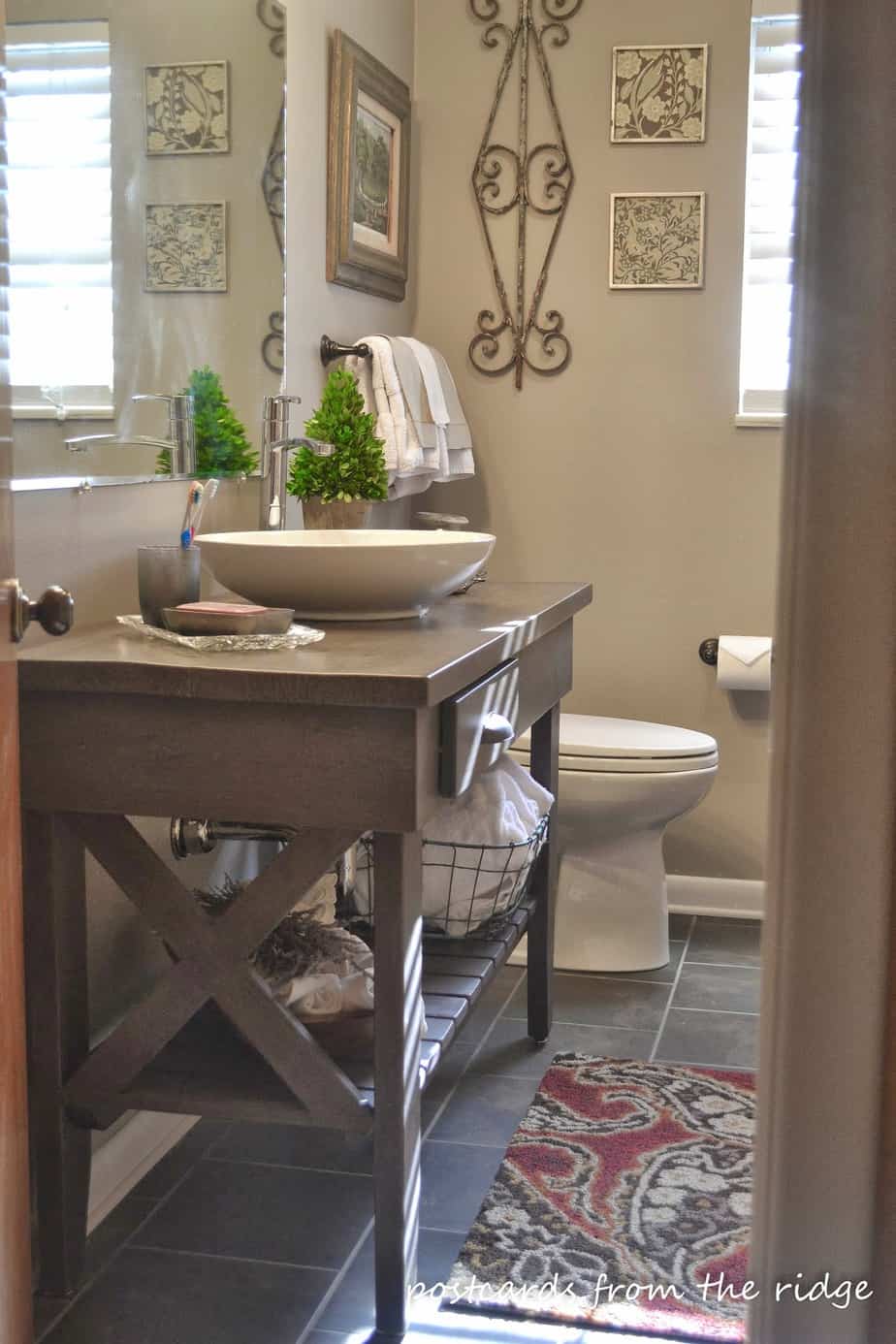 Here's one last view looking in from the hallway.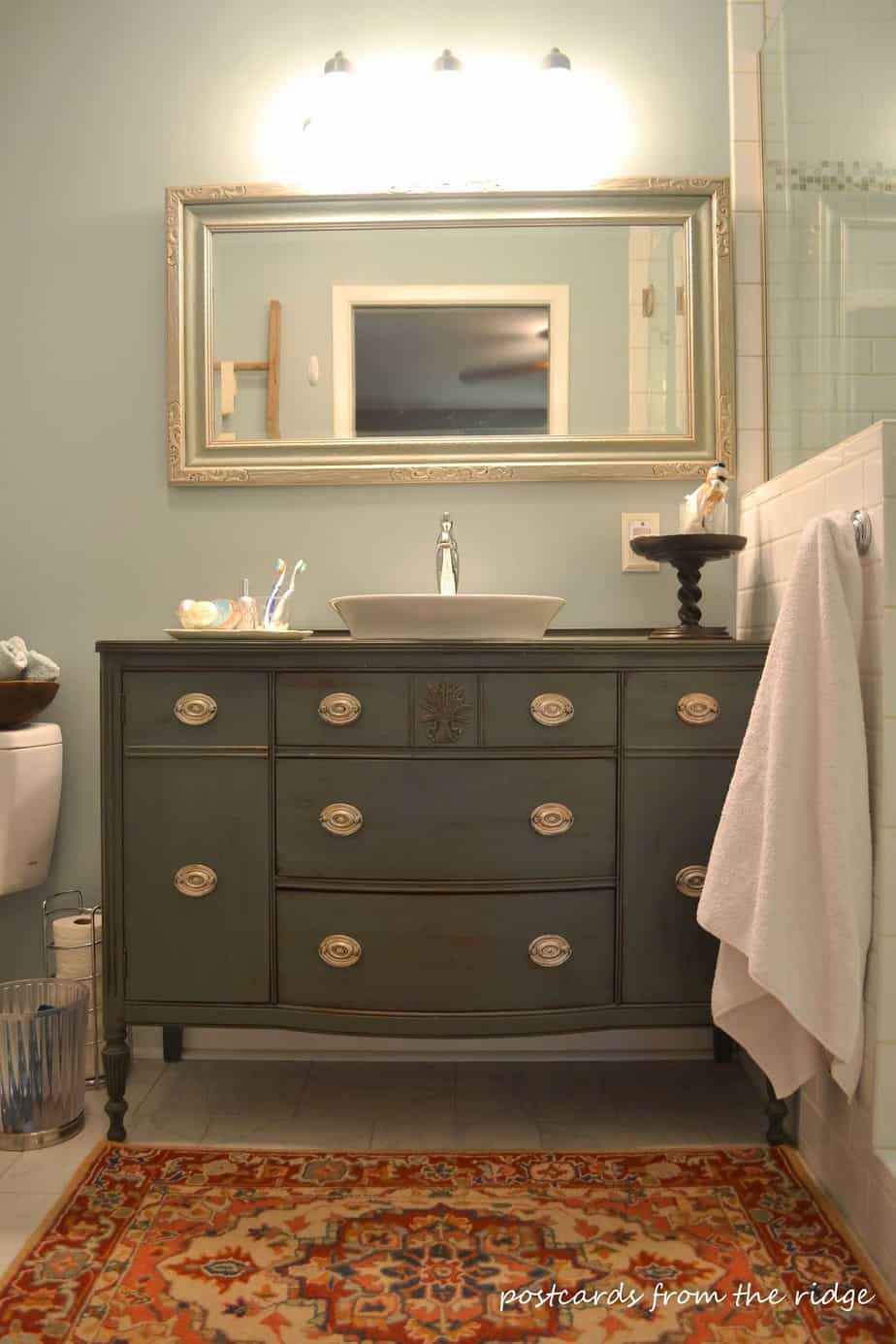 Our master bathroom (above) also had to be remodeled due to a leak back in 2012. Such is life in a 1964 home. To see more of this bathroom remodel, go here.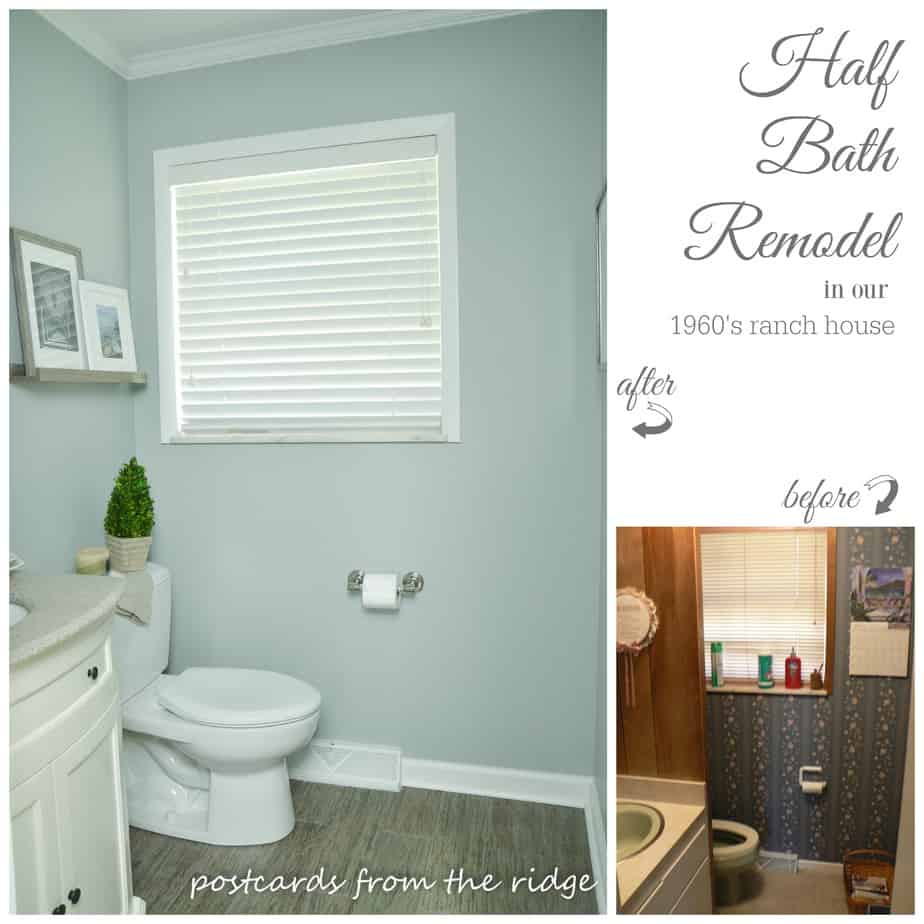 And one more renovation to our half bath was done in the spring of 2015. It might be the best one yet! To see all of the details, go here.
When we bought this house back in 2006, we knew that these bathroom remodels would eventually be necessary, as is often the case with an older home. But we really liked the space of the house and the location, so we went into it with our eyes wide open and have done these remodels as time and money have allowed.
In case you're interested in anything in the hall bathroom, here's what we did:
Wall paint Benjamin Moore Plymouth Rock (aka Valley Forge Tan)
Trim paint Custom tinted to match the tile. Closest Benjamin Moore color is Glacier White.
Vanity Custom built, similar style found here
White subway tile in shower Lowe's
Accent tile in shower Home Depot

Toilet Amazon

Shower faucet National Builder Supply
Sink Amazon – our exact model has been discontinued but this one is the closest that I could find.
Sink faucet Amazon
Floor tile Lowe's
Light Amazon
Area rug Target
Shower curtain Etsy
Shower curtain rod Amazon
Shower curtain rings Amazon
Marble corner shelves Amazon
Whirlpool Tub Home Depot

Small framed artwork Ballard Designs



All other items are from my personal collection, mostly from antique shops, thrift stores, estate sales, and barn sales.
We're so glad to have this project behind us and happy that our remodeling contractor,DJ Construction, did such a nice job. We have a half bath that's slated for a remodel in the fall, so stay tuned for that one. We're going to attempt to do most of the that one ourselves, so that should be quite interesting!
Let me know if you have any questions about anything in the space.
Thanks for dropping by!
Have a great weekend!
XOXOX,
Angie
If you're new here, sign up for email here or follow along here so you don't miss a thing:
Email * Facebook * Hometalk * Pinterest * Twitter * Instagram

For handy tips and tutorials, go here.


To see my painted projects, go here.

For tasty recipes from my kitchen, go HERE.
For some simple tips for capturing a great photo, go HERE.
Go here to learn about having an online design or color consultation.
And go here for dozens of photos, ideas and favorite paint colors.