Cozy Rustic Mantel Decor and Fall Colors
Cozy fall mantel ideas with autumn colors
This post contains affiliate links for your convenience. For full disclosure go here.
Hello, friends! I'm so excited to share today's post with you. It's an area that I haven't shared much in the past but we recently gave it a refresh and it looks so nice now. Nothing like a fresh coat of paint and stain to make things look 100% better, right?
Our deck is a long and narrow covered space and it has definitely been underutilized in the past. But with our weather here in Tennessee it's usually warm enough to sit out here until January. Well, it's too hot in the summer, but we have a ceiling fan out here that helps with that somewhat.
Paint Colors
A couple of months ago we had the house painted and went with the medium neutral shade of Benjamin Moore Cromwell Gray on the siding. I re-stained the deck to give it a fresh new look with Cabot Oak Brown Decking Stain. So now the whole space has a brand new look.
I don't know if you can see it, but I had the ceilings painted with Sherwin Williams Rainwashed here and on the front porch. The trim is Sherwin Williams Useful Gray.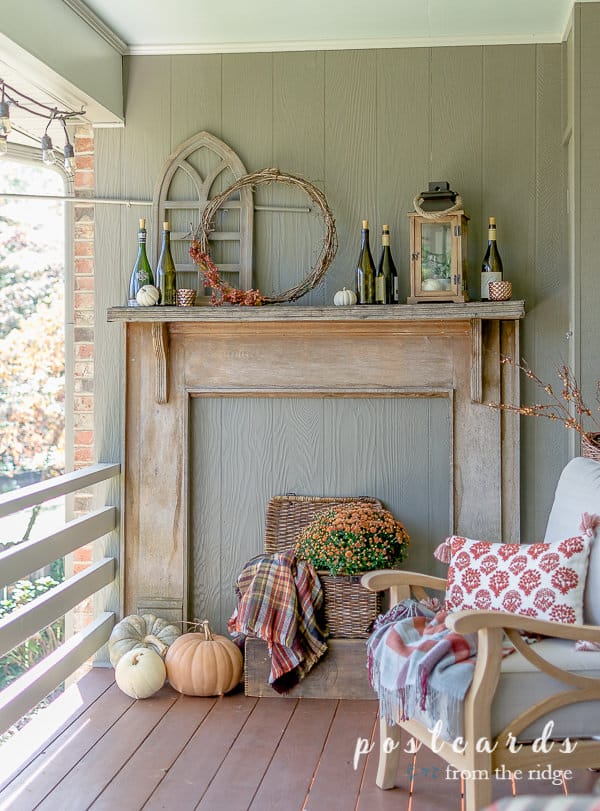 Our old wicker furniture was sold on facebook marketplace and we got a couple of new teak outdoor lounge chairs to make the space look more like an outdoor room. And last weekend I had my husband help me move my rustic old mantel out here. I've had it for a few years and have always thought this would be the perfect place for it but we had a long table here up until now. It has been relocated to the front porch which I'll share soon.
shop this look
For the decor, I mostly shopped the house and added some fall color and pumpkins for a cozy fall look. I made the wreath with a volunteer grapevine that was growing in the back yard. The candle lantern, copper mercury glass votive holders, and cathedral window are all from my shop.
I liked the colors out here so much that I put together a little color palette in case any of you also like these shades. The approximate paint colors are all listed below the palette.
Paint colors left to right:
Benjamin Moore Pueblo Brown 2102-30 || Rainy Afternoon 1575 ||
Mississippi Mud 2114-20 || Tuscany 1208 || Deep Creek 1477
Do you decorate your porch or deck or any outdoor space? It's fun to add a little color to these areas to celebrate the season. I'm really looking forward to adding some Christmas decor out here in a few weeks. Stay tuned for that!
Leave me a comment below and let me know what you think of my rustic fall faux mantel out on our deck!
Visit my fall decor archives for more fall decor ideas.
Visit my favorite paint colors archives for more paint color ideas.