Spring Entry and Living Room Decor, Plus Free Spring Botanicals
See our spring living room and entry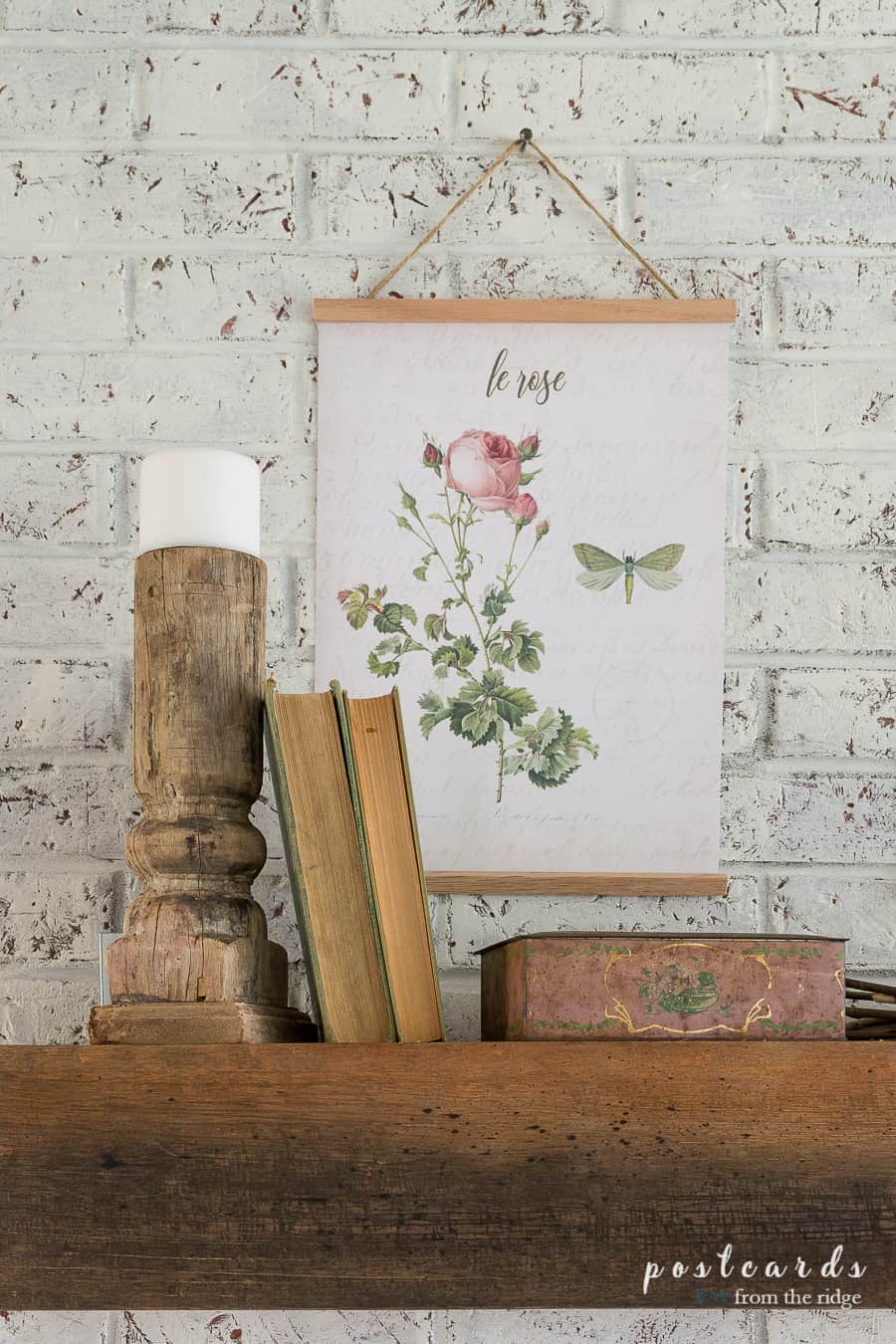 This post contains affiliate links for your convenience and to help keep this blog in operation. I may make a small commission from any item ordered but your price remains the same. For full disclosure, go here.
I don't know about where you live, but here in Tennessee we've had a long and unusually cold winter. Not that I mind too much since I'm at the age where I have hot flashes, but I'm so ready for spring weather and flowers. Are you over the dreary winter weather too?
Today I'm joining a spring home tour with 28 of my uber talented blogging friends. We're all sharing ideas for decorating your home for the spring season. The tour is hosted by Jenna at Wife in Progress, so be sure to hop over and see her beautiful home. You can see her spring tour HERE. And you can visit all of the tours at the bottom of the post.
If you're visiting here for the first time as part of the tour, you can take a tour of our home HERE.
Our entry and living room mantel are the first things you see when you enter our home, and that's what I'm sharing today. Check back next week for a spring tablescape.
Spring Living Room Decor
It's a woman's prerogative to change her mind, right? (say yes) You might recall that I shared some spring mantel decorations a few weeks ago featuring blush pinks (go HERE to see that version).
Well, guess what. I changed my mind, lol.
I've been seeing vintage botanicals everywhere the past few months and decided to make some of my own. Vintage floral illustrations have always been a favorite of mine so that's what I made, 8 to be exact.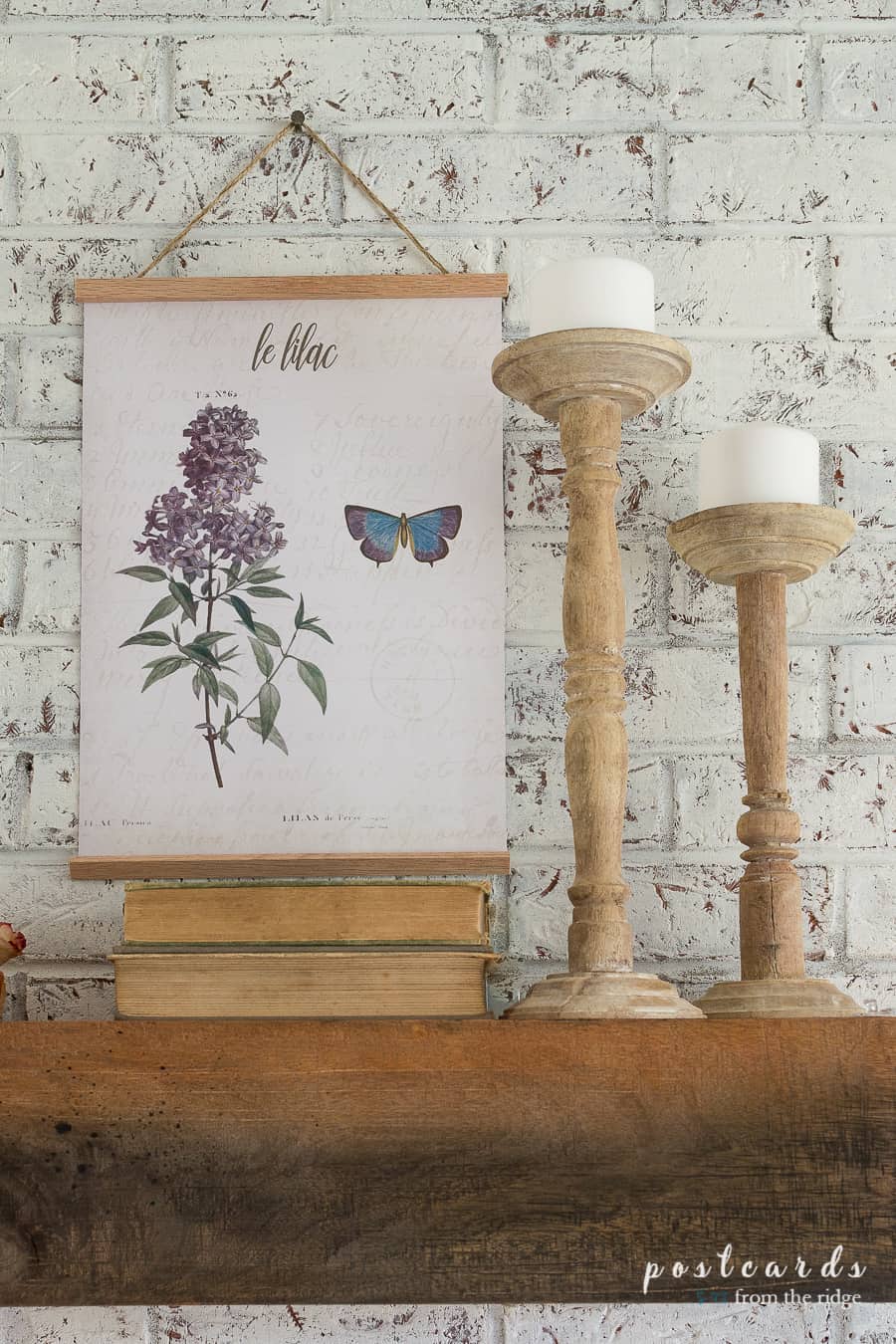 Roses and lilacs and narcissus, oh my. I even put on my DIY cap and made a simple frame for 3 of them and hung them up over the mantel. Stay tuned for a tutorial next week. (You can sign up for my newsletter below if you want it sent to your inbox.)
Update: You can see how I made these simple frames HERE.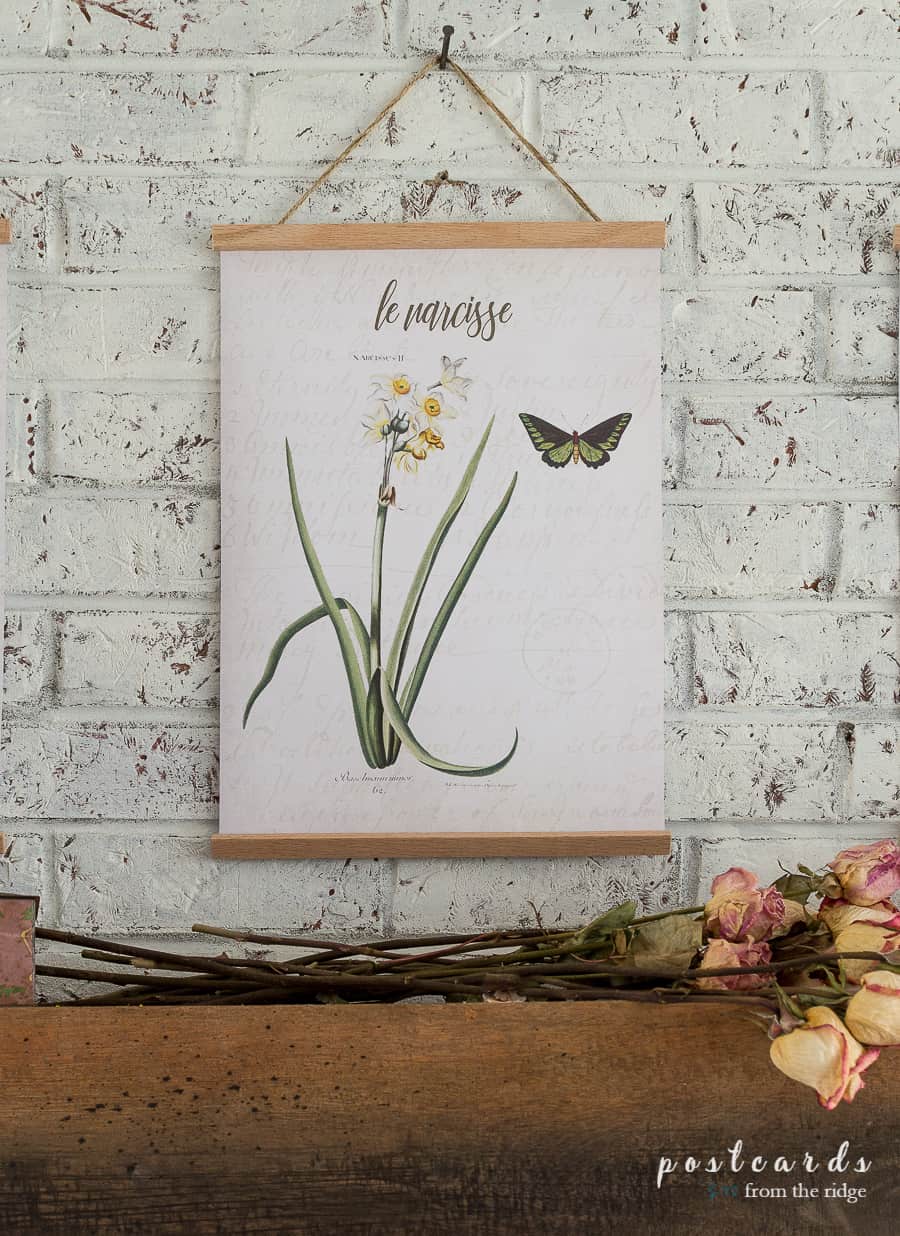 The background of the botanicals have some beautiful vintage handwriting. It looks like a work of art. Don't you wish people still took pride in their penmanship?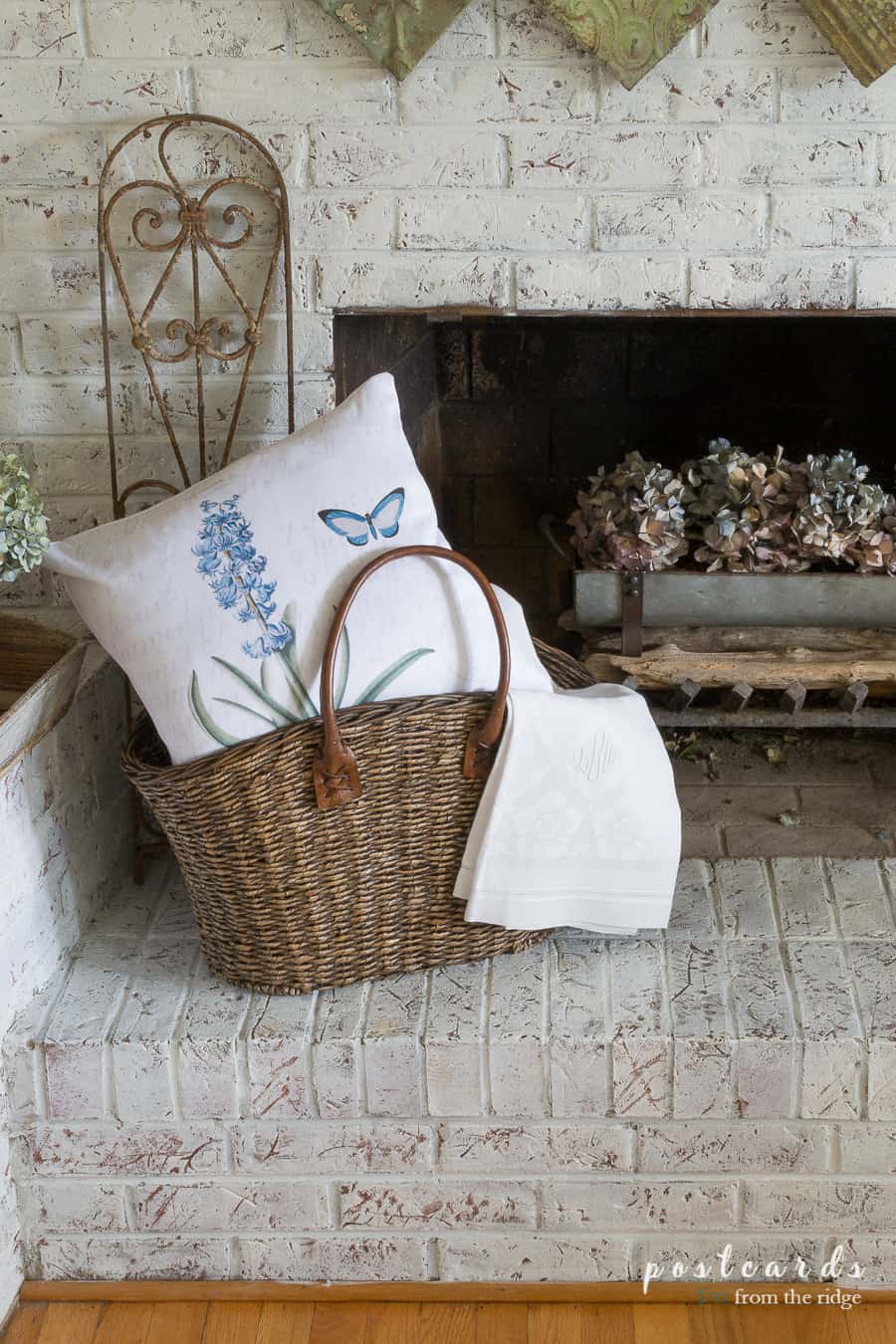 I liked the botanicals so much that I had a pillow cover made in one of them. If you're interested, they're available over in my shop in all 8 designs HERE.
I'll be posting a tutorial for how I made the minimalist frames soon. But in the meantime, I'm offering these 3 botanicals for free. The details of how to get them are at the bottom of the post.
Over on other side of the living room facing the fireplace, a few blush colored pillows on the sofa are the perfect accent to my vintage hooked pink rug. I never thought I would like pink, but here I am with pink accents all over this room. Never say never, amiright?
One of the few things blooming in the yard right now is our Lenten roses. They're so pretty and delicate. I had to bring some inside and pop them into a pretty pitcher.
A few more clippings are on a three tiered tray in front of the vintage doctor's office window. It's one of my all-time favorite finds.
The little vintage-inspired mason jars have flower frog lids and are a recent favorite find. They're perfect for branch clippings and flowers from the yard or grocery store.
A vintage "Little Women" book leaned against one of my marble lamps adds another dash of soft pink, along with the faux rose.
Spring Entry Decor
So I'm officially obsessed with these botanicals. Did you notice? I put the hyacinth one in a little flower frog spike thing to hold it upright. And that mini mason jar…well, it's just so adorable. The little grape hyacinths look like they were made to go in it.
A vintage Easter postcard is another fun way to add some spring touches. This one has pretty shades of blue and green.
And even though it's not lavender season I had to add some to the entry. The vibrant purple is so pretty and they smell so good.
The little blue stool is a great place to sit and take off our shoes at the end of the day.
shop this look
Sneak peek of the breakfast room
Next week I'll be sharing more of this room and our spring table setting, but until then here's a little peek!
Check back next Wednesday to see more. UPDATE: SPRING TABLE CAN BE SEEN HERE
Click for sources ⇒ Entry: All 8 Printable Floral Botanical Prints // Mini Mason Jar with Flower Frog Lid // Lavender Bundles // Ceramic Robin Eggs // Milk Glass vases (similar) // Metal Flower Frog (similar) // white desk // burlap tote bag
Living Room: Printable Floral Botanical Prints // Found Wood Candlesticks on mantel // Botanical Pillows // Round Wood Tray // White Pitcher // 3 Tier Tray // Small Mason Jar with Flower Frog Lid // Mini Mason Jar with Flower Frog Lid // Lavender Bundles // Preserved Boxwood Topiaries // Vintage Corbels (similar) // Throw Blanket on Sofa // Sofa Slipcover // Milk Glass vases (similar) // Wood Candlesticks (behind sofa) // Metal Flower Frog (similar)
Breakfast room: Wood Bead Garland on Chandelier // Chairs // Rug // Placemats // Mini Boxwood Wreaths // Chandelier Lampshades (similar)
Now, for anyone who's interested in the botanicals, you can get these 3 for free (they're $4.99 each for non-subscribers) by subscribing to my newsletter. Go HERE to sign up and get the free printable botanicals. (BE SURE TO CHECK YOUR SPAM/JUNK FOLDER IF YOU DON'T SEE A MESSAGE FROM US)
To see all 8 botanicals in the set plus more beautiful vintage botanicals, go HERE.
Are you ready to see more of the bloggers' spring home tour? Head over to my pal Leen at Sand Dollar Lane and see her gorgeous table setting HERE.
And here are all the beautiful homes that will be on tour throughout the week. Be sure to visit everyone for some wonderful spring decorating ideas.
Styled For Spring
Styled For Spring
Home Tour Participants
Monday
Wife in Progress // Postcards From The Ridge
Sand Dollar Lane// Noting Grace// Farmhouse For Five
Tuesday
Green With Decor // My Life From Home //Bisozozo
One Mile Home & Style // Create & Babble // My Thrift Store Addiction
Paint Yourself a Smile
Wednesday
Saw Nail and Paint // The Tattered Pew
Brown Dog Vintage // Red Cottage Chronicles // Savvy Apron
Thursday
Aratari At Home // Home Made Lovely Atta Girl Says // Inspiration for Moms //The Happy Housie
Friday
A Blue Nest // Hashtag Blessed Blog
Bluesky at Home // The Frugal Homemaker // A Purdy Little House
Twelve on Main // Our Crafty Mom
Have a great week!