Anticipation! Nearly complete master bath remodel pics
Remember that song from the 70's called "Anticipation"? Carly Simon sang it. Heinz used it for a ketchup commercial in the 80's, I think. They showed the ketchup barely moving out of the bottle, and you just knew it was going to be worth the wait. With some extra crispy fries. Yum.
Well, that's what we've been dealing with. Minus the ketchup.
Our master bath remodel is finished with the exception of our shower door splurge. It will be another week and a half for that, but I couldn't wait that long to share some pictures.
So without further ado, here's what's been happening here in the ridge.
My favorite thing in there is the vanity we had made from our old dining room buffet. I share the details about the conversion in this post.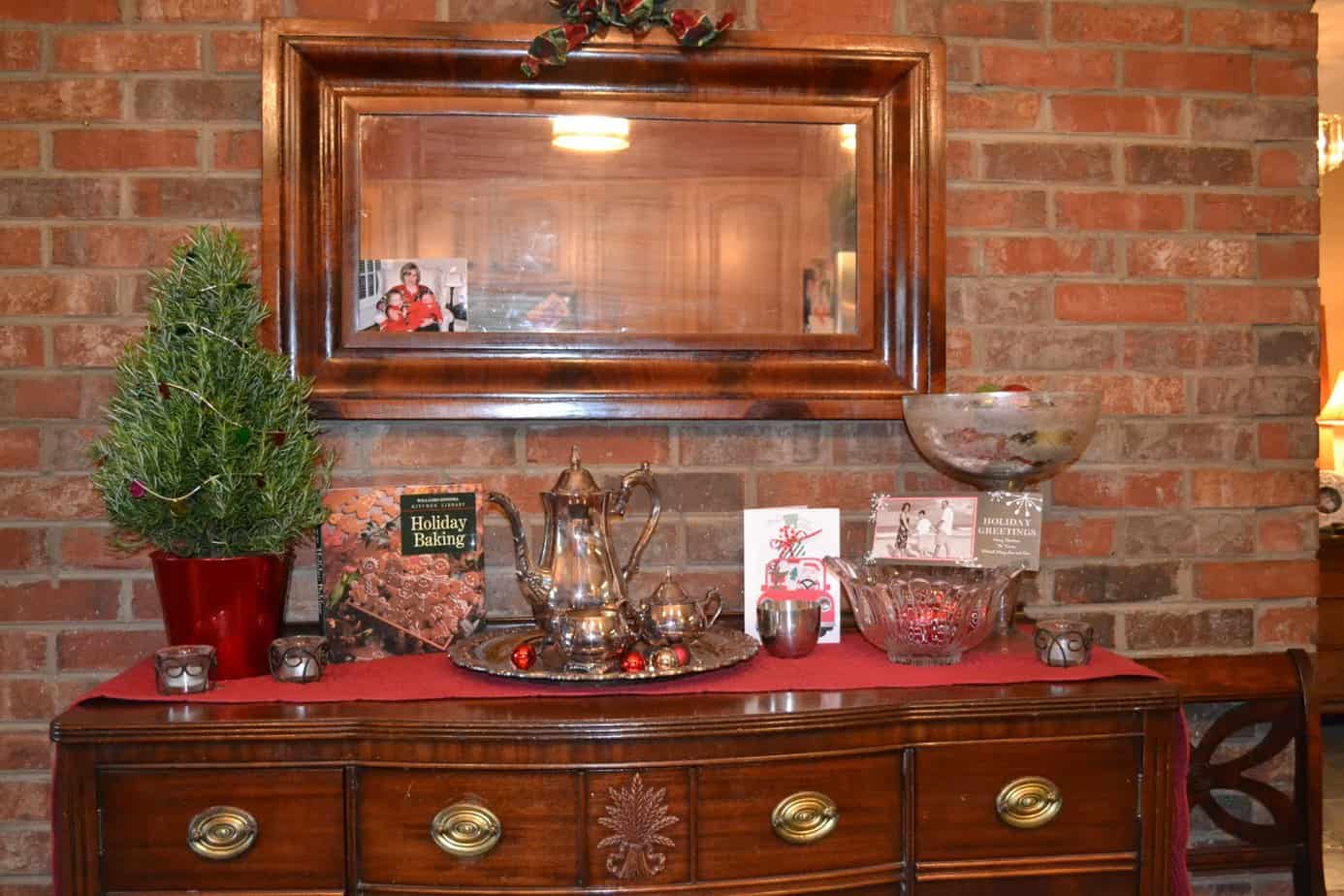 The before pic of the buffet. It was in our kitchen at Christmas because we don't have an official dining room in this house.
Le shower, waiting on the glass wall and door. And you can see the floor tiles. We had them laid in a brick pattern. They are American Olean Catarina.
Le sink, and a few fancy soaps and lotions to trick us into thinking we're somewhere special.
I shared the facelift details of the mirror in this post.
And the details about the pulls are here.
The newly opened up shower end of the room. Huge difference from before.
The before pic of the shower. The plastic was there because there was some mold behind the walls. The wall is gone now, except for a half wall of tile on the left. And the wall on the right with the light switch on it was removed and moved out 1 foot. It doesn't sound like a lot, but it made a big difference.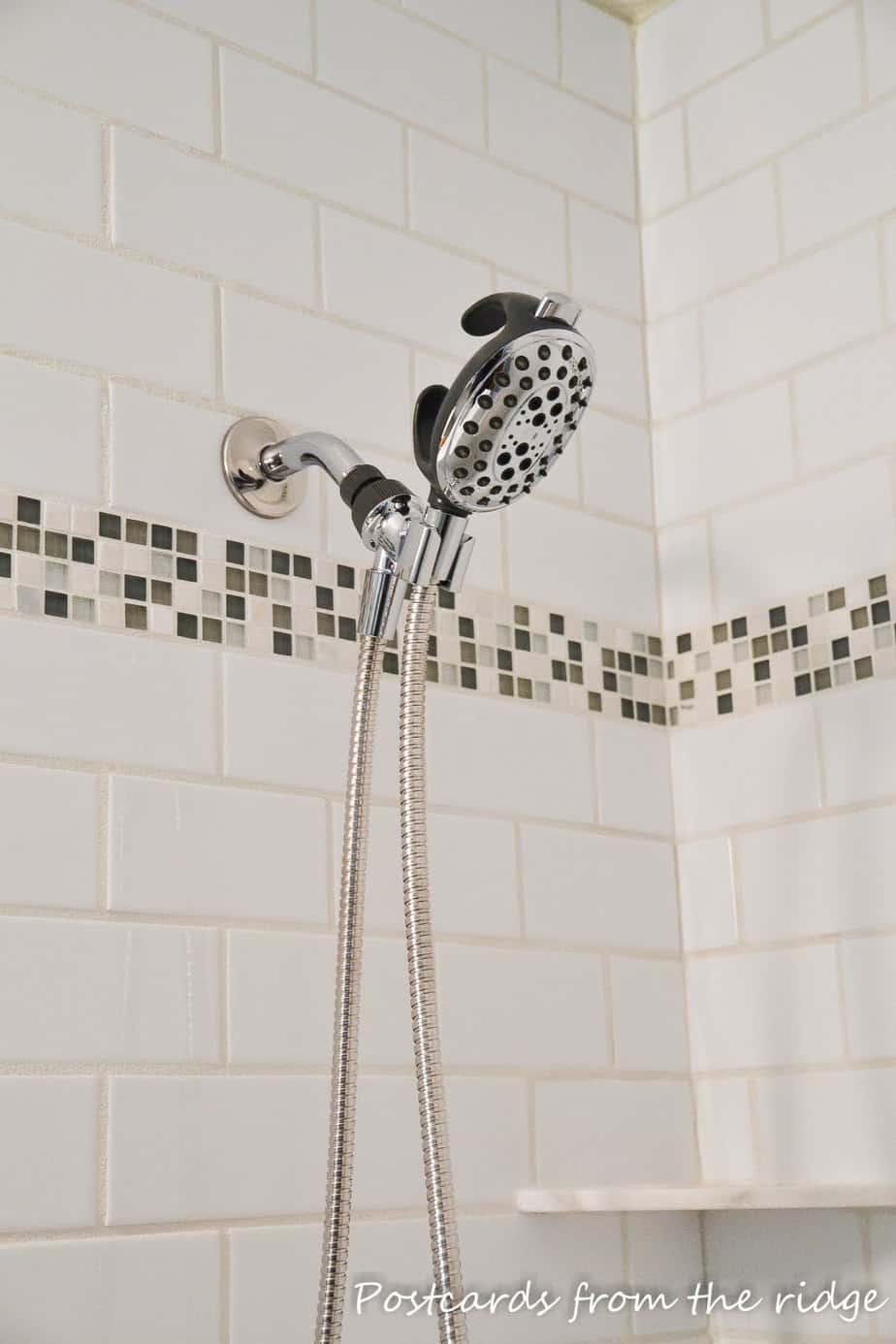 Handheld shower. Glossy white subway tile.
Little glass accent tiles. More glossy white subway tile.
Pebble shower floor. Our contractor called these fruity pebbles. And lots more glossy white subway tile.
They do kinda resemble fruity pebbles, don't they? In milk, nonetheless!
I had this ladder in the garage and love the idea of using it for towel storage. The Mr. is not too keen on the idea. Not sure who will win this one. The wall color is Benjamin Moore Wales Gray.
Monogrammed linens, lavender, candle, towels. I like the texture and rusticity of it all. Is that even a word?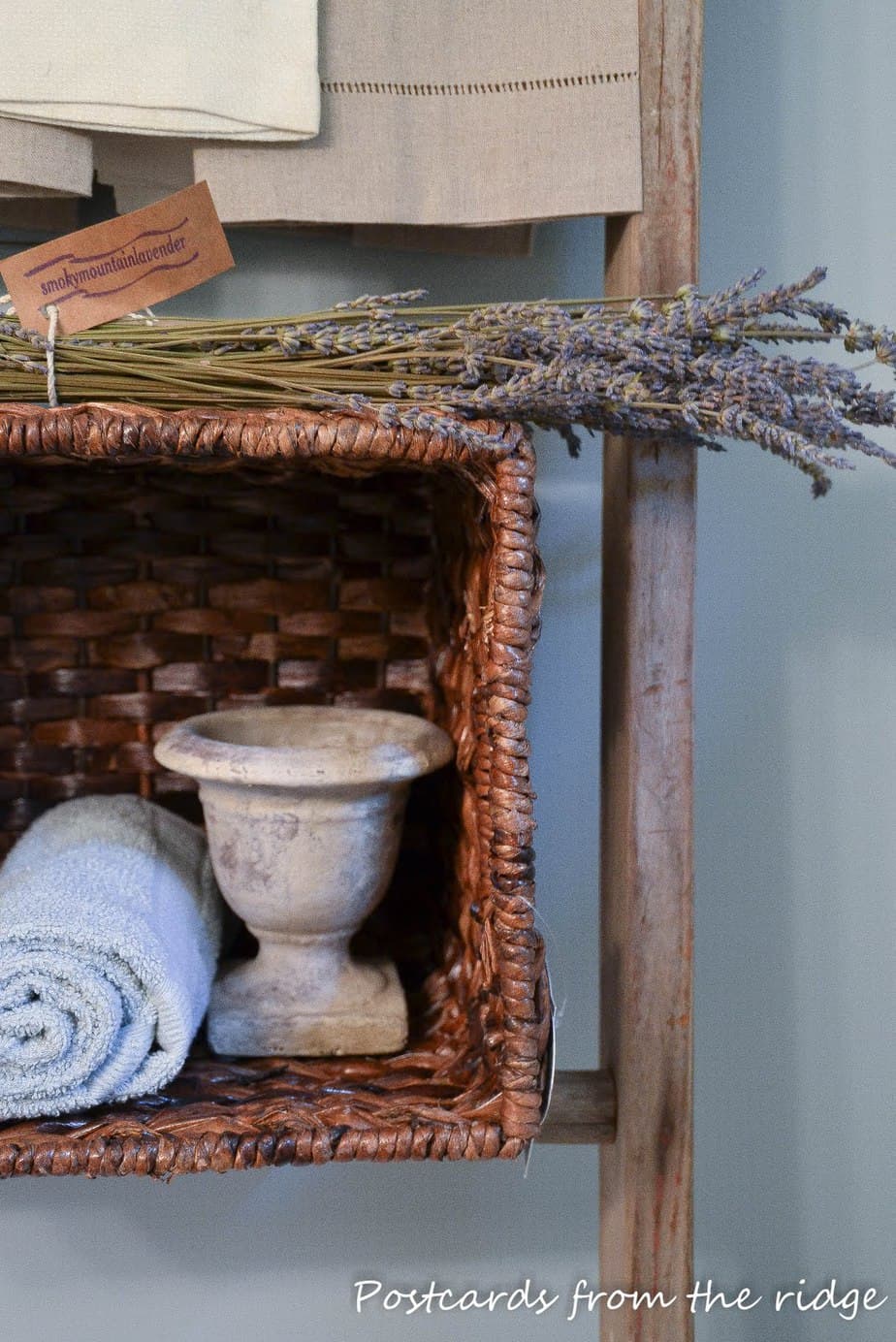 I heart lavender.
The little luxuries. Some of these soaps are from nice places we've been fortunate enough to stay at. Santa brought me the lotions for Christmas. 🙂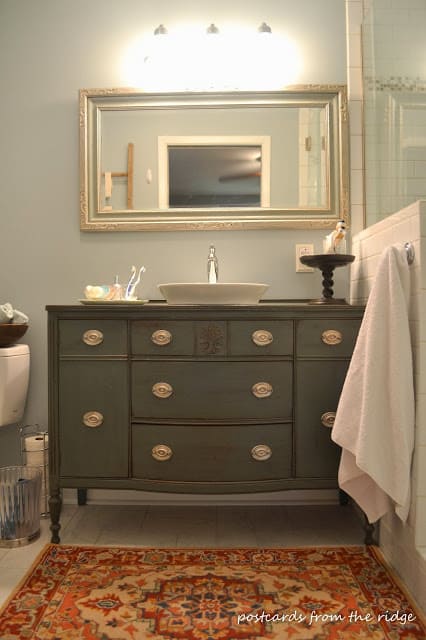 Update: I recently added a rug for some additional color and to keep help keep the floor clean.
FYI, here's some info for the elements of the room:
(some of these have affiliate links which will take you to Amazon, where I am an affiliate, but this post was not sponsored by Amazon or any other brand or manufacturer)
Walls ~ Benjamin Moore Wales Gray #1585, eggshell finish
Trim ~ Benjamin Moore Chantilly Lace, Satin Impervo waterborne
Ceiling ~ Benjamin Moore White Christmas, eggshell finish
Floor tile ~ American Olean Catarina Gray
Shower mosaic floor tile ~ white pebble mosaic tumble
Shower walls ~ Metro super white subway tiles
Accent tile ~ Iceland Mosaic
Sink ~ American Standard Morning vessel sink
Faucet ~ Delta Linden chrome
Toilet ~ Toto Drake elongated
Corner Shelves ~ White Carrara
I'm still looking for a small rug and will do some type of window treatment, but the room is complete except for that and the glass door and wall. All that's left is just a little more anticipation. But it's been worth the wait so far, and we're on the home stretch.
You'll have to excuse me now, 'cause I'm off to get some crispy fries and Heinz ketchup that I'm seriously craving after this post.
Thanks for stopping by.
XOXOX,
Angie
If you like my posts, I'd love it if you'd become a follower. You can
keep up with my latest recipes, projects, tutorials, photos and tips many ways,
including:
**This post contains affiliate links to Amazon.**
Linking up to these fabulous sites. Please visit them for inspiring ideas.
Debbiedoo's newbie party
The RRR party ( repurpose, remodel, reveal) at The Rooster and The Hen
Mod Mix Monday at Mod Vintage Life
Wow us Wednesdays at Savvy Southern Style