Our Half Bathroom Renovation Details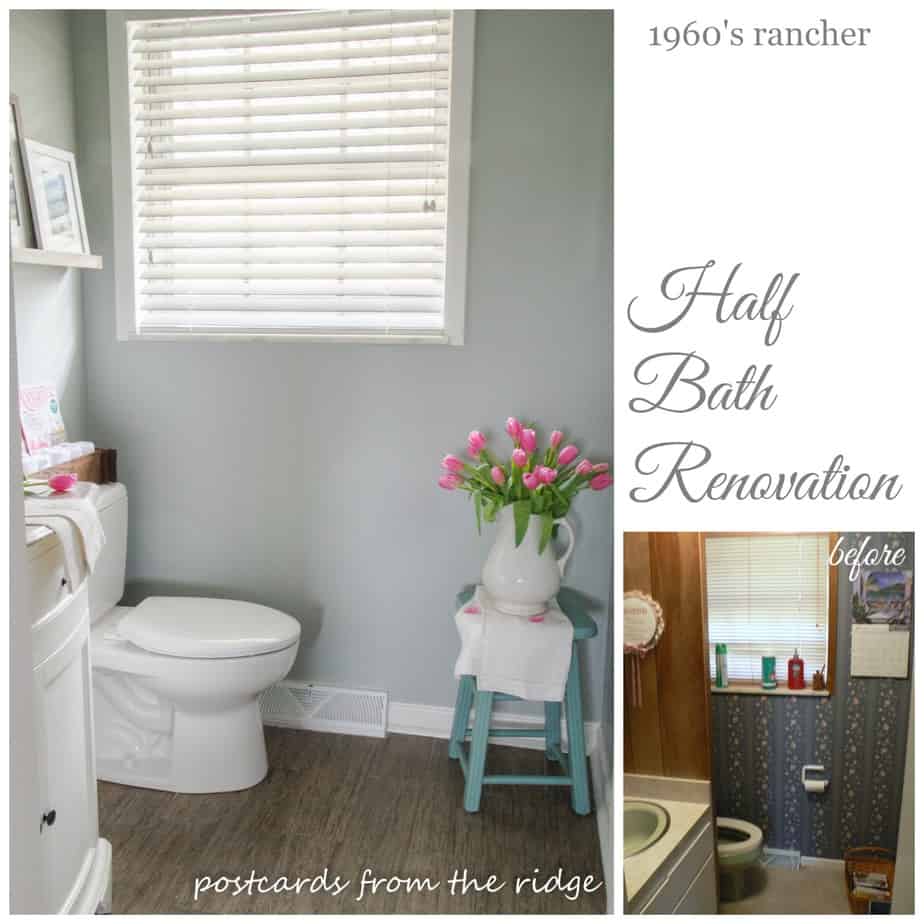 When you buy a 1960's ranch home, sometimes there are undesirable relics leftover from the past that come with it. But hopefully, eventually, you can say goodbye to those unwanted remnants and replace them with modern day elements. Such was the case with our ugly duckling half bathroom that we finally updated a few months back after 8 1/2 years of living with it. I'm sharing all of the details today.
This post contains affiliate links for your convenience. If a purchase is made after clicking one of the links I might make a small commission. Your price does not change. For full disclosure, go here.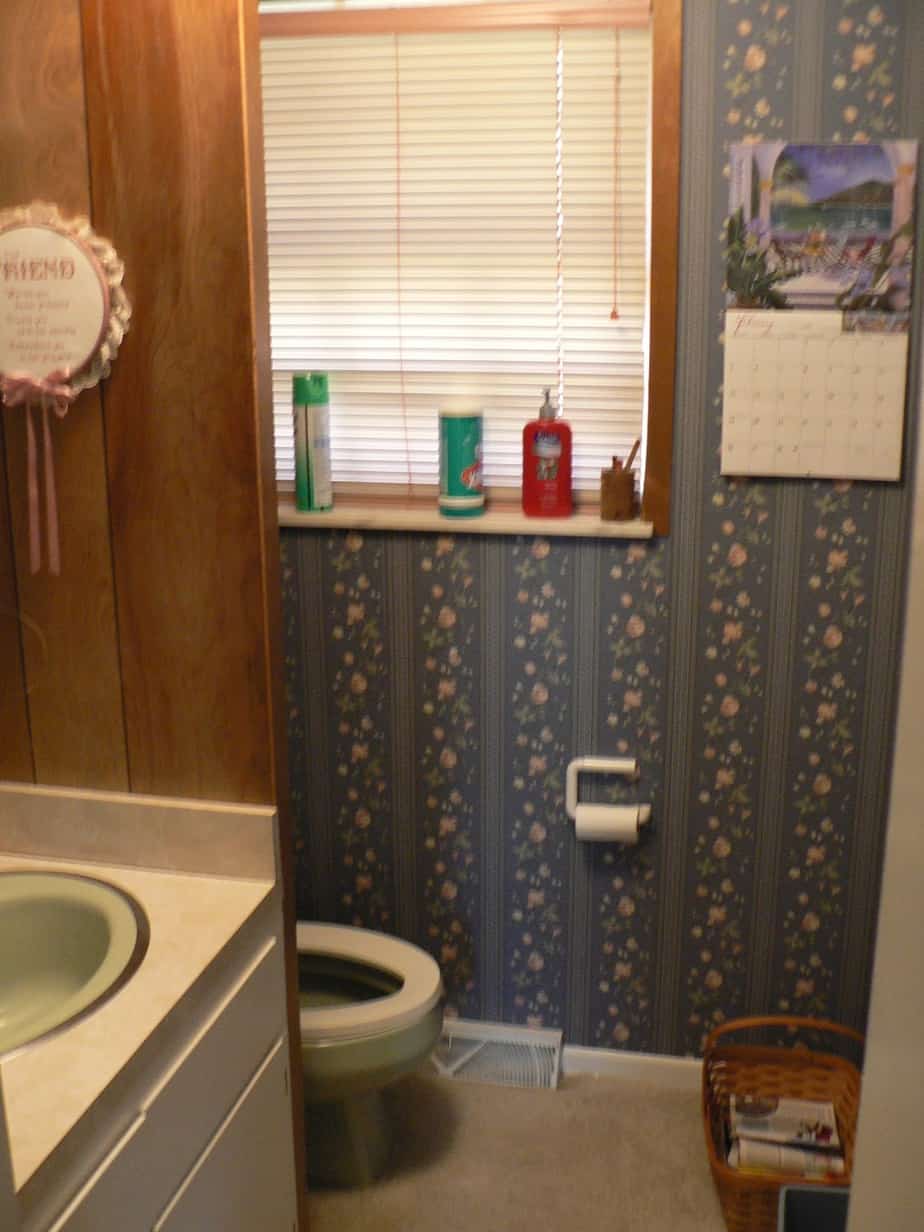 .
Let's face it, there was nothing pretty about this bathroom. Here's what we were dealing with: very dated wallpaper, a small partition wall of paneling, a green toilet (with a white seat) and sink, a pink mini blind, and carpet. Yes, carpet in the bathroom. Ewww! Who does this? And what were they thinking? And just so you know, we took this picture before we owned the house so the decor was from the previous owners.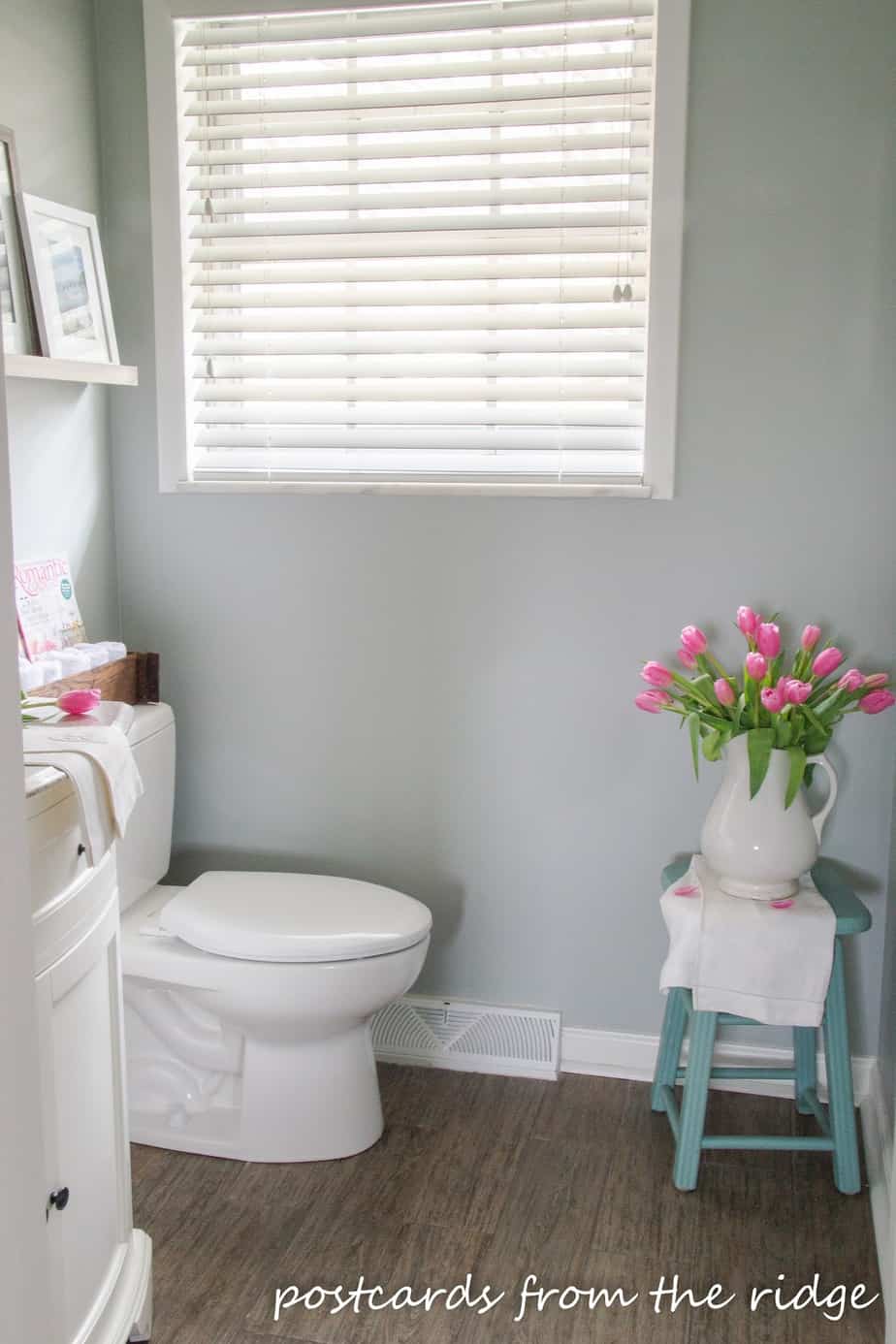 And here's the much improved version. I love this room now! Not too long after we moved in almost 10 years ago, I changed the pink mini blind to a white wooden one, and I removed the wallpaper and replaced it with a neutral, textured wallpaper. But the carpet, green toilet, and green sink were still there. I had the carpet cleaned several times, but it was still gross.
Everything from the old bath is now gone except the wood blind. In the new space, we decided to use a light colored vanity with a granite top and undermount sink. It's so much nicer and is easy to keep clean.
We chose a low arc faucet in basic chrome. I love the way chrome shines when it's clean. And it will never go out of style.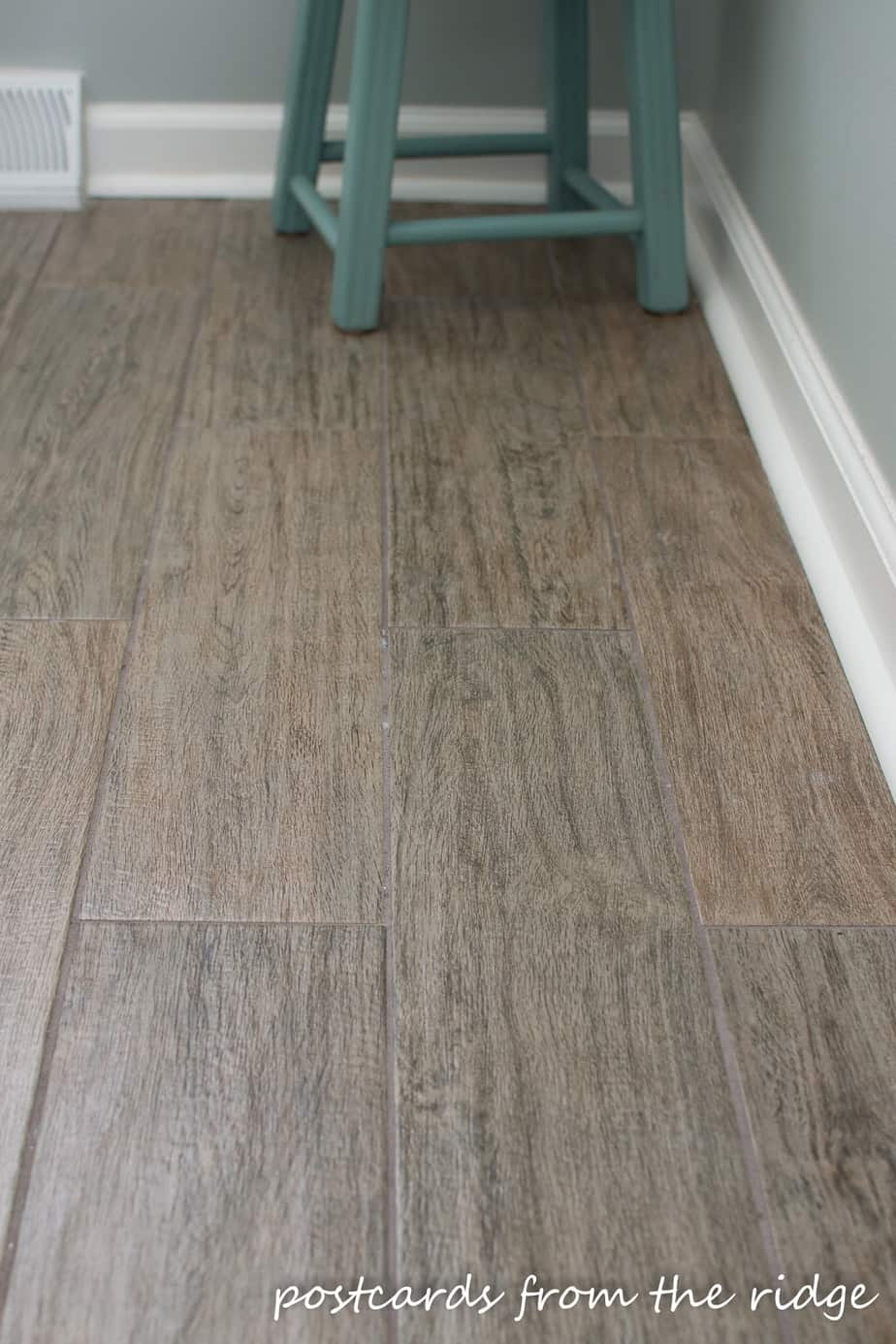 We had 2 other bathrooms in the house renovated before this one, so we had a really good idea what we wanted to do in here. I knew for certain that I wanted a tile floor that looked like wood. A few years ago we put white marble tile on our master bath floor and we don't care for it. Lesson learned.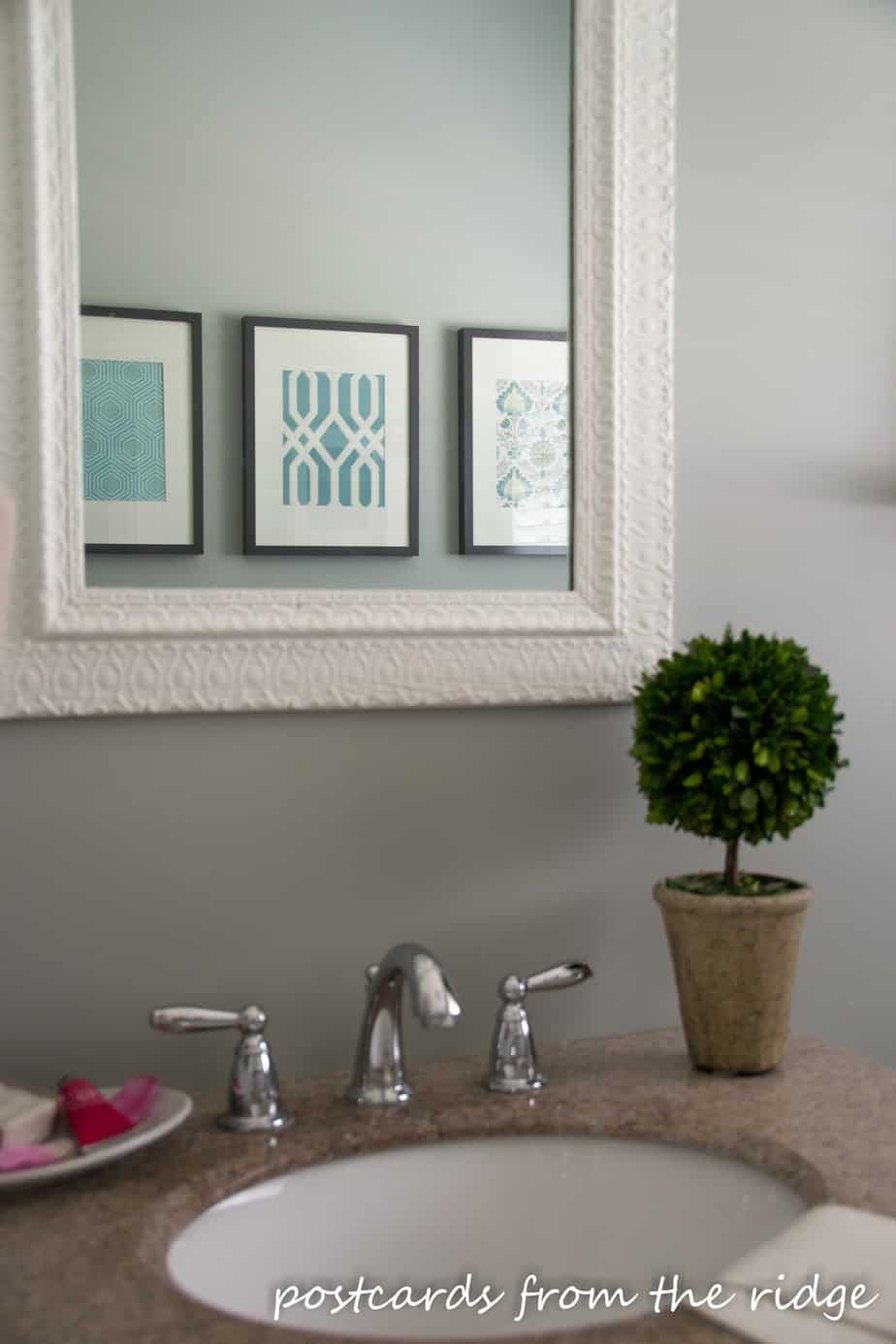 I used a mirror that I already had. I found it at a flea market years ago and I painted it white to go in this room.
For some inexpensive artwork, I framed samples from a discontinued wallpaper book. Go here to get the tutorial for this.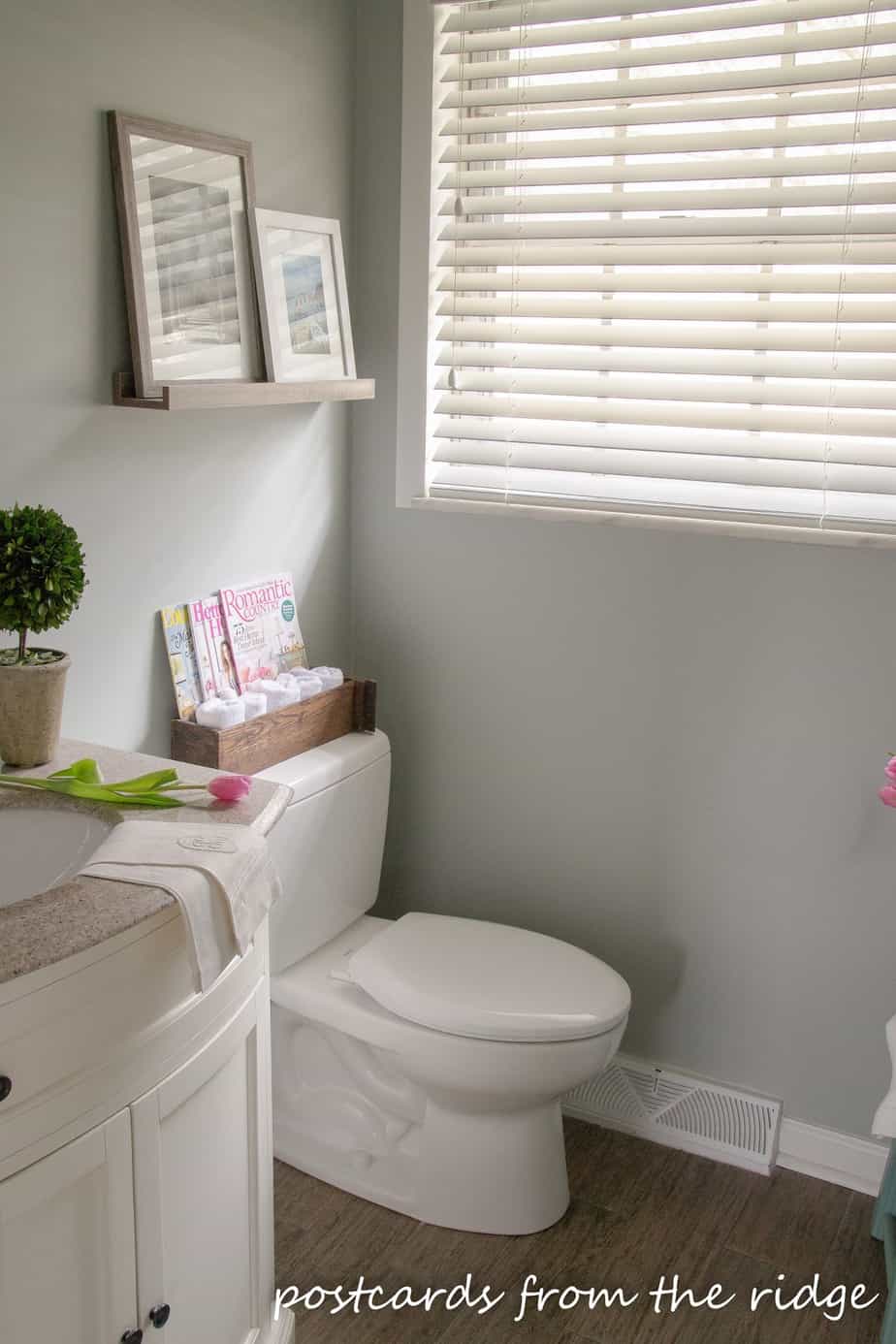 And on the wall over the toilet I framed some of my personal photos and placed them on a picture ledge. It's nice to look at them and remember some of our past vacations. If you haven't ever framed your vacation photos, I highly recommend it.
An old wooden drawer holds washcloths and magazines on the back of the toilet.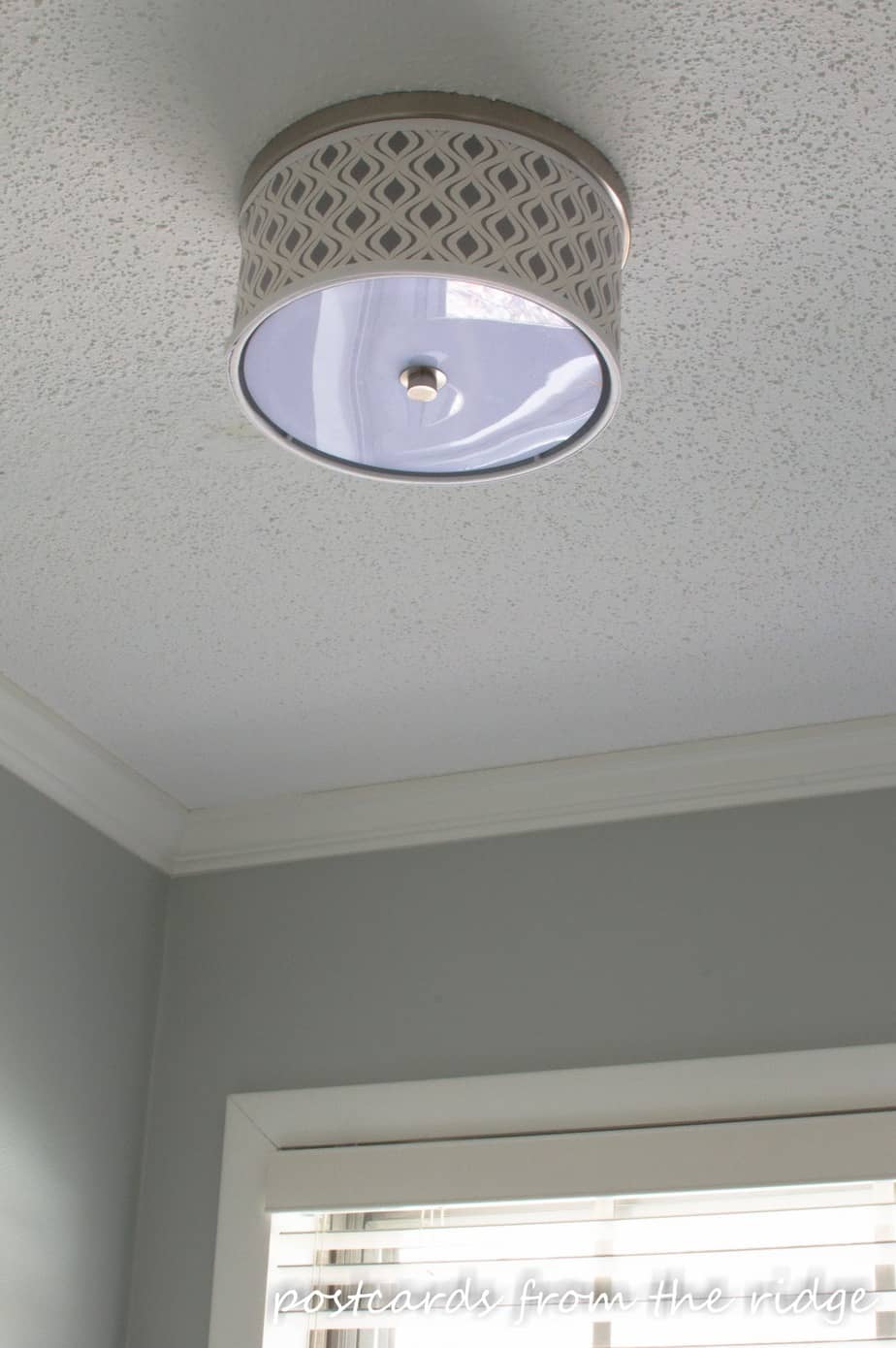 The light we chose is a flush mounted decorative light. It puts out just enough light for this small space.
Next to the sink are a monogrammed linen towel and some pretty soap and lotion. It's the little things like this that really make rooms feel special.
And some grocery store tulips that sit in a white pitcher add some color and personality to the space. The little stool makes a nice flower stand, don't you think? It might not stay in this exact spot, but I really like it in here.
I added another vintage monogrammed linen at the sink. I think I have a slight addiction to these. They're just so darn pretty.
SHOP THIS LOOK
Vanity // ceiling light (discontinued) // faucet // wood look tile // paint – Benjamin Moore Tranquility
I'm so glad we finally had this room updated and don't have to live with those ugly old relics from the past. It's one of my favorite spaces now!
Do you have any ugly duckling spaces that you're tolerating but really want to turn into a swan?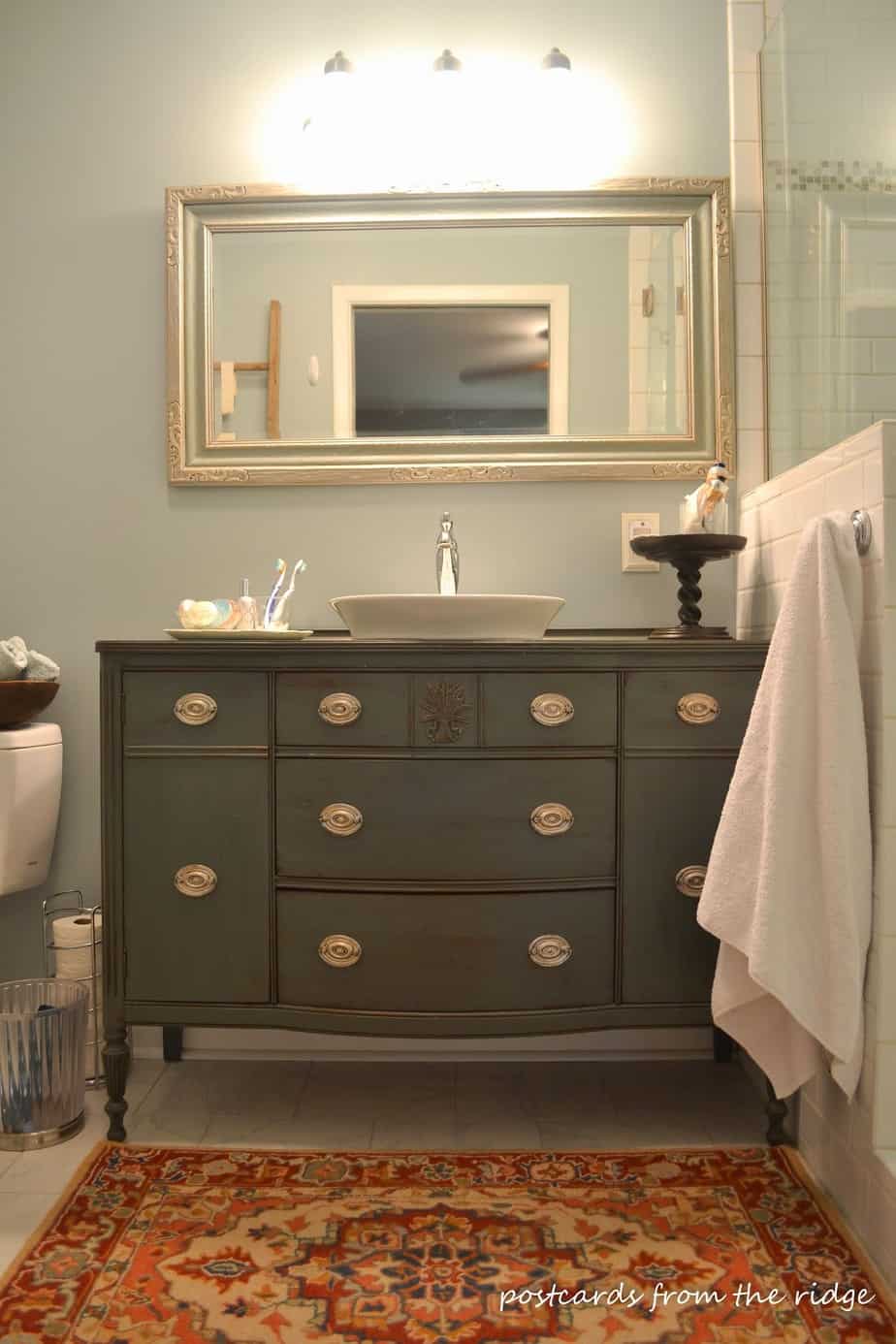 Here's our remodeled master bathroom. Go here to see what we did in this bathroom.
To see the details of our hall/guest bathroom remodel, go here.
Shop the Look: