9 Simple Ways to Add Farmhouse Charm to Any Bedroom
There's nothing like a comfy bedroom to make you feel at home and be able to relax. And if farmhouse decor is what you like don't worry, you can get the look in almost any style home. We live in a 1960's ranch style home and our master bedroom decor is cozy farmhouse style with miscellaneous bits of vintage added to the mix. The look has evolved over time as our collections have grown and as the things on our wish list have gone on sale. Read on for some simple tips on how you can add cozy farmhouse touches to any bedroom.
This post contains affiliate links for your convenience. For full disclosure, go here.
How to add cozy farmhouse style to any bedroom
1. Layers
Layering creates such a cozy, comfy feeling. All it takes is a little creativity and variety of textures and colors. Our layered, curated look has taken several years to accomplish but anyone can do it. Here's a good way to get the layered look:
Start with a solid color quilt. I prefer a white quilt so I can change the throw pillows seasonally.
Add various sizes of pillows including throw pillows and Euro shams.
Fold a contrasting duvet cover or quilt at the bottom for extra color.
Add a throw for texture.
Place an area rug on the floor, even if you have carpet.
Add curtains to the windows – it really adds to the cozy factor of a bedroom.
An upholstered headboard also adds a nice, soft, finished look to a bedroom
2. A bench at the foot of the bed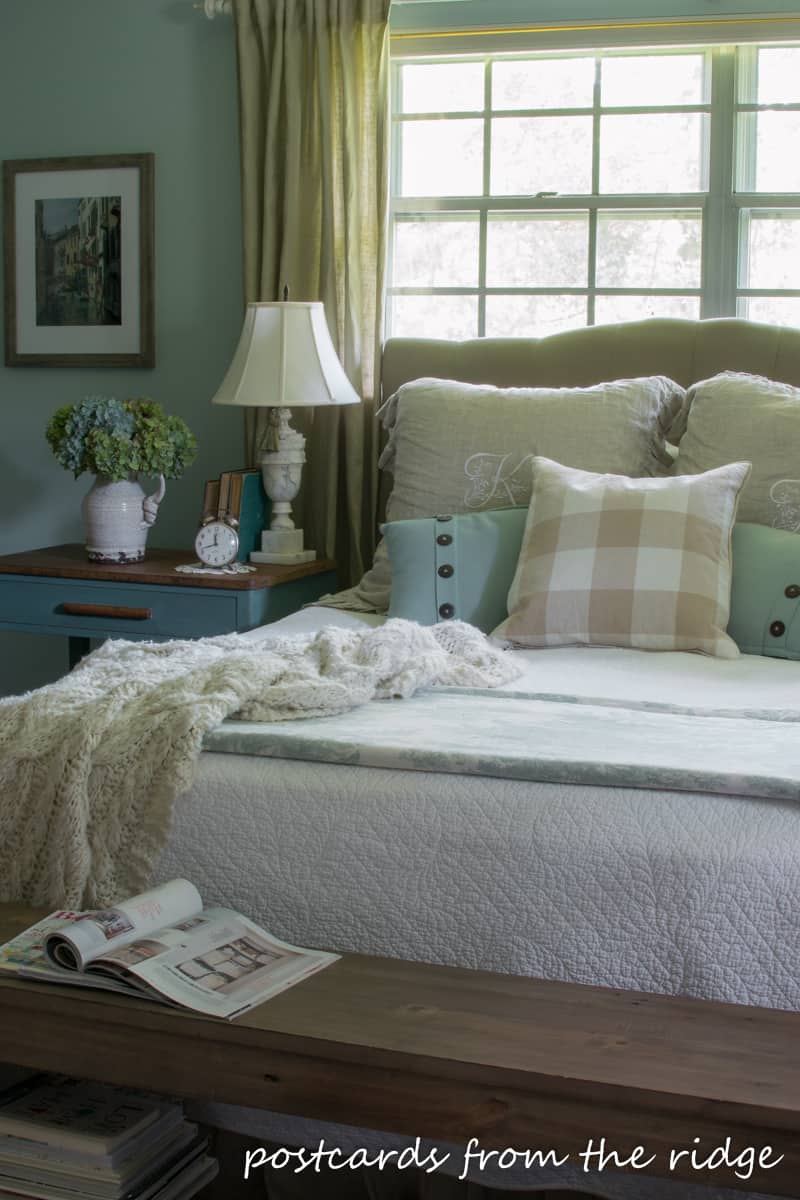 Truth be told, this usually has clothes piled on it. But I didn't think you really wanted to see that so I took them off.
A bench at the foot of the bed is a great place to sit and put on your shoes or drop your bag at the end of the day. It's also a nice place to lay any extra pillows from the bed while you're sleeping. This one has a bottom shelf that we sometimes set our shoes on.
3. Straw baskets or bags
I don't know about you but I always need a bag or basket to stash things. This straw market bag has a few of my favorite magazines, my beloved Turkish towel, and my sun hat tucked inside of it. And just FYI, I recently took the bag on vacation with us and it's a great beach bag too.
I've had vintage picnic baskets underneath the night stand also, but I love the accessibility of the market tote.
4. Vintage books
If you watch Fixer Upper then you've seen lots of good examples of how to use vintage books in your decor. Joanna and her team use them everywhere. They're usually pretty easy to find and don't cost more than a dollar or two each.
5. Fresh flowers in a vintage pitcher
I absolutely love flowers and would have them in every room if my husband and daughters didn't have allergies. Whether you clip them from your own yard or pick them up at the grocery store, it's a wonderful way to turn up the cozy factor in the bedroom or any room.
6. Vintage alarm clock
If you find a vintage alarm clock that actually works, consider yourself lucky. We have two non-working ones but really don't mind since we use our phones as alarm clocks. The vintage ones look so pretty sitting by the bed.
7. A soft wall color
Soft colors like this one are great for bedrooms because they make it easier to relax easier than bold, bright colors do.
Over the years we've had several colors on the bedroom walls…cobalt blue, cream, taupe, yellow, light green, and now this soft blue gray. I love this color and haven't gotten tired of it even after 7 years. It's Benjamin Moore Woodlawn Blue in an eggshell finish.
8. Old family photos
There's something comforting about having old family photos in the house, even in the bedroom. It gives you a sense of history and harkens days gone by. And if you're looking for a farmhouse feeling, old photos will definitely give you that too.
9. A tray
A tray is nice to have in the bedroom for gathering magazines and trinkets or a pretty pitcher of flowers in this case. And it's great for all those times when your husband and kids decide to bring you breakfast in bed. Maybe someday that will actually happen in this house. Well, it has happened a couple of times but it is rare and very appreciated when it does happen. Do you ever get breakfast in bed?


I hope you've gotten a few ideas on how to add farmhouse touches to your bedroom or other rooms in the house.
What's your favorite tip from this post? Leave a comment below and let me know what you like the most.
SHOP THE LOOK
If you enjoyed this post you'll also like these: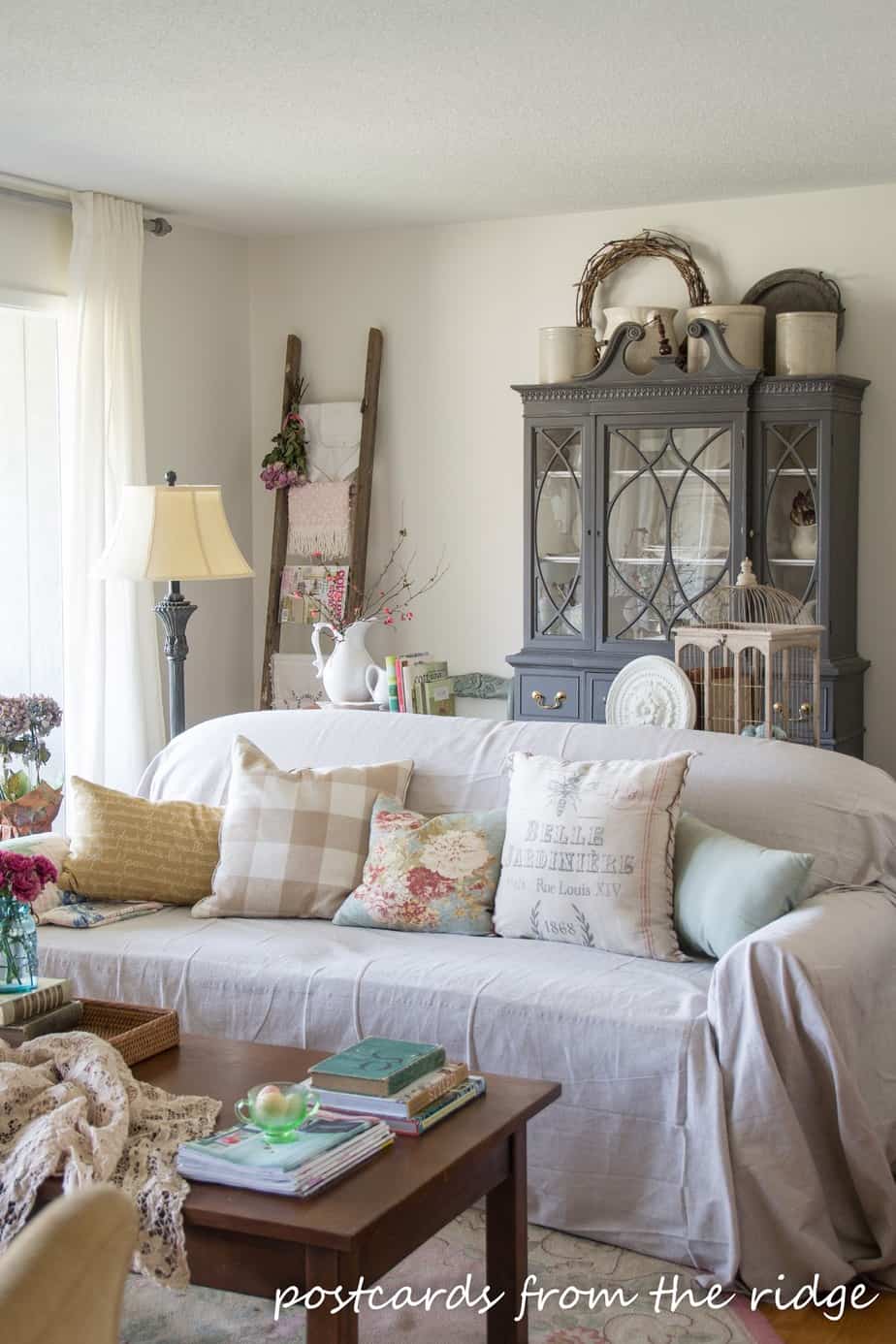 Farmhouse Style Living Room Decor
How to Shop Estate Sales Like a Pro
Ideas and Sources for Affordable Upholstered Headboards
Sources:
Most items are things that I've had for several years, but here are the original sources as well as current similar ones.
White Quilt – (similar one here)
White Metal Tray – Ikea
Crackled Pitcher – (similar one here)
Monogrammed tea towel – vintage (similar ones here)
Linen Euro shams – Pottery Barn discontinued (similar ones here)
Curtains – similar
Buffalo Checked pillow – Ballard Designs
Aqua pillows – discontinued (similar one here)
Toile Duvet Cover – Pottery Barn discontinued
Linen Dust Ruffle – Pottery Barn discontinued (similar ones here)
Lamps – vintage (similar ones here)
Books – vintage
Alarm clocks – vintage (similar ones here)
Crocheted doilies – vintage (similar ones here)
Bench – HomeGoods (similar one here)
Rug – TJ Maxx (similar one here)
Turkish Towel – Purchased at a local shop that's now closed (similar one Here)
Artwork – personal photographs
Wooden bowl and white scalloped platter – vintage
Straw Market Tote – here
Straw Sun Hat – here
Cable knit throw – discontinued (similar one here)