2024 Sherwin Williams Color of the Year Upward SW 6239
Explore the 2024 Sherwin Williams Color of the Year SW 6239 Upward. Learn where to use it and what colors coordinate with it. Free downloadable color palettes.
This post contains affiliate links for your convenience. I may make a small commission on products purchased with my link, but your price does not change. For full disclosure go here: Disclosure and Policies. Thank you for supporting my site.
Sherwin Williams Upward SW6239
It's prime time for paint companies as they introduce their picks for the 2024 paint colors. The color experts study the trends in the fashion, beauty, and auto industries and choose a color and usually a complementary palette to feature for the upcoming year.
Just released – the Benjamin Moore 2024 Color of the Year and Trends
Today we're discussing everything there is to know about the Sherwin Williams 2024 color of the year, Upward. So get comfortable and let's explore all the ways to use this refreshing color and what looks best with it.
See all of the 2024 color of the year picks from your favorite paint brands here: 2024 Color of the Year from Major Paint Manufacturers
What color is the 2024 Sherwin Williams color of the year?
"Upward SW 6239 represents the gentle forward momentum in all of our lives," said Sue Wadden, director of color marketing at Sherwin-Williams.
"It brings to life that carefree, sunny day energy that elicits a notion of contentment and peace. With this color, we invite our consumers to take a pause and infuse a new sense of ease and possibility into their spaces – one that doesn't overwhelm, but rather establishes meditation and tranquility."
"…a tranquil and uplifting blue-gray that encourages boundless creativity. This color of classic comfort speaks to a desire for personal progress and peace—an outlook and effort that allows us, individually and together, to move up and rise above—ever ascending."

Sherwin Williams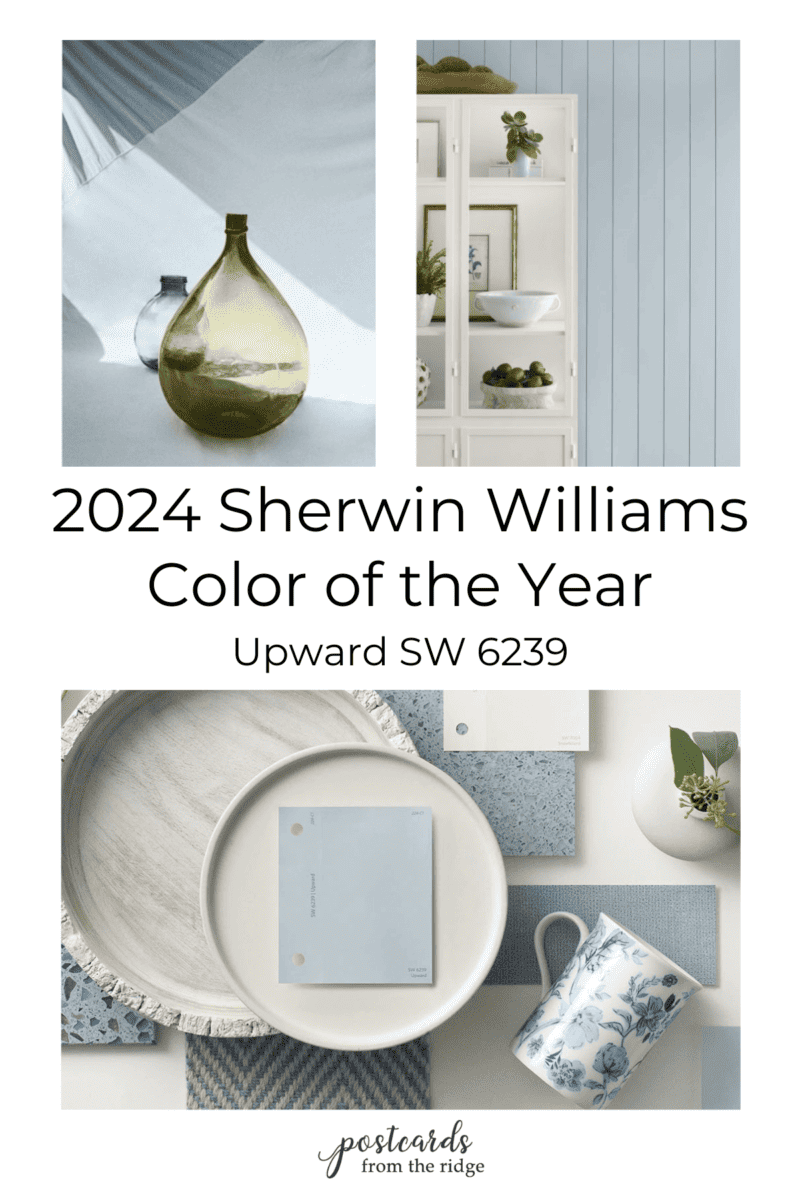 Is Upward SW 6239 warm or cool?
Upward is a medium blue and is on the cool side of the color spectrum.
What Undertones does Upward SW 6239 have?
Unlike many of the popular light to medium blues used today, Upward has very slight violet/periwinkle undertones and has less gray. It's difficult to see unless compared to other blues, so keep scrolling to the bottom of the post for some side-by-side comparisons.
Want to see how it looks in your home? Get a sample here >> Upward Peel and Stick Paint sample
Here's the RGB (this is the mix of colors used to represent the color on a computer screen):
RGB: 191 / 201 / 208 – These numbers indicate the amount of red, green, and blue needed to make up a digital version of this color. It's NOT a paint mixing formula. But you can look at the ratio and see that it's 34.6% blue, 33.5% green, and 31.8% red for a digital version.
In short, Upward is a soft blue with a hint of violet undertones.
More Color Trends
Looking for more paint color inspiration? You'll love these posts:
Upward SW 6239 LRV
Upward has an LRV of 57. It has enough color that you'll definitely know it's blue. But it's not a knock-your-socks-off color.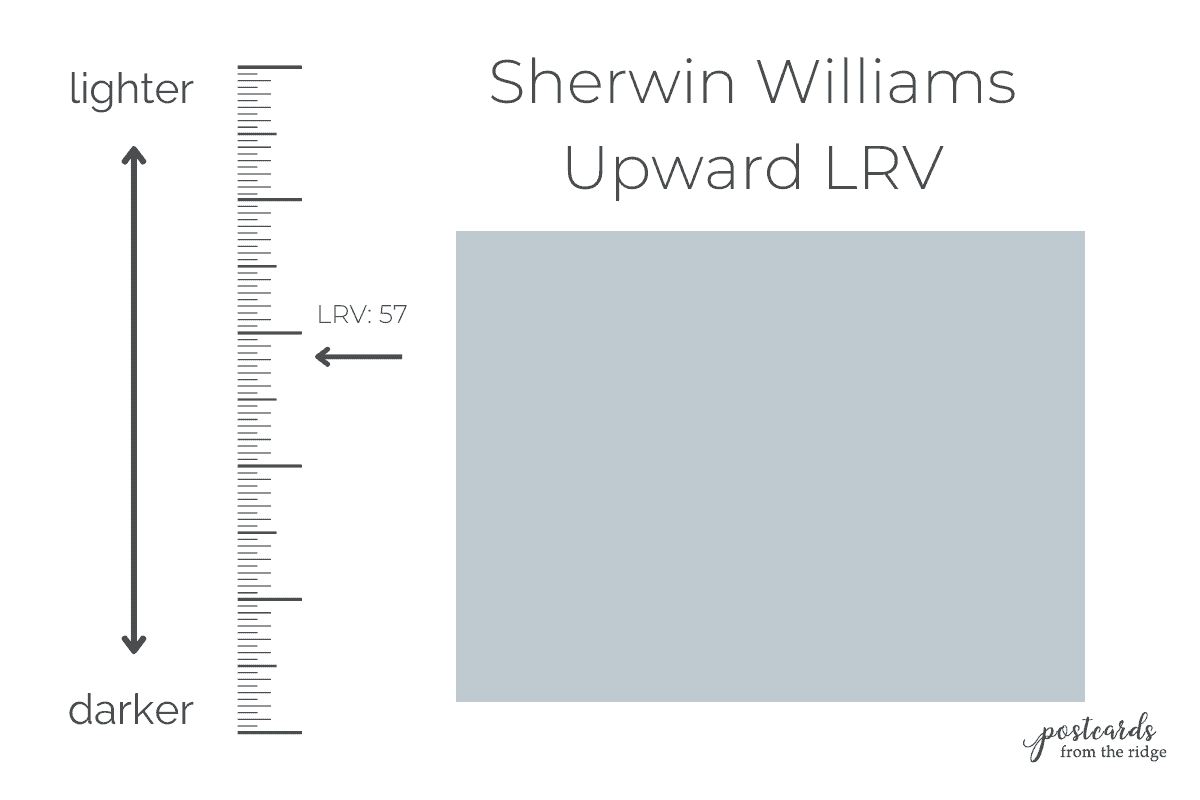 My favorite paint brush for the past 20 years is also a favorite of nearly 11,000 amazon reviewers. Grab this affordable and comfortable-to-hold brush here -> MY FAVORITE PAINT BRUSH
What are the lighter and darker shades of Sherwin Williams Upward SW 6239?
The lighter shade of Upward is SW 6238 Icicle. The next darker shade is Windy Blue SW 6240. You can get a free downloadable color strip with names at the bottom of the post. It has all of the colors on this color strip.
Where's the best place to use Upward SW 6239?
It's not as subtle as other trending blues but would be great in a home with coastal decor. For some great ideas for this type of decor go here: Coastal Grandmother Decor Ideas & Paint Colors
Coastal bathroom with Upward vanity
Upward looks nice as a vanity and interior door color, as seen in the bathroom below. Pair it with greens, dark blue, neutrals, and natural textures for a truly coastal look.
Bedroom with Upward walls
Although it's a little bold for my taste, it does look nice in this bedroom that's flooded with natural light. The dark blue, natural wood, and russet colors balance the bold, cool blue nicely.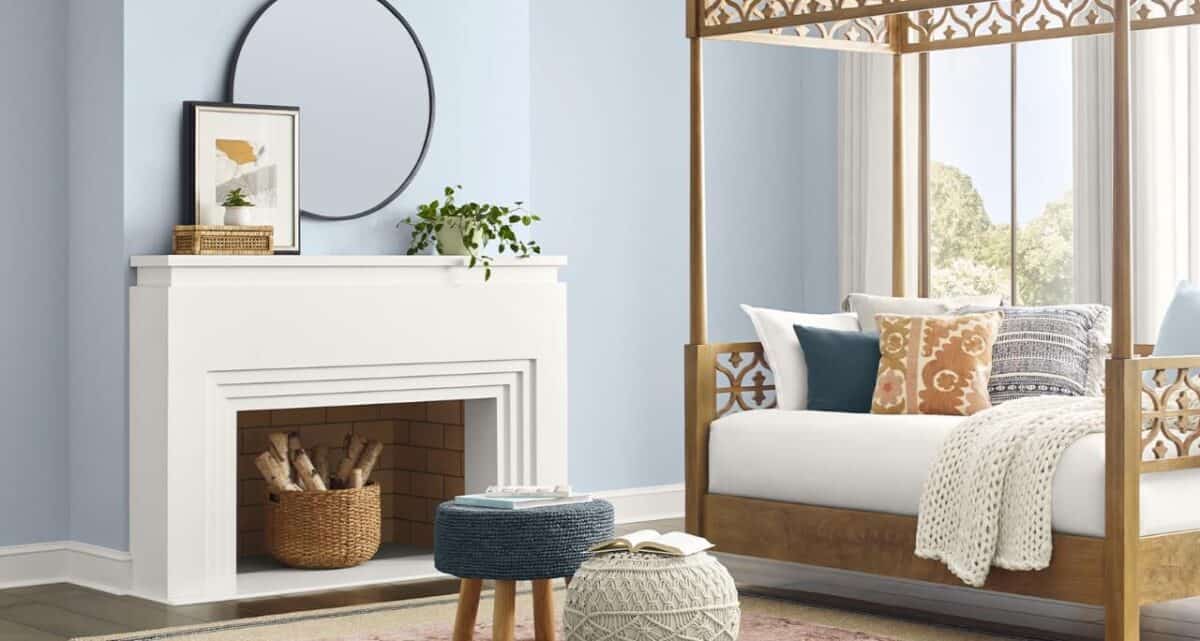 Sherwin Williams Upward Coordinating Colors
Here are several ideas for coordinating colors for Upward. Depending on your style, you could use it with subtle neutrals, coastal hues, or bold colors. Grab a downloadable version of this chart with names at the bottom of the post.
Although it's not as versatile of some other more muted blues, there are several options for color palettes centered around Upward. Let's explore a few.
Upward color palette with blue and green
The best colors for this clear, strong blue are greens, blues, and cool white.
Upward Color Palette with neutrals and blues
For a more monochromatic palette, pair Upward with cool white, dark blue, and and greige paint colors.
Upward color palette with dark contrasting colors
You could also use deep, earthy colors with Upward as shown in the boho-style bedroom below.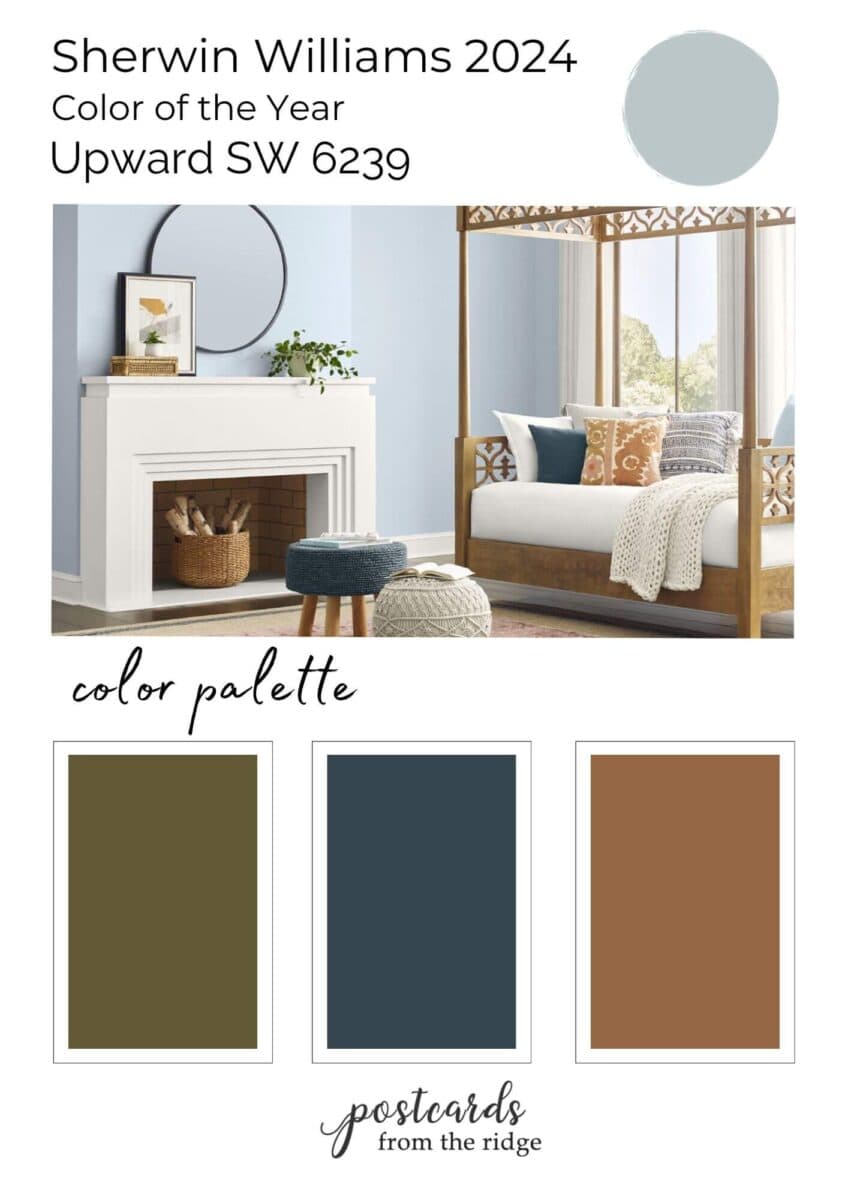 Best Trim Colors for Upward SW 6239
Clean, cool whites or nearly-whites look best with Upward and these are top choices:
What colors are similar to Upward?
Closest Benjamin Moore color to Upward SW 6239
Iced Slate 2130-60 is nearly the same color as Upward. It's a hair lighter with an LRV of 58.05, but these would look the same on the wall.
Sherwin Williams Upward compared to other popular medium blue paint colors
SW Upward vs Sea Salt SW 6204
You've likely seen rooms painted with the ever-popular color Sea Salt. Compared to Upward, Sea Salt has a bit more green and is much grayer. It's more muted and subdued than Upward and is slightly lighter with an LRV of 63.
SW Upward vs Silvermist SW 7621
Silvermist is one of the 2024 paint colors featured by Sherwin Williams and is also a bit greener and more muted than Upward. It's also noticeably darker with an LRV of 47.
Upward vs Aleutian SW 6241
If you like Upward but wish it was a bit darker, Aleutian might be the right color for you. It's on the same color strip with Upward but is two shades darker. It has an LRV of 39 and would be a great exterior color.
Upward vs Stardew SW 9138
Compared to Upward, Stardew is grayer and darker. It's also included in the 2024 Sherwin Williams color palette and would look gorgeous on exterior siding with a white-ish trim.
Upward vs Silver Lake SW 9633
Silver Lake SW 9633 is slightly darker with an LRV of 53. It's a newer color and is from the Rustic and Refined Cool Sanctuary color palette in the Emerald Designer Series from Sherwin Williams. It's a tiny bit greener and grayer and more muted that Upward.