All of the 2024 Color of the Year Picks (so far)
Explore all of the 2024 color of the year choices (so far) from your favorite paint brands. View HGTV Home Sherwin-Williams, Valspar, Behr, Dutch Boy, and Glidden's picks.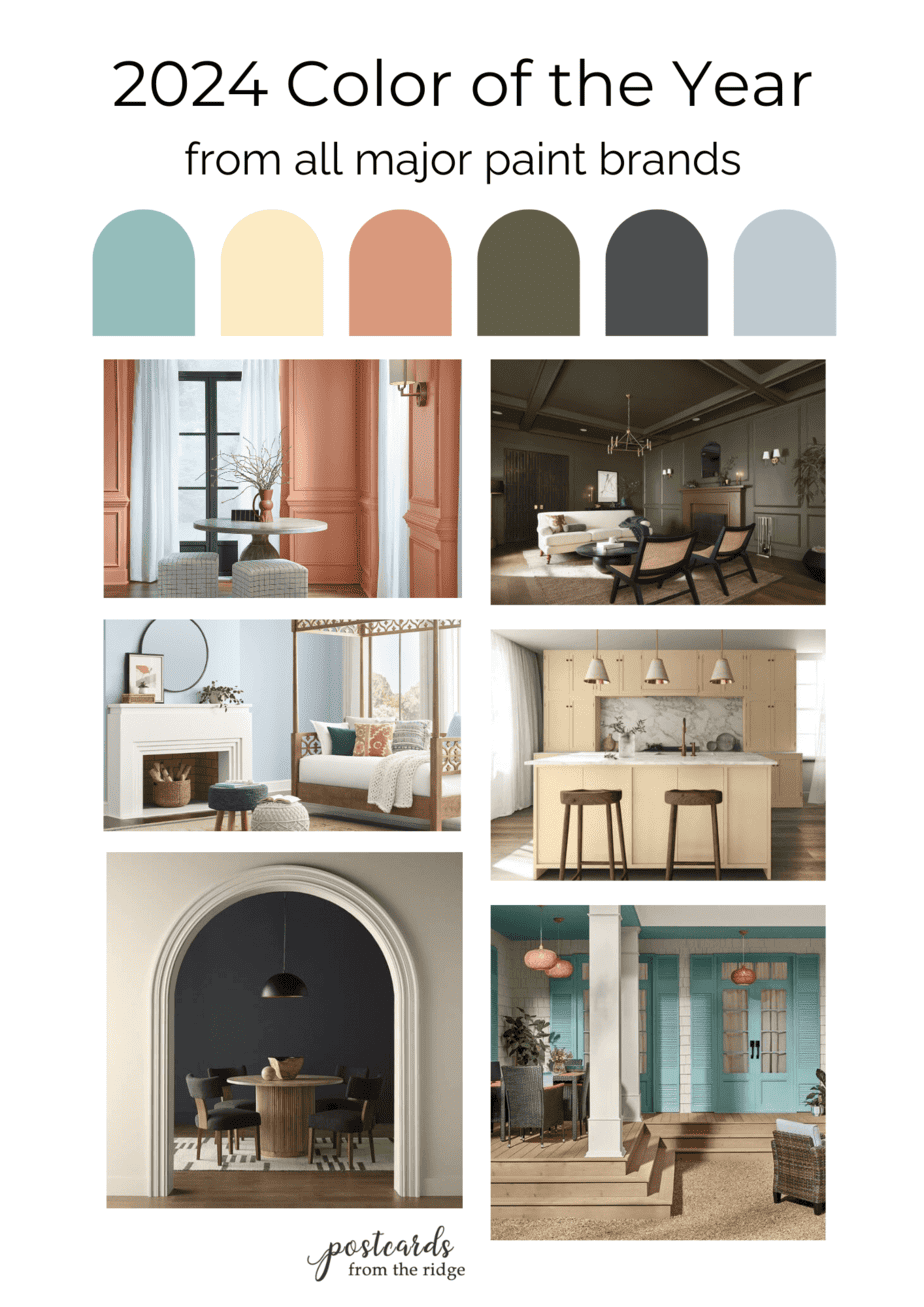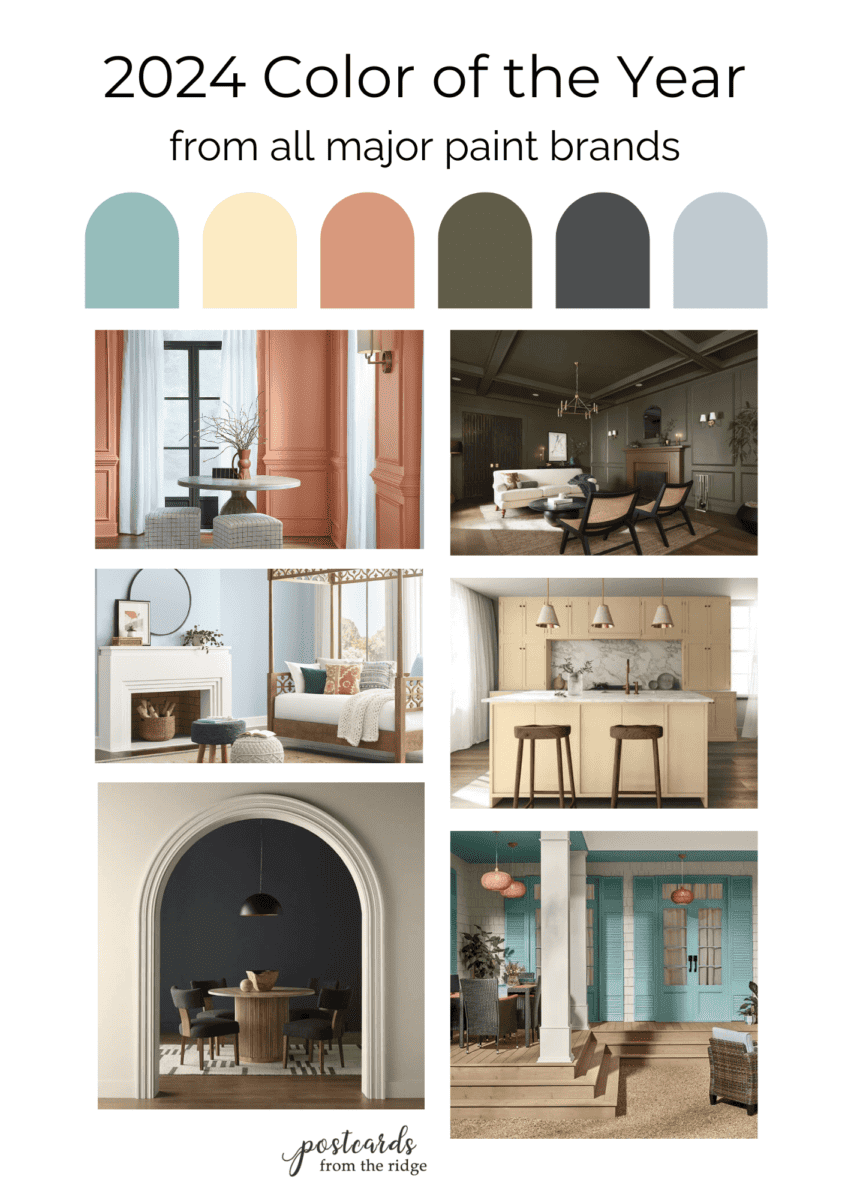 This post contains affiliate links for your convenience. I may make a small commission on products purchased with my link, but your price does not change. For full disclosure go here: Disclosure and Policies. Thank you for supporting my site.
2024 Color of the Year from all paint brands…so far
It's time, y'all. Time for all of those color of the year announcements from paint brands. And as someone who has worked in the paint and decorating industry since the 1980's, I gotta say it's fun.
So you might be wondering what all of the fuss is about and if it's just a marketing scheme. Well, maybe a little.
But mostly it's the time when paint companies share what their professional color marketers see as upcoming paint color trends based on items that are being introduced in the fashion, furniture, automobile, and other industries.
How to use the color of the year
Many people love changing their paint colors every couple of years. I used to do this when we owned a paint and decorating shop and I had more energy (hello, middle age). If you love updating paint colors, then the colors of the year are a great place to get inspiration on your next painting project.
For those of us who don't do large paint projects very often, these colors can be used on smaller areas like kitchen islands, accent furniture, feature walls, small bathrooms, and front doors. But don't feel like you must paint something to stay "on trend".
It's fun just seeing what the trends are, and today I'm sharing all of the winning colors for 2024 so far. As of this writing there are six that have been announced and I'll update this post when Benjamin Moore announces their 2024 color of the year.
Be sure to sign up for my newsletter so you won't miss those announcements. You can also get free color palettes and printable art. To join the VIP group and get access to everything, go here >> Subscribe to my newsletter
Sherwin Williams 2024 Color of the Year – SW 6239 Upward
"…a tranquil and uplifting blue-gray that encourages boundless creativity. This color of classic comfort speaks to a desire for personal progress and peace—an outlook and effort that allows us, individually and together, to move up and rise above—ever ascending."

SHERWIN WILLIAMS
If looking up at the sky on a clear day inspires you, then you'll fall in love with Upward SW 6329. It's a clear light-to-medium blue that is inspiring and ethereal.
Use it with neutrals, greens, or deep tones depending on the mood you want to create. Read my full review and grab a free downloadable color palette here: Sherwin Willliams 2024 Color of the Year SW 6329 Upward Review and Color Palettes
HGTV Sherwin Williams 2024 Color of the Year – Persimmon HGSW6339
"Persimmon pulls from grounded, earthy origins, to deliver a shade that feels both uplifting and refreshing. An earthy terracotta infused with tangerine tones, naturally inspired colors like perfect Persimmon are being incorporated to soften spaces and add a personal touch to the home."

HGTV Home by Sherwin-Williams
Well hello there, punchy Persimmon! This is a color that will add a burst of color to your space. It's not for the faint of heart, that's for sure.
It's a little bright for my taste as a wall color, but used in small doses it could be really nice. Using it on a kitchen island is fun and isn't too overpowering.
And I like it as an energetic front door color too. It looks nice with the Cyberspace trim and Pearly White siding. This color has a light reflective value of 39, indicating that it's a medium tone color. Pair it with deep charcoal and greige paint colors and it will really pop.
*HGTV Home is Lowe's exclusive line of Sherwin Williams paints. Although the colors are mostly the same, the paints are slightly different. You can't get the HGTV line in the company stores. But they're all under the umbrella of parent company Sherwin Williams.
FYI: The 2024 Sherwin Williams color trends have just been released and you can see them all here: 2024 Sherwin Williams Colors
Behr 2024 Color of the Year – Cracked Pepper
"Cracked Pepper is a versatile soft black that elevates any room and the way you feel in it."

Behr Paints
Boldly go where not many people go when you choose a dark gray or black wall paint color. It can create a very soothing space.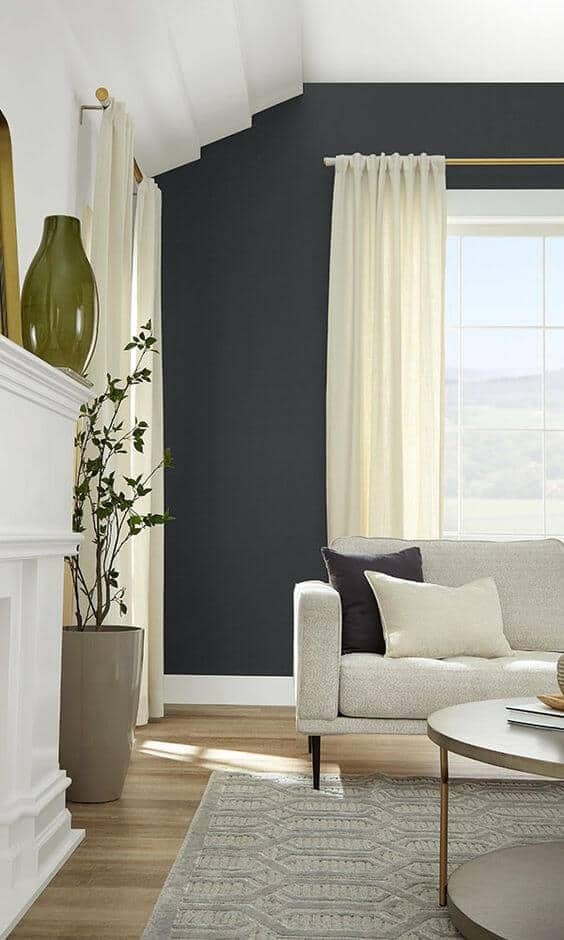 Cracked Pepper is a great choice if you enjoy the color drenching. That's when you paint all the walls, trim, built-ins and anything else except the floor and ceiling in the same dark color. It creates a very moody and relaxing space.
Use Cracked Pepper with warm natural wood tones and neutral textiles for a minimalist look. Accent with cinnamon and deep gold to warm it up.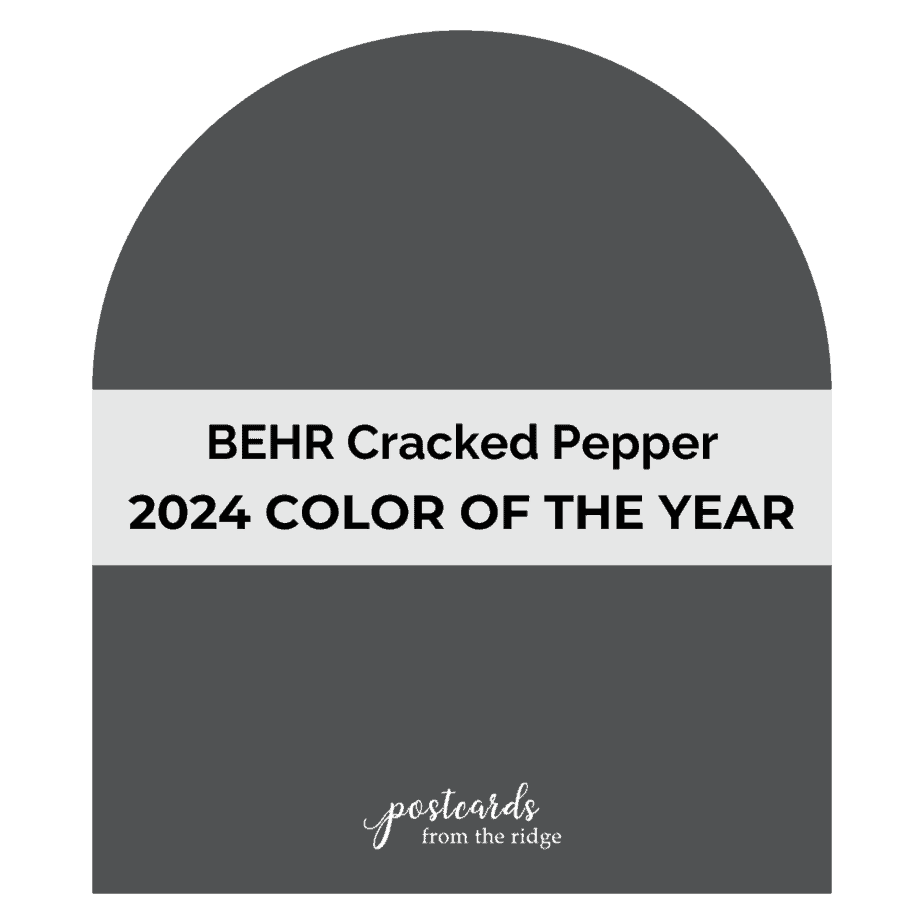 Valspar 2024 Color of the Year – Renew Blue
Valspar Renew Blue "A nourishing, green-influenced blue that creates a sense of peace wherever you place it."

Valspar Paints
This color is giving me all the 1950's feels. Especially with the terrazzo tile backsplash. While I do like this color in general, I would probably limit it to an accent piece of furniture or possibly a small bathroom.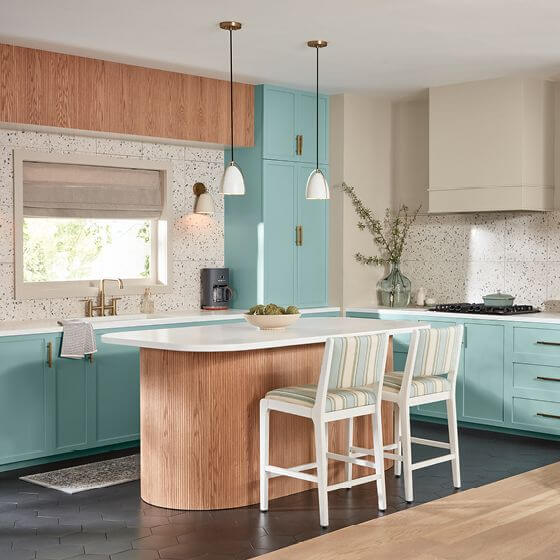 Use this with light natural wood tones and creamy whites for a more toned down look. Or if you enjoy bright and energetic palettes, pair it with orange and lime green for an eclectic space.
My favorite paint brush for the past 20 years is also a favorite of nearly 11,000 amazon reviewers. Grab this affordable and comfortable-to-hold brush here -> MY FAVORITE PAINT BRUSH
Glidden 2024 Color of the Year – Limitless PPG1091-3
Glidden Limitless PPG1091-3 "A fresh, warm hue, the 2024 color of the year is anything but yellow. Limitless contains both the power of a primary color and the essence of a neutral to support both cool and warm tones. It even has the power to stand on its own. "

Glidden Paints
So we're not supposed to call this color yellow. Call it whatever you want and use it in rooms that face north or east because it will look "yellow" in most lighting situations.
As yellows go, Limitless is very muted and neutral and would look great an any area you want to warm up and add energy to. Use black, deep blue gray, and rose for accent colors.
Dutch Boy Ironsides
"This deep, comforting green is a richly dimensional hue that soothes and reassures. Ironside is the perfect backdrop for showcasing furniture, art and accessories. "

Dutch Boy Paints
Here's another example of color drenching where they've even covered the ceiling. I could see how this deep color would make a room feel safe and cozy.
Ironside is a deep olive green with black undertones. It's sophisticated but still earthy and would coordinate well with rust, beige, black, and brass.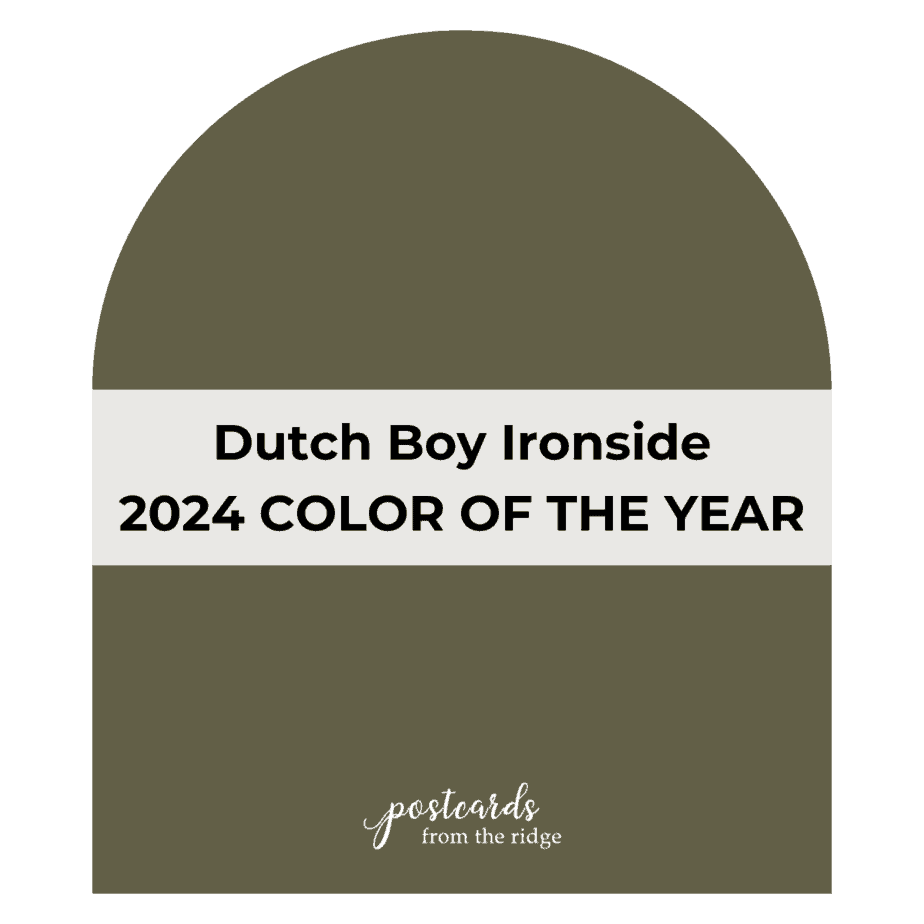 What do you think of these color of the year picks? Do you have a favorite and where would you use it? Leave me a comment below and let me know!
And watch for an updated version of this post with the COTY from Benjamin Moore and Sherwin-Williams soon!