Paint Color Trends from Sherwin Williams 2021
Popular Sherwin Williams paint colors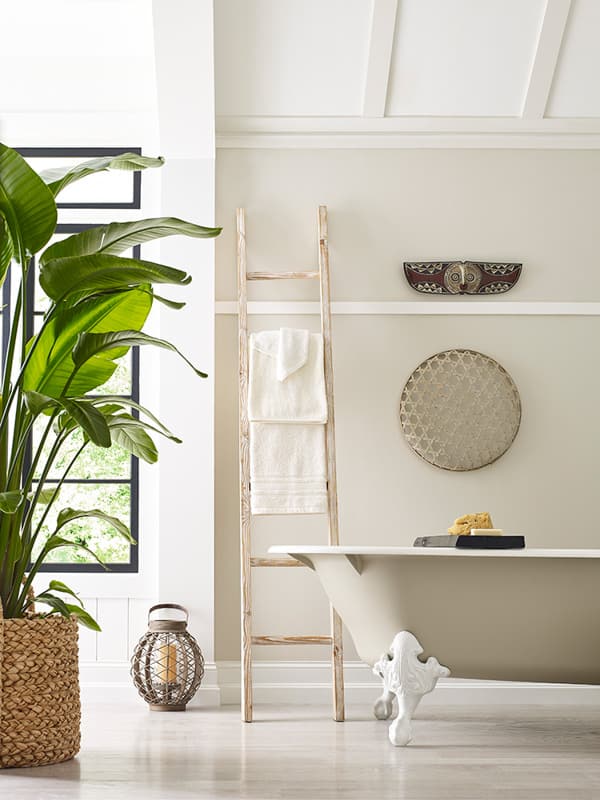 This post contains affiliate links for your convenience. For full
disclosure go here.
Are your walls in need of a fresh new paint color and you're wondering
what color you should use? If so, then here are some of the paint color
trends from Sherwin Williams for 2021. There are 40 of the most beautiful
whites, neutrals, and colors so there's sure to be something that will be
perfect for your paint project.
I'm sharing my favorite from the collection of paint color trends here
today but there are many more in this year's trends. You can see the
entire paint color palette at the bottom of the post. Let me know which
ones you like!
You just can't go wrong with Pure White. It's timeless and works with any
style of decor. And light paint colors will keep your interiors calm and
serene. This modern farmhouse entry has a beautiful mix of accessories and
the Pure White is the perfect backdrop for them all. Get a sample of this color to try here → Sherwin Williams Pure White Sample
For a warmer neutral, Modern Gray is a great choice. It's still light and
calming and works with virtually any style and accent color. It's very safe
color for any room and will never go out of style. The taupe tiles and
island and the
black woven pendant lights
give this room a clean modern look. To get a sample and see what it looks like on your walls, go here → Sherwin Williams Modern Gray Sample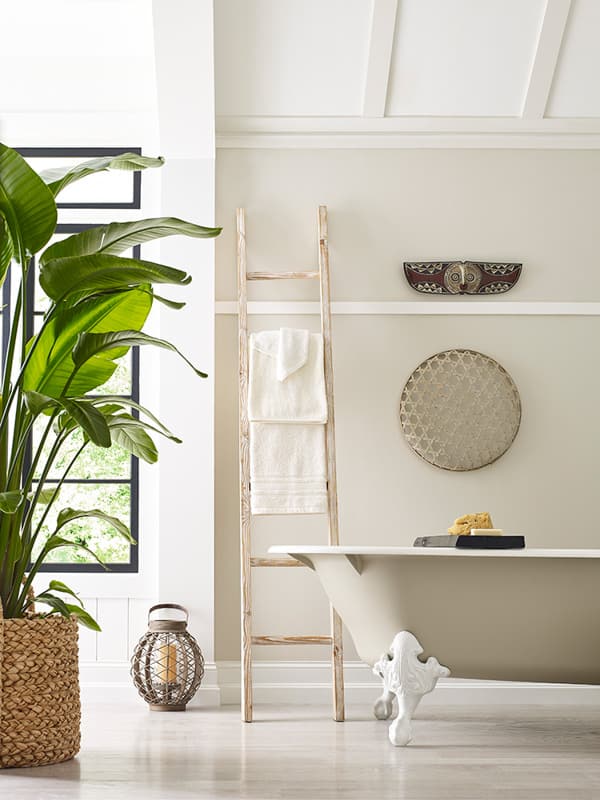 Natural Tan is a classic light neutral that with a soft warm hue. It's a
good choice for a whole house color or for main living areas. It works with
any style decor and all colors. Get a sample to see how it looks in your space here → Sherwin Williams Modern Tan Sample
If you're looking for a darker neutral you might like Messenger Bag. It has
the look of a worn canvas bag and makes a room feel cozy and warm. Boho style
woven textured accessories like a pretty
rattan chair
go great with this color. Get a peel and stick sample here → Sherwin Williams Messenger Bag Sample
Add some drama and high style with Cape Verde. It's on trend and pairs
beautifully with blush and coral. A sample of this color is available here → Sherwin Williams Cape Verde Sample
Great Falls will add personality to any space. The vivid blue-green hues are
reminiscent of a clear deep sea. See how it looks by getting a sample here → Sherwin Williams Great Falls Sample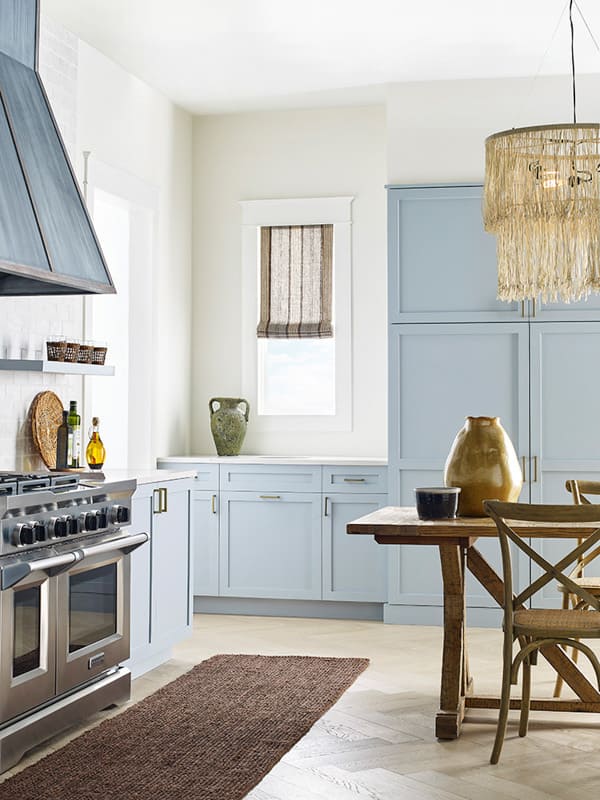 This kitchen has such a fresh feeling but doesn't feel too washed out. The
Jubilee cabinets are perfectly complimented with all of the warm wood accents,
stylish fringed chandelier, and the gorgeous herringbone floors. Wouldn't you love to cook in here?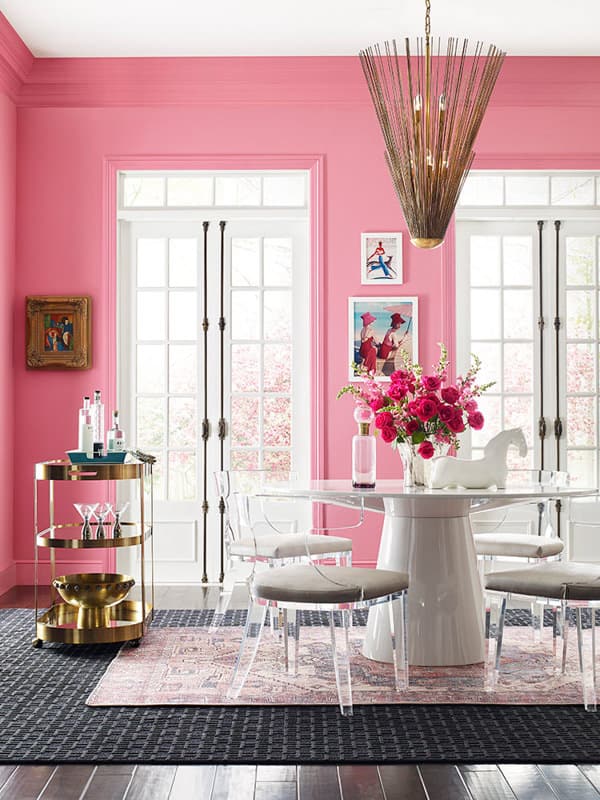 Make a bold impression with Jaipur on your walls! According to experts, walls
painted in pink make you happier and this room would bring out big smiles. The
brass bar cart, modern chandelier, and
hip lucite chairs
make it a glam room to die for. Try a sample of it here → Sherwin Williams Jubilee Sample
This bedroom painted with Rosemary is so warm and cozy that you'd never want
to leave! It looks like a snuggly retreat with the beautiful tasseled chandelier, chunky knit throw blanket, and chunky woven jute rug. You can get a sample of this color here → Sherwin Williams Rosemary Sample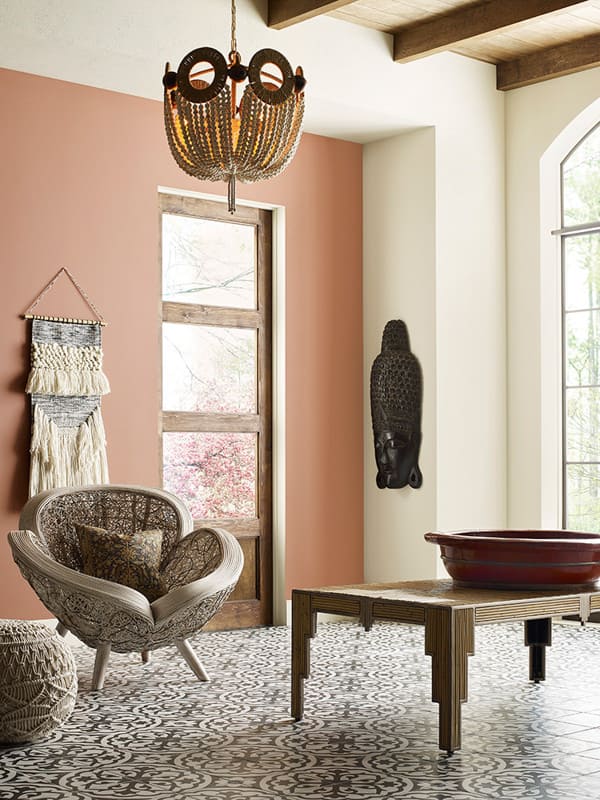 Reddened Earth is an ideal color for an accent wall in this charming boho
space. It complements the
woven ottonman,
patterned floor tiles, woven wall hanging, and wood bead chandelier with an earthy pop of color. Get a sample of it to try in your space here → Sherwin Williams Redenned Earth Sample
Boldly go big with a room painted in Cyberspace. It creates moody drama and
makes everything pop. Just look at all those colors. The
teal sofa,
leopard rug, and
sputnik chandelier
really make this room a glam lover's dream. A sample of this color is available here → Sherwin Williams Cyberspace Sample
To see more go here for each palette:
shop the look
Need more ideas for paint colors? Visit these posts for lots of inspiration: