Sherwin-Williams 2022 Paint Colors
The 2022 Sherwin-Williams paint colors are all so beautiful.
This post contains affiliate links for your convenience. For full disclosure go here.
UPDATE: The 2023 Sherwin Williams paint colormix forecast has just been released! See the palette of 40 beautiful colors here: 2023 Sherwin Williams Paint Colors
Sherwin-Williams Paint Colors
Sherwin Williams has just announced their featured paint colors for 2022 and there are some beautiful ones. They've chosen 36 colors in 4 palettes or moods. Each palette has nine colors, ranging from white or off white to nearly black in one group.
If you're looking for some fresh ideas then you'll definitely want to check out these colors. Let me know which ones are your favorites in the comment section.
Tips for choosing your paint colors:
Look for inspiration on pinterest, instagram, or in home magazines.
If you don't know where to begin, start with any items that won't be changing like large furniture pieces, flooring, or any other permanent features in the area to be painted.
Once you've decided on the direction you want to go, narrow your choices down to 5 or less, ideally.
Keep in mind that paint colors will look more intense on your walls than they do on paint color strips with multiple shades.
Look at the color you're considering in the room that you will be painting, not outside in the bright sun.
See how the paint color looks in that room during different lighting situations…on a sunny day, on a cloudy day, with and without the lights on, and at night. They look different in each of these situations.
I strongly recommend testing the color either by painting areas of the room (next to the trim) or by using a peel and stick paint samples. You can get them here: Samplize Peel and Stick Paint Samples. They're reusable, affordable, and you don't even have to wash out a brush.
Join the VIP group and get these free paint can labels, a color tracker, and paint sheen guide for your files.
Sherwin Williams 2022 Paint Colors
Is there an overall theme to the Sherwin-Williams colors for 2022?
Each palette has a theme, with colors ranging from soft and muted to bold and dark colors. All of the colors within each palettes are designed to work together in harmony. Here's the official description of the 2022 paint colors from Sherwin Williams:
"We told a story of balance and rhythm through color last year as we transitioned into a time of stillness. We are holding that balance in one hand and embracing growth and adaptability in the other as we move toward a new vision and discovery of our world," said Sue Wadden, director of color marketing at Sherwin-Williams. "Embracing the idea of MODE in design inspires a new way of being as we explore beyond what has been the familiar."
How are the colors chosen?
I've always wondered how the color trends are chosen, and think it would be so interesting to see how it's done. Do they just sit around a table and choose their favorites? Nope, it's much more involved than that.
Sue Wadden and the Global Forecast Team of color professionals at Sherwin-Williams spent the past year researching color, design and pop culture trends from across the globe, all culminating in a collaborative workshop to build the forecast, which features deep berry tones, warm neutrals, eclectic yellows and muted greens.
Can I get samples of the 2022 Paint Colors?
Yes! All but 2 of the colors are available in removable, 12″ x 12″ samples for you to easily try here:
Peel and Stick Sherwin Williams Paint Samples. You can click on the color names in each palette to purchase a sample of the ones you want to try.
What are the different palettes of colors?
The four palettes are called method, opus, dreamland, and ephemera and are all gorgeous. Here are the highlights of each palette. All room images are courtesy of Sherwin Williams.
1. Method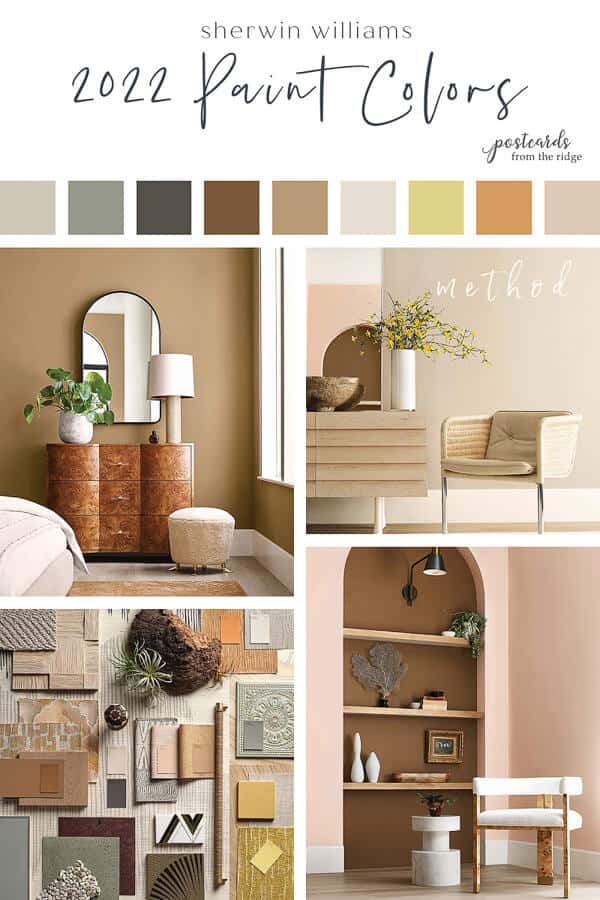 Drawing on nature's processes, the Method palette celebrates natural order and the balance between organic neutrals and tonal luxury. This palette finds its inspiration in art deco, modern organics and 1980s postmodernism.
The soft earthiness of Shoji White SW 7042 juxtaposes with the sensuality of Über Umber SW 9107, culminating in a raw yet refined harmony.
In the image above, these are the colors from left to right:
Beige SW 2859
See the entire collection here: Sherwin Williams Method Color Palette
For a soft neutral backdrop, Accessible Beige SW 7036 is a wonderful choice. It's one of Sherwin Williams' most popular colors and coordinates with so many different colors. It would be a good "whole house" color.
Woven Wicker SW 9104 is a warmer, deeper neutral with gold and brown hues. In this bedroom it provides a cozy look and works great with the burled wood and light neutral tones.
sw2859 Beige and Über Umber SW 9107
From the historic collection, SW2859 Beige has a fleshy undertone and looks peachy on the walls. It would look nice in any room that you want to add a fresh, warm feeling to.
2. Opus
Mysterious and deeply opulent, the Opus palette composes a unique masterwork of stirring rhythms resulting in a masterpiece. Grounded in modern maximalism, this palette takes its cues from dark luxury and bold metallics.
Blackberry SW 7577 stirs up theatrical marvel while Iron Ore SW 7069 explores the darker, edgier side of creative expression.
In the image above, these are the colors from left to right:
See the entire palette here: Sherwin Williams Opus Color Palette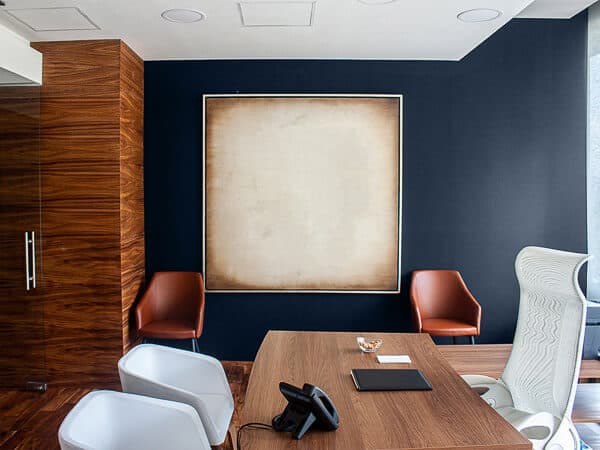 One of the most popular Sherwin Williams colors, Naval is a rich, traditional navy blue that goes with any style decor. It looks especially nice with the warm woods and rich leather tones in this office setting.
Iron Ore SW 7069, Desk Red Bay SW 6321
For a cooler, rich hue Iron Ore is a good choice. The cool tones are balanced with the warm, bold Red Day desh in this home office. And the white wainscoting gives a beautiful contrast.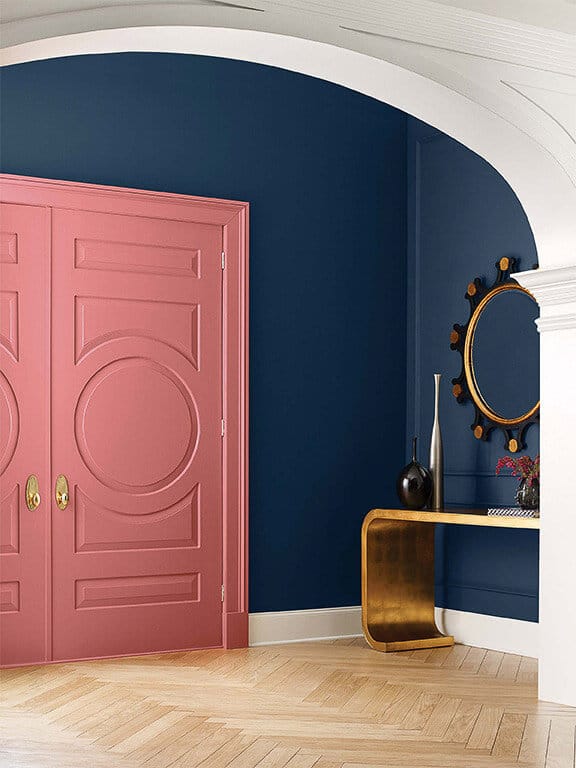 Naval SW 6244, door Coral Clay SW 9005
This entrance makes a bold statement with the Coral Clay door against the naval walls. The gold table and mirror add to the look with their strong lines and bold design.
3. Ephemera
The Ephemera palette evokes a warm nostalgia and unwavering optimism as we fondly remember the past and look to the possibility of the future by blending old and new.
Unifying retro-futurism, meaning and memory, the Ephemera palette merges colors reminiscent of bygone basics, such as Sierra Redwood SW 7598, Peace Yellow SW 2857 and Basque Green SW 6426.
In the image above, these are the colors from left to right:
Peace Yellow SW 2857
See the entire palette here: Sherwin Williams Ephemera Color Palette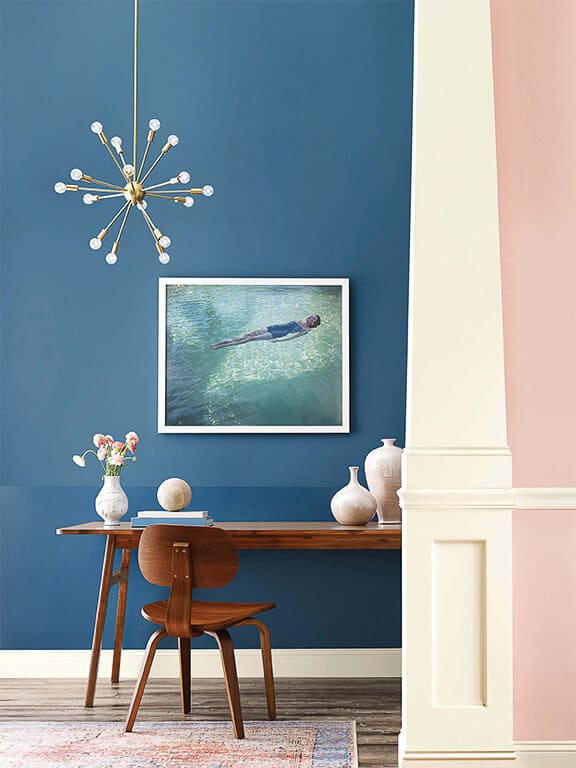 Inky Blue SW 9149, accent wall Pink Shadow SW 0070
Bold but not too dark, inky blue is reminiscent of the blues found in the deep Caribbean seas. The Pink Shadow peeking out on the accent walls warms up the space and the rug ties it all together.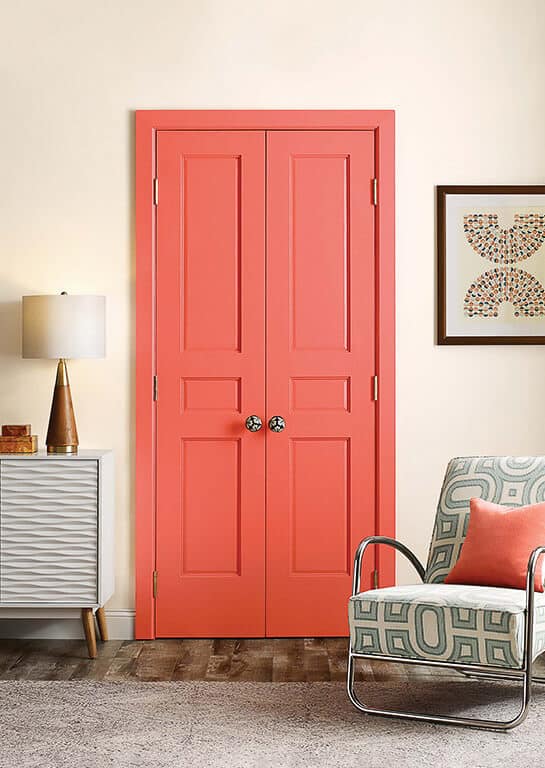 Alabaster SW 7008 , door Rejuvenate SW 6620
Want to spice up a room with neutral walls? Paint your door in a bold color like Rejuvenate! The Alabaster walls make a nice light, warm backdrop the the door and the decor.
Elevate the mood of any room with Moody Blue. It's turquoise hue is a classic, hip color and looks great with the bold accent decor.
Always in style, Alabaster is a choice you can't go wrong with. It works with any color and any style decor and has just enough color
4. Dreamland
Inspired by the fullness of living well, the Dreamland palette effortlessly fuses soft forms and modern Scandinavian minimalism to create a fresh, life-giving fantasy realm.
Influenced by biomimicry and sustainability, Dreamland incorporates berry tones and organic greens, like Rosé SW 6290 and Cucuzza Verde SW 9038, which highlight balance and the vernal sweetness of bud and bloom.
In the image above, these are the colors from left to right:
See the entire palette here: Sherwin Williams Dreamland Color Palette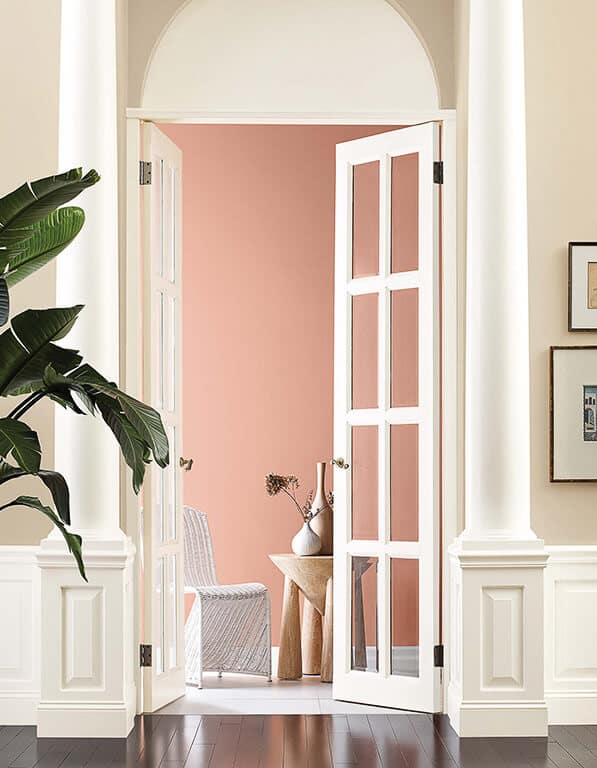 Natural Linen SW 9109 | Rose Tan SW 0069 | High Reflective White SW 7757
A room painted with Rose Tan will feel like a big hug with the warm and cozy hues. And the natural linen walls just outside this room will complement any color.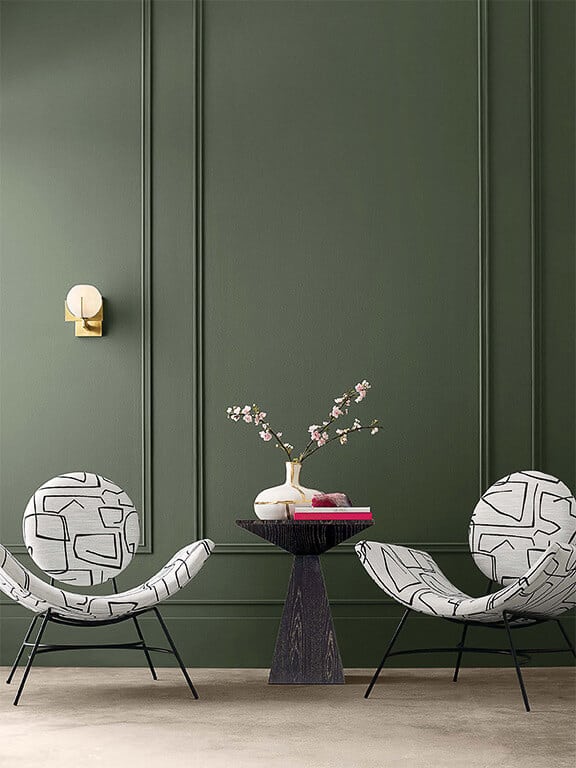 Get an earthy, natural feeling in any room painted with Rosemary. It's a classic green that would go with many styles and colors.
For a cool, rich neutral color, try Felted Wool. It's a warm, taupe-y gray and will work with most any color and style.
Where can I see all of the colors?
You can see the entire collection of colors here: Sherwin Williams 2022 Color Forecast
With any paint color, always try a sample first. And don't ever choose a color based on a photo seen on a computer.
Lighting and editing of the images as well as your computer screen settings may make paint colors appear different online than they look in reality.
12″ x 12″ peel and stick samples are available for purchase here: Peel and Stick Sherwin Williams Paint Samples
How do I get the best looking paint job?
Want to know my favorite, must-have painting supplies? See my list of items to use for a professional looking paint job here:
Want to see more paint color ideas?
You might want to visit these posts:
Let me know which color is your favorite in the comments!