How to Decorate on a Budget
Today we're discussing how to decorate on a budget. I'm sharing ideas on how to save money, how to spend no money, and how to create some decor on your own.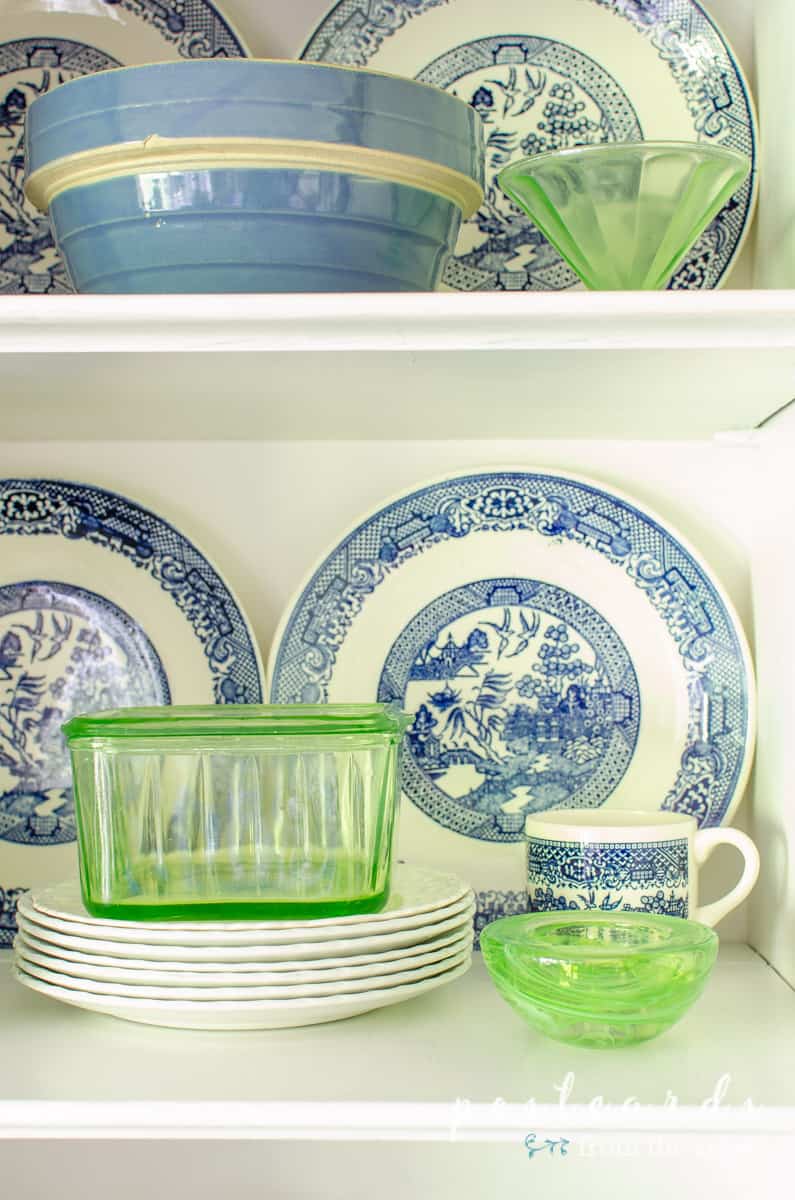 It's all part of this month's Thrifty Style Team challenge hosed by my talented friend Julie at Redhead Can Decorate. Each month our team of creative home bloggers shares ideas for low cost decorating including projects and tips. All of this month's ideas are found at the bottom of this post.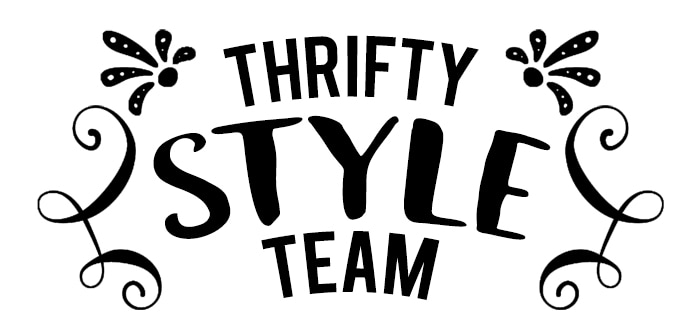 This post contains affiliate links for your convenience. I may make a small commission on products purchased with my link, but your price does not change. For full disclosure go here: Disclosure and Policies. Thank you for supporting my site.
How can I decorate my home on a budget?
So you're tired of staring at the same old room and want to make a few (or a lot of) changes? If that's true it doesn't have to cost a fortune. Whether you want to change the entire look of a room or just give it a little refresh, there are several ways to save money while doing it.
To save or to splurge?
Where to splurge
As much as I love a bargain, there are some things that are important enough to splurge on. Items that will get heavy use, or that you intend to keep for a long time warrant a bigger budget. And you can save money in other areas on less important items.
These are things that you should dedicate a larger budget for:
Sofa – you'll be spending a lot of time on this and if possible should get a good quality one. Set a budget and save your money for the one you really want, and be sure to watch for sales.
Floors – it's an expensive and messy item to change, so get floors that are timeless and won't wear out if you can.
Windows – in the long run, better windows will actually save you money because they're more energy efficient.
Cabinets & Counters – a kitchen isn't an easy room to remodel so get the best counters and cabinets you can afford. Go with a timeless style and colors that you won't get tired of.
Bathroom vanities – as tempting as it is to go with a cheap vanity, they get a lot of wear so you shouldn't get a poor quality one if possible. My favorite ones are from Home Depot and Pottery Barn, and Amazon has some nice ones too.
Area Rugs – a doormat, bath mat, or rug for a guest room can be lower budget. But hall runners and rugs in living rooms and dining rooms or any area that's high traffic might deserve a bigger budget. Watch for sales and shop at places like Amazon and TJ Maxx. If washability is needed due to pets or kids, Ruggable has some great options and you can save 10% with my affiliate link here: 10% off at Ruggable
Where to save
Many things in our homes don't get much wear and tear and it's a great place to go with a lower priced item. Here are some things that you could save money on by shopping at discount stores or second hand:
Note: Think long-term when it comes to your larger purchases. Items that you won't be changing should be chosen in a color or style that you can live with for a long time. Go with trendier colors and styles on smaller, less expensive, and easier to change items like pillows, artwork, and other accessories.
No Cost Decorating
Believe it or not, there are lots of ways you can refresh the look of a room without spending a dime. A little energy and creativity is all it takes! Here's how:
Declutter – by simply decluttering a room and putting everything where it belongs your room will look fresher.
Organize – similar to decluttering, organizing a room will make it feel much more enjoyable. Group like items together in bins, baskets, drawers, or cabinets. Every time I clean out a drawer in our kitchen it brings such a happy feeling.
Shop your home – try swapping pillows, lamps, rugs, artwork, and more to give a room a fresh new look. You'd be surprised how easy this is and what a difference it can make!
Rearrange your furniture – if possible, rearrange your furniture. It can give the room an entirely new look.
Buy Nothing FB group – if you haven't joined one of the "Buy Nothing" groups on Facebook then you don't know what you're missing. My oldest daughter has found a lot of great items for her new home this way.
Curbside finds – don't be too proud to shop the curb if you see something you like. It's amazing to me what people put out for the trash collectors!
Hand-me-downs – if you have a friend or family member who's downsizing or has mentioned having too many things, politely ask if there's anything they'd like you to help them get rid of. If you help them sort through their excess belongings and haul them off, I bet they'd let you keep what you wanted!
Low Cost Decorating Ideas
Paint – one of the least expensive ways to give your room a fresh new look is with paint. Try painting an accent wall or the whole room before replacing furniture or rugs.
Change your throw pillows of blankets
Update your lampshades
Add new artwork or create your own (see below for ideas)
Decorating on a Budget with Items found in Nature
Some of my favorite free decorating items have come from my own yard! If you don't have a yard or one with things you could use for decor, check with a friend or relative who might be willing to share. These make great decorating items:
pine cones and nuts
flowers
sea shells
branch clippings
driftwood
feathers
leaves
Decorating on a Budget with DIY Home Decor
Get creative and make your own decor. With a few simple supplies and usually less than an afternoon you can create some gorgeous home decor. Below are some favorite things that I've made for our home.
Budget friendly wall art
Free printable art
I offer several free printables here on my site, but there are so many more that can be found. Just do a search for "free printable art" and you'll be amazed at what comes up.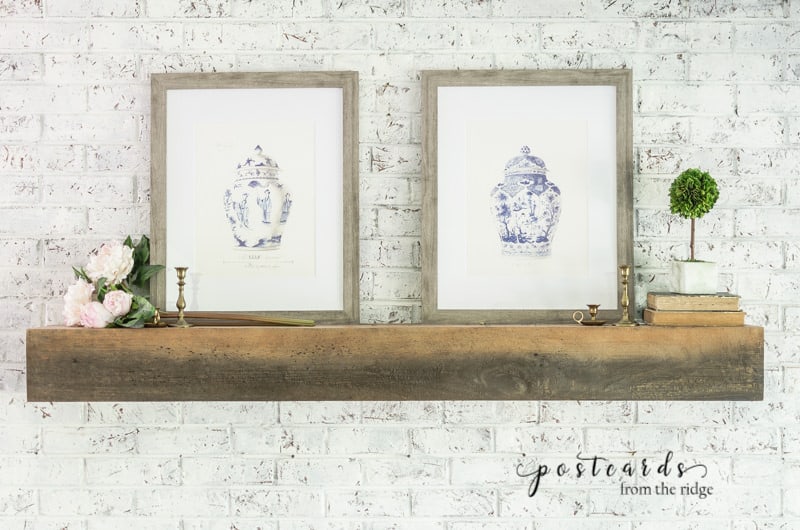 If you love blue and white and classic design, you can grab these here: Chinoiserie printable art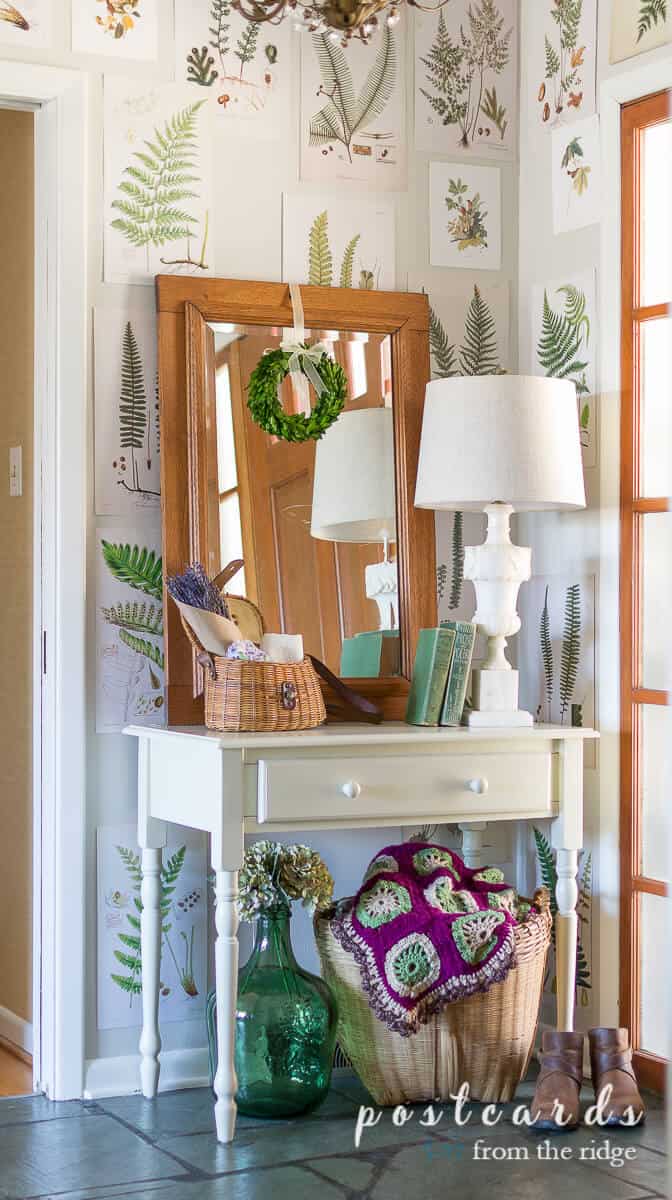 Nature lovers rejoice! You can grab 6 free vintage fern printables here: vintage fern botanical printable art
These are great for fall and you can get them here: vintage oak leaf printable art
See all of my printables here: Free printable art gallery
Create art using the sun
For all of you blue and white decorating fans, here's a fun little project. It's easy to create stunning art using the sun with this simple tutorial: How to make sun prints
DIY 3d paper art
For anyone wanting something a little more crafty, try using paper scraps and other interesting pieces to create unique wall art. Check out how I made this one here: DIY 3D paper art
Want more ides for wall art? Then read this post: 13 Ideas for Low Budget Wall Art
DIY fabric flower wreath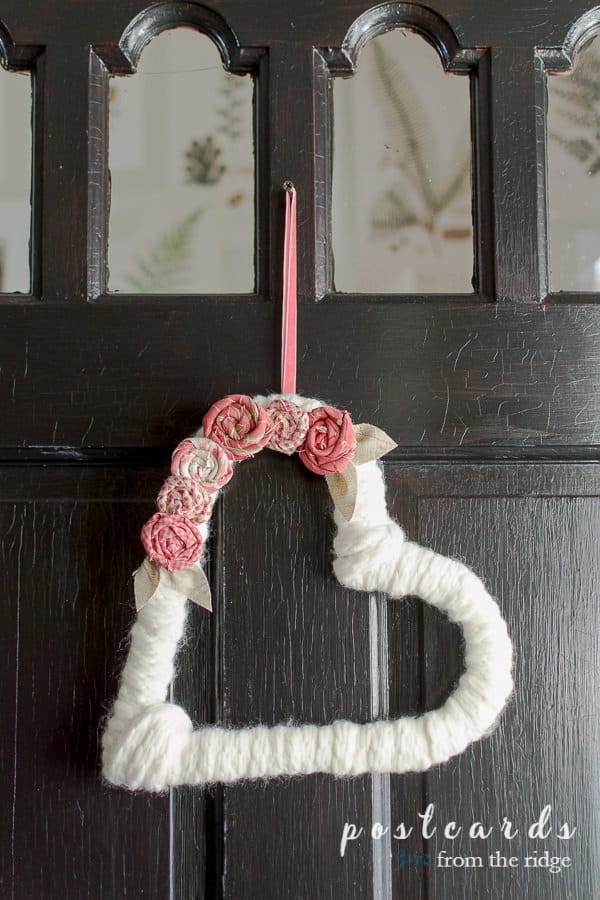 There are so many ways to make your own wreath. For this one, I used fabric scraps to make the little flowers. You can get the details here: DIY Fabric Flower Wreath
DIY pillows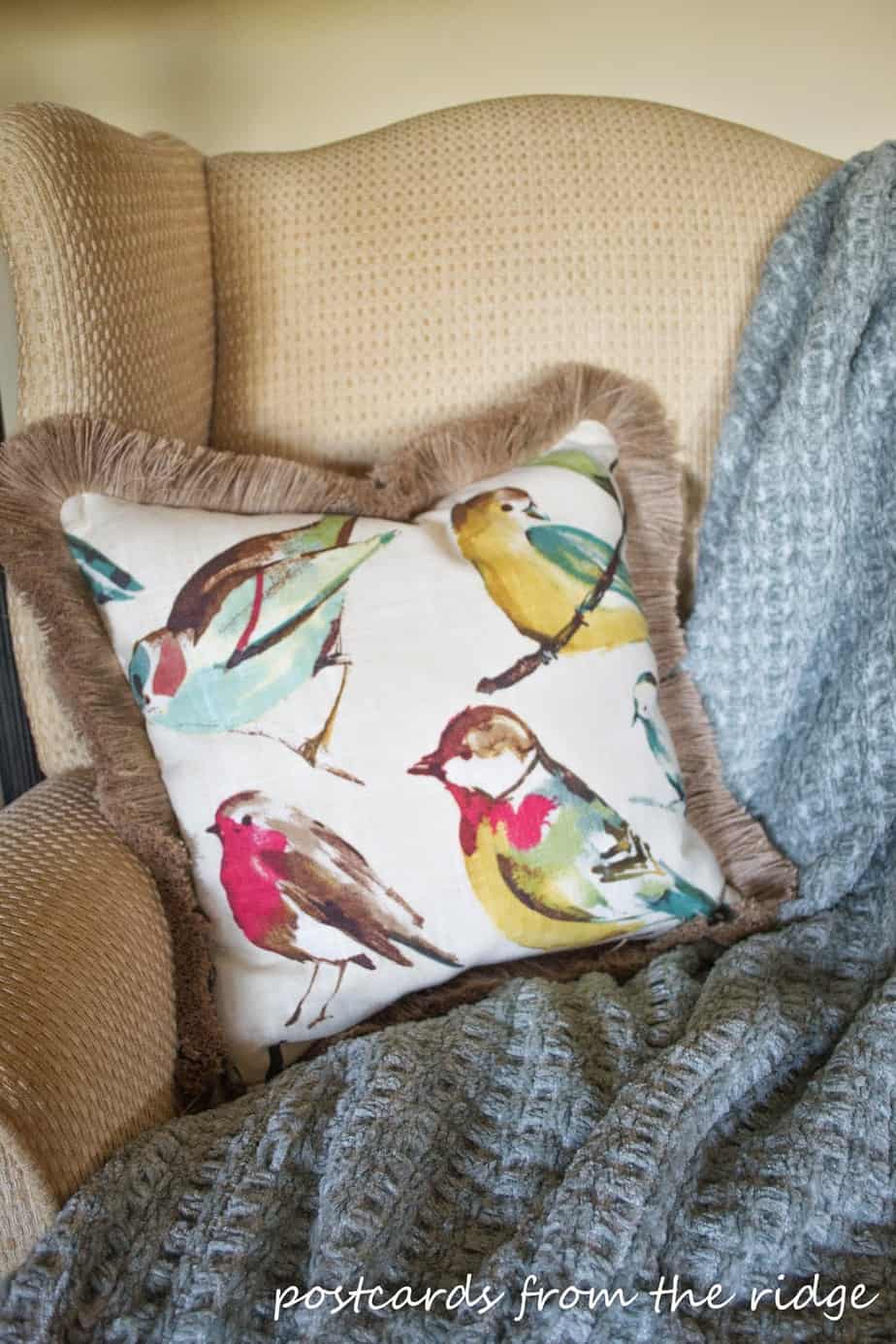 Making your own throw pillows is super easy. And adding unique trim or fringe really gives them a designer look. You can learn how to make them here: How to Make a Throw Pillow with Trim
Low Budget Slipcover
Are you tired of your sofa but don't have the budget to replace it just yet? Get the details on how to give it a cheap slipcover with a drop cloth here: Quick, cheap, and easy sofa slipcover
DIY Painted and stenciled linoleum floor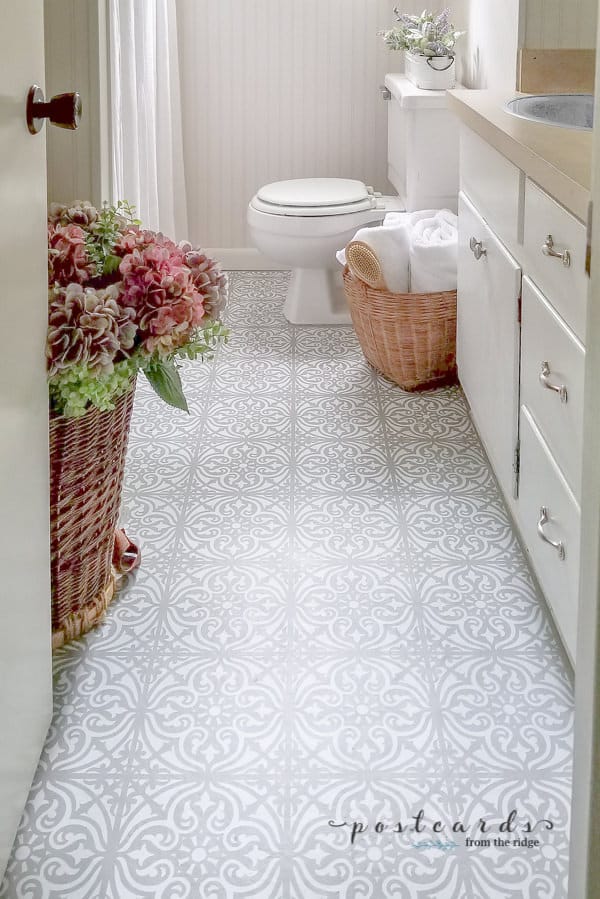 To get the look of cement tiles without the cost, consider using special floor paint and stencils. I did this to our basement bathroom and it looks so stylish. Find the full tutorial here: How to Stencil Floors the Right Way
DIY faux tile painted backsplash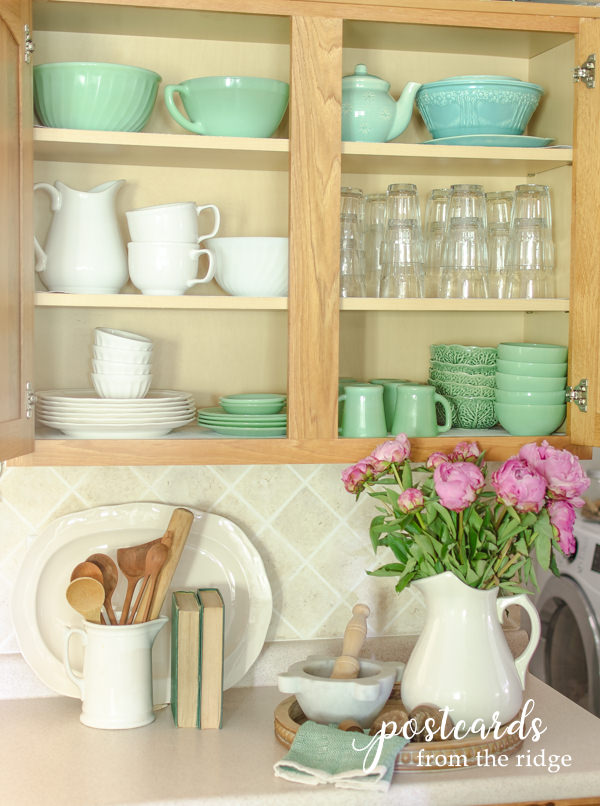 Paint is so versatile and is such an affordable way to update many things. Our kitchen backsplash isn't tile, but is actually a design that I painted many years ago when we first moved in.
I did this before I even knew what a blog was, so I don't have a tutorial. But I used this tape, several little sample pots of paint, and this sea sponge to create the tumbled limestone marble look. It fools everyone who sees it and only cost a fraction of what tile would have been.
Budget-friendly updated counters
The den in our house has a bar area and I couldn't stand the 1960's green counter any longer. So I gave it an inexpensive update with this wood-look contact paper. See the details here: low-budget counter top update with wood look contact paper
Thrifted and Upcycled Items Used to Decorate on a Budget
Over the years I've also used things I found at the thrift store or at yard sales and estate sales in our home. And these are some of my favorite finds and projects.
Upcycled thrift store finds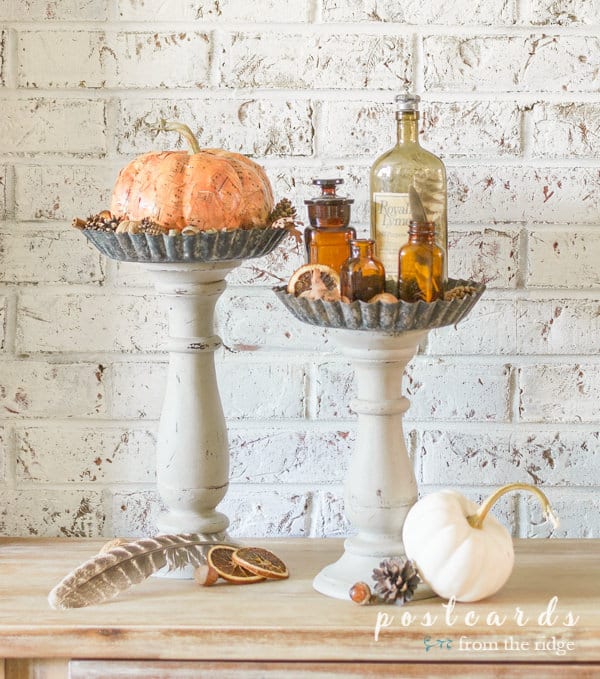 These thrifty pedestals are a fun way to display seasonal items and only took about an hour to make. See how I made them here: DIY pedestals from thrift store finds
See many more ideas for reusing items in this post: 29 Repurpose and Upcycling Ideas for Your Home
Decorating with Thrift Store Dishes
There are always plenty of old dishes at the thrift store, and sometimes you get lucky and find blue and white ones like these on my summer table. See all the items I used here: patriotic table decor with thrift store dishes
Add thrift store dishes to a hutch, shelf or cabinet for a frugal punch of color. See my favorite ways to decorate a hutch here: hutch decorating ideas
Painted furniture
Have you ever painted furniture? It's another easy, budget friendly way to change the look of a room. Check yard sales, FB marketplace and thrift stores for old furniture pieces. See all of my painted pieces here: Painted projects archives
Area Rugs
When you shop at estate sales or thrift stores, don't forget to look for rugs. I found the large vintage pink hooked rug at an estate sale for $35 several years ago. It's huge and is perfect for spring.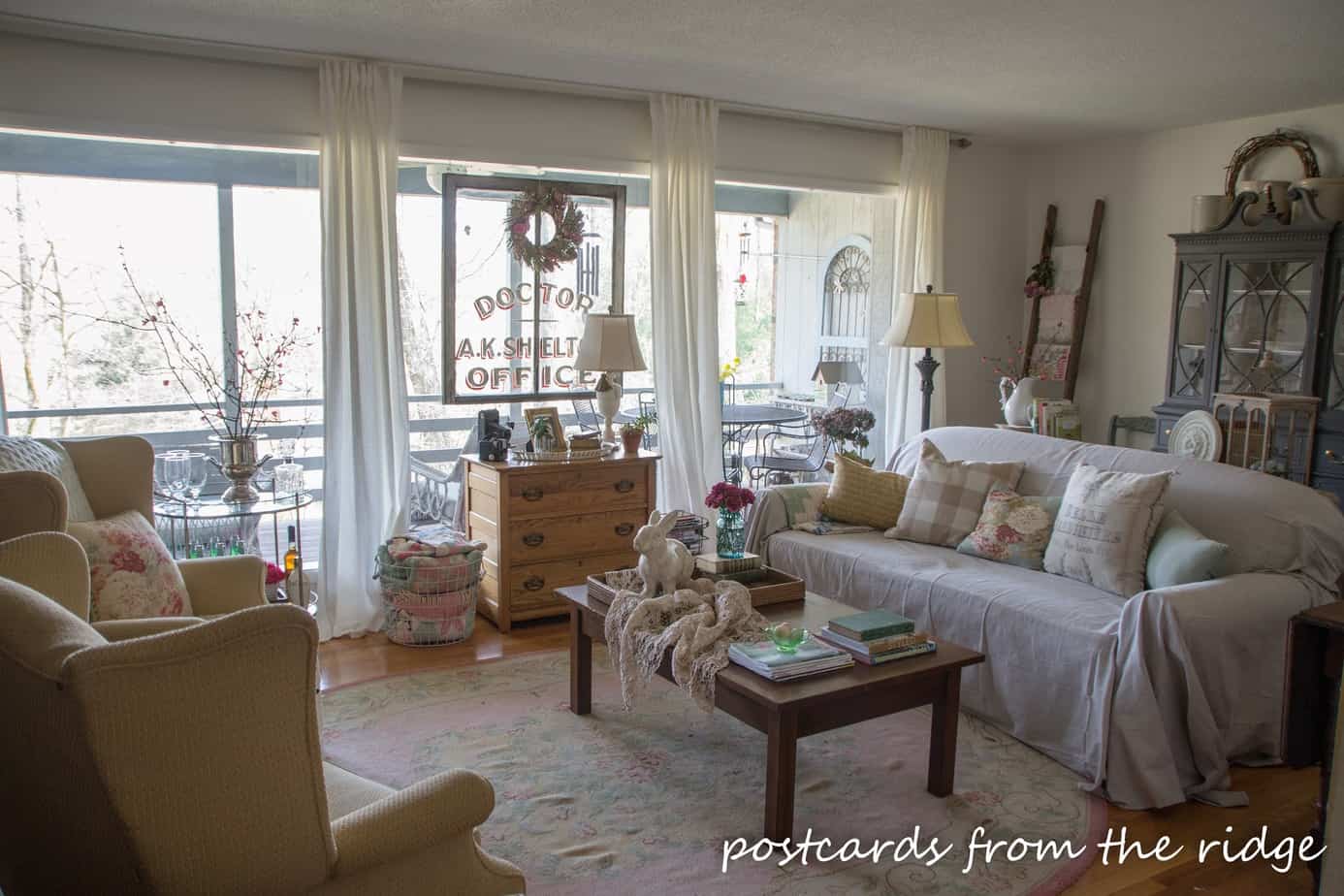 Mirrors and Lamps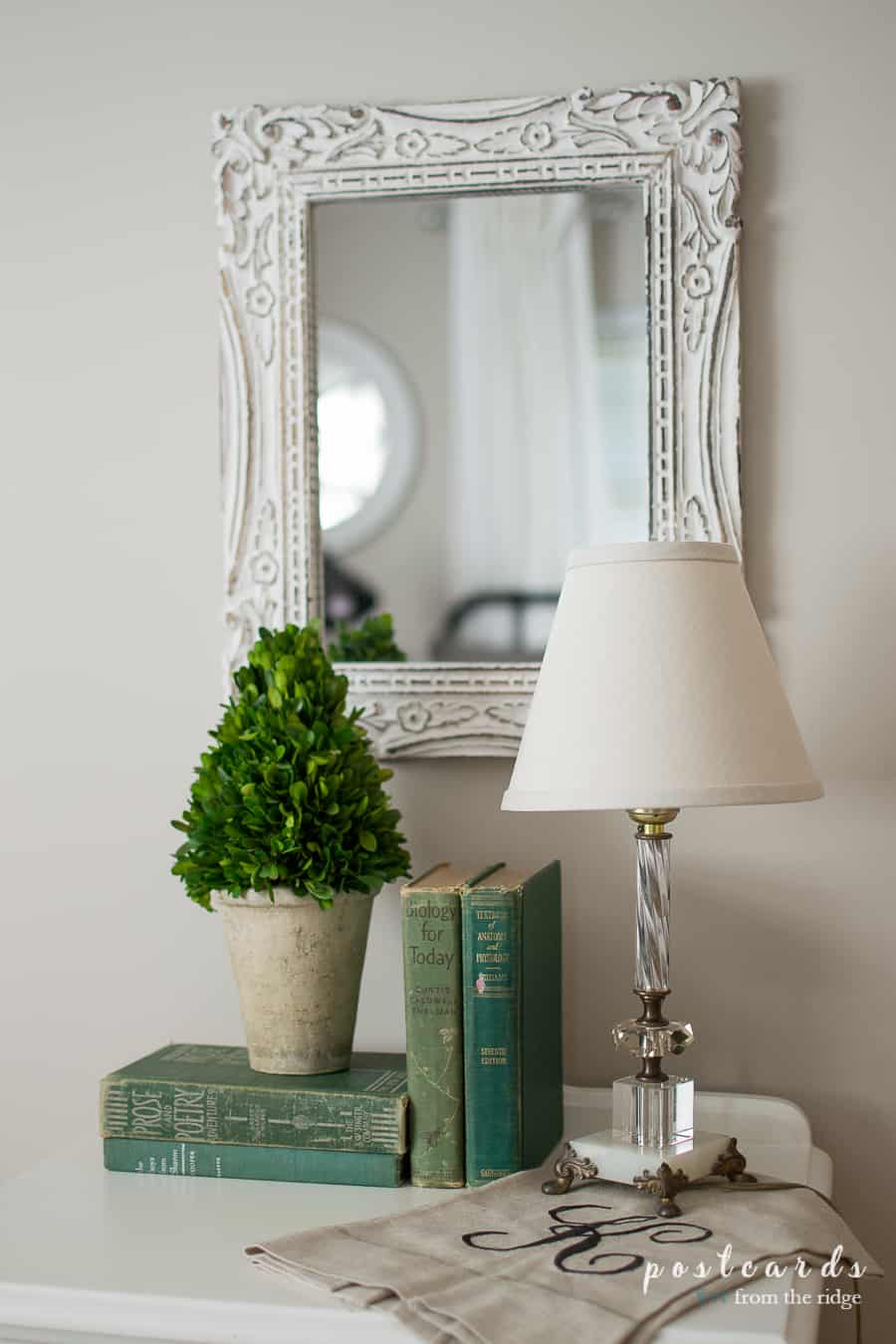 You can definitely save money on mirrors and lamps by shopping at thrift stores and estate sales. Many of the ones in our home have been found there.
Upcycled glass bottles
Our local recycling program no longer includes glass so I'm always trying to find ways to reuse them. With a quick addition of these spouts, they're great for olive oil, dish soap, and much more. See lots of ways to use them here: Creative ideas for using jars and bottles in your decor
Never pay full price
As hard as you try, sometimes you just can't find what you're looking for anywhere else but at the original store. Or maybe you have your heart set on a particular item and nothing else will do. If that's the case there are still ways to save money. Here are my favorite tips:
Sign up for emails – most brands will offer you a one-time discount for subscribing to their emails.
Watch for sales – if you're on their email lists you'll be notified if your favorite brands run any additional sales. Some brands also have "open box" items that are less, and stores often have sales on floor models or scratch and dent items.
Follow them on social media – brands occasionally offer special discounts for social media followers.
Buy during off season – some of my best deals have been made in the off seasons. Nobody is interested in wool throw blankets or Christmas decorations in July!
Join buying clubs – stores like Costco and Sam's offer exclusive discounts including home decor items. Just make sure the cost of membership is worth the savings you might get.
That just about does it for my tips on how to decorate on a budget. What are some of your favorite ways? Leave me a comment and let me know!
And now here are more money-saving home decorating ideas from the Thrifty Style Team. All of the links are below. Be sure to visit everyone because there are some great ideas this month.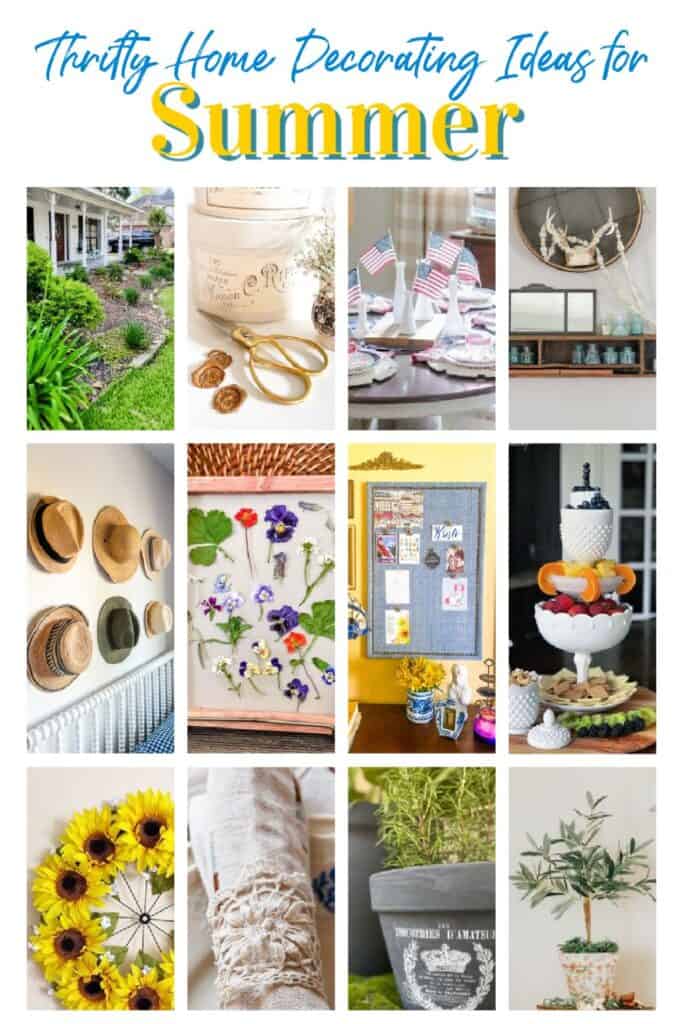 Redhead Can Decorate – Milk Glass Fruit & Cheese Appetizer Tower
Our Crafty Mom – Bicycle Tire Sunflower Wreath
I Should Be Mopping the Floor – DIY Bulletin Board with Nailhead Trim
The How to Home – Shabby Chic Decoupage Plant Pot
DIY Beautify – Update Older Exterior Windows with Spray Paint
2 Bees in a Pod – Antique French Hat Boxes
Postcards From the Ridge – How to Decorate on a Budget
The Tattered Pew – How to Create a Simple Hat Wall with Hooks
Cottage on Bunker Hill – How to Press Flowers in the Microwave
Vinyet Etc. – Transform a Vintage Frame into an Antique Mirror
Amy Sadler Designs – How to Paint Flower Pots for the Porch
Songbird – How to Make Lace Napkin Rings Tutorial