Paper heart 3-D wall art
Paper Heart 3-D Wall Art
Today I'm sharing a fun little 3-D paper heart wall art project that you can make in less than 2 hours. The supplies are pretty simple and you probably have some of them on hand already. It's a great way to dress up a wall or shelf for Valentine's day. 
You can see my favorite Valentine's day decor from last year here:
A Paper Heart Garland and Vintage Decor for Valentine's Day
This is my project for this month's Thrifty Style Team challenge, hosted by my friend Julie at Redhead Can Decorate. We're a group of creative bloggers who share ideas for decorating your
home on a budget. 
There are helpful tips, clever ideas, and lots more each month. All of this month's submissions are at the bottom of this post so be sure to visit everyone!
My little art project was supposed to be a hot air balloon with heart shaped balloons, but it looks more like heart shaped flowers so I'm just calling it 3-D art, lol. 
I think it would look more like a hot air balloon if the string pieces were straight but I didn't figure that out until after they were glued into place. Sometimes you have to reimagine things a bit in life, I guess!
Here's how I made my paper heart 3-D wall art!
Supplies Needed:
How to make paper heart 3-D wall art
1. Cut hearts and glue them together
Using my cricut maker (you could also use a paper heart punch), I cut 30 2″ hearts from some floral paper I had bought on clearance. I folded them in half and glued them together in 3's, using a glue stick.
2. Layout your design
I arranged the hearts and woven material on the blank white canvas in a design that I wanted.
3. Cut twine into pieces
Once I had placed the hearts where I wanted them, I cut pieces of twine to connect them to the basket. (It still looks like a hot air balloon at this stage 😉)
4. Attach hearts and twine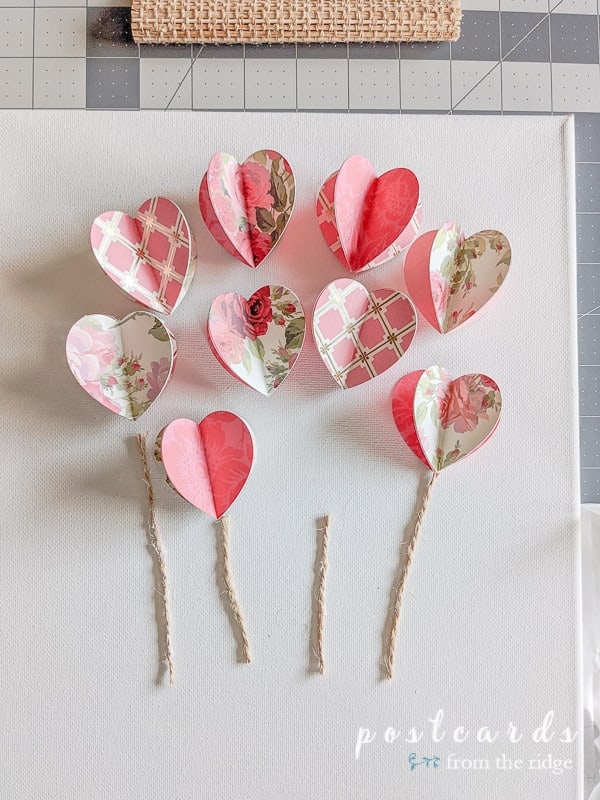 Using a small brush, I applied mod podge to the twine pieces and hearts and attached them to the blank canvas. 
For a little different look, you could add any type of background to the canvas before attaching the twine and hearts.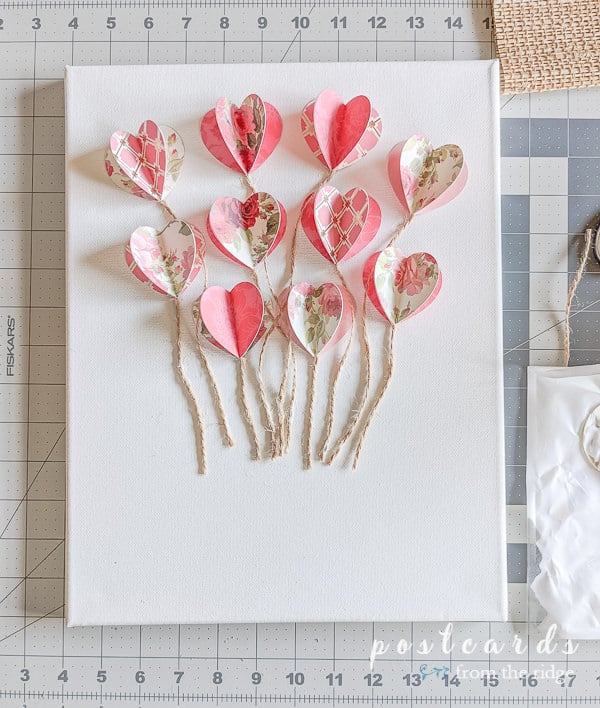 Note – if you like paper craft projects, you might like my tutorial for How to Make Flowers from Paper Egg Cartons.
5. Attach basket
I had a scrap piece of woven wood shade material, but you could use a piece of grasscloth or heavy burlap, or really anything for the base. I was trying to create the look of a hot air balloon basket and thought the woven material had the same look. I folded the top edge over itself a couple of times for a little interest.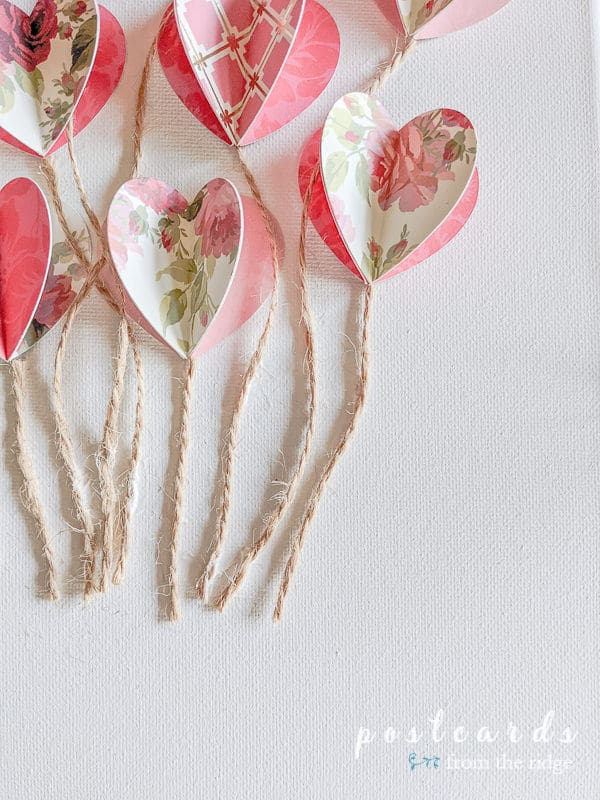 After I attached the hearts and twine, I attached the piece of woven wood material (you can use grasscloth) with all purpose clear adhesive.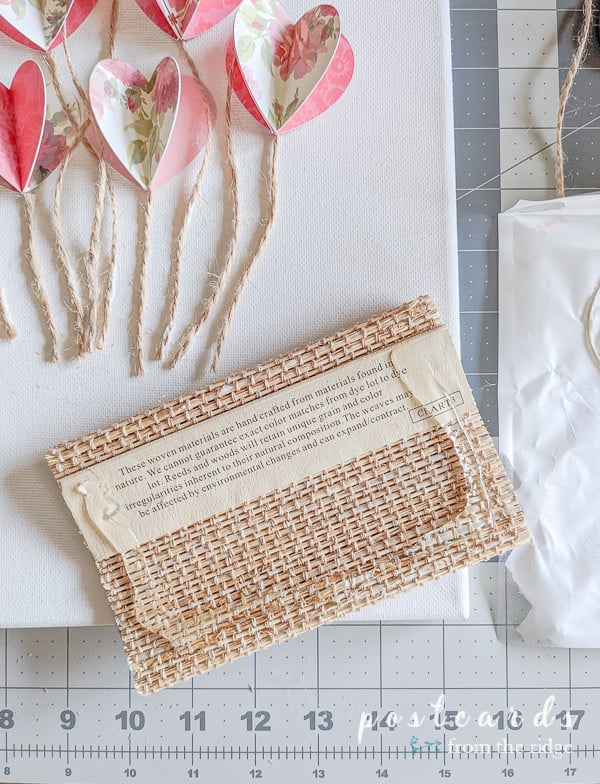 6. Add Ribbon Hanger
For the finishing touch, I added some pink velvet ribbon to hang the artwork with. 
I hung it up on the brick wall in our kitchen for a sweet little pop of pink for Valentine's day. It was a fun little afternoon project!
Note – you can see my tutorial for the painted finish on the brick wall here: How To Update Your Fireplace with A Unique Paint Finish
Here all of my projects and ideas from the Thrifty Style Team challenges:
For printable instructions and supply list scroll to the bottom of the
page.
These are all the projects and ideas for this month's Thrifty Style Team
challenge. The links are just below and I encourage you to visit everyone!
Redhead Can Decorate – DIY Home Gym
The Painted Hinge – How to Repurpose Cabinet Doors into Wall Decor
DIY Beautify – 7 Thrifty Cleaning and Organizing Solutions for the Home
2 Bees In A Pod – Repurposed Vintage Tea Towel
Postcards From The Ridge – Paper Heart Wall Art
The How To Home – DIY Family Charging Station
The Tattered Pew – Bergere Painted Shutters
Sweet Pea – DIY Frosted Branches
What Meegan Makes – How to Refresh a Stand Mixer with Spray Paint
Cottage At The Crossroads – Fabric Hearts with Yo-yos
Lora B. Create & Ponder – Upcycled Old Tin Organizer DIY
Here's a printable instruction sheet for this little art project:
Yield: 1
Author: Angie @ Postcards from the Ridge
Estimated cost: $10
3-D Paper Heart Wall Art
Here's a fun little piece of Valentine's day wall art that you can
create in a couple of hours.
prep time: 5 Mperform time: 1 H & 30 Mtotal time: 1 H & 35 M
materials: 
tools: 
steps: 
 Cut hearts from cardstock with cricut or paper heart punch
 Fold each heart down the center and glue them together 3 at a time using a gluestick
Lay design on blank canvas
Cut twine pieces
Attach hearts, twine, grasscloth piece to canvas using Mod Podge.
Using a glue gun, attach velvet ribbon to the top of the backside of the canvas to use as a hanger.
Created using
Craft Card Maker
Sharing this project here: