How to make a pillow with trim
Let's have a pillow party! Or maybe a pillow fight? Naah, a party is always better than a fight.
Can you ever have too many pillows? My husband would probably disagree, but I say you can't. Making your own pillows is an inexpensive way to add some color, texture, and style to a space.
This post contains affiliate links for your convenience. If a purchase is made after clicking one of the links I might make a small commission. Your price does not change. For full disclosure, go here.
This week I'm teaming up with some of my extremely creative and talented blogging friends to share some ideas for making a pillow. We each received a 16″ pillow and a yard of fabric, and trim if we wanted to add it. Be sure to drop by and see all of the beautiful pillows by clicking on the images at the bottom of the post. Here's the lineup:
MONDAY Girl in the Garage Sweet Pea
Simply Fresh Vintage Lilacs and Longhorns
TUESDAY
Inspiration for Moms Curb Alert Postcards from the Ridge
WEDNESDAY House on the Way Fresh Idea Studio DIO Home Improvements Meegan Makes
THURSDAY
Country Design Style Mrs. Hines Class DIY 180 Petticoat Junktion
The great thing about making your own pillows is that you can get as creative as you want. Although this one is pretty basic, you can put your own spin on it by adding embellishments like different trims or cording or using a ruffle on the edge. You could add a monogram, buttons, appliques, or anything your mind comes up with! The sky is the limit.
Here are the supplies I used for my pillow project.
1 yard of Braemore Birdwatcher Meadow Fabric
2 yards of Jute Brush Fringe
1 16″ x 16″ pillow insert
Matching thread
Straight pins
Fabric scissors
Needle and Thimble (for sewing it closed)
Ruler
Pencil
I don't claim to be an expert, but here's how I made mine. (And if I can do this anyone can.)
Step 1 Measure and mark off your fabric. Since my pillow insert is 16″ x 16″, I measured 2 squares that were 17″ x 17″ to allow for the seam. Make sure the pattern on the fabric is centered where you want it, mark off the squares with your ruler and pencil, then cut the squares.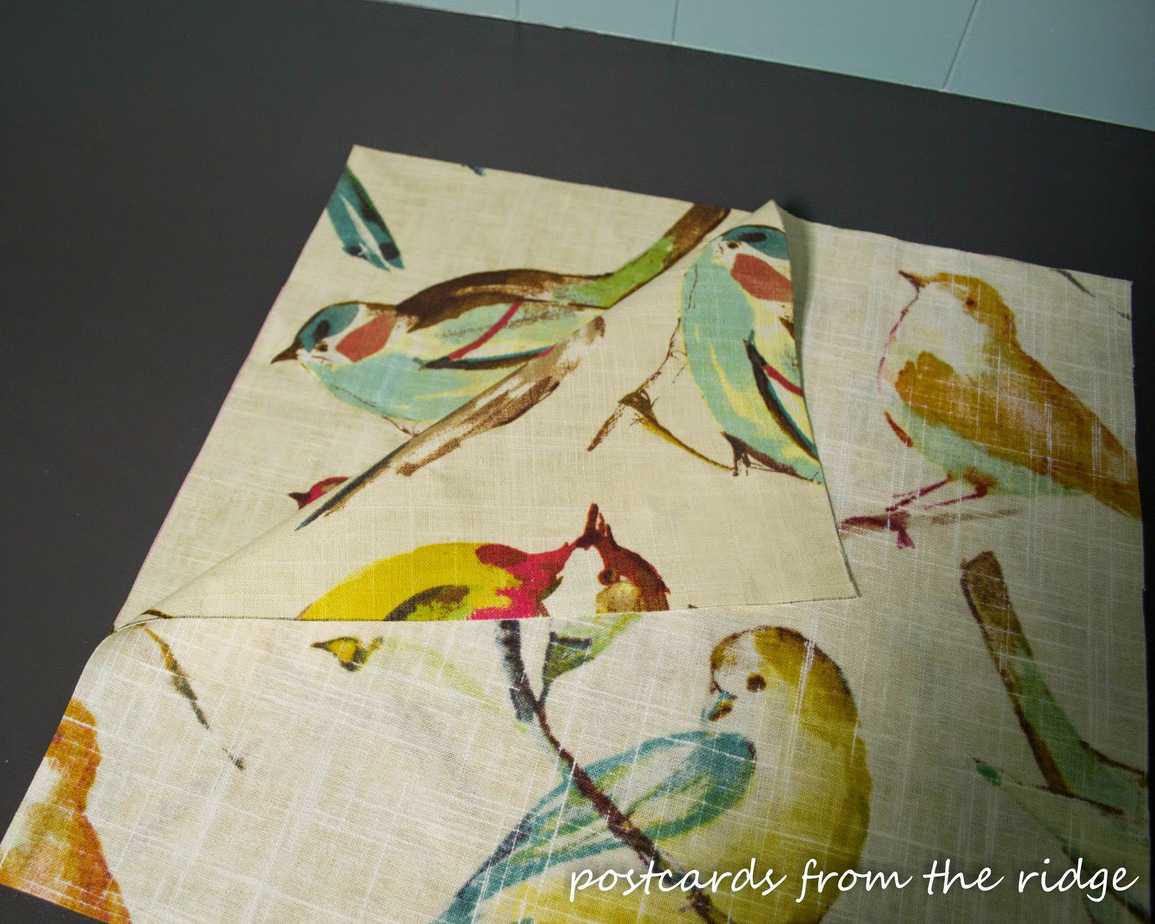 Step 2 Place the squares face to face (front to front), making sure they're lined up on the edges and going in the same direction. Insert the trim between the two layers of fabric, placing it so that the fringe side is facing inward. Line up the edge of the trim with the edge of the fabric. Pin it all together being careful to pin through all 3 layers.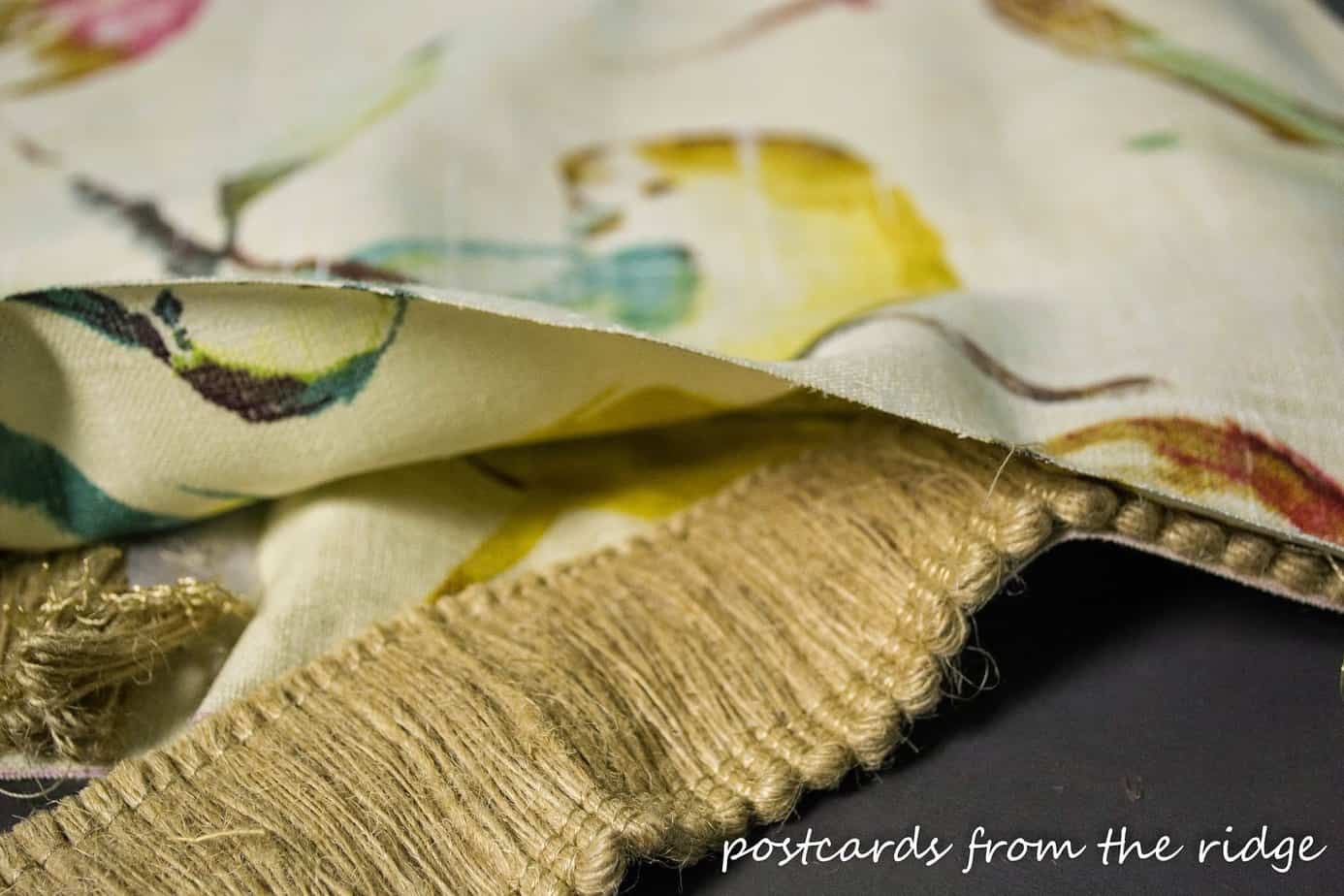 Step 3 Sew through all three layers, making sure that only the fringe part of the trim will show when you turn it right side out. I made mine with a 1/2″ seam. Leave an opening at the bottom allowing enough room to insert the pillow. I left about 8″ open.
Step 4 Turn to cover right side out. Push out the corners and all the sides so the trim is showing. Remove the temporary thread from the ends of the fringe. Optional – press the fabric lightly at the seams so it lays nicely against the trim.
Step 5 Insert the pillow carefully and turn under/fold inward the edges of the fabric at the opening about 1/2″. Line up the trim and let the ends of it overlap very slightly so it looks like one continuos piece. Pin through all the layers and then sew the bottom edge closed with a needle, thread, and thimble, making sure to go through all 3 layers.
Now you're done! Step back and enjoy the fruits of your labor and give yourself a pat on the back! I know I felt like I had really accomplished something by the time I finished my pillow. It's been a couple of years since I broke out my sewing machine and it took me longer that it should have. An hour or two at the most is all you'll need for this project.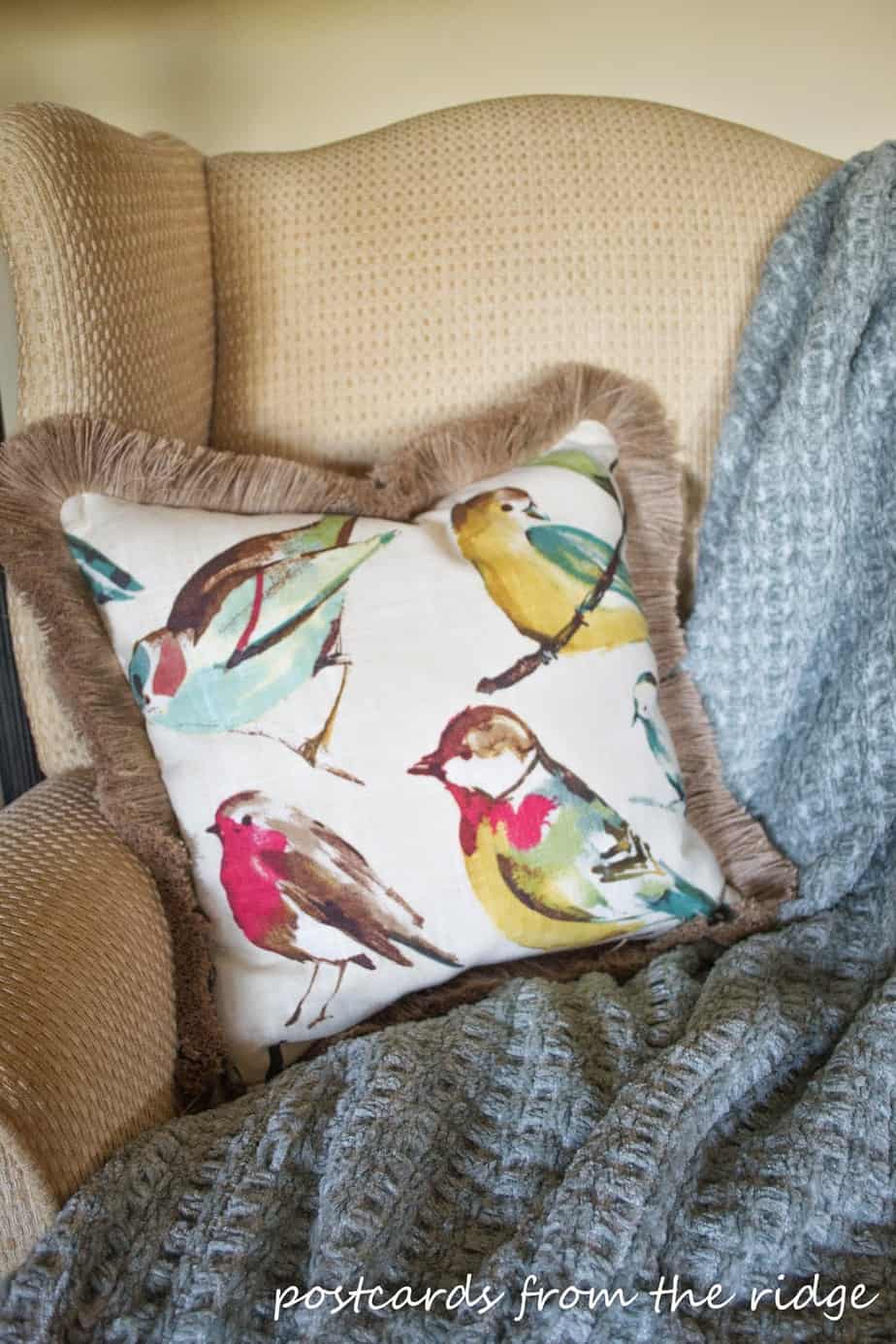 Have you made any pillows for your home? What was your experience like? I'd love to hear about it.
Thanks so much for dropping by!
XOXOX,
Angie