Creative Ways to Use Vintage Jars and Bottles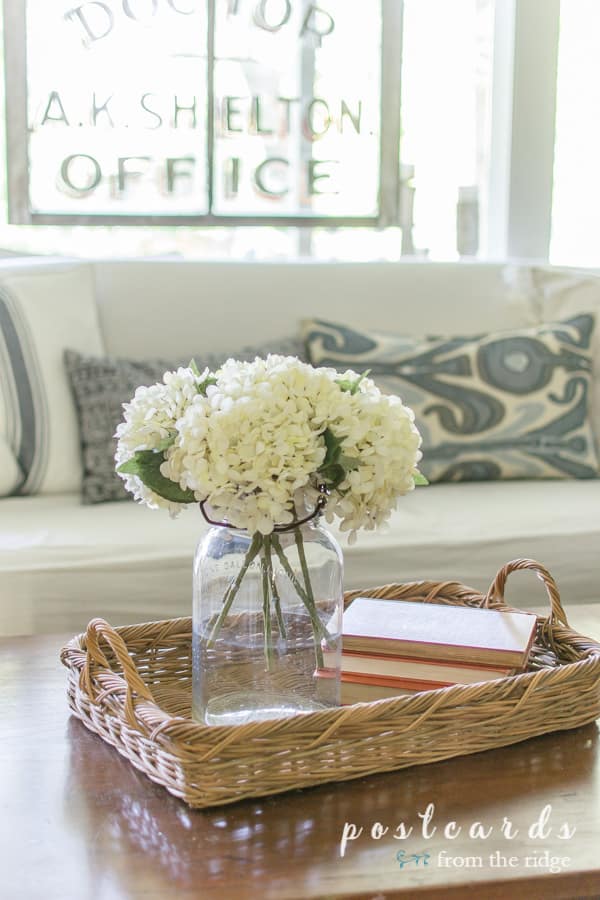 This post contains affiliate links for your convenience. For full
disclosure go
here.
If you know much about me at all, then you know that I can't resist an old pretty bottle or jar. Whether it's blue, clear, amber or green, and regardless of the size, it's a true weakness of mine. I've found lots of creative ways to use them over the years and am sharing some of them today as part of the Lifestyle of Love blog hop, hosted by Cindy at County Road 407.
I'm happy to join this group of vintage-loving ladies, and we're all sharing ideas for vintage bottles and jars. If you're coming over from Paula at Virginia Sweet Pea, welcome! Paula is one of my favorite bloggers and I always love her style. All of the posts are at the bottom, so be sure to visit everyone and get some clever tips for your jars and bottles.
Creative Ways to Use Vintage Jars and Bottles
As a Vase
The way I most frequently use old bottles and jars is as a vase. In the spring, I love to cut peonies and bring them inside to enjoy. And a vintage mason jar is a great way to display them.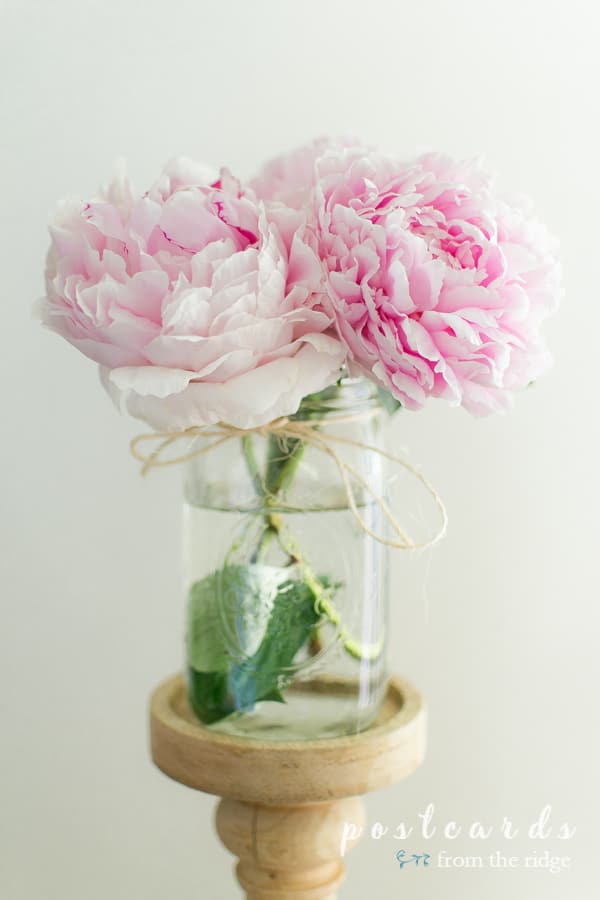 Summer hydrangea blooms look perfect in an old gallon size mason jar.
A vintage blue mason jar makes yellow spring daffodils really pop, don't you think?
For a little fall vignette, I used some old extract and medicine bottles with hydrangea clippings.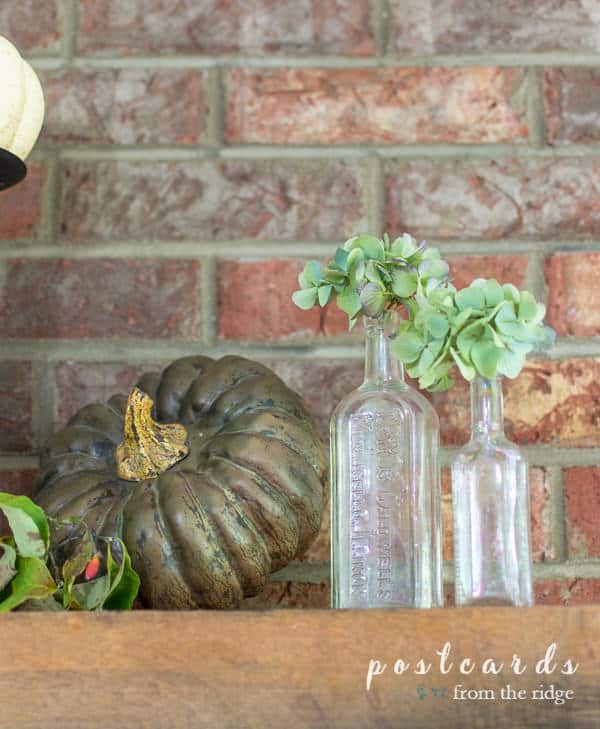 I used those same bottle at Christmas with a sprig of hemlock for a simple, Nordic themed mantel. You can see more if it here: Rustic, Natural Christmas Mantel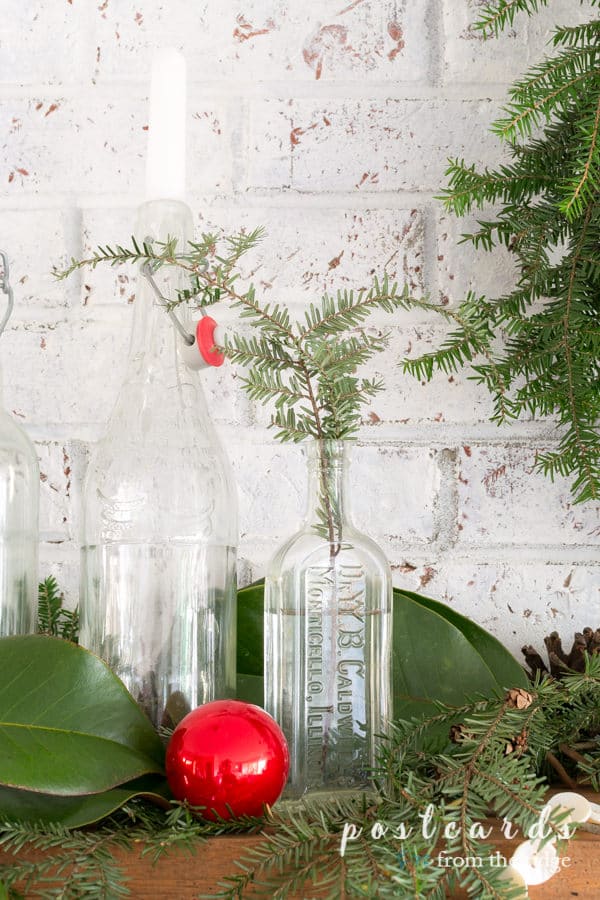 And these Lily of the Valley flowers look like they were made for them in the spring.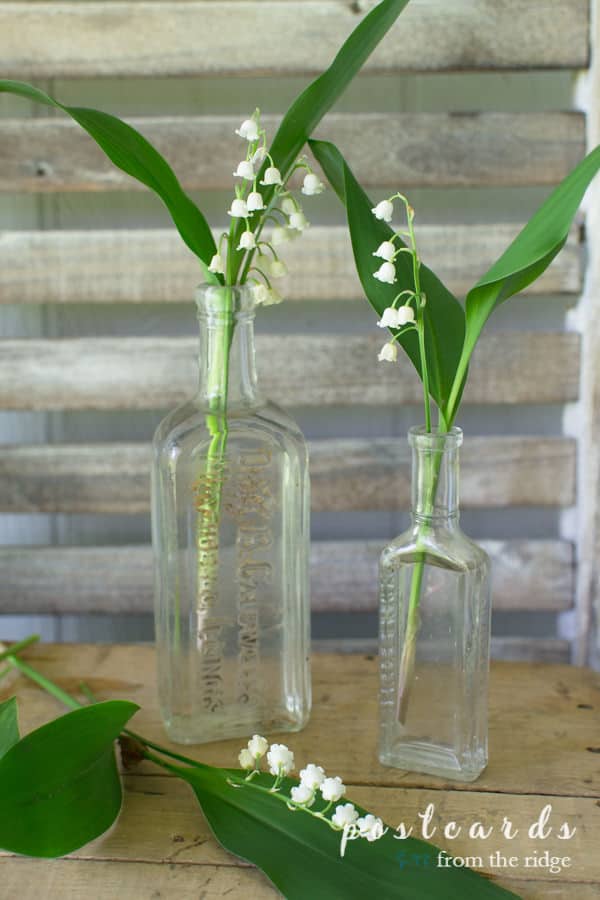 Never one to discriminate, I use beer bottles too! This vintage amber bottle makes an ideal vase for my watercolor leaves. You can see more about this little project here: DIY Sheet Music Watercolor Leaves
And the blue-green of this vintage Dr. Pepper bottle was something I couldn't resist. I popped a faux hydrangea bloom in it for this vignette with some of my recent vintage finds.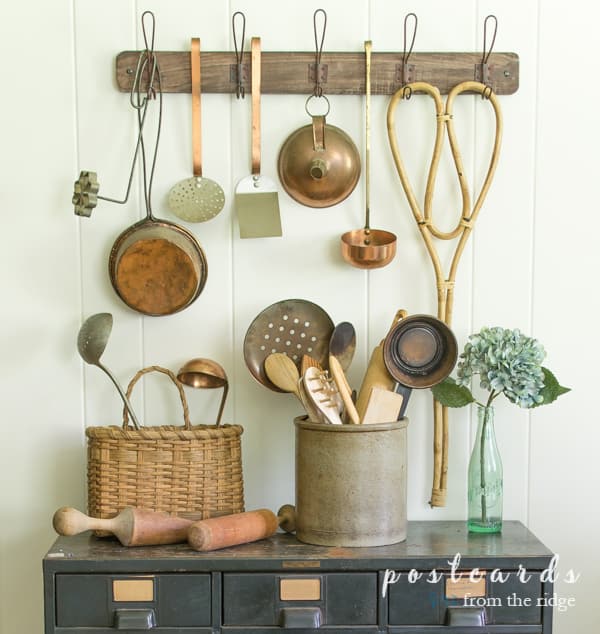 I like big bottles and I can not lie. And vintage wine bottles and jugs. A vintage demijohn sits on our living room hearth and makes a dramatic statement as a vase for fall branches. You can see more of this mantel here: Cozy Fall Home Tour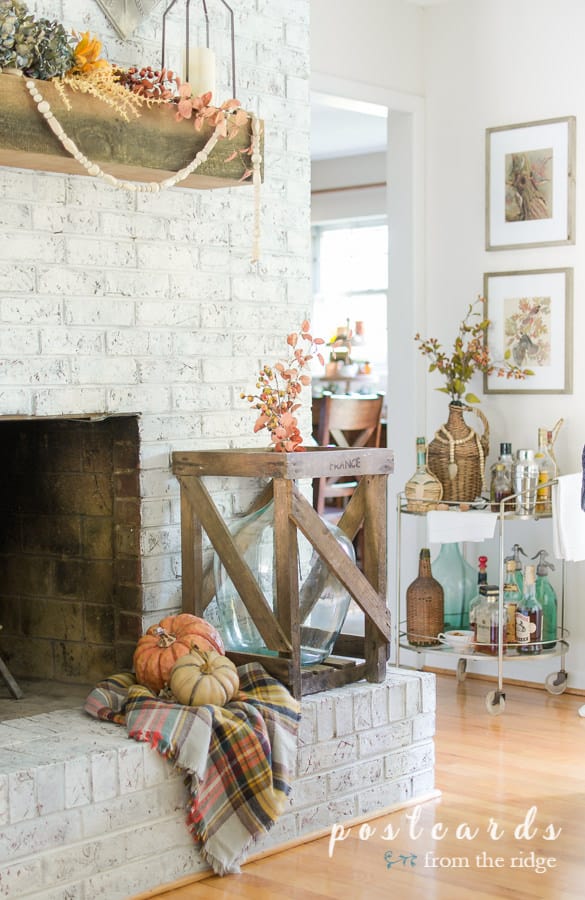 Displaying collections
I have a lot of little collections/hoards and vintage jars are a pretty way to store and display them. Game pieces and dominoes fit perfectly inside them.
And we all collect seashells at the beach. They fit nicely into a vintage mason jar too.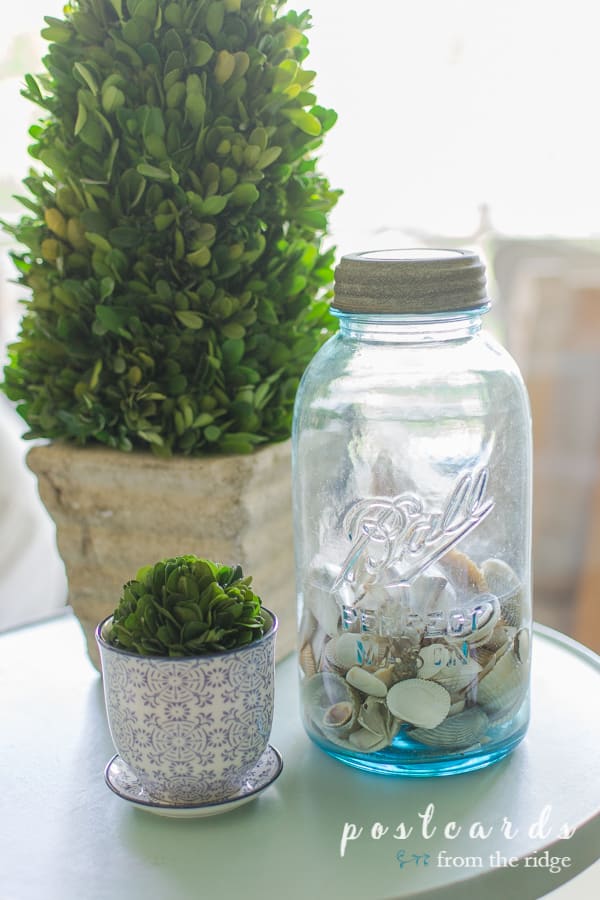 For organizing
If you're a crafter or DIY-er, vintage mason jars are nice for storing your supplies. You can see exactly how much you have of everything and it's much prettier than plastic anything.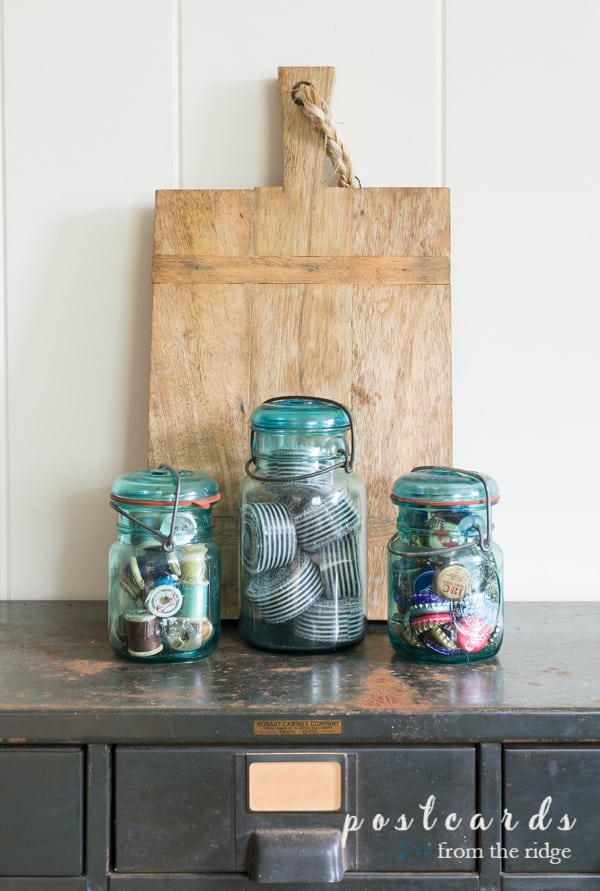 Corral your clothespins in a jar for stylish organizing in your laundry room.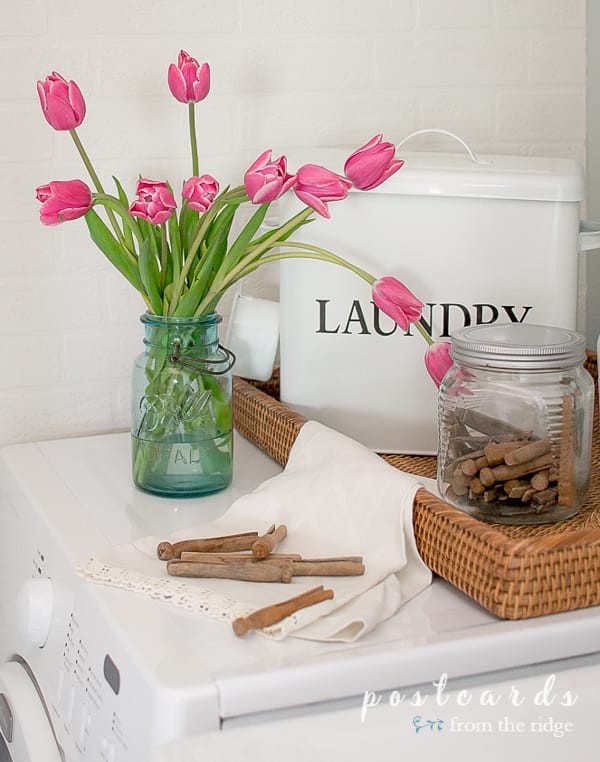 As decor
The colors, labels, and shapes of vintage jars and bottles make them pretty enough to use as decor all by themselves. This old brown after shave bottle with the crown lid and charming label make a pretty addition to my fall tiered tray.
Little amber medicine bottles also look amazing with fall decor.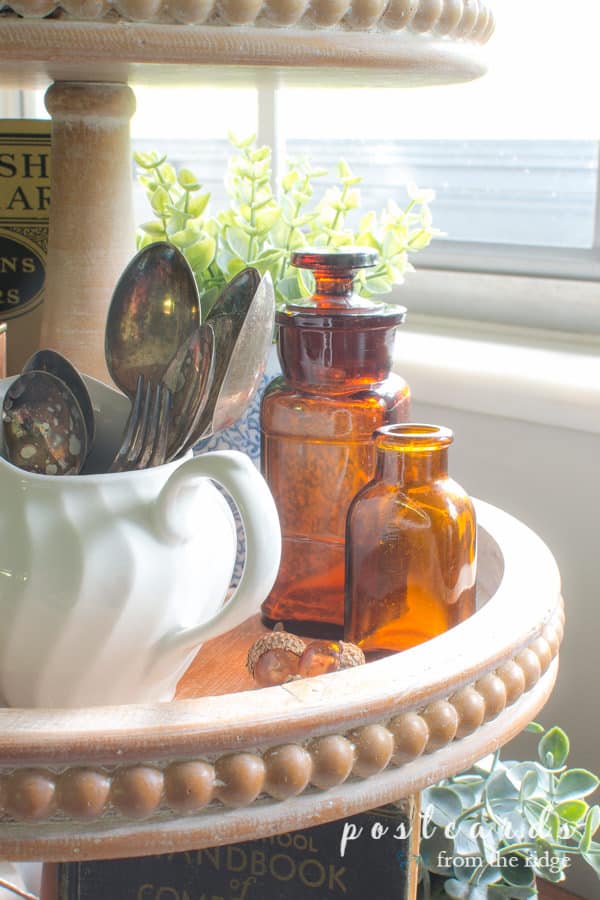 And wicker demijohn bottles add texture and character any time of the year.
For a unique way to display little glass ornaments, try resting them on top of old extract and medicine bottles for a whimsical Christmas display.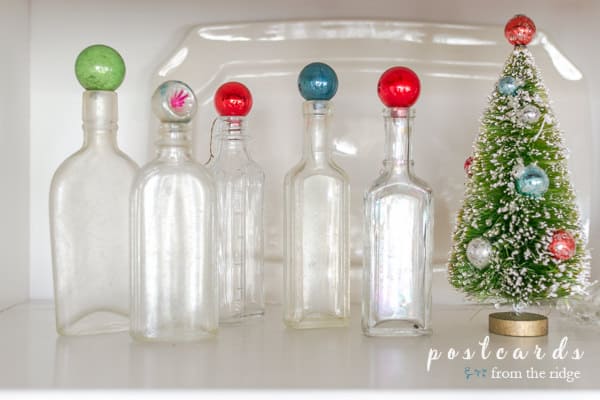 As a lantern
Earlier this year I used vintage mason jars as lanterns when I added solar fairy light lids to them. And inside the jars are actually old broken pieces of glass that I rescued from a local creek. So there's a whole lot of vintage glass going on here. You can see this simple project here: Solar Powered Mason Jar Lanterns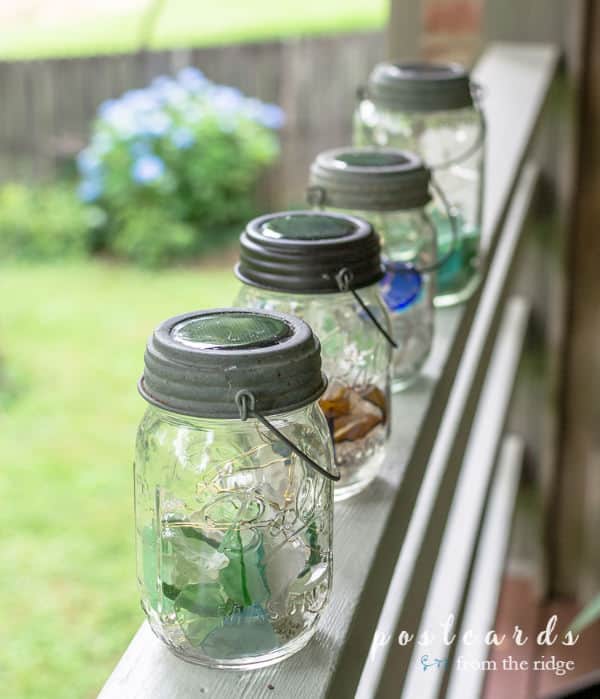 And these bottles aren't exactly vintage, but since we're talking about using jars and bottles I had to share this little idea. I used some empty wine bottles for luminaries and added LED wine bottle lights to them. They're so pretty in the fireplace. They'd make a nice centerpiece for outdoor dining as well.
Where to find them? Sometimes you can find old bottles and jars at yard sales, thrift stores, or estate sales. And you can always find them on etsy.
What are some ways that you use old bottles and jars in your house? Leave me a comment below and let me know!
And be sure to visit all of my friends to see how they use old bottles and jars around their houses. Next up on the tour is CoCo at The Crowned Goat. I adore her style and you will too!
See more of my vintage decor ideas here: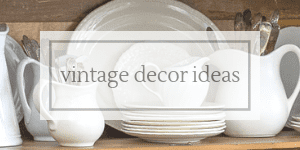 You are invited to the Inlinkz link party!