13 Ideas for Thrifty Wall Art & Decor
13 Ideas for Thrifty Wall Art & Decor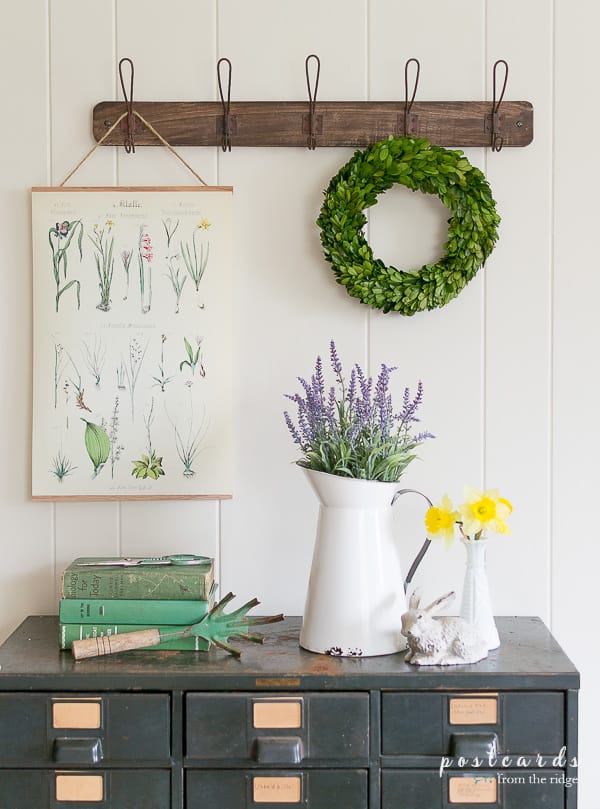 This post contains affiliate links for your convenience. For full disclosure go here.
Hello, friends! It's time for this month's Thrifty Style Team Challenge! My friend Julie at Redhead Can Decorate hosts this monthly challenge for a talented group of diy and home bloggers to share ideas for decorating your home on a small budget.
This month I'm sharing some thrifty ideas for wall art and decor. There are so many things you can use for art and here are a few that I love.

(For the printable shown in the photo at the top of the post, go here → DIY Hanging Art with Free Spring Botanical Collage)
1. Thrifted Artwork
Don't forget to look at wall art any time you visit a thrift store or estate sale. The prices are great and you can find some really nice pieces. I found the vintage tulip botanical art at an estate sale a few years ago. You can read more about it here → Vintage Valentine's Vignette
These vintage watercolor art prints came from the thrift store and are some of my favorite finds. You can find similar ones online here → vintage watercolor prints
2. Pages from Art Books
You can find some beautiful art in used books. Those big coffee table books?? They can be a great resource. I found loose bird art pages above at a used book store. More of my fall decor can be found here → Vintage Fall Decor Ideas
3. Printable Art
Printable art is a thrifty way to decorate your walls. I created the hanging art above by using some public domain prints and adding some text and other graphics. If you like these, you can get them for free here → Free Spring Botanical Printables. And you can see how I made the simple hanging frames here → DIY Hanging Frame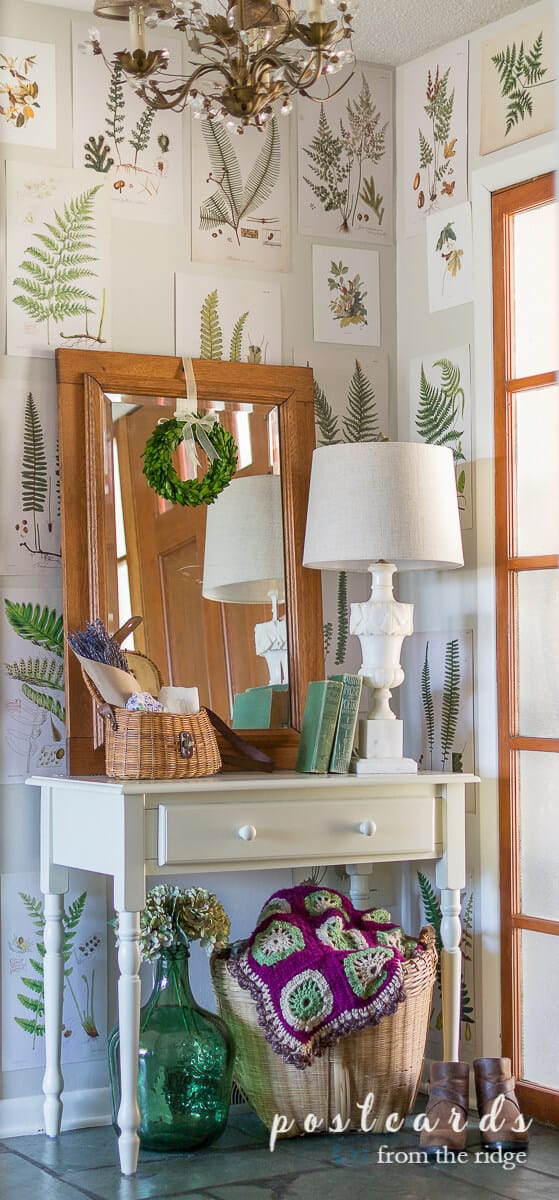 Can you tell that I like ferns? Lol. Instead of using wallpaper in our entry, I used vintage fern botanicals and covered the walls with them. I've had them up for over a year and still love them. You can see this space and get 6 free fern printables here → Free Set of 6 Fern Printables
4. Wallpaper or wrapping paper
You can also use large wallpaper samples or wrapping paper, or even fabric. I share the tutorial for this set of artwork here → DIY Designer Wall Art
5. Mirrors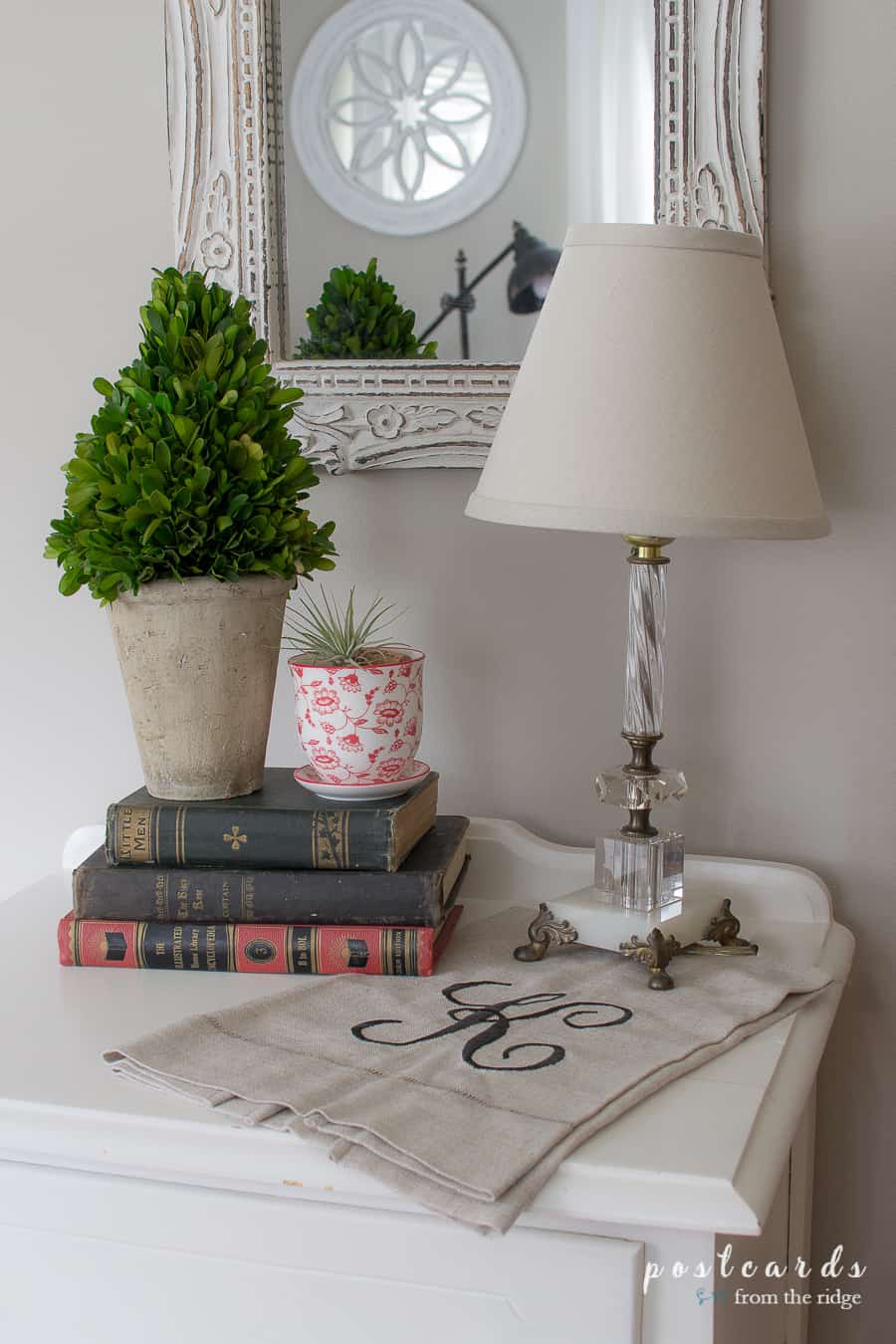 You can always find mirrors at yard sales, thrift stores, and estate sales. Sometimes they need a little cleaning or a fresh coat of paint, but they're a great way to dress up your walls and add some light to any room. The rest of this bedroom can be seen here → Modern Farmhouse Guest Bedroom Makeover
6. Calendar Pages
Do you buy wall calendars with pretty art? Instead of recycling the calendar at the end of the year, keep the art that you like and use it as cheap wall art. Hang the pages with a binder clip, pants hanger, or add them to frames.
7. Notecards and Postcards
I'm a sucker for pretty stationary and cards, even though I can't remember the last time I actually wrote someone a letter. We should really do more of that, don't you think? Anyway, notecards and postcards are a fun way to dress up small areas of wall space. Or add them to a bulletin board for an artistic look.
8. Your Photography
You know all of those vacation photos that are on your phone or desktop? Print them and frame them. I promise that you'll be glad you did. It's a nice way to remember a fun trip and a thrifty way to have unique and beautiful wall art! You can send your files to Walgreens for decent quality prints, or if you want more professional quality you can have them done here → Minted.
9. Vintage Advertising
I love vintage items, so vintage advertising is a favorite thing for me to use as wall art. When my parents closed their paint store they gave me this old paint can sign and it now hangs proudly on our family room wall. It's a reproduction, but I don't mind one bit. You can find old signs at estate sales, auctions, or online here → vintage advertising.
10. Old Shutters
These shutters were taken down from our bathroom windows and hung over our family room fireplace for a couple of years. The best part? They were free! Sometimes you can find shutters at the Habitat ReStore or other salvage type places.
11. Sections of old iron gates
Sometimes you can find neat old pieces of architecture and hang them on the wall as art. I found this piece at an antique shop several years ago and it's been all over the house. I think this is my favorite spot for it. Salvage shops, flea markets, or junk stores would be a great place to look for something like this.
12. Vintage License Plates
Art in the garage? Why not? My late father-in-law had these old license plates stashed in some of his things and I thought they were a fun way to dress up the garage walls. Old license plates can sometimes be found at junk stores, or you can see some online here → vintage license plates
13. Paint your own art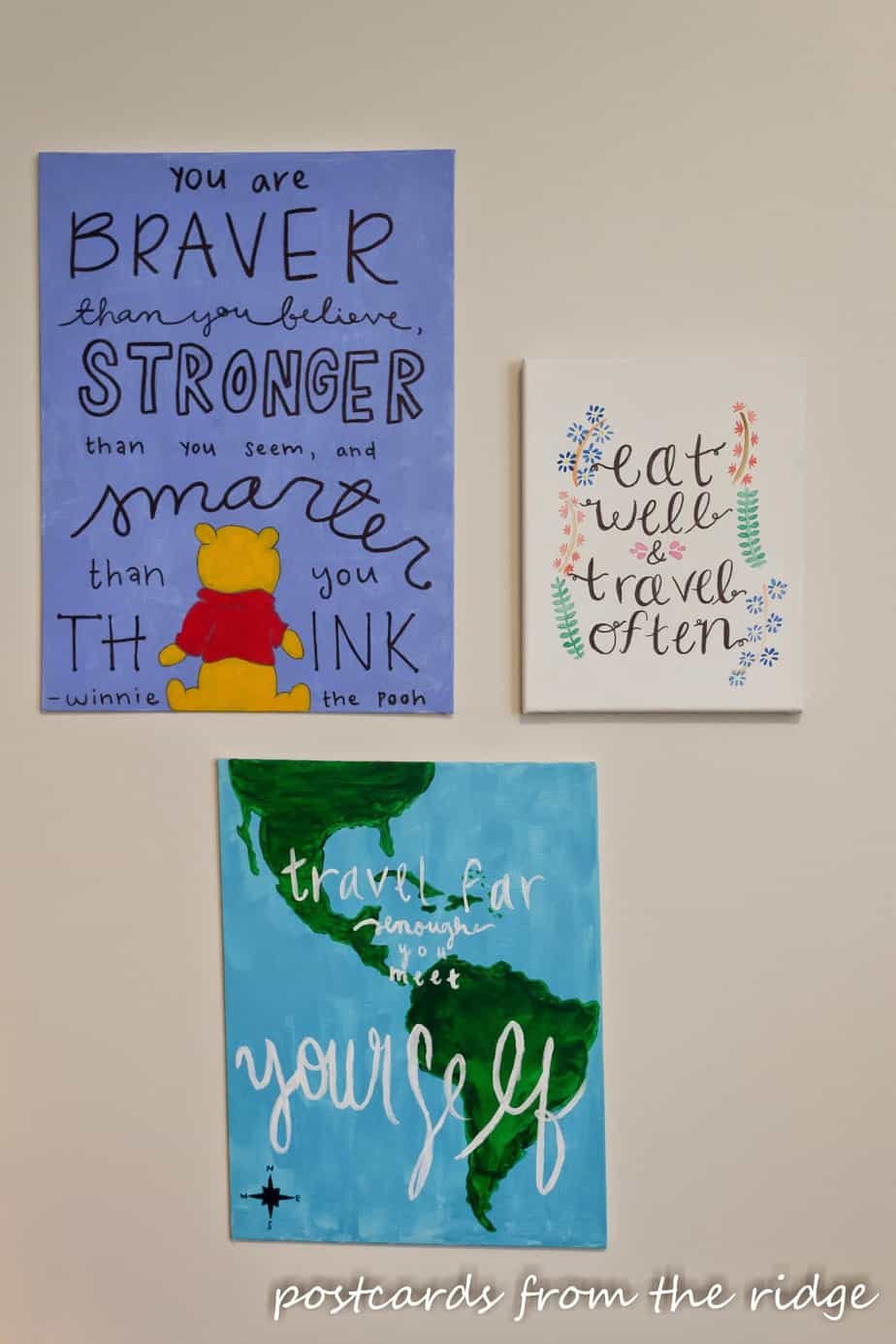 With a few artist paints, brushes, and canvases, you can paint whatever artwork you want. Well, some people can. My oldest daughter painted these several years ago to dress up the walls in her freshman dorm room. I'm not near as talented but can usually convince her to paint something for me if I ask nicely.
What are some thrifty ways that you've added art to your walls? Leave me a comment below and let me know.
And be sure to visit all of my friends on the Thrifty Style Team and see what amazing and thrifty ideas they're sharing this month. Here's a peek at all of them:
And here are all of the posts: