learn how to make a simple diy fabric flower wreath
DIY Fabric Flower Wreath

Let's make a Valentine's day diy wreath with yarn and fabric flowers!
Today I'm sharing a fun little project I made using some of my fabric stash
and a few other basic supplies.
It's a diy heart-shaped wreath with fabric flowers and it's my interpretation of
this month's Pinterest Challenge, hosted by my friend
Cindy at County Road 407. She has the prettiest ideas and projects, so be sure to visit her blog if you
haven't already!
If you're coming over from First Day of Home, welcome! Crissy's projects are always adorable and I'm sure you found lots
of great ideas there!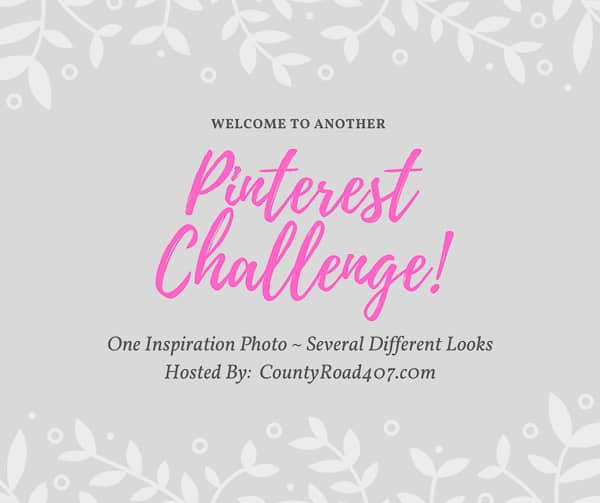 Our inspiration photo this month comes from
Sky at Capital B. She made the most adorable little Valentine's day wreath for her front
door. Our challenge is to create our own take on this project and there are 18
bloggers participating so you'll get so many great ideas today!
Here are the main elements of this particular project: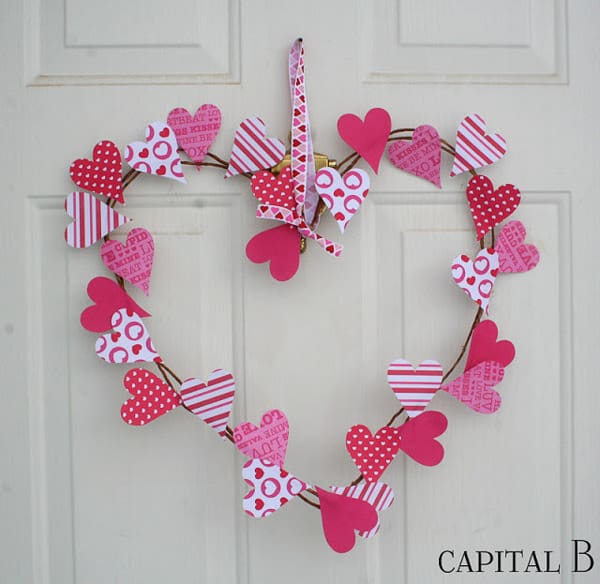 Now for my version of this month's challenge!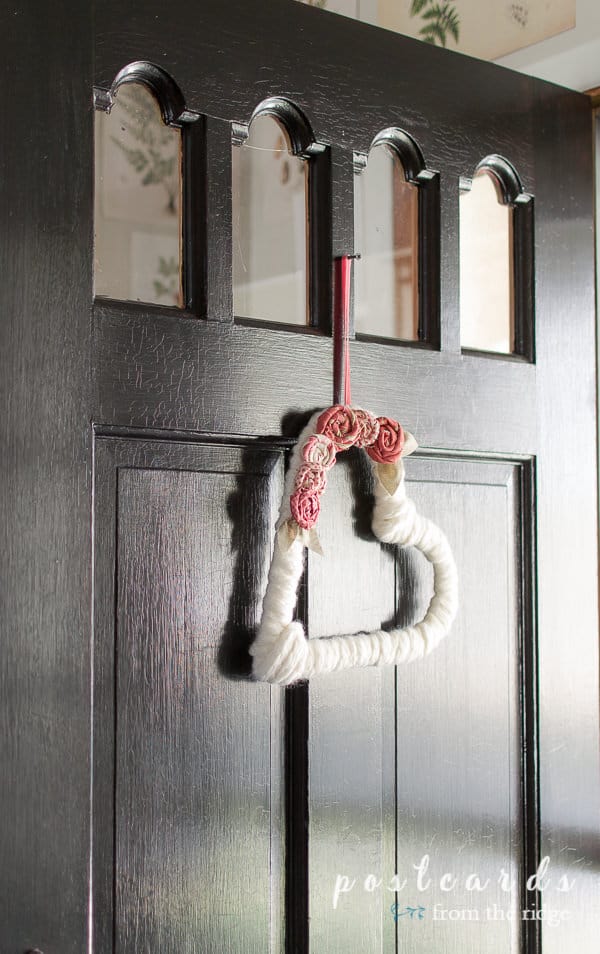 I considered several different options, but decided to make something cozy and
soft with more muted colors. Plus, I've been wanting to find a good way to use
up some of my fabric stockpile so this was perfect!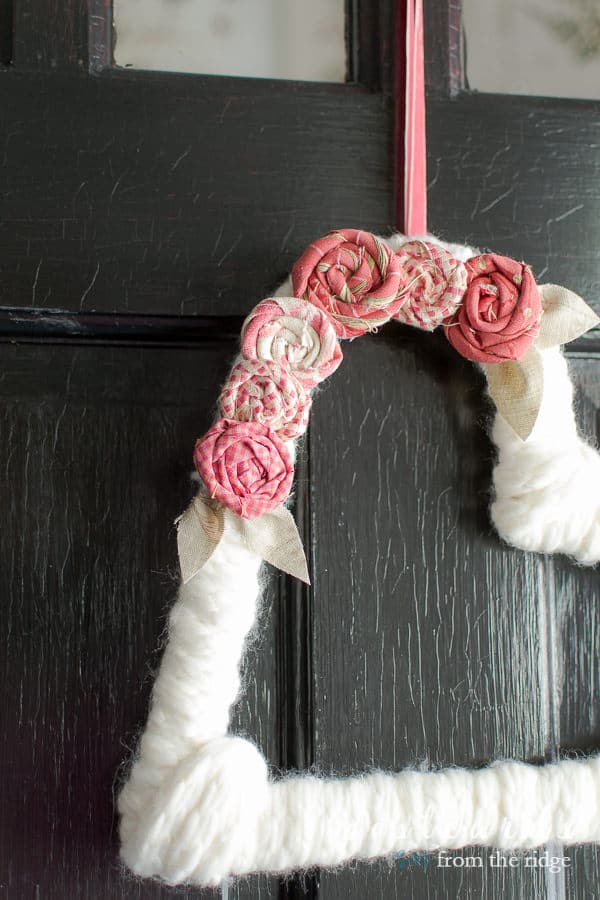 For several years, I've helped local clients coordinate decor for their homes
including window treatments, pillows, and other soft home furnishings made by
a custom workroom that I partner with. I have quite a few discontinued fabric
samples from the workroom that have accumulated over the years and hated to
just throw them out.
I know I can find something creative to do with all of these samples
eventually. I see myself making more projects that involve fabric flowers
because they're so simple to make!
See how I used a swatch of discontinued bamboo shade material to create a fun
piece of Valentine's day art here:
Paper Heart 3-D Wall Art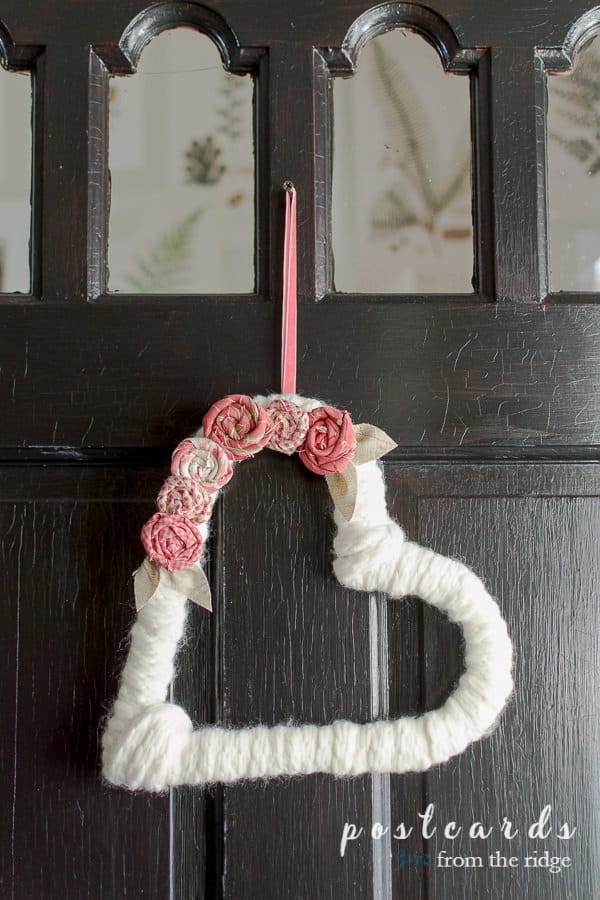 Anyway, I had all of the supplies on hand to make this little wreath and it
whittled down my hoard so it's definitely a win-win!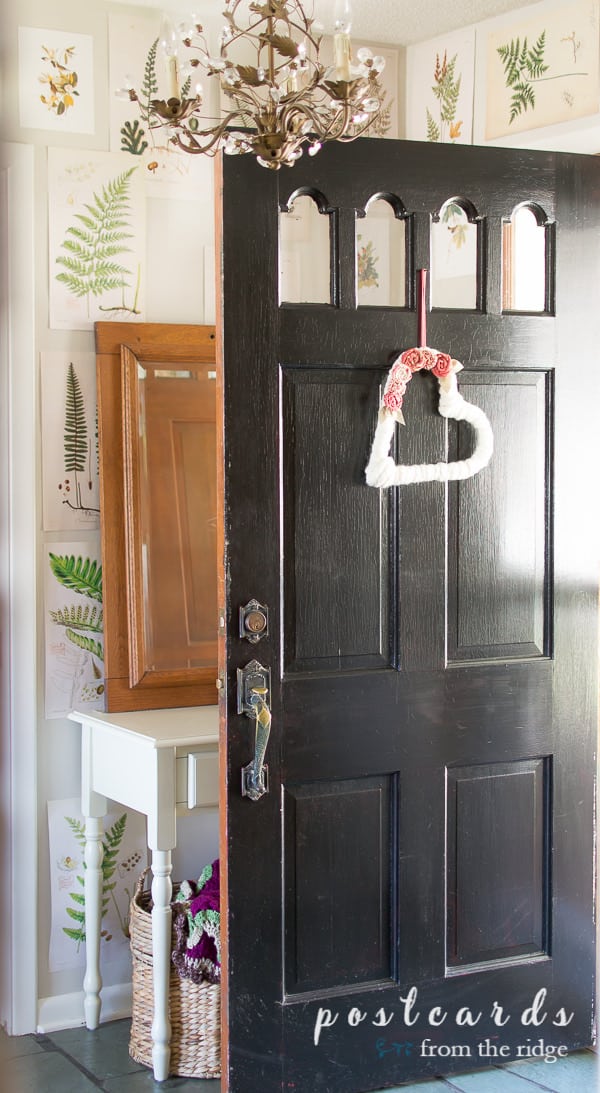 It's sweet and simple and I'm sure I'll love it for years. (If you're
interested in my free fern printable botanicals seen in our entry, you can
find them here:
Botanical Themed Entry with Free Fern Printables)
Here's how to make the heart-shaped wreath with fabric flowers:
Fabric Flower Wreath Tutorial
*Note – view my full length video tutorial and subscribe to my channel on
youtube here:
Fabric Flower Wreath Tutorial Video
*Scroll to the bottom of the page for a printable tutorial.
This post contains affiliate links for your convenience. For full
disclosure go here.
1. Gather your supplies
This is what you'll need for this fabric flower wreath:
2. Wrap your wreath form with chunky yarn
Wrap your chunky yarn around the wire frame until it's covered entirely.
Secure end with glue.
FYI: I also made a holiday wreath with this yarn and you can see it here:
How to Make a No-Knit Sweater Wreath
3. Cut fabric into strips and make your fabric flowers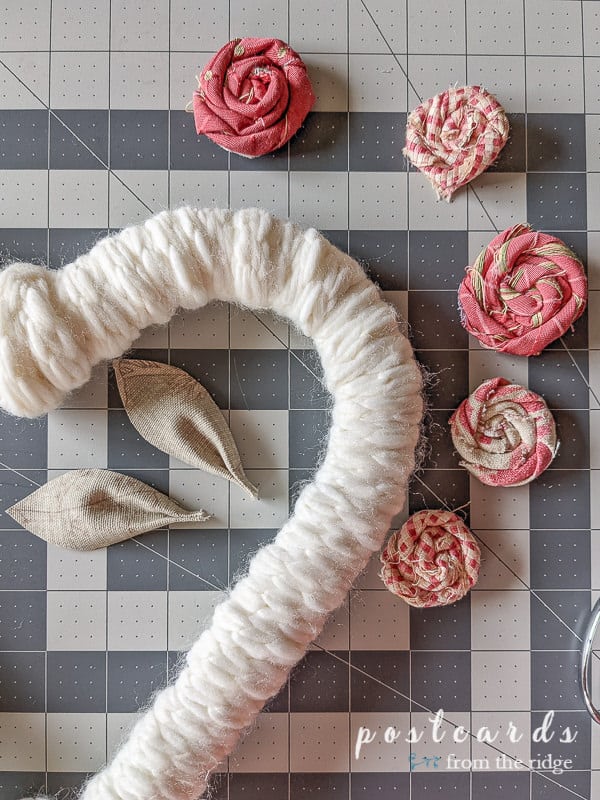 I cut my fabric into strips that were about 1 1/2″ by 10 – 12″. My fabrics are
home decorator fabrics and are a little heavier than quilting or dressmaking
fabrics.
I attached one end of each fabric strip to a square of fabric/paper with glue,
then twisted the fabric and wound it around itself to form the flower shapes.
You could make larger flowers if you use longer or wider strips of
fabric.
See my full-length youtube video to watch how I made the flowers and subscribe
to my channel here: Fabric Flower Wreath Tutorial Video
4. Attach the fabric flowers to the wreath
Determine where you want your flowers to go and then use your glue gun to
attach them to the wreath.
Note: I also added a few leaves made from a soft green fabric and a pink
velvet ribbon as a hanger.
5. Hang on your door (or wherever you want it) and enjoy!
I think it took me less than an hour to make this little fabric flower wreath!
But I can enjoy it for the next month or so and pull it out each year. It
would also look pretty in a little girl's room or in a shabby chic bedroom.
To see how I decorated my vintage industrial metal cabinet for Valentine's day
go here:
A Paper Heart Garland and Vintage Valentine's Day Decor
Next up is Laura at
Decor to Adore. She always has the prettiest ideas so be sure to visit her and everyone
else who's sharing a project today. The links to everyone are below.
You are invited to the Inlinkz link party!
Sharing this project here:
Printable Tutorial
Yield: 1 wreath
Estimated cost: $30
DIY Fabric Flower Chunky Knit Wreath
Learn how to make this cozy little fabric flower heart-shaped wreath using
a few basic supplies.
prep time: 5 Mperform time: 17 Mtotal time: 22 M
materials:
tools:
steps:
How to make the wreath
Wrap the wire wreath form with the chunky yarn.
Create the fabric flowers (see detailed directions below)
Attach the fabric flowers to the yarn covered wreath with your hot
glue gun.
Add a strip of velvet ribbon as a hanger.
How to make the flowers
Cut fabric into strips approximately 1.5″ x 10″. Longer and wider
strips will create larger flowers.
Working with one strip at a time, attach one end to a piece of
fabric, felt, or paper that's about 2″ square.
Take the loose end of fabric and twist it around itself until it
resembles a rope somewhat.
Coil the twisted fabric around itself in a circle, attaching it to
the square as you go.
Wrap the last 1″ or so around to the back of the square and attach
with glue.
Trim the square so it isn't visible in the front of the flower, and
trim any loose stings.
Supplies Needed:
Heart-Shaped Wire Wreath
Fabric Bundle
Chunky Yarn
Created using
Craft Card Maker