Quick, cheap and easy sofa slipcover
Are you tired of looking at your sofa fabric but don't want to spend hundreds of dollars having it reupholstered? Today I'm showing you a cheap easy sofa slipcover project.
This post contains affiliate links for your convenience. I may make a small commission on products purchased with my link, but your price does not change. For full disclosure go here: Disclosure and Policies. Thank you for supporting my site.
If the price for a new sofa isn't in the budget but you can't stand the one you have, I totally understand. Our old sofa was structurally in good shape, but the upholstery had faded in some spots and the cat had scratched the ends a little, and it was looking a bit dated. Here's how it looked: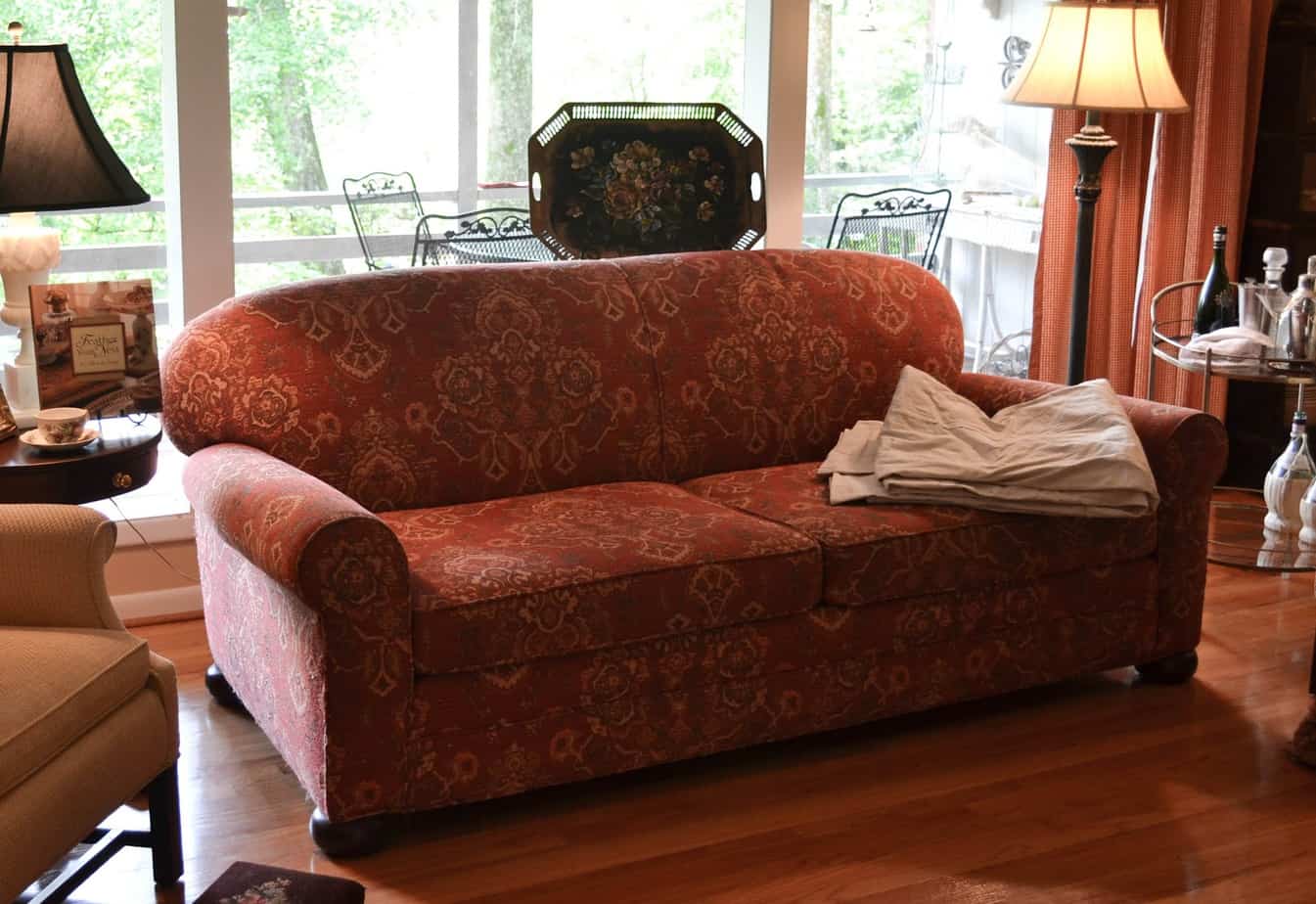 Not to mention that I was really tired of looking at it and never really liked it all that much. We had it re-upholstered in the red paisley fabric many years ago mainly because that fabric was dark, busy and heavy weight. At the time our girls were 2 and 5 and durability was our top priority.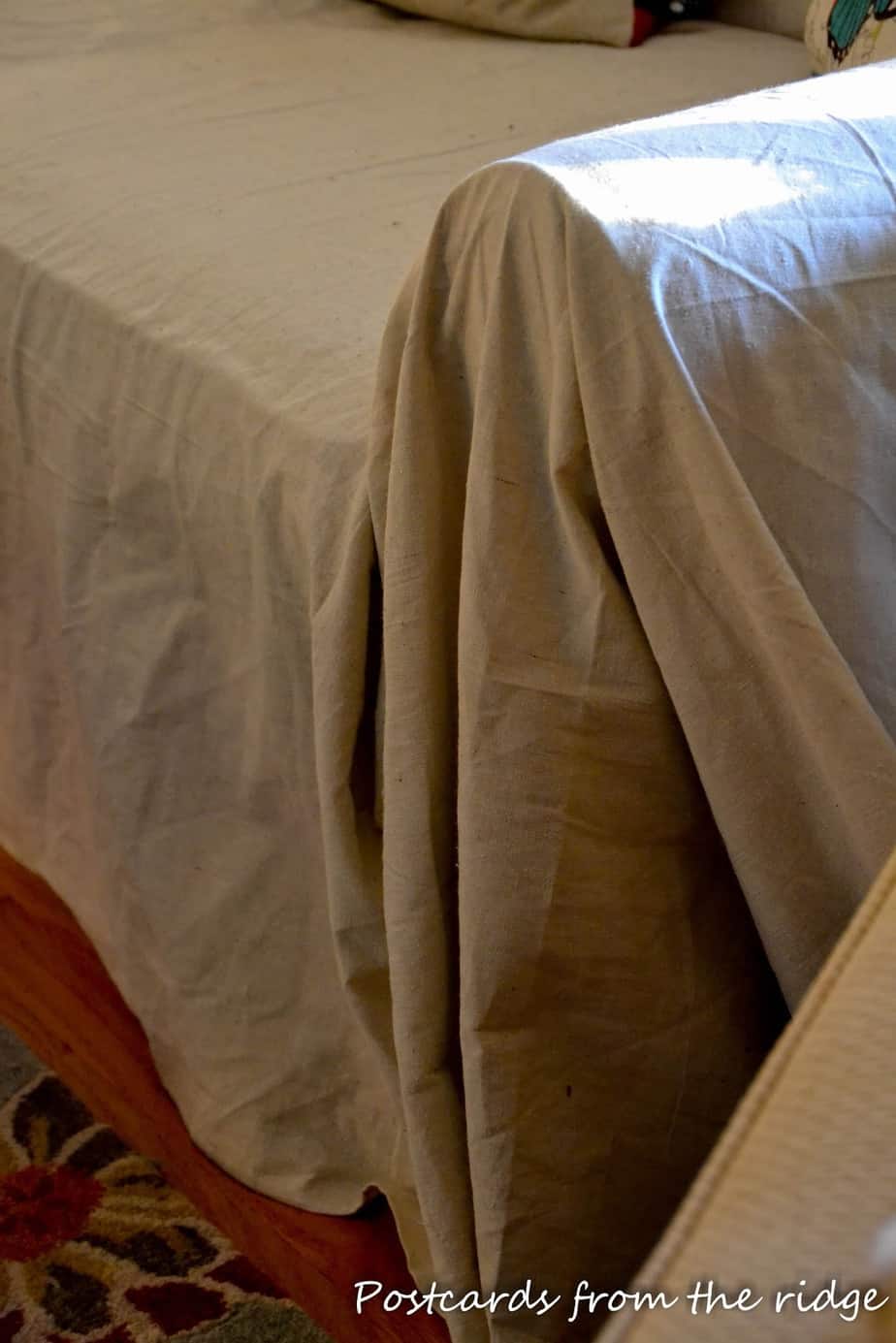 On a bit of a whim, I gave our outdated sofa a quick, cheap, and easy update and never looked back! Here's what I did:
Cheap Easy Sofa Slipcover
Supplies needed to
For this easy and budget-friendly slipcover, I used a >>12′ x 15′ dropcloth<< which retails for around $30 – $35.
To help keep your slipcover in place, I recommend using this item.
NOTE: If you're looking for a pre-made slipcover, there are some affordable ones found here:
If you want a casual drop cloth covered sofa, follow these instructions.
How to cover your sofa with a dropcloth
It's a pretty simple process, but here's what I did:
How to slipcover a sofa
Give your old, dated sofa a new look with a quick and easy slipcover. It's low budget and washable too.
Materials
12′ x 15′ dropcloth
tuck-in grips
Instructions
Remove the cushions if possible and vacuum the crud out of the crevices. With any luck, you'll find enough change in there to treat yourself to a trip to Starbucks. Replace the cushions.
If you have a dryer with a steam setting, fluff the drop cloth to remove any wrinkles. If not, don't worry, the wrinkles will smooth out over time.
Drape the drop cloth loosely over the sofa, centering it as much as possible width-wise.
Line up the front edge of the drop cloth with the bottom edge of the sofa. It can be touching the floor or not, depending on your personal preference.
Smooth the drop cloth over the cushions.
Line up the bottom of the sides of the drop cloth with the bottom side edges of the sofa.
Tuck the excess into the crevices between the sides of the cushions and the arms.
Adjust the back side of the drop cloth so that the bottom of the drop cloth touches the floor.
Then tuck in the excess of the back of the sofa between the back of the seat cushions and the seat backs/cushions.
Use the tuck-in grips to hold it all in place and keep it from getting all wonky. Note: You can also use a piece of plastic pipe cut to the size needed, or a long carboard tube like the ones that fabric stores use.
How do I keep it straight?
The drop cloth will need to be re-tucked in occasionally but it's easy enough to do. These tuck-in grips will keep it tucked in pretty well and will cut back on the amount of straightening that you have to do.
Is it washable?
Yes. If the drop cloth gets dirty you can wash it on cold water and dry it on low or hang it to dry.
Cheap Easy Sofa Slipcover
Here are a few more pictures of the sofa with the drop cloth on it. It's a bit slouchy and messy, but I like it that way.
NOTE: I wouldn't recommend it on a sofa that the whole family spends a lot of time on unless you don't mind it coming untucked often. I'm usually the only one who goes in here. No television, no computer, no electronics. Just me and the fireplace and the view. What's not to like?
The soft pleats on the arms are pretty easy to arrange. It just takes a few minutes of working with it.
I know I won't keep it like this forever, but for now it works great for us in this room.
Update: After I had a spill on my drop cloth slipcover that wouldn't come out in the wash, I replaced it with this cotton sofa slipcover.
Slipcovered dining room chairs
Recently I lightened the look of our dining room by slipcovering the dark wood chairs with this slipcover: dining room chair slipcover. You can see the big difference it made below.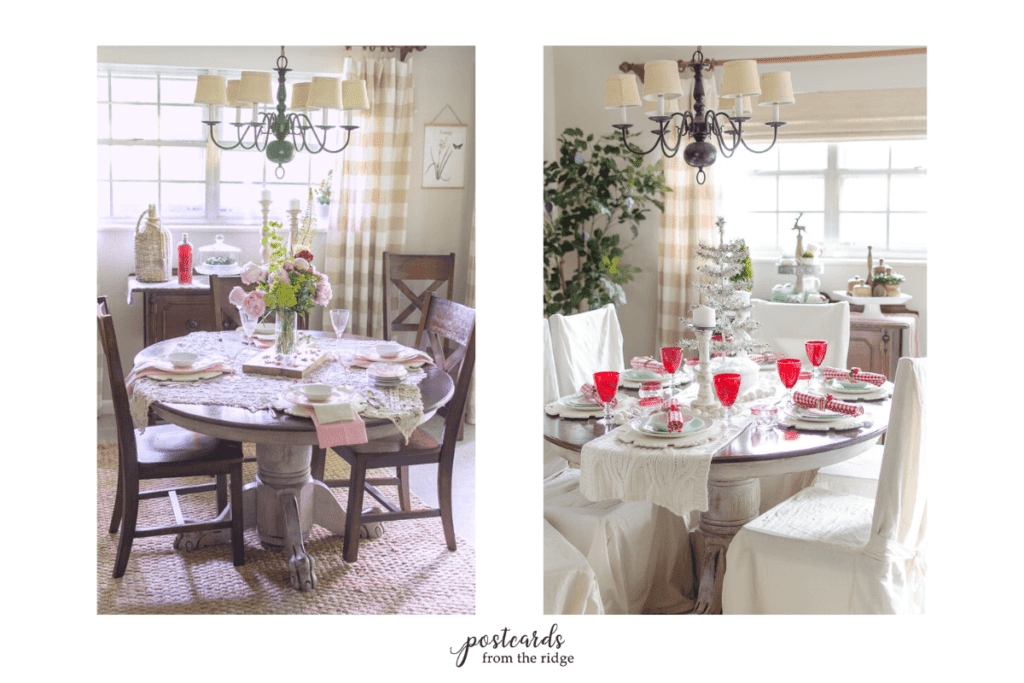 Thanks for visiting. Please leave a comment so I'll know you were here!