Favorite Paint Color ~ Benjamin Moore Revere Pewter
Benjamin Moore Revere Pewter
Welcome to my new series about my favorite paint colors where Benjamin Moore Revere Pewter is the featured color. Revere Pewter is the most searched color on the Benjamin Moore website, and for good reason.
This post contains affiliate links for your convenience. If a purchase is made after clicking one of the links I might make a small commission. Your price does not change. For full disclosure, go here.
Revere Pewter is a light gray with warm undertones and a neutral color that works equally well on walls, ceilings, and trim from room to room. It's been called the "perfect whole house color" and is ideal for an open floor plan.
Tips for choosing your paint colors:
If you don't know where to begin, start with any items that won't be changing like large furniture pieces, flooring, or any other permanent features in the area to be painted.
Look for inspiration on pinterest, instagram, or in home magazines.
Once you've decided on the direction you want to go, narrow your choices down to 5 or less paint colors, ideally.
Keep in mind that paint colors will look more intense on your walls than they do on paint color strips with multiple shades. This means light colors will look lighter and dark colors will look darker.
Look at the color you're considering in the room that you will be painting, not outside in the bright sun.
See how the paint color looks in that room during different lighting situations…on a sunny day, on a cloudy day, with and without the lights on, and at night. They look different in each of these
situations.
I strongly recommend testing the color either by painting areas of the room (next to the trim) or by using a peel and stick paint samples. You can get them here: Samplize Peel and Stick Paint Samples. They're reusable, affordable, and you don't even have to wash out a brush.
Most importantly, remember that there's not a "perfect" color. There are likely a few good choices that will look beautiful in your room.
Revere Pewter in a Coastal Living Room
Revere Pewter is dark enough that it contrasts nicely with whites and off-whites, but not so dramatic that it competes with bold colors.  It can ground and balance a room with colorful décor, or create a serene vibe when paired with pale hues and other neutrals.
Benjamin Moore Revere Pewter with White Trim
For a classic look, use white trim and deeper shades such as
Here's a beautiful example of Revere Pewter from Dear Lillie. I looks beautiful with the hardwood floors and the pops of black and dark gray.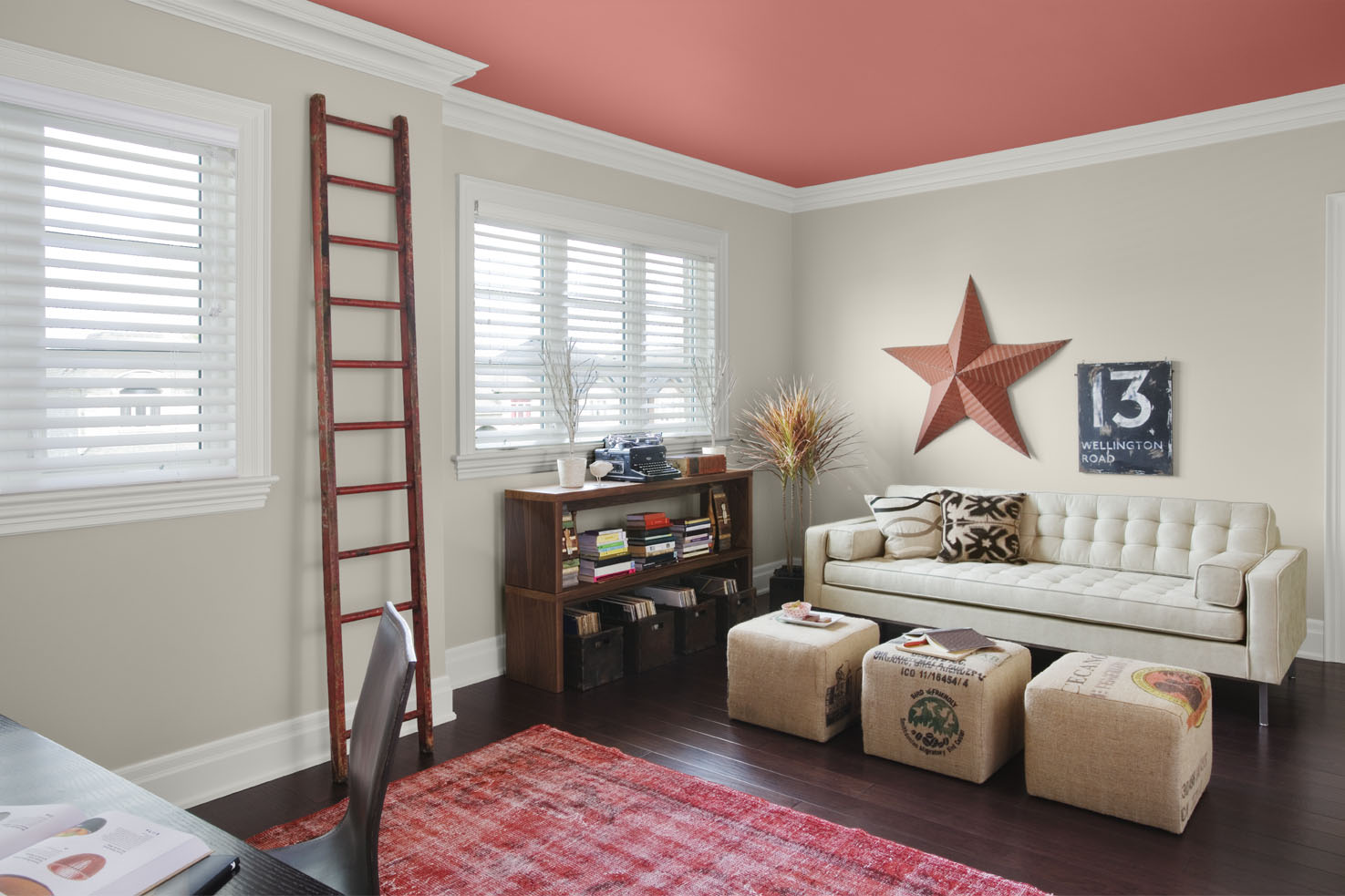 Image from Benjamin Moore
It plays well with other colors of all ranges, including the warm tomato red on the large star as well as the charcoal gray on the sign above.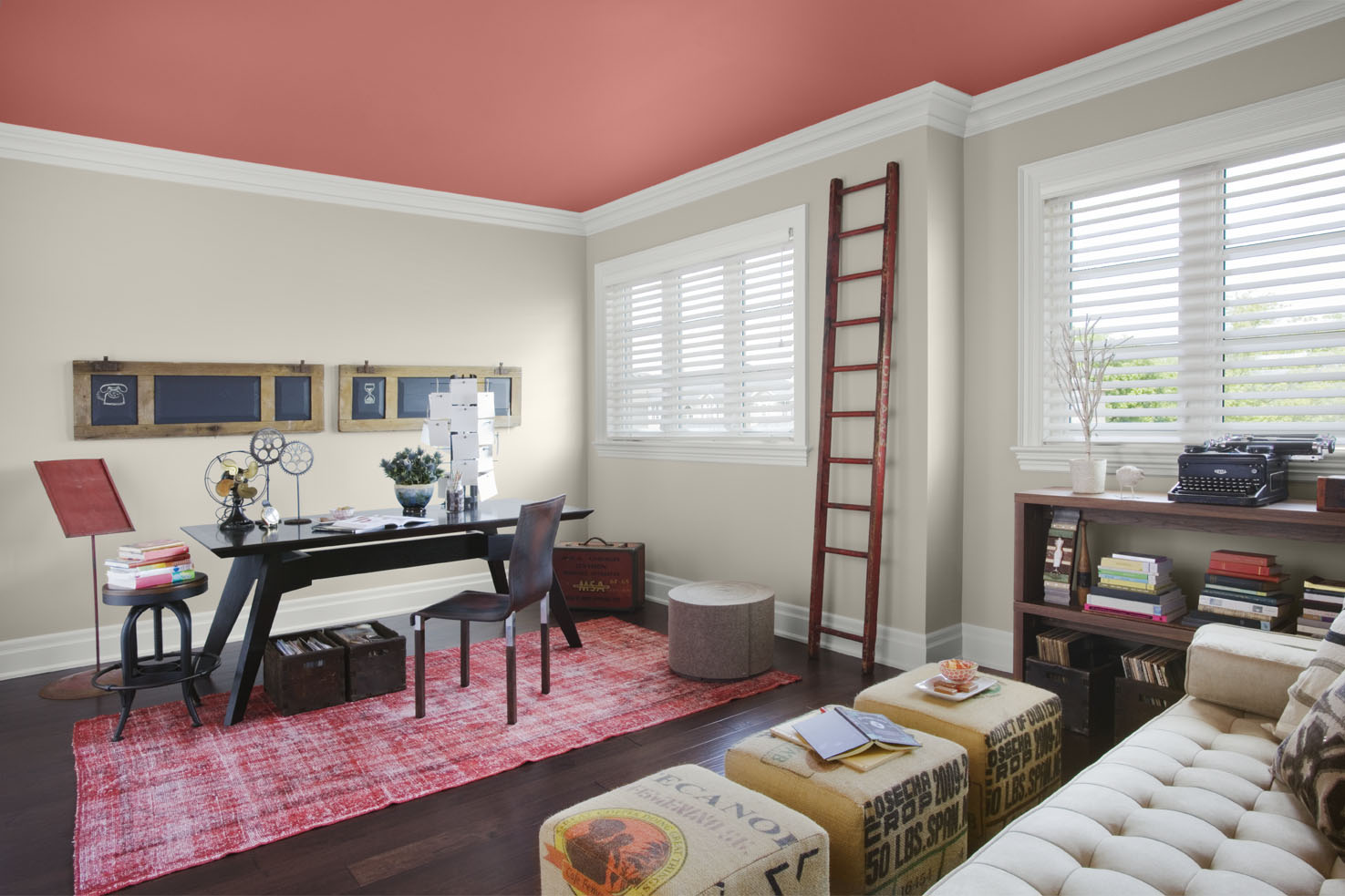 Image from Benjamin Moore
It's the perfect backdrop for the strong colors in this open room. And don't you love the chalkboard-painted re-purposed shutters on the wall behind the desk??
Traditional Bathroom by Hingham Architects & Designers 1 plus 1 design
In this classic bathroom it provides a clean and calm atmosphere. You could use any color towels or accessories in this room.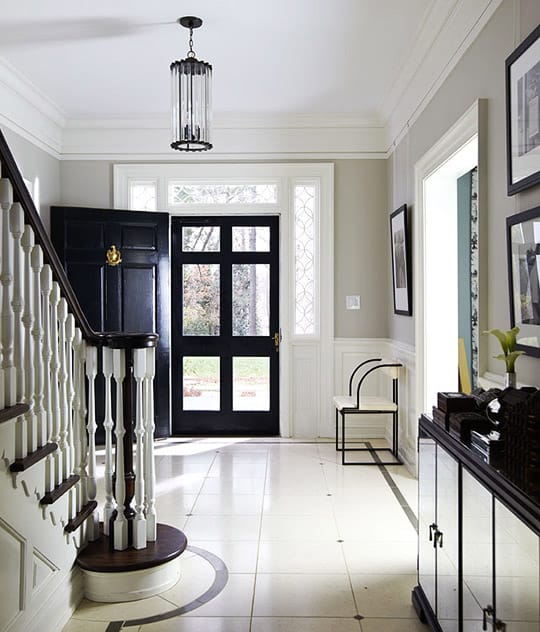 Image from Traditional Home
The design elements are not overshadowed by the subtle wall color in this gorgeous foyer. Instead of noticing the paint, it's serves as a lovely backdrop for the door, light fixture, molding, and staircase.
Jenny at evolution of style painted her living room walls with Revere Pewter and it looks amazing with her floor, furniture, and that gorgeous ceiling.
Have you used Revere Pewter before? If so, what did you think of it?
As with any paint color, you should try a sample on the wall, or at the very least get an actual swatch of it before painting with it.  Computer monitors all vary in color and simply don't provide a completely accurate version of the true color.  
Grab a peel and stick sample of it here: Benjamin Moore Revere Pewter Peel and Stick Sample
For dozens of other great paint color ideas plus tips for choosing them, visit all of my favorite paint color posts HERE.
Thanks for dropping by!