Benjamin Moore Revere Pewter – A Timeless Color
If you're looking for a soothing neutral paint color that works with almost any other color, then look no further than Revere Pewter. It's the most searched color on the Benjamin Moore website and their best selling wall color for the past decade, and for good reason. Let's take a good look at it in several rooms.
This post contains affiliate links for your convenience. If a purchase is made after clicking one of the links I might make a small commission. Your price does not change. For full disclosure, go here.
Benjamin Moore Revere Pewter Color Review
We're taking an in-depth look at this classic and super popular paint color. You'll see it used in a variety of rooms, learn what trim colors look best with it, and find colors that coordinate with it.
What color is Benjamin Moore Revere Pewter?
Revere Pewter is a light greige color with warm undertones. It's a neutral color that works equally well on walls, ceilings, and trim from room to room. And it's been called the "perfect whole house color" because it's ideal for an open floor plan.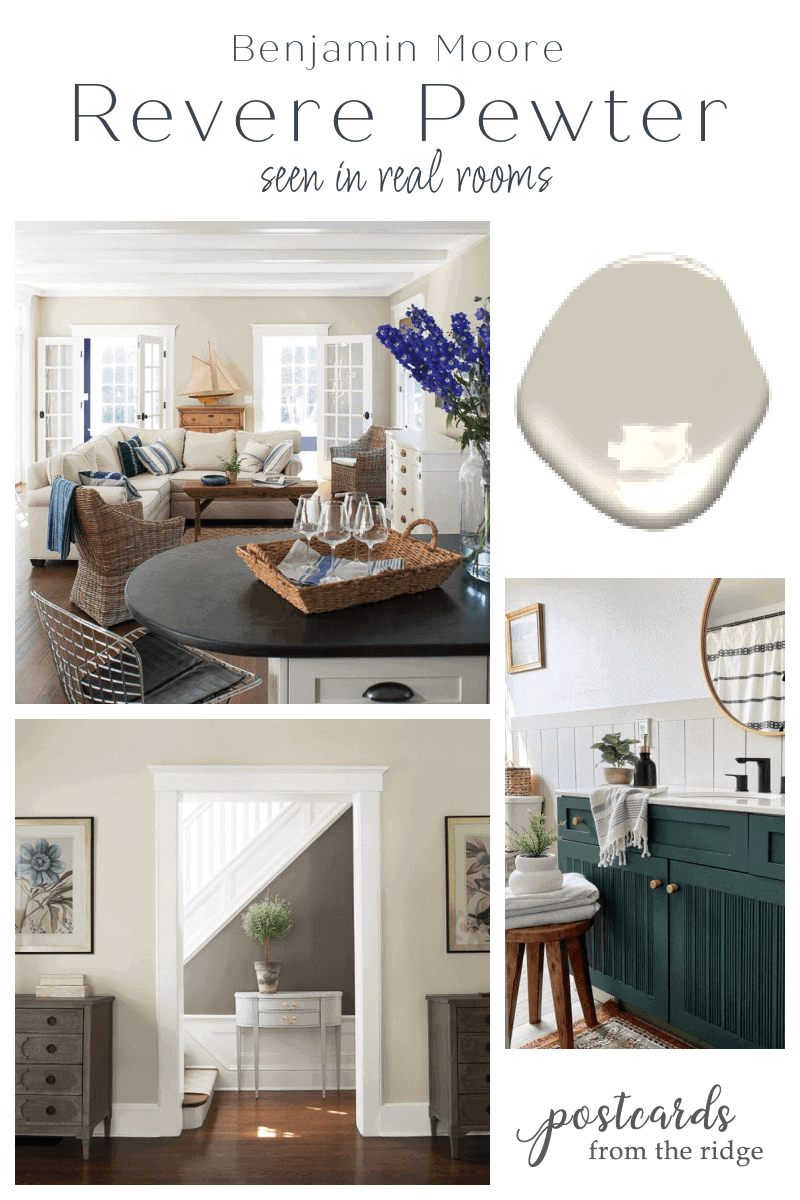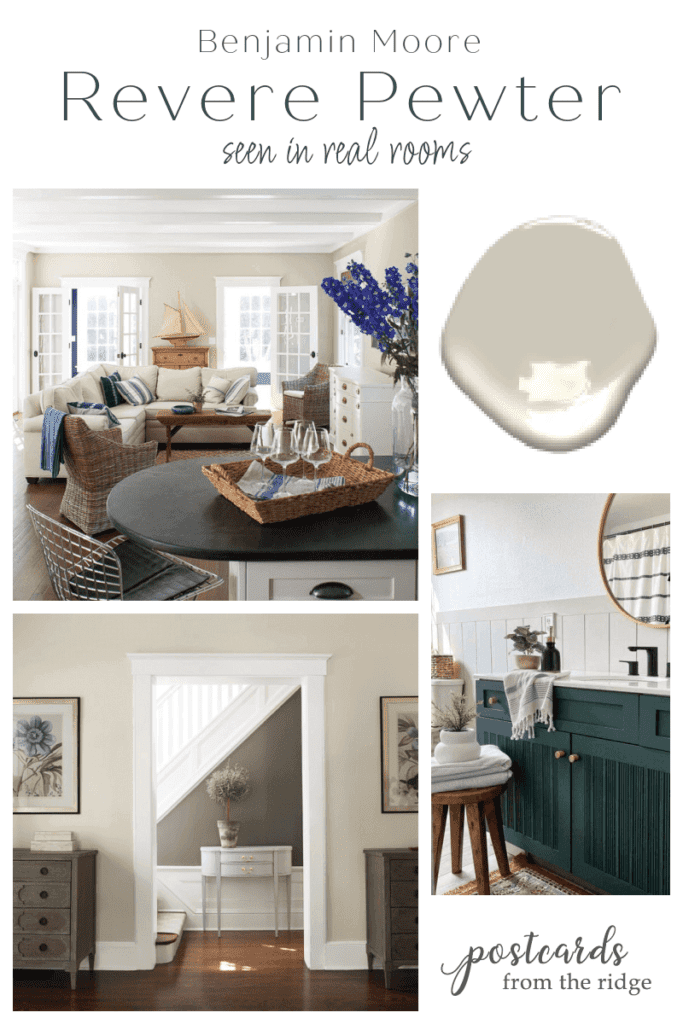 Is Revere Pewter Gray or Beige?
In short, yes. It's somewhere in between gray and beige but leans a little more gray in many situations.
Paint swatches shown above: Wythe Blue, New Providence Navy, Vermont Slate, White, Revere Pewter. Fabric available here: Blue Jacobean Floral Fabric
Is Revere Pewter outdated?
Even though it's probably been the top selling of all paint colors for about 10 years, Revere Pewter is still popular. It's from the Historic Collection from Benjamin Moore which includes colors that are classic, timeless and safe to use in any era. So no, it's not outdated.
What undertone is Revere Pewter?
Revere Pewter is a balance of warm and cool undertones. Like any color, it can take on a different look depending on the lighting and other elements in a room.
For example, it you look at it next to grays it will appear warm and it you have it next to warm colors it will appear more cool. In some situations very subtle purple undertones will be noticeable.
What's the LRV of Revere Pewter?
With a LRV(light reflective value) of 55.51, Revere Pewter is a solid mid-tone color. Not too dark or too light.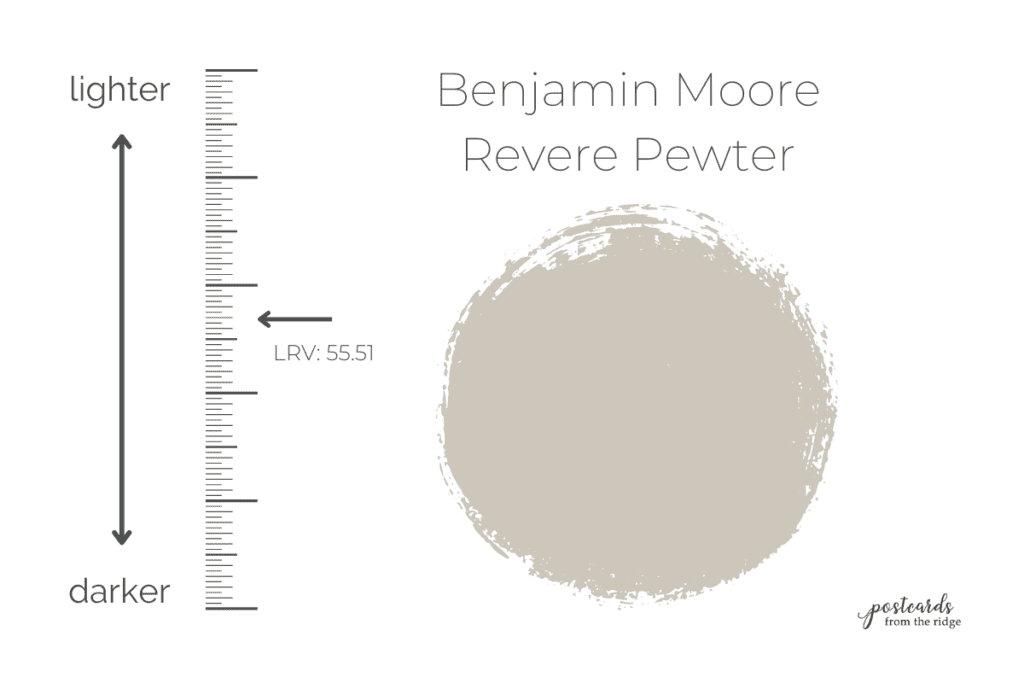 Tips for choosing your paint colors:
If you don't know where to begin, start with any items that won't be changing like large furniture pieces, flooring, or any other permanent features in the area to be painted.
Look for inspiration on pinterest, instagram, or in home magazines.
Once you've decided on the direction you want to go, narrow your choices down to 5 or less paint colors, ideally.
Keep in mind that paint colors will look more intense on your walls than they do on paint color strips with multiple shades. This means light colors will look lighter and dark colors will look darker.
Look at the color you're considering in the room that you will be painting, not outside in the bright sun.
See how the paint color looks in that room during different lighting situations…on a sunny day, on a cloudy day, with and without the lights on, and at night. They look different in each of these
situations.
I strongly recommend testing the color either by painting areas of the room (next to the trim) or by using a peel and stick paint samples. You can get them here: Samplize Peel and Stick Paint Samples. They're reusable, affordable, and you don't even have to wash out a brush.
Most importantly, remember that there's not a "perfect" color. There are likely a few good choices that will look beautiful in your room.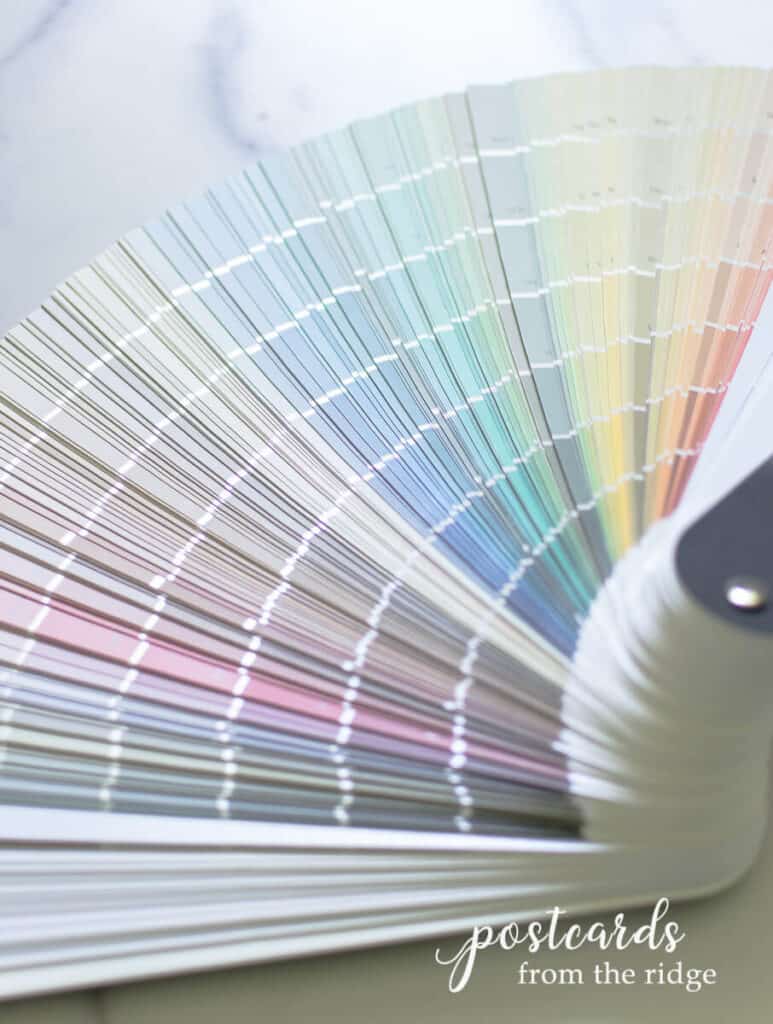 Be sure you don't make these mistakes when choosing your paint colors: 5 Ways NOT to choose a Paint Color
Join the VIP group and get these free paint can labels, a color tracker, and paint sheen guide for your files.
Now let's take a look at some rooms painted with Revere Pewter.
Revere Pewter in a Coastal Living Room
Revere Pewter is dark enough that it contrasts nicely with whites and off-whites, but not so dramatic that it competes with bold colors. It can ground and balance a room with colorful décor, or create a serene vibe when paired with pale hues and other neutrals.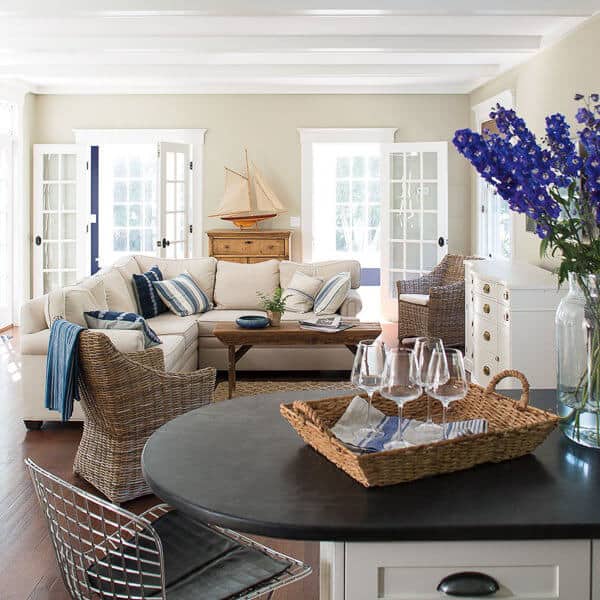 Benjamin Moore Revere Pewter with White Trim
For a classic look, use white trim and deeper shades such as Chelsea Gray as a complementary color.
Photo courtesy of Benjamin Moore. Far wall color is Chelsea Gray. Near wall color is Revere Pewter.
Benjamin Moore Revere Pewter Kitchen
Here's a beautiful example of Revere Pewter from Dear Lillie. I looks great with the hardwood floors and the pops of black and dark gray.
Revere Pewter Living Room
Jenny at evolution of style painted her living room walls with Revere Pewter and it looks amazing with her floor, furniture, and that gorgeous ceiling.
This living room painted with Revere Pewter look crisp and refreshing. The warm tomato red on the ceiling looks stunning. Would you be bold enough to paint a ceiling that color?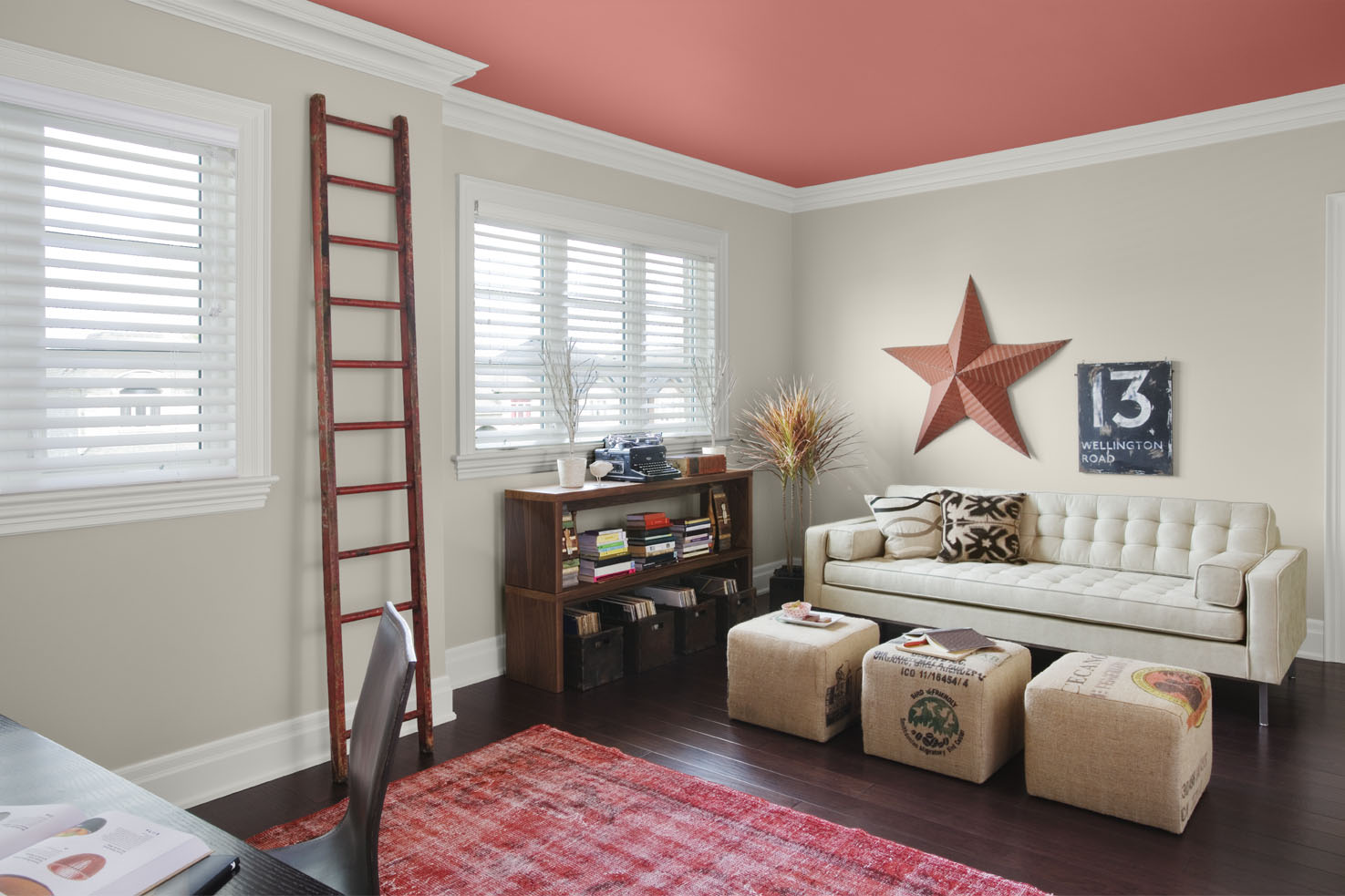 Revere Pewter is the perfect backdrop for the strong colors in this open room. And don't you love the chalkboard-painted re-purposed shutters on the wall behind the desk??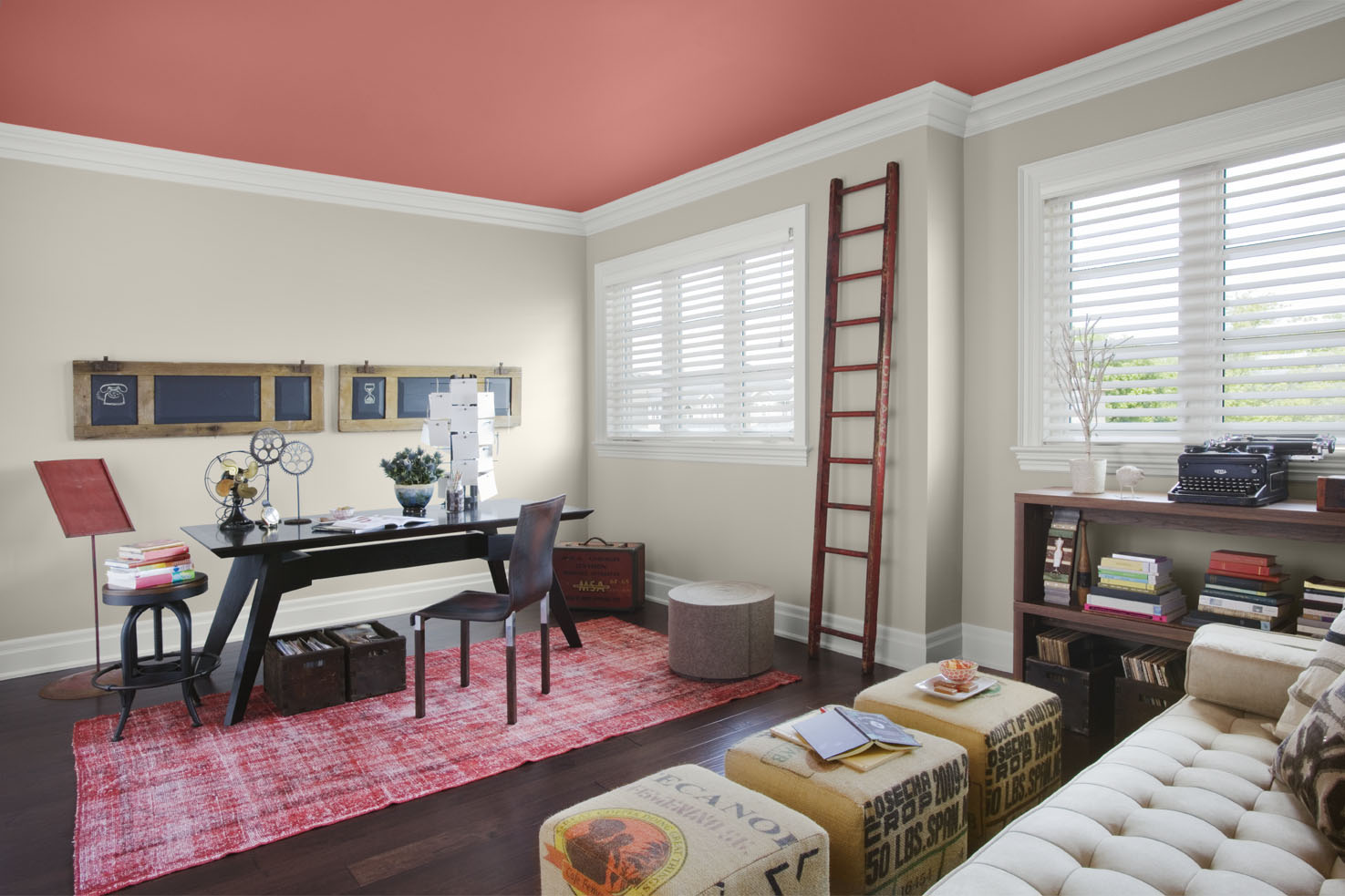 Revere Pewter Bathroom
In this bathroom from @themontanamodern, the Revere Pewter wainscoting is the perfect neutral to coordinate with her gorgeous green vanity.
In this classic bathroom it provides a clean and calm atmosphere. You could use any color towels or accessories in this room.
Traditional Bathroom by Hingham Architects & Designers 1 plus 1 design
Revere Pewter Laundry Room
The Revere Pewter walls in this laundry room from @rignellranch are fresh and clean looking, especially with the crisp white trim. Doing laundry in here might not feel like so much of a chore since it's such a pretty space.
Entry foyer painted with Benjamin Moore Revere Pewter
The design elements are not overshadowed by the subtle wall color in this gorgeous foyer. The Revere Pewter walls serve as a lovely backdrop for the door, light fixture, molding, and staircase.
Image courtesy of Traditional HOme
What colors go well with Benjamin Moore Revere Pewter?
There are so many colors that you could use with Revere Pewter. You can read my entire post with photos and colors here: Revere Pewter Color Palette. Here's a peek at my favorites:
Edgecomb Gray
Ashley Gray
Gentleman's Gray
Hunter Green
Jet Black
What trim colors go with Benjamin Moore Revere Pewter?
Depending on how much contrast you want, there are several good choices for trim colors that will look good with Revere Pewter.
Super White – a crisp, cool white that will give a stark contrast
Chantilly Lace – another crisp white that's not quite as cool as Super White
White Dove – a softer white that still looks sharp against Revere Pewter
What colors are similar to Revere Pewter?
Brushed Aluminum 1485
Pashmina AF-100
Thunder AF-685
What are some lighter shades of Revere Pewter?
Natural Cream OC-14
Alaskan Skies 972
Balboa Mist OC-27
Classic Gray OC-23
Winds Breath OC-24
Here's a color palette with lighter and darker shades of Revere Pewter. They're all good choices for adjoining rooms. Or you could use this palette for you whole home.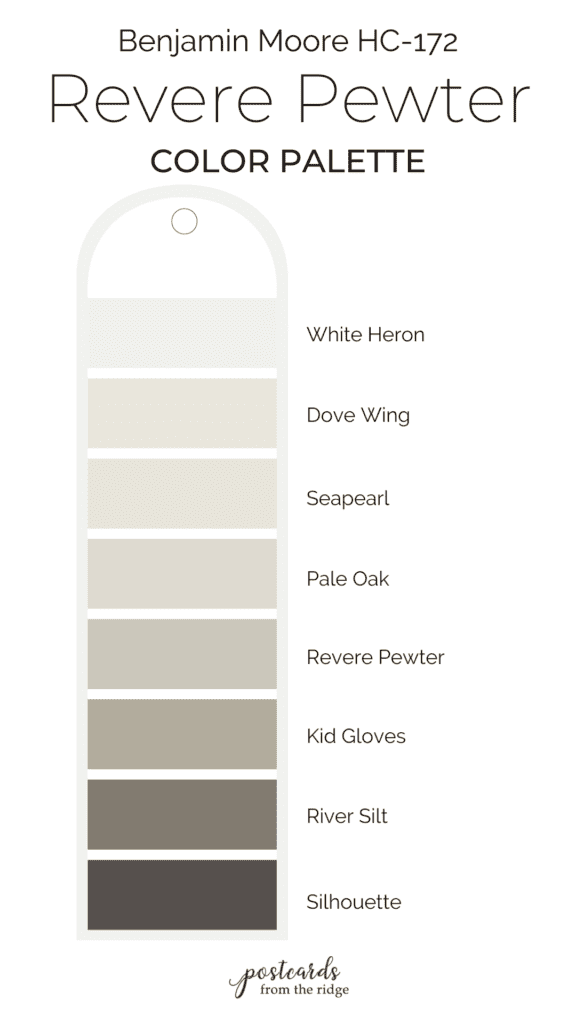 White Heron
Dove Wing
Seapearl
Pale Oak
Revere Pewter
Kid Gloves
River Silt
Silhouette
Try a sample
As with any paint color, you should try a paint sample on the wall, or at the very least get an actual swatch of it before painting with it. Computer monitors all vary in color and simply don't provide a completely accurate version of the true color.
Grab a peel and stick sample here: Benjamin Moore Revere Pewter Peel and Stick Sample , and a paint sample here: Benjamin Moore Color Samples
Looking for more neutral paint colors to consider? Check out these posts:
See the Color of the Year from Benjamin Moore and Sherwin Williams in these posts:
For dozens of other great paint color ideas plus tips for choosing them, visit all of my favorite paint color posts HERE.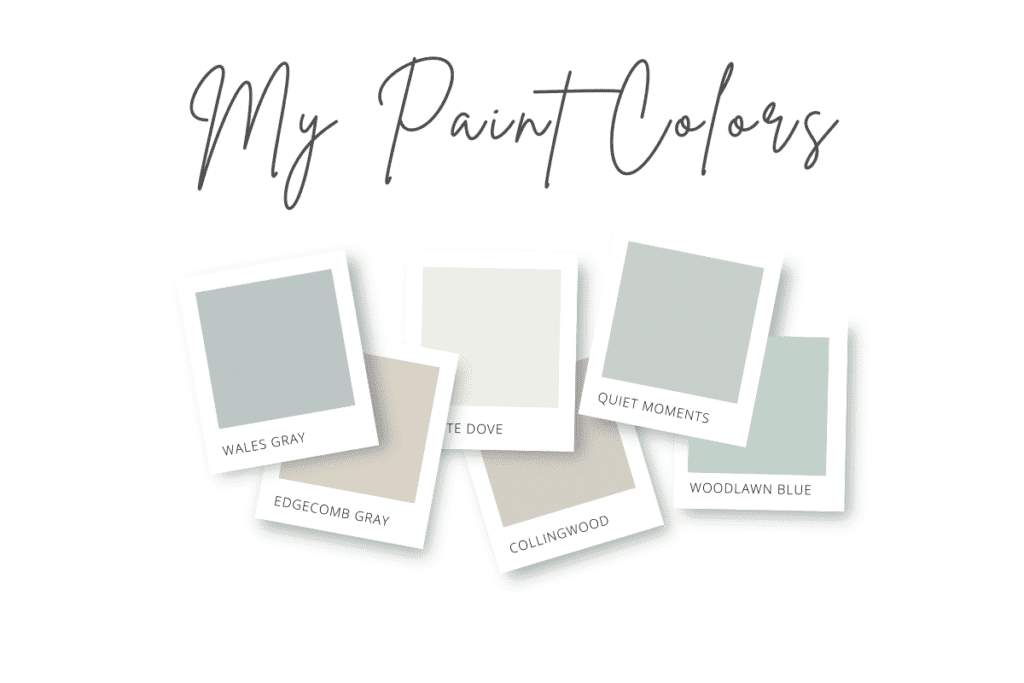 Paint colors in our home
Looking for the paint colors I've used in my own home? Take a quick tour and see them all here:
Have you used Revere Pewter before? If so, what did you think of it?
Thanks for dropping by!