Great Smoky Mountains Fall Color Palette and How to Use It
If you long for fall days in the mountains then you'll love this post. I'm sharing a Great Smoky Mountains fall color palette that you can incorporate into your home or office and be reminded of this wonderful place all year long.
Great Smoky Mountains National Park Color Palette
This post contains affiliate links for your convenience. I may make a small commission on products purchased with my link, but your price does not change. For full disclosure go here: Disclosure and Policies. Thank you for supporting my site.
Let's file this post under "All the things I love". It's the trifecta for me…color palettes, photography, and our incredible national parks!
It's also the kickoff of a brand new paint color palette series featuring colors inspired by national parks. You can look forward to many more of these including Grand Tetons, Rocky Mountains, Arches, Badlands, Yosemite, Glacier, Yellowstone, and more!
Today we're focusing on the Great Smoky Mountains because it's my favorite national park. It's near and dear to my heart and is also less than an hour from our home.
The colors in the Smokies are beautiful throughout the year but this color palette centers around the amazing fall colors. I'll add a spring color palette with the hues seen in the vibrant wildflowers in a few months so stay tuned!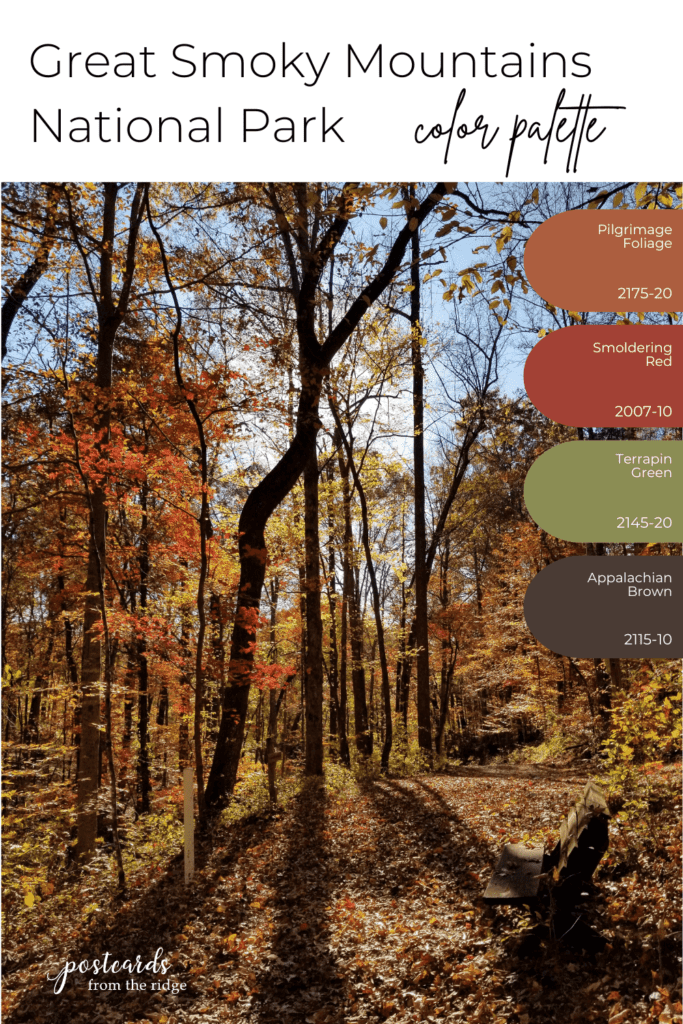 How to use this Smoky Mountains fall color palette
You're probably thinking, "These are great, but how do I use them?" And that's a very valid question.
Let's say you visited the park and have fond memories that you'd like to somehow incorporate into your home. There are several ways to do that and here are some ideas to get your started.
Paint a room
If you want to go all out with a themed room then go for it! Start with the color palette and choose a color that you like for your walls. Let's look at some rooms painted with similar colors for inspiration.
Cozy entry painted with Benjamin Moore Smoldering Red
Add a warm and welcoming punch to your entry with a bold color like Smoldering Red. It will make a statement and looks perfect in a cabin themed room.
And although the Smokies don't have quite as many maple trees with bright red leaves as Vermont, there are still quite a few of them to enjoy.
Photo courtesy of Benjamin Moore. Wall color is Smoldering Red.
Paint your entry with Benjamin Moore Thicket
Reminiscent of the soft greens in the park, Thicket or any sage green paint colors will add an earthy and soothing vibe to your home. It's a soft, warm, medium toned green that will add Zen to any room.
Photo courtesy of Benjamin Moore. Wall color is Thicket.
Knoxville Gray Mudroom
Knoxville is a short distance away from the park and is the home of the University of Tennessee main campus, which is near and dear to my heart since that's where my husband and I met.
Knoxville Gray HC-160 is a medium to dark blue-gray with a hint of green and is just gorgeous in this mudroom. The terracotta tiles are the perfect complement for it.
Photo courtesy of Benjamin Moore. Wall color is HC-160 Knoxville Gray.
Go bold in Benjamin Moore Cinnamon
A warm, rich color like Cinnamon will add drama to your home. Pair it with natural woven shades for texture, and black accents will look really sharp against it.
Photo courtesy of Benjamin Moore. Wall color is 2174-20 Cinnamon.
Cushing Green Walls
For a feeling of being deep in the forest, paint your walls with a dark green like Cushing Green.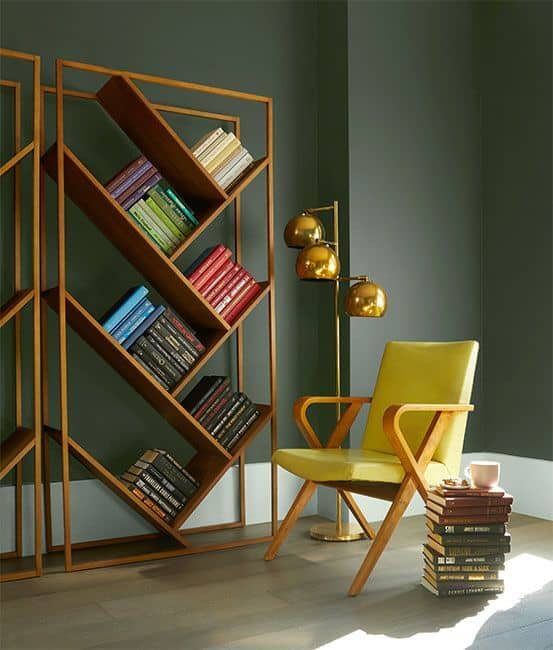 Photo courtesy of Benjamin Moore. Wall color is HC-125 Cushing Green.
Paint an Accent Wall
Gloucester Sage Accent Wall
If you'd rather not paint an entire room with a deep rich color, consider using one on an accent wall. The Gloucester Sage accent wall really makes an impact in this cozy bedroom with wide plank floors and a stone knee wall.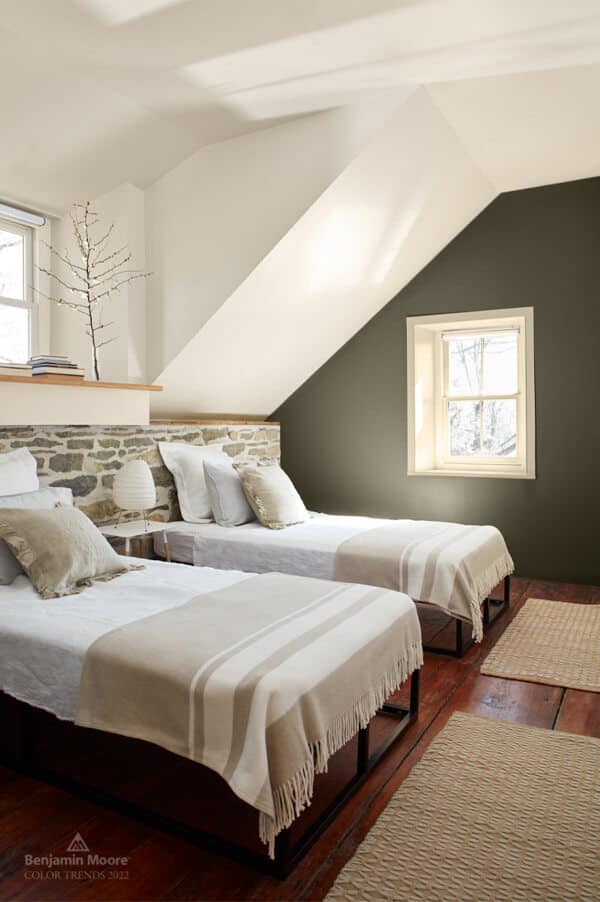 Photo courtesy of Benjamin Moore. Wall color is HC-100 Gloucester Sage.
Use Benjamin Moore Tamarind on some accent walls
If earthy colors are more appealing to you, go with a medium brown like Tamarind. You and add pops of color with your artwork, rugs, and accessories. Keep scrolling to see some great ideas for this.
Photo courtesy of Benjamin Moore. Wall color is AF-120 Tamarind.
Eye of the Tiger
Mimic the vibrant yellows found on the tress in the fall with Eye of the Tiger. And now you've got that song stuck in your head, don't you? You're welcome.
Anyway, this color is a pretty close match to the yellow leaves found in the Smokies during the fall months. Warm, golden, rich, and beautiful. But be warned, yellows and golds always look brighter and more intense on a large surface so be sure to test this one out before painting in on your walls.
Photo courtesy of Benjamin Moore. Wall color is 188 Eye of the Tiger.
Accent wall painted with Homestead
Green is a color that makes us feel peaceful and in harmony with nature. And using CC7-24 Homestead (AKA 474 Mistletoe) on an accent wall is a good way to introduce it into your home. It's beautiful with the stone fireplace in this room.
Photo courtesy of Benjamin Moore. Wall color is CC-724 Homestead.
York Harbor Yellow painted nook
An alcove behind your headboard is a fun place to get creative with color. The York Harbor Yellow in this room warms up the space and complements the cool neutral color on the remaining walls.
Photo courtesy of Benjamin Moore. Wall color is 2154-40 York Harbor Yellow.
Paint the trim with an accent color
Contrasting trim colors are currently trending so why not give it a try with some colors from nature? Here are some interesting ideas for that.
Nicolson Green trim with Bruton White walls
Dark green trim with creamy walls is a classic look that will never go out of style. This would work in a home with tradtional, colonial, lodge, cabin, or old English decor.
Photo courtesy of Benjamin Moore. Wall color is CW-710 Bruton White and Trim is CW-500 Nicolson Green.
Gray Horse beadboard and Bear Creek Trim
For a cooler, more rustic vibe consider using a dark taupe on your trim. The wood tones warm up this wall and balance the gray color on the bead board.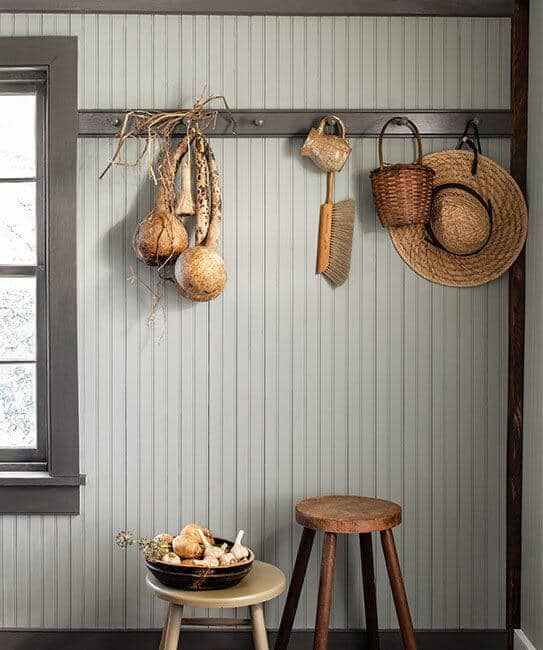 Photo courtesy of Benjamin Moore. Wall color is 2140-50 Gray Horse and Trim is 1470 Bear Creek.
Use Colorful Area Rugs, Wall Art, Decor, and Throw Pillows
Maybe you don't want to commit to painting something with one of the colors from this palette. If that's the case, you can use it as your inspiration and add items like area rugs and throw pillows. The room below with walls painted in Benjamin Moore Cloud White is a great illustration of this.
Photo courtesy of Benjamin Moore. Wall color is Cloud White.
Here are some home decor items that have these same colors or very similar:
Home decor items with colors from the Great Smoky Mountains
If you love the colors of the Great Smoky Mountains and are looking for ways to use them in your home, here are some favorite items to incorporate.
5 favorite things to do in the Smoky Mountains
Take a scenic drive
There's nothing like driving through the Smokies in the fall. For smaller crowds, visit in the mornings or weekdays. It can get really crowded in October when the leaves are at peak.
If you're new to the park or just want to learn more about it, I recommend listening to this self-guided driving tour for an interesting history lesson and great information about the park: Great Smoky Mountains National Park Self Driving Tour
Visit Cades Cove
The most visited area in the park is Cades' Cove. It's a breathtakingly beautiful cove with preserved cabins of some of the settlers who inhabited the area before it became a national park.
If you go there, allow a couple of hours due to the popularity of the area. And there's a really good chance you'll see a black bear since they're plentiful in this part of the park.
Go to Clingman's Dome
For an amazing view take a short hike to the top of Clingmans Dome Observation Tower. At 6643 feet above sea level, it's the highest point in the Smokies and is worth every step to get to the top.
Picnic by a stream
Be sure to bring snacks or a picnic with you as you drive through the park. There are picnic areas and tables along the side of the road.
Take a hike
Depending on your skill level, there are dozens of scenic hikes in the park and you can see a list of them here: Great Smoky Mountains National Park Hikes. Be sure to bring water and wear the right shoes if you go hiking.
Have you visited the park before? What are your favorite memories or things you want to do when you go there? Leave me a comment below and let me know!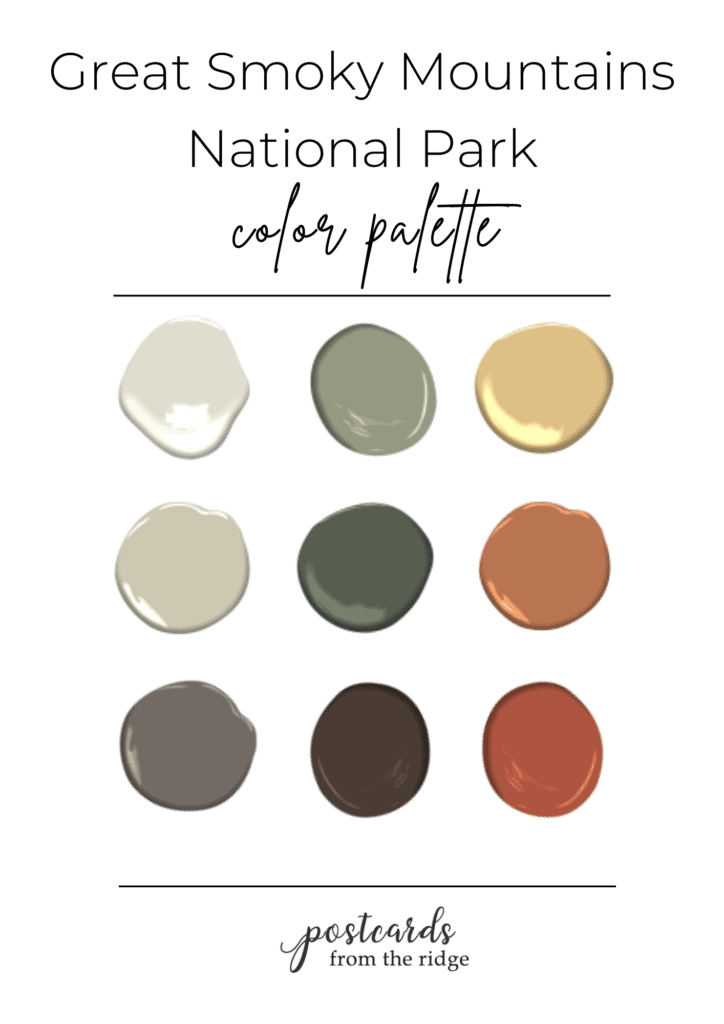 More Paint Color Ideas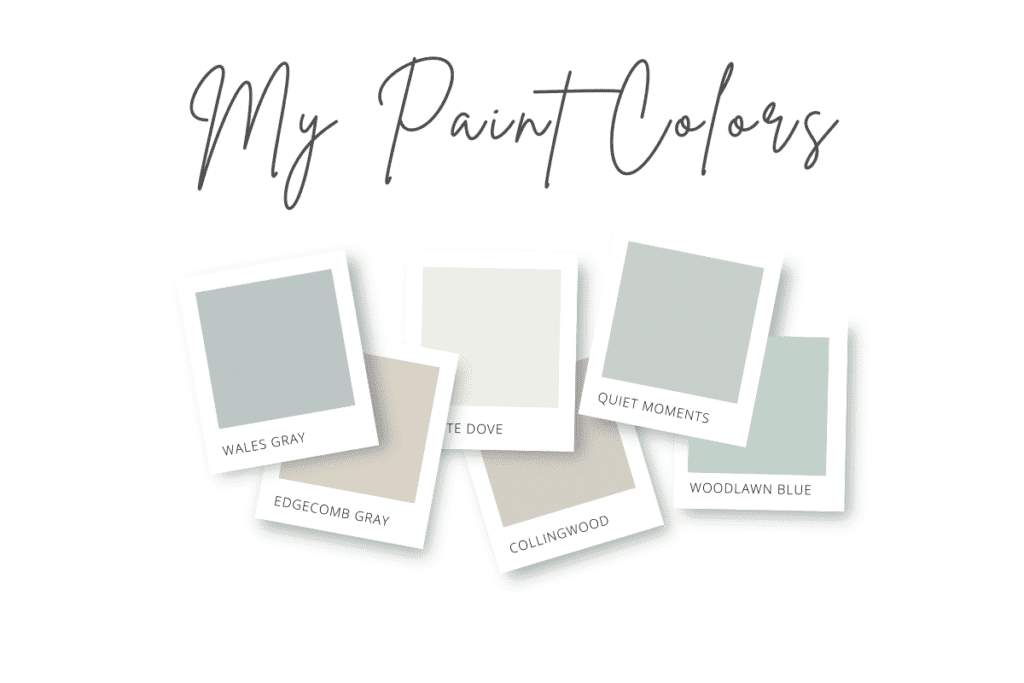 Paint colors in our home
Looking for the paint colors I've used in my own home? Take a quick tour and see them all here:
FAV SOURCES FOR PAINT & SUPPLIES
FAVORITE AREA RUG SOURCES
Fav sources for furniture