Home Tour with Paint Colors & Decor Sources
Home Tour with Paint Colors & Decor Sources
I've been asked many times where I found something or what our paint colors are, so here's a run down of what we have in our home. Things are constantly changing around here so if you're looking for an item that's not shown here email me at angie@postcardsfromtheridge.com and I'll send you current sources.
My favorite wall finish is eggshell, and I use Benjamin Moore paint. If you want to learn more about paint sheen and where to use each one, see my guide to paint finishes here: The Ultimate Paint Sheen Guide with Printable Chart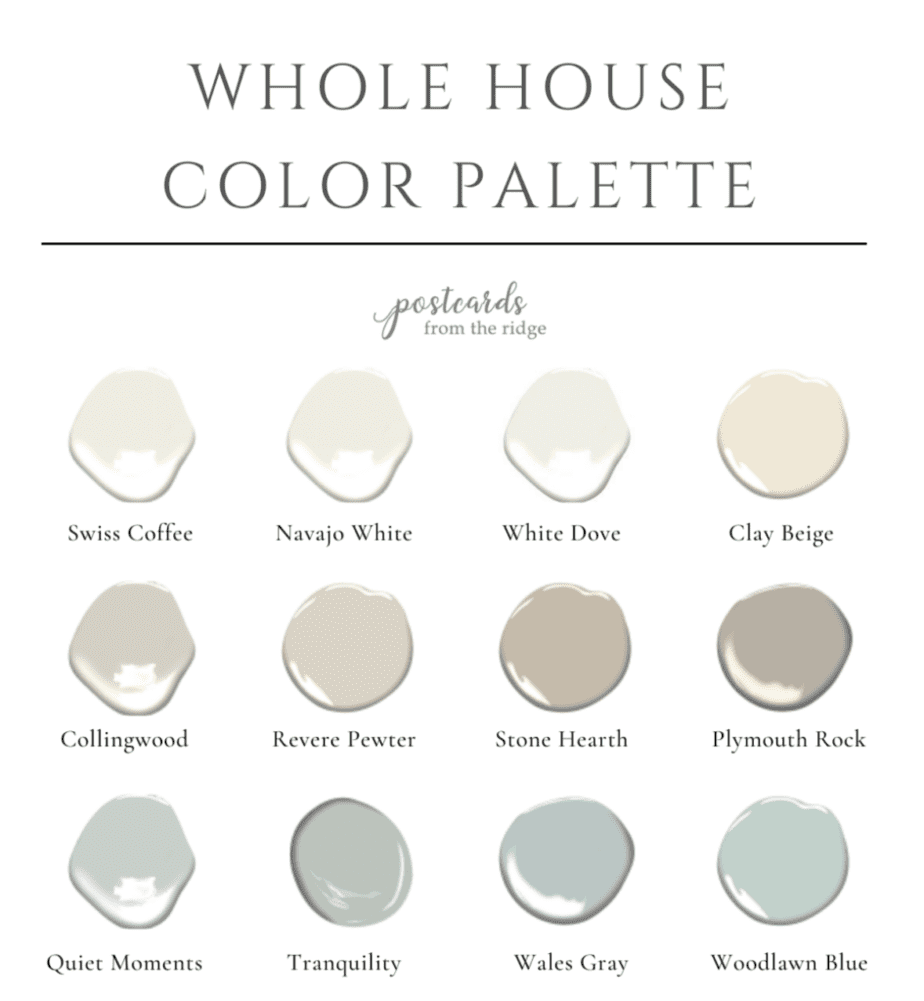 Try a Sample
Always test paint colors before you buy. I use and recommend Samplize Peel and Stick Paint Samples because they're mess-free painted with two coats of real paint!
Living Room in White Dove
You can see all the details of our recent update here: Fall Decor in the Living Room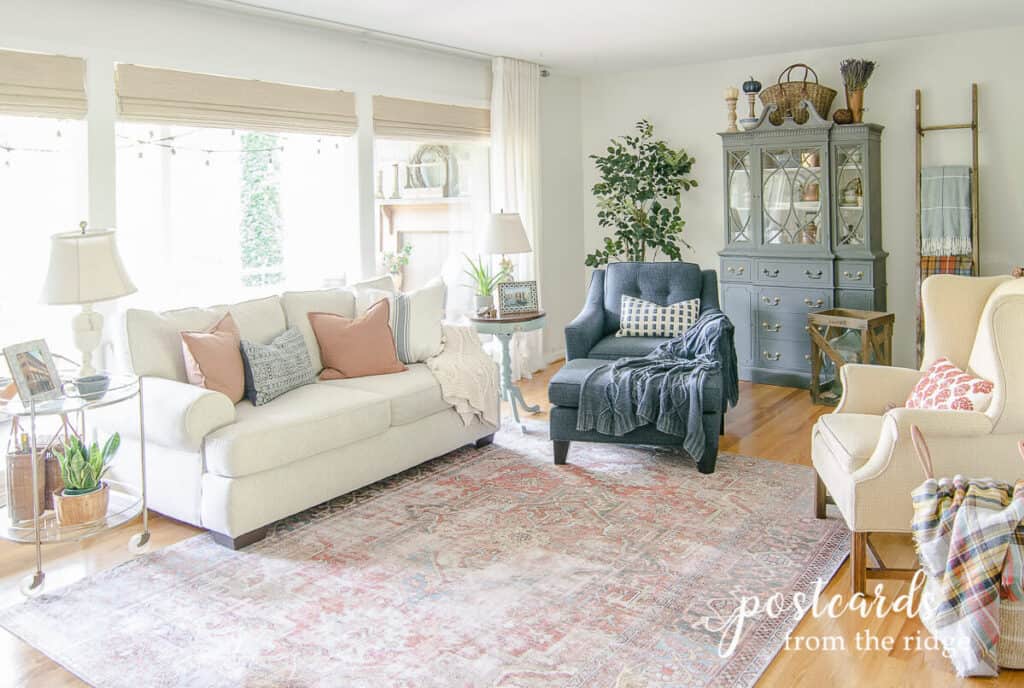 Shop this look:

Clay Beige Family Room
Walls – Benjamin Moore Clay Beige, Regal Eggshell Finish
Bookcases – Benjamin Moore Swiss Coffee, Advance Waterborne Satin Finish
Trim – Benjamin Moore Soft Chamois, Waterborne Satin Finish
I recently repainted the family room walls and bookshelves and will post a link to a tour of the room when it's published.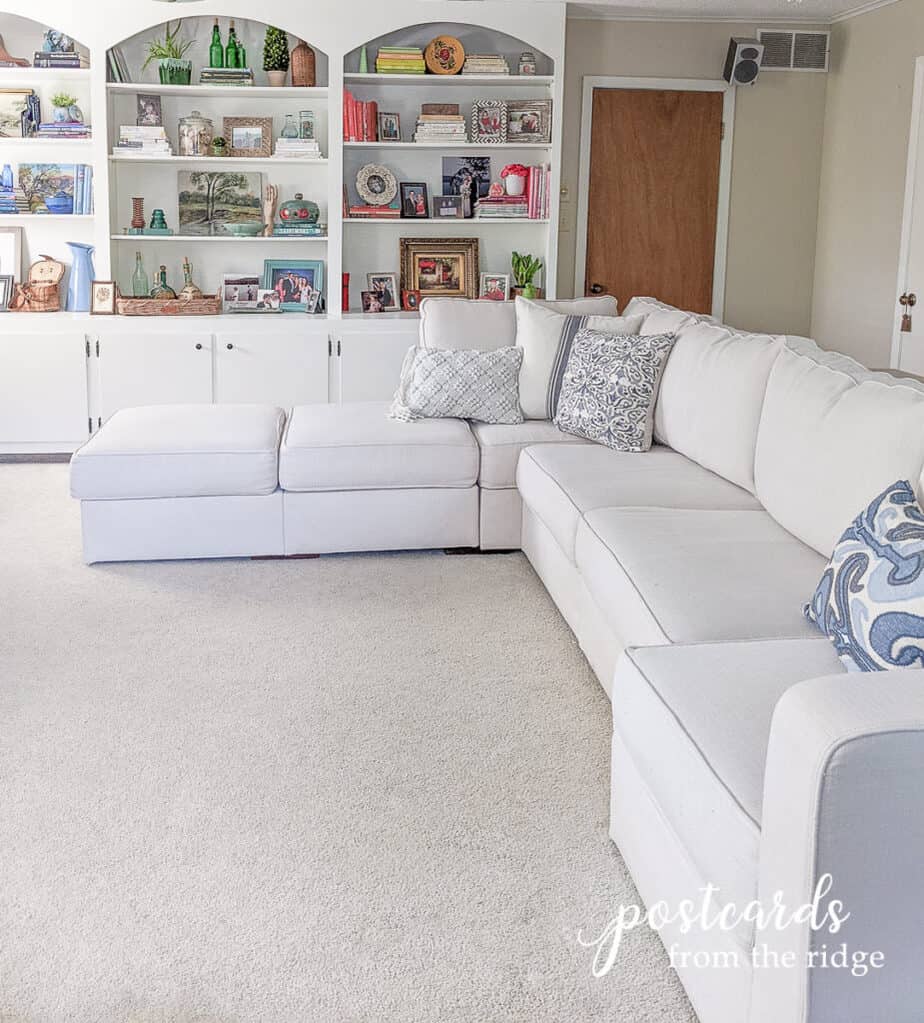 Egedcomb Gray Dining room
You can see more of this room here: Fall Dining Room
Shop this look:

Our remodeled half bath is Benjamin Moore Tranquility and the trim is White Dove. Take a tour and get all the details in this post: Half Bath Renovation Reveal and Details
Powder Room / Half Bath
Is it a half bathroom or a powder room? It's whatever you want to call it. And here are the colors: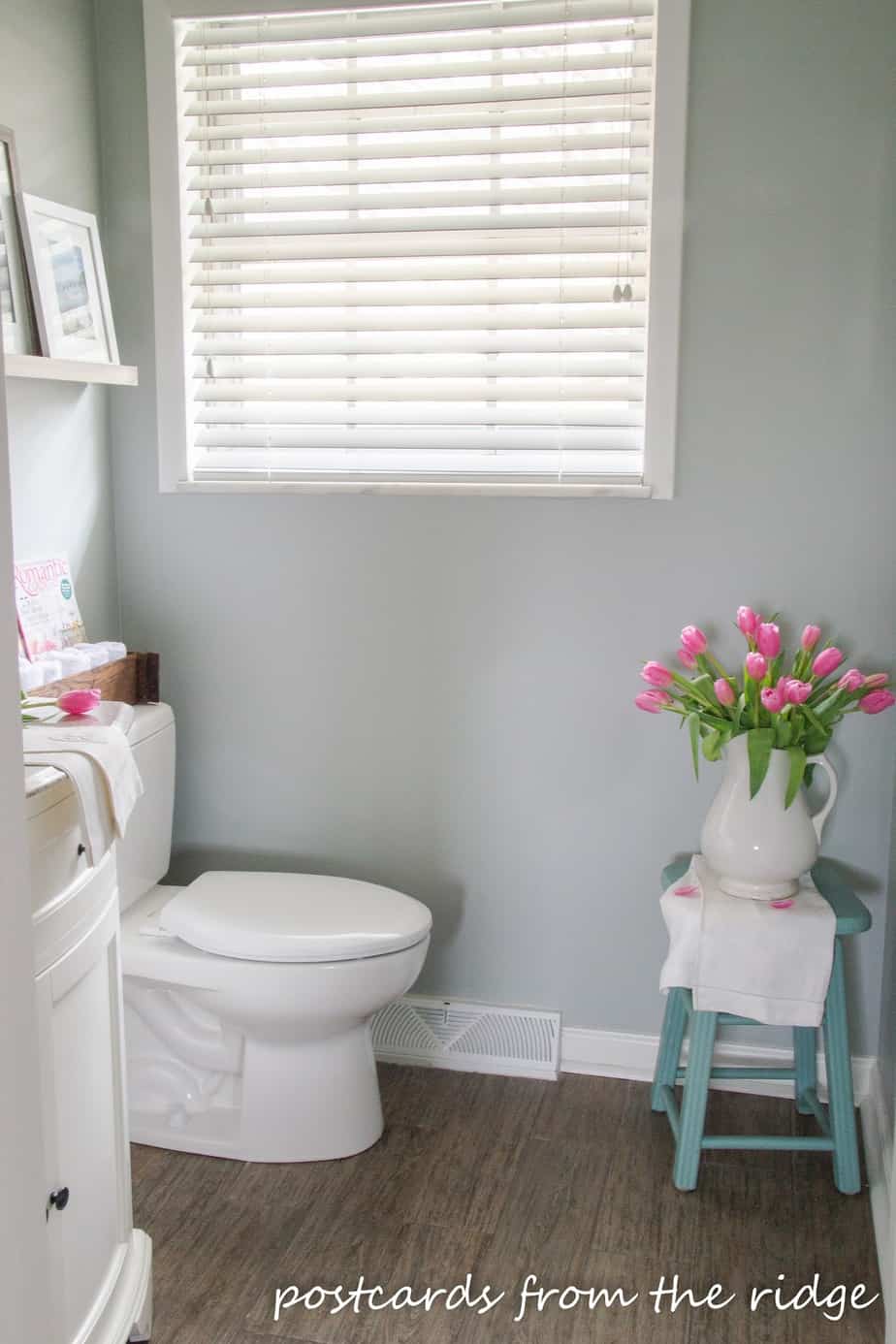 Woodlawn Blue Master Bedroom
Our bedroom is getting ready for a makeover but the paint colors won't be changing. Here's what I used:
Walls are Benjamin Moore Woodlawn Blue, Regal Eggshell Finish
Trim is White Dove, Waterborne Satin Finish.
See my plans for updating the room here: Bedroom Makeover Plan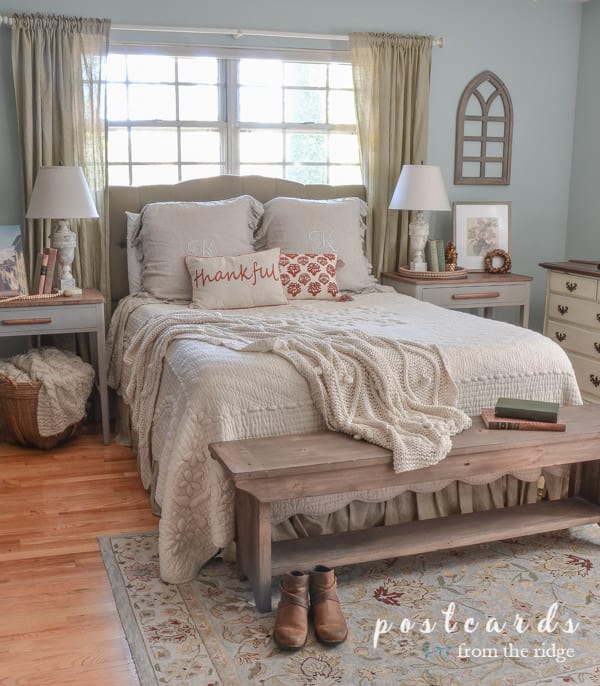 Wales Gray Master Bathroom
Wall paint color is Benjamin Moore Wales Gray, Regal Eggshell finish
Trim color is Chantilly Lace, Waterborne Satin Finish.
The vanity is painted with Night Train and a brown glaze. See how we made it here: How to Make a Bathroom Vanity from a Piece of Furniture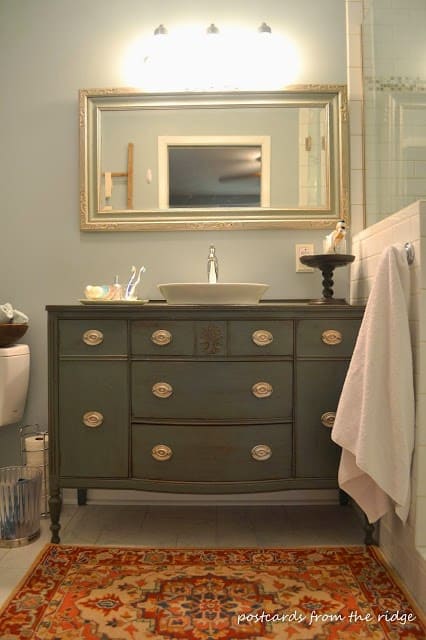 White Dove Craft Room / Studio
Walls are Benjamin Moore White Dove, Regal Eggshell finish
Trim is Benjamin Moore Olympic Mountains, Waterborne Satin finish
Floor is Benjamin Moore Pashmina, Urethane Acrylic Porch & Floor Paint.
Rug is Annie Sloan French Linen Background, Old Linen and Provence on the stencil design. Topcoated with Modern Masters Dead Flat Varnish.
Take a tour of this room that I updated for $100 here: Low Budget Craft Room Makeover
Stone Hearth Guest Bedroom
Walls are Benjamin Moore Stone Hearth, Regal Eggshell finish.
Trim is White Dove, Waterborne Satin Finish.
See how I gave this room a makeover for less than $100 here: Guest Bedroom Makeover Reveal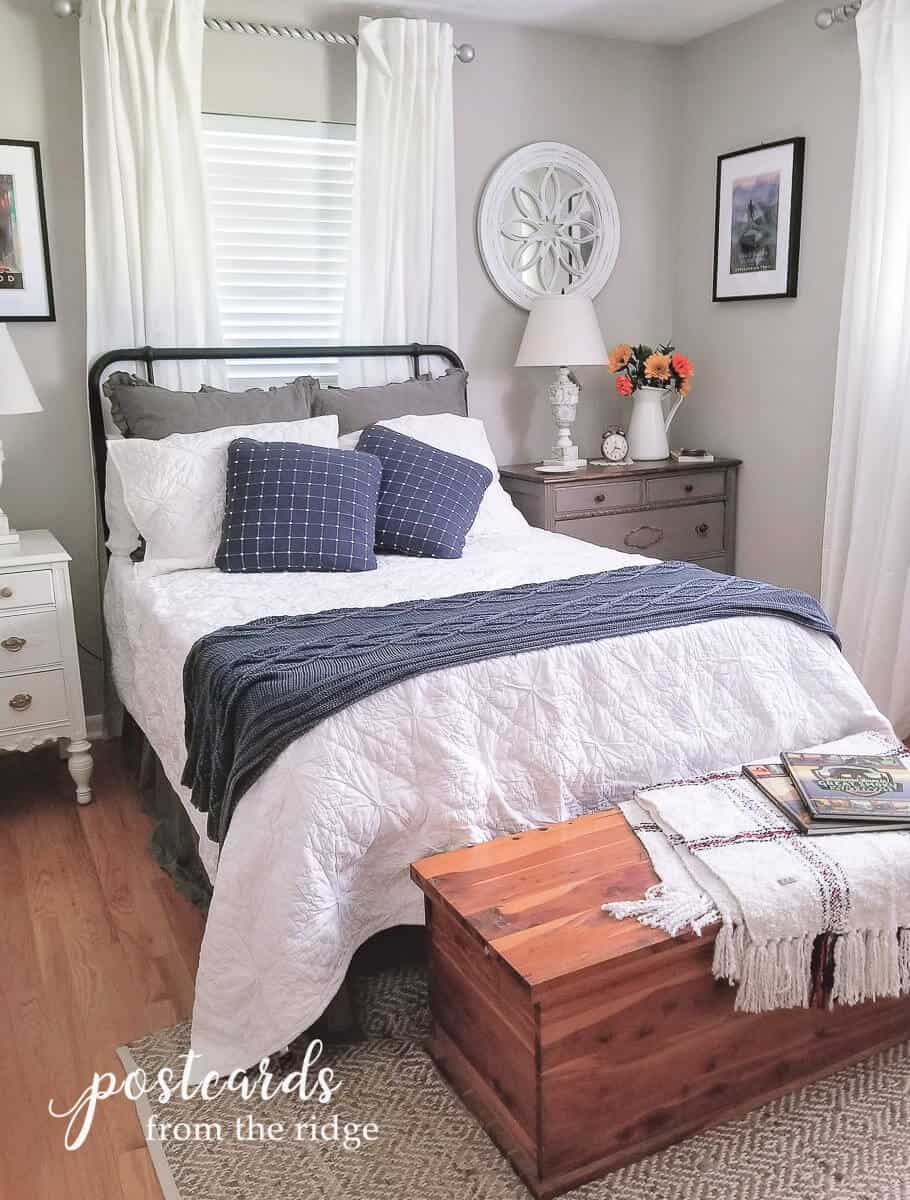 Plymouth Rock Guest Bathroom
We remodeled the guest bath several years ago.
Wall paint color in here is Benjamin Moore Plymouth Rock, Regal Eggshell Finish.
Trim color is a custom mix.
You can read about our remodel and see all the details here: Guest Bathroom Reveal
White Dove & Quiet Moments Laundry Room
Our laundry room got an update with paint and paintable brick wallpaper recently. Read about the $100 makeover of this room here: $100 Laundry Room Refresh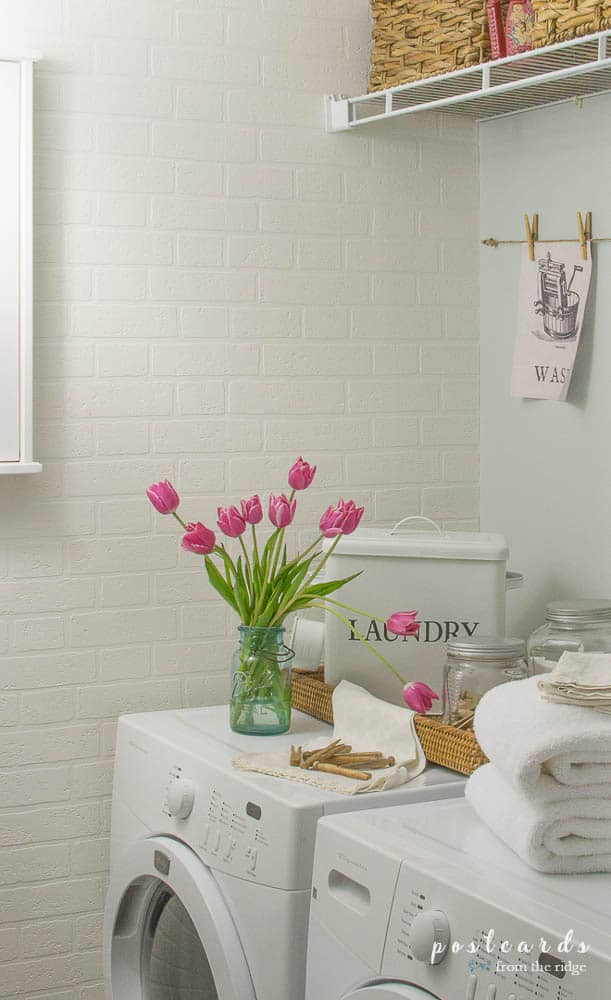 Shop this look:

Collingwood Entry with Printable Fern Art
Here's another room that got a $100 makeover. You can see all the details for this space get some of these fern printable for free here: Botanical Themed Entry and Free Fern Printables
Wall color is Benjamin Moore Collingwood, Regal Eggshell Finish.
Trim color is Benjamin Moore White Dove, Waterborne Satin Finish.

Basement Bathroom with Wallpaper and White Dove Paint
Our basement bathroom mostly has wallpaper, but the trim and floors have all been painted. Here are the details: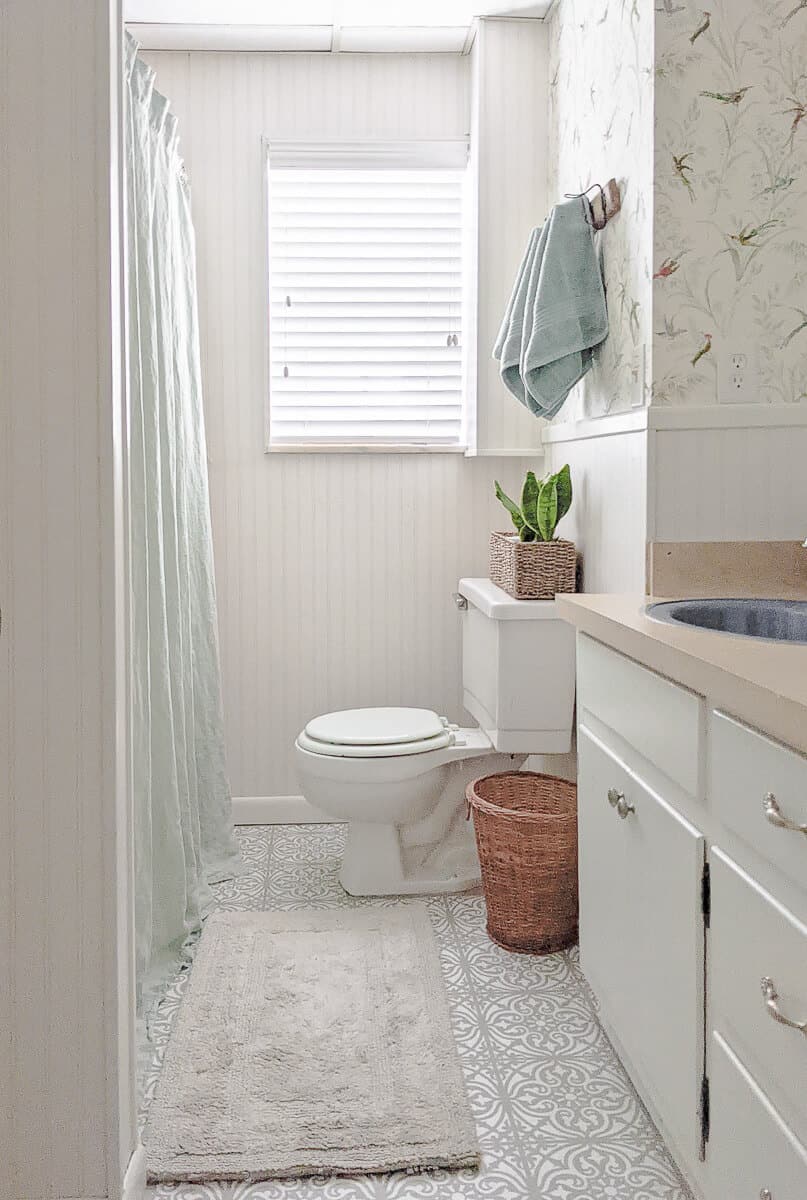 I still have a few rooms in our home that need updated photos and I'll be adding them soon.
Did you see a color that you want to try in your home? I strongly recommend testing colors before painting an entire room. My favorite way to sample paint colors is with Samplize Peel and Stick paint samples. They're reusable, repositionable, and mess-free. Grab yours here: Samplize
Need help choosing a paint color? Head over to this post for my best tips: How to Choose a Paint Color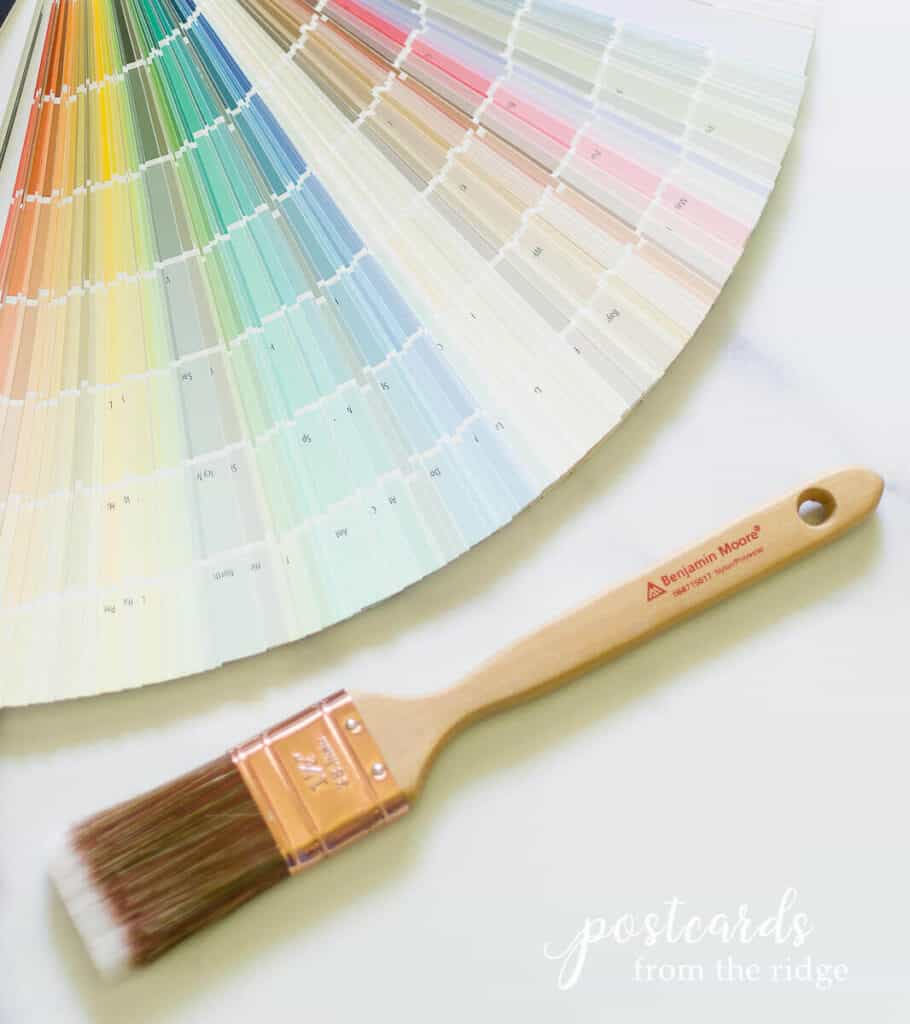 Let me know if you have any questions.
Want to see more of my favorite paint colors? Visit these posts: