25 Best Sage Green Paint Colors for 2023
If you're seeing sage green paint colors everywhere these days, you're not alone. This fab color is definitely trending now so if you're looking to refresh your home or office then it's definitely one to consider.
Here you'll see the best sage green paint colors to try in your home.
25 Best Sage Green Paint Colors for 2023
This post contains affiliate links for your convenience. I may make a small commission on products purchased with my link, but your price does not change. For full disclosure go here: Disclosure and Policies. Thank you for supporting my site.
Why is sage green so popular?
That's a great question and there are several reasons. Just like fashion, paint color trends change every few years. I've been recommending paint colors for 30 years and have definitely seen the cycles.
Remember the Tuscan colors of the early 2000's and the jewel tones or the 90's? And who can forget the dusty mauves and blues of the 80's? Anyway, paint color trends circle around just like jeans and hairstyles.
And after the cold grays and sterile whites that have been popular for the last several years, we're longing for something with more personality and warmth. Sage green fits the bill with its soothing and earthy hues.
FYI: The 2024 Sherwin Williams color trends have just been released and you can see them all here: 2024 Sherwin Williams Colors
How does sage green make a room feel?
Another reason to love this color is the mood that it brings to a space. As a general rule, sage greens add a sense of calmness and serenity to a room, somewhat like taking a peaceful walk out in nature. It has a way of lowering our stress level and we all need this after the last few years, amiright?
What color is sage green?
It's usually a green with undertones of gray, blue, or brown. There are dozens, if not hundreds of colors that could be called sage green.
Some sage greens resemble the color of fresh sage which is a muted, softened green with hints of gray. Others are more like the color of dried sage leaves that are darker and a little browner.
We'll take a look at several varieties here today from popular paint companies Benjamin Moore, Sherwin-Williams, Farrow & Ball, and Behr.
Is Sage Green warm or cool?
Most sage greens lean to the cool side of the color spectrum but some are also warmer. They all have varying amounts of colorants like blue, gray, black, oxide yellow, and even red or orange.
The amount of each colorant that goes into each color will determine the warmth or coolness of it. You'll see a wide variety of colors that have the word "sage" in them.
Here's an example of what I'm talking about: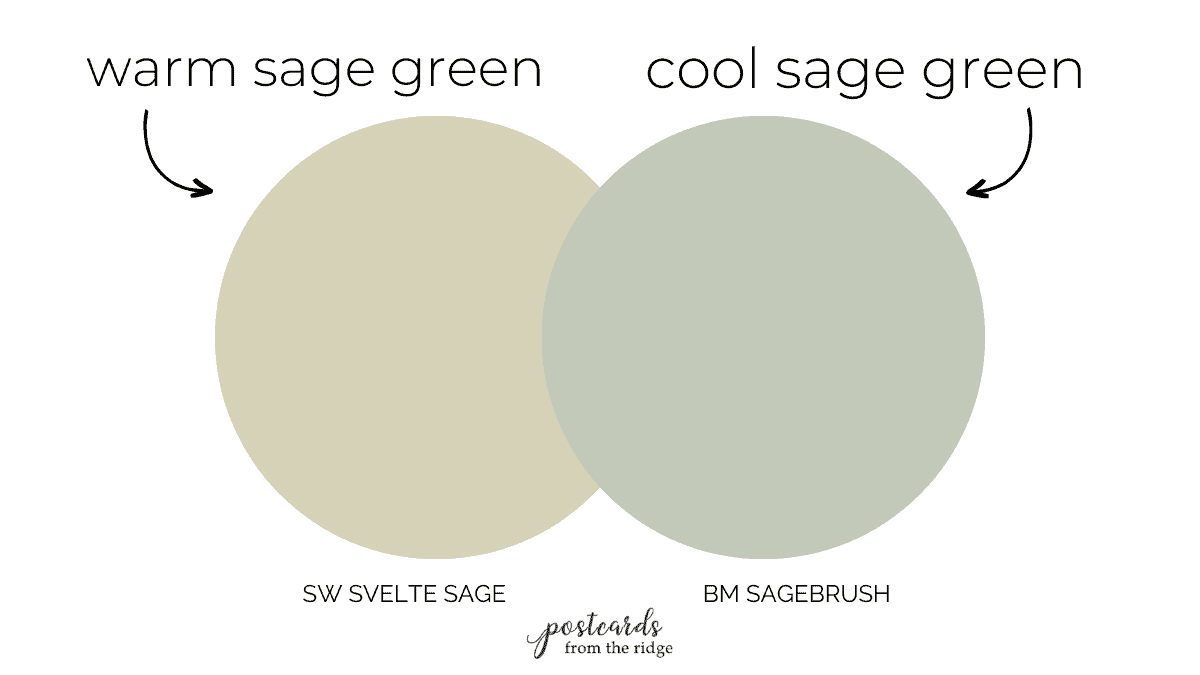 See what I mean? Sherwin Williams Svelte Sage has a few more drops of red or orange in it which neutralizes the green and gives it warmer undertones. The Benjamin Moore Sagebrush has more black and blue in it and it has a cooler appearance.
Why does it matter? The warmth or coolness of a paint color will be enhanced by the amount and source of light in an area.
Best areas to use sage greens with cool undertones
Rooms that get less light, like ones that face north and east, will benefit from using a paint color with a warmer undertone to warm up the coolness of the space.
Best areas to use sage greens with warm undertones
Rooms that face south and west get a lot of strong natural light look great with cooler colors. A sage green with cool undertones would work well in these areas.
Where NOT to use sage green paint
It's not recommended to use sage green paint in bathrooms where you apply makeup. The green can reflect off of the walls and give your skin a sickly color, causing you to possibly apply your makeup wrong. If it's a bathroom that isn't used for makeup application then it won't be a problem.
What color complements sage green?
Sage green is a very versatile color and can be used with many different complementary colors depending on the mood you want to create in your room. It often can be neutral but has a a bit more personality than grays, greiges, whites, or beiges.
Here are a couple of color palette ideas for you.
Soft Sage Green Color Palette
For a more subdued palette look for soft ivories, muted light corals, pale earth tones, and lighter woods with natural or gray undertones.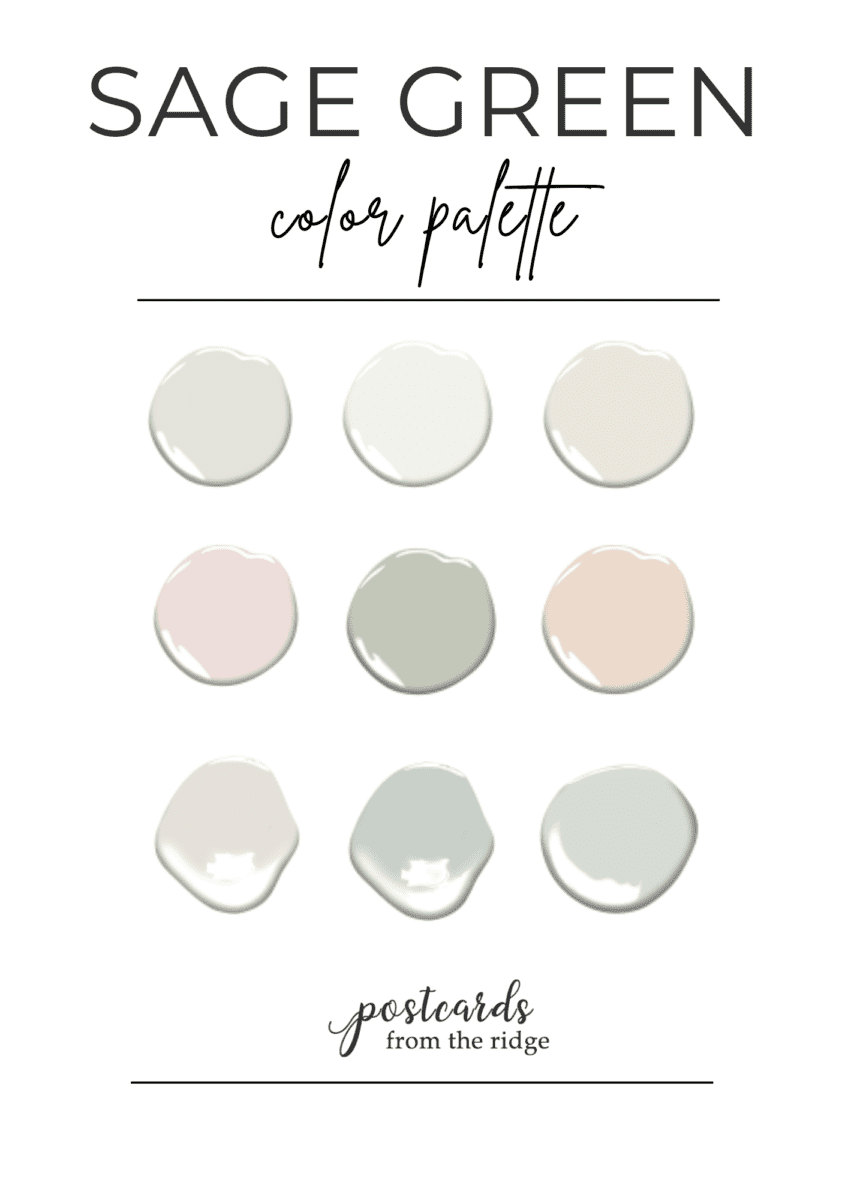 Best place to use this muted color palette:
Nursery
Bedroom
Entry
Laundry room
Dramatic Sage Green Color Palette
If you prefer more bold colors you'll want to use coppers, blackish browns, russet, and deep wood tones.
A bold palette like this is perfect for these areas:
A cozy modern kitchen
Family room
Bathroom.
Does sage green go with gray?
Yes, it can work if done right. There are hundreds of gray paint colors ranging from cool blue-grays to warm greiges. Sage greens with cool undertones could go with grays that are not too blue or not too greige.
Here's a favorite pairing of Benjamin Moore Sagebrush and Wickham Gray.
Is Sage Green Paint outdated?
On the contrary. Sage Green is the hottest color for 2023 and will be for the next several years. You can feel safe in knowing that this color will be popular for a while since it's trending upwards. NOTE: I don't recommend using it just because it's on trend. Use what you love and what works in your home, regardless of what's "in". If it does appeal to you, there are lots of great ways to use it in your home.
If you want to see more ideas for current paint colors be sure to visit these posts:
Sage Green Home Decor
If you aren't quite ready to commit to painting your walls with sage green you can always add in a few accent pieces. Here are some favorite home decor items and you can see dozens more in my Amazon Sage Green Favorites shop.
What trim colors go with sage green?
Soft whites paired with sage green will give a more subtle contrast but you could also use a crisp clean white with a lighter color.
Most sage greens look great with these trim colors:
See many more options for whites and off whites here: 20 Best Whites and Off Whites from Benjamin Moore
What are the most popular sage green paint colors?
Every paint brand has several versions of this popular color and I've rounded up the 25 best ones. Grab a drink and get comfortable because there are a lot of great colors to see here. (Stay tuned for a roundup of the best light sage green paint colors coming soon.)
Best Sage Green Paint Colors
Sage green colors will give your rooms depth and personality. They're perfect for bedrooms, living rooms, kitchens, or any room you want to make feel more cozy and warm.
Here are the best ones with photos of them in real rooms.
Farrow & Ball Mizzle
From our favorite paint brand from across the pond, Farrow & Ball Mizzle is definitely a top choice for sage green walls. It's soothing, soft, and will make your room feel like it's giving you a warm hug.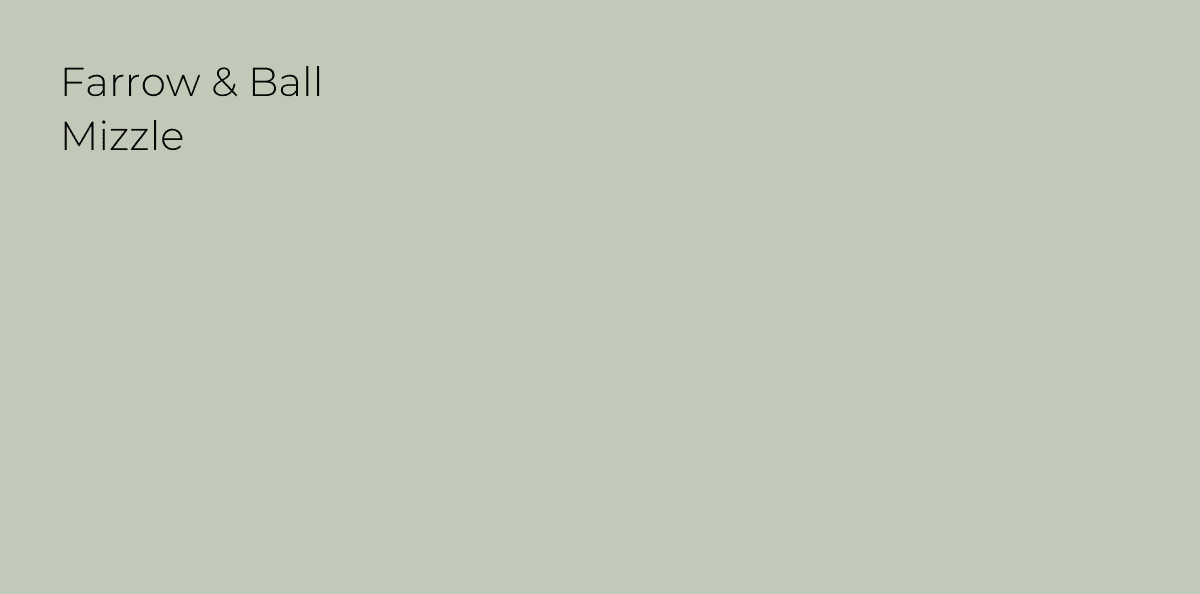 Benjamin Moore Saybrook Sage HC-114
Saybrook Sage has been a classic paint color for decades. It's from the Historical Collection from Benjamin Moore and is a timeless choice for any era. The best places to use it today are kitchen cabinets, exteriors (see image below), built-in bookcases, and any room you want to create a Zen-like feeling.
This cozy bungalow looks so charming with Saybrook Sage siding. The door is painted with New London Burgundy.
Another classic old house, this one has Saybrook Sage as the main siding color with Wethersfield Moss as an accent. The trim color is Navajo White white and the accent stripe is Georgian Brick.
Benjamin Moore Horizon Gray
Horizon Gray is a little less green than some of the other sage greens, but it definitely is still in this color family. Best place to use: this cool, muted color is a good choice for rooms that get a lot of late afternoon sun (facing west) to counter balance the warm yellow rays of sunshine.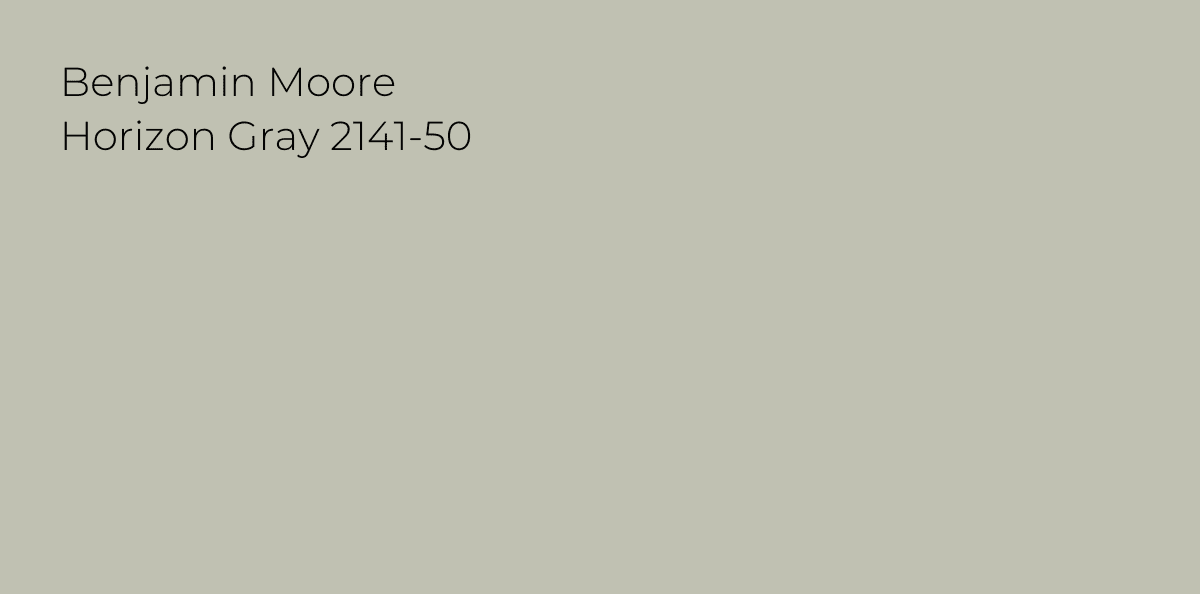 This stunning classic kitchen has Horizon Gray walls paired with White Dove cabinets and warm natural wood accents.
Benjamin Moore Soft Fern
Soft Fern…doesn't the name make you want to take off your shoes and walk barefoot? This warm medium tone green from Benjamin Moore has slight yellow undertones and a very earthy hue.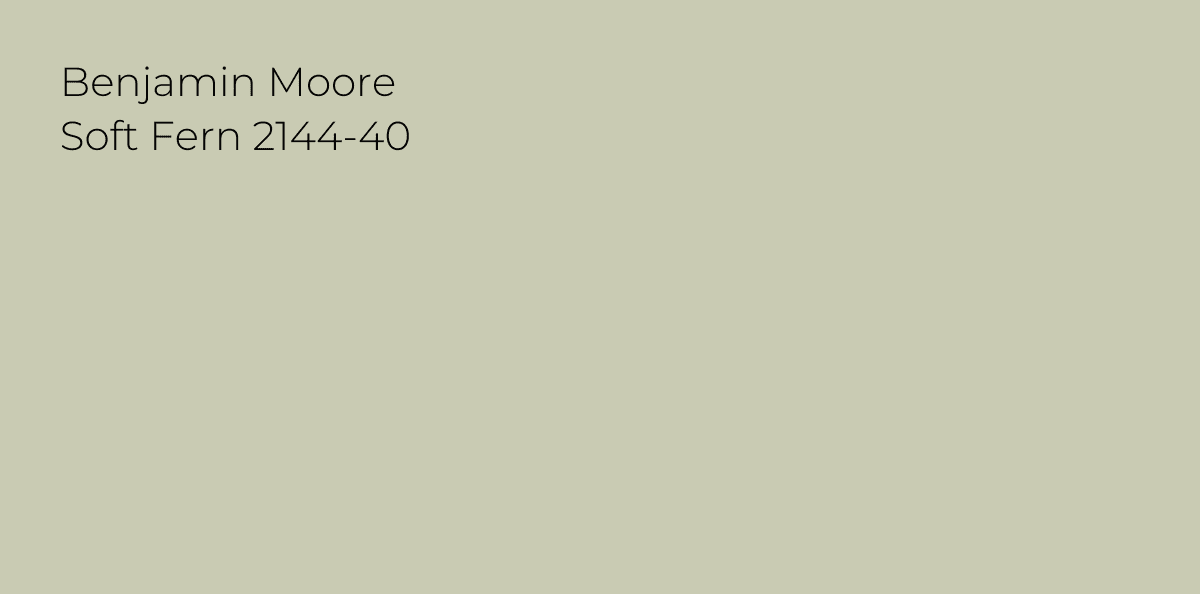 Sherwin-Williams Soft Sage
If you want less yellow and a little more brownish-gray undertones, Sherwin-Williams Soft Sage might be the best paint color for you. It's a muted mid-tone color that has a definite soothing quality to it.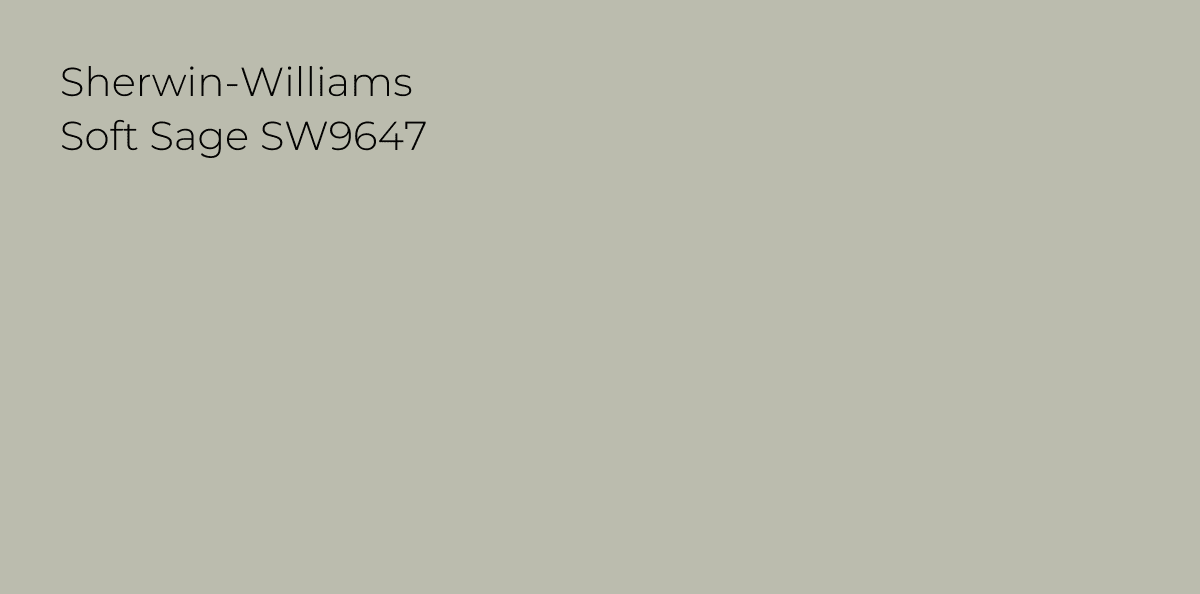 My favorite paint brush for the past 20 years is also a favorite of nearly 11,000 amazon reviewers. Grab this affordable and comfortable-to-hold brush here -> MY FAVORITE PAINT BRUSH
Sherwin-Williams Filmy Green SW 6190
Who came up with this name? Although it deserves to called something better, Filmy Green is a delightful color. It's soft and subtle with muted earthy undertones. Perfect for a relaxing bedroom, half bathroom, laundry room, or kitchen.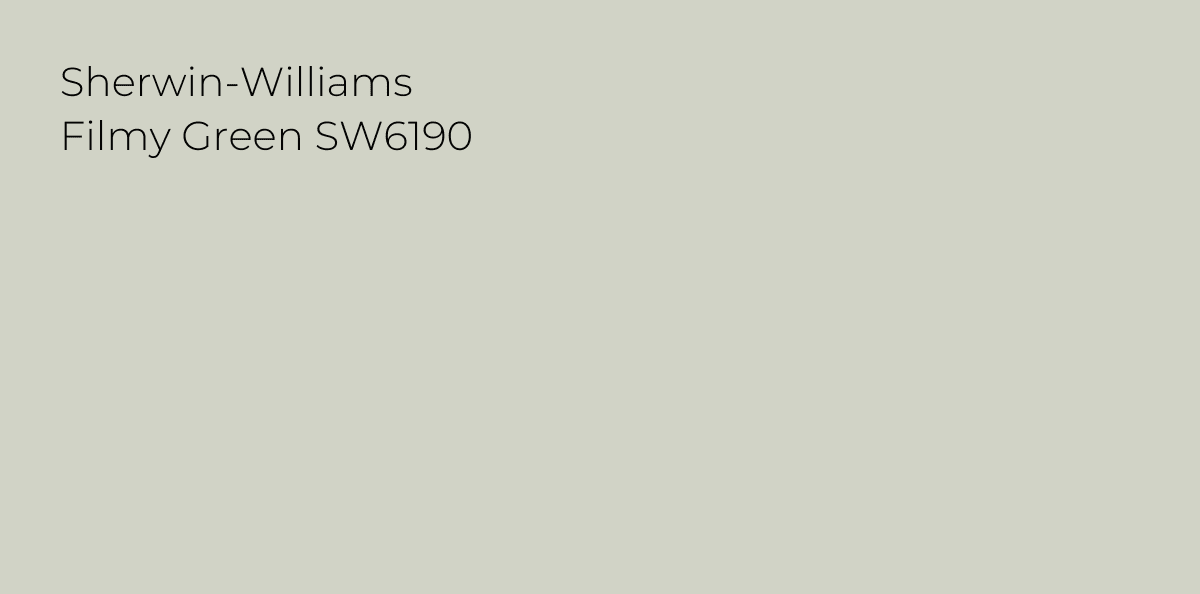 Sherwin-Williams Contented
If the name is any indication, then you'll feel Contented with this soothing hue. It's slight darker than Filmy Green but has the same soft, muted, earthy undertones. It looks beautiful in the bathroom pictured below.
Benjamin Moore Sagebrush
Reminiscent of the scrubby sagebrush bushes out west, Sagebrush has a natural and comforting hue. It's a very neutral shade that works in any space and with many different colors.
I created 2 color palettes centered around this hue and you can download and print them when you sign up for my newsletter (sign up form is at the bottom of the post).
Benjamin Moore October Mist
The color of the year for 2022 from Benjamin Moore is October Mist and it has become one of their top sellers. It's a medium tone color and is a wonderful choice for cabinets, accent walls, or any room you want to add a bit of coziness to.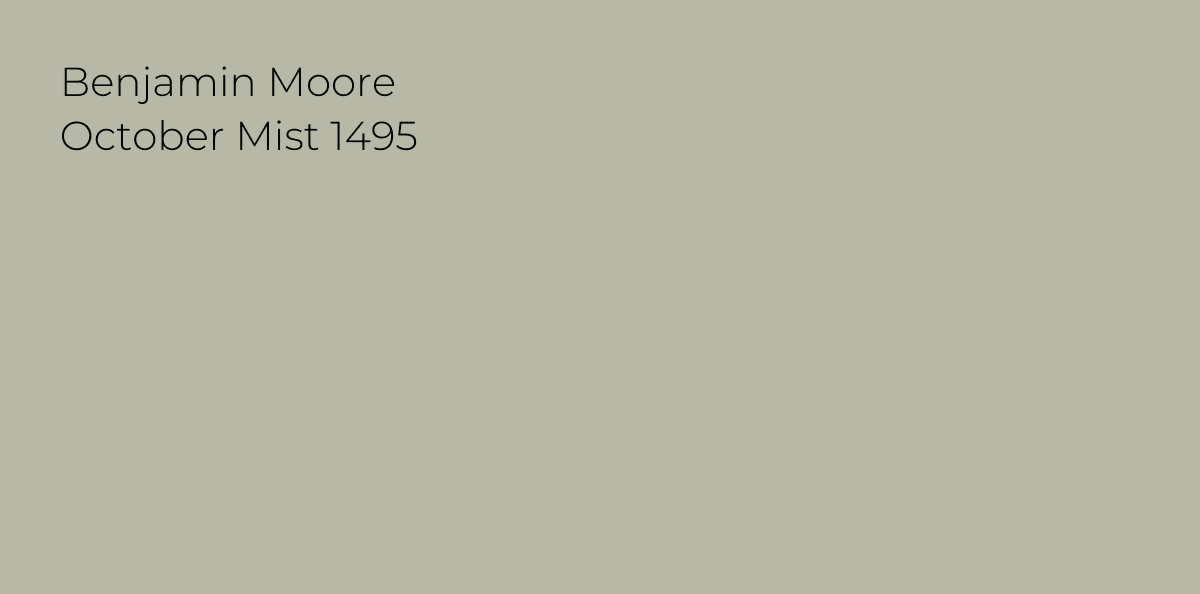 Sherwin-Williams Softened Green
Sherwin Williams Softened Green is has warmer undertones than some sage greens. It brings a subdued elegance to any space and has a evokes the feeling of being outside.
Benjamin Moore Tree Moss
Tree Moss is on the warmer spectrum and is a bit more lively than some sage green colors. It's very warm and earthy and brings a sense of nature to any room it's used in.
Sherwin-Williams Clary Sage
Here's a popular medium tone sage green that's great for accent walls, cabinets, and more. Use it with soft whites, muted grays, or deep russet and blackish browns. Read my full review of this popular sage green color and see it in more rooms plus two color palettes here: Sherwin-Williams Clary Green Review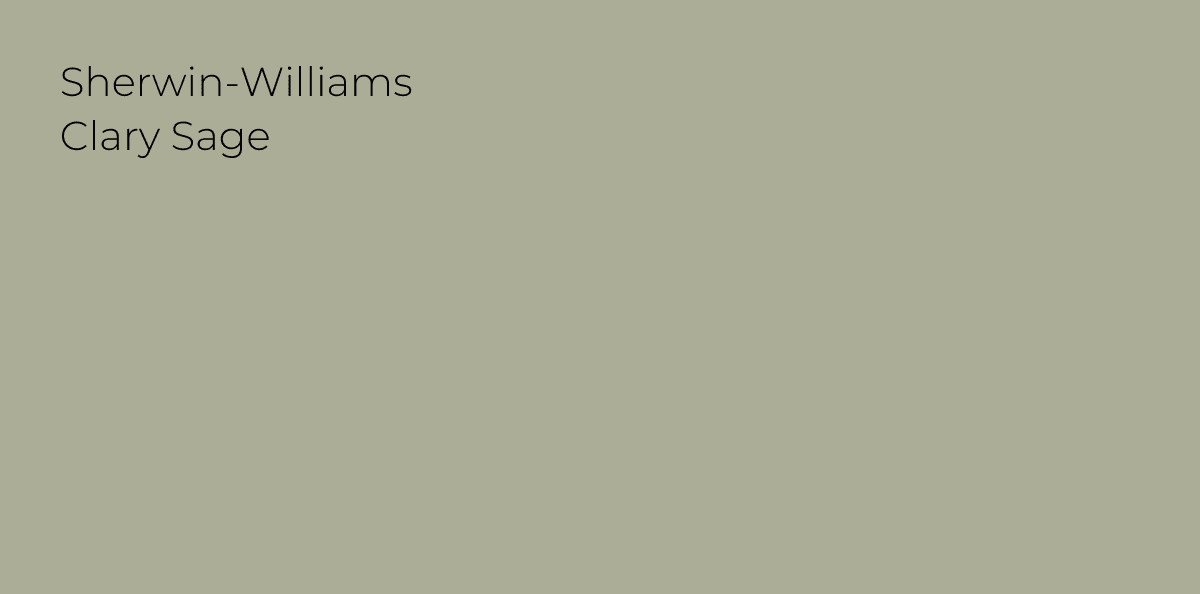 Benjamin Moore Oil Cloth
Make an impact with this color. Oil Cloth has a bit of a cooler appearance with slight gray undertones and looks amazing on cabinets, kitchen islands, accent walls, and furniture.
Photo courtesy of Heidi Caillier Design
Sherwin-Williams Frosted Fern
If your prefer a color similar to dried rubbed sage, Frosted Fern might be a good choice. It has brownish-grayish-green undertones and is a great complement to dark earth tones.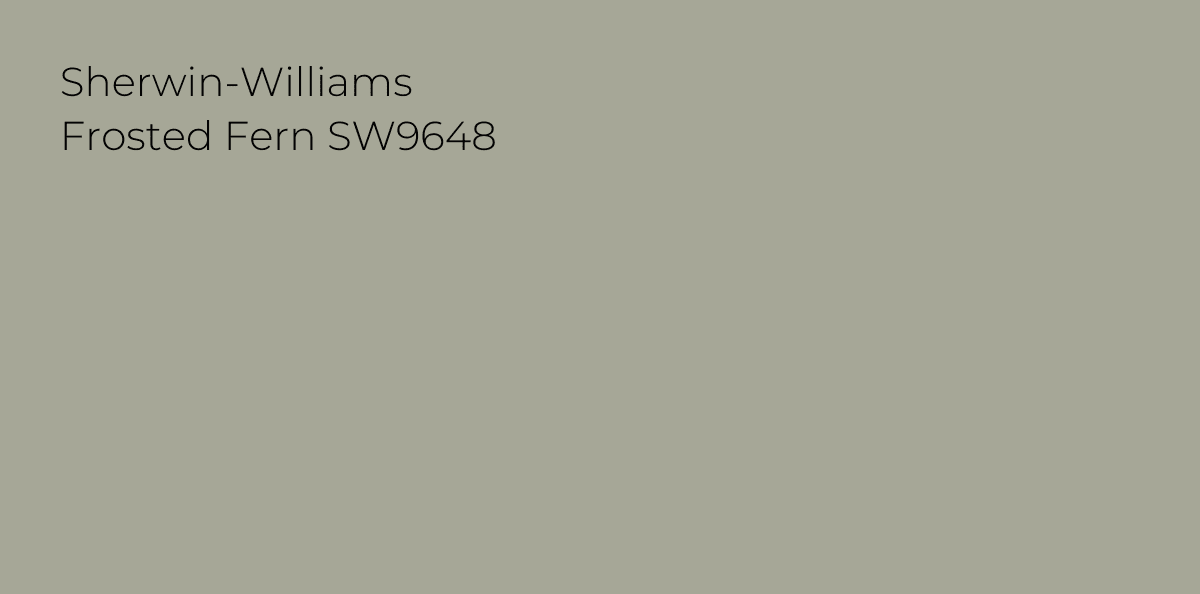 Behr Simply Sage
Almost the same as Frosted Fern, Behr Simply Sage is another color with brown, gray, and green undertones. It's a soft, darker, muted sage green than makes a room feel more soothing.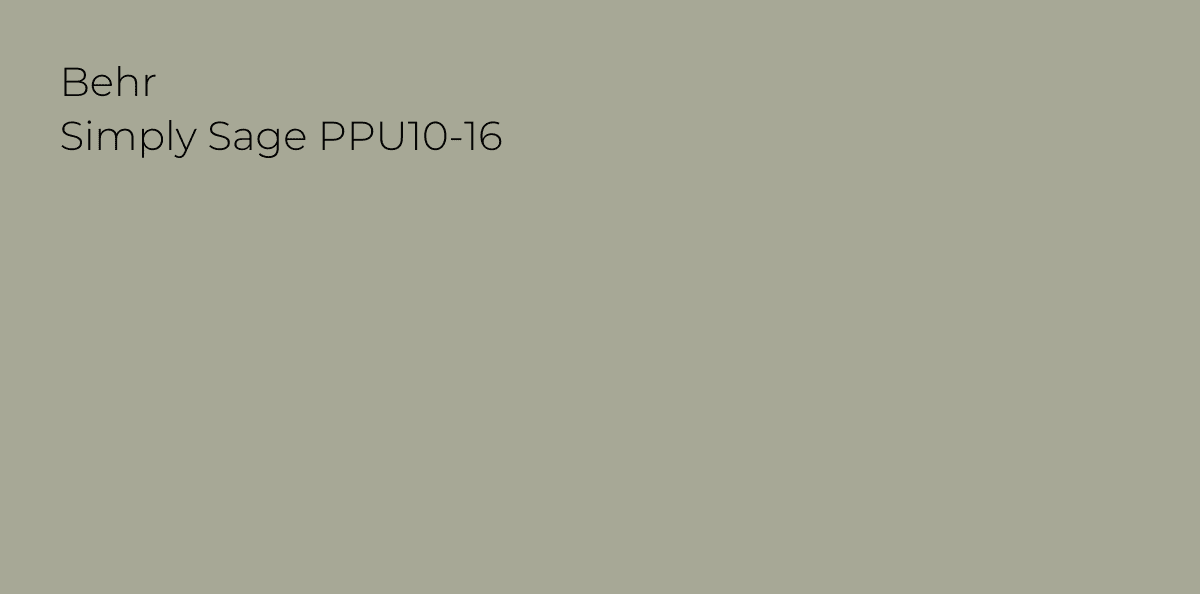 Benjamin Moore Louisburg Green HC-113
From the Historic Collection of Benjamin Moore, Louisburg Green is a timeless and classic hue that works in any decade.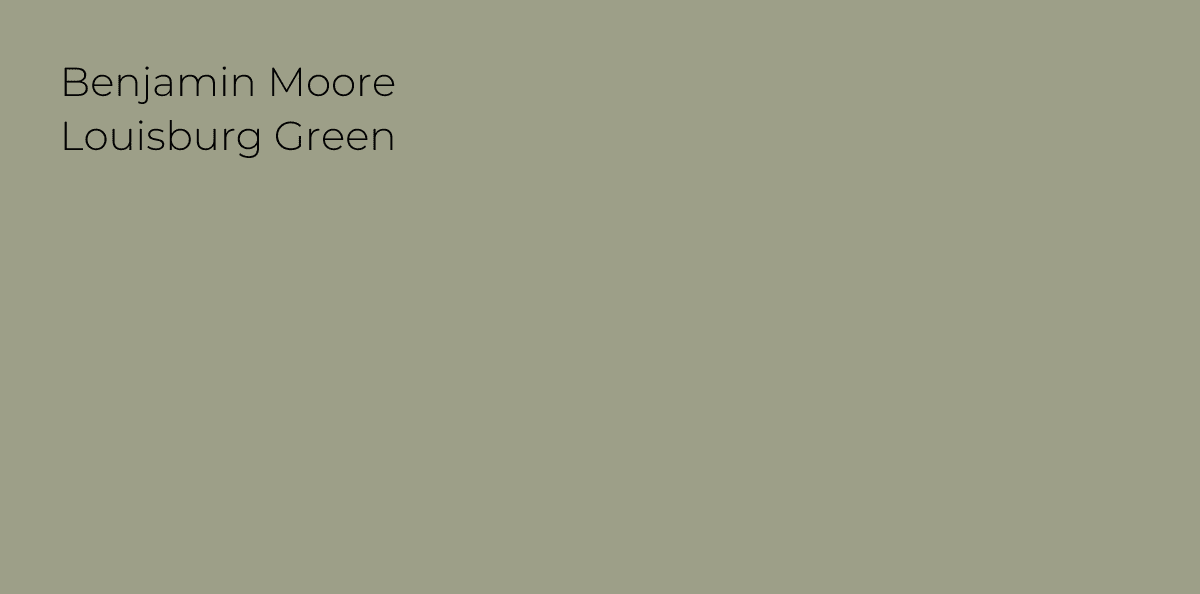 Benjamin Moore Dry Sage
Dry Sage has more brown and yellow undertones than some of the grayer ones. It's best for rooms that face north or east and looks great with warmer colors and accents.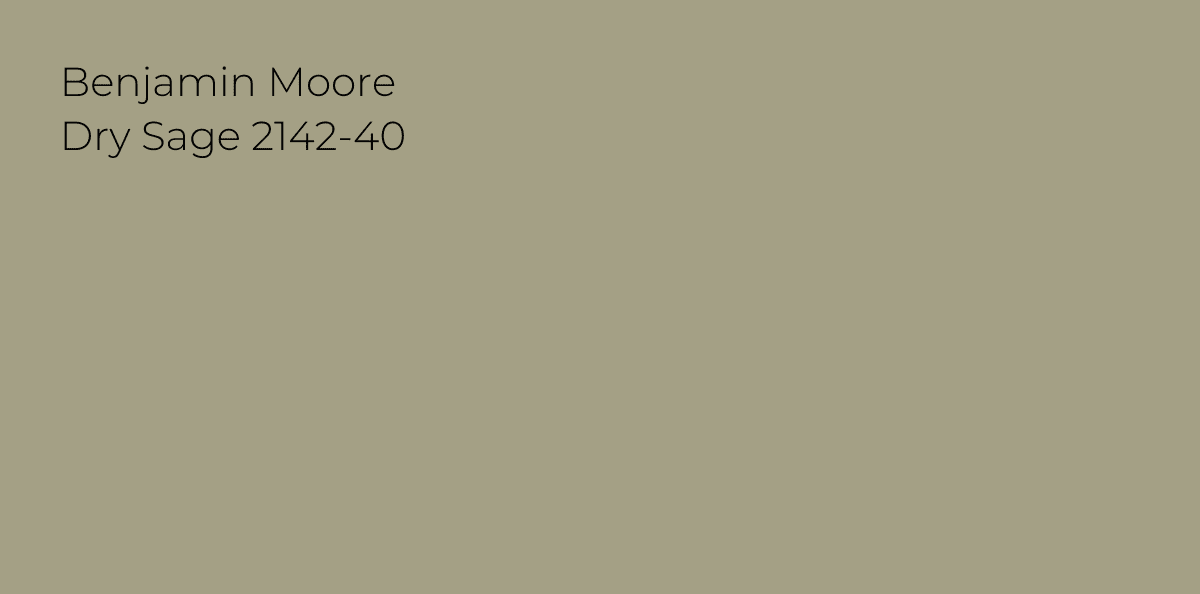 Benjamin Moore Carolina Gull
A much cooler color that's still in the sage family is Carolina Gull. It has gray and green undertones and looks beautiful on kitchen cabinets, islands, built-ins, and accent walls.
Sherwin-Williams Evergreen Fog
Sherwin-Williams 2022 color of the year, Evergreen Fog is a beautiful deep sage green and is perfect for walls, cabinets, and accent walls. It a lush hue that coordinates with warm off whites and earth tones.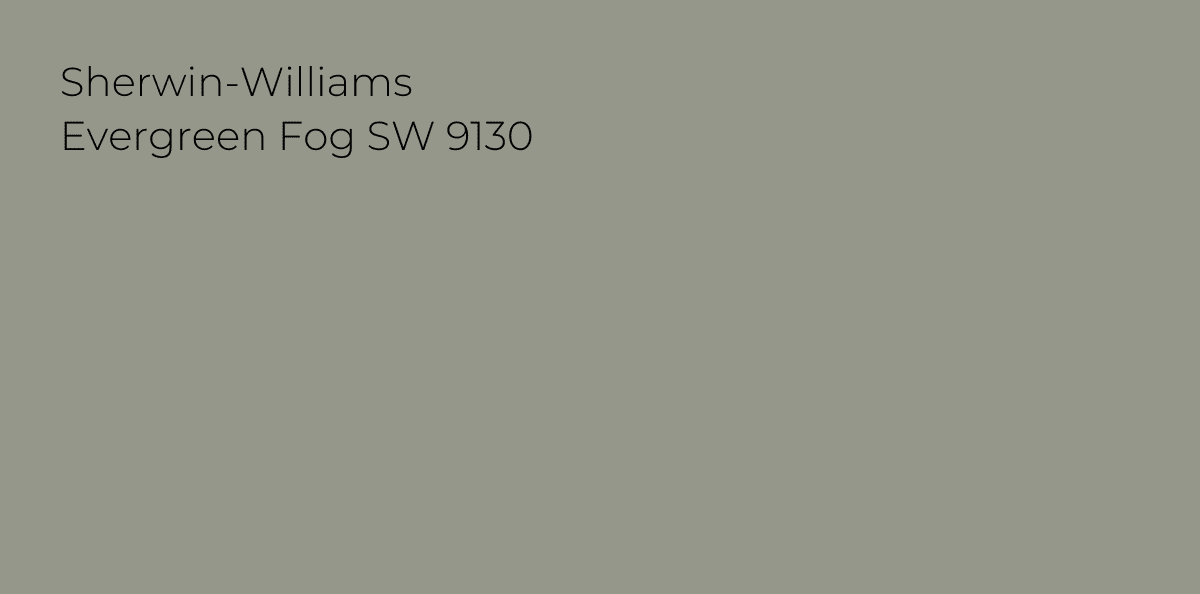 Benjamin Moore Gloucester Sage
For a more earthy and rich sage, Gloucester Sage is a good choice. It resembles dried, rubbed sage and looks gorgeous with the stone in the image below. You'll see brown, gray, and green undertones in this color from the Historical Color Collection from Benjamin Moore.
Recap of sage green paint colors
Whether you're paint an accent wall, cabinets, an entire room, or the outside of your home, there's a sage green color that's right for you. There's a broad range of cool and warm, light and dark to be sure to look at several different ones before making your decision.
Let me know in the comments which ones are your favorites or if you've used one in your home!