Benjamin Moore Simply White Paint Color
Simply White

Review & FAQ's
Let's talk about Benjamin Moore Simply White and how it's simply one of the best white paint colors on the market. You can read all about it, plus learn the undertones, other popular shades of white, and much more.
This post contains affiliate links for your convenience. I may make a small commission on products purchased with my link, but your price does not change. For full disclosure go here: Disclosure and Policies. Thank you for supporting my site.
What color is Simply White?
Simply White is a shade of almost-white that has a slightly warm undertone. It has been one of the most popular shades of white from Benjamin Moore for nearly 10 years and was their color of the year in 2016.
What's the light reflective value of Simply White?
It has a light reflective value of 91.7 on a scale of 0 to 100, indicating that it's very light, but not a stark white.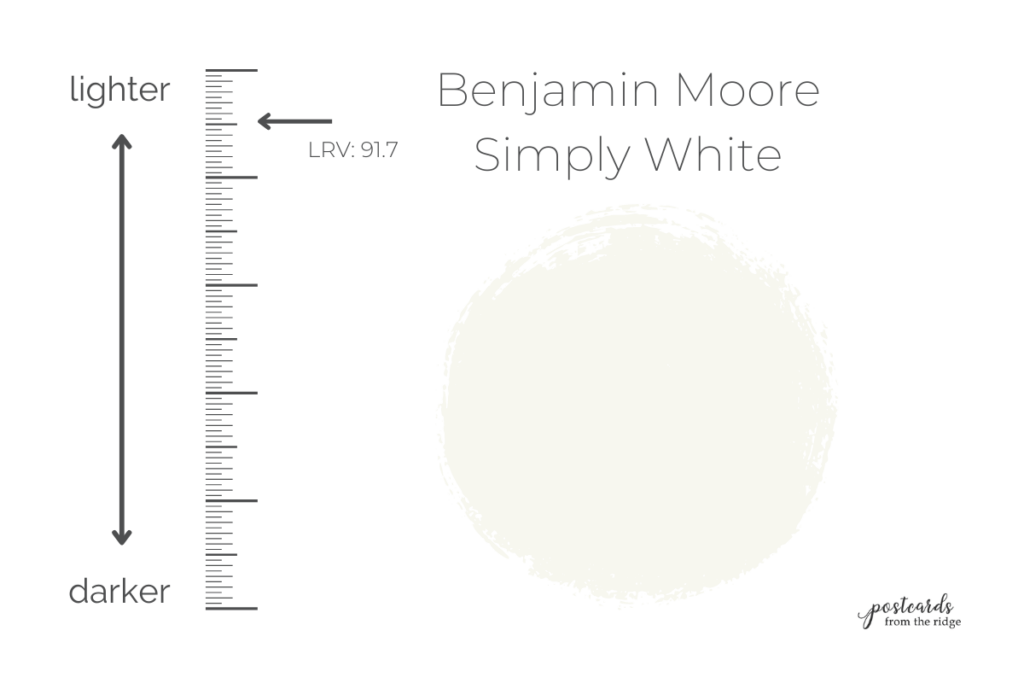 What does LRV mean?
LRV, or light reflective value, is a number that's assigned to paint colors to indicate the percentage of light that reflects off of them, or basically how light they appear on a wall. The scale ranges from 0 (absorbs all light) to 100 (absorbs no light or reflects 100%).
Whiter, lighter colors have high LRV's since they reflect more light, and darker colors have low LRV's reflect less light and absorb more of it.
What are the most popular whites from Benjamin Moore?
There are dozens of beautiful shades of white, but these are currently the most popular white from Benjamin Moore:
You can see many more popular whites from Benjamin Moore here: Best Benjamin Moore White Paints
What's the difference between a warm white and a cool white?
Most every white has some type of undertone to it. Warmer whites have red, yellow, and orange tints undertones. Cooler whites have green, blue, and violet undertones to them.
Is Simply White warm or cool?
Simply White has only the slightest hint of color, but it is on the warmer side of white. The laundry room below has cabinets painted with Simply White and you can see how they're slightly warmer than the cooler white washer and dryer.
Want to know more? You can read more of my thoughts about undertones, warm and cool whites, and where to use them here: Best Benjamin Moore White Paints
Now let's talk more about Simply White.
"Fresh as the first snowfall, this clean, crisp, multi-purpose white is a perennial favorite for trim, ceilings, and walls." – Benjamin Moore website.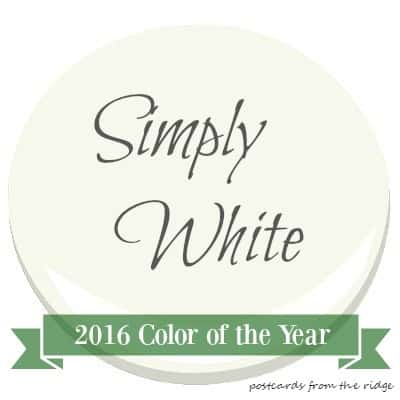 How Does Simply White Compare to White Dove?
As you can see below, Simply White is lighter than White Dove when compared side-by-side. Simply White has an LRV of 91.7, where White Dove has a slightly lower LRV of 85.38.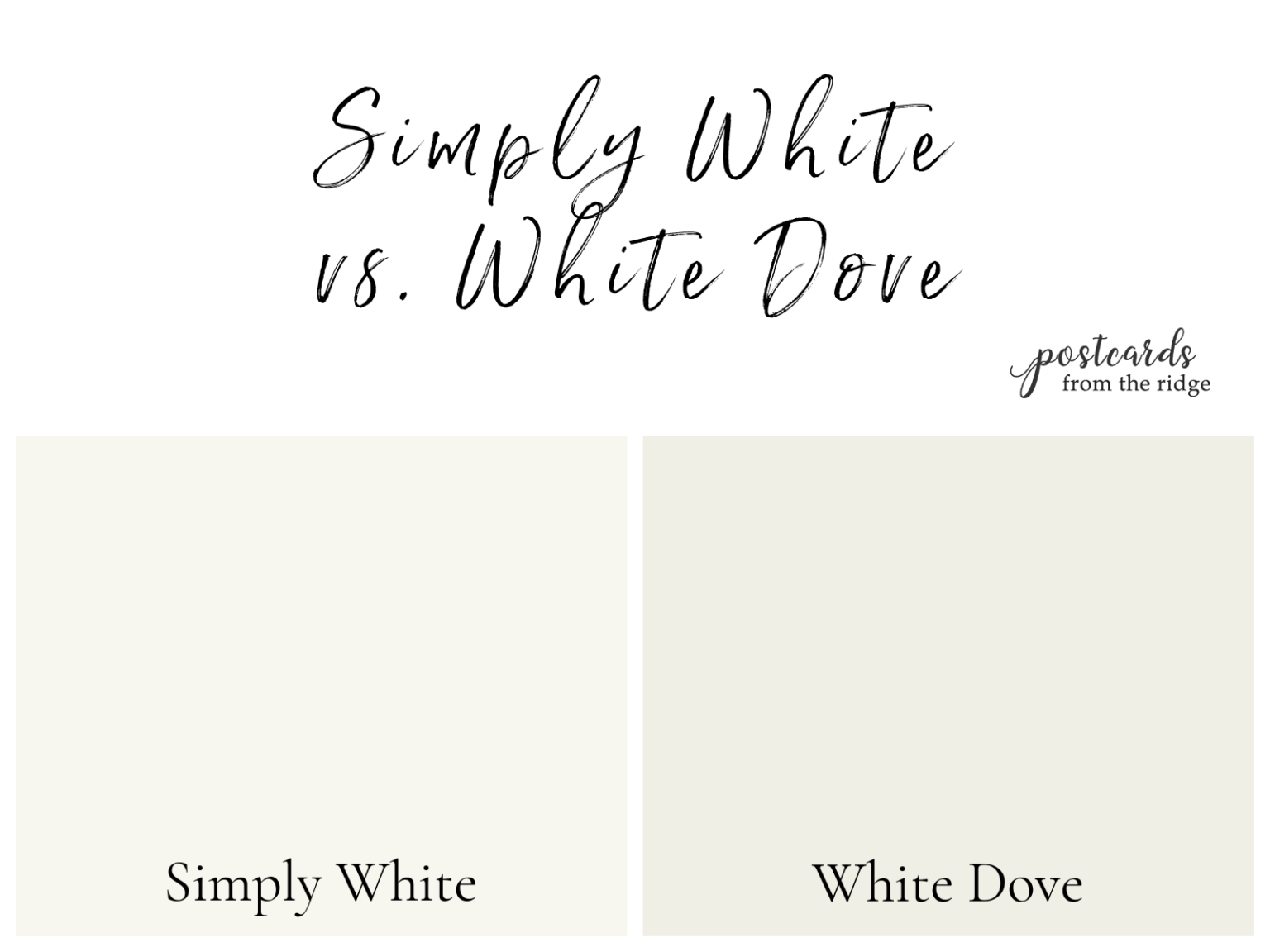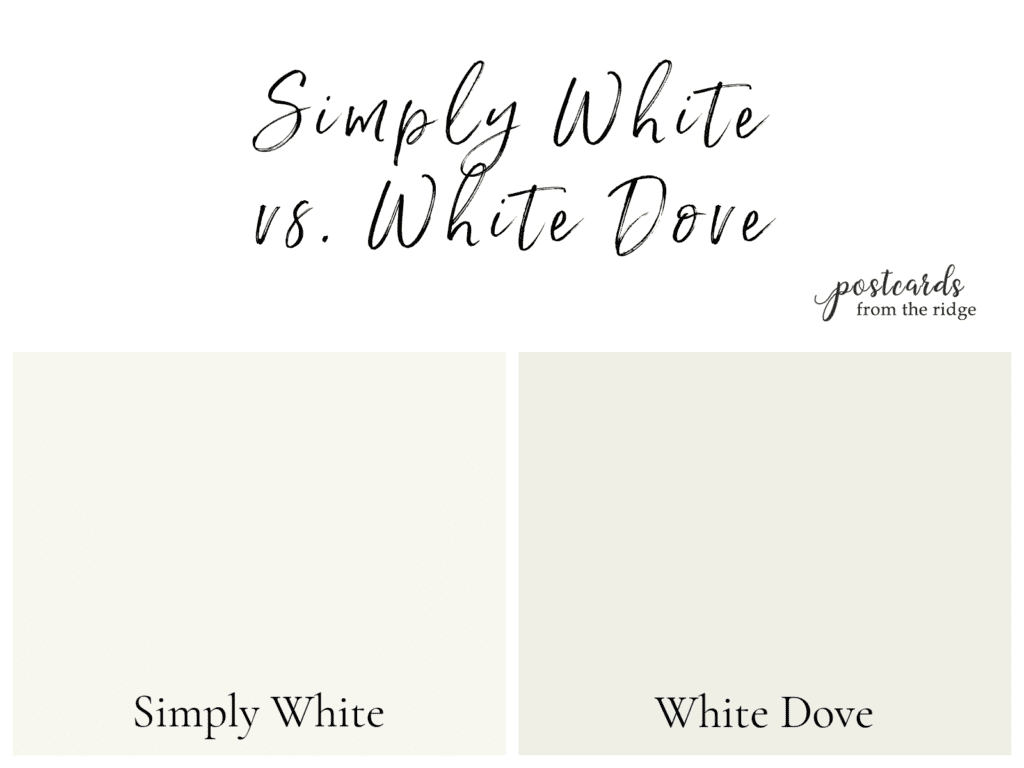 Both colors are beautiful shades of white. They could be used together since they have similar undertones and complement each other nicely. Either would be great for trim, cabinets, or walls.
MORE ABOUT WHITE DOVE: In our home, the trim throughout the main level, our living room, the painted brick fireplace, and my craft room are all painted with White Dove.
Does Simply White go with Chantilly Lace?
There's not a huge difference between these two colors, but Simply White has warm undertones and Chantilly Lace is slightly cooler. Side by side you can see the difference.
I would probably recommend using one or the other, but not both of them together. The choice would be determined by whether or not you need a warm undertone in your space.
What's the difference between Cloud White and Simply White?
Cloud White and Simply White are both warm colors and excellent choices for white paint. Simply White is lighter, with an LRV of 91.7, where Cloud White has an LRV of 87.35. There is only a slight difference between them.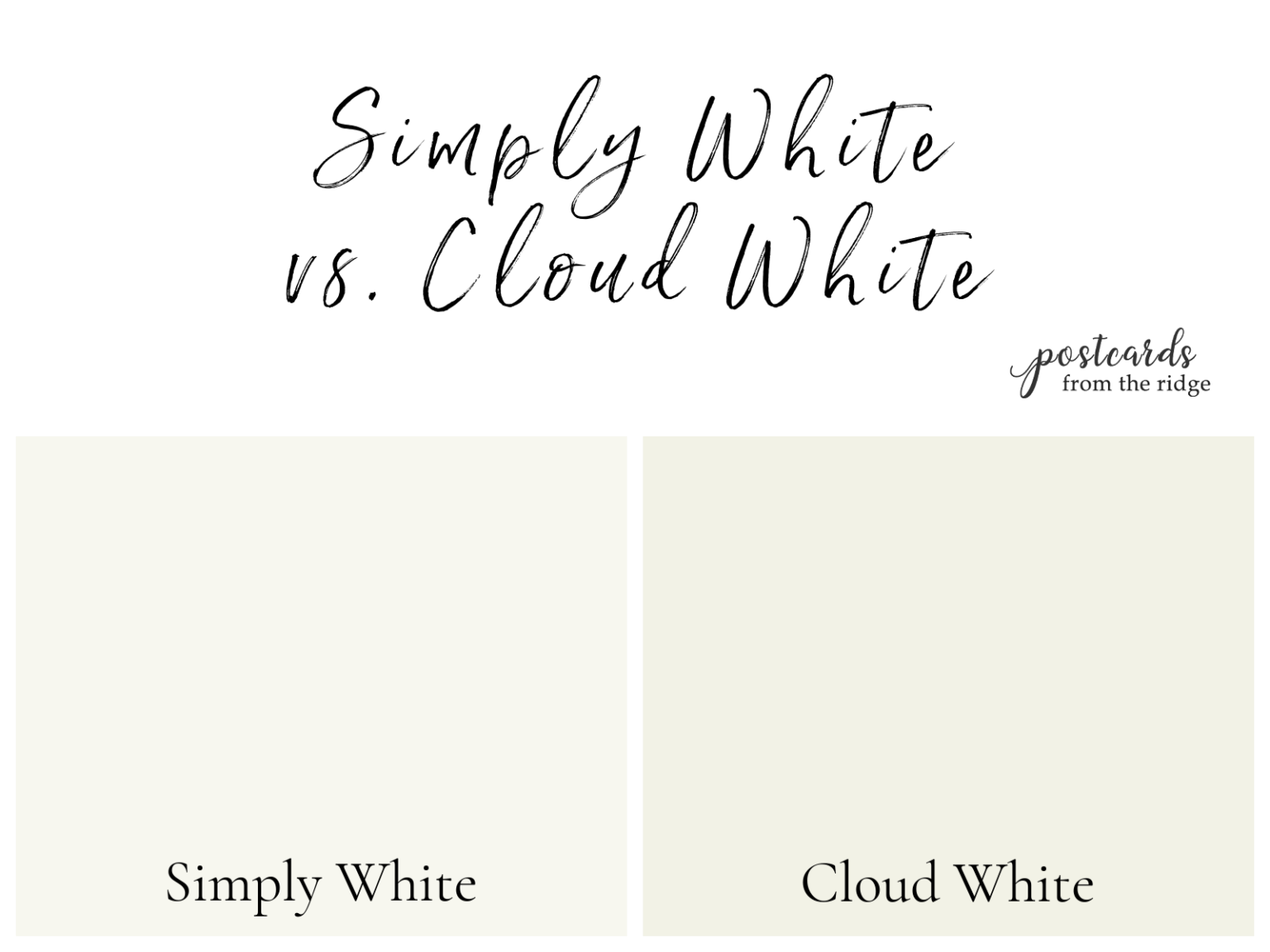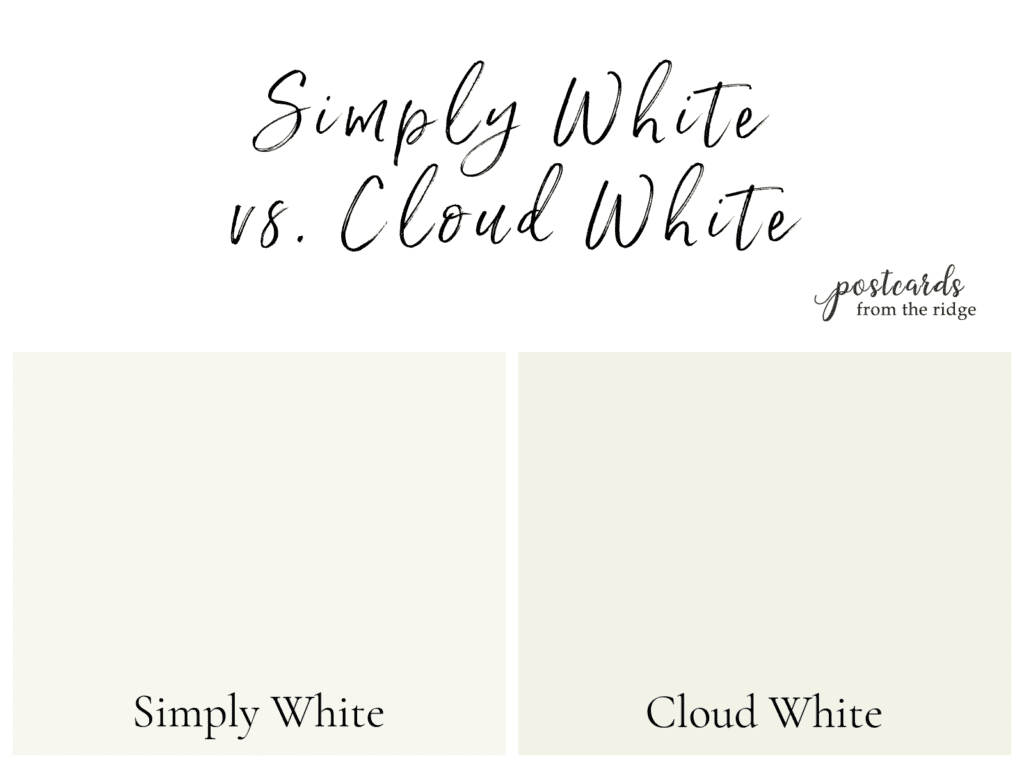 What Colors are Similar to Simply White?
Mountain Peak White OC-121
Snowfall White OC-118
Cotton Balls OC-122
Super White OC-152
White Dove OC-17
What's a darker version of Simply White?
If Simply White is a little too light for you, or if you want to use a monochromatic color scheme, here are the best colors to consider:
Moonlight White 2143-60
Old Prairie 2143-50
Doily CSP-130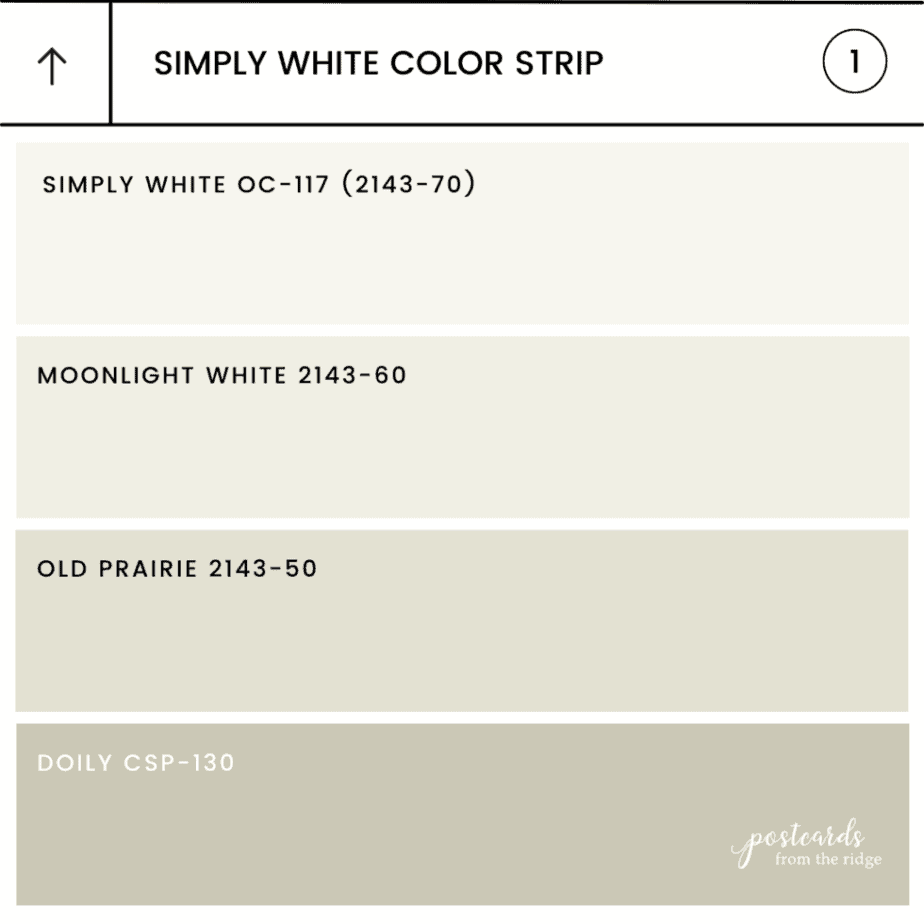 Join the VIP group and get these free paint can labels, a color tracker, and paint sheen guide for your files.
Now let's take a look at some areas painted with Simply White.
Simply White Living Rooms
This classic living room from Kate Knowles has a built-in bookcase, trim, and walls all painted with Benjamin Moore Simply White. It looks fresh and crisp and complements the wood floors and various shades of blue beautifully.
The vintage boho vibe in this living room by Adrianna Beech is strong! The Simply White walls are the perfect non-descript backdrop for you artwork and photos.
This Simply White living room has a clean, fresh feeling to it and the walls allow the furniture and decorative accents to be the stars of the show.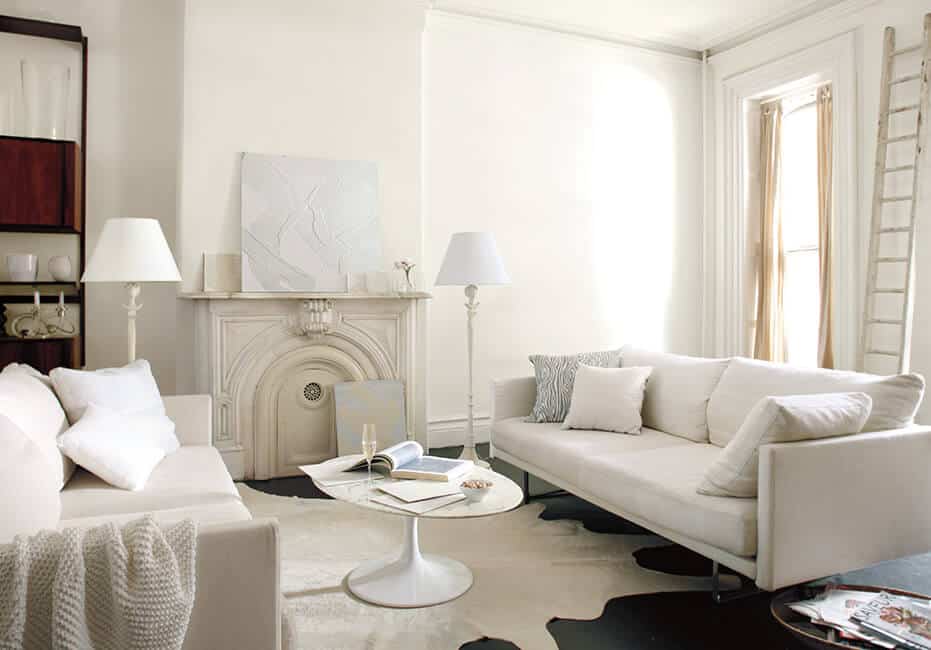 The Simply White walls paired with the natural wood tones give a beautiful Scandinavian feeling to this space. And it's so serene. From Studio McGee.
Here's another open, airy space with Simply White on the walls. The wood elements warm up the space nicely.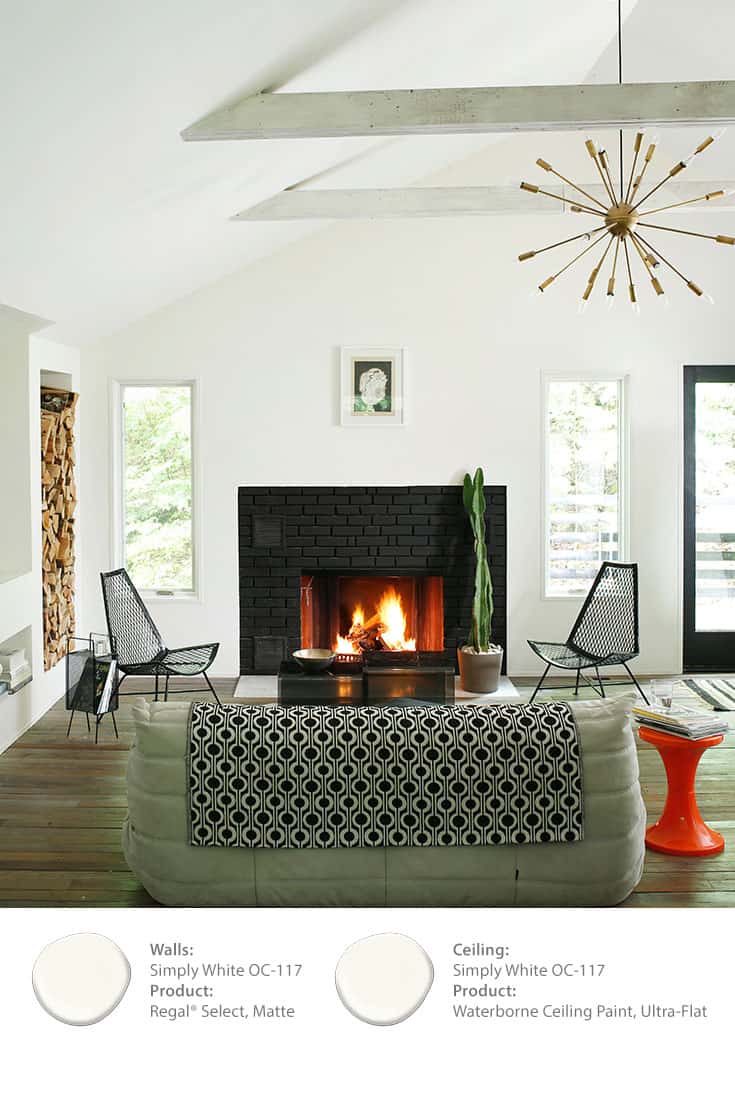 The light in this living room painted with Simply White is simply amazing! And the non-color of the walls doesn't distract from the gorgeous views.
Soft and subtle, this small living room with Simply White walls looks great with the blue doors.
Benjamin Moore Simply White Kitchen Cabinets
This fresh, white kitchen with Simply White on the cabinets and walls is so cozy and charming. The copper accents in the cabinets and the soft contrast of the floors and walls are a timeless touch.
This traditional kitchen with Simply White cabinets would be a dream to cook in. And the black counter tops and chairs add a nice little punch of color.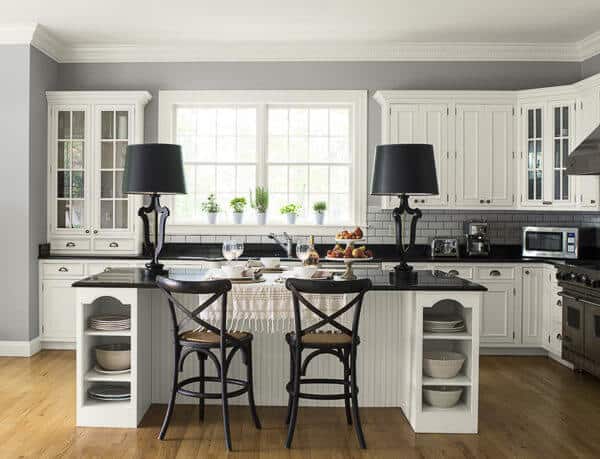 Benjamin Moore Simply White Bedroom
This rustic bedroom from Jaime Costiglio has amazing wood beams on the ceiling and wide plank floors. The Simply White walls keep the room light and clean without competing with all the wood tones.
Benjamin Moore Simply White Trim
It looks beautiful as a trim color with more subdued wall colors like Classic Gray in this 2-story living room. From Martha O'Hara Interiors.
More Interior Spaces with Simply White
This rustic dining space is fresh and clean with the Simply White walls. The wood beams, table, and cabinet give a nice warmth to the space and add tons of patina and character.
An office with Simply White cabinets is calming and clean. The black and white photos look stunning against the Simply White.
Isn't this a dreamy studio? The Simply White walls and the beautiful windows provide an abundance of inspiration.
Here's another rustic studio with clean walls and the warm wood accents. Any artisan would be motivated to create in this serene space.
Walls – Benjamin Moore Simply White, Trim – Benjamin Moore Ice Mist
Simply White Exteriors
This charming vintage home in Austin looks cozy and welcoming with the Simply White siding and Azores front door. From Avenue B Development.
Try a sample
Are you ready to try it out? Get a peel and stick sample or tester sample and see how Simply White looks in your home. Found here: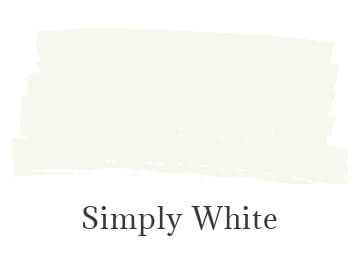 To learn more about the colors or to find a store near you, go here.
You might also like these
I've been working in the paint and decorating industry for 30+ years and writing about paint colors since 2012. Paint isn't just something I write about, it's a big part of my life! You can find plenty of inspiration in my Favorite Paint Colors archives. Or check out these posts for more ideas:
These color forecast from years past are chock full of great paint color ideas:
DIY Painting Supplies Needed for a High Quality Finish
These are a few of my favorite painting tools that I've used for 25+ years: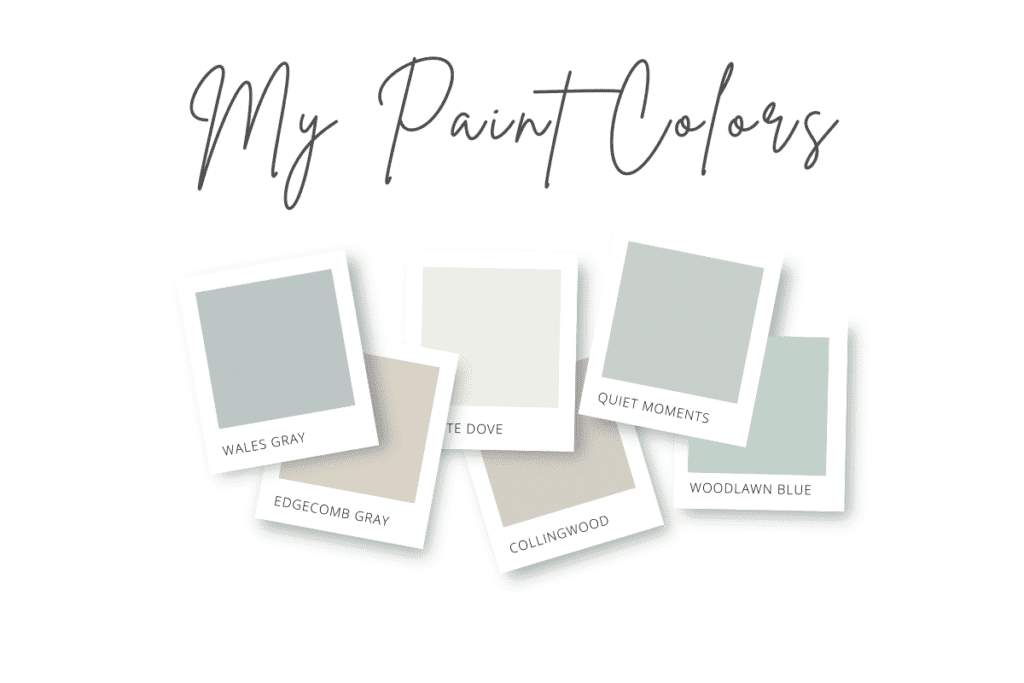 Paint colors in our home
Looking for the paint colors I've used in my own home? Take a quick tour and see them all here: