Best Paint Colors for Bedrooms
See the best paint colors for bedrooms
This post contains affiliate links for your convenience. For full disclosure go here.
Best Bedroom Colors
Hello, friends! Are you thinking of painting your bedroom and aren't sure what color to use? It's always difficult choosing a color, especially in a room that you want to be nice and peaceful. Today I'm sharing some popular bedroom paint colors with you as well as a few reasons why some colors work better for bedrooms than others.

What are the best bedroom paint colors?
Studies have shown that some colors are better than others for a good night's sleep. If you're looking for a calming and peaceful shade then you would want to use something with a cool undertone. Blues, grays, and cool greens are good choices for a restful atmosphere in a bedroom.
Darker colors and create a cocoon-like feeling. Bright and bold colors are best left for accents like throw blankets and pillows, but in the end, go with what makes you happy. That's what really matters.
Keep reading for some beautiful bedroom colors shown in real homes.
Sherwin Williams Silver Strand
Here's a nice soft gray bedroom painted with Sherwin Williams Silver Strand. Karin at Renovated Faith has used bolder colors on her pillows and bedding but the overall feeling of the room is calm and peaceful.
Benjamin Moore Blue Springs
This classic bedroom design by Bria Hammel Interiors features walls painted in Benjamin Moore Blue Springs. It's a little more gray in reality than it looks in this photo. The gold starburst mirror and pink accents are beautiful in here.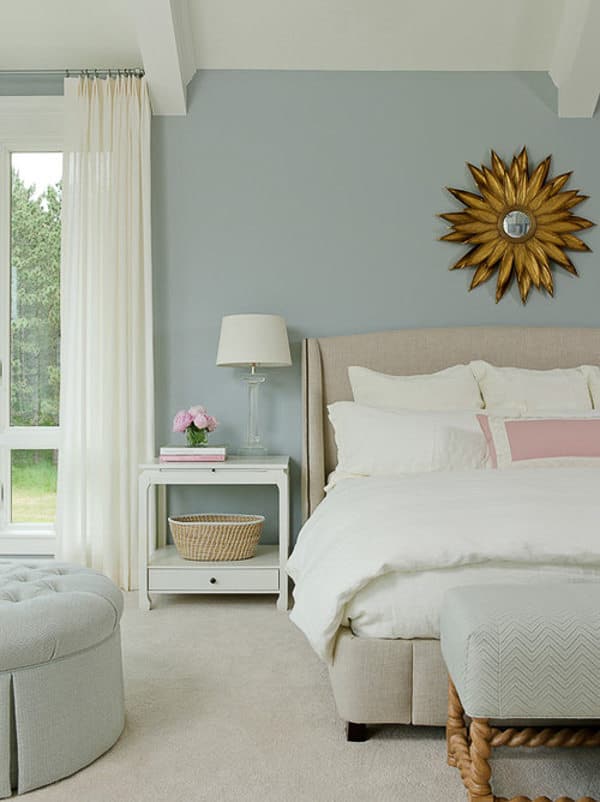 Photo by Bria Hammel Interiors
Sherwin Williams Rhinestone
Here's a lovely, soft, cool color that looks great with the warm blush and wood accents. Roxanne at The Honeycomb Home used Sherwin Williams Rhinestone in this cozy bedroom.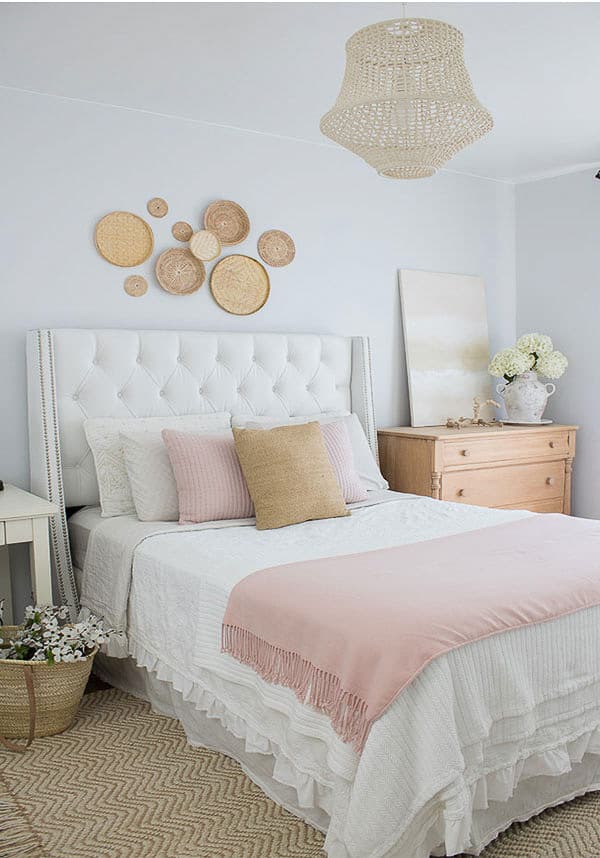 Farrow and Ball Setting Plaster
Want to feel warm all over in your bedroom? Then paint it with a blush color. This warm and cozy room has wall painted with Farrow and Ball Setting Plaster.
Sherwin Williams Accessible Beige
For a cozy farmhouse feel, Sherwin Williams Accessible Beige is an ideal color. Soft, warm, and neutral, it makes a nice background for wood accents, neutral linens, and pops of color in this bedroom suite.
Photo by Bret Franks Construction, Inc.
Sherwin Williams Agreeable Gray
For an even warmer color on the bedroom walls, try Sherwin Williams Agreeable Gray. It has enough color to stand on it's own but still blends nicely with darker neutrals, lighter neutrals, and stronger accent colors.
Photo by Bria Hammel Interiors
Benjamin Moore Decorator's White
If modern farmhouse style is the look you want, try Benjamin Moore Decorator's White. It's a classic white that's fresh and crisp and contrasts beautifully with the various wood tones and black accents in this stunning bedroom.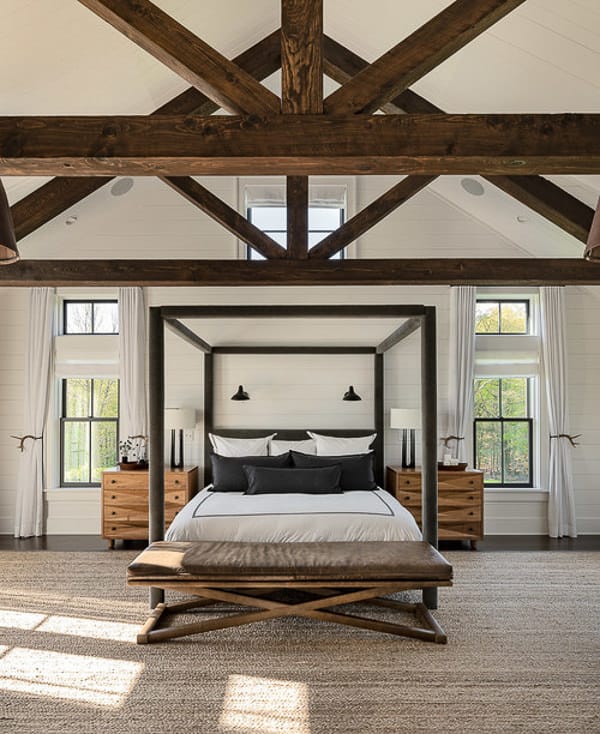 Benjamin Moore Woodlawn Blue
For a serene and peaceful setting, a soft blue like Benjamin Moore Woodlawn Blue is a nice option. It's a gray-green-blue and goes great with any style decor.
Benjamin Moore Woodlawn Blue Bedroom
shop this look
Behr Meteorological
Using an accent color is a fun way to add interest and personality to a room. The dark teal accent paint in this bedroom from Making Manzanita gives a nice contrast to the subtle colors in the bedding and area rug.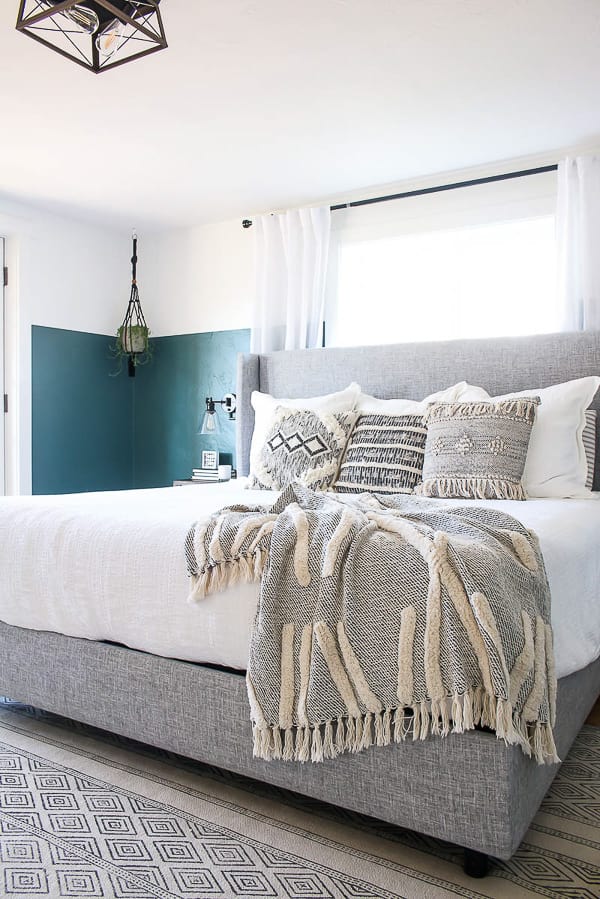 Behr Ultra Pure White
Here's a bedroom with a clean and crisp feeling from Love My Simple Home. The fresh Behr Pure White walls are perfectly complemented with the classic navy accents.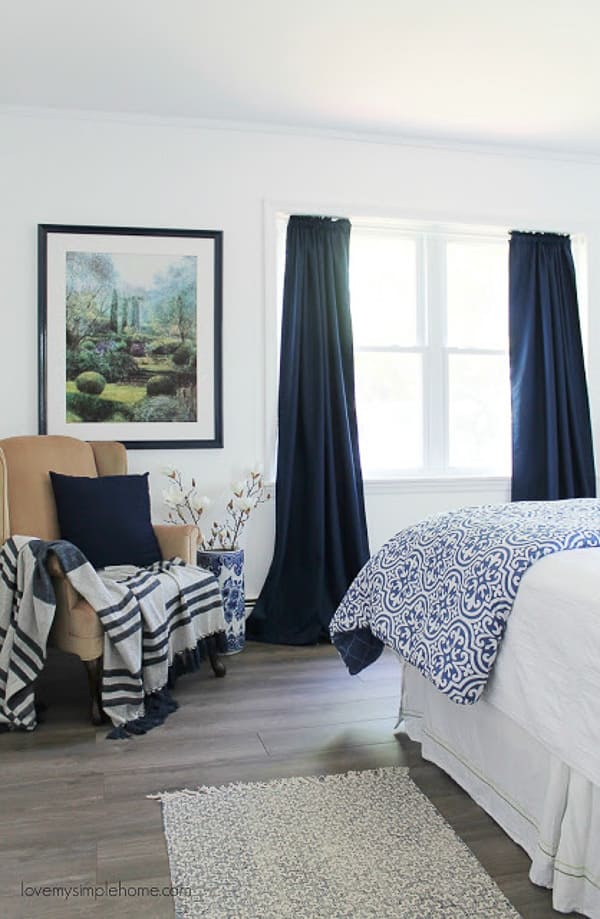 Sherwin Williams Naval
For a room that feels like you're wrapped up in a cozy cocoon, try using a deep color like Sherwin Williams Naval. In this room from South Georgia Style, the dark wall with white trim is timeless and elegant.
Benjamin Moore Paper White
Another room with white and navy, this one has a more casual, cabin look. The plaid accents and black wrought iron bed give it a modern farmhouse feeling. This cozy room with walls painted in Benjamin Moore Paper White is from Rambling Renovators.
Sherwin Williams Peppercorn
If you're wanting a bedroom where you can go into a deep sleep, use a darker color like Sherwin Williams Peppercorn. Blackout curtains
will also help keep the room dark and quiet and provide a restful sleep.
Photo by Rosewood Custom Builders
Benjamin Moore Revere Pewter
For a nice neutral color that goes with any style of decor, Benjamin Moore Revere Pewter is always a good choice.
MAB Mushroom Cream
MAB Mushroom Cream is a classic tan that will never go out of style.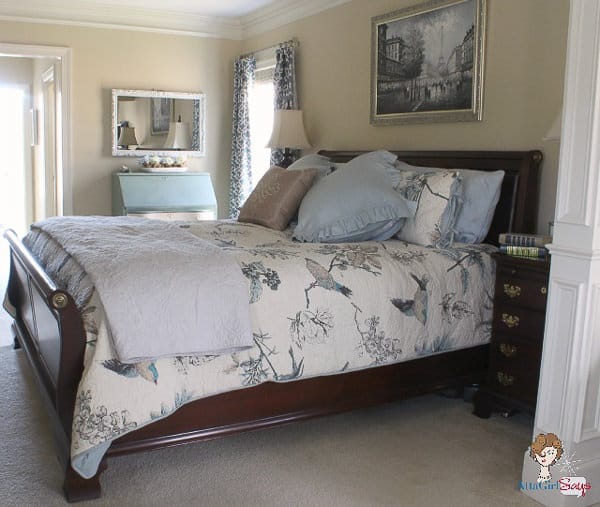 Here are a few ways to make your room a cozy retreat:
Elements of a cozy bedroom
Layers – a quilt with a duvet folded at the bottom of the bed and a few extra throw pillows
Soft textures – area rugs and curtains will not only soften the look of the room, they will also absorb sound and make the room quieter
Upholstered headboard – an upholstered headboard is an inexpensive way to give your bedroom a cozy designer look. See my favorites here → Upholstered Headboards
Bedside lighting – soft ambient light from lamps or sconces are ideal next to the bed
Natural elements – add a plant, some branches, or flowers for a zen-like atmosphere
Tidiness – keep things put away for a more relaxed setting
See some of my favorite, affordable bedroom furniture and decor finds here
→ Favorite Bedroom Furniture and Decor Finds
What's your favorite paint color for bedrooms? Leave me a comment below and let me know!
See more favorite paint colors from your favorite home bloggers here:
16 Popular Paint Colors from your Favorite Home Bloggers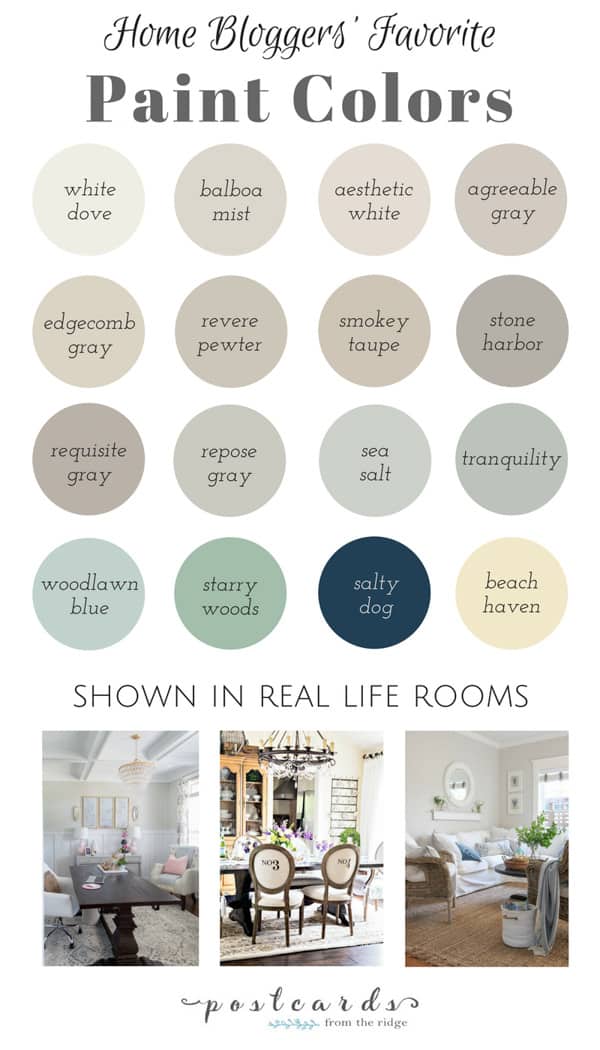 See paint color trends for 2020 here → Benjamin Moore 2020 Color Trends