The Ultimate Paint Sheen Guide with Printable
Choosing the right paint color can be stressful and it's always such a relief when you make that decision. But you've still got some decision-making to do! Once you've made your color choice it's time to pick the paint sheen. Here's an in-depth paint sheen guide to help you choose correctly. And a free color tracker and sheen guide for you to print and keep!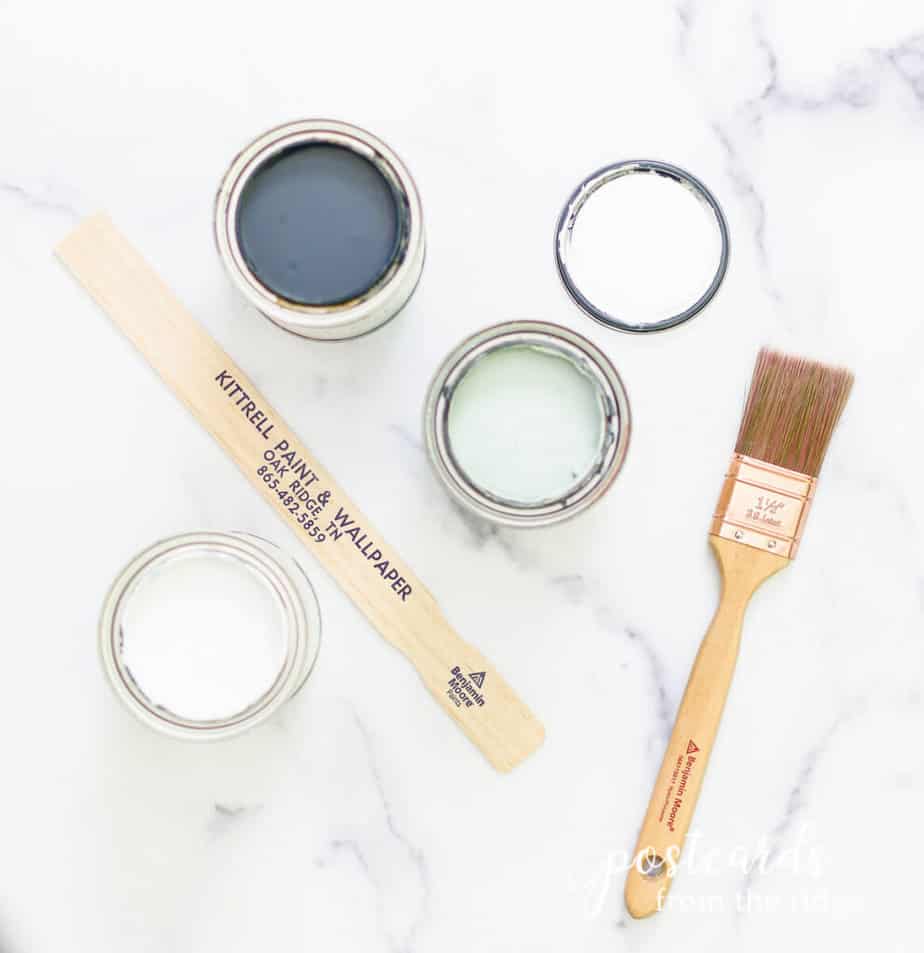 This post contains affiliate links for your convenience. I may make a small commission on products purchased with my link, but your price does not change. For full disclosure go here: Disclosure and Policies. Thank you for supporting my site.
Paint sheens range from flat, which reflects little or no light, to high gloss which has a wet paint look, with several options in between. Each finish has pros and cons and we'll talk about those, as well as what finish is best for various surfaces.
Sheen level and gloss level are actually two different measurements, but for the sake of simplicity we're just going to call it sheen. It's not necessary to get super scientific and technical with it. But if you're interested in the exact science of how it's measured, read this article: How is gloss measured.
Now let's get started with all those interior finishes and sheens and decide which one is best for your painting project.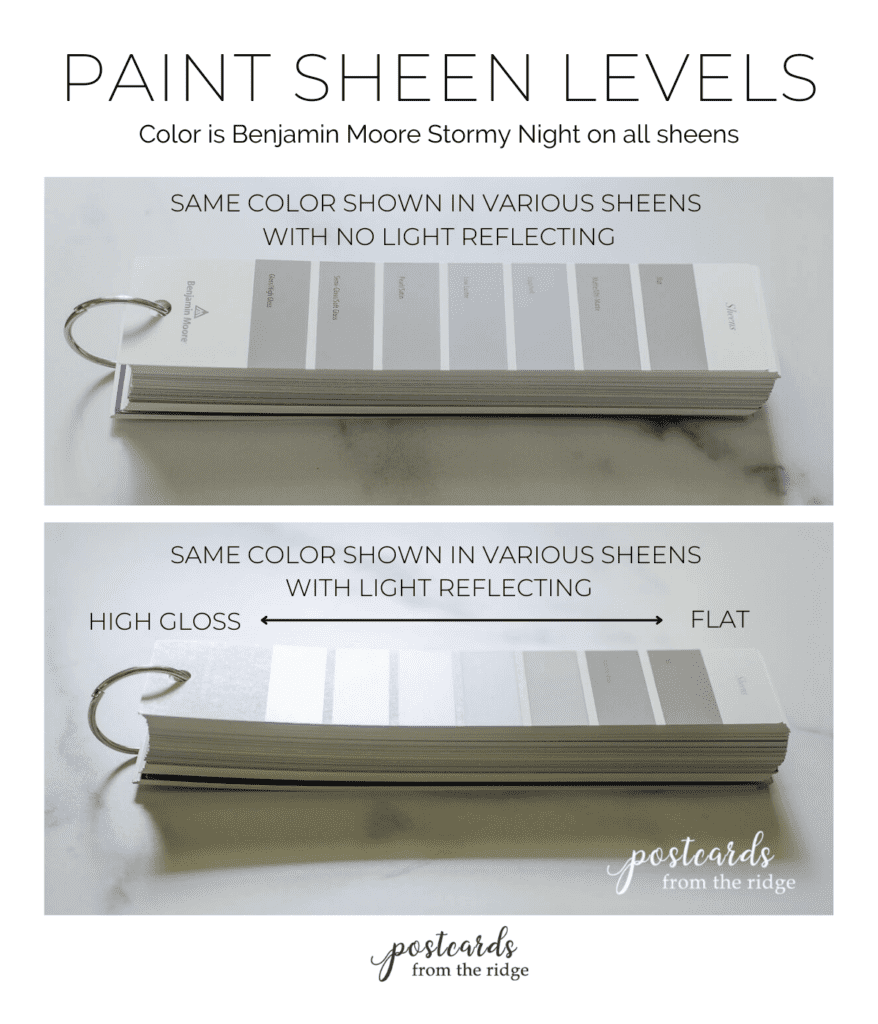 What are the different paint sheens?
Different paint manufacturers often give various sheens branded names like suede, velvet, or pearl, and you might not get the same finish from different brands even if they have the same name. One brand's satin likely won't be the exact same finish as another brand, so be sure to look at the names and options from the brand you're using.
Here's a list of the 5 different paint finishes that are available, from least to most gloss:
Flat/Matte
Eggshell/Low Lustre
Satin/Pearl
Semi Gloss
High Gloss
Flat Sheen
Flat paint is usually the default finish for builders and painters. It's the least expensive of all finishes as well as the most forgiving. It's also the least washable so I rarely recommend or use it unless it's in a room that doesn't get used much.
Generally speaking, flat paint will show fewer imperfections in your walls but won't give you washability. It's the easiest paint to touch up since it won't show any brush or roller marks.
Where to use flat sheen paint
Guest bedroom
Ceilings
Dining Room
Matte Sheen
Matte finish (Benjamin Moore) has a flat appearance but is more durable and wipeable than regular flat. Depending on the brand, it can be more or less washable but still has no gloss.
If you're using the washable matte paint, it can go basically anywhere. How washable is it? Here's a great example: my parents have matte finish in their kitchen one time my dad accidentally splattered oily salad dressing on the walls. (The lid wasn't on it very well.) We wiped it right off and there was no greasy stain! True story!
So if you don't want any gloss but need to be able to wipe down your walls, scrubbable matte is a great option for you.
Where to use matte paint
Bedrooms
Entry
Hallway
Kitchen
Eggshell Sheen
Eggshell sheen paint has the slightest amount of gloss and can be used on walls or ceilings in any room. It's very versatile and is my personal favorite. All of the painted walls in our home are eggshell sheen, even the bathrooms, kitchen, and laundry room and it's the finish I recommend the most.
PRO TIP: Although dark colors look more luxurious with a flat finish, it's recommended to use an eggshell finish to prevent "burnishing". This happens when something brushes up against the wall and makes a light mark or streak.
Where to use eggshell finish paint
Bedrooms
Half bathroom
Kitchen
Dining Room
Entry
Hallway
Laundry Room
Here's our half bathroom painted with eggshell finish in the color Tranquility from Benjamin Moore. I've wiped off the walls multiple times since it was painted 6 years ago and it still looks great! You can see more of this room here: Half Bathroom Renovation Details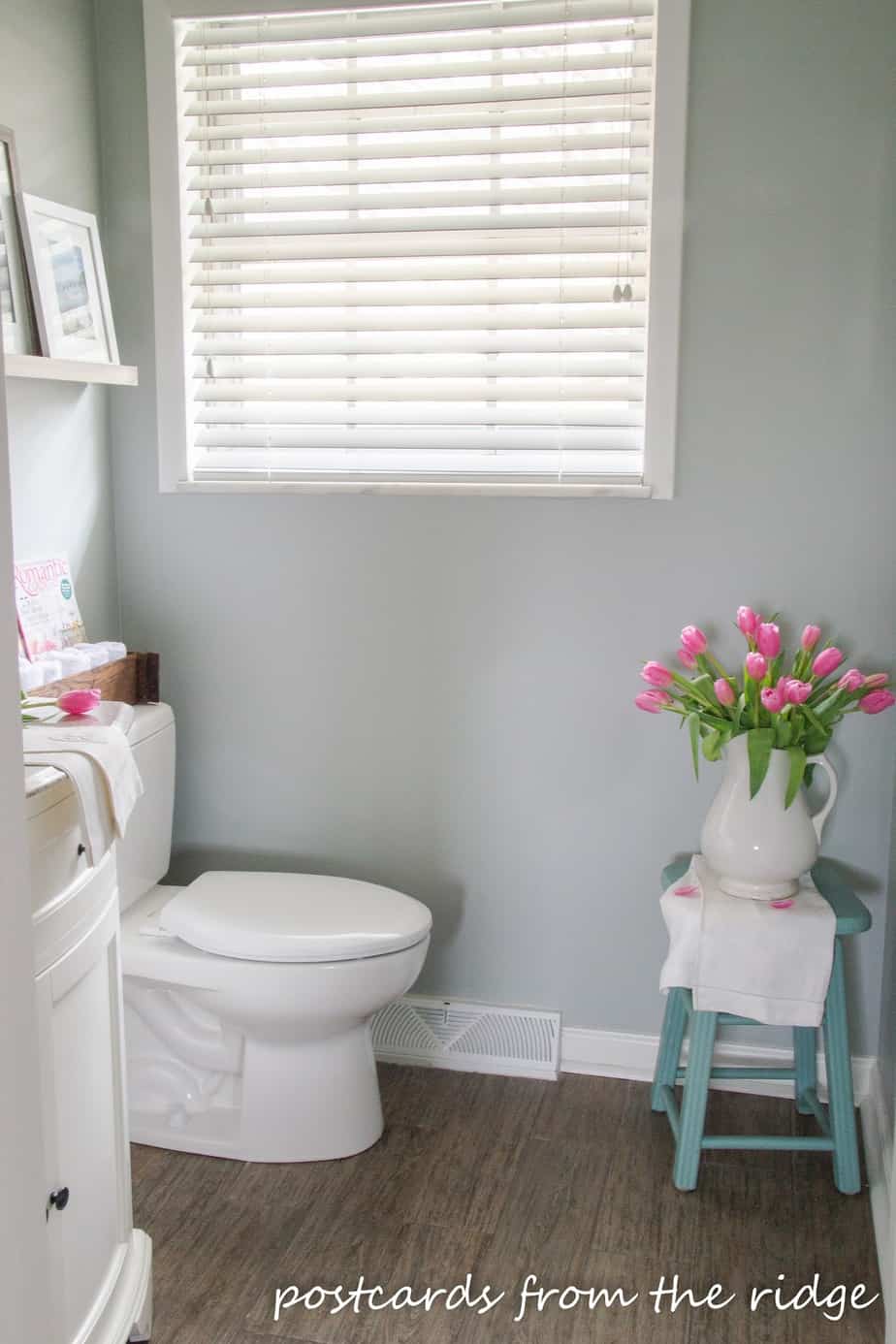 Satin Sheen
Satin sheen is the next glossiest paint finish. It's in between eggshell and semi gloss and is ideal for bathrooms, stairwells, and any room that's high traffic and might need to have the walls washed. All of the trim in our home is painted with satin finish because I prefer the softer look.
Where to use satin paint
Bathrooms
Kitchens
Laundry rooms
Trim
Cabinets
Accent furniture
Semi Gloss Sheen
Semi gloss paint has a nice sheen without having that wet paint look that you get with high gloss. It's durable, washable, and an overall great choice for trim and cabinets.
Where to use semi gloss paint
High Gloss
For a wet paint look, use high gloss paint for your project. A word of warning: your surface needs to be completely smooth and free of any bumps, cracks, or flaws. The high gloss sheen will reflect all of the light and any blemished on the wall will be very noticeable.
Where to use high gloss paint
High gloss paint can be used on cabinets, trim, doors, and furniture. It really makes a front door look amazing too.
What paint sheen should I use?
The brand of paint you're using will have a choice of sheens and you'll need to choose from what they offer. Here's a general guide for different rooms and the suggested finishes. There are a couple of recommendations for each room and the one you choose depends on how much gloss you like.
Bedrooms – flat, matte, or eggshell
Bathrooms – eggshell or satin
Kitchens – eggshell or satin
Laundry room – eggshell or satin
Hallway – matte, eggshell, or satin
And since we've talked about washing walls, touch-ups, and good paint finishes, here's a bit more on those topics.
How do I wash my walls?
We've talked about washing walls and how some sheens are more washable than others. If you have flat paint that won't wash, you can always touch up the paint where it's dirty. But washing the walls is much easier than repainting them.
There's a right way to wash your walls so the paint doesn't streak or come off. For the best results, wash your walls with warm soapy water and then wipe down with clean water. You can also use TSP or Borax mixed with water.
How do I get the best paint finish?
You get what you pay for
Quality matters in everything, including paint and applicators. Better quality paint will go further and cover better, meaning that you don't have to buy as much or apply as many coats. You actually save money by buying better paint.
If you're paying someone to paint then your labor cost shouldn't be as much with better paint because they won't have to apply as many coats. And if you're doing the painting yourself then you definitely don't want to have to apply any more coats of paint than necessary.
Best paint applicators & tools
Your paint job will look like you hired a professional if you use the right tools. And they'll last for years if you take good care of them. Here are my favorites for a professional-looking finish:
Micro fiber roller cover – this plush cover will give you a beautiful finish. A 3/8″ nap will keep it nice and smooth.
Angle sash paint brush – a good brush will eliminate the need to use tape!
Roller frame – get a good one that the cover won't slip off of while you're using it.
Extension pole – this will save your back and arms. Trust me.
Best caulk ever – this caulk really does resist cracking. We've had it in our home for nearly 15 years and there are no gaps at all. Seriously.
Sanding Sponge – easier to grip than sandpaper.
Spackling compound – this goes on pink and dries white so you'll know when it's ready to sand
Step ladder – a lightweight aluminum ladder will enable you to reach to top of the wall much better than a chair, and is safer too!
How do I touch up paint on my walls?
Sometimes even with the best efforts touch-ups will be noticeable. But there are a few tricks of the trade that will help.
Whenever possible, use paint from the same can that was originally used to paint the wall.
If the wall was painted with a roller, use this paint touch-up roller kit or something similar to get the same texture.
Using your touch up roller, apply paint on the area that needs repainting from the center of the area and roll outward. Your roller will have less paint on it as it moves outward and will blend best with the existing paint. This is an age-old touch up method called "paint feathering" (not to be confused with feather painting!) and works beautifully.
Free Printable Sheen Guide and Color Tracker
To help you remember where to use the various sheens, I've created a paint sheen guide and you can grab it and a free paint color tracker below!
I hope this has helped you decide which paint finish to use on your project. Leave me a comment below if you have a question that I haven't answered and I'll address it for you.
If you need ideas for paint colors you might enjoy these posts: