Festive Christmas Table Decorations That Anyone Can Do
Festive Christmas table decorations
Decorating your table for Christmas doesn't have to be complicated, fancy, or expensive. Today I'm sharing some ideas for using vintage, natural, and thrift store items mixed into to your Christmas table decorations for a festive setting.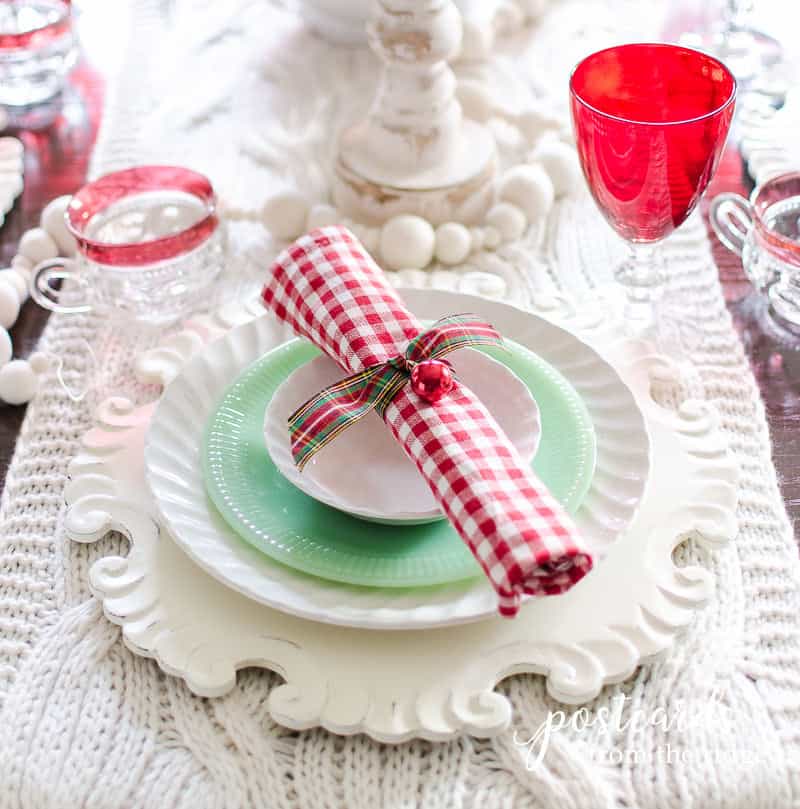 This post contains affiliate links for your convenience. For full
disclosure go
here.
I'm joining the girls of the Thrifty Style Team who are all giving you ideas for thrifty Christmas decorating. Each month my friend Julie at Redhead Can Decorate coordinates our group and there are always so many creative and beautiful ideas! Scroll to the bottom to see them all.
Christmas Table Decorations
Over the past several years I've really begun to enjoy putting together a pretty table for Christmas and throughout the year. I thought it might be helpful to give a few tips for decorating your Christmas table without spending a fortune.
I've created a colorful table this year with red and jadeite items and also went through my archives and have some photos from past Christmas tables.  I'm going to break it all down and show you how you can create a festive Christmas table in your home with various elements including:
A table runner
Place settings
A centerpiece
Miscellaneous table decorations
Favorite Tip:
Think outside the box. Some of my favorite decorations have been ones where I did something a little different. Don't be afraid to try a new look or use something in a way that it wasn't designed to be used!
1. Table Runner
A table runner is optional, but it's a nice way to anchor your Christmas table decorations and sets a pretty scene. I've used a few different ones over the years. This year I used a white knit sweater runner and love the way it softens the red, white, and green.
A burlap table runner is a very inexpensive way to anchor your table. You can buy them ready made or buy a few yards of burlap and cut it down to the size you need. You can see more of this table here:
Natural Rustic Christmas Table Decorations
Last year I used a plaid throw blanket as a table runner. I folded it over until it was the size I needed.
Other ideas for a table runner:
Oblong scarf
Butcher Paper with crayons for people to doodle on
2. Place Settings
No matter what else you do to your Christmas table, you definitely need place settings of some type.
Plates
I'm a bit of a dish hoarder and enjoy mixing and matching my collection. I found an entire collection these vintage white ironstone dishes at the thrift store a few years ago and have used them in several place settings. They go with everything.
For this place setting, I used the white dishes with some Johnson Brothers Friendly Village salad plate for a little more color. You could use any color with white dishes. More of this Christmas table can be seen here:
Cozy Christmas Table with Plaid and Natural Accents
Paper plates are perfectly fine if that's easier for you. There are lots of pretty ones available. It's all about what works best for you and your budget.
Napkins
We actually use cloth napkins all year, but they add an extra element to a Christmas table. I thought these red and white checked napkins might look too much like a summer picnic, so I added a plaid ribbon with a little mini red glass ornament to make them more Christmas-y.
Napkin Rings
You can get fancy with a napkins and napkin rings, or you can simply roll up a napkin and tie it with twine or ribbon. Adding a sprig of greenery and a little red ornament to a
basic linen napkin give it just the right festive touch.
Flatware
Make your flatware look extra special by tying a pretty ribbon around it. I've used this
green velvet ribbon several times over the years and it elevates the table every time I use it.
Such a simple thing to do. See more of this blue and green Christmas table here:
Blue and Green Christmas Table Decorations
Glassware
I'm a glassware hoarder in addition to being a dish hoarder. You can find glasses cheap at thrift stores, yard sales, and estate sales. (See my tips for shopping estate sales here: How to Shop Estate Sales Like a Pro).
The vintage red goblets on this year's table were given to me by my mom and sister 20 years ago. I
don't use them often but they really make this table come alive.
The vintage green glasses belonged to my late mother-in-law. I love the color of these and they make the table look so elegant. I've seen similar green glasses at our local thrift shops. See all the details of this Christmas table here:
Evergreen Vintage Farmhouse Christmas Table Decorations
These brown glasses came from Walmart many years ago. They're not quite as festive as the red or
green ones, but they definitely dress up the table. They were very affordable.
Placemats or Charger Plates
I didn't know what a charger plate was until a few years ago. Growing up, Mom would set the table with a tablecloth at the holidays and she would get out her china, but we never had charger plates or placemats.
These white wooden charger plates were bought about 10 years ago and are no longer available. I love the way they make the table look so special. More of this table is in this post:
Cozy Christmas Table Decorations
The woven, natural placemats give the table a more subtle look. We have these on the table all year and they go with anything.
3. Centerpiece
A centerpiece usually sets the theme for a table and you can get really creative here. This year I used a small tinsel tree that I found on clearance. I placed it in a vintage soup tureen and wrapped a cozy scarf that I found at the thrift store around it at the bottom.
It goes perfectly with the red and green that I'm using with the dishes and glasses. The whole table has a whimsical, happy feeling to it.
A simple centerpiece can be made with pine cones, branch clippings, dried oranges, and ornaments placed in a wooden dough bowl. This was super affordable and is one of my favorite centerpieces that I've made.
You can usually find pomegranates at the grocery store this time of year. They make a simple, beautiful centerpiece too.
For this centerpiece, I added some clippings from our holly tree and placed them all in a wooden dough bowl for a colorful, natural look.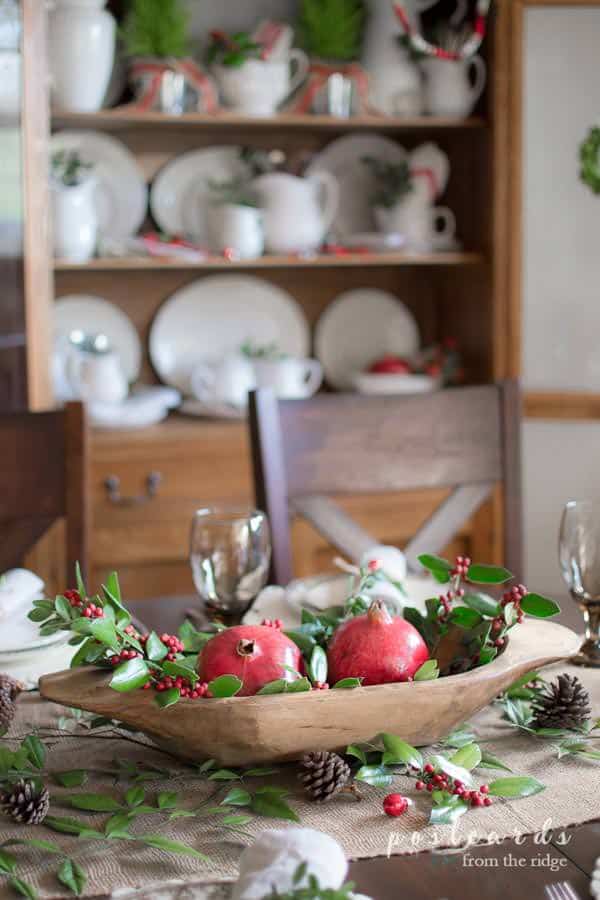 A toolbox for a centerpiece? Why not? Use whatever container you want to for your centerpiece. I added pomegranates to this wooden tool caddy along with pine cones, dried orange slices, cinnamon sticks, and holly clippings. Easy and affordable.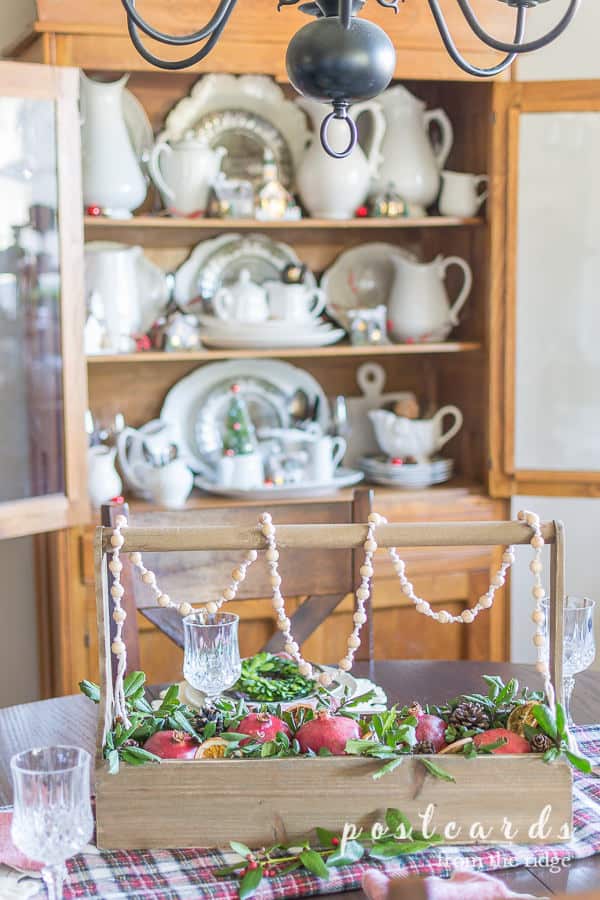 Vintage glass candlesticks make the Christmas table feel extra special. And white taper candles are such a classic. You just can't go wrong with candles on a Christmas table.
For an even more elevated look (see what I did there), use a cake stand for your centerpiece. For this one, I added some glass tea light holders and candle sticks, some greenery, ornaments, and a button garland to a vintage glass cake stand. You could use a wooden or metal cake pedestal for a more casual look.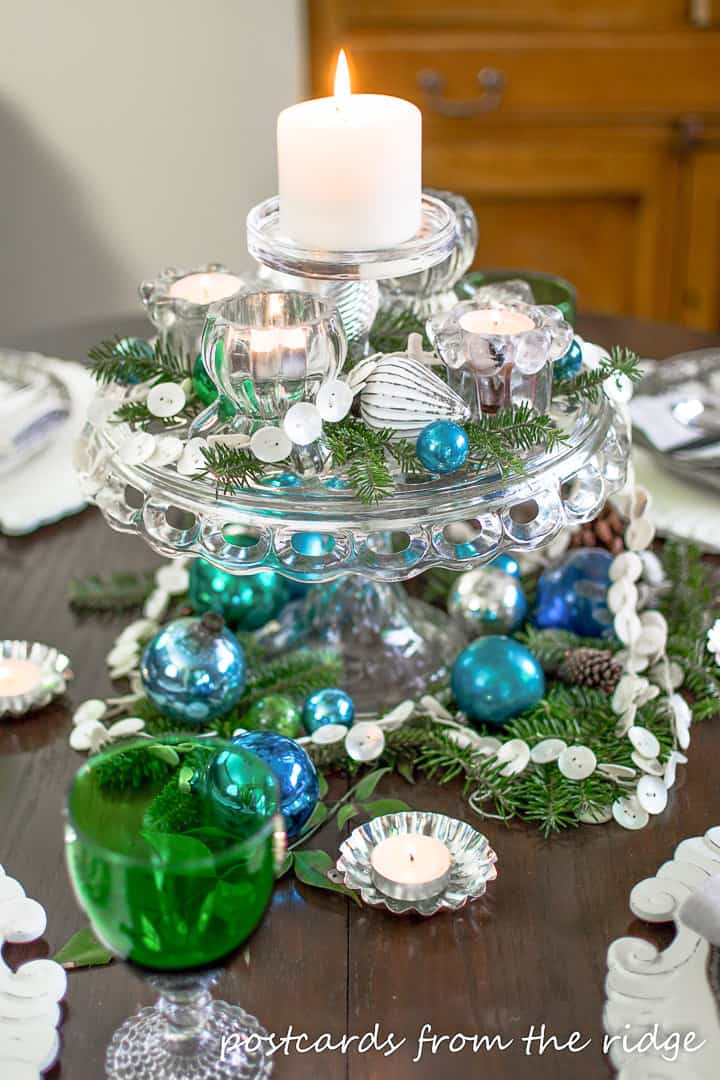 More ideas for Christmas centerpieces:
Grouping of vases or bottles with flowers, greenery, or candles on top of
a wooden cutting board
A large bowl of ornaments
Gingerbread house on a pedestal
4. Christmas Table Decorations
Scattering various decorations around the table completes the look. For this year's festive table, I used a white felt pom pom garland and a couple of white wooden candlesticks from my shop. I didn't want to add any more color that would distract or compete with what I already had on here.
Below, I used a few more tea lights, ornaments, and more of the button garland.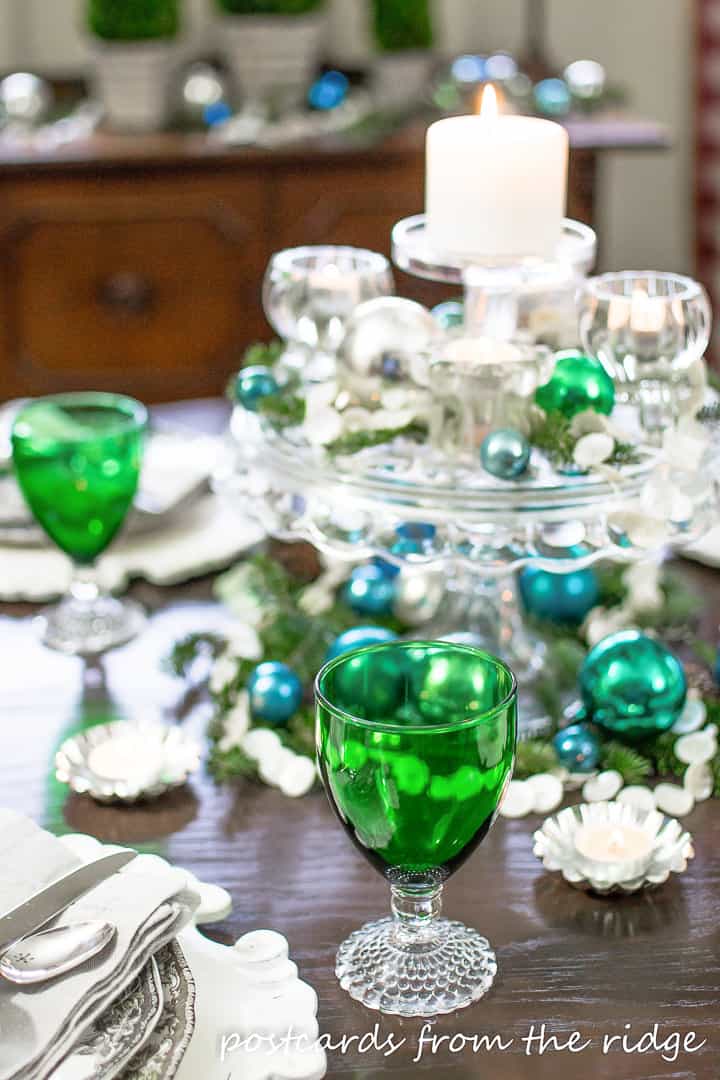 For a more natural Christmas table, use nuts, pine cones, dried orange slices, and other natural finds.
Little ornaments add a bit of sparkle and color to this Christmas table.
5. Random Christmas Dining Room Decor
It's not on the table, but I love decorating our buffet at Christmas and added a couple of festive things there too. I got a box full of wooden butter molds at an auction and have had fun decorating with them. I placed them on a white cake stand and added a little boxwood wreath for Christmas.
I love using tiered trays. My Santa mugs and some vintage jadeite mugs that my sister gave me look so festive on this Christmas-y tiered tray. This would be a perfect spot for a hot cocoa station. I think I'll add some marshmallows and hot chocolate soon.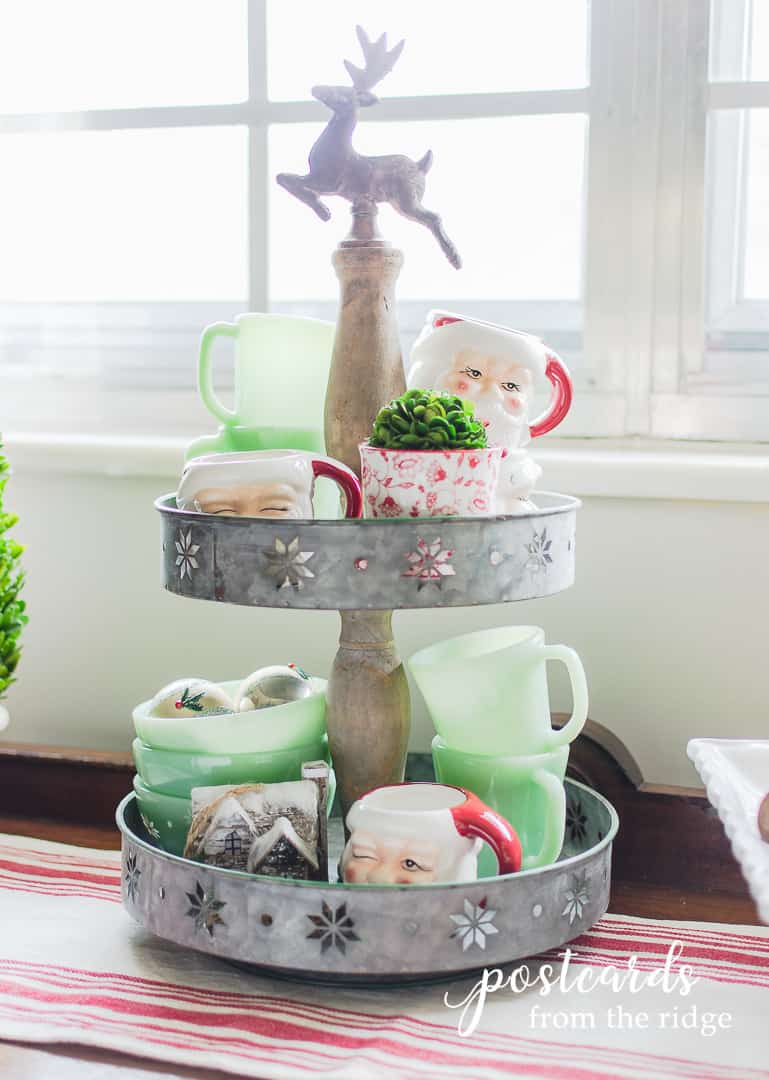 I hope you've gotten some good ideas to help you with your Christmas table decorations. The bottom line is to do what you love and try to use what you have. The people around the table are the most important thing at any gathering. Merry Christmas!!
Now go visit my thrifty friends and see what they're sharing this month. Here are the talented ladies and their sites:
Redhead Can Decorate – Fresh Pine Christmas Centerpiece
Our Crafty Mom – DIY Christmas Cone Trees
I Should Be Mopping The Floor –Free Retro Santa Printables
DIY Beautify – Chippy White Spindle Christmas Tree
2 Bees In A Pod – DIY Christmas Matchbox – Perfect Gift
The How To Home – How to Dress Up a Cheap Poinsettia Plant so it Looks Expensive
Postcards From The Ridge – Festive Christmas Table Decorations That Anyone Can Do
Vinyet Etc. – Create Holiday Magic – Have yourself a Vintage little Christmas!
Sweet Pea – Painted Christmas Stocking
Lora B. Create & Ponder – Scrabble Holiday Art How To
The Tattered Pew –How To Make An Ivy Topiary From a Wire Hanger
Cottage On Bunker Hill – Make a Wreath Out of Gingerbread Salt Dough
shop this look:
Looking for more budget-friendly ideas? Here are all of my past Thrifty Style Team posts: