16 Creative Ideas for Thrifty Christmas Decor
Thrifty Finds Used as Christmas Decor
Thrifty Vintage Christmas Decor Ideas
Finding treasures at thrift stores, yard sales, and estate sales is always a
thrill for me. Sometimes the finds are few and far between, but when I find
something I love it's a happy day. Many of my finds make great Christmas
decor and today I'm sharing some of my favorites.
This post contains affiliate links for your convenience. For full
disclosure go here.
My Thrifty Style Team friends, led by
Julie at Redhead Can Decorate, have teamed up and are sharing our favorite thrifty ideas and you can see
all of them at the bottom of this post.
Each month the Thrifty Style Team shares projects and tips for decorating your
home on a budget. (See all of mine here →Thrifty Style Team Challenges). And today I'm sharing some of my favorite thrifty Christmas decor ideas.
Hopefully you can get some ideas to use in your own home.
Thrift Store Dishes
White dishes are a classic and can be used any time of the year. I scored a
whole collection of these
vintage white swirl dishes
and have really enjoyed them on the table and in our antique hutch.
Old Silverware
Mismatched silverware pieces
tied up with a piece of
red velvet ribbon
will add sparkly holiday vibes to your kitchen. Look for pieces with elegant
details for a charming addition to a hutch or China cabinet.
White Platters
For a dramatic display,
white ironstone platters
are perfect. Even if they're chipped they still come home with me. Mine
have been found mostly at thrift stores and are a great backdrop for holiday
decor.
Little White Creamers and Gravy Pitchers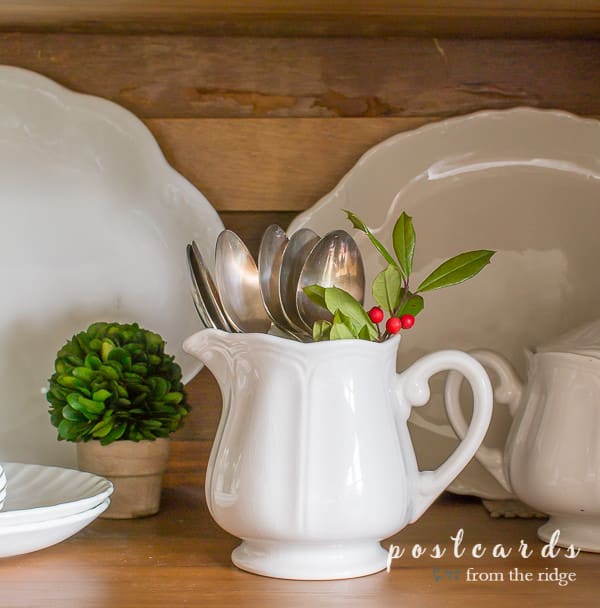 For small areas and filler between larger pieces, tuck some greenery and
vintage silverware into
little white stoneware creamers
and gravy pitchers.
Or top it with a colorful vintage ornament. These little gems are readily
available and can also be used all year long.
Glass Candleholders
Another item that's easy to find is glass candleholders. The ones in the
photos above actually belonged to my mother-in-law, but I've seen them in
thrift stores as well. They make the table look so nice at the holidays.
You can see the rest of this Christmas table decor here →
Cozy Christmas Home Tour
If you don't want to use them for their intended purpose you can always use
them as stands for colorful vintage mercury glass ornaments!
Vintage Mercury Glass Christmas Ornaments

One of my largest collections is my colorful
vintage mercury glass ornaments. I've found them at yard sales and estate sales for bargain prices and love
the bold colors and designs.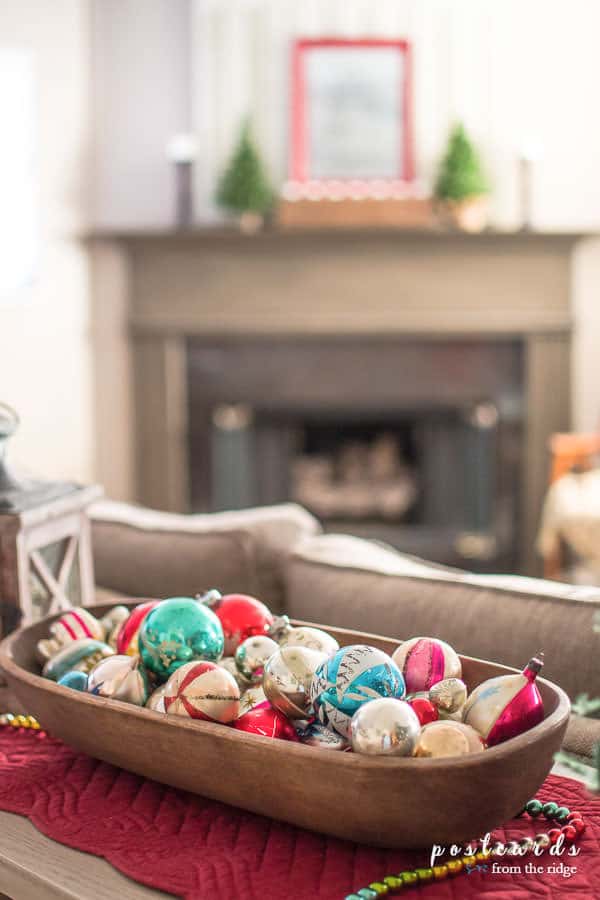 They look beautiful in a
dough bowl, on the tree, or any way you display them.
Vintage Throw Blankets and Textiles

Vintage throw blankets
are a fun thing to find at thrift stores too. If you do purchase these, I
recommend leaving them in your car on a hot day or, if possible, put them in
the dryer on hot temperature. You don't want to bring in any unwanted
guests.
More of this Christmas bedroom decor is here →
Cozy Christmas Home Tour
I found the
vintage granny square afghan quilt
at a thrift store about 20 years ago and love the bold colors. Plus, it
reminds me of my great-granny and aunts who made similar items with their own
hands. If only I had some of theirs…
Vintage Thermoses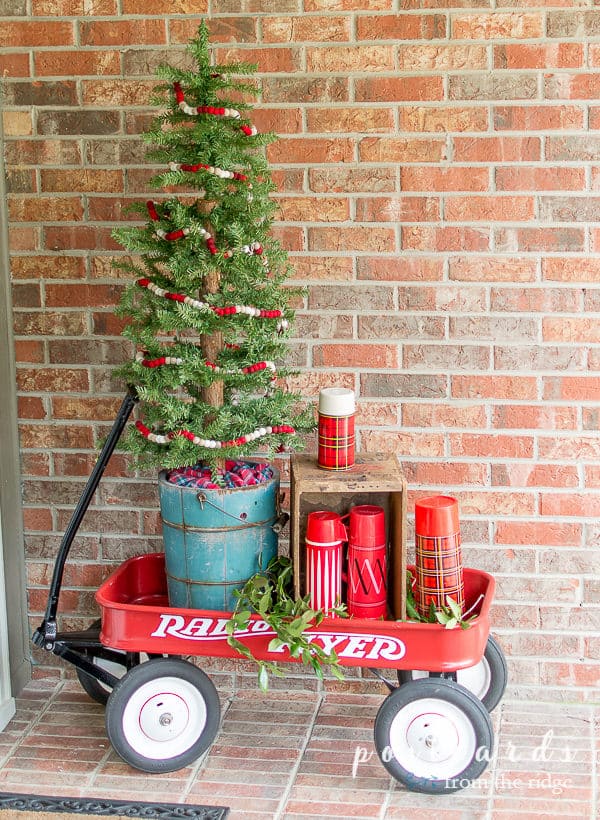 Colorful
old red thermoses
make a fun Christmas decoration. I added these to my dad's old
red radio flyer wagon
last year. I also used an old ice cream bucket as my tree stand for more of a
vintage theme. It wasn't a steal since I got it at an antique shop, but if
you're lucky you could find one at a bargain.
The rest of this porch decor can be seen here →
Cozy Christmas Front Porch with Vintage Finds
Old books
Old books
have such pretty patina and colors. I like to put red and green ones out at
Christmas for an old fashioned look.
You can see the rest of our Christmas entry here →
Cozy Christmas Home Tour
Tie them with ribbon, twine, or stand them up. They look festive any way you
display them.
Glass Bottles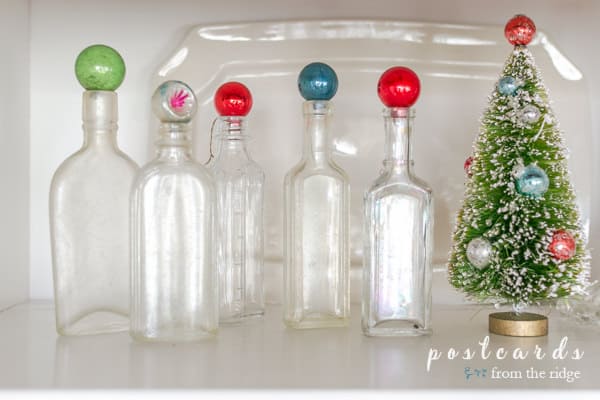 Old glass medicine and extract bottles
add sparkle to a shelf or table. For a merry look, top them with
miniature glass ornaments.
For a budget-friendly centerpiece or display, add
wine bottle fairy lights
to leftover bottles for an instant holiday look.
No drilling required! See this super simple project here →
DIY Bottle Luminaries
Or you can just use old bottles as a vase for branch clippings.
Homemade Wreaths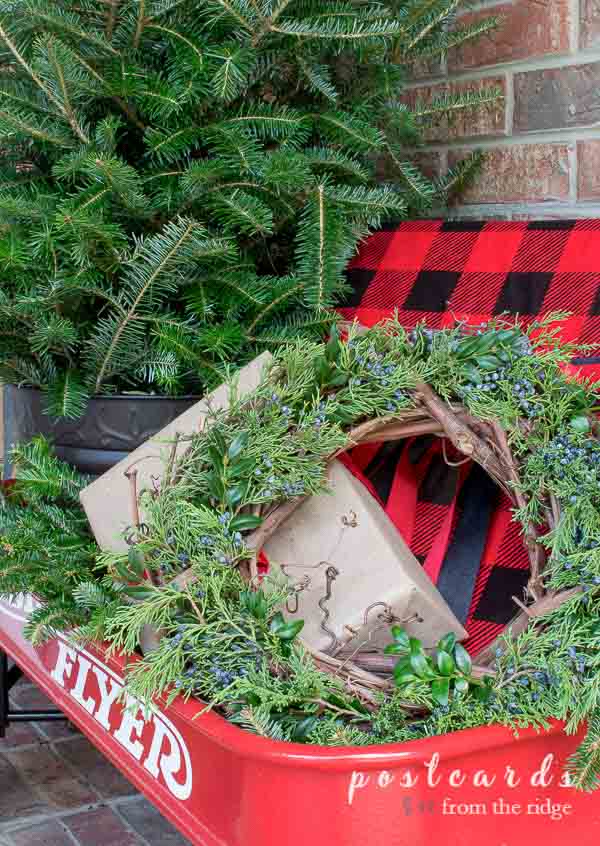 For a beautiful, budget-friendly wreath, attach clippings from evergreen
bushes to a grapevine wreath. A
hot glue gun
and some
pruning shears
are the only tools you need for this little project.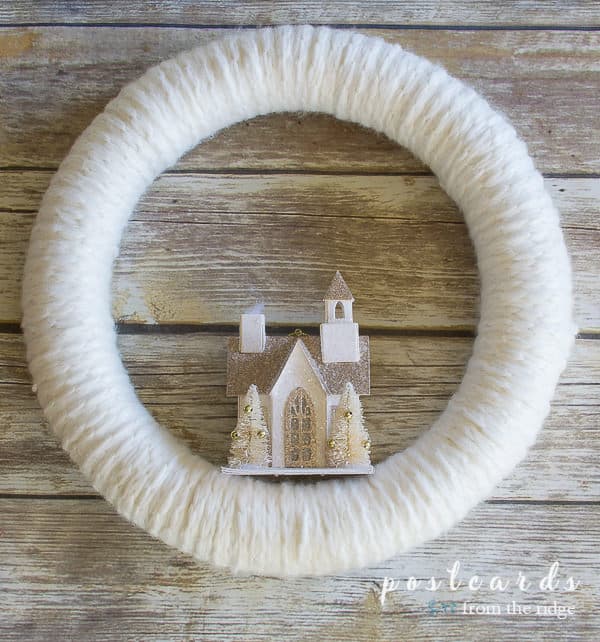 Create a no-knit sweater wreath in a short time with just a low cost
wreath form
and
chunky yarn.
The quick and easy tutorial for this wreath is here →
How to Make a no knit sweater wreath
Give a thrift store wreath a makeover and a new life with paint, greenery, and
ribbon.
See how I made this cute snowman wreath here → Easy DIY Snowman Wreath

Produce and Branch Clippings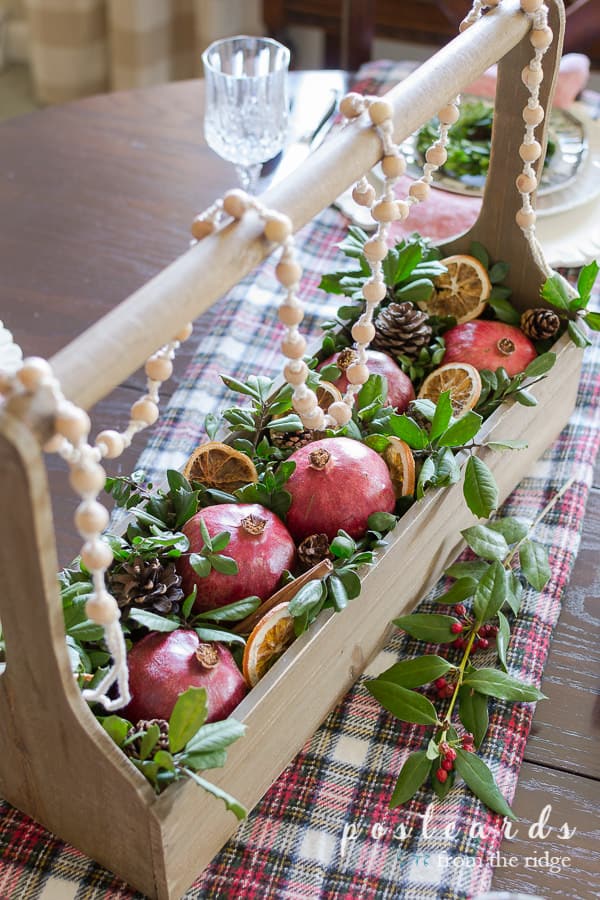 A few items from the produce department at the grocery store and some
evergreen clippings can make a simple and affordable centerpiece. I put this
one together in just a few minutes and you can see the rest of the table here
→
Cozy Christmas Table with Plaid and Natural Accents
Make a thrifty napkin ring with some twine and a sprig of holly. Add a tiny
ornament for a bit of color and sparkle. You can see the rest of this holiday
table here →
Natural Rustic Christmas Table
Cake Pedastal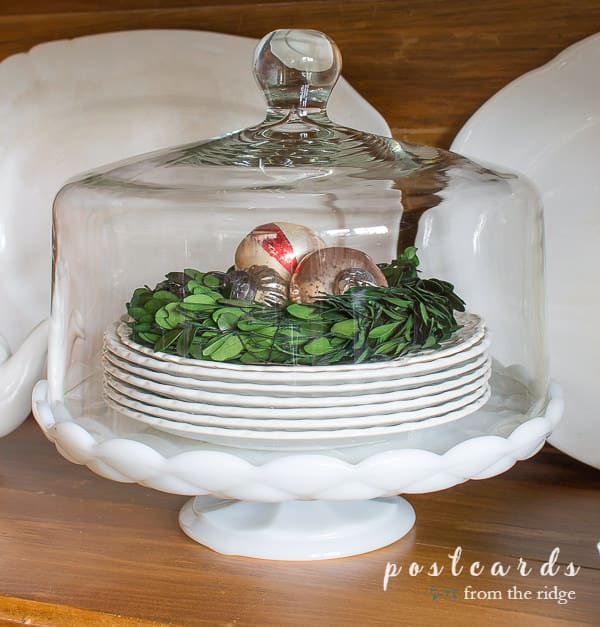 A thrifty cake stand is another fun place to decorate for Christmas. Stack
some small plates, add a little wreath or greenery, and finish it off with a
few ornaments. It has the same shape as a decorated cake!
Vintage Stoneware Crock
Thrifted planters, crocks, and utensil holders can be used as a Christmas tree
stand for miniature and table top trees. My ironstone crock is the perfect
size and has a nice, rustic quality to it.
Vintage Silver Champagne Bucket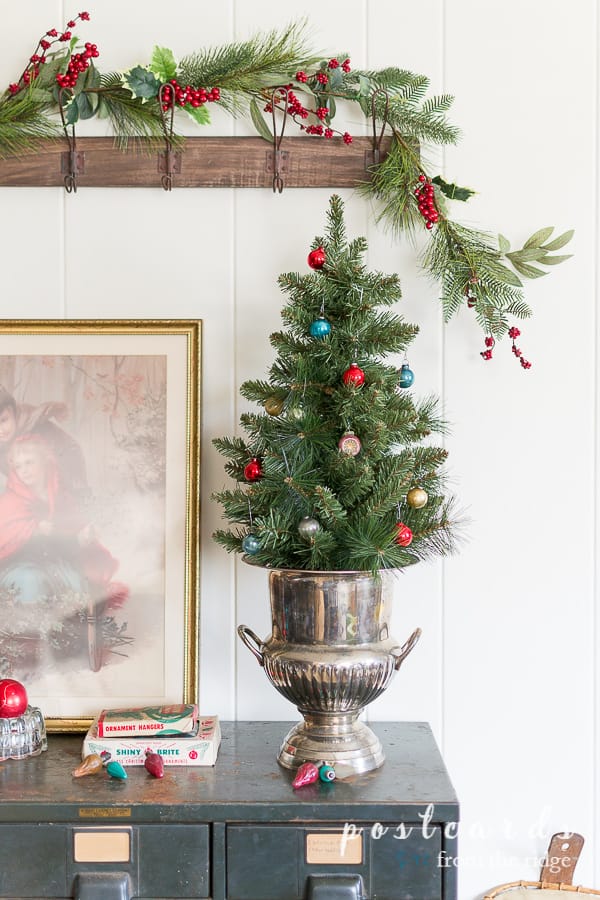 For a bit more of a glamorous look, use a thrifted champagne bucket as a tree
stand. Add little ornaments for more sparkle and color. I found this
silver champagne bucket
last year at a thrift store and it was half price day so I got it for a steal!
Everyday Items
With a little creativity you can make almost any item look like Christmas
decor. These
old red handled scissors
came from an estate sale a couple of years ago. I added some candy canes, a
spool of red velvet ribbon, and striped nakpins to a tiered tray for an
instant Christmas look. Easy as pie!
These are just a few of the ways I've used thrifted, gifted, or found items in
my Christmas decor over the past few years. For my best estate sale shopping
tips, go here →
How to shop estate sales like a pro