Tiered Tray Decor Ideas with Thrifty and Vintage Finds
Tiered Tray Decorated with Thrifty and Vintage Finds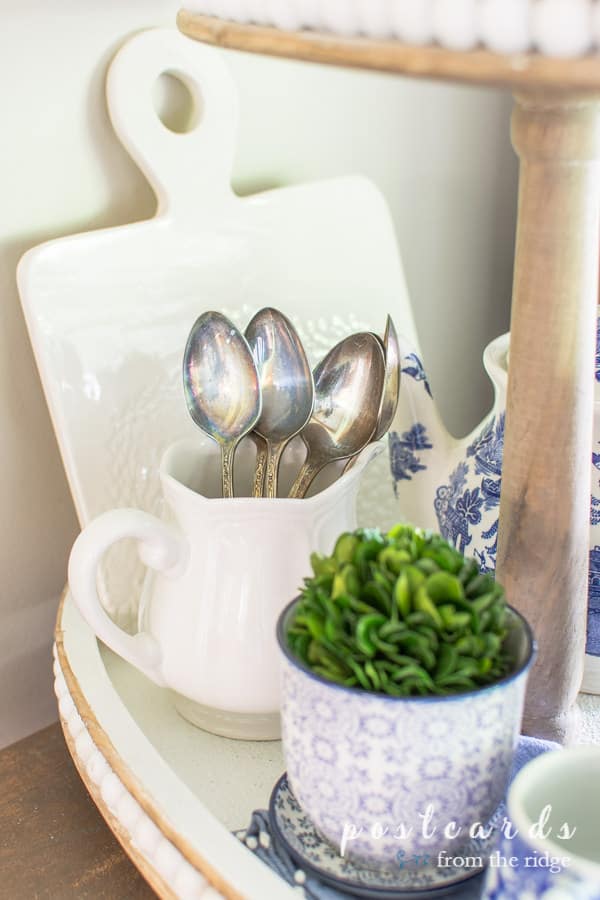 Hello, friends! Today is the May edition of the Thrifty Style Team Challenge! Each month, my thrifty teammates and I share budget-friendly ways to decorate your home. We use items that were free, thrifted, second-hand, etc. My talented friend Julie at Redhead Can Decorate hosts the tour each month and there are always so many great ideas. Scroll to the bottom of the post to see everyone's thrifty ideas.
This post contains affiliate links for your convenience. For full disclosure go here.
A few days ago I spruced up my little coffee zone with a tiered tray. I decorated it mostly with items I've found at thrift stores, estate sales, and things that were given to me or that I've had for a long time.
Most of these items could be found at yard sales, thrift stores, etc with a bit of hunting. Or you can check out sites like etsy or eBay if you prefer to shop online.
Mixing old and new items is one of my favorite things to do around the house and I've done that with this tiered tray. I have a soft spot for old dishes and have accumulated quite a collection of little creamers.
The white creamer was part of a set of dishes I found at Goodwill, and the little green creamer was also thrifted.
Silver pieces are pretty easy to find at thrift stores. I tucked these inside of another little ironstone creamer that I scored from a friend whose mother was downsizing.
The little green creamer makes a cute vase for a mini boxwood topiary. I'm not sure if you can see it, but the pitcher has some crazing which gives it such a pretty vintage patina.
My late mother-in-law loved blue and white items and I have a lot of her collection including the tiny teapot. Isn't it adorable? And the sugar bowl in the background belonged to my grandmother.
This pretty blue willow teapot was also my mother-in-law's. I haven't ever used it for tea, but it looks great on the tiered tray, don't you think?
The tiny sugar bowl was a thrift store find. It would be perfect for sweetener packets or sugar cubes.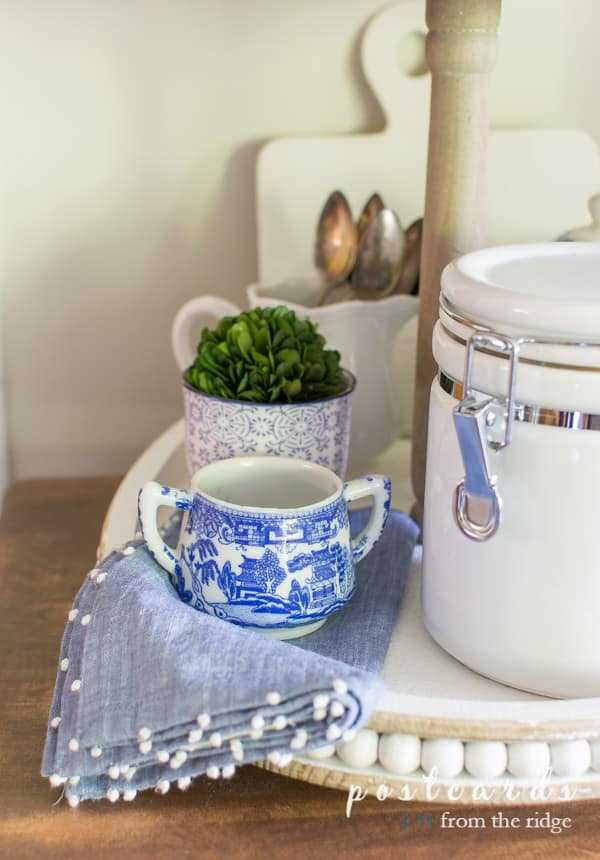 My morning coffee definitely got a little more enjoyable after I added this tiered tray with my favorite finds next to the coffee maker. And I visit here a couple of times every morning.
I've been collecting for a couple of decades and always scoop up white ironstone or blue and white pieces when I see them. With patience and a bit of hunting, you can accumulate a nice collection of whatever it is that you love. Happy hunting!
shop this look
Note: these items were not thrifted but mix well with the vintage theme:
Napkins (although I received them as a gift from a brand I've worked with in the past)
White Ceramic Canister – I bought a set of these probably 20 years ago but they're still being sold today
The little boxwood items are from my shop
The small blue and white pot was bought on a trip
The white ceramic cheese board was a project I made in my pottery class at our local art center
The tiered tray is also from my shop (it's a 3 tier tray that I only used 2 of the tiers)
If you love blue and white decor as much as I do then you'll like this post too:
For more tiered tray decorating ideas visit these posts:
Here are more budget-friendly decorating posts with the Thrifty Decor Style Team:
And now, here are all of this month's Thrifty Style Team projects. Be sure to visit all of my creative and talented friends to see what they're sharing!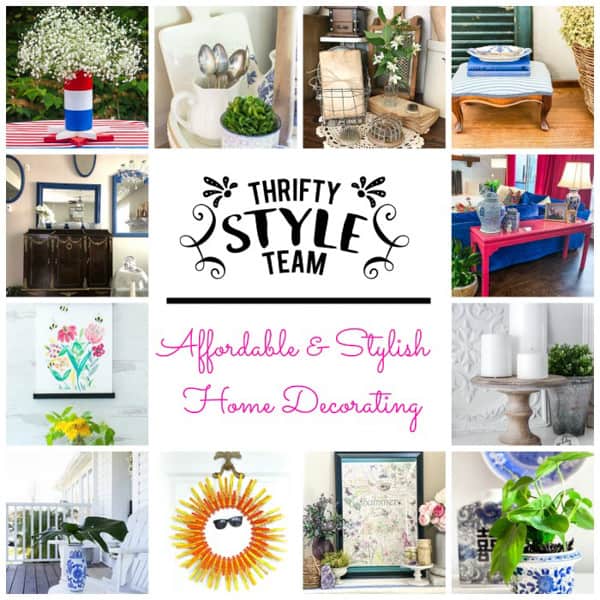 Redhead Can Decorate – Sun Clothespin Wreath
The Painted Hinge – How to Make Paperback Books Look Vintage
DIY Beautify – DIY Weathered Wood Pedestal
2 Bees In A Pod – Thrift Store Planters – Thrifty Style Team
Postcards From The Ridge – Tiered Tray Decor Ideas with Thrifty and Vintage Finds
The Creek Line House – Ten Plants to Grow for Home Decor
The How To Home – Upcycled Berry Basket
The Tattered Pew – How to Easily Recover an Old Footstool
Unskinny Boppy – How to Frame a Puzzle without Puzzle Glue
Sweet Pea – DIY Patriotic Vase
What Meegan Makes – Thrifted Mirror Gallery Painted with Homemade Chalk Paint
I Should Be Mopping The Floor – Ethan Allen Console Table Makeover