Evergreen Vintage Farmhouse Christmas Tablescape
Ideas for using natural elements for a simple Christmas tablescape
This post contains affiliate links for your convenience. For full disclosure go here.
Hello, friends! Happy December! I hope you're enjoying the start of the Christmas season with all of the festive sights, scents, and flavors.
In our house, I've just about finished the Christmas decorating and am looking forward to enjoying the rest of the month. Our oldest will be home from college in a couple of weeks and our youngest will be out for the holidays as well. I plan to relish every moment since this will be our last year before our youngest goes off to college.
Seriously, where does the time go?
Anyway, today I'm sharing this year's Christmas tablescape. We don't have a dining room in this house so what you see is where we eat everyday. No, it won't stay exactly like this all month, but I do like to dress it up a little.
Evergreen Christmas Tablescape
Lately I've been drawn towards simple, natural elements and that's how the table is decorated.
Here's how I set it all up.
1. Burlap Table Runner
For this easy tablescape, I started with a basic burlap table runner.
2. Wooden dough bowl
I added some laurel cypress, boxwood, pine cones, and a few more items to a wooden dough bowl for a very simple centerpiece. We're not at all fancy or formal so this suits us to a t. My youngest actually said it's too much. Obviously she's not used to having the table all decked out, lol.
3. Simple vintage-themed farmhouse table setting
Some vintage white ironstone plates and vintage silver sit on our round woven placemats. And I added some black striped napkins from my shop, Emory Valley Mercantile, tied with twine. A little sprig of boxwood adds a bit more color to the setting. And a tiny silver ornament gives it just the slightest amount of bling.
shop this look
4. Colorful glasses
The vintage green goblets were favorites of my late mother-in-law so I like to use them when I can. They fit perfectly with the natural theme, even though they're a little fancier than the rest of the elements.
And did you notice the chandelier? That's one of my favorite, most budget-friendly makeovers that I've ever done. It was shiny brass when I got it from a yard sale 10 years ago for less than $10. I spray painted it black and added some chandelier shades to update it. (Please don't judge me for the lopsided ones!) And this year I added the wood bead garland for a little more character. What do you think?
In the next room, our fireplace and mantel have been decked out for the season and here's a little peek:
I've actually NEVER shared a Christmas version of this mantel because it was red brick and my Christmas decor never looked good on it. A couple of months ago I did a paint technique on it (go HERE to see what I did) and now the Christmas decorations look great here. I've partnered with Joann Fabrics to give it a snowy Christmas look.
Come back Tuesday to see it all, or join our subscriber list below and you'll have it sent to you automatically. I'll be touring with about 25 of your favorite farmhouse style bloggers for a huge Christmas tour. You won't want to miss it!
What's your favorite part of the tablescape? Leave me a comment and let me know. (Comments make my day. 😄)
Need ideas for your Christmas porch, deck, or gazebo? Visit my recent Christmas front porch which also has a simple, natural, vintage theme. I joined with 12 other home bloggers who are sharing their outdoor spaces. Here's a peek: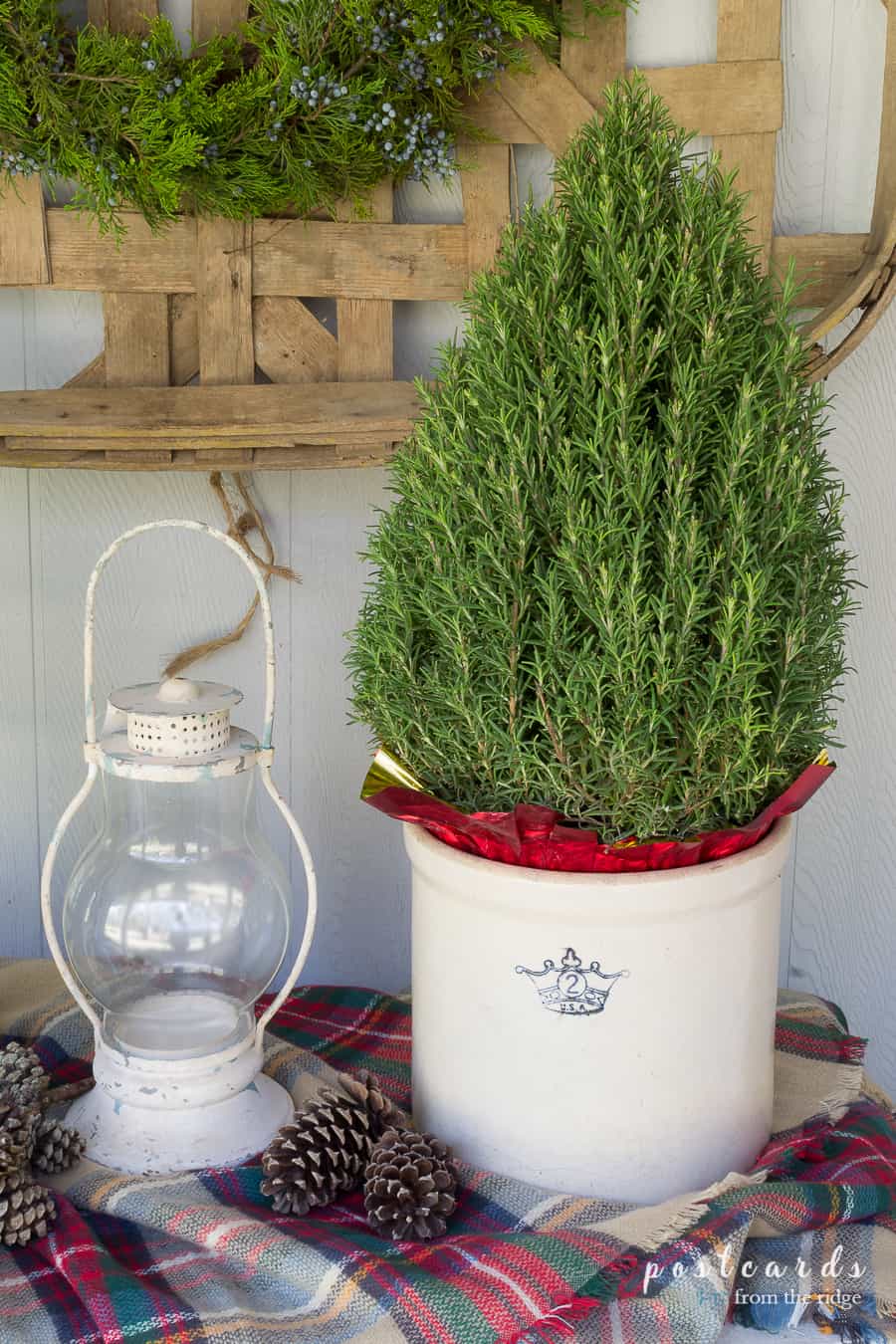 Click HERE to see it all.
Here are the sources for the area in case you see anything you would like to have for your own home.
From the living room hearth, JOY sign found HERE
And for all of my Christmas decorating posts since 2011, go HERE.
Visit my holiday shop with over 100 cozy Christmas items HERE.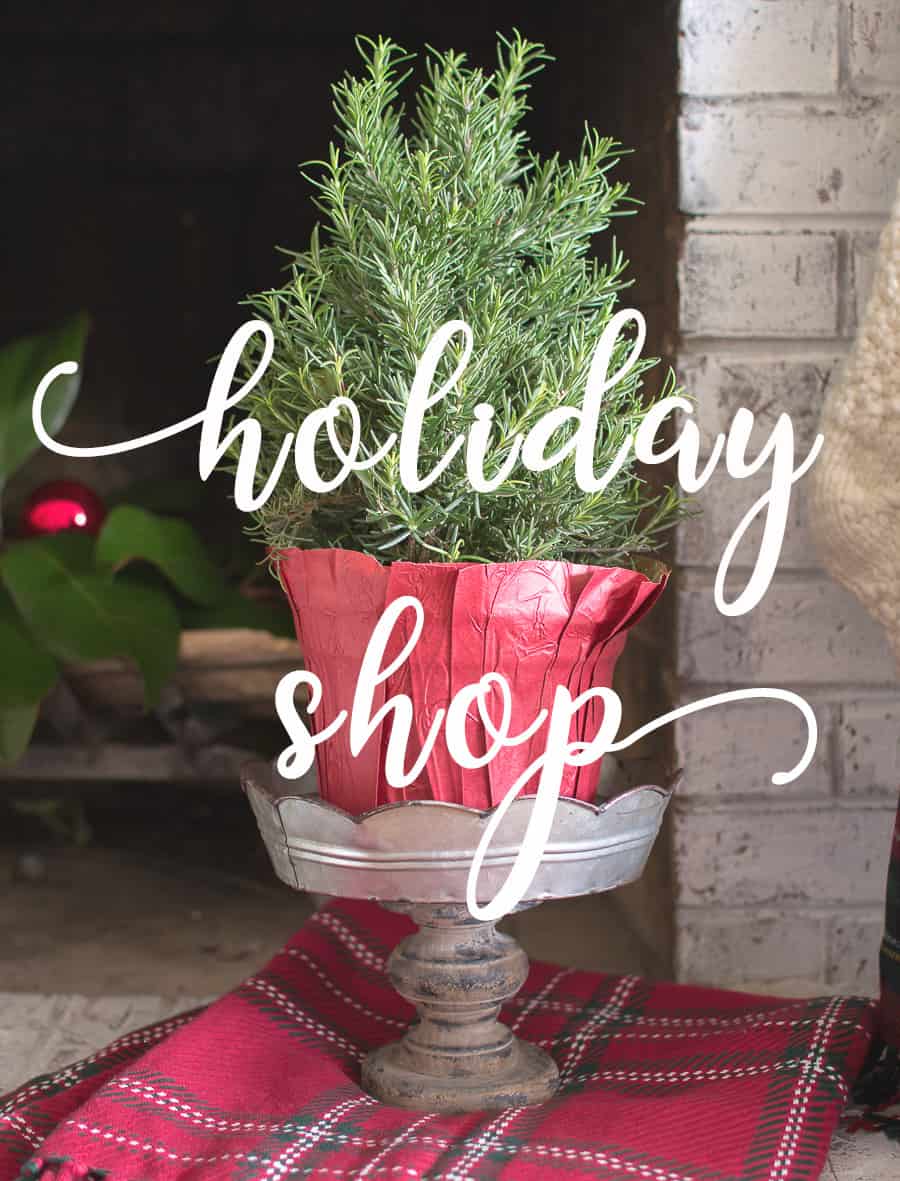 Thanks for dropping by!