Fall Table with Thrifted, Gifted, and Foraged Finds
Using thrifted, gifted, and found items for a fall tablescape
This post contains affiliate links for your convenience. For full
disclosure go
here.
Fall Table with Thrifted, Gifted, and Foraged Items

Don't you just love it when you can shop the house or use budget-friendly
items for a fresh decorating project? I do it all the time, quite possibly
because my "stash" is way too big. But it's fun to use an item in a new way or
with other things you haven't put it with before.
That's a lot of what the
Thrifty Style Team challenge, hosted by my friend
Julie at Redhead Can Decorate, is all about. We show you how to use items that were free, gifted, or found
at affordable prices.
This month I decorated our table using items that I found at the thrift
store, some that were given to me, and some that I foraged from
nature. You can see all of my teammates' projects and the end of this post.
Thrifted Items
The white dishes came from Goodwill a couple of years ago. I got a whole
tub full of an entire set including platters, bowls, teapots, and more, and they're
perfect for any time of the year.
Gifted Items
I'm lucky to have a mom who also loves vintage items. She has been thinning
her collection and recently gave me the stemware. They're a little more
fancy than what I usually use, but they're such a classic style.
The silver was some that my father-in-law had with his stash. I don't have
more than 4 place settings, but that's all I need for our table.
Foraged Items
I love using natural items in my decor. The hydrangeas are some that I dried
myself. You can see how I dry them here →
How to Easily Dry Hydrangeas
The pears came from a relative's home that I visited recently. They have
such perfect colors for fall. You could pick these up from the grocery store
for an easy fall accent.
The
little brownish boxwood wreaths
are from my shop and are ideal as a base for the pears.
I added some feathers that I've found while out on nature walks, as well as
some nuts and a pumpkin from the grocery store, and some dried orange
slices.
I placed them in a
dough bowl
from my shop and used a
plaid wool throw blanket
that I've had for years as a table cloth.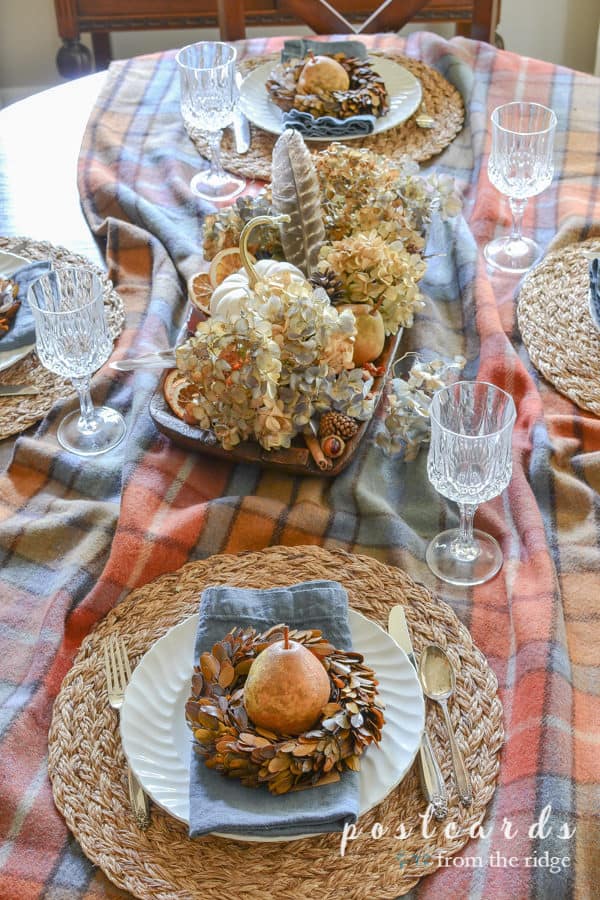 Everything came together nicely and it's such a cozy table setting! Using
thrifted, gifted, and foraged items is definitely one of my favorite ways to
decorate! How about you?
Here are my past Thrifty Style Team projects:
Here are all of my Thrifty Style Team friends' ideas for this month. Be sure
to visit everyone and see the great projects that they're sharing!
Redhead Can Decorate – Thrifty Glass Fountain
The Painted Hinge – Mixing Natural and Faux Elements on a Fall Mantel
DIY Beautify – Decorating with Inexpensive Amber Glass Bottles
2 Bees In A Pod – Chalk Painted Rocking Chair
Postcards From The Ridge – Fall Table with Thrifted, Gifted, and Foraged Finds
The Creek Line House – The Secret Formula for the Perfect Painted Gold Frame
The How-To Home – Painted Dollar Store Pumpkins
The Tattered Pew – DIY Faux Pumpkin WIth Floating Votives
Sweet Pea – Amazing Ideas for Fall Outdoor Decor
What Meegan Makes – Unique Fall Decorating with Vintage Pieces
Cottage At The Crossroads – How to Disguise a Chest Freezer
I Should Be Mopping The Floor – How to Make Hand-Poured Candles