How to Clean and Care for Vintage Wooden Spoons and Utensils
Tips for cleaning and caring for vintage wooden spoons and utensils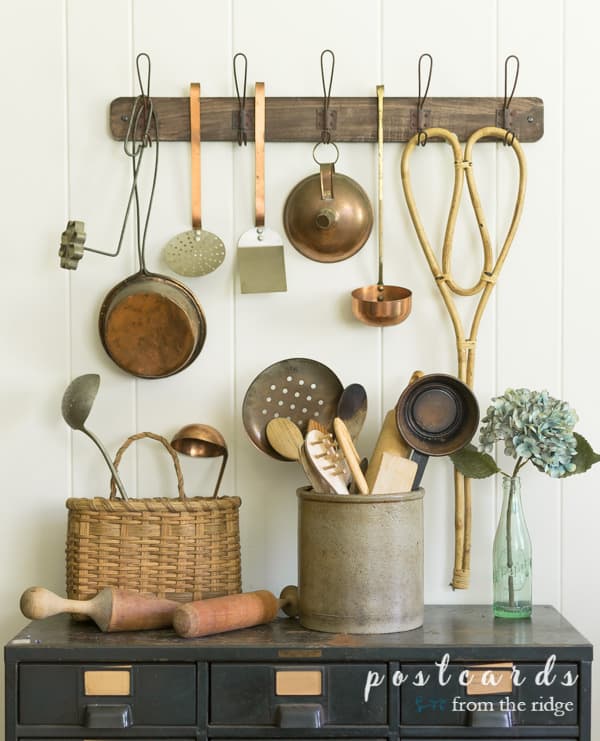 Hello, friends! Are you a fan of wooden spoons and utensils? I love them and
scored a collection of several nice ones at a recent estate sale. They were a
little dirty and needing some cleaning and TLC. Today I'm sharing how I
cleaned and care for them as part of this month's Thrifty Style Team
challenge.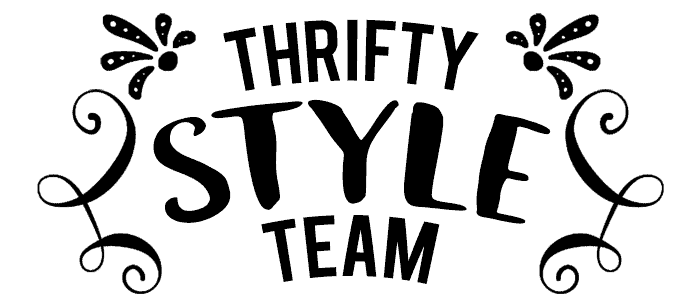 This post contains affiliate links for your convenience. For full
disclosure go here.
My friend
Julie at Redhead Can Decorate
hosts this fun challenge every month and the team consists of a talented
group of home bloggers. We share ideas for using thrift store finds,
freebies, second-hand items, or things that you might have around the house.
You'll see projects and tips from everyone at the bottom of this post.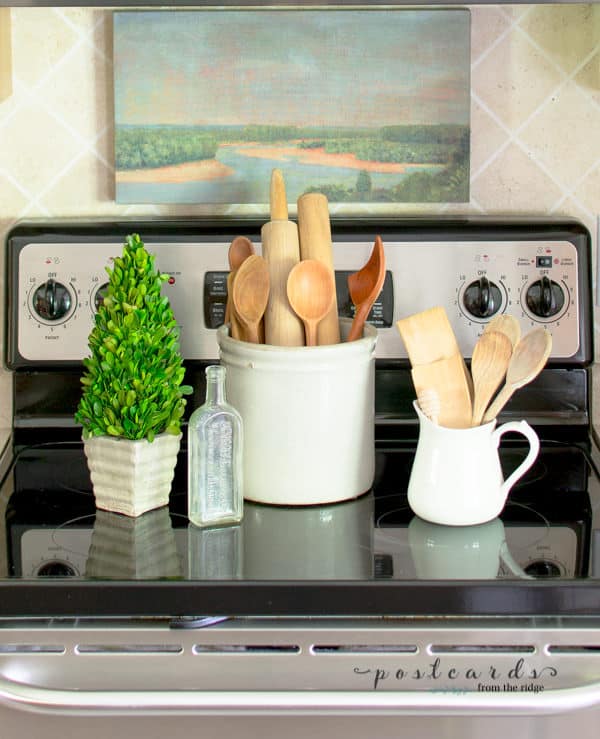 I love wooden spoons and utensils occasionally find them at thrift stores or
estate sales. I always give them a good cleaning before using them and I'm
sharing my tips for that in today's post. I buy new ones sometimes too and
just got 2 beautiful ones for myself from a local maker as a birthday
present. I shared them on my
Instagram stories, so you might have seen them there.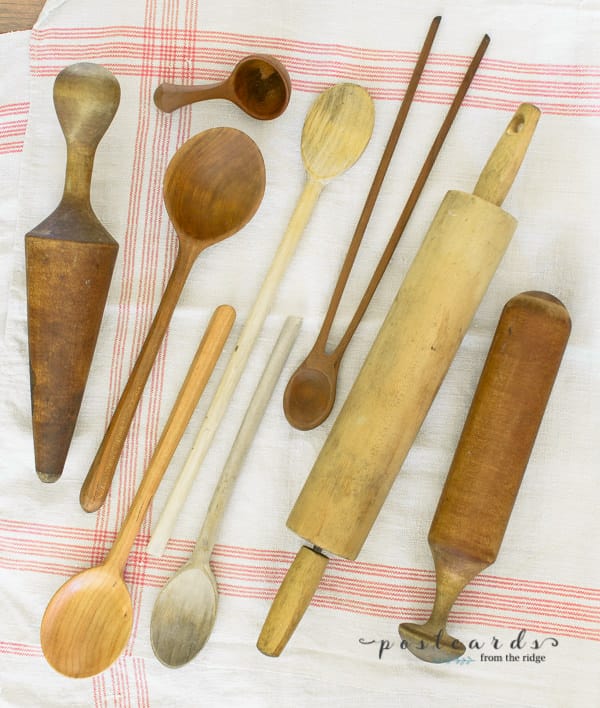 How to Clean Wooden Spoons and Utensils

Wash with hot soapy water
Always clean your wooden spoons right after you use them. You can wash your
wooden spoons and utensils with mild hot soapy water.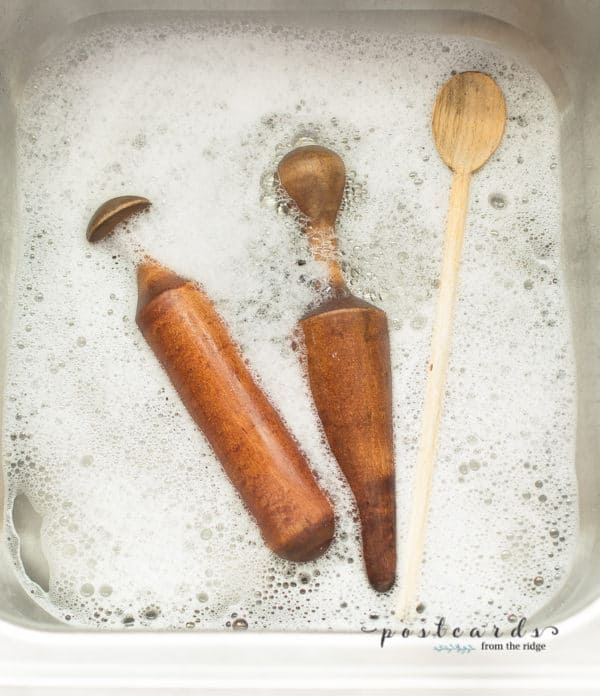 Rinse them completely when you're finished washing them, then pat them dry
with a soft cloth. Allow them to air dry completely before putting them
away.
How to remove stains:
Soak the spoon(s) in vinegar for about 5 minutes, then add boiling water. Let
it sit in the vinegar and water mixture for 5 minutes. Wipe with a soft cloth
and the stain should come out.
How to salvage a burnt wooden spoon:
Using a fine sandpaper, sand off the burned area of the spoon or utensil. Wash
the spoon to remove any sanding dust and allow to dry completely. Apply a coat
of mineral oil.
How to remove odors or flavors:
If your spoons have lingering flavors or odors, slice a lemon in half and rub
it over the spoons. Allow them to air dry.
Caring for your wooden spoons and utensils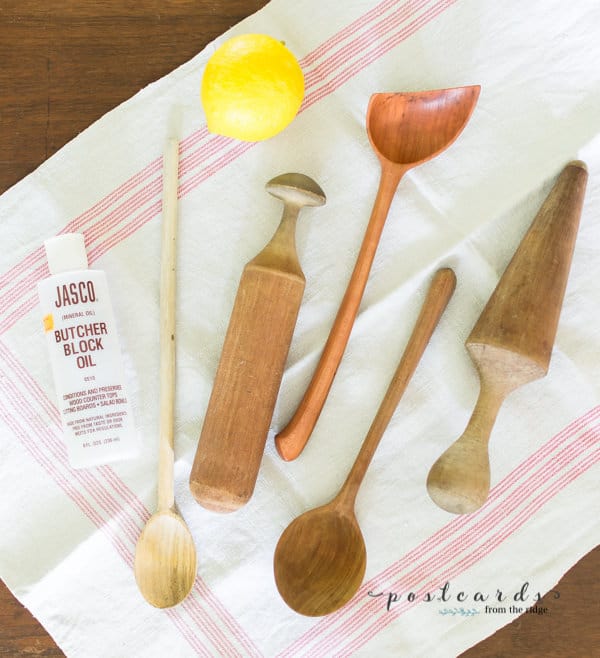 Your wooden spoons may dry out occasionally and you can make them last longer
by applying
mineral oil
once a month. Here's an easy way to keep them in good shape so they'll last
for years.
Apply
mineral oil
with a soft cloth
Allow it to soak in for a few minutes
Wipe of any excess that's still on the surface.
Mineral oil
is food safe and is ideal for wooden utensils and cutting boards, as well as
wooden salad bowls and trays. A bottle of it will last you for years.
Don't use olive oil or vegetable oil because they can turn rancid over time
and cause your spoons to smell bad.
Note – you can care for your wooden cutting boards and salad bowls with
these same techniques.
Pros and Cons of Using Wooden Spoons and Utensils:

Pros:
Made from natural materials
No plastics or potentially harmful chemicals
Supports artisan/small business if purchased from the maker
Doesn't harm non-stick cookware
Can last for years if taken care of properly
Available in many interesting shapes and sizes
You can find them used and clean them up
Cons:
Not dishwasher safe
Can absorb odors and stains
Can be expensive
If not taken care of properly, they can harbor bacteria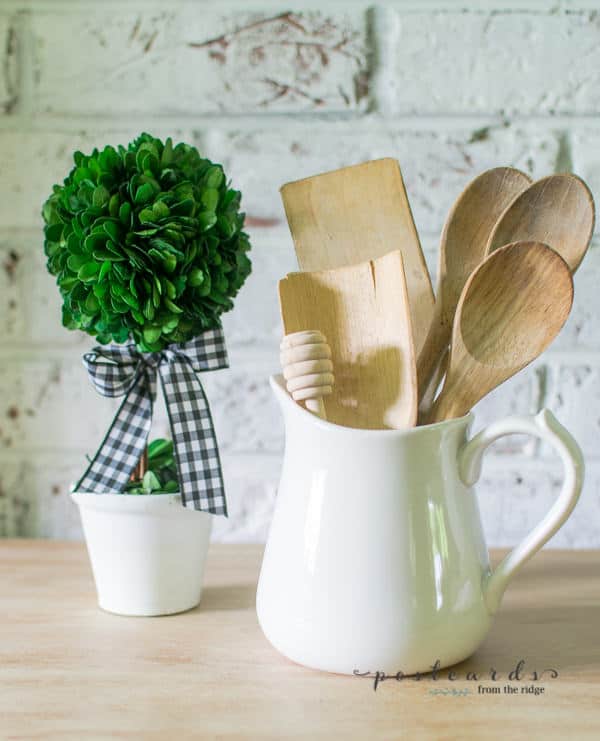 These items are found in my online shop here:
white stoneware creamer,
small preserved boxwood topiary
shop for handmade wooden spoons
shop for vintage wooden kitchen spoons and utensils
See my past Thrifty Style Team posts here:
Here's a peek at this month's Thrifty Style Team posts: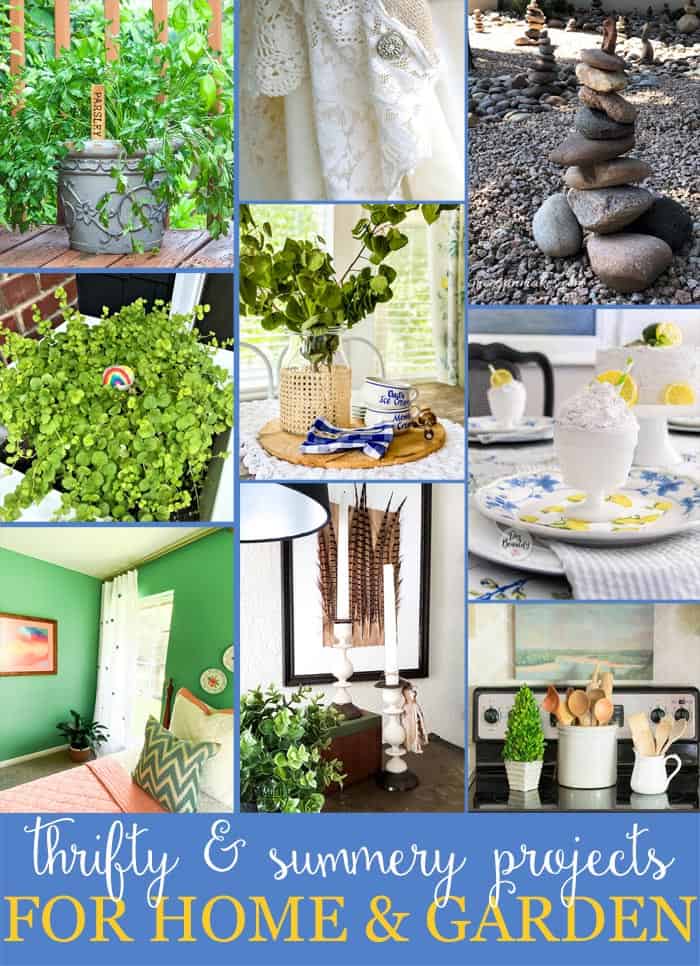 See all of this month's projects and tips on these blogs:
Redhead Can Decorate – DIY Rainbow Rocks
The Painted Hinge – Repurposed Oil Lamp Vase
DIY Beautify – Thrifty Summer Citrus Tablescape
Postcards From The Ridge – How to Clean and Care for Vintage Wooden Spoons and Utensils
The How To Home – Shabby Chic Tablecloth Ideas
The Tattered Pew – DIY Cane IKEA Vase
Sweet Pea – DIY Wood Burned Plant Markers
What Meegan Makes – Design Your Own Rock Tower Garden Art
Salvaged Living – Thrift Store Candlestick Makeover
I Should Be Mopping The Floor – Polka Dot No-Sew Curtains