Sherwin Williams 2023 Color of the Year Redend Point – Hit or Miss?
Just announced is the Sherwin Williams 2023 color of the year Redend Point. Is it a hit or a miss? See it in rooms and learn what colors work with it and how to use it in this post.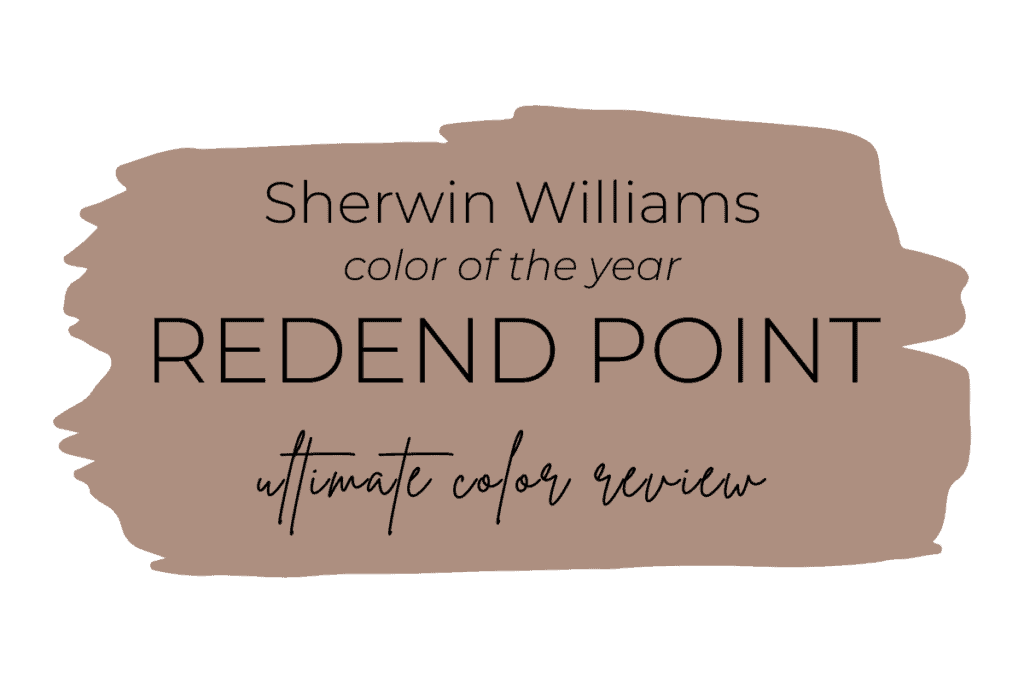 This post contains affiliate links for your convenience. I may make a small commission on products purchased with my link, but your price does not change. For full disclosure go here: Disclosure and Policies. Thank you for supporting my site.
2023 Sherwin Williams Color of the Year Redend Point
The Sherwin Williams color of the year for 2023 has just been announced and has received mix reactions. It's one of the colors from their 2023 Color Forecast which I shared last month in an in-depth post here: 2023 Sherwin Williams Paint Color Forecast.
FYI: The 2024 Sherwin Williams color trends have just been released and you can see them all here: 2024 Sherwin Williams Colors
Sherwin Williams color of the year for 2023 Redend Point SW 9081
Have you ever wondered how the "color of the year" is chosen? Most of the choices are pretty popular, but this one is somewhat of an outlier.
Whatever your thoughts about it are, you should always use what you love in your home. Your opinion is the only one that really matters!!
Redend Point a nice color, but is it one that you could use in your home? Let's take a look at it in several spaces and learn a little more about it.
What color is Sherwin Williams Redend Point?
Redend Point SW 9081 is a warm, inviting, rich, earthy hue that's more neutral than you might think. It's a rosy brown and has undertones of red, brown, and blue. It's very reminiscent of a makeup palette with its soft, dark, blush tones.
What's the LRV of Redend Point
Redend Point has an LRV of 30, making it a medium toned color. In rooms with low lighting it could appear darker. It would look best in rooms that face north or east.
How does Redend Point look on a wall?
Rooms painted with Redend Point are warm and cozy. They create a welcoming atmosphere. This living room has a bit of an 80's vibe and the Redend Point goes well with it all.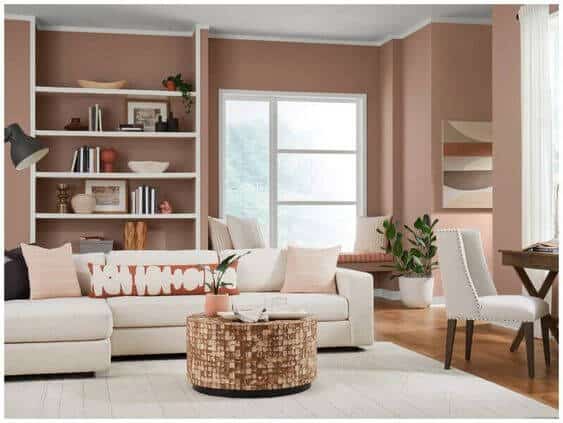 What trim colors go with Redend Point?
With the warm, rich undertones of Redend Point it's best to go with neutral or warm whites for trim. Some good options are: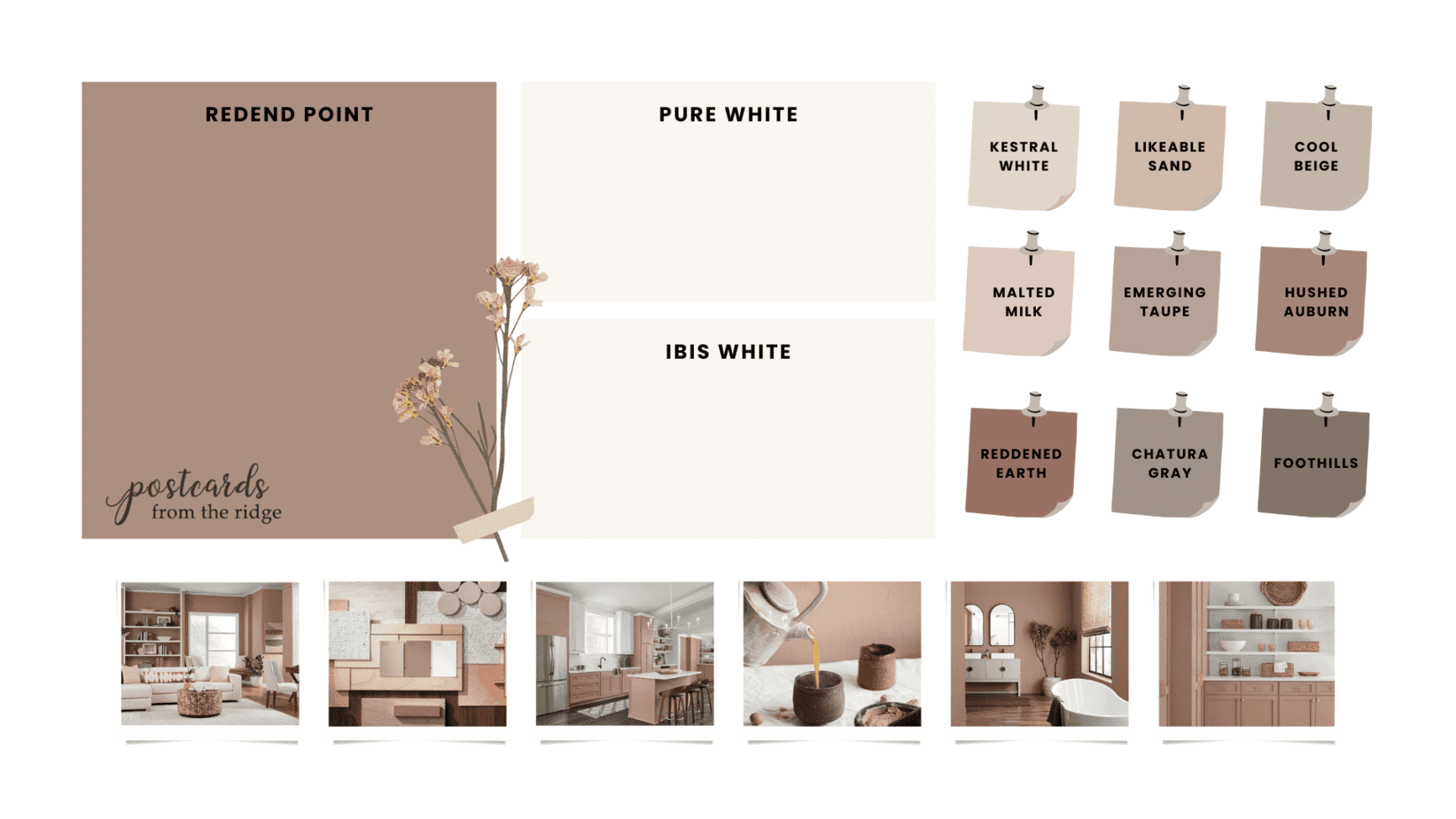 How can I use Redend Point?
Depending how bold you are with your color choices in your home, there are various places it could be used. For many people, it's not a favorite color for an entire room but would make a nice accent wall or look good in a small room.
As part of a larger color palette this color would be nice for bedding, pillows, wall art, throw blankets, and more. Here are some inspiration photos to see if it's something you could use in your home.
Bathroom Walls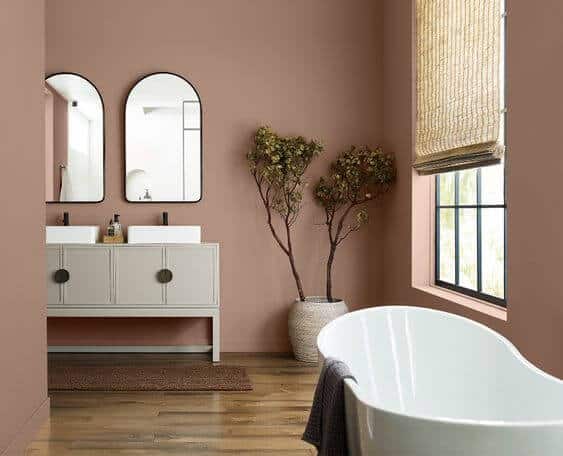 Painting a bathroom in a warm blush toned color does wonders for your skintone! At least it does when you're looking in the mirror. Redend Point would look nice paired with these design elements:
White, beige, or taupe marble or tile
Rose gold, brass, black, or antique bronze cabinet hardware and fixtures
Towels in cream, white, tan, warm dark grays, or light beige
Natural woven accents such as window shades, baskets, etc.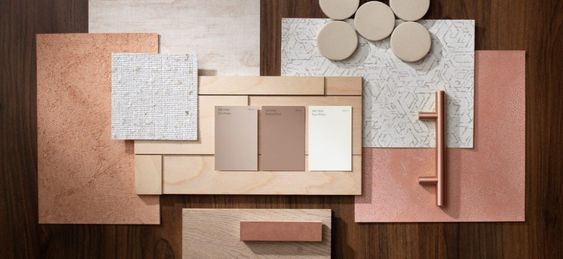 Bedroom Accent Wall
Redend Point would be a nice bedroom accent wall color for a soft, earthy, somewhat boho look. It mixes well with off white fabrics and natural woven rugs, as well as woven light fixtures.
What can I use for design accents with the color of the year Redend Point?
There's an entire collection of items on etsy specifically chosen to go with this color! See them all here: Sherwin Williams color of the year complements
Rose Gold
Natural woods and woven items
Black and dark bronze hardware
Colors that coordinate with Redend Point
There are a couple of different directions you could take this surprisingly neutral rosy tan. I've curated two different palettes including one that's more monochromatic with lighter and darker versions, and another that has some complementary colors.
Both color palettes are available as free printable downloads at the bottom of this post.
This first palette has warm blush and brown colors, soft reds, and a warm white trim color. These colors can be used for accent walls, accessories, accent furniture, or decor.
The second palette has the addition of soft greens and neutrals and has an earthy vibe to it. You could introduce the greens and dark bronze with plants, metal items, and decor. Scroll to the bottom of the post to download the palette with color names included.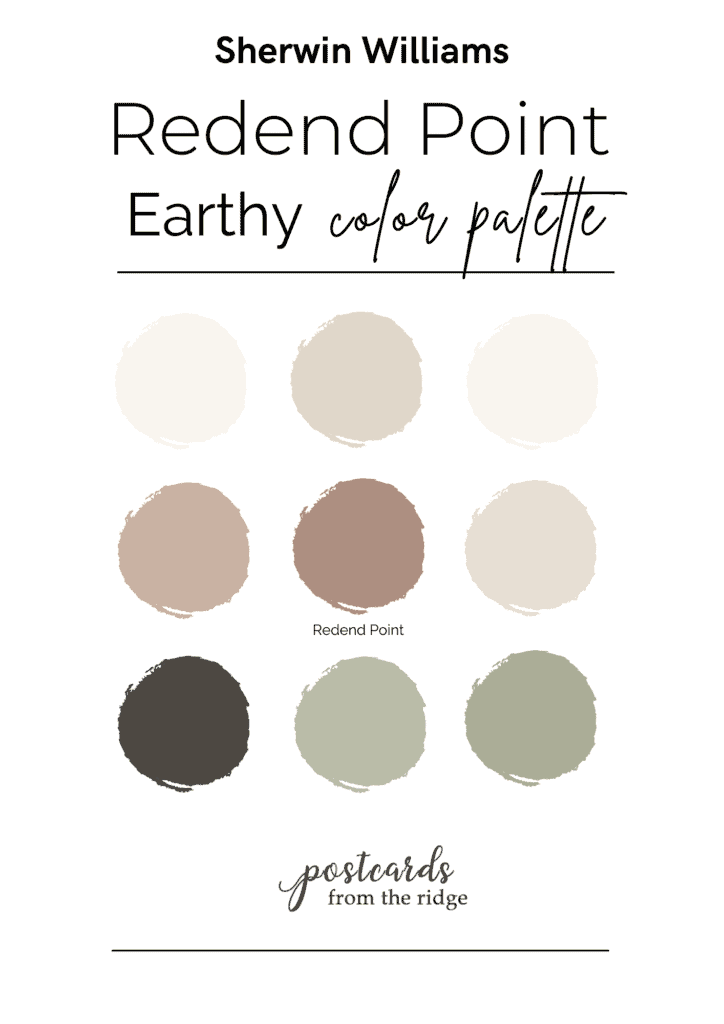 These exclusive curated printable color palettes with color names are sold for $15 and more elsewhere, but are yours to download for free when you subscribe to my newsletter.
What colors are similar to Redend Point?
If you like this color but want a slightly different version of it, Sherwin Williams has several other colors that are similar to it. These are their closest ones: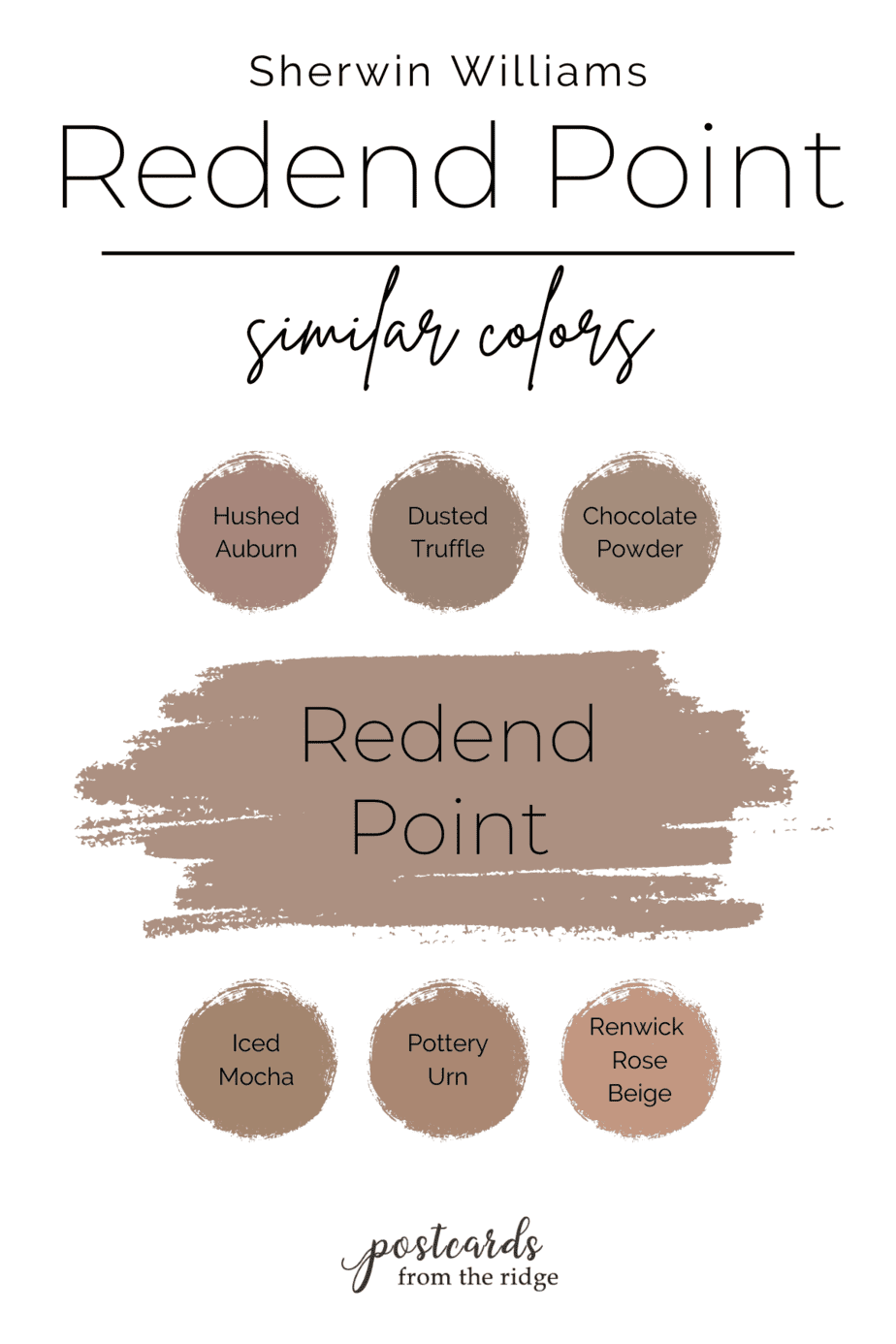 Benjamin Moore Baywood Brown 1234 is the closest color to Redend Point. It's slightly lighter and bluer but is extremely close.
Redend Point Comps
LRV
Undertones
Redend Point
30
brown, red, blue
Baywood Brown
33.46 – slightly lighter
slightly bluer than
Redend Point
Try a Sample
If you're ready to see how this on-trend color looks in your home then I suggest trying a sample first. You can get a peel and stick sample of it and any other Sherwin Williams color here: Redend Point Peel and Stick Paint Sample.
Or you can purchase a sample pot from Sherwin Williams and paint your own peel and stick sheet with this product: Sureswatch Paintable Clear Film
2023 Sherwin Williams Color Forecast
Don't miss the entire collection of colors from the 2023 Sherwin Williams ColorMix forecast here: 2023 Sherwin Williams Paint Colors
Final Thoughts on the 2023 Sherwin Williams color of the year
This color isn't for everyone like other colors from past years. But in the right setting it could be stunning. What are your thoughts? Are you considering it for anywhere in your home? Leave me a comment and let me know what you think of it.
More Paint Color Posts
I've been working in the paint and decorating industry for 30+ years and writing about paint colors since 2012. Paint isn't just something I write about, it's a big part of my life! You can find plenty of inspiration in my Favorite Paint Colors archives. Or check out these posts for more ideas:
These color forecast from years past are chock full of great paint color ideas: