Sherwin Williams Shoji White: A Subtle White That You'll Love
Today we're talking about a paint color that you'll love, Sherwin Willaims Shoji White. It's definitely one you should consider if you're looking for a near-white for your home. We'll cover everything there is to know about Sherwin Williams SW 7042.
This post contains affiliate links for your convenience. I may make a small commission on products purchased with my link, but your price does not change. For full disclosure go here: Disclosure and Policies. Thank you for supporting my site.
Shoji White SW 7042 is a lesser-known off white that's a great choice for trim, cabinets, walls, and even exteriors. If you're not familiar with it then you will be after this post. You'll be on a first-name basis!
Read on to find out everything there is to know about this versatile almost white color. You'll see it in real rooms, learn about the undertones, see it next to similar colors, and more.
You can also download a free color chart that I curated with complementary trim and accent colors. This is a very in-depth post so get comfortable and let's get to know Shoji White!
What color is Sherwin Williams Shoji White?
Shoji White is a creamy muted off white color. It's one of Sherwin Williams' top 50 paint colors and for good reason.
It's a classic neutral near-white that works well with any decor and in any room. It was recently the color of the month for Sherwin Williams, so you might be seeing more in the near future.
SW Shoji White undertones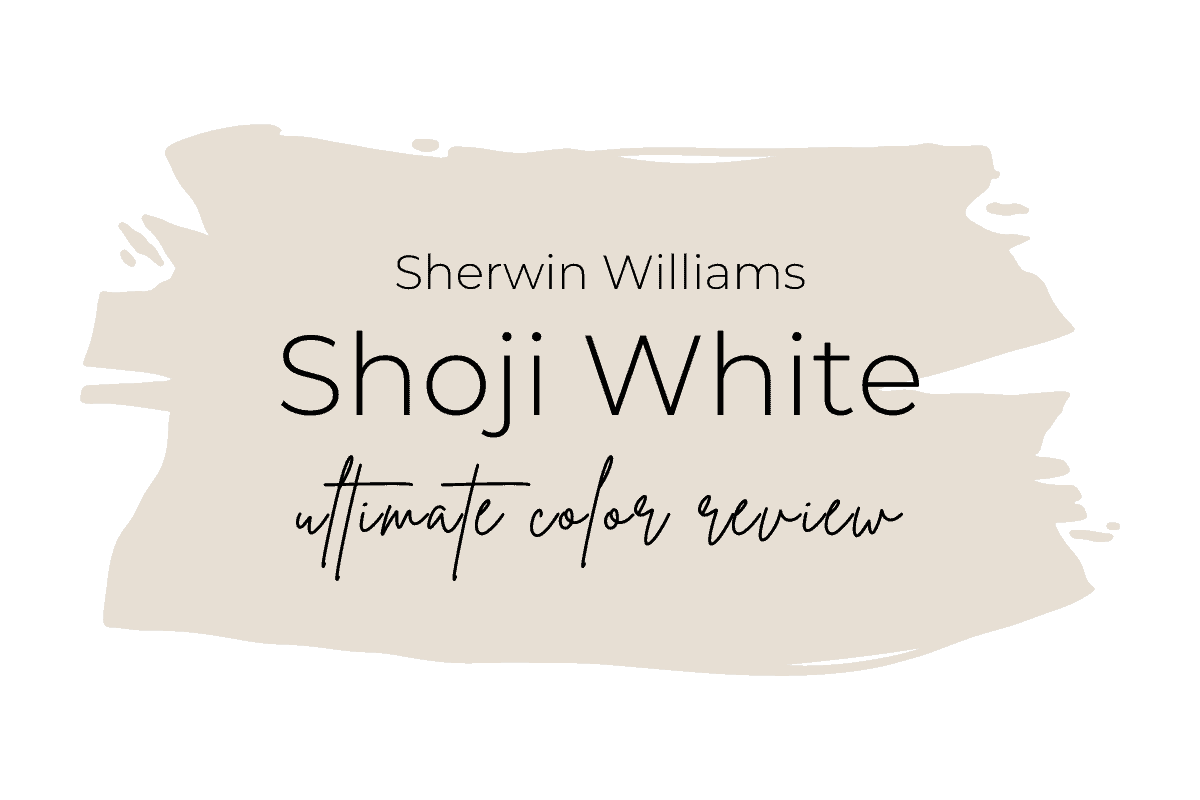 Shoji White has creamy neutral undertones that would be great for adding a little warmth a north-facing room.
Is Shoji White warm or cool?
Shoji White is relatively neutral but is in the warm side of the spectrum.
Does shoji white look gray?
Next to warmer colors and in rooms with low lighting, Shoji White could potentially take on a gray hue. Since it's somewhat gray and somewhat beige it can lean either way depending on the surroundings.
Looking at any paint color in the room you're considering it for is critical.
Does shoji white look pink?
Aren't colors strange? Depending on the lighting and the other colors next to them, any color can and will look different.
In a south-facing room with warm sunlight streaming in, Shoji White could possible take on subtle pink hues.
That's why it's always so important to sample the color in your room with your specific lighting to see what undertones it will take on.
Shoji White monochromatic palette and color strip
Using a monochromatic color scheme keeps things simple and clean. If this is your goal, you'll want to use darker versions of Shoji White. You're always safest when you choose colors from the same color strip.
Here are the colors on Shoji White color strip from lightest to darkest:
Is Shoji White greige?
You could possibly call Shoji White a greige. It's in that broad area between gray and beige, but it leans more beige than gray.
Of course there are 15 gazillion shades of gray and beige so it's a bit subjective.
Beiges are typically warm off whites with slight fleshy undertones and grays are cooler. Here's a little comparison of Shoji White against a "beige" and a "gray".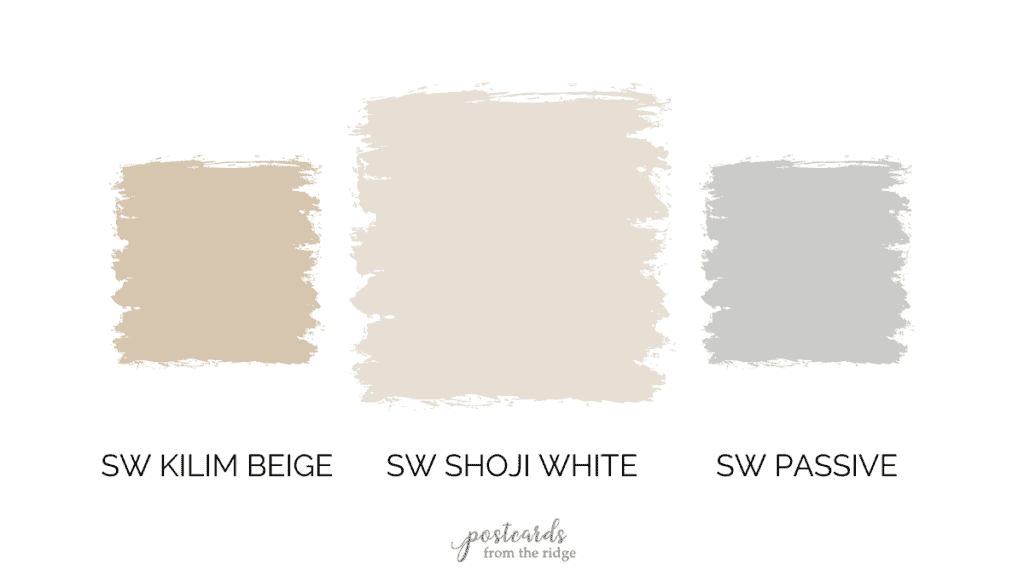 In reality it doesn't look as beige-y as it does on the computer screen.
What's the LRV of Shoji White?
The LRV, or Light Reflective Value of Shoji White is 74. The LRV is a measure of how much light reflects off of a color with lighter colors having the most reflection and darker colors having less reflection.
Dark colors absorb the light and light colors reflect the light. Makes sense now, doesn't it? For comparison the whitest white from Sherwin Williams, High Reflective White, has a LRV of 93.
Also, the more gloss your paint has the more light it will reflect. You can read my comprehensive guide to paint finishes here: The Ultimate Paint Sheen Guide with Printables
NOTE: Keep in mind that the background of your computer screen is white, and everything looks darker next to white. In the real world Shoji White isn't as dark as it looks here. Again, this shows why you always need to look at color swatches in your home and test them whenever possible.
Now that we know the all the technical stuff about Shoji White and where to use it, let's see how it looks in some real world applications. That's what really matters.
Real rooms and houses painted with Shoji White
Shoji White living room
Living rooms painted with Shoji White are nice and light without feeling cold. There's just enough tint in this color that you'll know it's not white.
But it's not tan or beige either. Just a nice muted off white that goes with so many different colors.
photo courtesy of Sherwin Williams
This living room with lots of light makes the Shoji White walls look lighter. The blue and green accents and warm wood give the space a cozy modern farmhouse vibe.
Elegantly understated is the word for this pretty living room. The Shoji White walls are a lovely backdrop for classic furnishings, rug, and lighting in here.
This small gathering room off the kitchen is light and fresh with the Shoji White walls. The wood beams and floors really warm up the space.
Shoji White Sherwin Williams cabinets
Cabinets painted with Shoji White are much less harsh than white ones. These kitchens are all so warm and welcoming.
The bold red accents really pop in this kitchen with Shoji White upper cabinets. They keep the room from feeling cold with the gray backsplash and bottom cabinets.
Zelige tiles look stunning with the Shoji White cabinets in this kitchen. The floating wood shelves and table are a great way to warm up the space.
The walls and cabinets are al painted with Shoji White in this traditional kitchen. The artwork and accents really pop but don't have a stark contrast.
The warm wood island, hood accent, and floors in this kitchen make it a welcoming space. The softness of the Shoji White cabinets is the perfect complement to the wood and black accents.
Shoji White Bedroom
Bedrooms painted with Shoji White are soft, light, and warm. The creamy undertones keep bedrooms from feeling cold. And almost any color bedding and accents will go with this versatile off white.
In this bedroom from , the soft gray blues create a serene and peaceful setting. Always perfect for a bedroom.
More Rooms Painted with Shoji White
For a classic and subtle color in your entry foyer, Shoji White is a great choice. The unique floor is the star of the show in this one.
This Shoji White dining room is elegant and stylish. The walls are a nice non-descript backdrop the the light fixture and furniture.
This boho minimalist dining room looks like a nice place to hang out for a white. The light fixture is stunning and the chairs look so comfy.
Shoji White Exterior
If you're looking for a good farmhouse exterior white then you should definitely consider Shoji White. Like most off whites and almost whites, it looks lighter outside in the direct sunlight. But it doesn't have the stark and sterile look of plain white.
Instead it has a softened, less harsh look that complements many different roof and accent colors. You'll want to get a sample and look at it outside before making a decision. Get a peel and stick sample here: Shoji White Peel and Stick Sample
This exterior has a mix of shingles, stone, and stucco. The Shoji White ties it all together and looks perfect with all the different textures and materials.
Here's a nice combination of shingles and board and batten siding painted with Shoji White. The warm hue complements the wood posts beautifully.
If you're going for a modern farmhouse but don't want a stark white, Shoji White is a great choice. It looks so pretty with the metal roof on this home.
This charming home has black windows and light fixtures the contrast nicely with Shoji White. The natural wood front door warms it all up.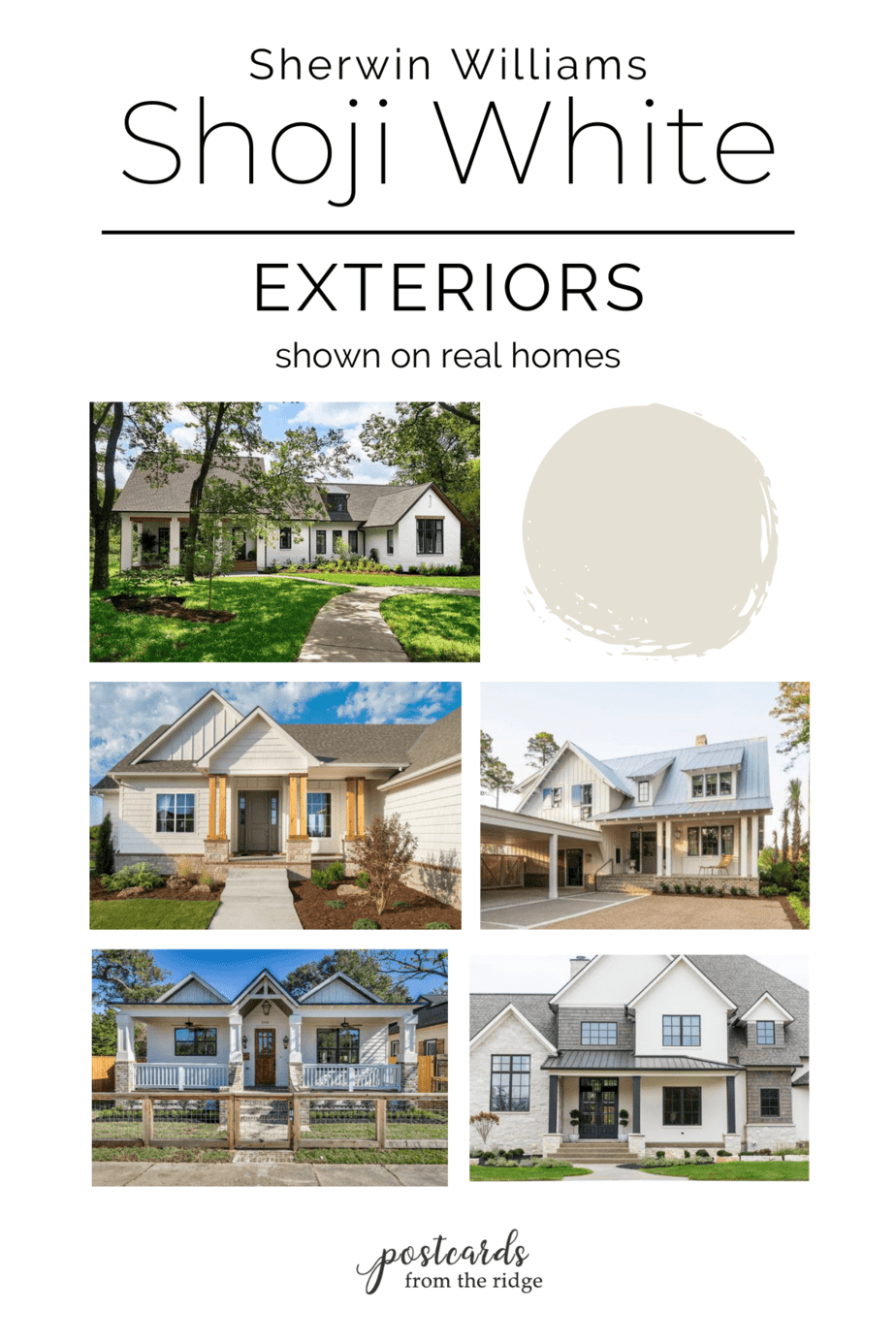 Colors similar to Sherwin Williams Shoji White
Finding the right shade of white can be tricky and Shoji White might not be the one for you. And sometimes you just want to see some other choices. If that's the case there are many other good ones to choose from.
Here are some colors from Sherwin Williams that are very similar to Shoji White:
Now let's take an in-depth look at some side-by-side color comparisons.
Shoji White vs Pure White SW 7005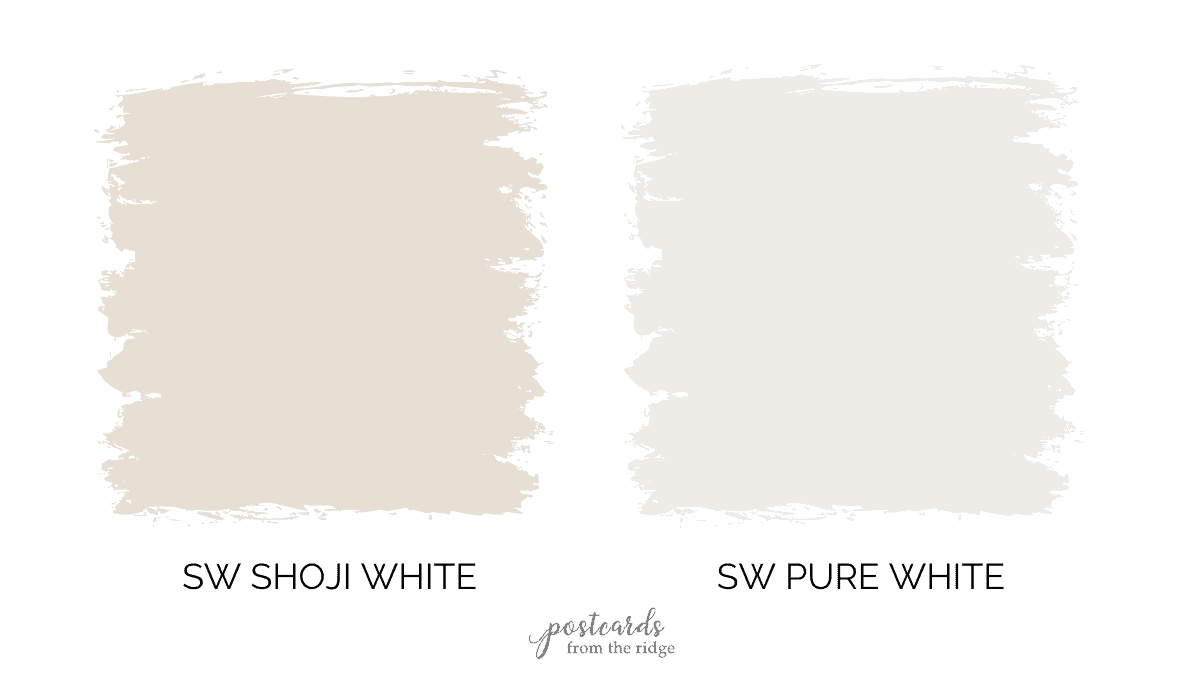 Shoji White vs Benjamin Moore Swiss Coffee OC – 45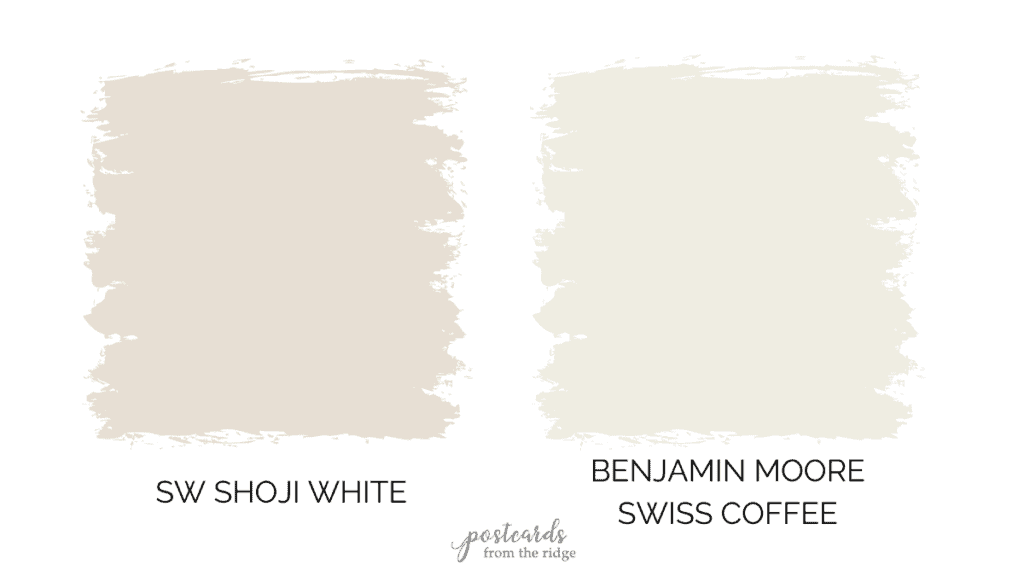 Shoji White vs Alabaster
Shoji White vs White Duck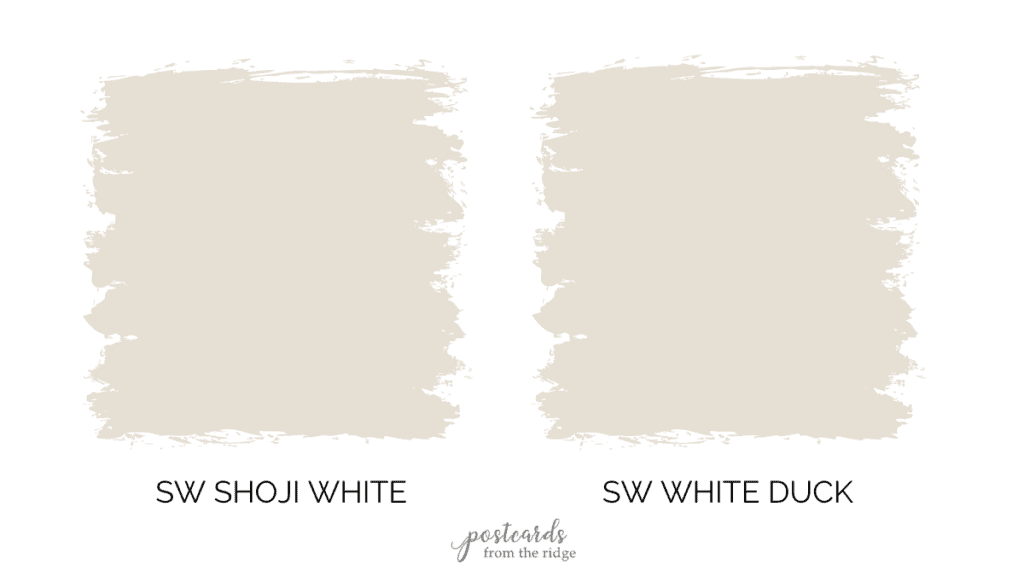 Shoji White vs. Accessible Beige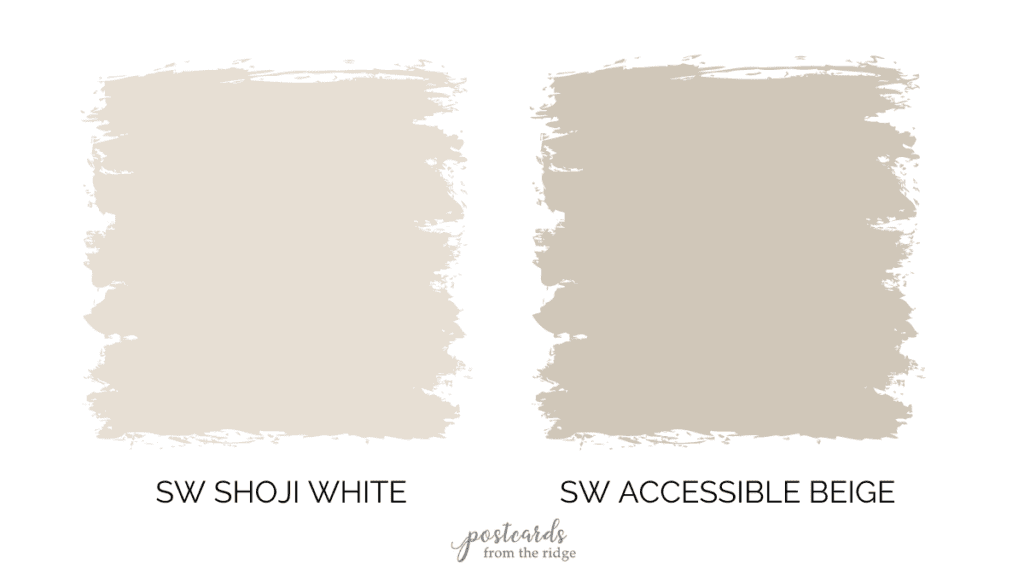 Shoji White vs. White Dove
What Benjamin Moore colors are closest to Shoji White?
These two colors are the closest ones from Benjamin Moore to Shoji White:
What Trim Color Goes with Shoji White
The best trim colors for Shoji White are ones that don't have strong undertones. Here are some great choices for lighter trim:
Or if you want to use a darker trim you might consider these colors:
Shoji White and Urbane Bronze
Looking for a dark neutral to coordinate with Shoji White? The best choice is the darkest color on the color strip, Urbane Bronze. They're from the same family and complement each other wonderfully.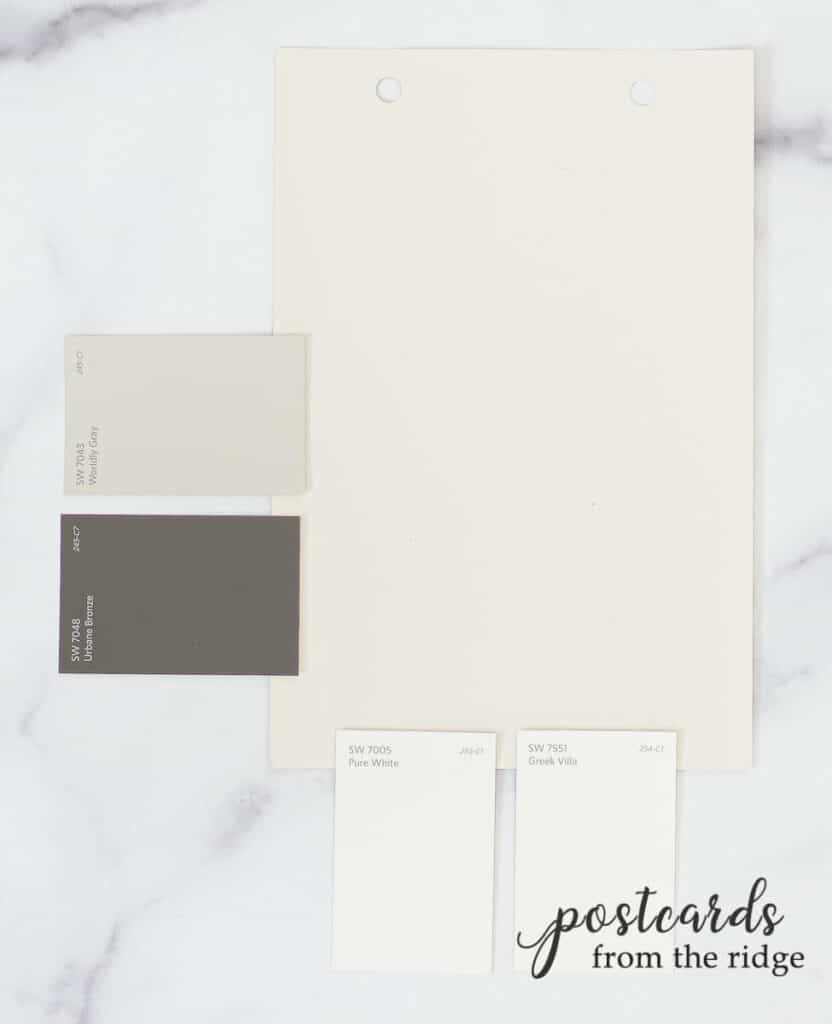 To warm up the Shoji White – Urbane Bronze combination, add copper, amber, and warm wood tones.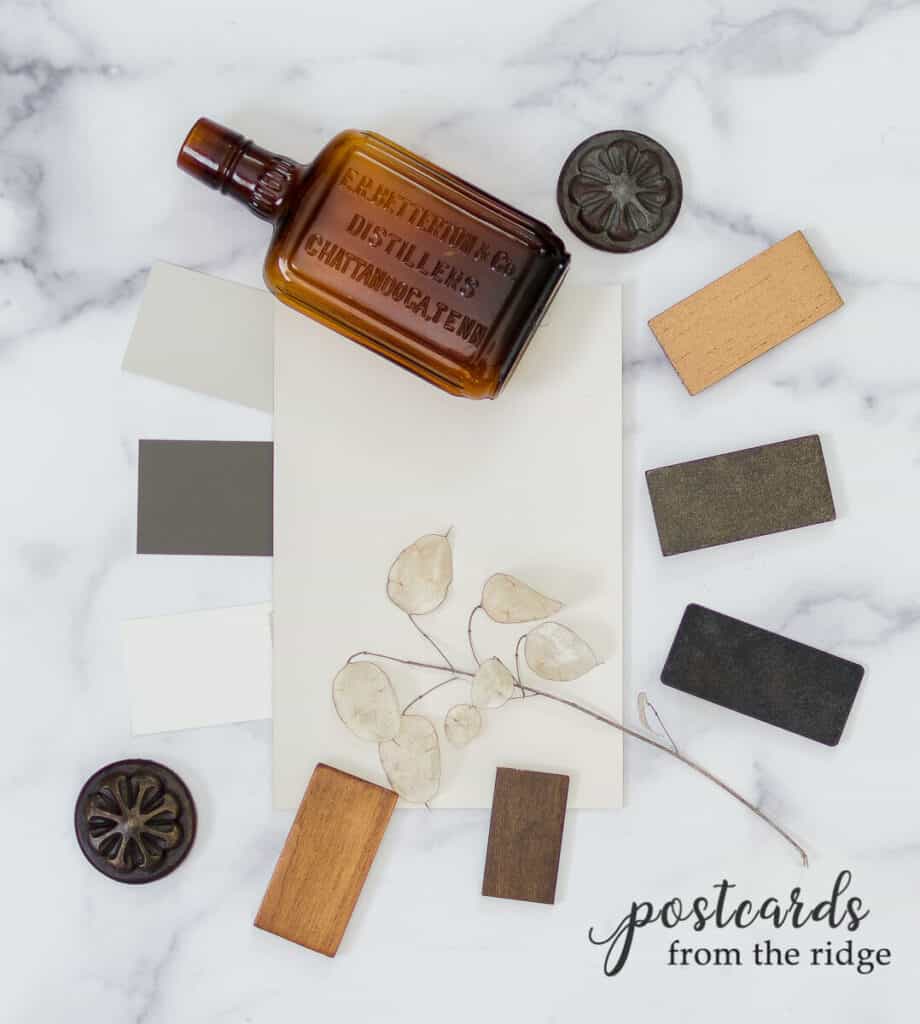 In this stylish bathroom, the Urbane Bronze vanity looks so sharp against the Shoji White Walls. Dark teal towels and warm leather are the perfect addition in here. And the chocolate lab, of course.
What colors go with Sherwin Williams Shoji White
There really aren't too many colors that don't go with Shoji White, but some look better than others. I've curated a couple of color palettes including a printable chart for you to keep in your decorating files. Keep scrolling to the bottom of the post to download it.
Recap
In summary, Shoji White is a wonderful almost white that you can use for trim, walls, cabinets, and exteriors. It has a slightly warm undertone, and is a light color with and LRV of 74. If you're looking for a softer and muted white then it might be a great choice for you.
Free Color Palette
Sign up for a free Grow account to get access to this curated color chart. Grow is the newest way to keep up with your favorite blogs and posts. These color charts sell for $15 and more elsewhere, but I'm offering them for free here: