Beautiful Bedrooms with Upholstered Headboards
Looking for bedroom decorating ideas? Take a tour of these beautiful bedrooms with upholstered headboards.
Not long ago we added an upholstered headboard in the master bedroom after having the mattresses simply resting on a frame for several years. We had upgraded from a full size bed to a queen and I didn't know exactly what I wanted, so we didn't have a headboard.
Although I liked the idea of building an upholstered headboard myself, I'm not good with that kind of thing so the DIY never happened. And I mistakenly thought that all upholstered headboards were super expensive. I'm very budget conscious so I didn't really consider buying one until I did a some research and found some very affordable ones.
It was such a simple and inexpensive way to upgrade the look of the room that I'm not sure what took us so long! Today I'm sharing some bedroom decorating ideas plus some very affordable sources for headboards. Get ready to be inspired!
Here's how our bedroom looked at Christmas. The tufted headboard doesn't make a huge impact, but it does a lot to give the room a more finished and cozy look. We chose a neutral color because I like to change out the bedding and accent furniture occasionally and don't want to be locked in to any one color scheme.
Note: we're giving our master bedroom an update and you can see the plans here: Master Bedroom Makeover Plan
Beautiful Bedrooms with Upholstered Headboards
Is a tufted headboard out of style? – judging by the images I see across pinterest, instagram, home magazines, and blogs, tufted headboards are a classic look that really never goes out of style. .
Here are some inspiring, beautiful bedroom ideas with upholstered headboards. There are so many options!
*Please visit each site and only pin images from original sources.*
Tufted Headboard with Nailhead Trim
BHG
Nailhead trim adds an extra element of luxury to any piece of furniture. Combined with the tufted fabric, this tufted headboard with nailhead trim gives this room an elegant look that works with any style.
Cozy upholstered bed with nailhead trim
BHG
The nailhead trim on the headboard peeking out from behind the shams keeps the room looking neat and tidy. And I love that hummingbird wallpaper!
Spa-like bedroom with tufted headboard
This serene space has a spa-like feel and the bed looks so cozy. The tufted winged bed has a luxurious look that elevates the entire space.
Cozy, neutral bedroom with upholstered bed
Architectural Digest
Simple and sophisticated, this nailhead trimmed neutral upholstered bed is a timeless look and could go in almost any home.
Funky color and patterns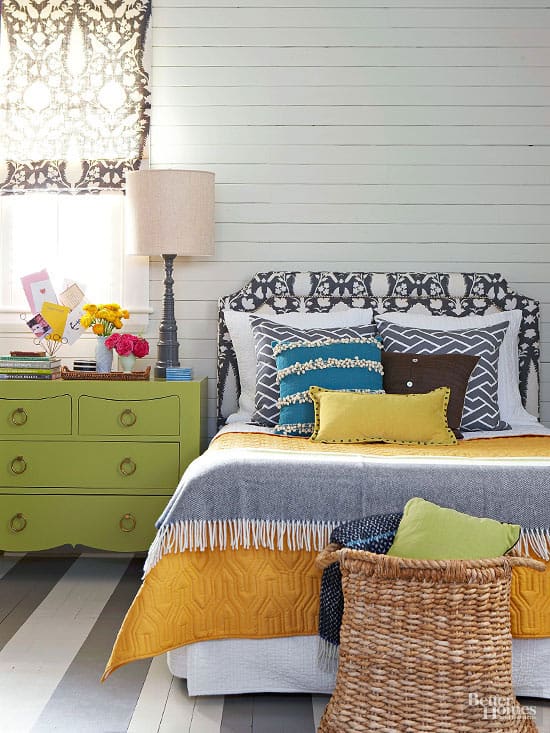 BHG
This room has a real boho chic feel to it with all the funky colors. The patterned headboard adds a nice variation to the mix of mostly solids.
Raspberries and cream bedroom
BHG
The pops of raspberry tufted headboard against the neutral in this room are wonderful. Even the dog loves this room.
Bedroom with soft warm neutrals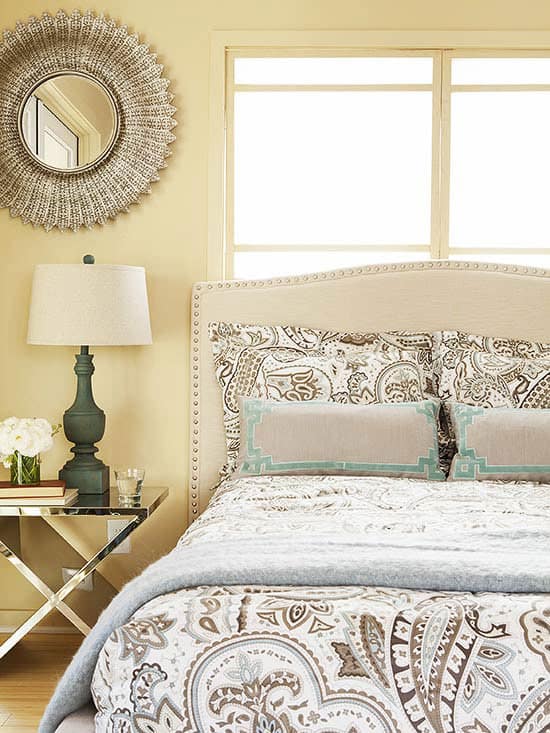 BHG
A simple nailhead trimmed headboard adds a streamlined finishing touch to this casual bedroom.
Warm neutrals with pops of color
BHG
The entire bed, sides and all, are upholstered in this classic bedroom. The tufted headboard with wings and nailhead trim matches the chair for a sophisticated and timeless style. The decor in here is so classic.
Bedroom with coastal colors
BHG
The trellis printed headboad stands out against the bird egg blue on the walls. A neutral color would be lost in here. Such a pretty space.
Shabby chic romantic bedroom
BHG
For a romantic shabby chic look, a white tufted headboard is the perfect headboard for the fluffy bedding. It doesn't compete but adds to the comfy cottagey feeling of this room.
Elegant bedroom full of textures
Atlanta Homes
The oversized white tufted headboard makes a subtle statement in this stylish but serene space. All the colors look so peaceful and relaxing. Those window treatments are beautiful.
This post contains affiliate links for your convenience. For full disclosure go here.
Sources for great prices on upholstered headboards:
After seeing all of these I'm really wanting to add one to our guest bedroom. Which one is your favorite? I love all of them but am seriously crushing on that green one.
Thanks for dropping by!