The Family Room Decor Through The Years
Let's take a stroll back through time and see our family room decor through the years. We'll see what it looked like before we bought the house and how it looks now.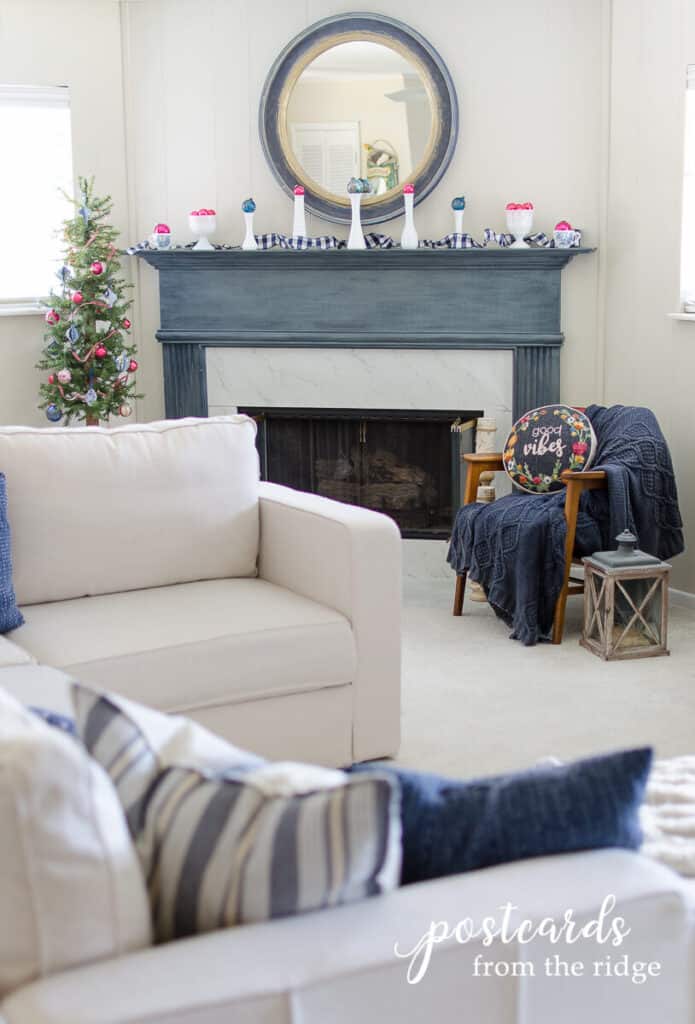 Evolution of our family room decor and style
If I've learned anything over the past 32 years of home ownership, it's knowing that with time, money, and patience, anything can be improved. And also when you're searching for a home to purchase, you must be able to look beyond existing colors, finishes, and styles to see the true potential.
Our first house was a charming 1930's cape cod style house in Nashville that hadn't been updated in 30 years. Lots of sweat equity gave us a home that we loved and lived in for 13 years.
When searching for our current house we knew we wanted several things:
A home built before 1968 (most homes were built with hardwood floors before 1968-ish)
A mostly brick ranch style home with a basement
4+ bedrooms
A large family room to relax, unwind, and also entertain in
A modern kitchen (our last one was a cute but tiny 1930's kitchen with very few updates)
Our house checked off most of our boxes and initially just needed some updates with paint and decor. We had the hardwood floors refinised before we moved in and painted some areas.
We've done a lot since 2006 when we moved in and some rooms have had several looks over the years. Let's take a look at how things have evolved (and how my photography skills have improved, lol).
NOTE: This post started out as a tour of the entire house but it got so long that I've broken it up into several parts. Stay tuned for tours of the rest of the house coming up over the next few weeks.
Our Family Room decor through the years
Our girls were very young when we bought the house and we had movie or game nights every Friday night. We wanted a space that we could all hang out in comfortably and have some quality family time.
This room was one of the biggest selling points of the house. And here's how it looked when we first saw it.
Although some people who really love the retro mid-century style would have left the paneling as it was, we're not those people. We lived with it for a while and then I painted it to give it a look that was more our style. See how I did it here: How to Paint Paneling Like a Pro.
Now I'll show you how it has looked over the years. I don't have pictures from before I started blogging in 2012 but it was basically the same as it looks here in 2014. The color I had on the walls was Benjamin Moore Pismo Dunes. And I painted the mantel to resemble one I had seen in Country Living magazine.
I enjoy changing the mantel decor as you know if you've followed me for very long. In the fall of 2015 I added some vintage watercolor prints, vintage amber beer bottles, and various other vintage items for a cozy autumn vibe. See the details here: How to Decorate a Mantel with Vintage and Found Items.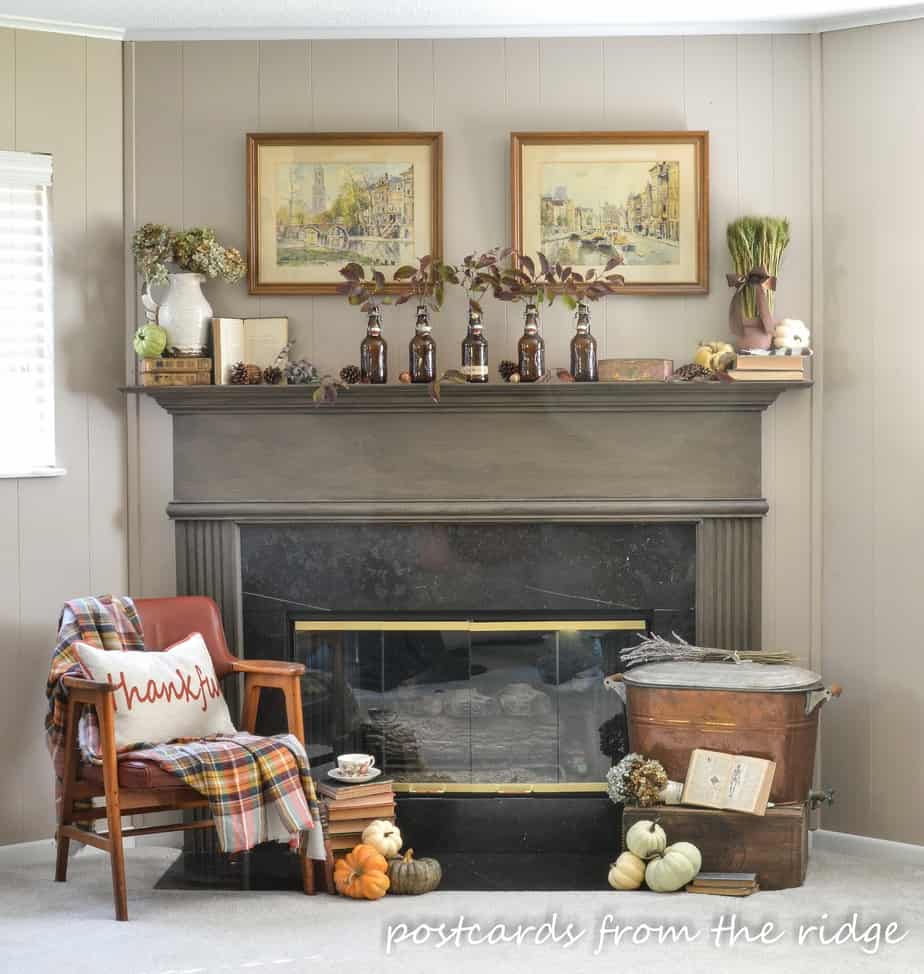 Skipping forward to 2018, you can see that I added some shutters over the mantel. These had been removed from two different bathrooms that we updated. I love finding new uses for items and you can see more of my ideas here: 29 Repurpose and Upcycle Ideas for Your Home
It's so easy to make a big change with paint, right? And in 2020 I gave the fireplace a makeover using only paint.
The mantel got a fun blue paint finish that reminds me of denim. And the marble surround was painted to look like Carrera marble. Yes, I painted marble and it hasn't chipped, peeled, or scratched off at all! And it hasn't been affected at all by our gas logs.
I don't have a tutorial for this, but you can visit my painted project archives here: Paint Projects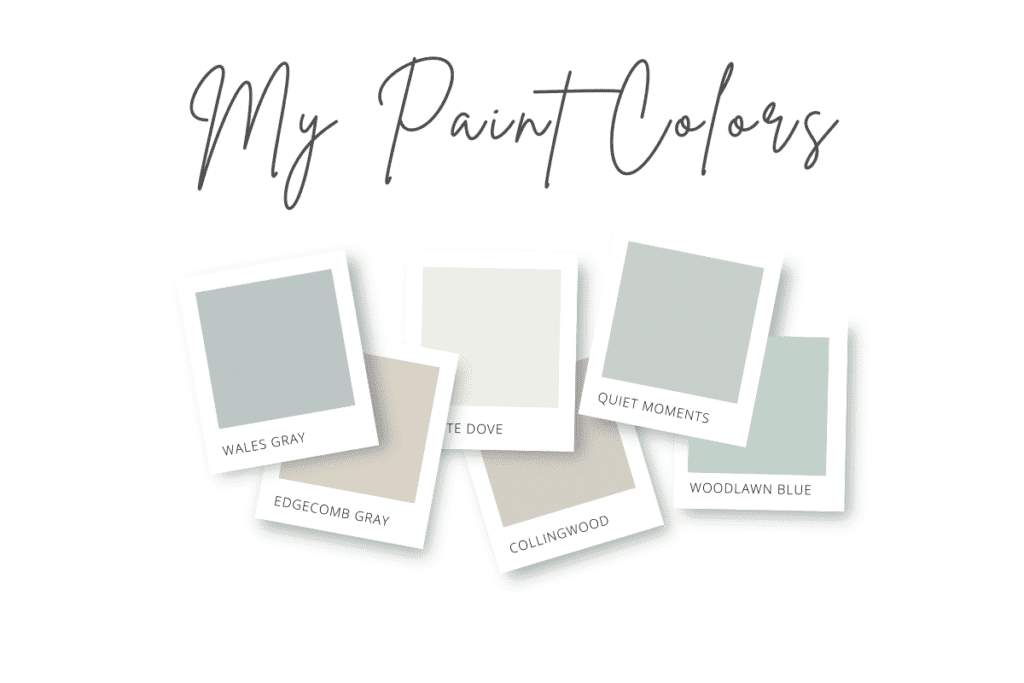 Paint colors in our home
Looking for the paint colors I've used in my own home? Take a quick tour and see them all here:
In 2022 I repainted the paneling with Benjamin Moore Clay Beige and added a new round mirror over the mantel. The room is lighter and brighter and I absolutely love it. It will more than likely stay this way for several more years. (See more blue and white blue and white decorating ideas here: Decorating with Blue and White)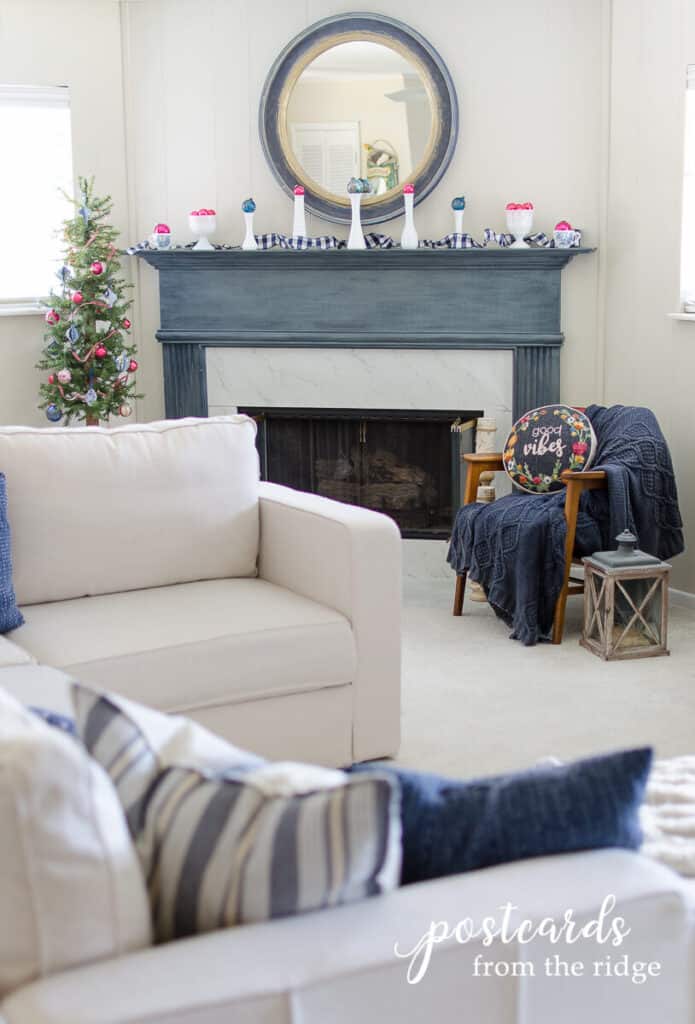 The built-in bookcases
As is typical in many 1960's houses, ours has a huge built-in bookcase which I really enjoy. The previous owners had painted the back and the bottom, leaving the shelves and front unpainted to match the paneling on the other walls.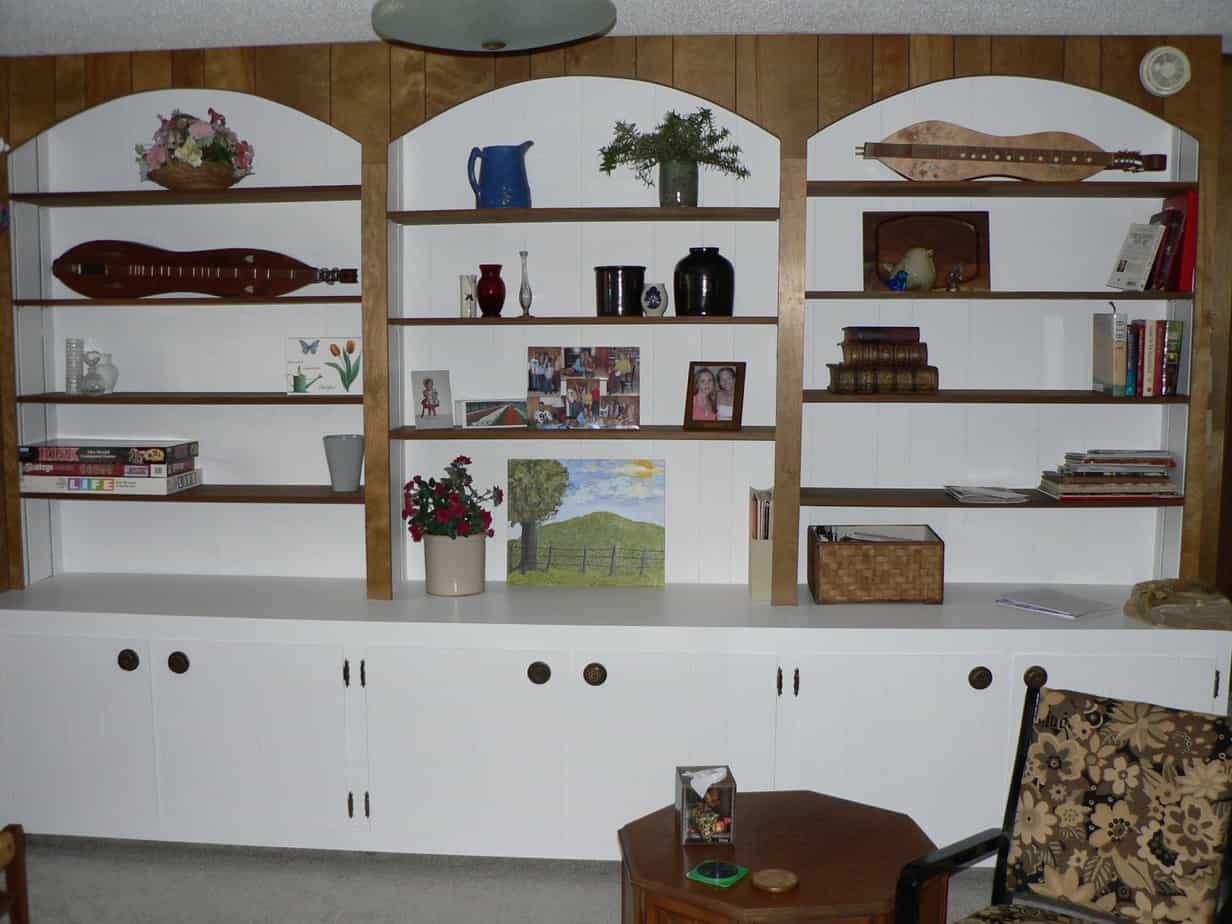 Trying to recreate something I had seen in a magazine, I painted ours with a deep brown color in 2010. I installed paintable grasscloth wallpaper to the backs and painted them with Benjamin Moore Aegean Teal. Honestly, I never really loved this look but lived with it for years because it was a big project and I just didn't want to redo it…yet.
Fast forward to when I repainted the paneling in 2022 and also repainted the built-in bookcases. I'm so glad I finally did this. I used Benjamin Moore Swiss Coffee in a satin finish and love the way all of my home decor looks against it. Our sofa matches it too, and I change out the pillows on it regularly. I'm a huge fan of neutral walls, bedding, and furniture since I rotate throws and pillows so often.
I sort of have the sections arranged by color and added some patriotic decor to the blue section last summer. You can see the texture of the paintable wallpaper that's on the back of the bookcase in this picture.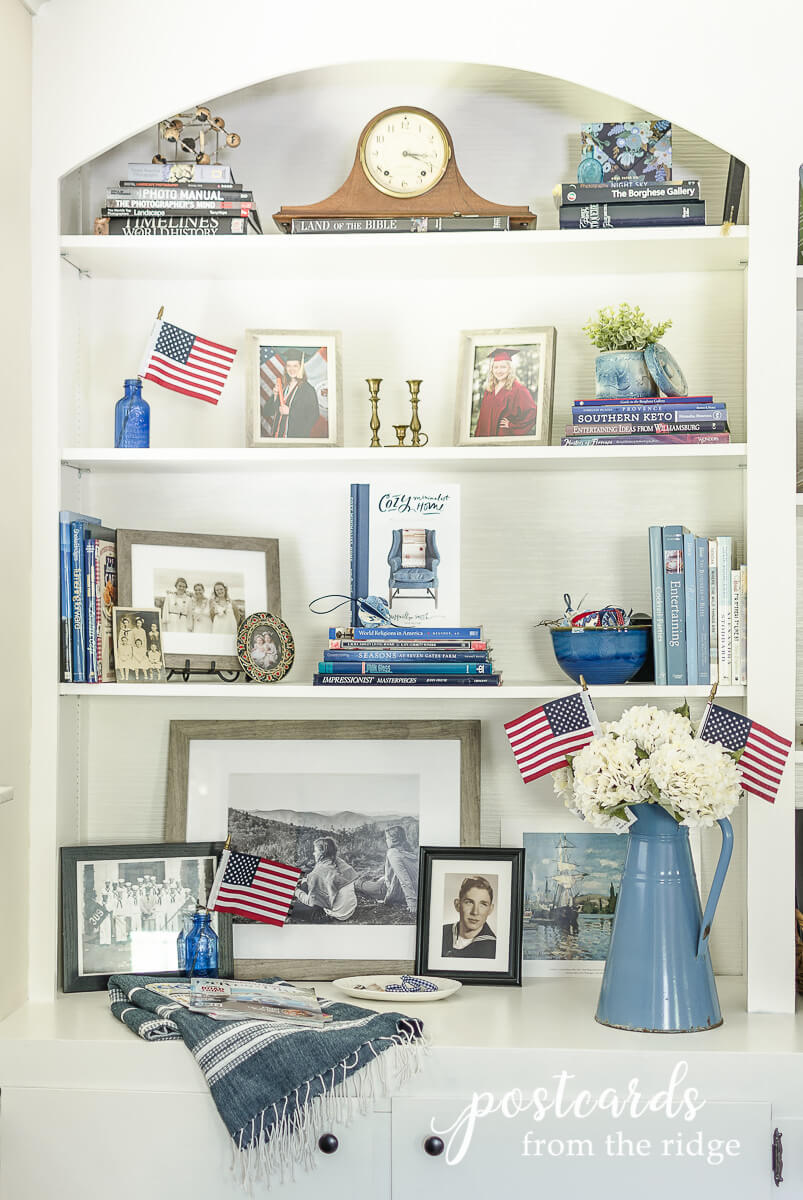 Get ideas for bookcase styling here: 15 Styled Bookshelf Decorating Ideas You'll Love
What's next for this room? I hope to paint the door that opens into this room. It's an easy enough project, but I just haven't done it. One of these days…
Also, we hope to replace the carpet in here in the not-too-far-future as well. It's the only room in the house with carpet and we actually love it because the room is cozy, quiet, and comfortable. A hard surface floor would change the acoustics and the overall cozy vibe of the room, so carpet is our choice in here.
See more ideas for creating a cozy space here: 5 Ways to Create a Cozy and Inviting Space
Stay tuned for more "Through the Years" tours for many other areas of the house. I'll be sharing our master bedroom, bathroom, living room, entry, dining room, hall bathroom, half bathroom, deck, and more!
Paint Color Inspiration
Browse through my paint color archives for dozens of posts filled with inspiration.