15 Styled Bookshelf Decorating Ideas You'll Love
Inspiring bookshelf decorating ideas are always welcome here! Built-ins can be a blessing and a curse. On one hand, they're wonderful for storage and displaying favorite items. On the other hand, it can be a real challenge to make them look nice and not too cluttered.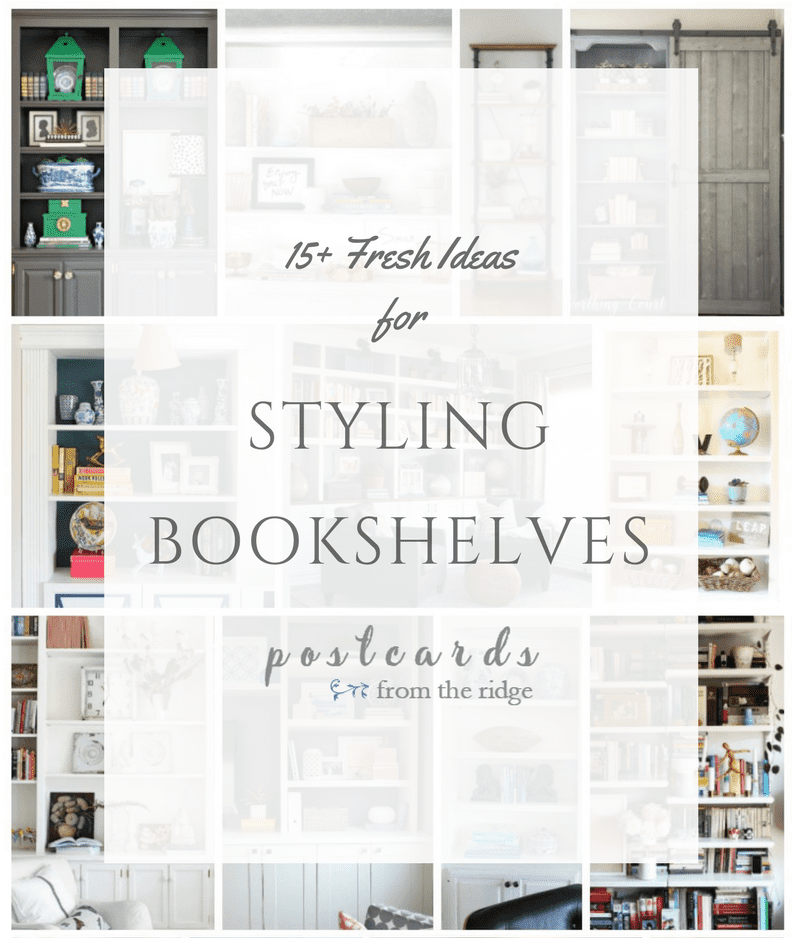 If you struggle with styling your bookcases to look good then you should know that you're not alone. Today I'm sharing some beautifully styled bookcases that are full of lots of great ideas. 
This post contains affiliate links for your convenience. I may make a small commission on products purchased with my link, but your price does not change. For full disclosure go here: Disclosure and Policies. Thank you for supporting my site.
First off, let me show you how ours used to. Here's how they've looked since 2010 when I painted them and installed wallpaper on the back wall. Dark and dreary.
They were covered with unpainted paneling and I had already painted the paneling walls and wanted the bookcases to have an updated look as well. And while I love the size of the bookcases and all those shelves, it's definitely time for an update.
The goal – make them lighter and more curated.
UPDATE: I repainted our bookshelf with Benjamin Moore Swiss Coffee in May and am so happy with the fresh new look! I arranged everything by color for a fresh and fun look.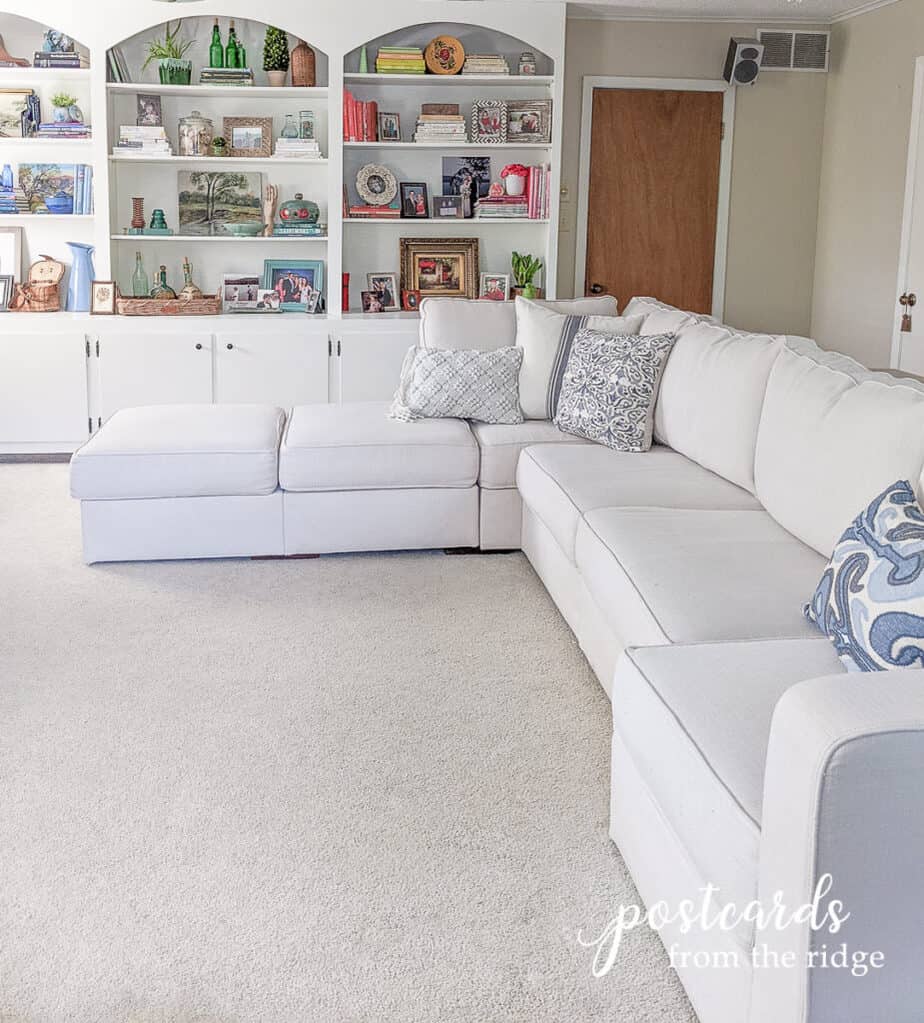 Bookshelf Decorating Ideas from Popular Home Bloggers
I invited some of my blogger friends to share photos of their styled bookcases and wow, did they give me some great ideas! Here are some of my favorites from my friends and the web. I'm sure you'll agree that they're styled and decorated beautifully.
*PLEASE PIN DIRECTLY FROM EACH BLOG. LINKS ARE UNDERNEATH EACH PHOTO. THANK YOU.*
Gray Bookshelf with Barn Door
My friend Suzy at Worthing Court does amazing things with her decor and her bookcases are no exception. The simplicity and styling is perfection, and that barn door is just dreamy! To see more of it go here.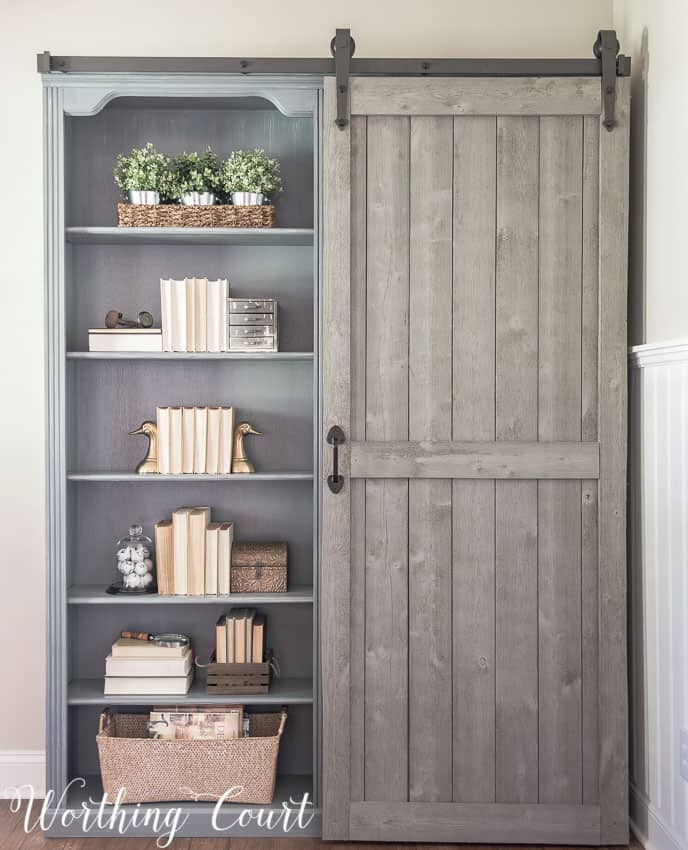 Floating Bookshelves in a Desk Nook
This isn't actually a built-in bookcase, but I adore the way it's styled and would love to have any of these accessories for our bookcases. Isn't it a nice little nook?
Tracy Lynn Studio Zach Benson Photograpy
White Built-In Bookshelf Decorating Ideas
Here's another simply styled bookcase from Shonee at Hawthorne and Main. It looks so fresh and clean. And her message boards are so much fun. You can see more of her styling here.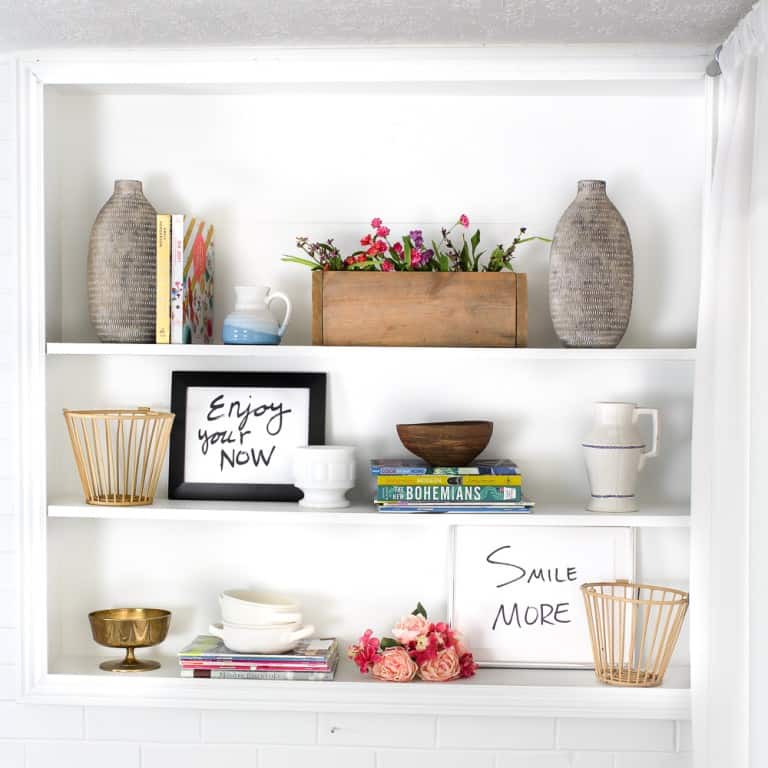 White Bookshelf with Dark Gray Background
This clean and crisp bookcase is perfectly styled by Corey at Hey There Home. I love the pops of color and that over-sized alarm clock. Go HERE to see the rest of her bookshelf styling.
White Built-In Bookshelf Decorating Ideas with Coastal Decor
Whether or not you live near the beach, going coastal with your bookshelf decor is a great way to keep it light and fresh. My friend Nancy at Artsy Chicks Rule is a decorating genius and her coastal style is so pretty. See more of her built-ins HERE.
Open Shelf Bookcase Decorating Ideas
This open shelf bookcase from Jenna at Wife in Progress has just the right balance of tall and short, light and heavy. And I'm seriously crushing on her blue glass bottle. See more of her style HERE.
Gray Bookshelf Decorating Ideas with Bold Color
Doesn't this look like it belongs in a magazine? Jennifer at Dimples and Tangles always does the best decorating, and her bookcases are a prime example. To see more of her signature look and her pops of green, go HERE.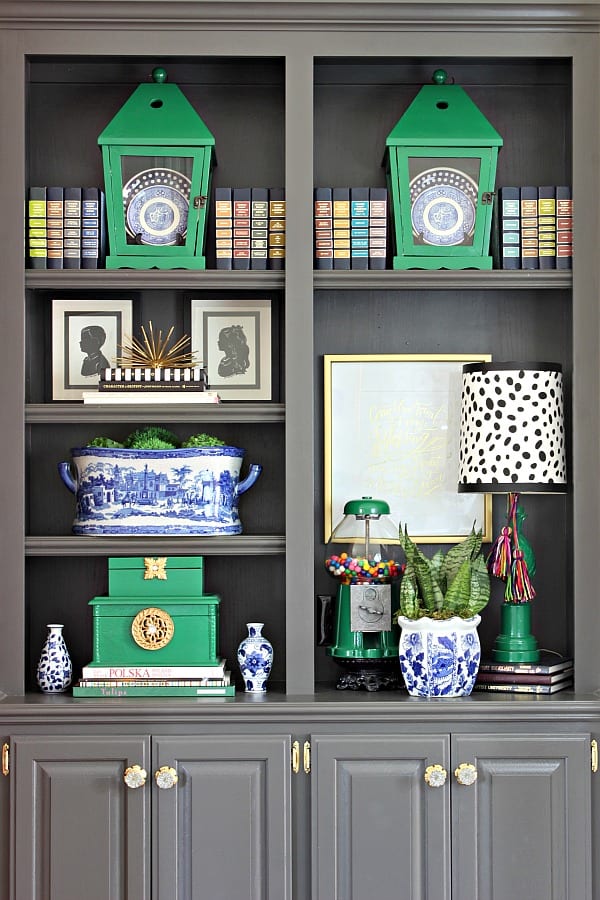 White Bookshelf with Vintage Decorating Ideas
Here's a great example of using vintage finds as bookcase filler. Vicki and Jenn at 2 Bees in a Pod have great style and are always adding vintage character to their homes. See more of them HERE.
Built-in Bookshelves with Vintage and Coastal Decorations
Here's another great coastal bookcase styled by Nancy at Artsy Chicks Rule. The personal photos add such a nice touch.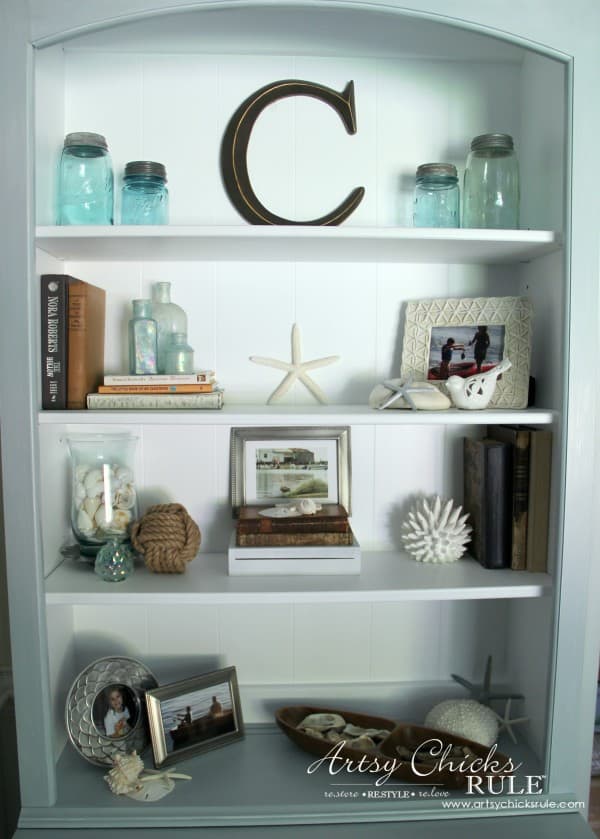 Built-In Bookcase Decorating Ideas with Blue and White Decor
Turn up the blues with Asian-inspired vases and decor. Annie at All Things Big and Small has struck the perfect chord with all her blue accessories. See her tips for styling bookcases HERE.
Colorful Bookshelf Decorating Ideas
Bring order to your bookcase by grouping things together by color, like Ariel at pmq for two did. See more of her chic boho style plus how her bookcases are renter-friendly HERE.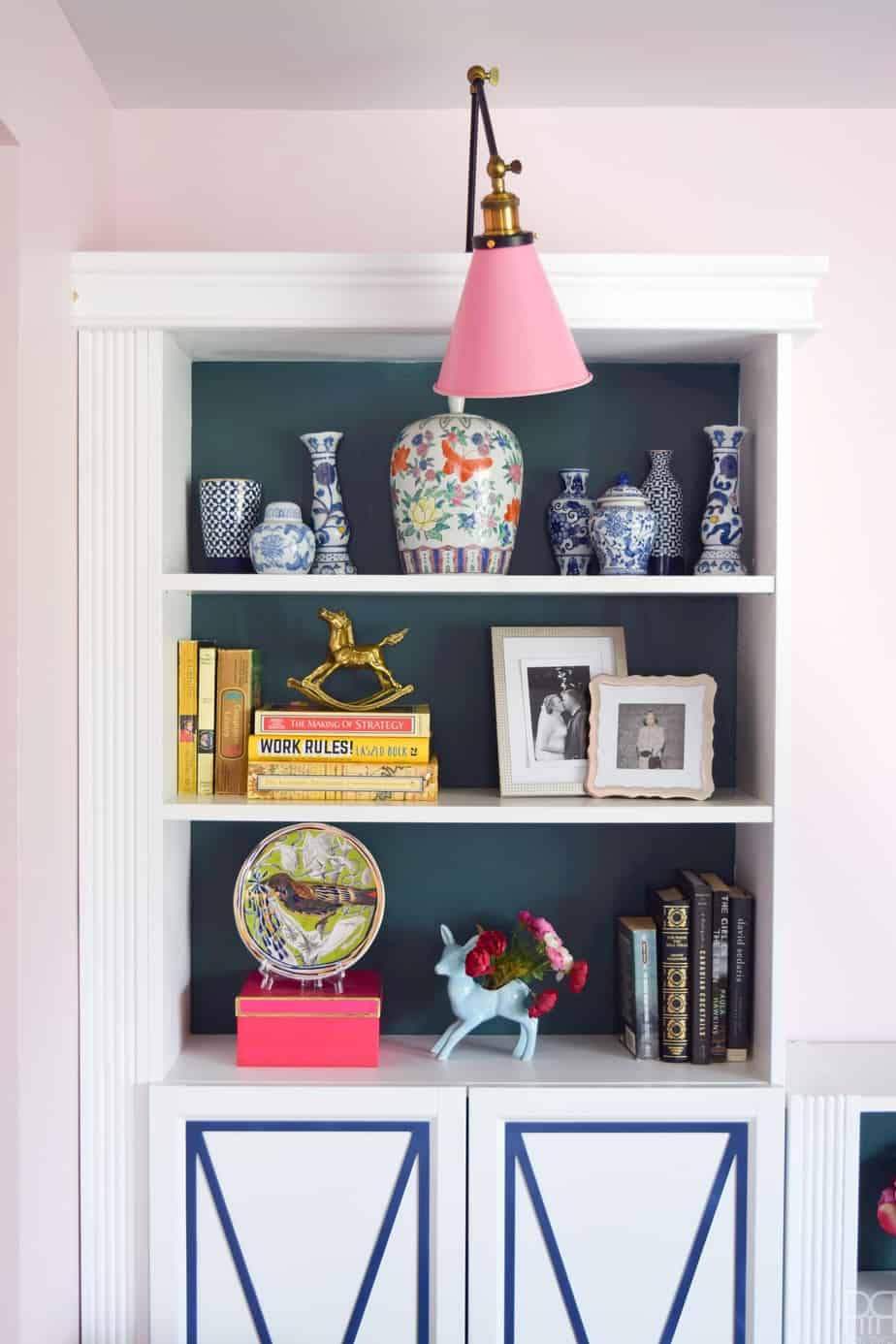 Bookshelf Decorating Ideas with Artwork and Decor
Hang small mirrors or artwork on the back of the bookcases for more interest, like Karen at Copper Dot Interiors did. See more of her style HERE.
White Bookshelf Decorating Ideas with Architectural Salvage
Devote some shelves to books and some for displaying curated pieces, like this one found in County Living. See more ways to decorate with architectural salvage here: Decorating with Architectural Salvage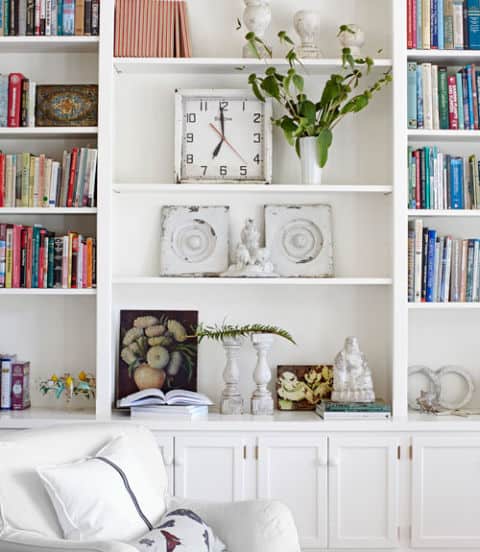 Bookshelves with books organized by size
If you have lots of books, storing them by size makes them look less cluttered. And adding whimsical accents keeps it from looking like a bookstore or library. See more of this bookcase at jest cafe.
Bookshelves with arched top openings
This built-in is almost identical in style to ours. I love the way it's styled with a mix of artwork, accessories, and books. I'm hoping ours will resemble this when I finished the makeover. See more of this bookcase HERE.
Bookshelves with lights mounted above
Here's another great inspiration for our bookcases, since it takes up an entire wall like ours does and has cabinets at the base. I like the mix of books and decor and the use of color on the back wall. This one is from Thrifty Decor Chick and you can see more of it here.
I hope you've gotten some great ideas for styling your bookcases. Need more inspiration for your bookshelves? See over 100 ideas on my "Bookcases" pinterest board HERE.