How to Make Everyday Items Look Patriotic
Summer is a great time to add a few patriotic items to your home. But there's usually no need to run out and buy anything new. Today I'll show you some easy tips for how to make everyday items look patriotic.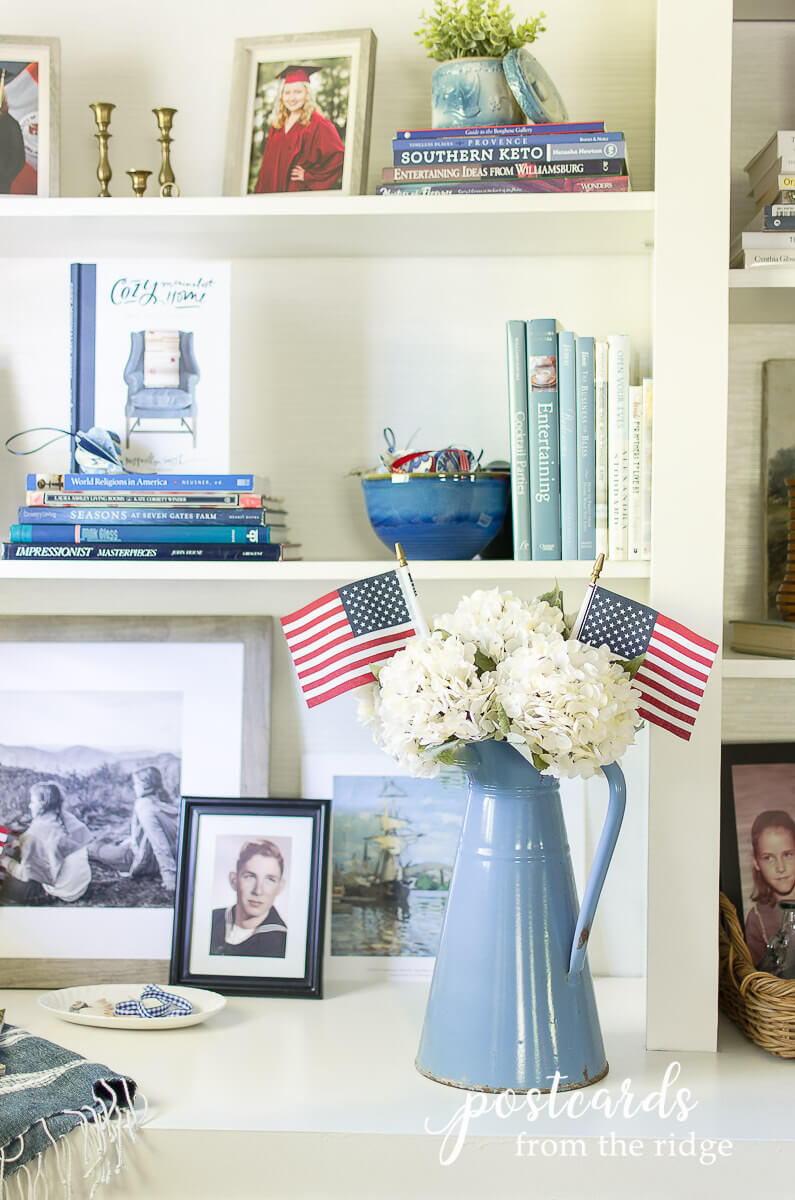 Today's tips are my contribution for this month's Thrifty Style Team Challenge hosted by my friend Julie at Redhead Can Decorate. Each month our team of creative home bloggers shares projects and tips for decorating your home on a budget.
All of the posts are at the bottom of this one, so sure to visit everyone for this month's patriotic and summer ideas.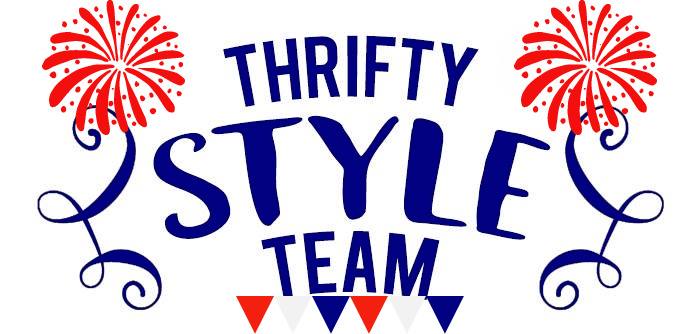 How to Make Everyday Items Look Patriotic
If you know anything about me at all, then you know two things I love. One is vintage items that are full of character and charm. And the second is finding them at a great price.
So whenever I find something I love at an affordable price, I buy it and add it to my (burgeoning) collection of curated items. That includes buying Christmas items in July or patriotic-looking things in December. NOTE: Shopping off-season is actually a wonderful way to save money.
Anyway, since I love blue and white items I usually scoop them up when I find them. And they're perfect for using as patriotic decor. Now let's take a look at how to use them for a patriotic look.
This post contains affiliate links for your convenience. I may make a small commission on products purchased with my link, but your price does not change. For full disclosure go here: Disclosure and Policies. Thank you for supporting my site.
Vintage Hutch with a Patriotic Theme
Another thing you should know about me if you don't already is that I have a soft spot for just about any piece of vintage white ironstone. I've been collecting ironstone pitchers, platters, creamers, and more for about 20 years now.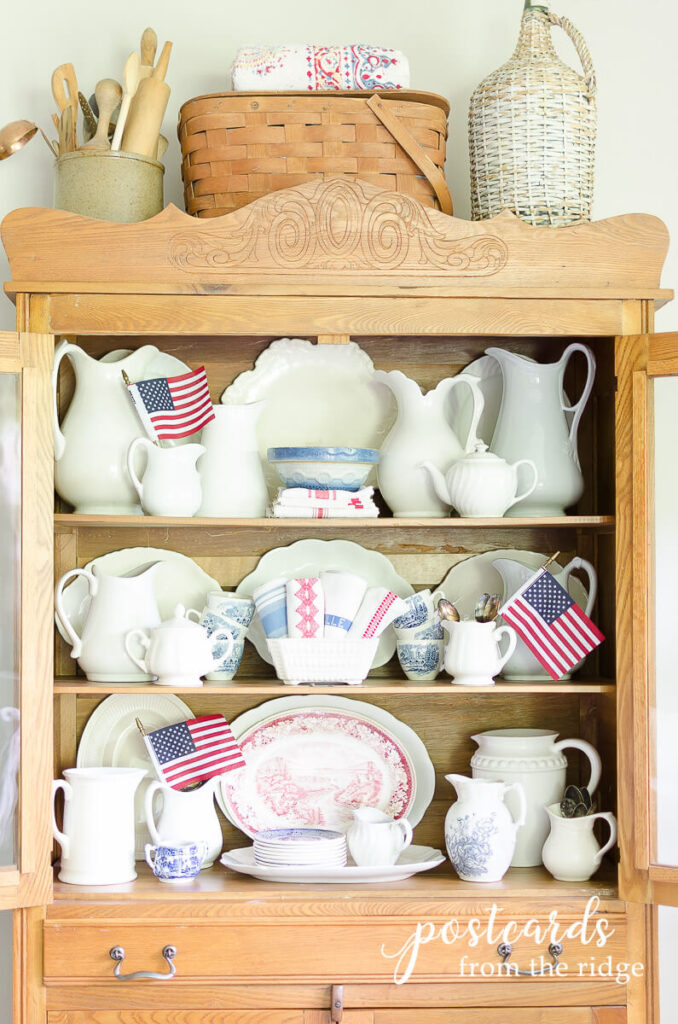 And do you want to know the best thing about all that vintage white goodness? It goes with EVERYTHING. For a patriotic look, I simply added some little American flags, a few blue and white plates and teacups, and some vintage textiles with red and blue on them.
Note: Don't be scared off by a dirty or stained piece of vintage ironstone. Most dirt will wash off with warm soapy water. And stains only add to the character of the piece. Pieces with small chips are usually discounted and aren't food safe but are fine when used as decor or flower pitchers.
Built-in Bookcases with Patriotic Colors
Last month I repainted our family room including our wall of built-in bookcases. I'll be sharing a full post with a reveal of the room soon, but I can tell you that all of my books and accent pieces are now arranged by color. (Don't ask me how long it took to finish this project, lol.)
In the section with the blue items, I added a few little American flags for a patriotic look. This took me about 5 minutes and it totally has a summer patriotic look now.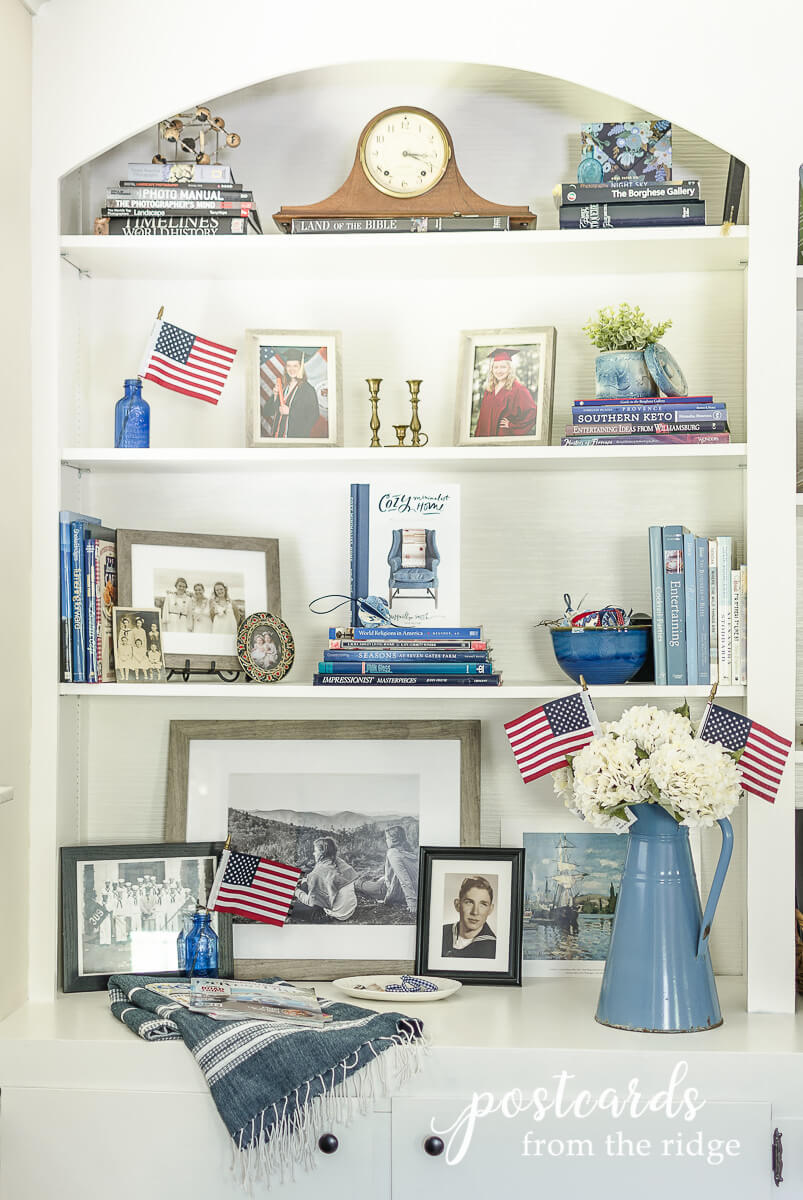 A few simple additions was all it took to get this area looking like an all-American vignette. Here's what I did.
Note: In addition to making interesting reading material, books are great to decorate with. To find colorful and pretty ones for your bookshelves, look at used book shops, thrift stores, yard sales, and estate sales. See my tips for shopping estate sales here: How to Shop Estate Sales Like a Pro
Added patriotic colored ribbons
This blue pottery bowl has some 3d paper baubles that I made with my Cricut last year. I added a piece of red polka dot ribbon for an instant patriotic look.
A little vintage ironstone dish hold fragments of seashells and a blue and white gingham ribbon. The shell pieces are something I started collecting last year at the beach.
Maybe I'm just quirky, but I think there's something poetic about the broken pieces grouped together. Adding the piece of blue ribbon gives it a patriotic summer look.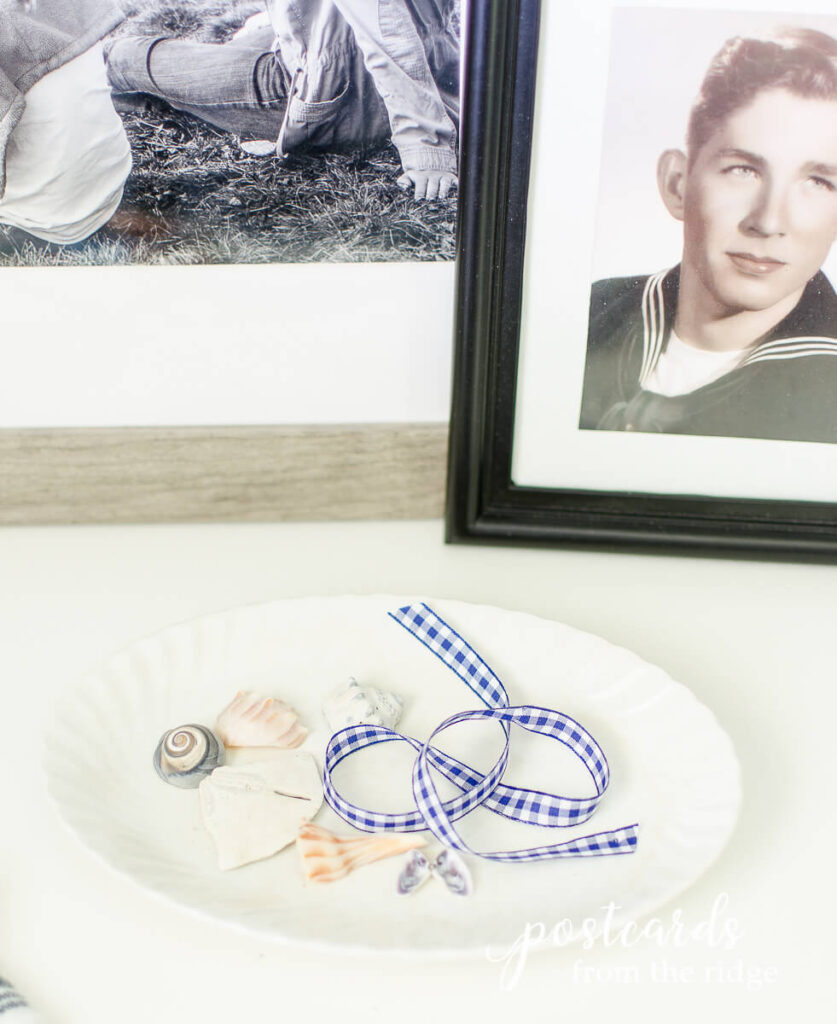 Framed Military photos
My dad's old Navy photos are of course very patriotic. I added a little flag in a vintage blue bottle for some red, white, and blue.
Display Colorful Summer Magazines
Chances are pretty good that you have some decorating magazines lying around. And the summer issues usually have cover images with red, white, and blue. Displaying them is an easy way to add some patriotic colors to a shelf or table.
Add Small American Flags to Make Everyday Items Look Patriotic
A flag automatically makes anything look patriotic. But it looks especially nice when the colors complement each other. I added some faux white hydrangeas to my vintage blue enamel pitcher and then popped a couple of the flags in for quick patriotic look.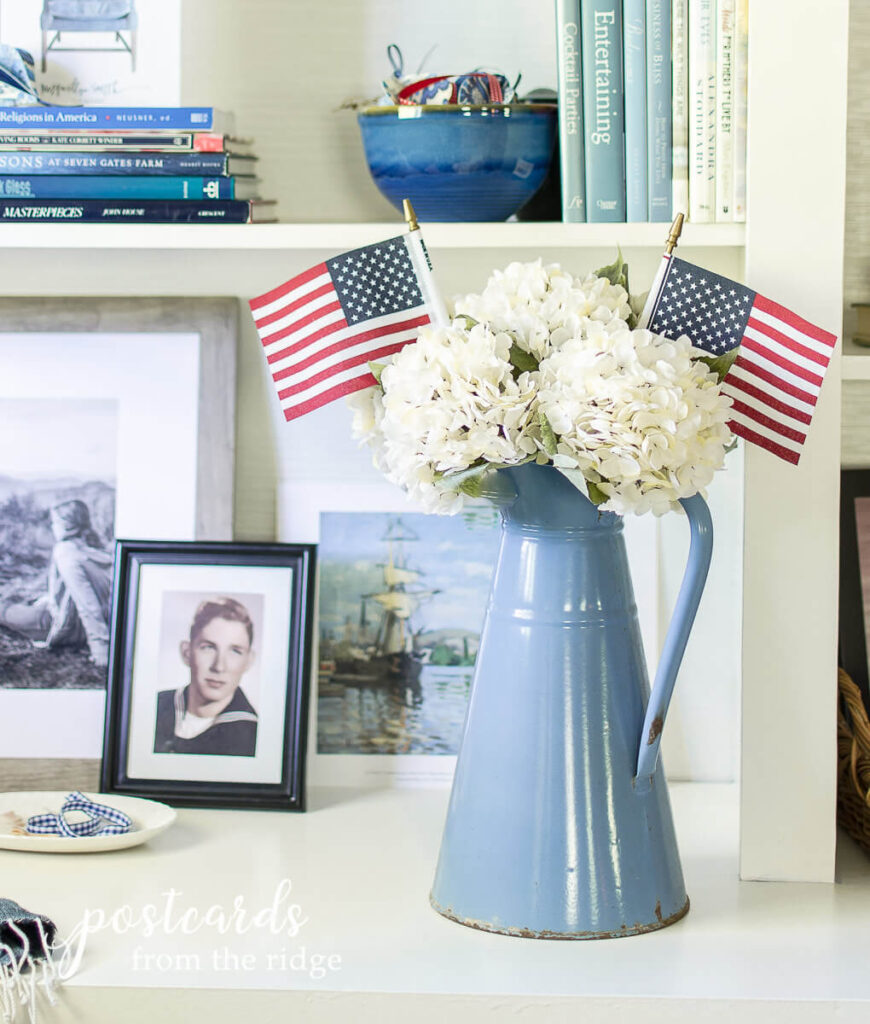 Last year I created a fun patriotic table and added little flags to some vintage white milk glass vases. I grouped them together on a wooden cutting board for a simple centerpiece. See more of my tablescape ideas here: Table Decorating Ideas Archives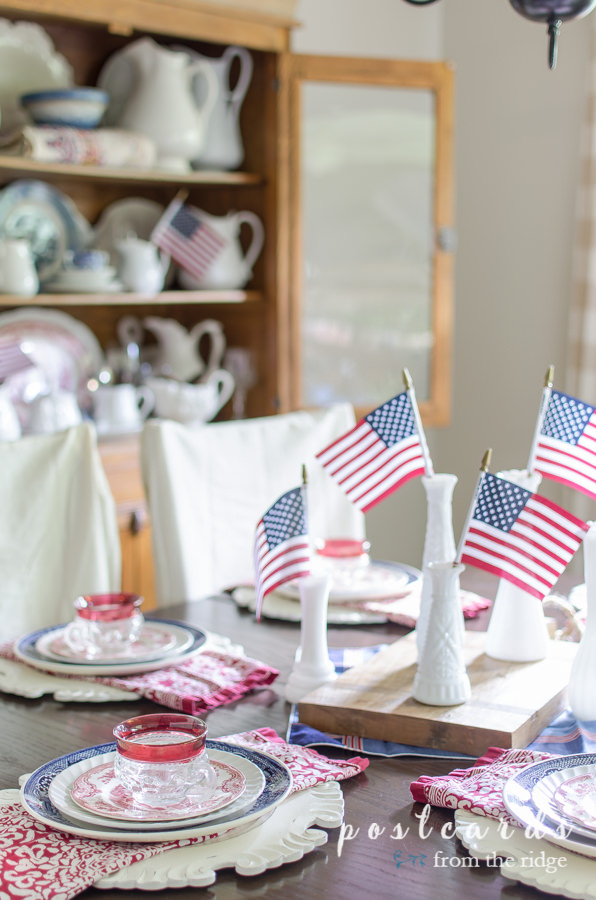 Using Vintage Dishes for a Patriotic Look
Confession: I don't just collect old white dishes. I also can't resist blue and white ones and have lots of red and white ones too.
I layered them all on top of a white charger plate with some red and white napkins and red punch glasses for a vintage patriotic table.
Red, White, and Blue Cloth Napkins
Nothing says summer like gingham, and my red and blue checked napkins are super patriotic. We use cloth napkins all year and I rotate the colors based on the season. These are actually from my shop, found here: Red and blue cloth napkins
Use flowers to add patriotic colors
Another simple patriotic table I did a few years ago had single red Gerber daisy stems in my vintage milk glass vases. Similar to the flag centerpiece seen above, I grouped them together for more impact.
Got any old blue mason jars? Add some red roses or other red or white flowers for a summery patriotic look.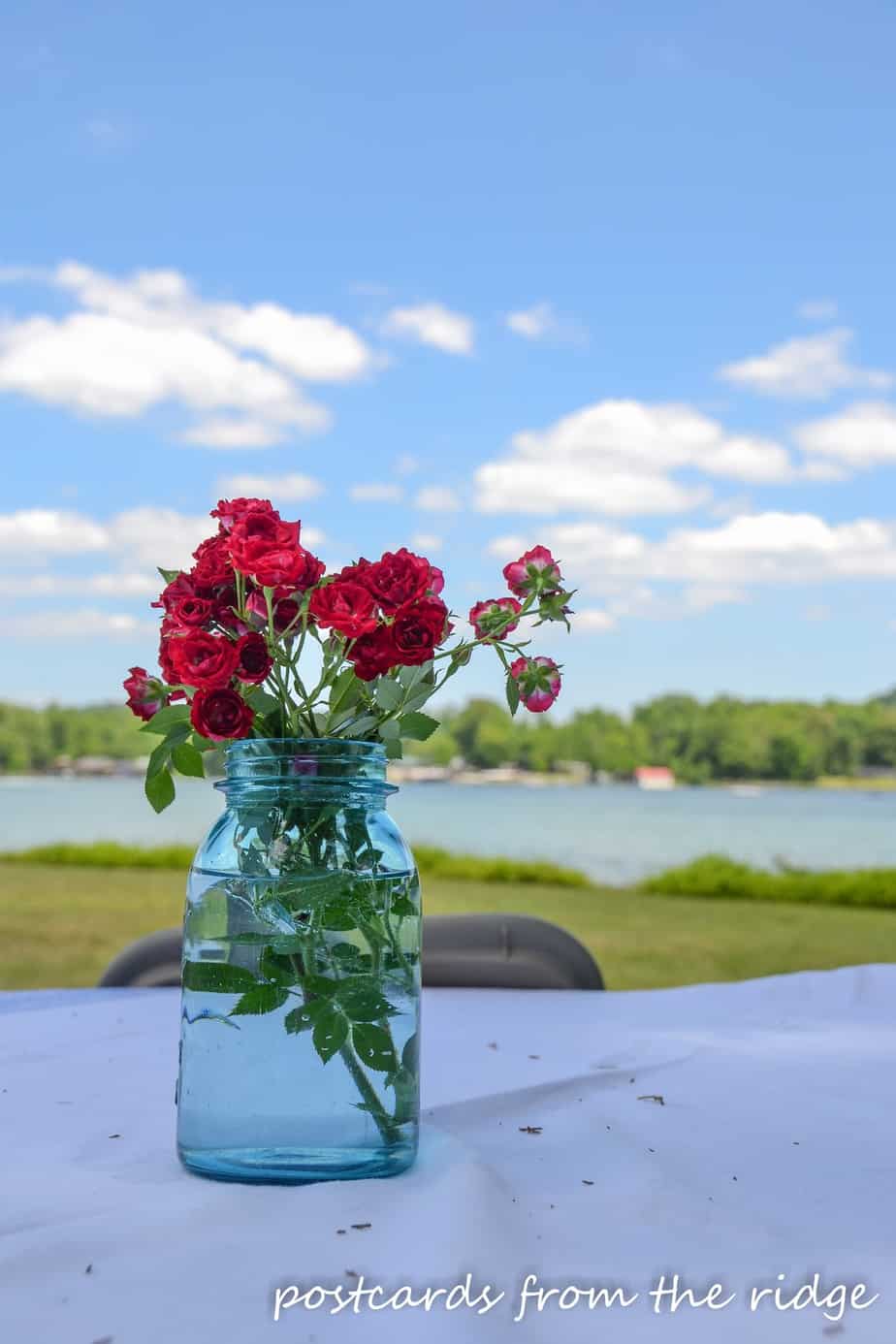 And who doesn't love hydrangeas? Add some blooms to a vintage mason jar and use it as a cozy centerpiece on a red checked tablecloth. Old fashioned, patriotic, and beautiful!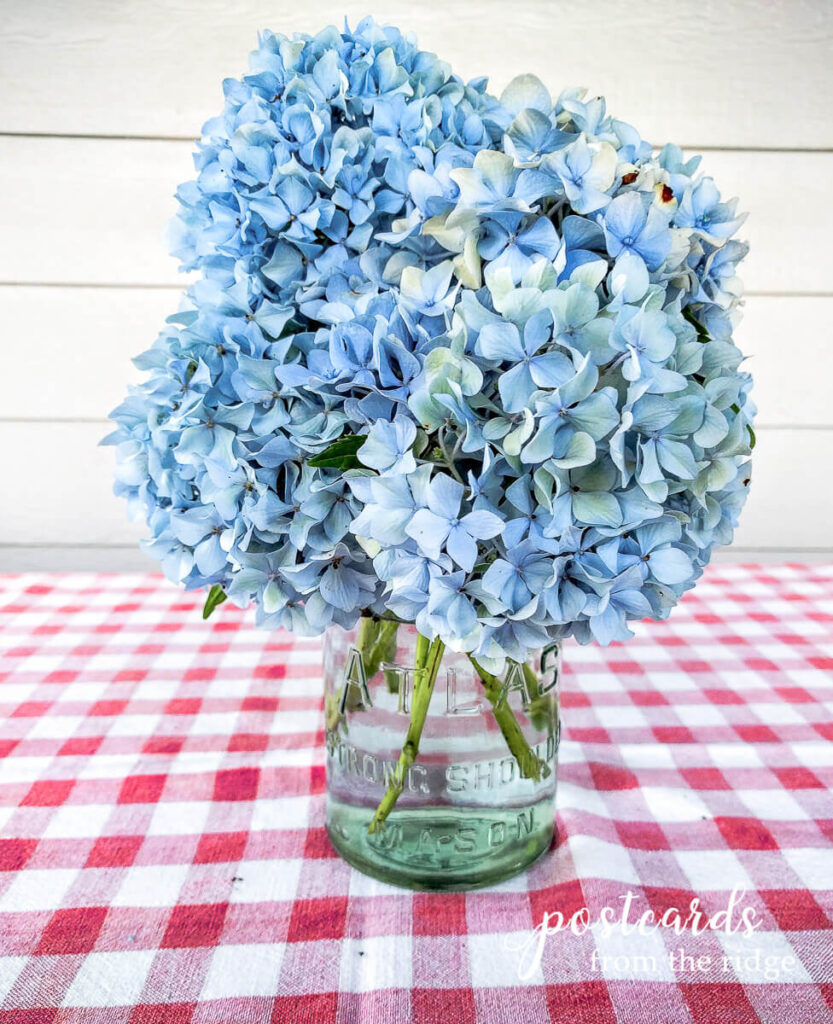 Vintage Military Folk Art
Several years ago I won this little Navy folk art doll and another Army one from Wisteria. They're so whimsical and make a fun addition to my tiered tray or anywhere I put them.
Patriotic Tiered Tray
Red and blue mugs, bottles, folded tea towels, and small flags adorn my tiered tray for patriotic holidays. You can use lots of different small items on a tiered tray and they're so much fun to decorate.
Add patriotic colors in unexpected places
Is your dish soap blue? Then add some red stripe dish towels and the sink area will automatically look patriotic. No glue gun or paint necessary! See my tutorial for the dish soap dispenser with the spout here: Designer DIY Liquid Dispenser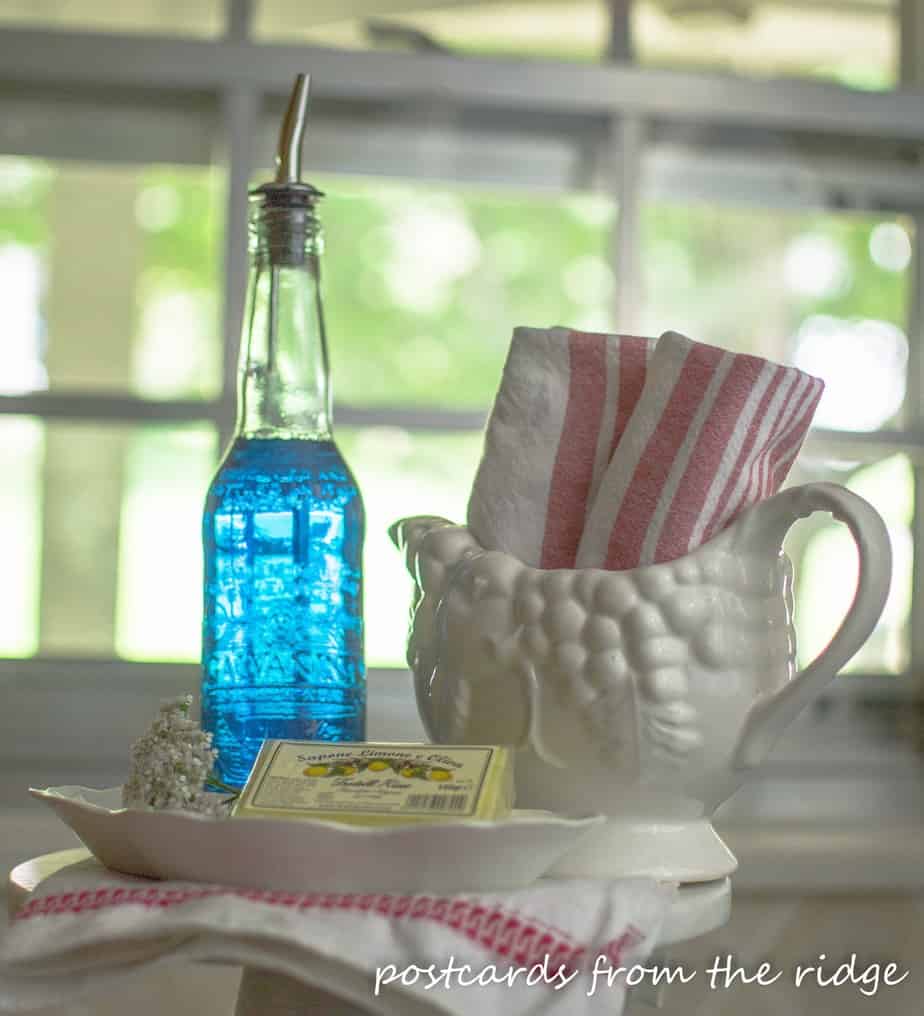 Patriotic Paint Colors
If you love the colors of red, white, and blue, there's no need to limit them to summer. There are some beautiful paint colors that happen to also be patriotic. I recently curated a paint color palette and shared several rooms with these color here: All-American Paint Colors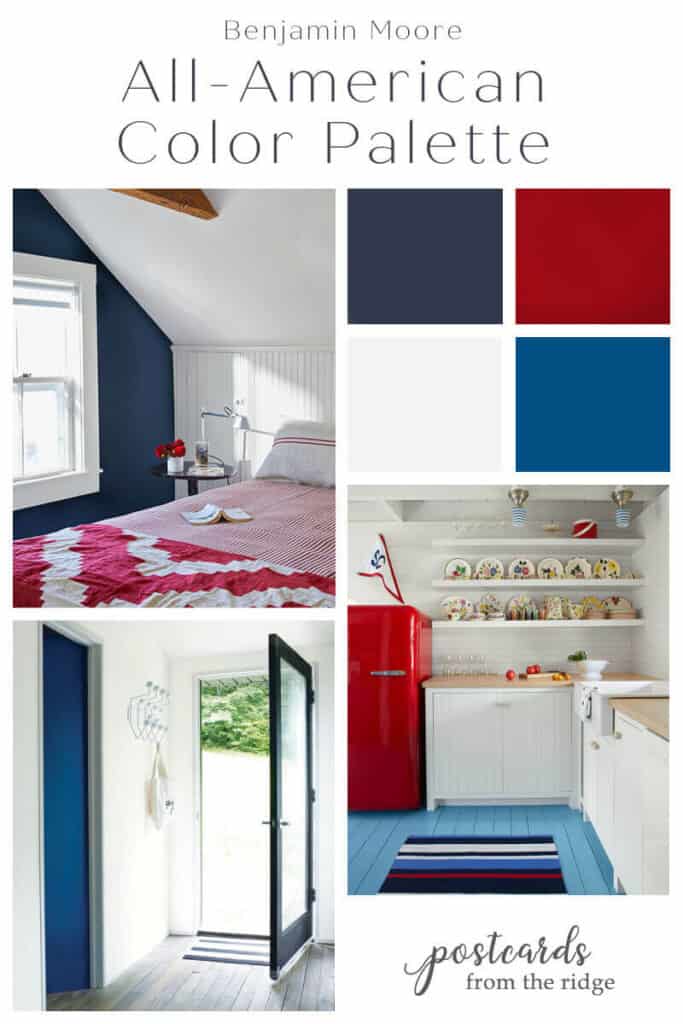 Free Patriotic Sunflower Printable Art
I designed this free printable a few years ago and you can download and print it for free if you're a subscriber for my newsletter. If you're already a subscriber, the link and password are included in every email. If you want to sign up and get access to my growing printable library, go here and click "subscribe" to sign up: Subscribe for Printable Access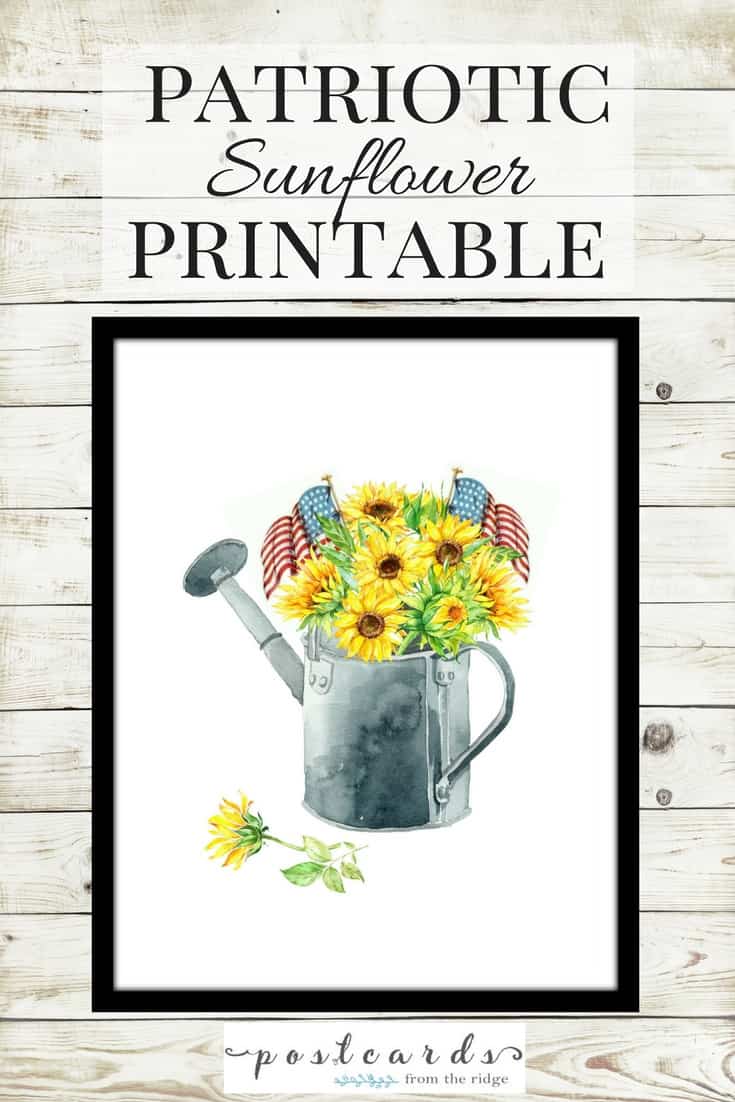 June Thrifty Style Team Challenge
Here are all of this month's posts! So much summery, patriotic inspiration. Click the links below the collage to visit everyone.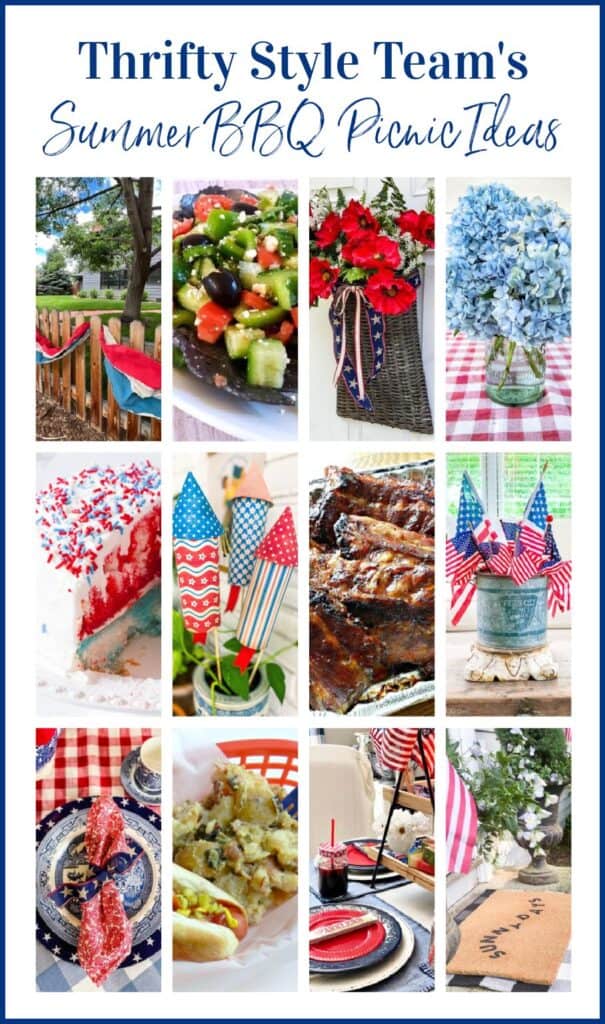 Redhead Can Decorate – 10 Simple Summer Picnic Party Ideas
Our Crafty Mom – 25 4th of July Decorations
I Should Be Mopping the Floor – Easy Firecracker Craft
The How to Home – 10 Easy Crafts and Recipes for the 4th of July
DIY Beautify – 5 Summer Picnic Recipes the Whole Family Will Love
2 Bees in a Pod – 9 Patriotic Decor Ideas
Postcards From the Ridge – How to Make Everyday Items Look Patriotic
The Tattered Pew – 5 Thrifty and Simple Patriotic Decorating Ideas for Summer
Cottage on Bunker Hill – My Favorite Summer Project Ideas
Vinyet Etc. – Vintage Inspired Wreath for Canada Day
Amy Sadler Designs – Fourth of July Home Decor Ideas Using Fabric Scraps
My Family Thyme – How to Stencil an Outdoor Mat
More Thrifty Projects