Designer DIY – Kitchen Soap Dispenser Bottle
Here's a super simple project that you can do in no time. It's a recycled, upcycled, DIY, designer project that will make your kitchen a little prettier and needs no tools or paint! Sound too good to be true? It's true, I promise!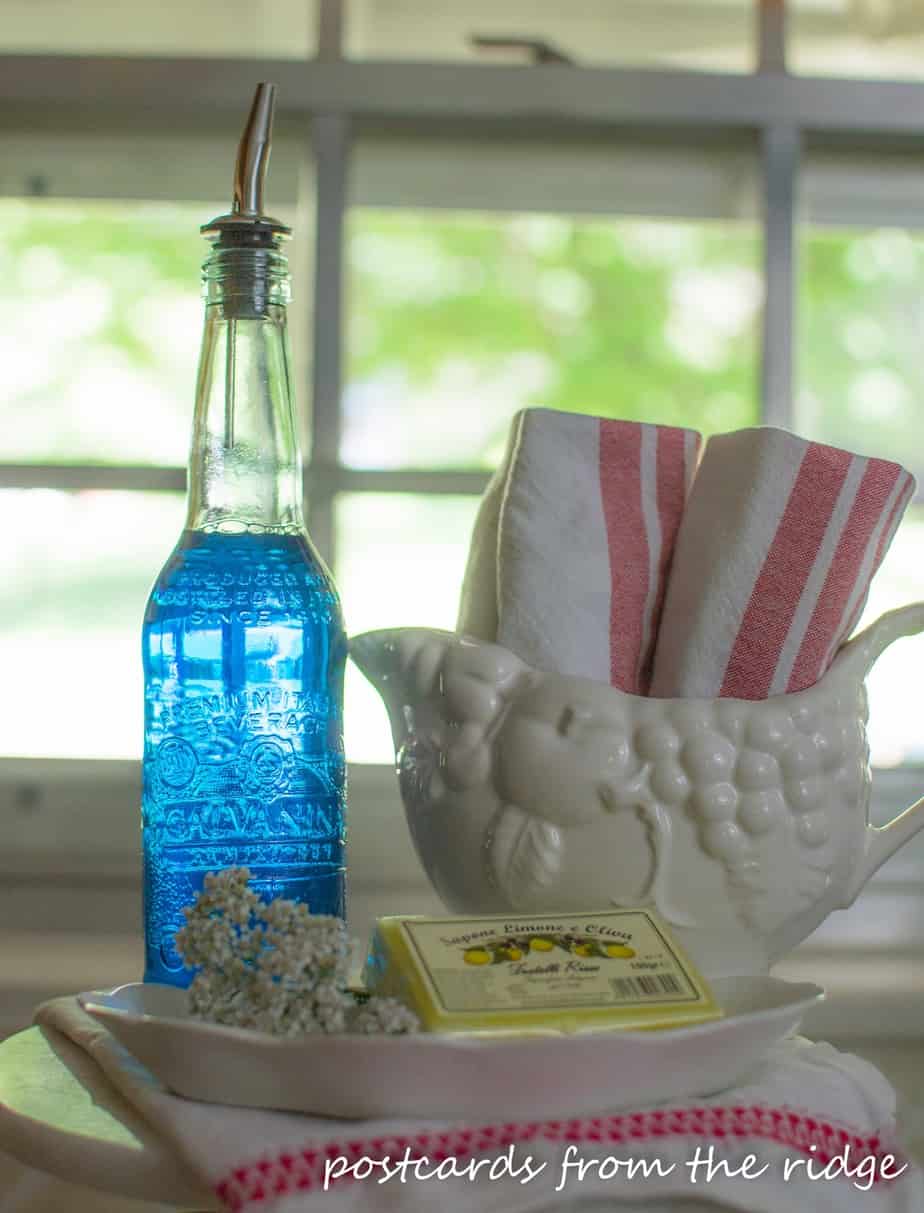 This post contains affiliate links for your convenience. For full disclosure go here.
My sweet friend Kim at Hunt and Host put together a challenge for several blogger friends to take a grocery store item and make it gorgeous. "Grocery Store to Gorgeous" was our assignment. And if your grocery store is like mine then there are thousands of products to choose from so the hardest part of this project was deciding what to do.
I decided to make a pretty dish soap dispenser bottle. It can be used as a dispenser for olive oil, wine, dish soap, hand soap, or even vinegar. 
I wanted this project to be a really simple one that anyone, anywhere could do so I looked for a product in a container that didn't need any alterations. Well, except for removing the label, and all that's involved with that is water. But the container was already gorgeous. It just needed to be repurposed.
Here are the supplies needed for this simple kitchen dish soap dispenser bottle project:
A pretty soda bottle; or a beer, wine, or liquor bottle. I used Galvanina Organic Fruit Sparkling Beverage, which was located with the pasta and Italian themed foods in our grocery store. The cost was $1.50.
A dispenser spout found here Note – I had a previous version with a different spout and it didn't fit or pour as well. This dispenser spout works great with both dish soap and olive oil. My advice is to get a good spout if you do this project. 🙂
Possibly small needle nose pliers if the bottle lid has a leftover rim.
As a bonus, you get to drink some yummy soda! You can actually use any soda bottle or beer bottle for this project, it's totally up to you. A wine or liquor bottle would also work. The sky is really the limit here.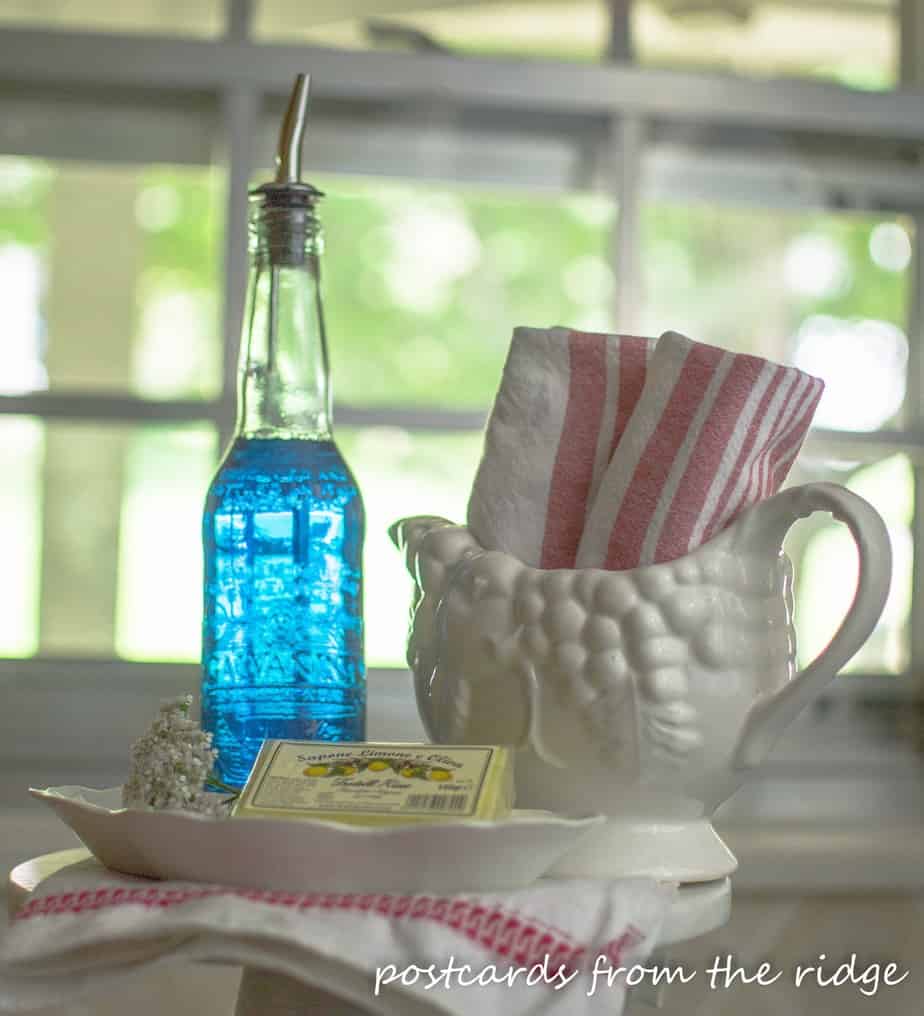 Below is my inspiration item, found here for $25.95.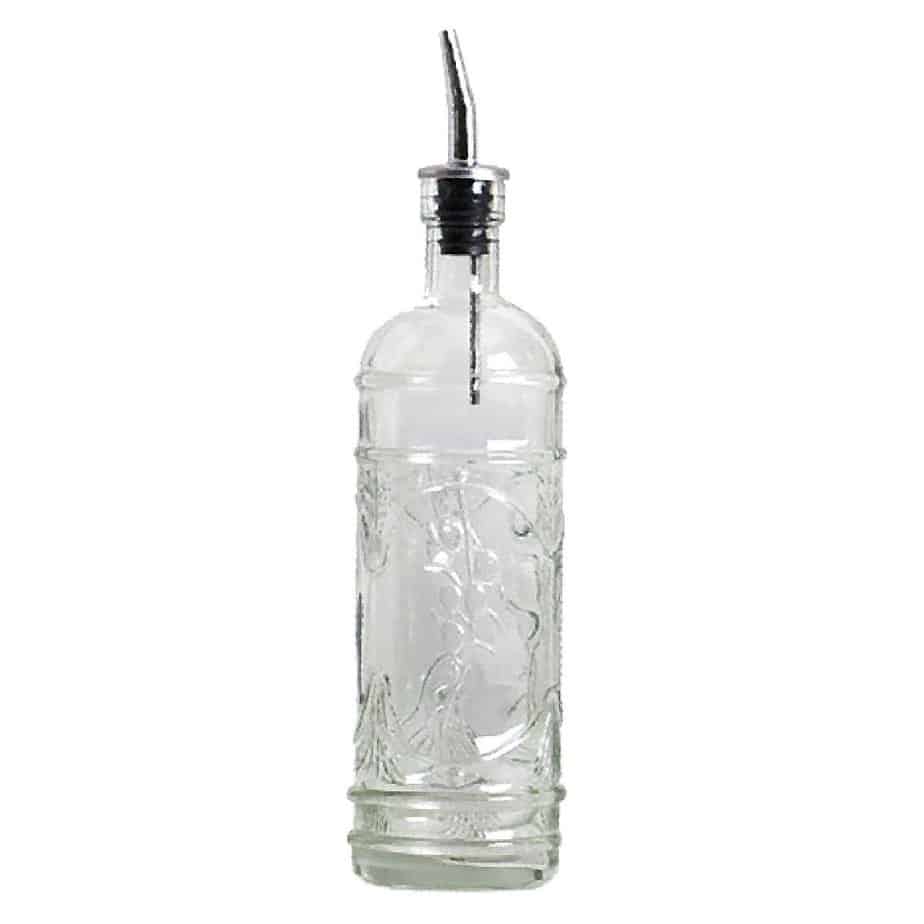 And here's the easiest tutorial you've ever seen:
Find a pretty glass bottle and empty the contents.
Remove the label and any glue and remnants of the lid. I used a pair of small needle nose pliers to remove the ring that was left from the lid on my bottle. I simply twisted it until it broke.
Wash out the inside of the bottle and rinse.
Add soap, olive oil, or whatever you want to house in the bottle.
Insert the dispenser spout.
That's it!
NOTE – If you're really crafty, you could use a plain bottle and paint or etch a design on it. But I'm not super crafty and didn't want to worry about the paint coming off over time.
I used a glass bottle that already had a pretty design on it to save time and energy. Lazy girls gotta do what lazy girls gotta do. 🙂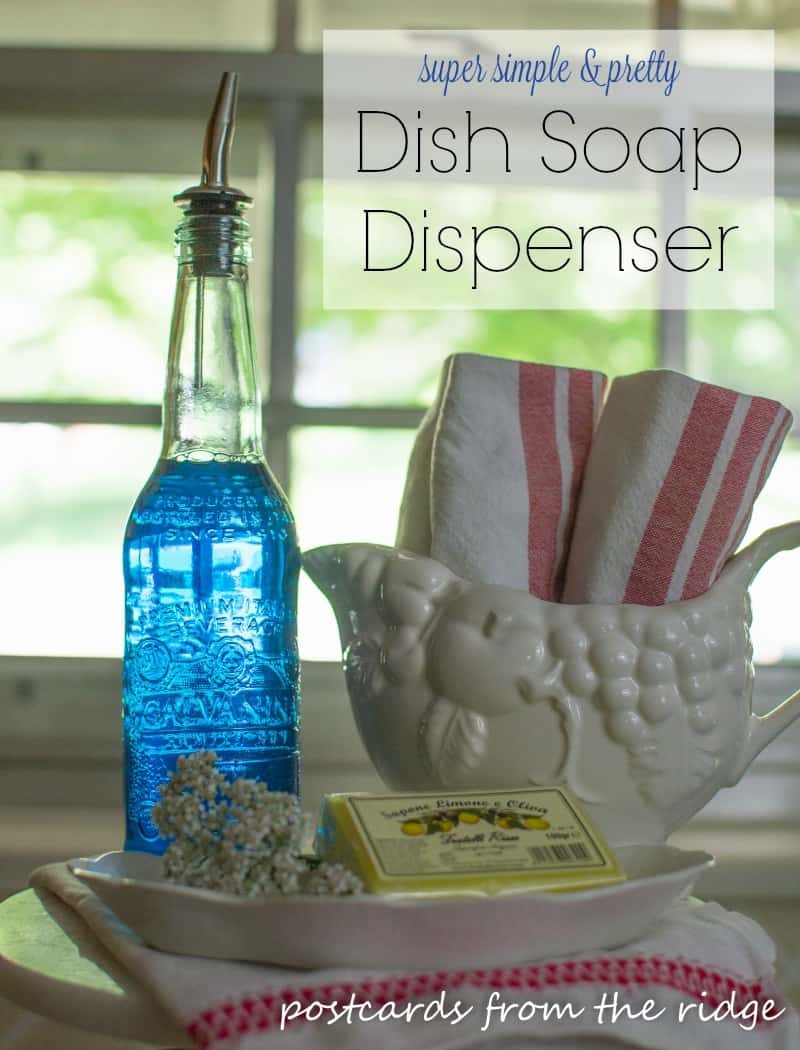 Below is an earlier version that I had. As you can see, the cork dispenser spout didn't fit right and everyone in the house complained about it. Also, I used a vintage French bottle that I found at an estate sale and the opening was smaller. It looked great, but didn't work as well as we needed it to. (To see my tips for shopping at estate sales like a pro, go here.)
More easy budget-friendly projects for your home
If you like creating a designer look for less, you might also like this post where I created designer artwork inspired by some I had seen in the Pottery Barn catalog. To see how I did it, go here.


Don't forget to visit all my creative friends and see what they found at the grocery store and made into something gorgeous. Keep scrolling for the projects. And let me know which one is your favorite!
Thanks for dropping by!
Here are the links to my friends' projects. Be sure to drop by and be inspired by their creativity!
The Chelsea Project